It's been a fair while since I've written up one of these match report, type things. So yep you're stuck with me for this one! A little inspiration required…
"It's not enough that we do our best; sometimes we have to do what's required." -Sir Winston Churchill.
A quick call in to Duke this fine evening, to remind me, how this thing works, and what it is we have to do exactly. Duke then tells me he can't talk for too long, as he needs to grab some clobber and head off down the cobbles to play with some kids for 90 minutes. I dunno, something about you at times Mr Duke is very, very wrong! So off he plods to go watch the Youth play down at Coldsore/Gestapo/ Mini Hitler Avenue to take in a Youth Game.
You may remember that film from your child hood, chitty chitty bang bang, (not a euphemism), well if you spotted Duke out that night, he may have looked a little like this…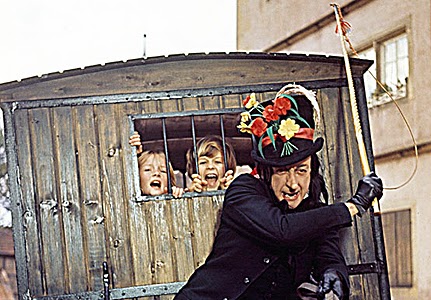 The bus replacement to Dorchester gets worse every year…..
He even told me, he might give the Youth Secretary the
secret hand shake to get in for free, fookin freeloader. Turns out both Dukey and Taz went and watched the yoof game on Monday night, and they lost 1-0 to the Scum. Ban yourselves now, both of you!
So where have I been then, I hear you ask, er ok, you didn't
ask, but I'm going to tell you like it or not so there. Absence after all, does
make the heart grow stronger. Sadly the rumours are not true, I've not been sunning
myself in Portugal, instead, working my ass off, and making the trips for the
home games.
Unfortunately my accountant and body told me probably best to lay
off a couple of away games, for reasons known to only a few. Got to keep Mrs
Juan happy too now don't I! Oh and on
the subject of Mrs Juan she has now been to 3 games and seen 3 wins. She keeps
telling me she must be a lucky omen. As has her co cohabitant Sophie who hails
from Bern, for those uneducated swine's amongst you, Bern is in the land that
produces a decent block of chocolate and the odd cuckoo clock! Sophie is a BSC Young Boys fan, and she is partial to a Young Boys sausage in the Wankdorf Stadium, make of that what you will. So it seems they
are both converted fans of Non-League foota. I'm sure they'll both be back soon! So to
all those that think I wear the shackles of love, you are kind of right &
kind of wrong, it's all a shared experience. My, my I do waffle sometimes.
Right back on track, back to the beautiful game, and let's
have a look at the table as of Monday night.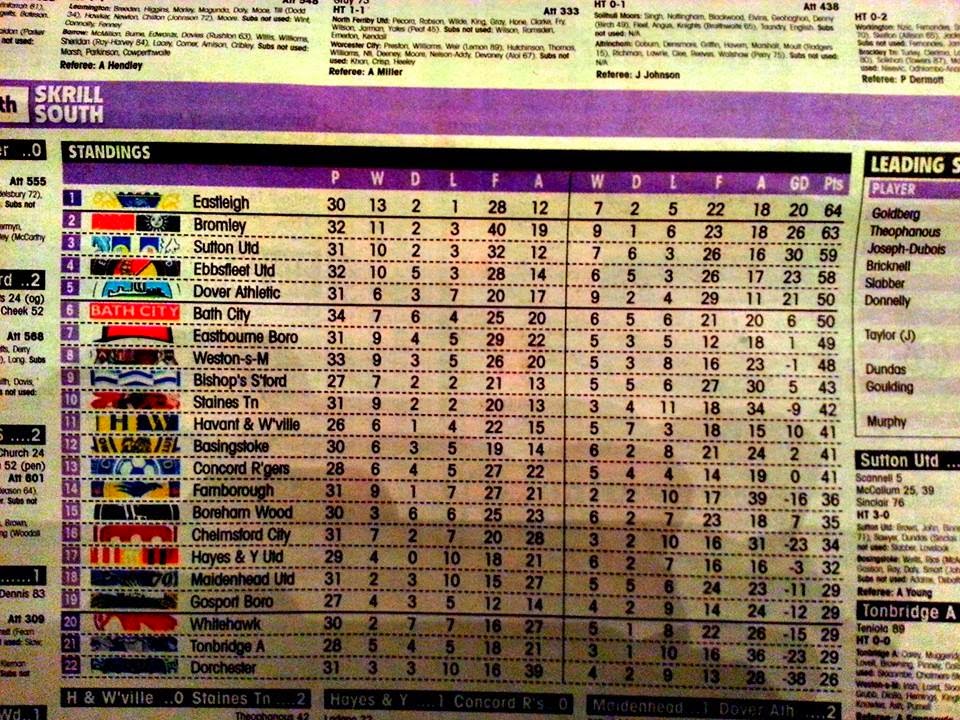 Statistics. Interesing stuff…..
So after putting in some great performances since the start
of 2014, we now find ourselves right up at the top of the table. Bromley have
clearly started to wobble, and are imploding at every game. It seems Eastleigh
are sitting high and mighty at the top, with a number of teams just in behind
pressing for a playoff position. Tonight's Skrill South action, we entertain our friends Gosport
Borough, and a return of a familiar face of Wayne Shaw, a true legend of
banter, and one inch punches. Just kidding Wayne! By my reckoning Gosport will
have other pressing matters on their minds tonight, that being the F.A Trophy
final due to be played on Saturday at Wembley.
I quickly dart off home from work, jump on the Southern service from Leatherhead, and change across onto platform 4 and head back into the Surrey Heights of Banstead. With the keys left hanging in the door. I apply a quick splash of Kouros a.k.a Sex Panther, grab the keys to the Fiat 500 (with Papa Juan riding shotgun) and head off down the mad mile, and drop into Gander Green Lane via Cheam lights. Happy Days, no problems, straight through. I slot the 500 into it's usual spot, in the far end of the car park, and head off into the direction of where I may find the other members of our Firm. Speaking of car parks, bumped into Cloughie the other night in said car park. A flash of head lights, and well it all seemed a tad Stan Collymoreish! Nuff said on that one, meanwhile back in the bar….
…the first familiar face I bump into is that of Duke. As luck would have it the Greek is there too, clearly in a Birthday mood, glass in one hand and a bottle of Bulmers in the other. A pint of Diet Coke is my tipple for the evening, driving and all that. So I leave Papa Juan alone for a few minutes whilst myself and the Duke dart off outside for a quick in take of nicotine and tar before the game is due to kick off. At this moment in time Duke decides to fill me on the first couple of days of his holidays and his activities. A short lived moment one must add, as the response was "well er I've done fuck all" well said Duke, well said. Until suddenly he informs me that he had a little f.u.b.a.r* incident before leaving his gaff tonight. Some how managing to lock his car and house keys inside his wardrobe which is secured via and industrial sized padlock. Oh well, live and learn as they say !
Right, game time…
So let's have a look at tonight's line up: Brown, John, Binns, Spillane, Downer, Clough, Scannell, Sawyer, Dundas, Taylor, McCallum.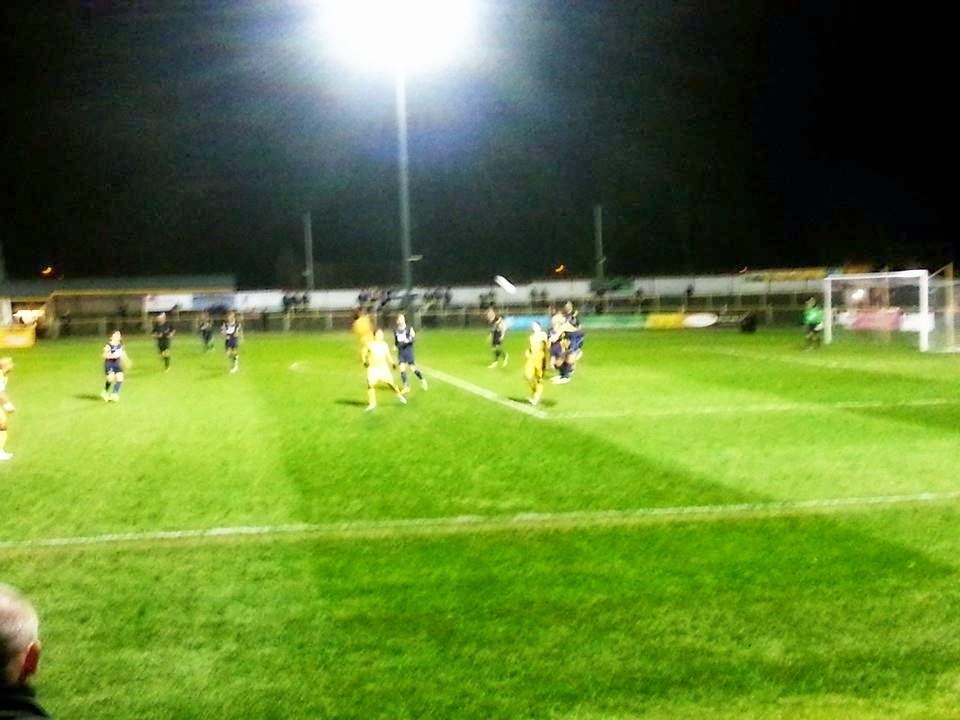 Obligatory blurry action shot!
With the game underway, we started brightly keeping position,
and spreading the play down both channels. A change of attacking direction in
the first half though, rather than attacking the Collingwood end, we were
indeed, attacking the Gander Green Lane end. Attacking up the slope and against
the wind, we had the better formation, and were keeping the ball well for the
first 15 minutes or so, until we seemed to drop off the pace, and allow Gosport
a little bit of possession. Gosport however lacking any real fire power up top,
having rested a number of their key players for their Wembley appearance come
Sunday afternoon. So sadly for a member of the Firm there would be no Tim Sills
to chuck the odd profanity at !
A former Sutton player, Andy Forbes was playing at full back
for Gosport tonight, probably not a
natural position for Forbes, who lacked the pace required, and for that matter
gave away a few corners, the first one finding Louis-John for a free header,
forcing the Gosport keeper to palm away the effort.
Taylor as always, causing havoc up top for us, was fed a
lovely through ball from Scannel down the left. However Taylor under pressure
from the full back only managed to fire his shot into the side netting.
Knocking on the door, the waves of attack
from Sutton continued long into the first half.
We were even denied a clear handball, which I must add was so in the
box, even Papa Juan managed to see it, and he is in his 70's and wears
glasses! The lino, until this moment was
having a shocking game, but he saw it, but the ref pulled it back to just
outside the box for a Sutton free kick. Well me old mate, you certainly fucked
that one up! Further pressing and advance trickery in the middle park from
Taylor, this time going down the left flank, fed across the box to
McCallum, and with the tightest of
angles shot wide. McCallum looking sharp and possible nearing back to his best,
as seen in a previous season with us continued to cause havoc to the Gosport
back four. Some 5 minutes passed and McCallum again
surging deep into the box, goes past one, but knocks the ball out to the left
and with just the keeper to beat he smashes the ball from the tightest of
angles, and the ball ripples into the back of the net. Get your Pythagoras
theorem laughing gear round that finish!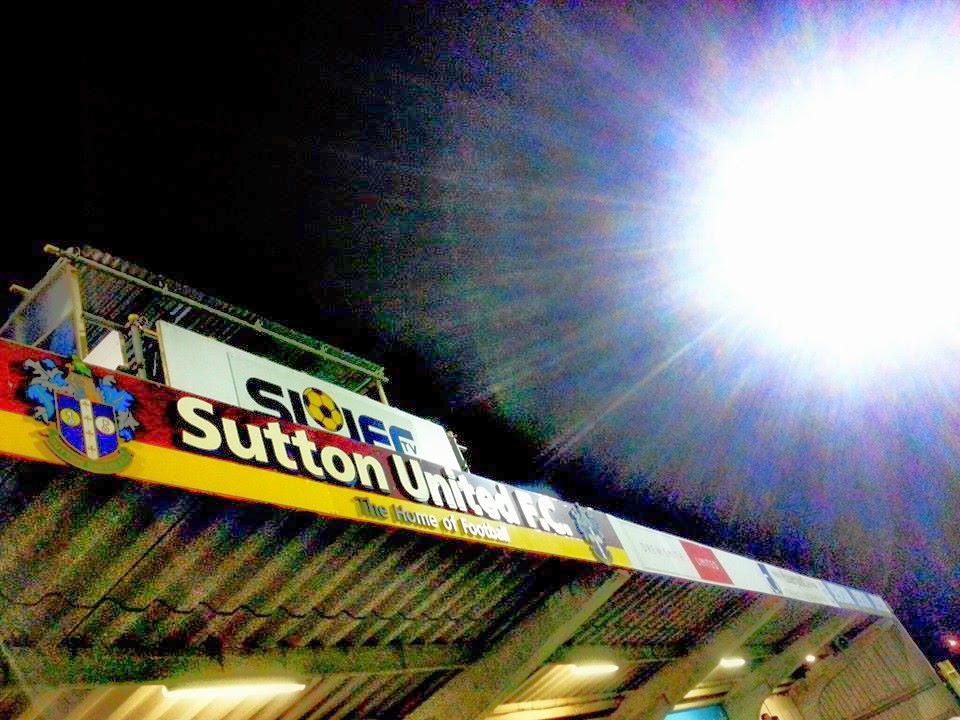 The home of football! We just wish it would clean its room more often.
A few minutes later and the whistle was blown first half
done. Time for us hardcore mid week football lovers to refresh and wet our
whistles at Rose's Tea hut for a quick brew and a munch on a Snickers, or for
those older generation of readers, a Marathon.
The 2nd half under way and I decide to make my
way round to the Collingwood End to have a quick gas with Dukey and Greek-rude
not too really. Before all that though, I bump into Tott's and make sure he
will be on the Coach come Saturday, after all I'm going to need someone to talk
to for 3.5 hours! Just as we start discussing the plan, McCallum is running
riot down the right channel and takes the ball all the way down to the by line
and dinks the ball in to the box and
with Taylor completely unmarked flicks the ball into the back of the net off
his arse. Now some of you told me he flicked it in….this goal will go down as
a cheeky (get it, you see what I did there) goal!
Our sterling Welsh International keeper wasn't really called
into action tonight until the dying minutes of the game, when he kept the only decent
Gosport attack on goal at bay. The effort was sliced over the top anyways so no
worries with that one.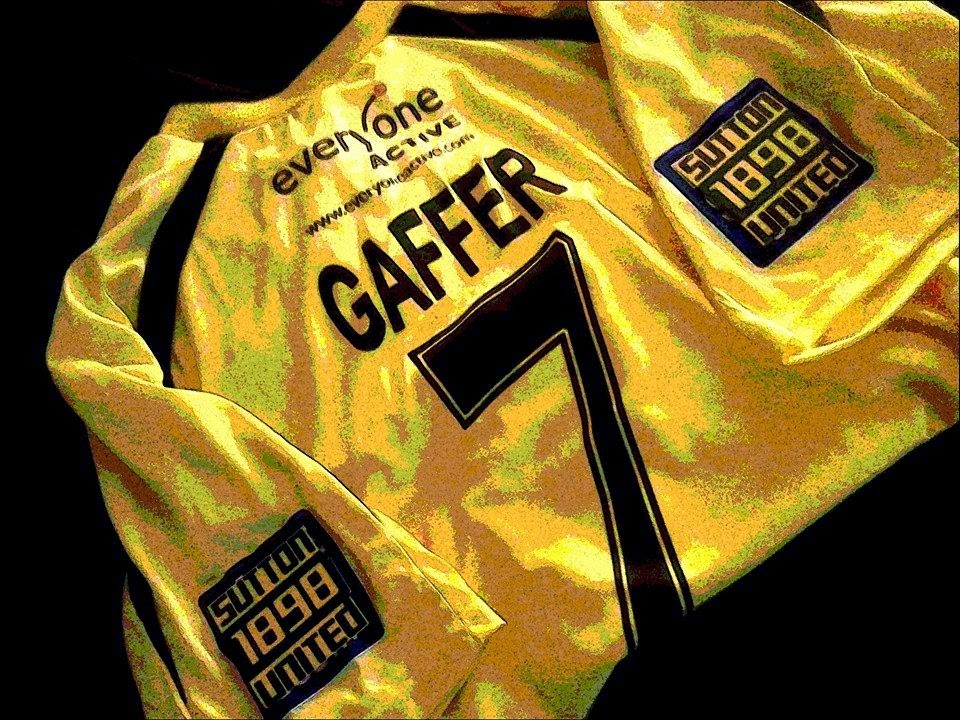 Colours on show….
Not much other to report than the ref was poor, as were the
lino's, both making some major mistakes, for missing the bleeding obvious. Another
home win, 3 more points notched up on the League Table, Dos awarded his Manager
of the month trophies for January and February, the lead in to the end of
Season sure is going to be an exciting ride…
See you Saturday in Dorchester where they talk funny.
Juan
*fucked up beyond all recognition/repair/reason