I think it was the sniggering of the manager of Weatherspoons as the conversation descended into the realms of debauchery that finally had us reach our eventful end of another very long day in the pursuit of eternal happiness. I can't really recall how we ended up discussing having ones nuts on a silver platter and this leading to an argument over if the said plate was heated or not. But I can assure you that no doubt I will be reminded of it on Tuesday.
After reading Totter's excellent little write up of our trip to Farnbourgh it was probably a good idea that none of the rest of us had to do it as the night was another long one with a budding northern karaoke star, a nearly lost flag and one of us getting barred from a pub to name but a few of the incidents that happened. There was even an incident at Clapham Junction where we actually met a follower of Gandermonium who wasn't known to us.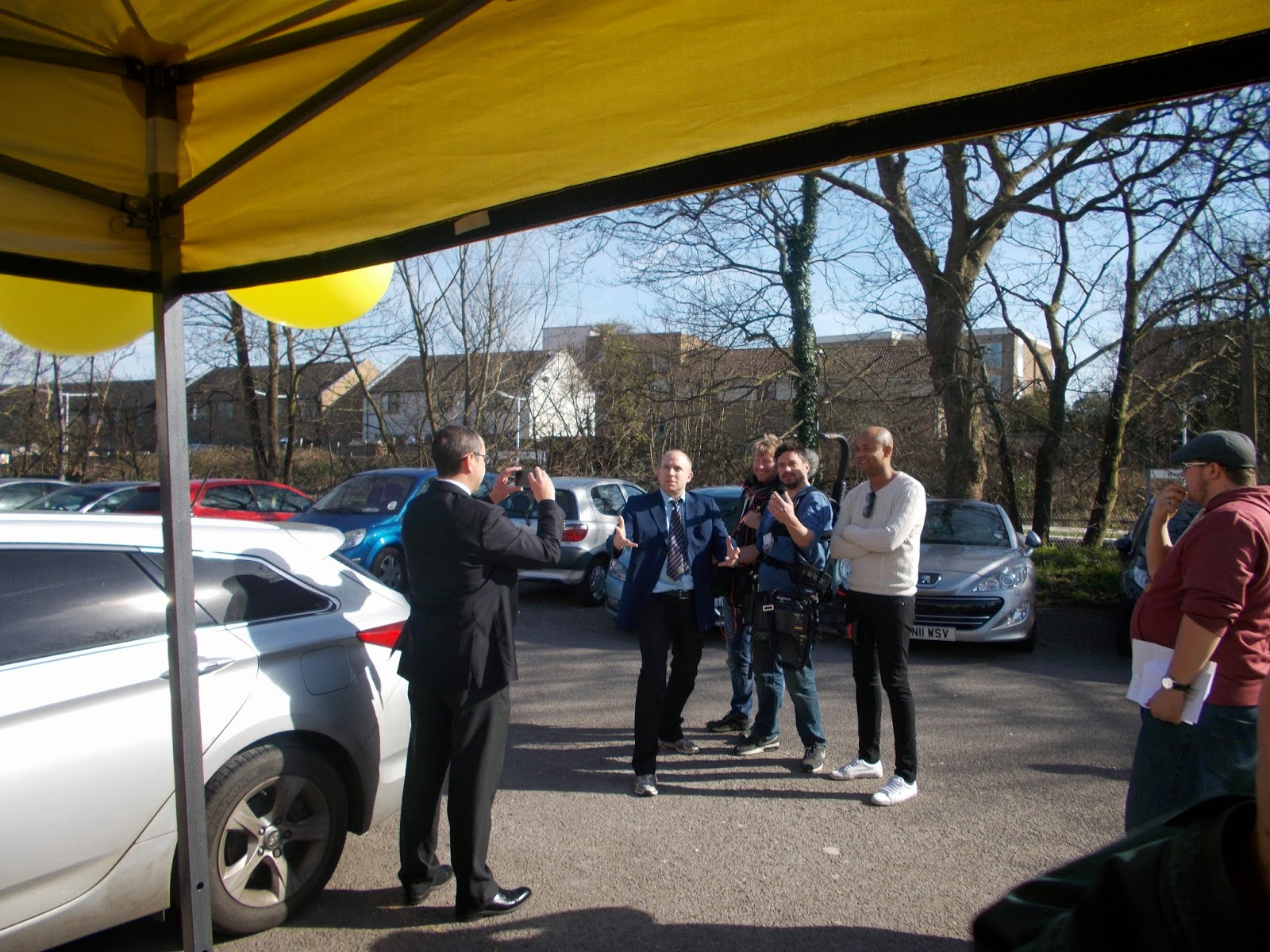 Tim Vine. Soccer AM bloke & cameras….
Today's opponents were to be those we had a mere seven weeks before, Basingstoke Town. That game ended in a one nil win with Taylor getting the solitary goal in that match. They come into the game in mid table on the back of only one win in the last four games. We were also going to see ex-Us Kezie Ibe leading their charge for them.
The big decision for me before the game was going to be do I wear shorts today? In the end I did decide that as I had a little "accident" with a set of clippers the night before than the shorts would have to wait a little longer. I had received word from the Firm Leader that he was going to arrive earlier than usual to help set up. So using my loaf I worked out that if I got an earlier train I could also help out in the bar if needed. Getting the train earlier meant that I got to see some of the arrangements that were popping up around the ground.
In the bar propped up on a stall was the Firm Leader and his better half. The first Bulmer's was being cracked open as we spoke. Len from Croydon was also there having a couple of cheeky halves before he took a spin on the turnstiles. Lets not forget that today was going to be the second half of the Tim Vine invasion that was cancelled due to the weather in January. This meant there was going to be a lot of people and faces about. The first crisis was going to be whether the Hull v Man City or the England game was going to be on the box. The football won over and yet I still managed to miss the Kompany sending off and both the goals, so it really didn't matter either way.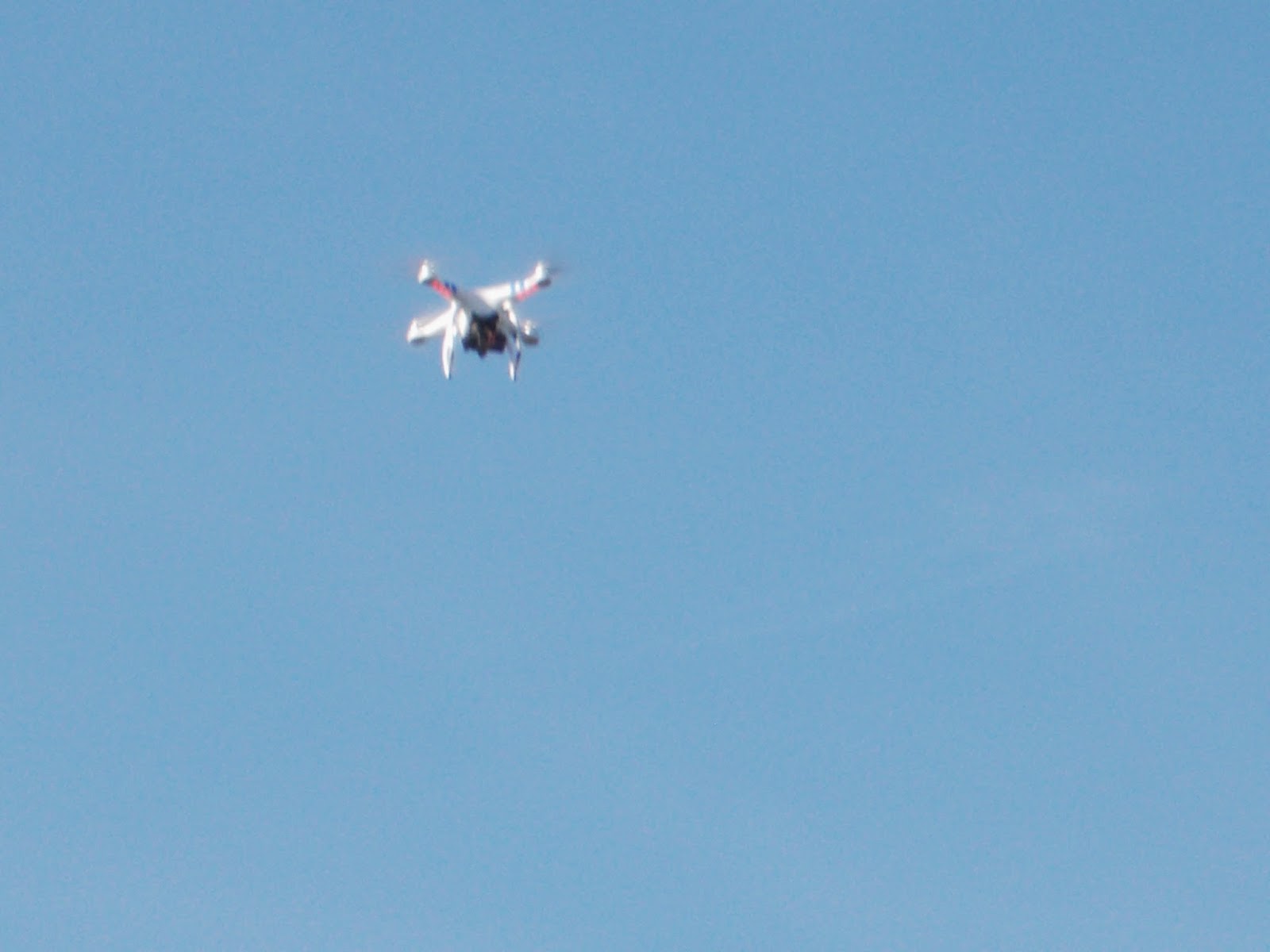 Is it a bird? Is it a plane? Fuck knows….
One of the strangers to arrive before the game was Scouse Neil who not only had his boy with him but also his old man had came down south sauffff to see the mighty Us. Around this time a couple of late birthday drinks had arrived so not was I triple parked but also in the rounds so it was double speed drinking time. Juan arrived to hand me a couple of DVDs (which I left at the club after the game! Hope there still there on Tuesday) and give the Firm Leader a birthday card for Tuesday. The team for today's was:
Brown, John, Binns, Spillane, Downer, Clough, Scannell, Sawyer, Dundas, Taylor, McCallum
Warming the bench: Sinclair, Shitta, Haysman, Slabber, Lovelock
Sods law but my golden goal tick had four bloody minutes! Sutton started like the last few games right out of the traps, and within five minutes we were one nil up with Scannell after a classical one two with Taylor beat the Basingstoke defence and slotted the ball under Wells in the goal. 1-0! With the wind in our sails and lead in our pencils we were in the ascendancy. There might've been a chance for a penalty when Taylor was brought down just on the edge of the box but the referee gave us a free kick. The second goal wasn't far away when with twenty minutes to go in the half a superb cross by Scannell was set up on a platter for McCallum to tap in. 2-0! There was still time to see once again Sutton adding a third when with six minutes left, Taylor instead of being jealous give the ball to McCallum and another simple tap in 3-0! There could've been a fourth before half time but I would not have seen it as my bowels were on the warpath and a trip to the trap was needed. By the time I was finished the whistle had blown and everyone was heading for the bar.
In the second half I took my regular spot on the shoebox and waited to see if we were going to take our feet of the gas. The first fifteen minutes was really a non contest with Basingstoke failing bring anything to the party as both teams closed each other out it was only Sinclair coming on for Dundas that gave us something to think about. Instead we on the shoebox had to find other entertainment and none other than the highly questionable issues of Hemorrhoids came up. I don't know why Juan has a fixation about hemorrhoids but he does and luckily when he left we could all get back to watching the football in front of us. The next issues was when after the hour mark Binns who had no need to hold up the player as Basingstoke tried to breakthrough near the dugouts, being his second yellow he had no other option then to head for an early shower. Kane was brought on for Taylor and to be honest we never really looked in trouble at any time. Shitta had replaced Scannell with twenty minutes to go and five minutes later we got our fourth goal with a cool crisp header from Sinclair giving us something to celebrate. 4-0! Basingstoke did have a goal ruled out for a clear offside and we managed to keep another clean sheet, In fact that was the sixth clean sheet of 2014.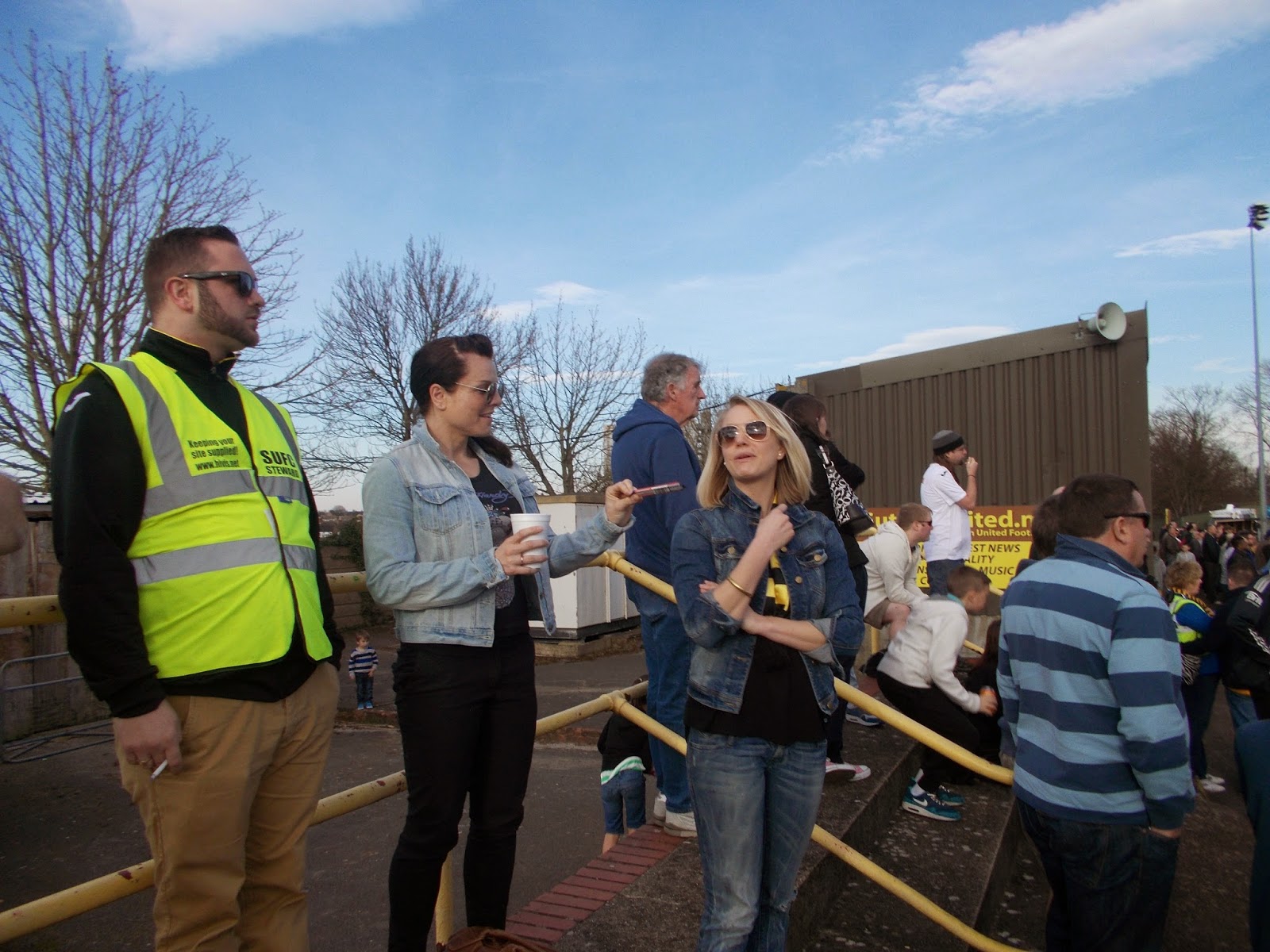 Huge crowds!
And there you have it another victory on our quest towards the summit of the Conference South. We are now only five points from top of the table and currently have a undefeated record in 2014 with eight wins in the last ten matches. That is the best form of any of the teams in the division and hopefully we can keep it up with Gosport at home on Tuesday.
Heading into the backed out bar for the Strikers are Key draw proved eventful. With old Tim Vine doing the draw created a few laughs and once again the top prize was not won so it rolls over till after the Bath game in a fortnights time. With Chelsea losing at Villa only on Sky we instead had to engage in some old school chat to pass the time. At this point I must introduce Mr & Mrs Ward and lets not get her name wrong but is it Angelise? Anyway long time associates of the Firm and great conversationalists as well! Throughout this time Tim Vine was playing a little arrows with anyone who would dare challenge him. I also got to see grandpa scouse get a little worse for wear and even arranged for him if we were to get promoted and Southport stay up to arrange for us to do a weekender in Liverpool. Imagine that the Firm boozin' and a cruisin' up north! There was also a confusing moment where a certain boy named Spencer Watford was looking for player signatures, unfortunately he didn't seem to think I was a player. Yeah I know, how could he not know the Duke.
Being a true London lad I do have a passion for the old chips and gravy so as we made our march towards the rub a dub we decided to take a quick pit stop in the local Kentucky Fried Chicken on the belief that we were too late for a mixed grill at Spoons. The mega box was the item that I ordered as it covered all the bases with one piece, a mini fillet and a couple of hot wings to boot. But the most important item was the pot of gravy which by the end of the meal I managed to down in a shot of loveliness.
Our usual haunt of the Grapes was the place where we went for a little night cap, in particular we had to feed the Editor's passion for a little bit of Woo Woo. I don't know what it is about this drink that he likes but it must be the alcohol in it. Four jugs latter it was time for us to leave, not because we felt it was time to leave but because time had been called behind the jump. Saying goodbye to our very own Toni Collette we the three amigos took a slow walk followed up towards the police station. Gonna pop down to Carshalton on Monday night to see the ever impressive Youth. And I leave you know with a quote from our very own Editor-in-Chief describing the state that he was in as :
"You try to touch in on the bus home using SUFC golden goal tickets instead of your Oyster card. Oh dear."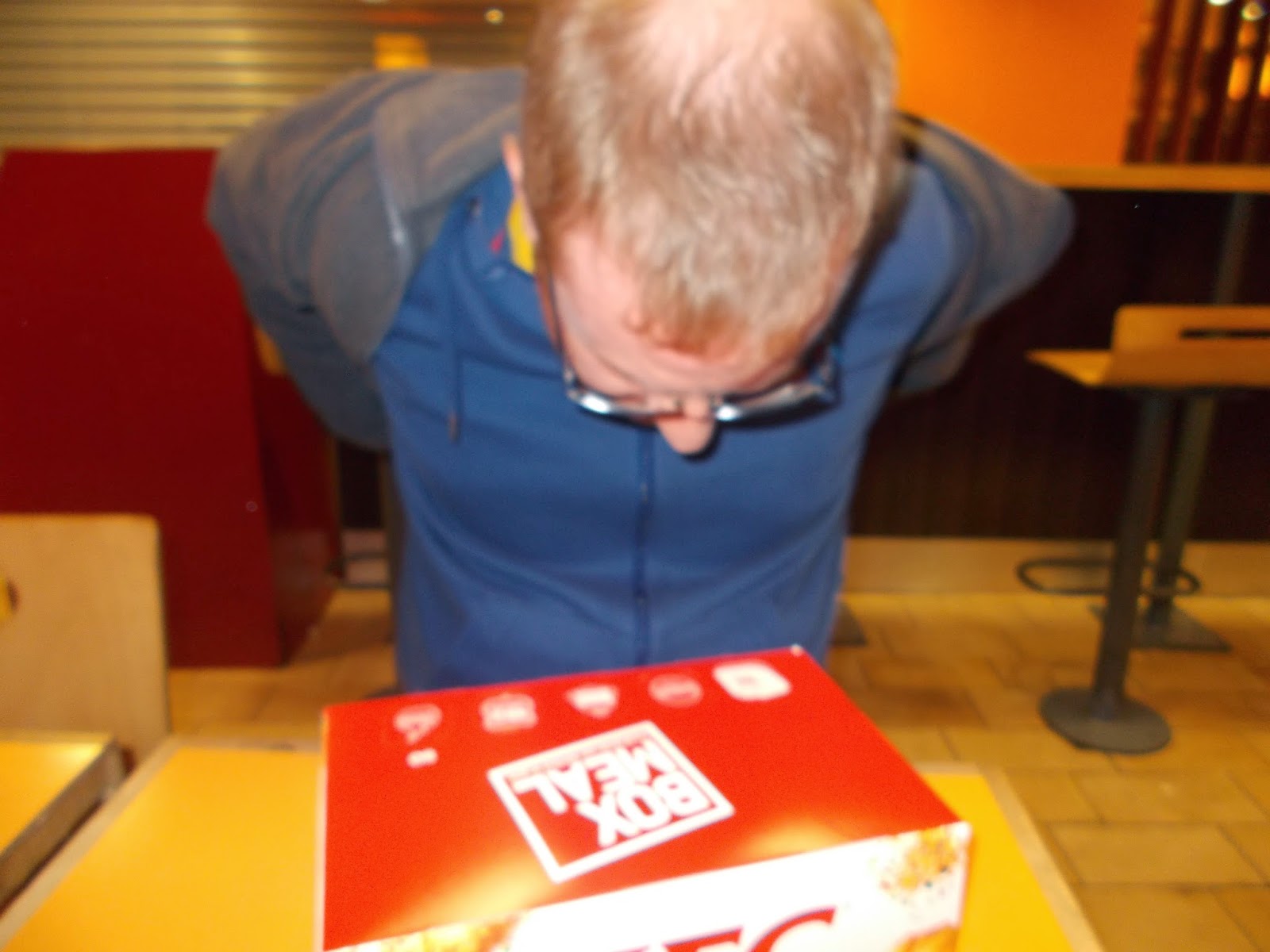 That box wasn't as full as Taz hoped it was….
Was there anything I left out? Probably, but it doesn't matter. I think that Juan might be taking over the reigns for Tuesday's match as its Firm Leader's birthday. Who would've thought that they are the same age? Oh well carry on…..
Duke
Att. 2172