Farnborough. Say it quietly and keep it yourself but I'm going to tell you something. I fucking hate Farnborough. That I suspect is why I am writing this report with a clear head, early on a Sunday morning when your usual correspondents would still be jammed under the duvet while the room spins around their nut.
Dukeys been twisting my melons about the booze cruise for a fair old stretch now and I did have a half arsed plan in place to hook up in Hampshire before the game but that turned to shite when the fixture pile up in the Little League meant two games back to back, both won by the Pumas, and a delayed return to Totts Towers.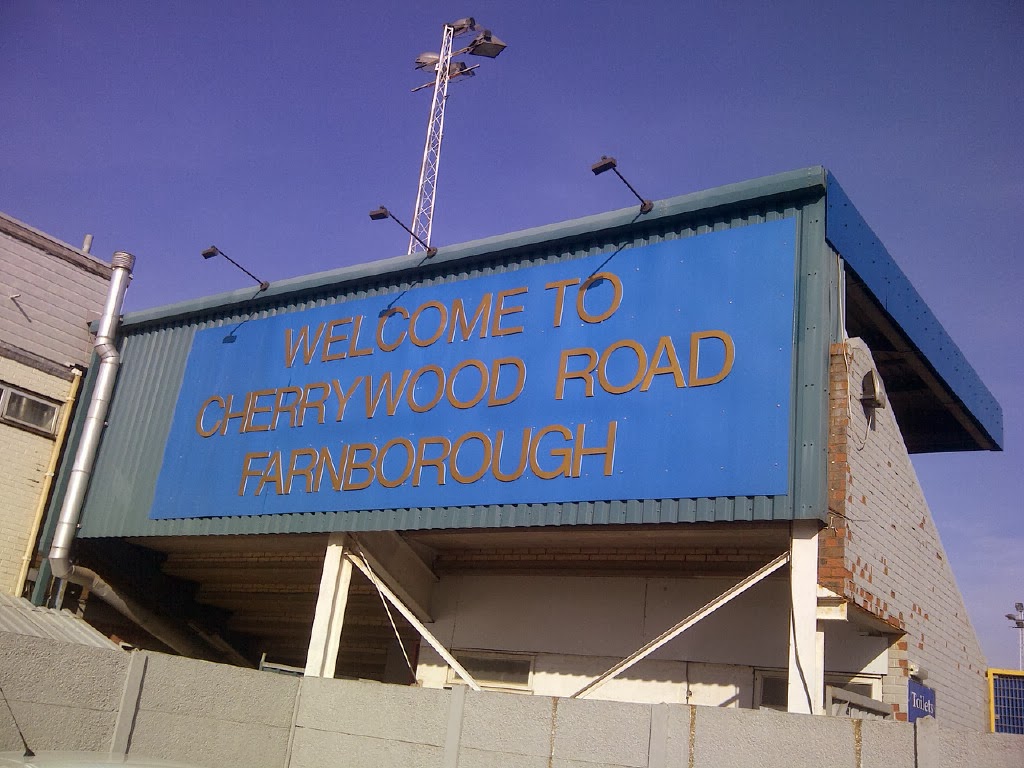 Welcome! Got 50p for the gas meter?
If you've met Mrs Totter and our daughters you will understand that I didn't fancy celebrating International Women's Day by having my cojones severed by a broken Bacardi bottle. Duke might look a bit handy but believe me this is a no contest.
And so it came to pass that at half one I was pointing the van towards the Hogs Back and, holding my nose, began the descent, to the Surrey Hampshire border. On that note, how come BBC surrey cover Farnborough games when they ain't even in the county when they don't touch Sutton, which is, with a barge pole? Figure that one out.
What really did it for me with Farnborough was the racket last season when they went bust having deliberately engineered the ten point deduction when it meant fuck all. They gamed the system, mugged off the league and were even allowed to shit all over the fixture list and start the season late when it suited them regardless of the impact on other clubs and their fans. Tossers.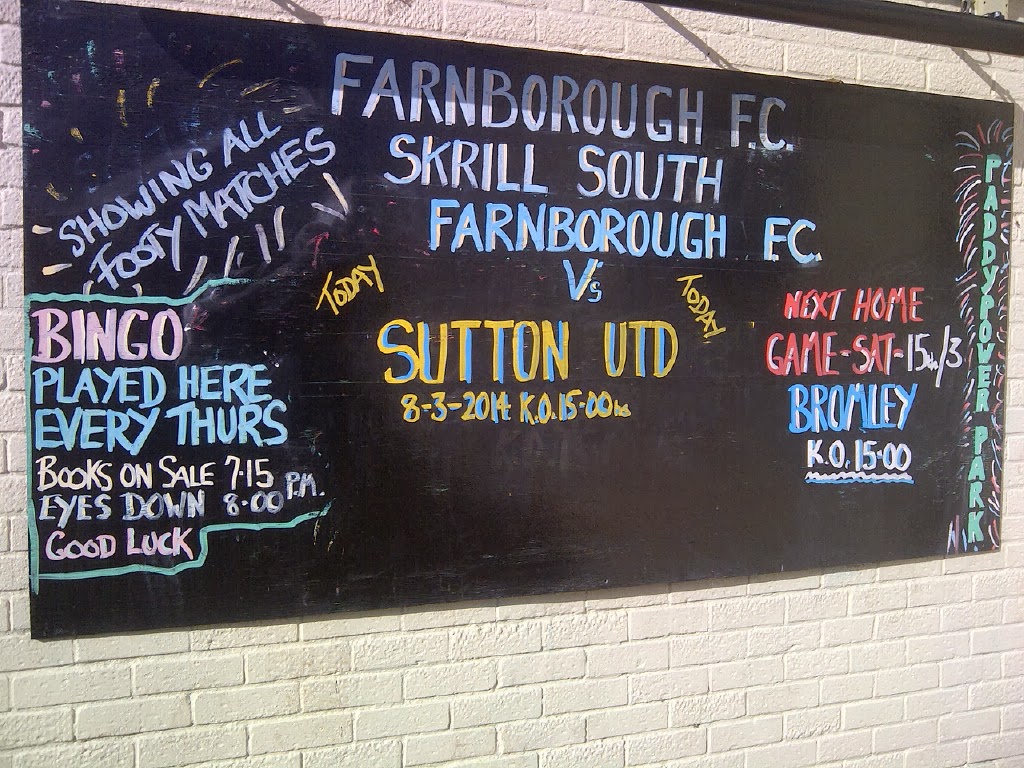 Old skool advertising….
From dodgy gas meters to dodgy personnel to the scandal of the white elephant stand funded by the Football Foundation and never used this is a club that's easy to hate and I'm not one for turning the other cheek.
On arrival at Cherrywood the first thing I noticed was that they have stuck a roof over the white elephant and scrubbed off some of the mildew. However, it still isn't used and is basically nothing more than an elaborate and fucking expensive ball stopper soaking up resources from the FF that thousands of other clubs would be more deserving of.
You tell me why a club that is lucky to get a gate of three hundred needs a stand behind a goal that hold four times that? It's Russian oligarch syndrome where you spunk money on loads of big shit whether you need it or not and even better if you can get some other mug to pay. Welcome to Farnborough.
I bump into Mr X having grabbed a cup of splosh and he's so angry at physically being at the Paddy Power stadium he can barely spit his words out. Ah yes, Paddy Power , that classy outfit who were taking bets on the Pistorius trial. Nice.
On assembling behind the goal I am advised the hot topic in the juicer before the match seemed to revolve around the question of hand relief from a leading member of the U's squad. I can't say I was mad keen on finding out more.
Scrivs got a warm reception along the lines of "where the fucks Gordon Banks" and the game got underway on a surface worse than Cheam Park, dry, lumpy and fucking useless for anyone trying to play a bit of football. All that money on a new stand and won't buy a decent roller? Gotta love farnborough.
The first fifteen minutes nothing happened. And I mean nothing as the ball leapt about like someone had stuck a firework inside it. Our first attack of note was a decent shot by Kane and on twenty minutes at last the game sprang to life. At our end we got lucky when a shot hit the inside of the post and span out and then it was straight down the other end and a fine save from Scrivs from JT.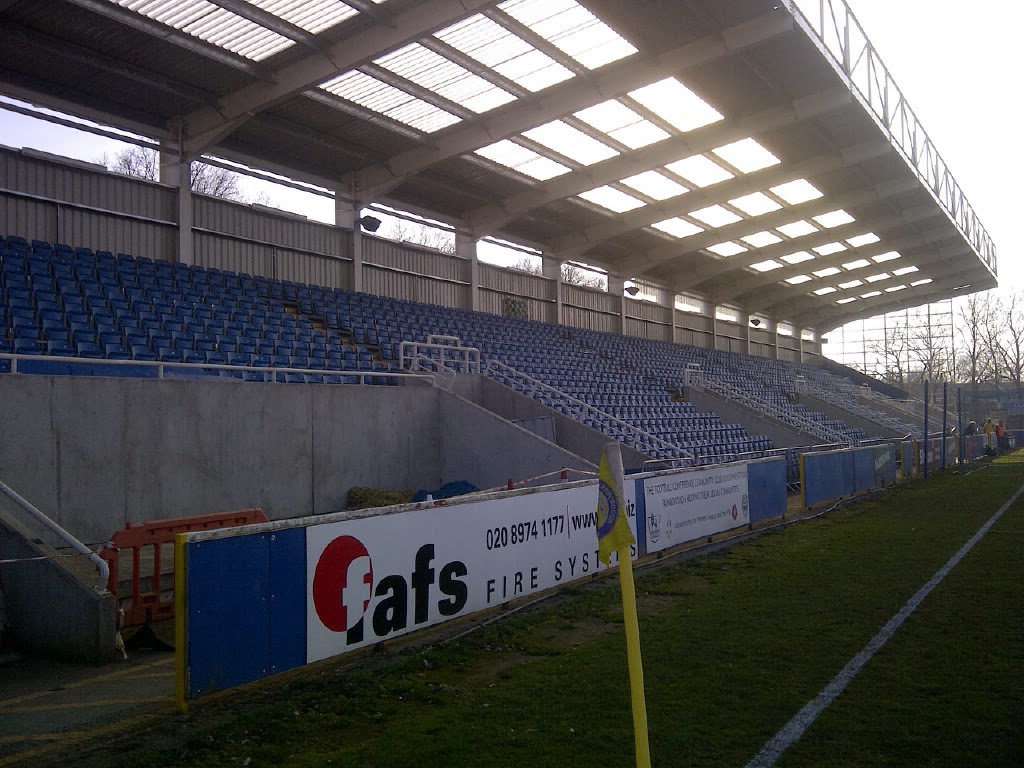 A dub-style echo chamber…..
Both sides seemed to be getting a bit more of a grip on the state of the surface and our opener came just after the half hour when a tidy flick from Leo sayer cleaned out the defence a left Scans in a bit of space and he prodded the ball under Scrivs and cue wild celebrations.
Five minutes later at the other end , what looked like a game changer. A hoof over the top put their man in on goal, Charlie made a challenge, the bloke goes down just outside the box and it's a red for Cloughie and a free kick. I didn't see much of a protest from our lads to be fair.
A reorganisation with Kane to right back and Si back in the middle and we were thinking this is going to be a hard slog now. But JT had other ideas. A ball across the box, and with another finish of pure class Jamie volleyed it home to give us the cushion we needed and which we gratefully took into half time.
Boro came out with a bit more purpose second half but our defence was superb and Louis John, my man of the match, really stepped up to the plate alongside the experience of Downs. They forced a succession of corners and we repelled them. Including one fine clearance off the line by Si from a bullet header. Taz, techno genius, also Sussed that the empty stand had at least one other use, as a dub-style echo chamber as we directed our chants towards it for maximum reverb. Brilliant.
The second period was far from one way traffic and Scans, moved in behind JT after Slabs made way for Deano, had a great chance one on one with Scriven which forced a good save, Our former keeps was soon in action again after Binns went on mazy run which defied the shocking surface and brought another good stop from the boy.
As the clock wound down we were holding out as comfortably as you can with ten men but there was an inevitable twist in the tale when just on ninety minutes they finally forced their way through and pulled one back leaving us with a tricky last five. Not as nervy as you might think to be honest and we closed it out and with Bromley and Eastleigh both losing it all looks very interesting now as our unbeaten run in 2014 marches on.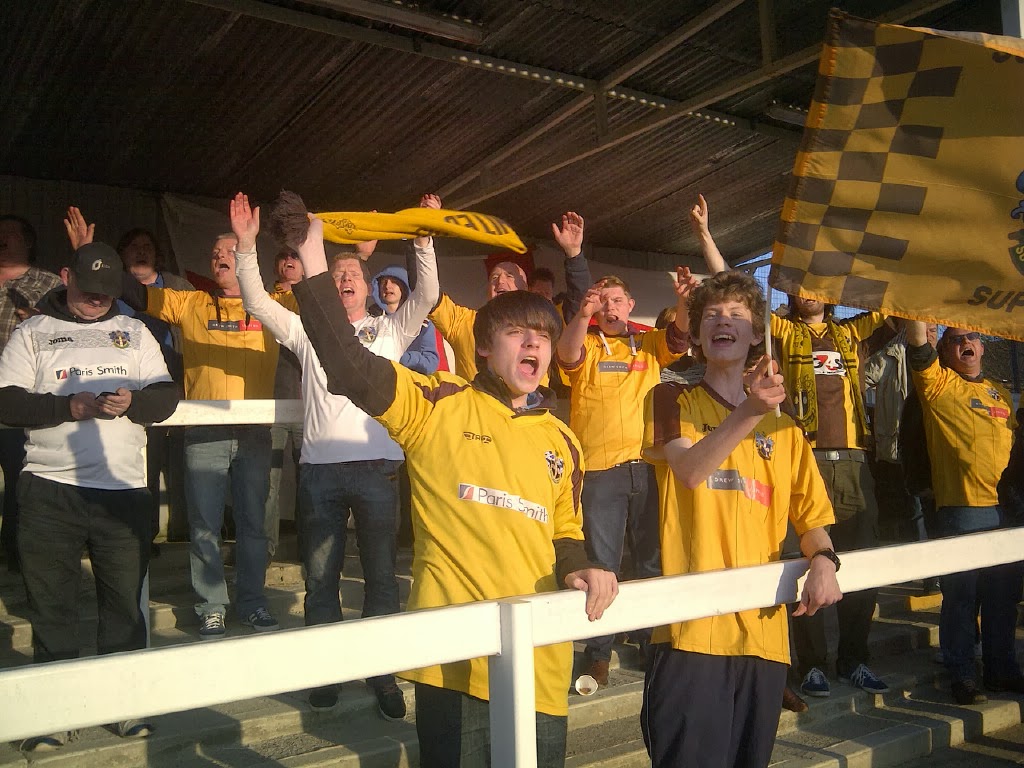 Happy at the final whistle.
For some of us it was back in the truck towards Guildford. For others back to the juicer where apparently pub singing, whacky cider brews and banning orders were all on the agenda in what sounds like a return to form by the Firm as we hit the business end of the season.
Wise men say…….