I can't believe it,
Didn't see that one coming!
For a considerable amount of time (about ten minutes) I had fretted over how I was going to start this edition of the blog. Was I going to mention some of the crazy birthday presents I received? Or was I going to name and shames those amongst you who didn't congratulate me on my special day? That reminds me someone did text me late by one day! But forget all that, because as I did comment in the executive car heading east, it all depends on the game.
After much debate and a lot over convincing I did manage to twist Juan's arm into making an appearance. The only thing was that being one of his nearest & dearest friends I would have to take his lazy arse back to Banstead after the game. Juan arrived at my gaff early at around half past five with a pint of milk in one hand and a bottle of Dr Pepper in the other. How could I not let him in? And the cheeky bugger only wanted to use my bloody wet room as well!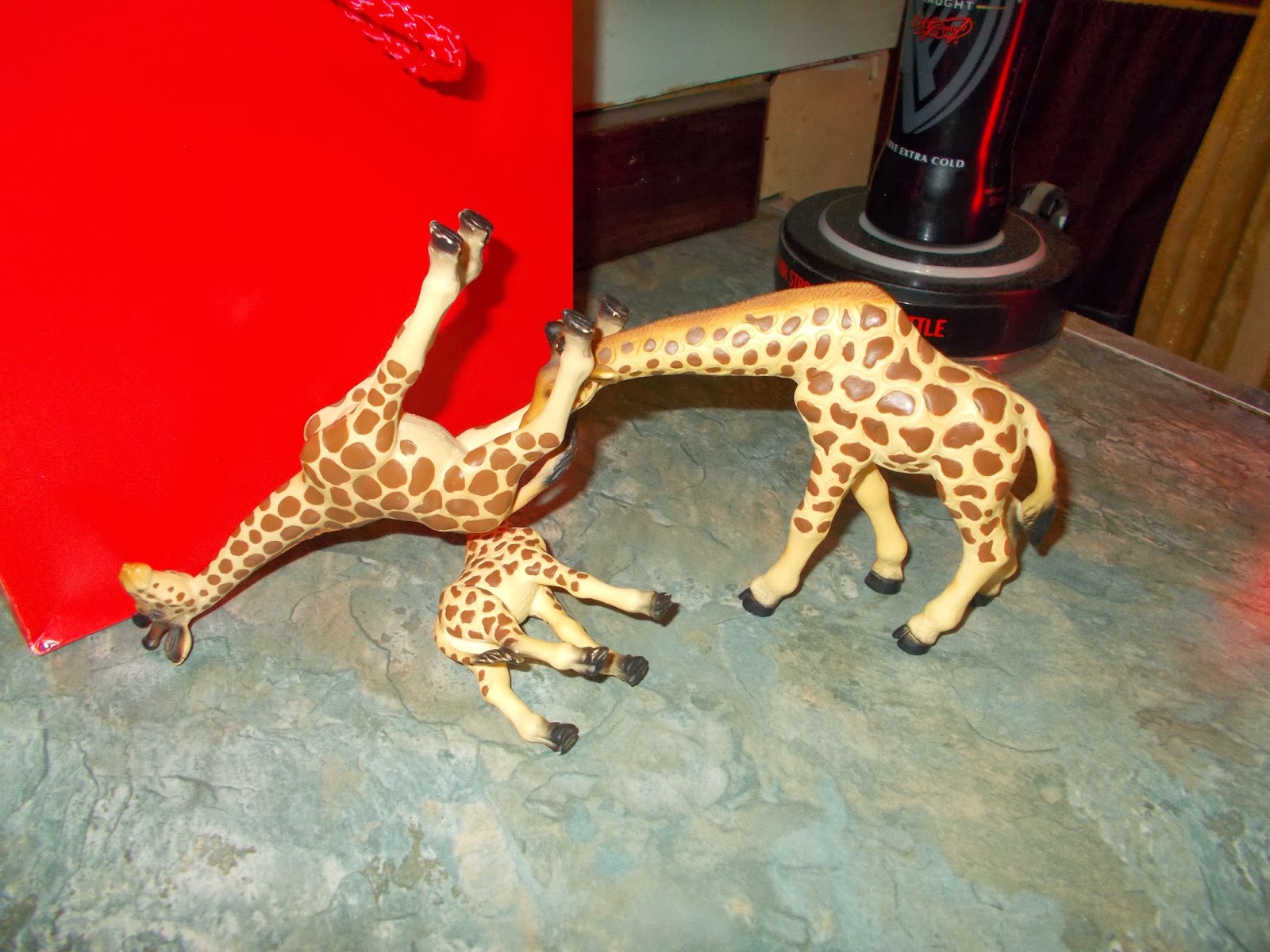 Giraffes make the perfect birthday present….
Suitably refreshed we were out of the door and in the Duke's limo for tonight's highly anticipated affair against the enemies who camp near the River Ravensbourne. During this ride I had discussed with my fellow Gandermonium blogger that I intended to title my blog tonight as "Hanky Spanky Pancakes" as a tribute to this day being pancake day. I also said that from previous experience that I would not be parking in the club car park as I have found that parking near Norman Park gives us a better get away after the match.
Walking up the river that is called the entrance I felt like Moses as he parted the Red Sea. The usual field before the ground resembled more of a lake then anything else and I noted I couldn't see the Ass that was usually there. But to be truthful it was after seven o'clock and in total darkness. £12 was the entrance fee as we headed into the arena. The first boat that I saw was that of Mr X's, who lucky for me was in the tea queue. so with a quick nod a cup of old Rosie was soon in my hands. He then tried to convince me that he'd actually met a normal Bromley fan, but I was convinced it must've been a lost Cray Wanderers supporter. As this game had been a designated "Driving Game" no alcohol was to pass my lips.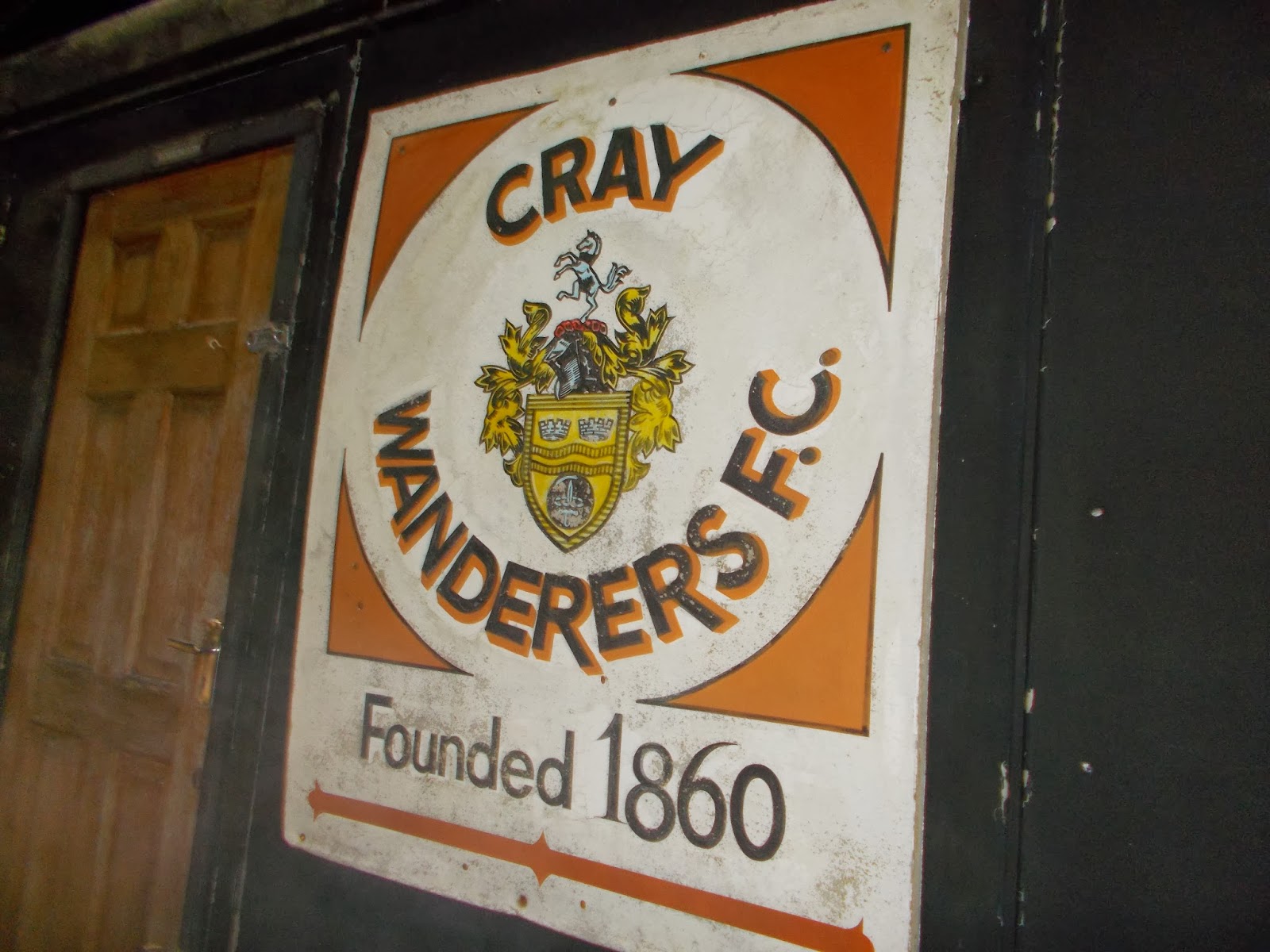 Bromley's other club….
Tonight's team was:
Brown, John, Binns, Haysman, Downer, Clough, Scannell, Dundas, Slabber, Taylor, Sawyer
Bench: McCallum, Shitta, Sinclair, Lovelock
From the very first minute when a through ball that nearly found Taylor, you could see that this might be a bit more entertaining than our last midweek outing at Dover. The first twenty minutes saw both teams try to work each other out with Bromley have the first bite of the cherry with a couple of shots. We also got to see John take out the Bromley winger without a card being shown, how very Duke I must add. The Us though, came straight back when after a Sutton cross was headed out none other than Dundo, who's up and under sailed over the defence and an ever young Slabber who simply turned and volley the ball straight at the keeper. Instead of just using his feet the keeper tried to use his hands by diving underneath himself, the result was the ball simply went under him and over the line. 1-0! The crowd behind the jumps for joy as we take the lead against the league leaders.
The seemed to wake us up and for the next twenty minutes we tried all we can to get a vital second goal. The pick of these chances was a screamer from Scannell that had the keeper tipping over the bar. But the longer we went without scoring a goal and the closer we came to half time the fear factor began to increase. Binns nearly handed it to them on a plate with a blind pass back to Brown that was nearly intercepted. The equaliser eventually came a mere three minutes from the whistle when I thought I saw Dundo slice a clearance that went over the back four only to see the little attacker worm the ball under Brown and over the line. There was still time for one of the more controversial moments of the match, that another day would've been a game changer. The basic story is that Downer was kick square in the head whilst he was standing in the box. The referee's decision: Free Kick to Bromley! Don't where he got that one and to must anger from us, I personally would've made my views heard but I was shoved out of the way but a very unhappy Totter hell bent on giving Atkin a earful.
After the ref had blew his whistle we walked to the tea hut where Juan had grabbed me a doctor and we made our way around to the other end. Yes the other end that have had the new seats installed. Well I say installed I mean there not for sitting as they have yet to be bolted down, so there more of a decorative feature. All this time Dos was still giving Atkin what fore, Never changes that man. News had filtered through that Gravesend were drawing and Beastleigh were losing but more importantly the Scummers were one down at home.
Danger Juan Robinson, DANGER!
The second half saw nothing happen until nine minutes in once again a ball over the defence was collect by an unmarked Pierre Joseph-Dubois calmly slot the ball past Brown for his second goal of the night. The silence at the away end was deafening as we realised that we might come to rue those missed opportunity's in the first half. This was the moment that the Bromley fans behind their goal awoke and considering their attendances are slightly larger than they used to be, you could be forgiven that they were just lonely Chalton fans or Nigels. Now came all the old school trap that uneducated people sing with over twenty minutes left. Classics like "Conference South your having a laugh", "Can you here the Sutton sing?" and "Can we play you ever week?". That last song was a bit confusing as If I'm not mistaken didn't we beat them down the lane? After the goal we did seem to hide in our shells for a time as Bromley tried to grab a third. The only real decent shot was from a quiet Goldberg, who really has been anonymous against us for the two games this season, have a shot turned around the post by Brown. With twenty minutes left on the clock and the score still 2-1, Haysman was taken off for McCallum and then five minutes later followed by Sinclair replacing Taylor. That second sub did have some of us question its motives but suddenly you saw our brother from another mother Dundo stand up top with Slabber. Juan will claim that it was his psychic powers that enforced that change.
Nearing the ten minutes to go mark, saw the game changer we were waiting for. Sinclair after receiving the ball from Scannell, simply just cut in past his marker and curled the ball into the far top corner 2-2! Cue mass excitement behind the goal with one or two getting quite excited. Binns picked up a harsh yellow after a good challenge on a Bromley player and then mere minutes later Slabber had what I thought was the chance when somehow his shot blindly hit the keeper and spun out for a corner. Oh how wrong was I! That is because with the time fast running out Dundo stepped up with a carbon copy of Sinclair's goal right into the top corner 3-2! Dundo did get booked for ripping off his shirt in a melee of Sutton players and staff. Behind goal it was just pandemonium with various people jumping on other people. At point the E-I-C managed to clear to sets of benches onto the back of Chalmers. The best way to describe the feeling is like have your heart going at 165bpm whilst your having sex. The cry of "Can we play you ever week?" begun to resonate from the away end. Now you would think we would see the last remaining moments out but oh no because after Slabber chased down a retreating defender his ball out was intercepted by Sinclair who hit it hard, low and fast under the keeper and into the goal just at the near post. 4-2! Now we really were giving it large behind the goal! So much in fact that the players wanted a bit of the action and then started some thirty man group love thing that you could only possibly see in some seedy club in Soho. Shitta came on for Slabber for the last few minutes and the ref finally took pity on the league leaders and ended this contest with his whistle.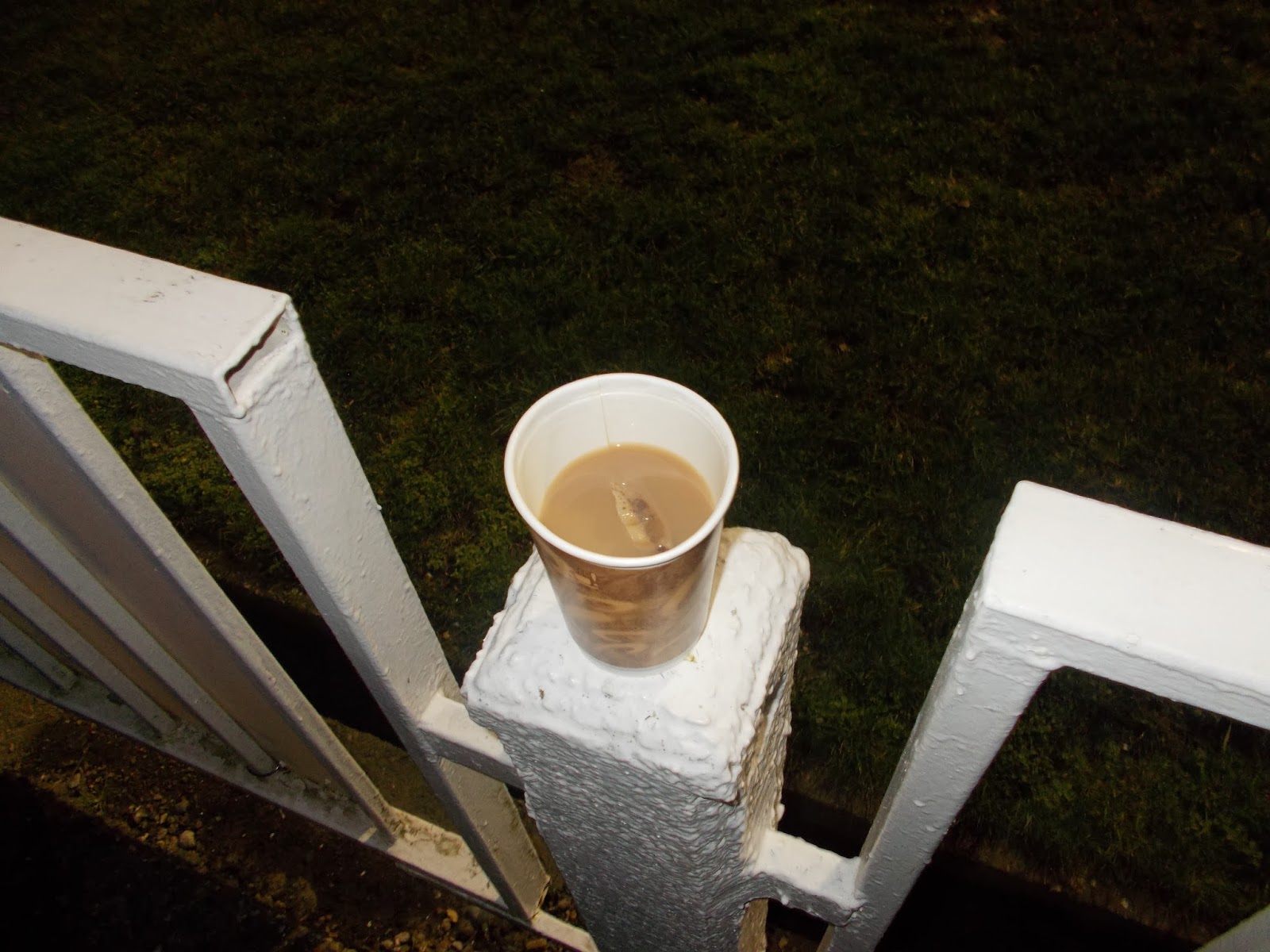 Rosie Lee.
What a game! I tell you there are some games that you would always regret not being there for, and this was one of them. Even though it wasn't a vintage Sutton United performance, It was still a cracker. I wouldn't say it was the best football I've seen but it was nice to see two teams having a go for once. There was some excellent defending tonight it was just a shame that we did concede two simple goal. Also up front we still seem to make wrong decisions from time to time, pass instead of shoot and shoot instead of pass, that sort of shit. And when the fuck will we start taking decent set pieces? Saying that, some of our in game play was top drawer, with well taken goals. Man of the Match for me tonight boils down to two players: Slabber & Dundas, can't quite make up my mind but a pint would convince me either way.
After the game I was told by Juan that our E-I-C was getting a lift from me so after locating him we made our way towards the car. The hearts were still pumping as we decided to grab some food at a nearby MacDonald's and arrived at a sad looking former pub that was now selling some of America's biggest exports. I think between us we managed to sink six or seven tiny burgers and at least a whole potato. After a little girly giggle at the fact that Scummers had lost 2-0 at home to Hendon, the E-I-C asked the question "What was the attendance?". Juan was not far out with a shout of only 89, but it was I the Duke who by the power of Greyskull guessed 100% correctly with 104. You see, up there for thinking, down there for dancing. With my belly still rumbling we headed back west to civilisation with the E-I-C being dropped off in Beddington and than Juan was dumped unfortunately not at a random bus stop but at the pearly gates of Juan Towers. I arrived home with the clock showing 2320hrs and I fired up the beast to look at some of the other scores from tonight. Eventually getting bored of that I decided to hit the sack. And it wasn't THAT sack, you perverts!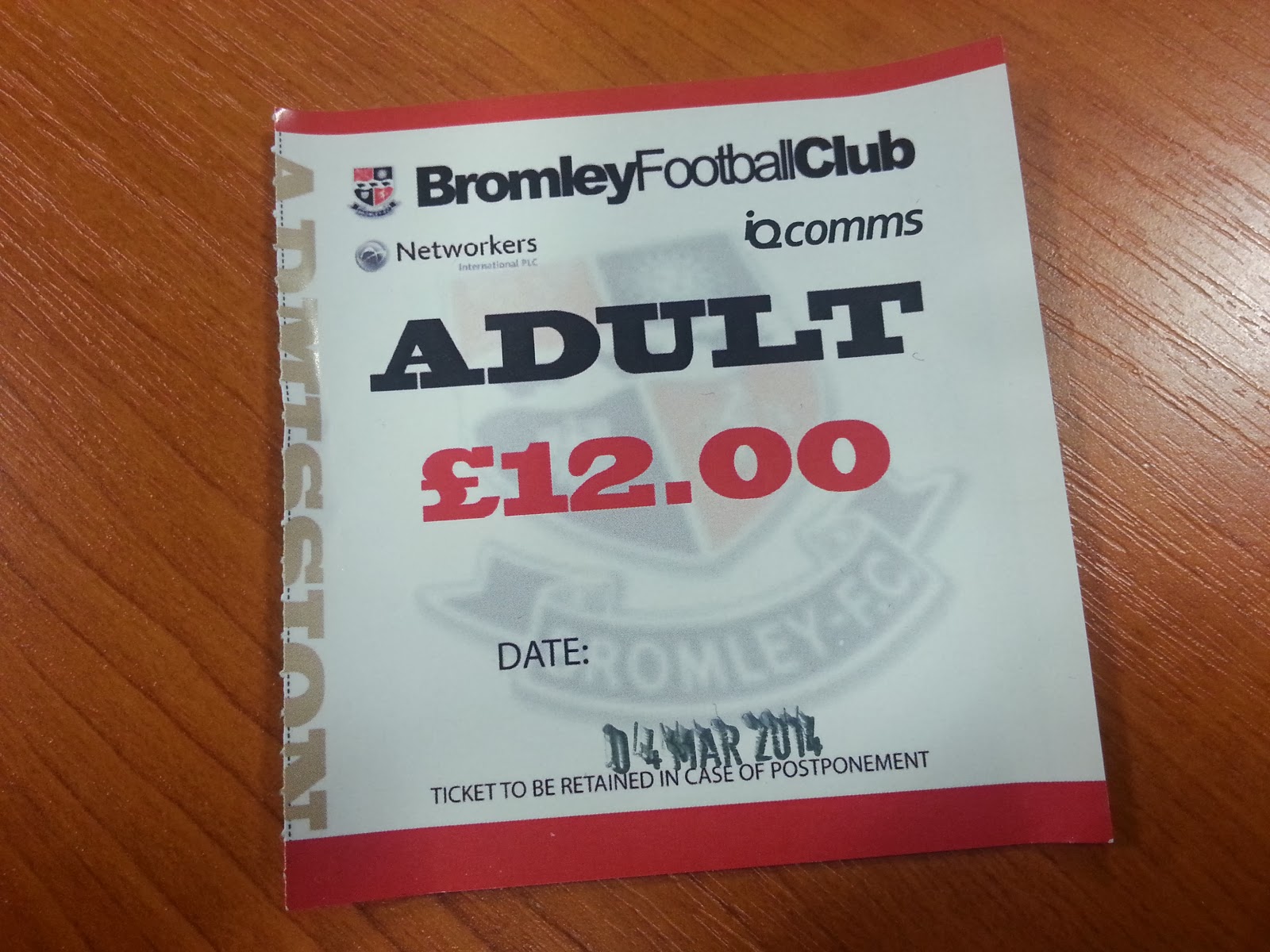 Ticket to ride. Or something….
Farnborough away this coming Saturday and hopefully that blog will be covered by our new kid on the block Totts. You never know he might even partake in a few libations as well. Here's hoping!
Duke
Att. 795