Hello readers! Me again. As it was Dukey's birthday, I offered to cover reporting duties for this week so he could enjoy the festivities without having to worry about providing entertaining content for you. That and I didn't want him leaving out anything juicy from the drunken stupidity that would no doubt ensue. As you can tell, trust is something we value highly here at Gandermonium.
And besides, with Juan unable to secure an usupervised day release from HMP Missus for a second week running, it's not like I had much choice in the matter.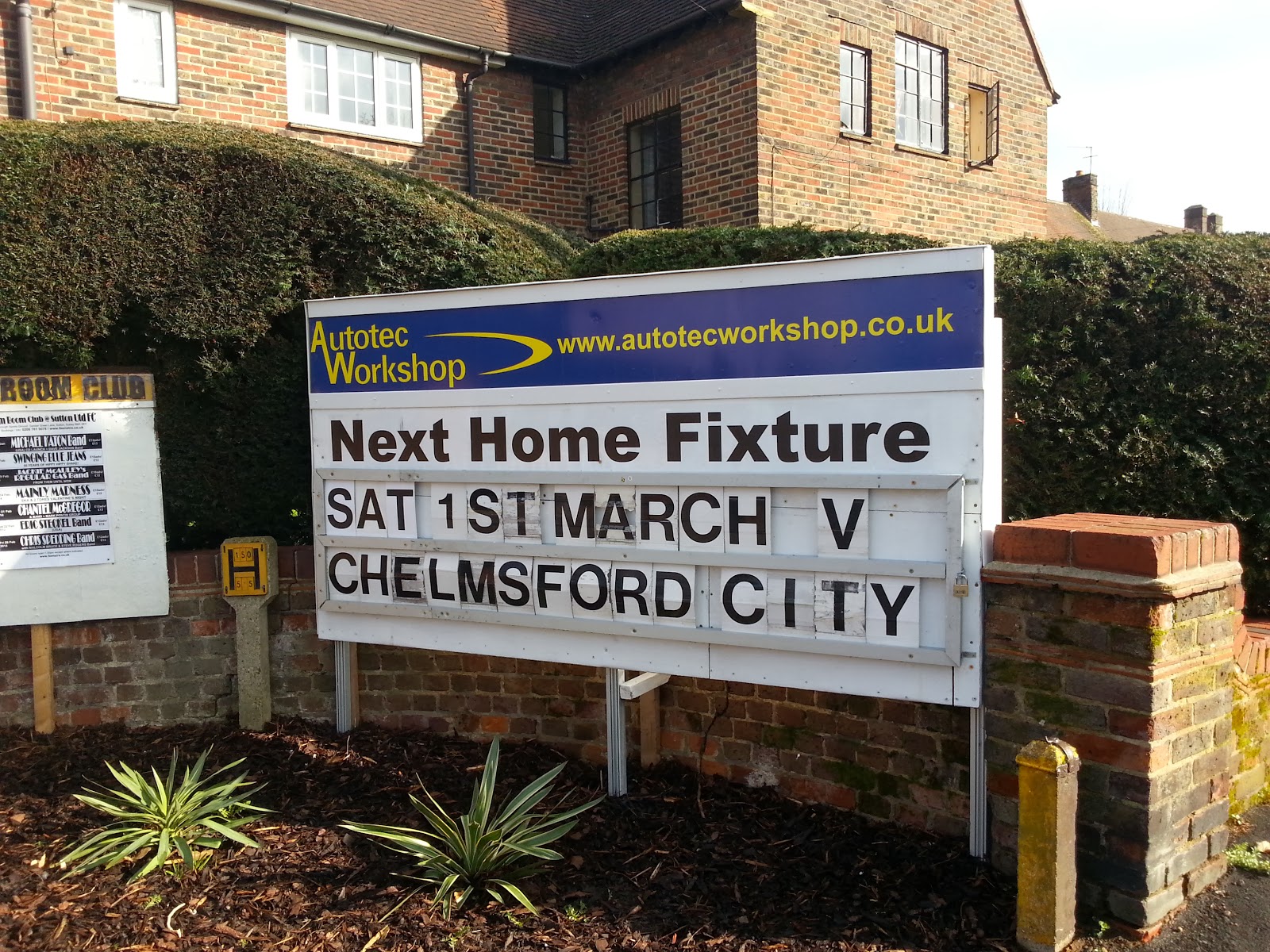 Welcome to Sutton…..
Today's tale of non-league football and hardcore non-stop boozing starts at the stupidly early time of 8am, some 140miles to the north of sunny old Sutton. Having popped up to see the current Mrs Taz currently studying at Uni the evening before, I awake in her tiny University appointed accommodation and head for the shower. I've got just over an hour to get my shit together and across the city centre to the station for my train back to St Pancs. Surprisingly for me, I'm in my reserved seat a good 10 mins before departure. With a cuppa and a selection of breakfasty nibbles. This is going too well!
I'm right. My snoozing is interrupted just after Leicester as the train grinds to an abrupt halt in what can only be described as 'the middle of fucking nowhere'. Joy. It seems the delay is some absolute dimlo has crashed into a bridge nearby and we're going no further. Soon after, the driver jogs through the carriages and we're then on the move back to Leicester to take a diversionary route. But before we can reach this new destination, it seems our crashed into bridge has been given a sticking plaster along with a clean bill of health and the driver has to do his Chariots of Fire bit back down the train so we can carry on to St Pancs as planned.
The result is arriving nearly an hour later than scheduled and ol' Taz having to weave his way through a shedload more French tourists than he'd have liked on the way back to Victoria. A quick stop off at home to bin my bag and pickup my home shirt along with some Welsh propaganda material for Nick the Taff. My train pain means I rock into the bar just after 2 and some way behind the others in the boozing. Damn you people of Leicestershire who can't drive. Still, I manage 2 pints and it's enough to make me think I'm seeing things. I'm sure I see someone who looks just like Juan in the bar. But in the blink of an eye, he's gone.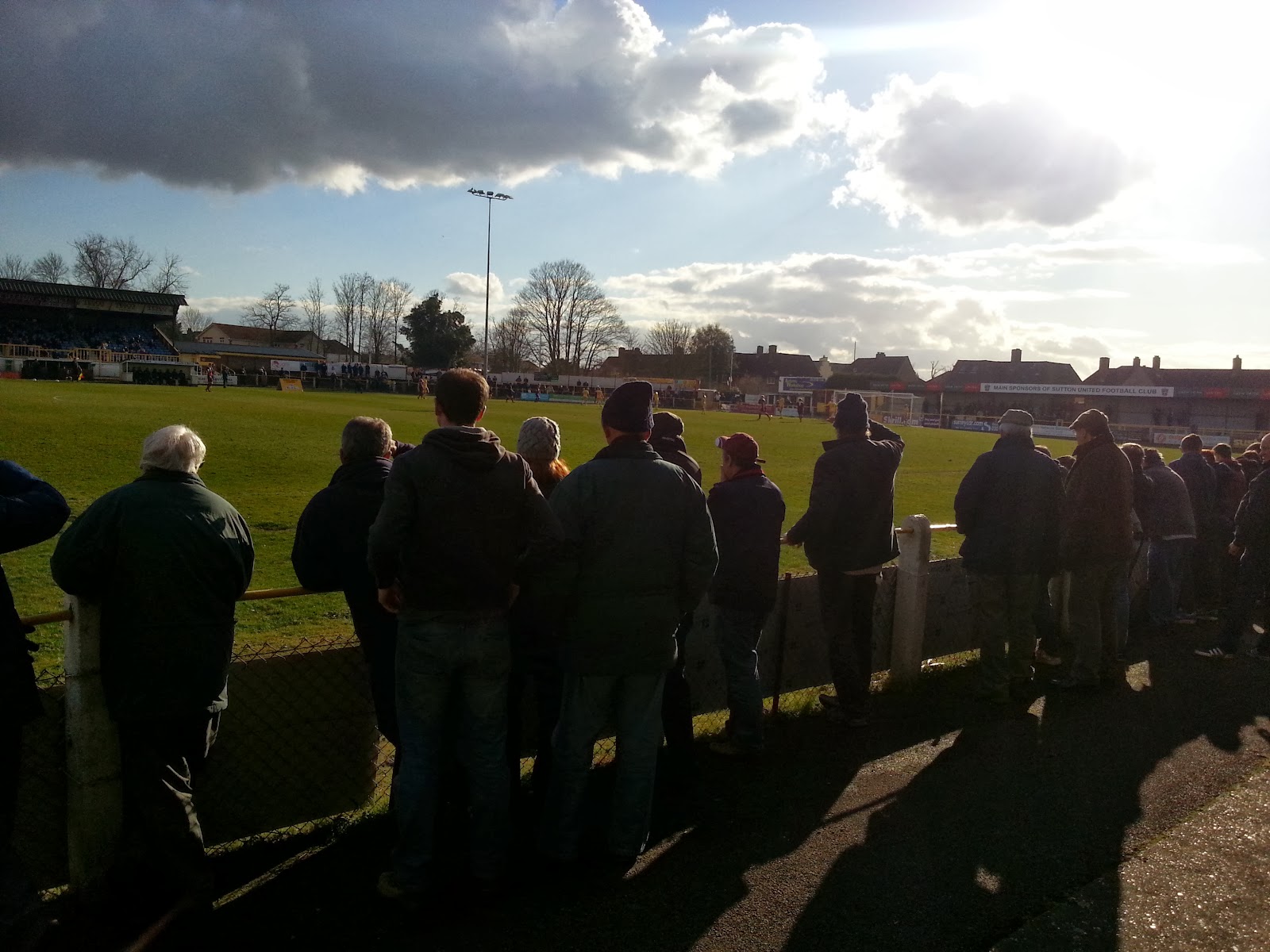 Sunny….
Right, here's the players we chose to use on this occasion….
Line up: Brown, Wynter, Binns, Clough, John, Shitta, Sawyer, Scannell, Slabber, Taylor, MacCallum.
Subs: Dundas, Downer, Haysman, Sinclair, Lovelock
It's another quick start for the U's as I've barely got to the corner flag before a ball in finds Taylor. He gives a cheeky little back heel and MacCallum arrives behind him to hammer a shot into the back of the net from an angle. We've probably played about 30 seconds, meaning both my golden goals tickets are right out the window. Well that was a pound well spent!
Sadly though, from here we fail to really go for the throat of a rather poor looking Chelmsford side and slowly but surely, the visitors find themselves earning a foothold in the game. Mainly through our central midfield pairing not really being at the races when the oppo have the ball. In fact then next real moment of note falls to Chelmsford. A ball down our left has our defence stood with their arms up appealing for offside. The flag stays down and the Chelmsford attacker has a clear run on goal. Thankfully for us, his touch is absolute pony and the ball runs safely through to Brown. This sets the tone for the rest of the half, which isn't that great, not helped by a rather soft looking pitch. We have a couple of opportunities from wide positions that the oppo clear and there's a rather obvious looking pen shout ignored by the ref when their man blatantly plays Taylor rather than the ball. They have a couple of sniffs with a header wide and a couple of blocks in the area after Brown fails to reach a free-kick through a crowd.
It's one of those halves of football that had there not been that goal after 38 seconds, the highlight would have been the ref blowing for half time.
Fans!
Hopes that a bollocking at half time might have livened us up are soon dashed and a game of football once more fails to break out. Although having said that, to be fair to Chelmo, they are at least giving it a go and playing some reasonable football on a rubbish surface. Their best chance comes on the hour mark when a ball down the left sends their man clear when Clough slips. He gets to the byeline, cuts in and pulls the ball back to a colleague about 6 yards out. But he fails to apply a decent finish and instead just prods the ball into the midriff of a prone Sutton Keeper.
Taylor and Dundo then have efforts blocked after a Scannell cross beats everyone to the far post on 63 minutes and we're then back to nodding off at the lack of action. Behind the goal, tension mounts as we can just feel a really shit late equaliser coming. But apart from one low effort from the edge of the box after a weak header clear that Brown pushes round the post which looked wide anyway, there's few moments of any serious alarm.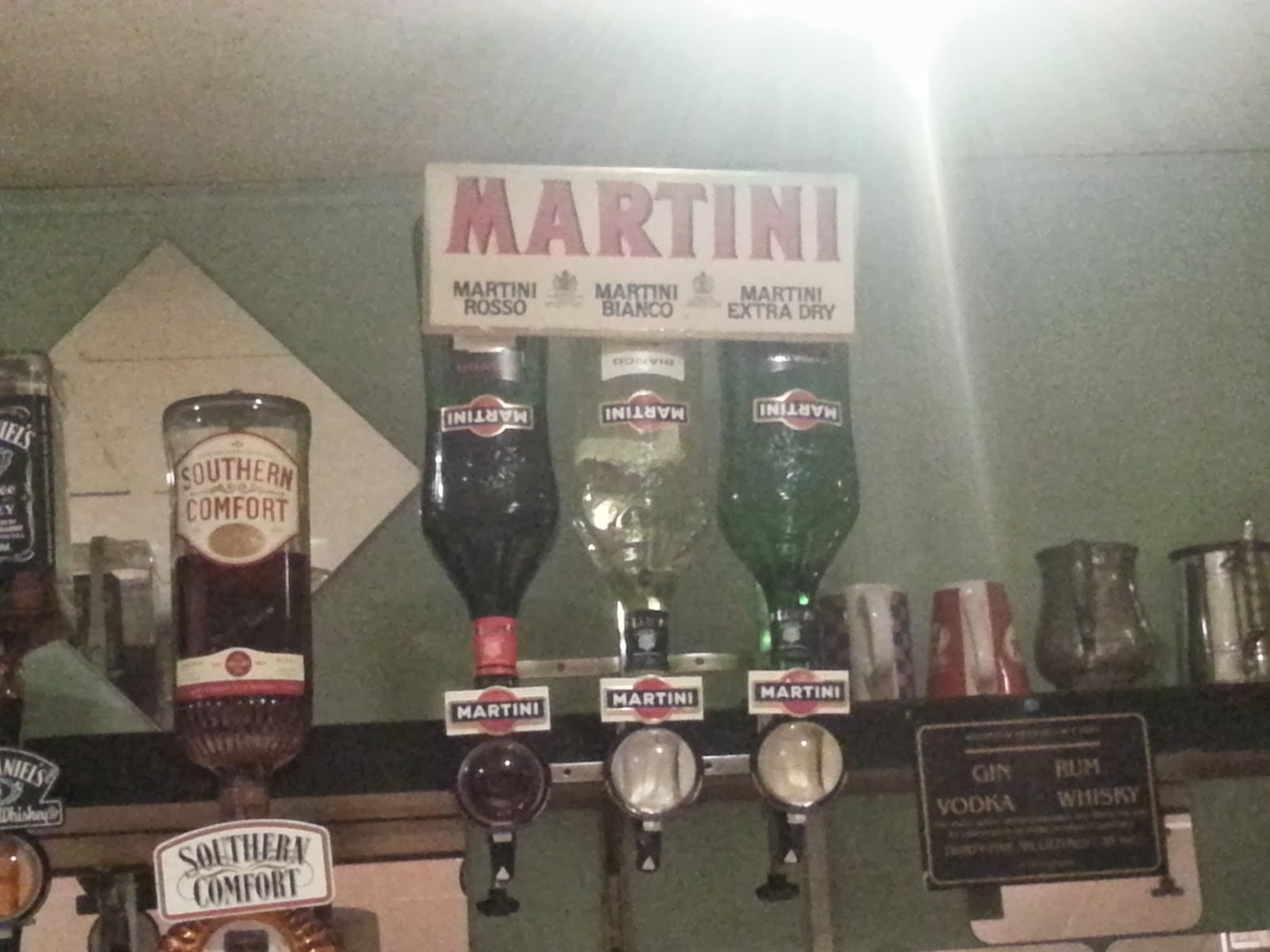 "I'll have the lot please. In a pint glass…."
Then, just as we're checking our watches and wondering how much more of this rubbish we've got to go before we can hit the bar for Dukey's birthday celebrations, we get a last minute rat of sunshine. Having been dropped to the bench due to illness, Dundo has been on as a 2nd half sub. Clearly bored by all the huffing and puffing going on around him he decides to end this nonsense once and for all. Another attack comes to nothing and the ball is cleared tiredly by the Chelmsford defence. It drops to the big man about 30 yards out and having killed it nicely with his right, proceeds to twat the fucker straight back into the top corner. Right into the top corner. It's an absolute pearler.
The celebrations behind the goal are probably a mix of relief the points are safe, joy at something good finally happening over the last 89 minutes and a fair bit of "Fucking hell! Did you see THAT?"
Despite several minutes of injury time, we see out the rest of the game without too much bother and another valuable 3 points are banked in the play off hunt. Right, can we pack up and get drunk now?
"You're my besht fwend….."
Back in the bar, it's become clear that things could get silly tonight. Dukey & Greek are on another of their "Don't drink the same drink twice" sessions as both are necking bottles of some brightly coloured birds fizz. This unravels further after Scans has, to the delight of everyone but the bloke whose ball was pulled out, once again failed to pick out a winning key in the strikers are key draw. Which to be fair is probably for the best, as if one of our syndicates had pulled out the 1650 quid on offer, we'd have ended up in that gentleman's establishment in Epsom. Greek thinks it's hilarious to get Dukey a special birthday drink of a treble Martini and lemonade. And not just any triple. It's a measure of all three types of Martini. Rosso, Blanco and Extra dry. It smells like cheap varnish, but tastes passable. Feeling smug about his attempt to kill the birthday boy Greek slopes off for a fag only to return and find his own treble martini somewhat larger than he'd left it and a sweet innocent look on Dukey's face as he sips his now much smaller measure through a straw with a heathy amount of ice. Not so clever after all, eh big fella!
The usual silliness ensue, including another weird 'cocktail' involving a mix of gin, archers and American dry and some daft pics involving an almost lifesize image of our man Dundo before we get lazy and take a cab to our old haunt The Grapes. Here it's time for some eating and cheating with mixed grills all round and copious amounts of Woo Woo, which become Poo Poo when the pub runs out of cranberry and instead switches to pomegrante juice. We're delighted as this means we'll manage 2 of our 5 a day.
Eventually though, the pace takes it's toll and we stumble out of the pub at closing with just myself, the birthday boy and Nick left standing. Tapauri anyone? Not a fucking chance! Although we do stroll past the sadly missed Chicago's, where had it not closeda while back, we almost certainly would have spent this evening making idiots of ourselves.
Sad frowny faces.
Happy Birthday to you, I went to the Zoo. I saw a fat monkey and I thought it was you!
Happy Birthday Dukey.