One day,
Maybe one day.
We here at Gandermonium and in The Firm will get someone to video tape a whole day's exploits on one of our booze cruises. Not just so we can pawn our wares out of a carrier bag or the back of a Ford Cortina like the dodgy diamond geezers were are. Or maybe that we could drag it out every time we want to remember the old days when we're all dribbling drunks in some falling down decrepit NHS nursing home. But simply put it is because we never seem to remember a fuckin' thing!
There was a time when the home game meant a couple of jars before the game and then a quick swifter afterwards before heading home to do the kind of stuff that only Prince would sing about. But not these days as some of them have become right humdingers with some of us feeling worse after them than a all dayer away from home. How can we forget last week trying to order some pizza whilst the others invented a new game called "Try to jump on the cone without it collapsing, and therefore not falling on your arse".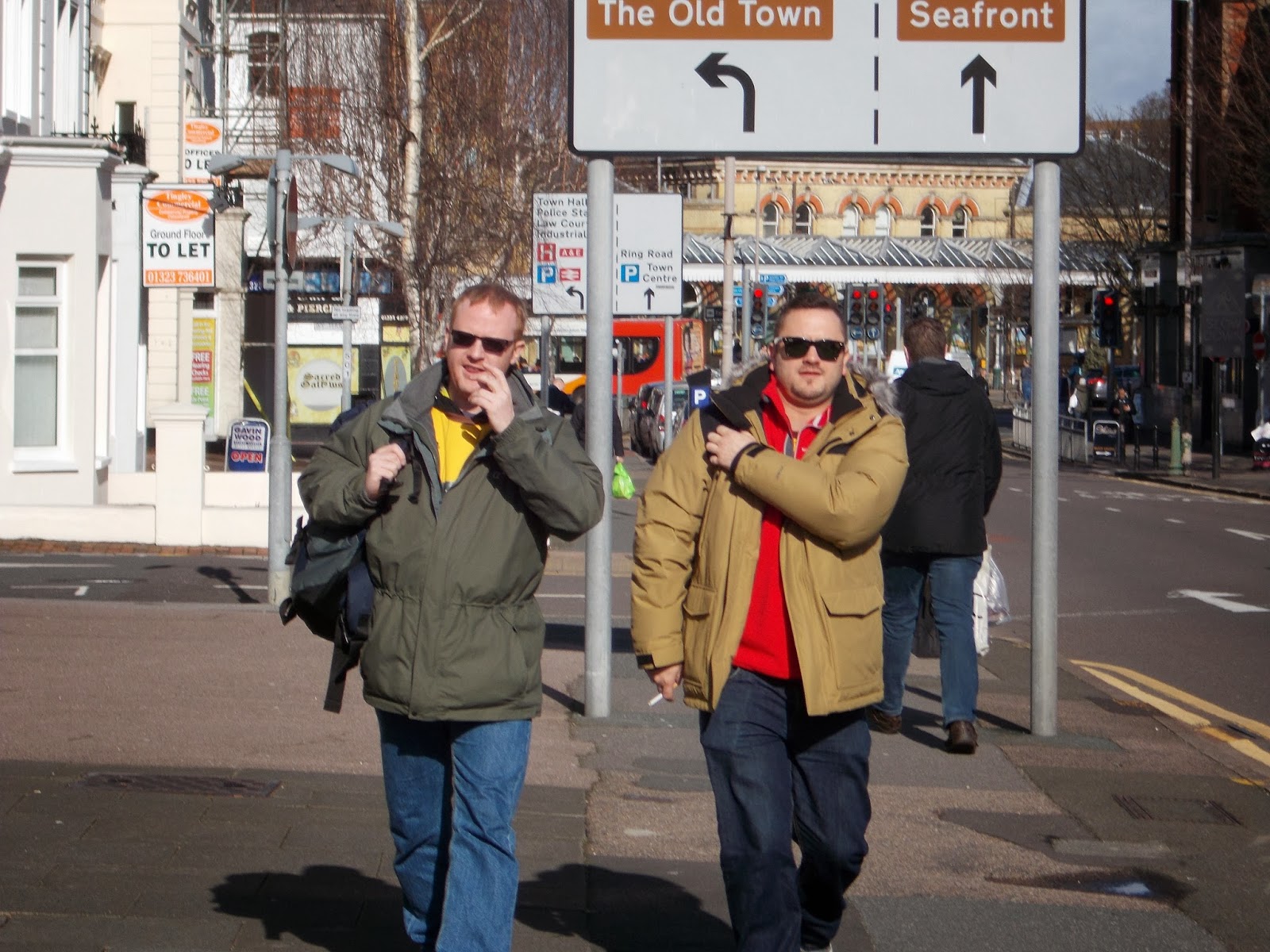 Reservoir dicks…..
Anyway, so today's opponents are due to be Eastbourne Borough. And like the northern European blonde hair, blue eyes, calm, cool and collected individual that I am. I delve into the Gandermonium database to have a butchers at some old reports. You wouldn't believe it but I find that Eastbourne Borough has the third highest blogs accredited to it! Yeah I know, fuckin' totally amazing that is!
Word is sent through the channels that the meet is slightly different as British Rail is digging up the Carshalton line looking for any signs of a once thought extinct Carshalton supporter who stills gives his backing to Dippy down the road. Now we have two choices: The first is to go to Clapham via Wimbledon or head straight to East Croydon. Unfortunately I'm still without an operating mobile phone. So without any help from the GPO I decided to put my faith in a can of beer and head towards the bus stop, deciding to get the 157 eastwards. Rumours are about that Juan Sheet is joining us today without a signed and sealed permission slip…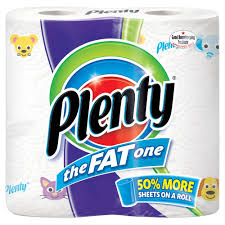 Juan being honest
Arriving at West Croydon without a care in the world and having no knowledge of who and where everyone else is, my mind began to wonder. Not of naked ladies do very naughty things to themselves but of the last time we made this trip to God's waiting room. Now I'm not the best for remembering what happens and where, but the only two establishments that I can think of are the one we normally start drinking "The Eagle" – where the bastards couldn't provide me with one lousy sodding rabbit pie – and the other where we normally end our drinking "The Terminus". I vaguely think this is the place where I had an unsuccessful attempt at chatting up the bar staff whilst Mr X spunked the jukebox with the theme tune to Teenage Mutant Ninja Turtles. Come to think of it wasn't it Hero Turtles?
Anyway back to today and after deciding to have a butchers at what is left of Reeves Corner I walk up towards the station. As I was doing this who do I see coming out of an alley doing up his zip? None other than Juan himself looking decidedly shifty. I must remember to have a word in his shell like about what he was doing. After exchanging a non continental handshake Juan announced that he was a little Hank Marvin so we stopped at the local MacDonald's. I was however sticking to the old "Eating is Cheating" motif that has stood me well these years. It was here that was saw our Editor-in-Chief arrive and he had consumed his double sausage and egg – less the egg mind you – we finally hit the station and waited for more members to arrive.
With the Welsh Wizard in attendance and news that Mr X was coming down from Clapham we headed down to the platform. The first problem of the day arrived with Mr X who after getting what he thought was a fast Gatwick Express train left him with the new modern age problem, with time against him should he have a tea or a cigarette? The tea won this round and we all eventually jumped on the 1003hrs towards Eastbourne. The conversations at this time was rather different as we discussed the forthcoming Euro 2016 draw on Sunday. Our hope is that Gibraltar are drawn against Albania because for some strange reason we want to go to Tirana for football. The train arrived and one of the highlights of the day was that we were able to find some seats.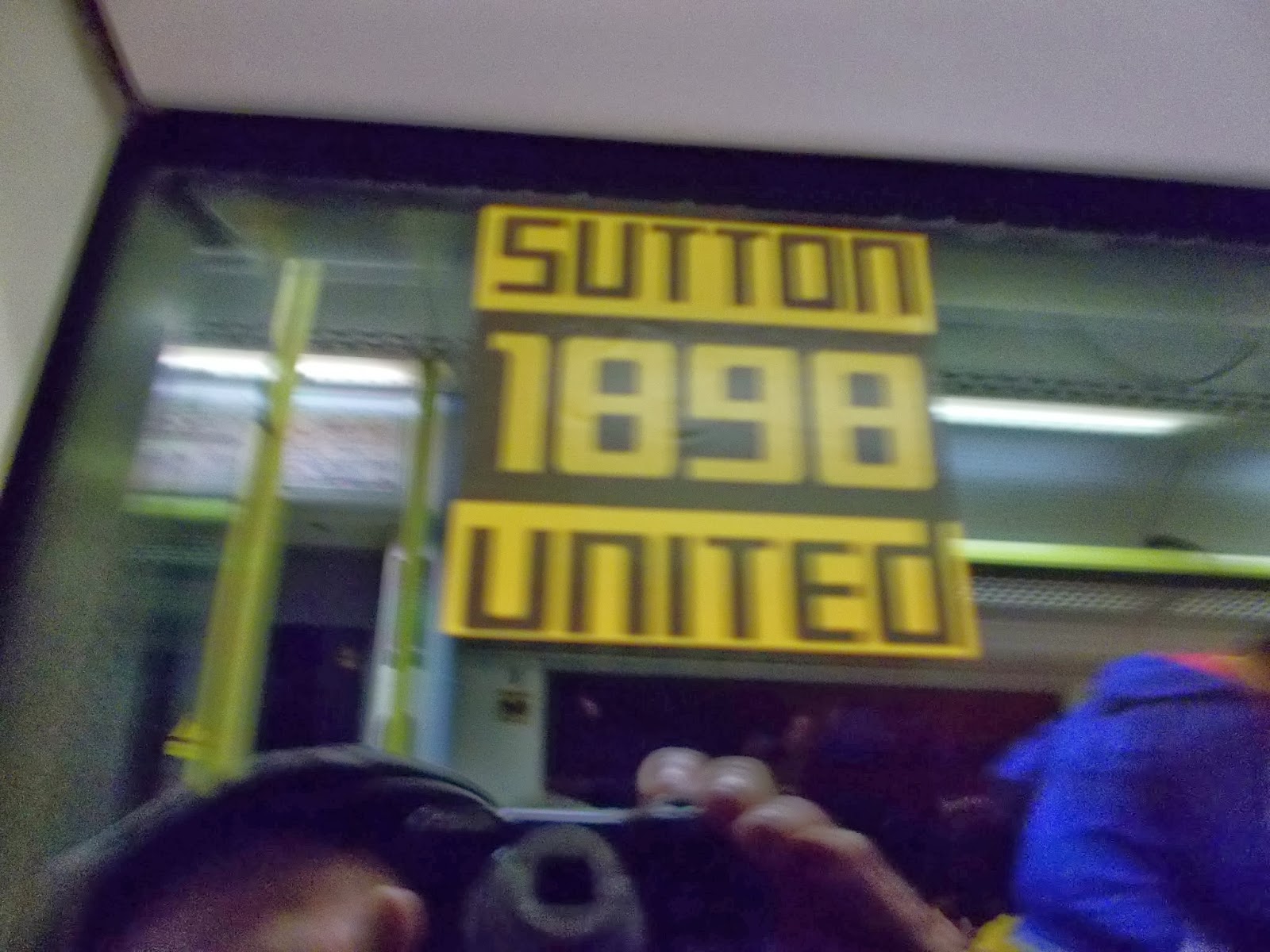 Nah, we didn't do that. Honest.
On the train the conversation took a turn back usual bollocks that spout from our mouths. I think it was the E-I-C who commented on why he hung around with the likes of me. He obviously couldn't see the attraction and dynamics that I bring to any old booze cruise. Now do you remember that plastic putty stuff that came in a cup and if you were to stick your fingers in it, a sound would emit that everyone would know. Now of course we here in the Firm always lower the tone, so after having Mr X look up the name of this "Farting Putty" which got lost in translation and became "Farting Puppy" much to the disgust of fellow travellers the questions begun in haste "What size is the hole?" and "could it take a fist?" were some of the more clean ones asked. I still can't believe that Mr X knows the difference between Play-Doh and Plasticine.
Getting to Eastbourne after opening orders forced us to up the pace and head to the first pub of the day "The Eagle". A surprise awaited me here as behind the jump was one of my favourite tipples Jeremiah Weed. The only thing I had to ask was for a jam jar. With Leeds on one telly and Chelsea on the other we scoured the paper for any tit tats to talk about. Around this point we were asked to usual bullshit from locals like if we beat Coventry and if we were there. There was even a surprise visit from Wellie coming all the way from Tonbridge.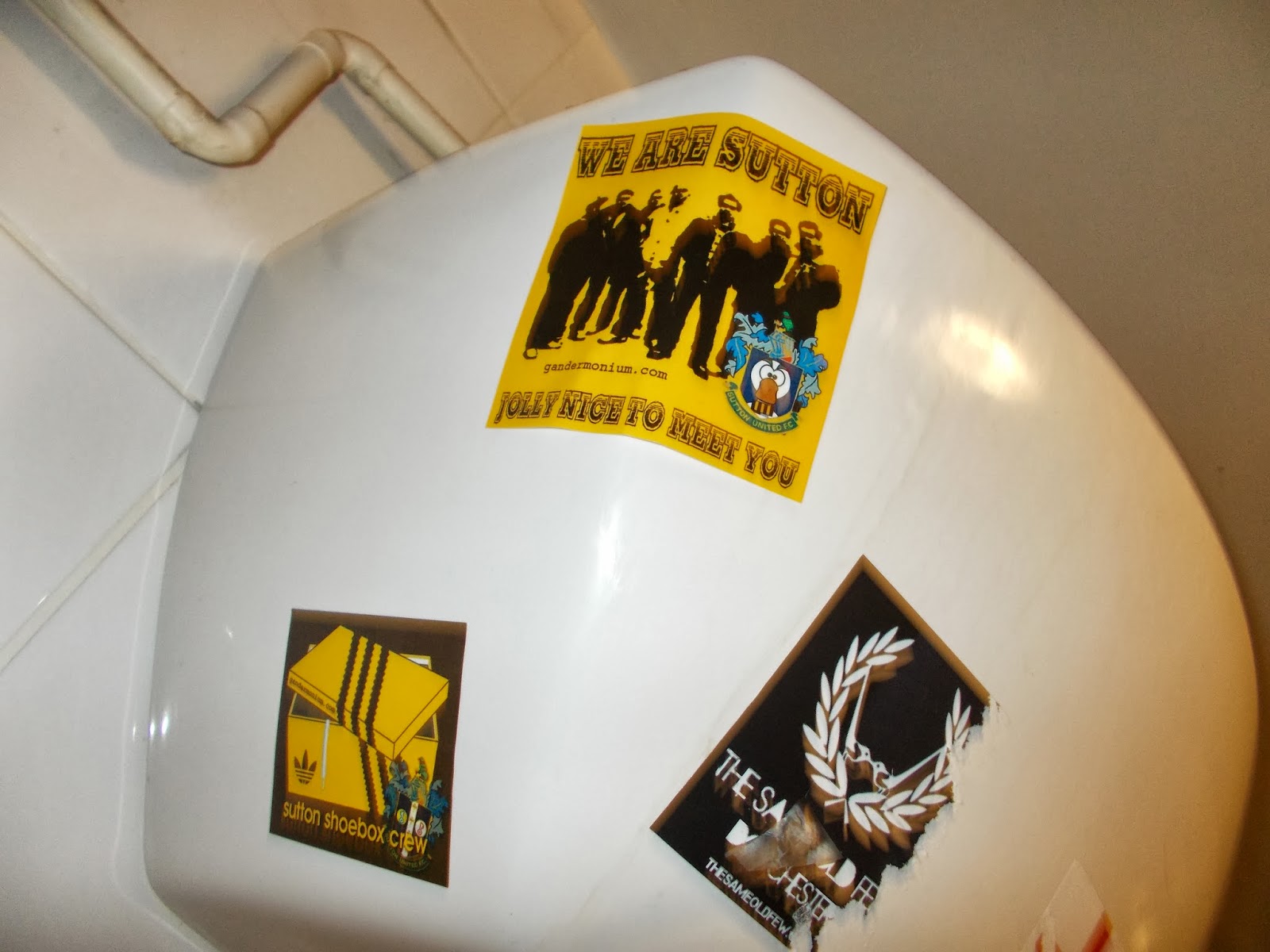 The Dorch one looked lonely….
With no Firm Leader in attendance our leadership temporarily fell onto the shoulders of the Welsh Wizard who had wanted to go to the seafront for a pint. We toddled off towards the sea taken in some of the sights that befell us. Arriving on the seafront we headed to the pier, strangely enough it appeared only half open and our disappointment was compounded with not only the pub on the pier being shut and the doughnut stall unoccupied. But also there was no place to get any bacon noodles! It seems that little aperitif will have to wait until Whitehawk away in April.
The hunt was now on to find a boozer through the back streets for a cheeky pint before we headed towards the ground. Eventually a rub-a-dub was found. I was convinced that it was called "The Nutsack" but I'm reliably informed it was called "The Nuthouse". A quick bottle of Coruna and a mixed up phone call with the barman over his selection of nuts was all that I can remember. There was to be some slight confusion later on as to if "The Nutsack" might've been a bit of a fruity pub but we never returned to find out.
After some very personal questions towards the Duke in the cab and the continuous piss taking of the non appearance of my phone, we arrived at Priory Lane with time to spare. Indie and Sean were there after their little family visit, plus many of usual away supporters that regularly make these trips. News had reached our ears that Shitta was missing and Downer was starting on the bench with us playing two up front for today's encounter. The team today:-
Brown, Wynter, Binns, Haysman, Clough, John, Scannell, Dundas, Slabber, Taylor, Sawyer.
Bench: McCallum, Downer, Weston, Sinclair, Lovelock.
Straight from the off and running into the first twenty minutes it did look like that this match might end up with us getting another three points. There was some good football coming down the wings with only the final ball lacking. There was a cracking shot from Taylor that had the Snood in goal tipping one over the bar. It was around this point that the local youth wing decided to stand next to us and goad us with some immature singing and comments. It didn't help that the stewards were clearly not interested in this and if a situation turned sour they would've done nothing. Any way back to the game and suddenly after 25mins we were one down when ex-Us player Elvis managed to received the ball and then turned outside and then inside past Clough and then scuffed the ball past Brown into the back of the net.
Now if ever a goal could change the flow of a match it did today as that goal seemed to waken Eastbourne up and put us to sleep. The rest of the half saw Sutton begin to run around like headless chickens some of the players were showing signs of forgetting everything that they did at games against Weston and Dover. It was Eastbourne that tried to create the opportunities with Elvis going close again and another shot by the other forward going tantalisingly wide.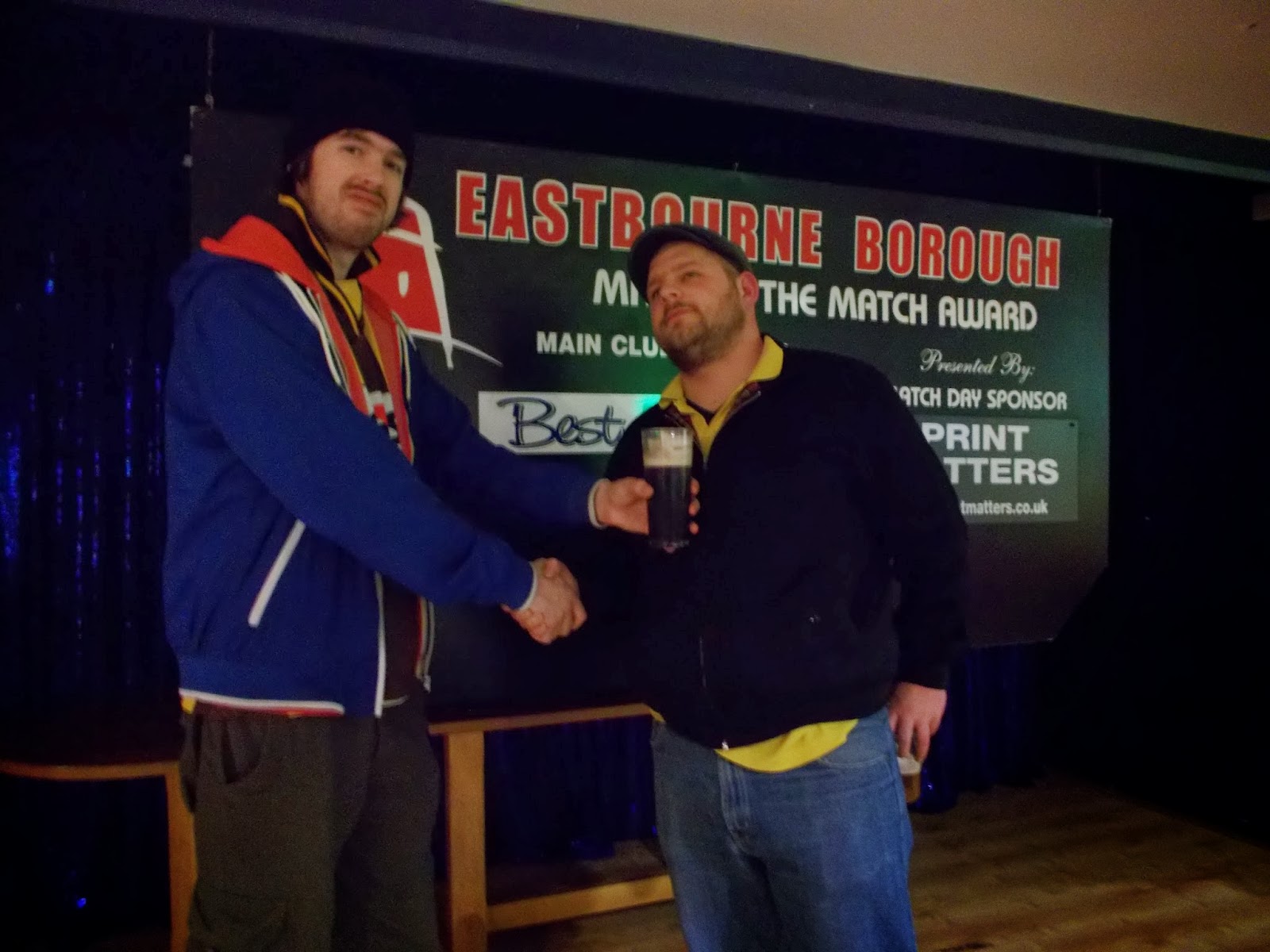 Dukey collects the presitigious Gandermonium MotM award.
That we just made up….
The second half saw us head to the other end stick up the flag and await what words Our Lord Dos would get through to the players. The first change was for a very quite Sawyer being replaced with Weston. The next piece of action nearly saw the game changer when are trying to get rid of the weirdos of Eastbourne that had followed us round the ground, we saw Eastbourne on the attack going down the left and Clough misses a sliding tackle, fella pulls it back only needing a tap in when their fella smashes it wide. Phew! Suddenly we are on the attack and after the ball bounces over the keeper aimless going wide Dundo doesn't give up the ghost and forces the defender to hit it into touch. The resulting cross from Taylor saw Slabber with a trademark header over Snood that see to take forever bit did eventually hit the back of the net. After the mass hysteria that engulfed the away end I nearly missed seeing Kane & Able going off for Gavin. Several minutes later we saw John be replaced by Downer, much to the mild confusion of myself but it was later explained to me in the bar afterwards.
The nest big incident has two issues that I would like to point out. Weston jumping for the ball against an Eastbourne player who made no attempt to go for the ball so rightly the referee gave us the free kick. From where I was standing it looked like the way that Weston landed on his right leg might've caused him to turn on his ankle. It later turned out to be his knee and as our resident knee expert commented on after finding the extent of the damage "Ouch!". The second issue I had was in his treatment by the Eastbourne supporters down the side of the pitch. I find it fair to tell a player to get up if you feel his is janking your crank. But when a stretcher has been called for and there is real concern for him, this is the point you stop, not to caring screaming. This very ended are attempts to take three points back home and for the last twenty-five minutes you saw a good last stand defence with everyone trying to put a shift in protecting Brown in goal. The only real chance for them came just after The Welsh Wizard starting a chorus of "Wise man say" as a shot was rifled into the side netting from outside the box.
After the match had finished we headed into the bar for a shandy. It was here that we were reliably informed by regulars Bob & Kath that shock and horror the Terminus was all boarded up. Well that's my blog title fucked! What the fuck were we to do now? Well the nutsack was a major no no, and nothing else sprang to mind, so what would you do? The Firm doesn't think like that because I believe it was Mr X who then declared with the simply word "LEWES" and that was it off to Lewes we were going. Whilst this was going on I manage to have a word with Macca over our end of season supporters match as Macca was after some training sessions before hand to get us in the mental zone. If he wasn't a legend already he is now by this simple statement:
"We're do a couple of laps and then we'll get pissed"
Sir I raise this cup of tea in your honour!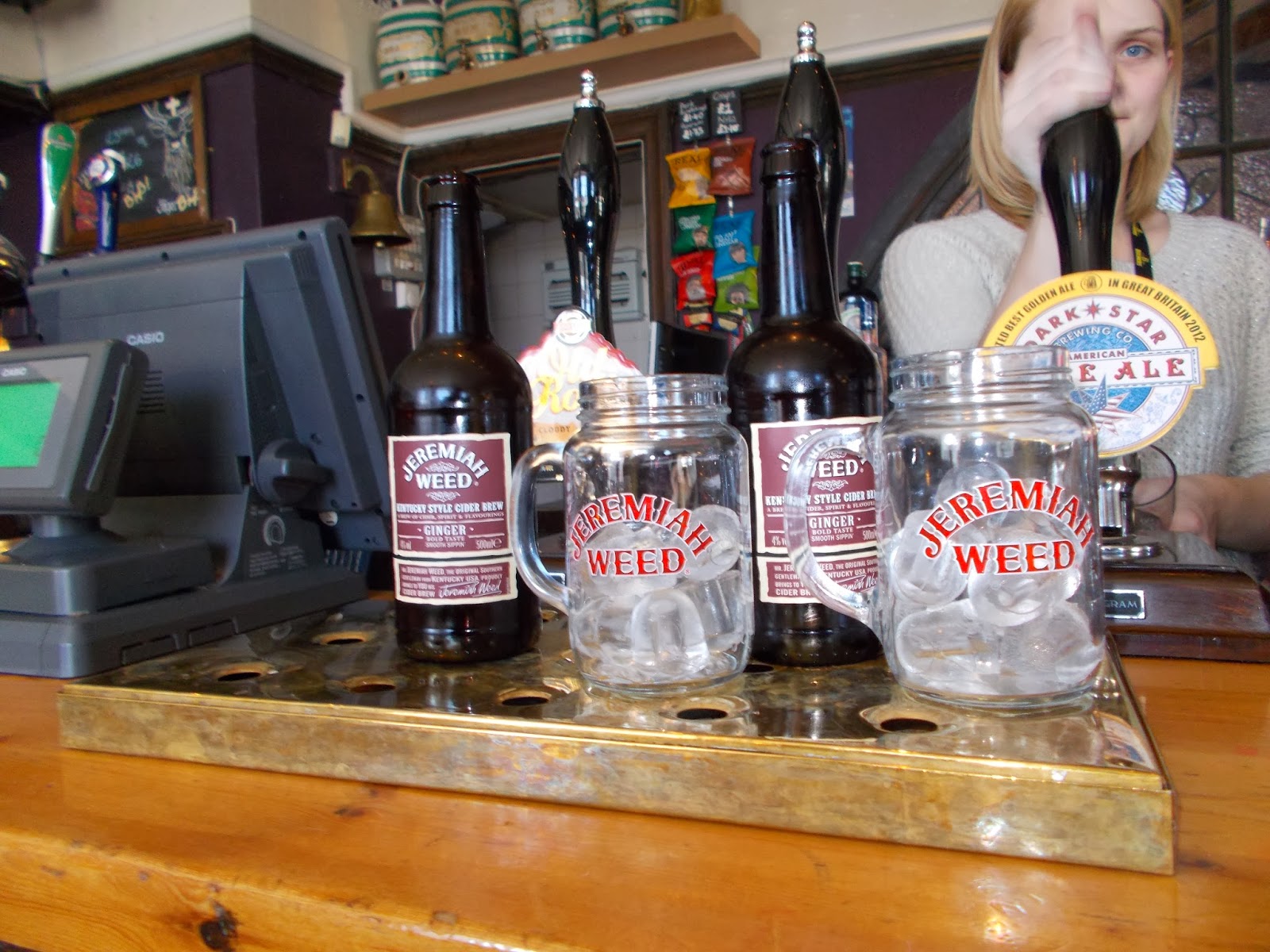 Weeding time!
Cabs ordered and arrived we left for the station only to change our minds and head for the local posh Wetherspoons where after spending ten minutes on the quiz machine were quietly told be the bar staff to watch ourselves as some of the local moose's were sticking their faces in a trough. In order to avert a diplomatic incident and the fact that our train was due we left Eastbourne again for another year. On the train to Lewes we got talking to a bunch of revellers on there way to a gig in Brighton. The somewhat confused kids couldn't work out why we were going to Lewes instead of Brighton, I don't think they even knew of the battle of Lewes last October that made the local papers.
The Lansdowe was the first pub on the list as we tried to formulate a plan of attack. We failed in that quest so decided to move on. The next pub was up the hill that Mr X was convinced that we didn't hit when we were last here. Luckily for him as I had nearly 800 photos on my camera now I managed to find several of him sprawled out over a table. At some point our E-I-C randomly declared if any one would like to see the world cup in Clapham? A couple of blank stares between us was followed by a consensus to head back to London and civilisation.
As this was going to be the main trip back we stocked up on supplies of Foster's, Brother's Cider and Kentish Ale as Juan done the food run to the local kebab shop. My need for food as the only thing up to this point was the Editor's egg out of his muffin was beginning to take hold so I manage to pick up a packet of biltong and had that over some chips. I also did purchase some pork scratchings for the journey which was consumed by the Firm in record time. Unbeknown to me was that Mr X had managed to hide a piece of pork scratching somewhere where you shouldn't hide a piece of pork scratching. Next followed a ten minute coughing fit that wasn't helped by the laughing of the other members present.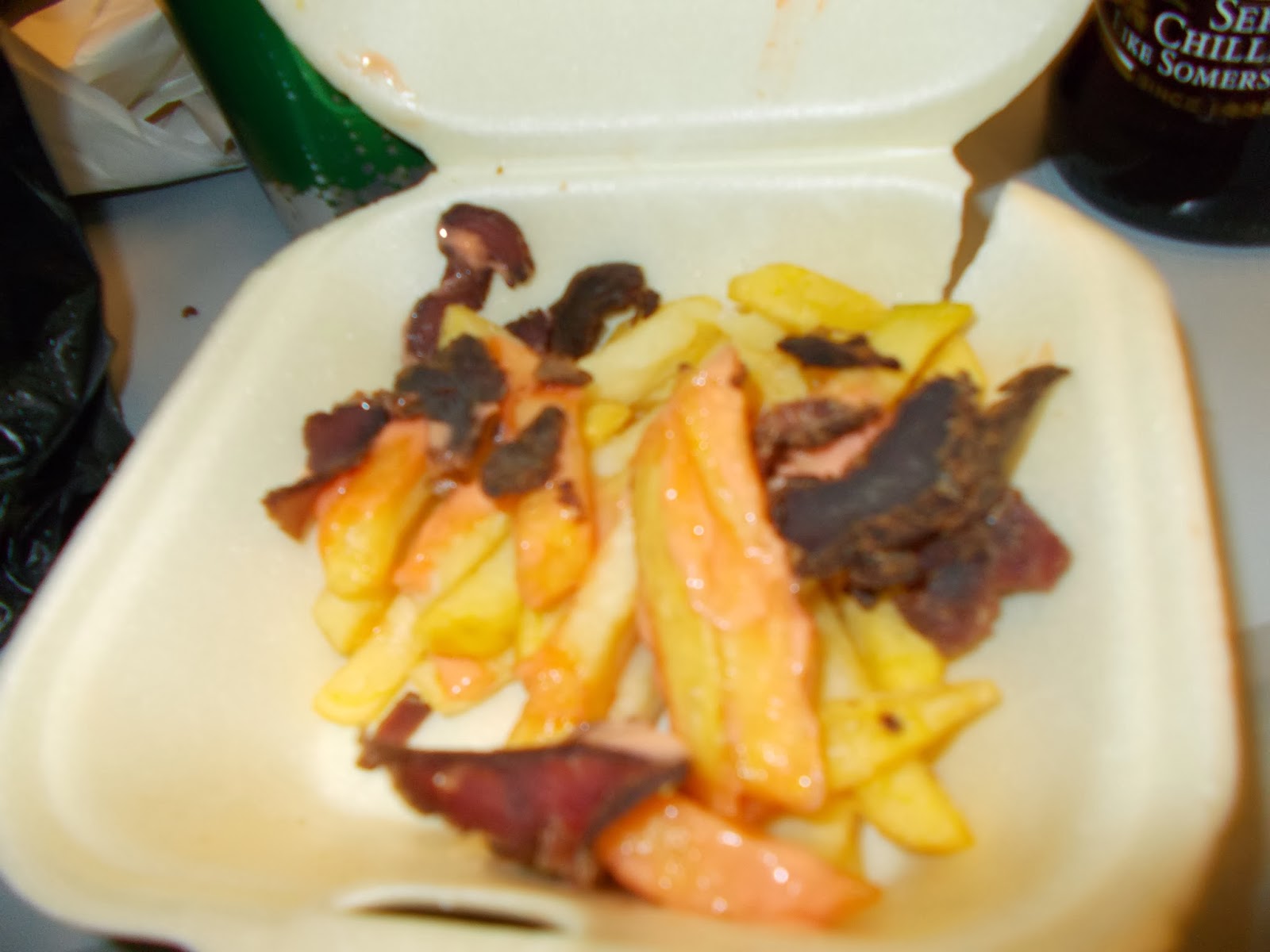 A meal fit for a fit….
The next memories that I can remember was arriving in Clapham and heading to some restaurant/ bar that had a replica world cup behind the bar. Cue many photos holding the hallowed trophy followed by a shit load of people dressed up as golfers with blow up golf clubs. This was where Mr X decided to leave at this point with us not too far behind. It was on the train that we received a tweet from him that he was on a train at Gypsy Hill station. I looked out side and where were we? Gypsy Hill station! So we replayed for him to come down the carriage, unfortunately he once again fell asleep, waking up at Epsom.
This left the four of us to head to Sutton and to where the E-I-C had declared in MacDonald's over twelve hours before that "I Won't be going anywhere near Tapauri". There was a bit of bluff to get through the barriers and in the confusion Juan managed to get a sherbet somewhere else. No doubt he had received a better offer! Several Vodkas, Gins and Beers later the three amigos started to stumble home into the night. For some reason I walked the Editor all the way to the Duke's Head before turning off to try and remember anything of another classic booze cruise. Happy days, Chelmo next Saturday.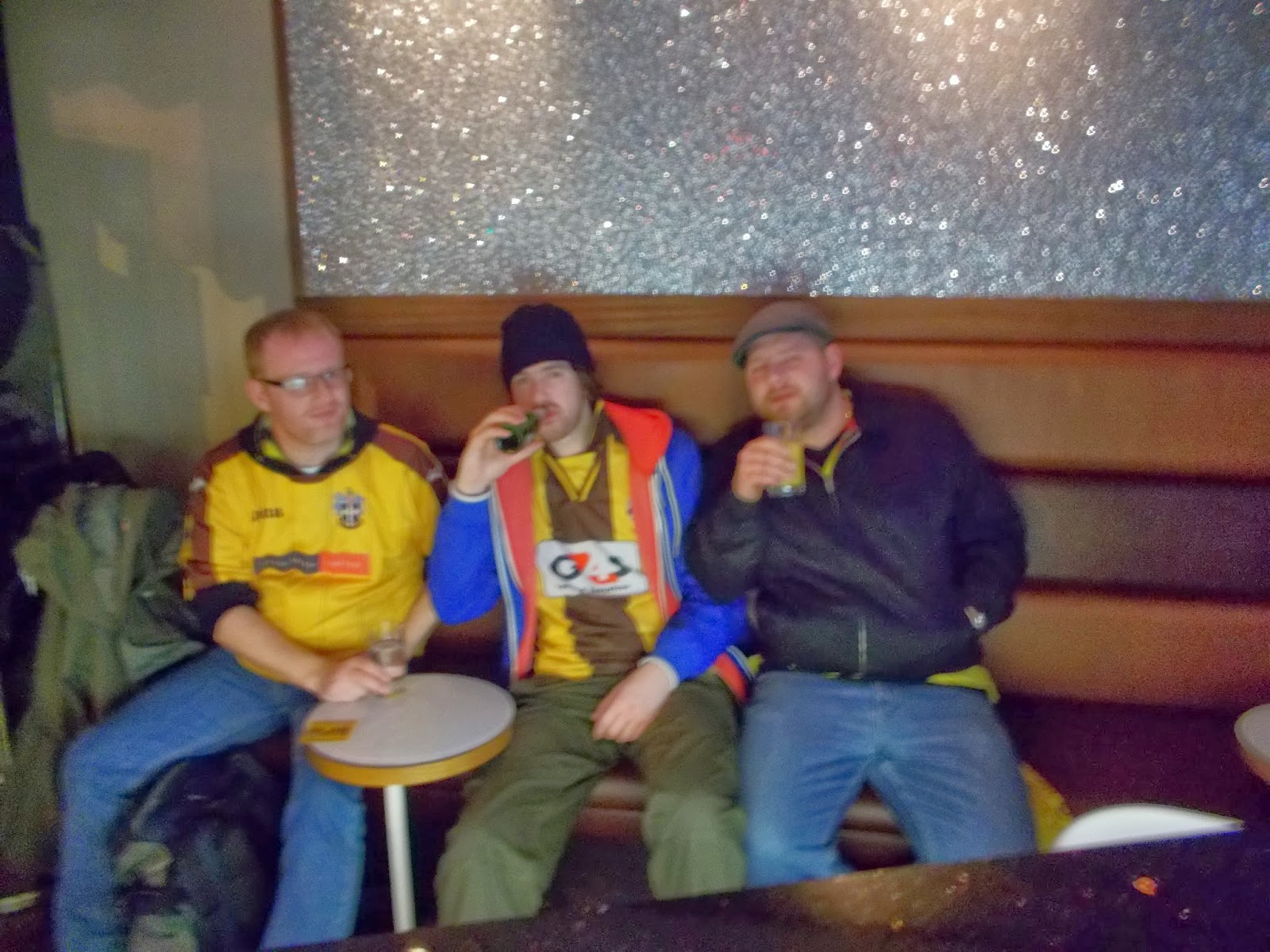 None of these men is drunk. Oh no….
Duke
Att. 568