When you decide to go to a new place abroad, you usually do some sort of research. Is it a shithole? What are the bars & restaurants like? How much is a pint etc etc. And we here at Gandermonium are no different (come on, bar research is VERY important!), so when Juan suggested we slope on over to sunny Serbia later this year for a game, we of course wanted to know what the deal is. Mainly as all we could tell you about the place is the names of several of the 1991 Red Star Belgrade side, that NATO bombed the fuck out of it in the late 90's and they've produced one or two war criminals.
We didn't bother asking Dukey either, as he'd only have given us a run down of the place from the latter end of the 19th century when it was part of the Austro-Hungarian empire.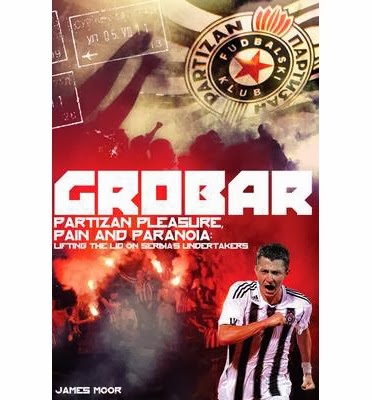 The cover innit….
Of course, like most sensible travellers you'd expect us to go and get some sort of Lonely Planet guide and read it cover to cover for all we needed to know. But sadly, it seems this bit of the former Yugoslavia isn't that well covered in this respect. Oh and we're not remotely sensible either. So we had to look elsewhere for inspiration.
Thankfully, a chap by the name of James Moor helped come to the rescue with his recently published book 'Grobar'. James was an Arsenal season ticket holder and working for the FCO when he was posted to the British Embassy in Belgrade in 2011. It's a pretty full on 3 year assignment including him having to learn the lingo so as to better integrate with the locals.
Naturally, like any football watching Brit heading abroad for a lengthy stay, his first thought is to what local team he can adopt and initially he decides he's going to be spending his weekends watching the more famous Red Star. Mainly as he's heard of them and also because they play in red & white like Arsenal. However, that plan is soon out of the window upon his arrival in Novi Sad for his acclimatisation period before moving to the capital, when he finds that most of the people he's working with initially are all supporters of Red Star's deadly rivals Partizan. And there's no way on earth they're going to have some foreign lad rock up and start following those dirty 'Cigani' (gypsies). So his new colleagues, mainly two lads Igor and Dusan, set about a subtle hearts & minds campaign to snare Moor for the black & white of Partizan.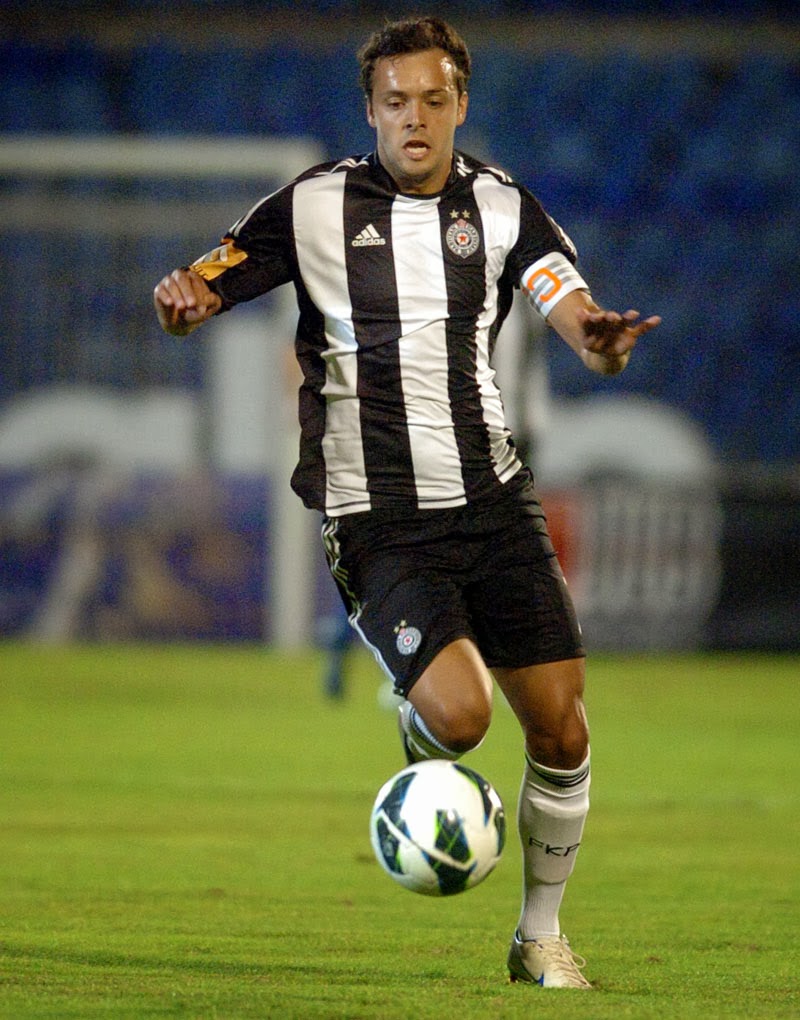 Nemanja Tomic. Popular.
Well, I say subtle. It actually involves taking him into the large & impressively stocked trophy room at the stadium on practically his first visit and also getting him a press pass to his next couple, allowing him to spend one 90mins in the company of a seriously fit looking redheaded lass who writes for a semi-official club magazine. This is coupled with a stream of 'facts' from the likes of Dusan mainly about why Red Star are evil and that Partizan are the true force of good and the real people's club. In the end, despite his assertion that he'd just give it a go and slink off to Red Star without telling anyone if he didn't like it, the Grobar have their claws in too deep and our author starts on something of an odyssey into the mad world of the Serbian Premier League as a Gravedigger. Along with a season ticket costing less than £25.
From here, despite the Crno-Beli largely leaving their rivals in their wake in the race for the title, there's plenty of madness along the way to keep the story ticking over including a shock Europa League exit at home to Irish club Shamrock Rovers, the goalkeeper who is about as popular as a fart in a lift due to the fact he's played for both Red Star AND Partizan, a huge split in the hardcore Ultras that occupy the 'Jug' home end where infighting leads to hostilities between the main 'Alcatraz' group and a bunch calling themselves 'Zabrenjeni' (the Banned), plus there's the public bickering between the manager and chairman leading to a sacking and the bizarre appointment of Avram Grant. Oh and his mate Dusan's irrevocably vitrolic dislike for one of his own midfielders, Nemanja Tomic.
It's all the detail of this madness that Moor provides that helps keep the book flowing and makes it such a page turner. Whilst occasionally, he comes across as a little bit of a new football, wet behind the ears civil servant. Such as confessing he doesn't like beer, a fact which utterly perplexes his Serbian hosts (looks like we'll be causing no offence on that front!). And having made it very plain early doors he's not that comfortable with the occasional episodes of racist and nationalist chanting from the Jug he does somewhat labour the point a tad. However, I guess when you work for someone like the FCO, you've got to cover your own arse as much as possible on stuff like that and he does tend to balance out the hand wringing with some fascinating social & political context for these episodes. His ability to speak the local lingo also helps give some lovely insights, my favourite by far being in the chapter titled "Your mum's peasant cunt".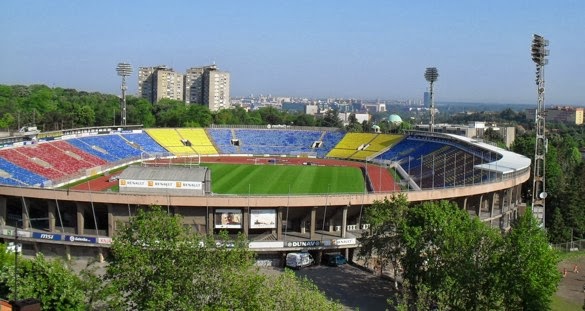 Partizan Stadium.
In this section, against the backdrop of that European exit to lowly Shamrock mentioned above, he works his way through the fabulous stream of utter filth pouring forth from the terraces as the Grobari stumble to a humiliating defeat. All coupled not only with explanations of their meaning, but other contexts in which they can be used along with combinations with other words. I can't be sure if he meant it to be such, but I found the rather matter of fact and educational delivery of it all utterly hilarious. And yes, he does provide the literal Serbian translation for that charming chapter title. It's 'Picka ti materina seljacka' in case you were wondering. We wouldn't suggest using that around any Serbians to be honest. Although staggeringly it's not quite the worst insult detailed.
Needless to say, this isn't a section we'll be sharing with the likes of Dukey before our own trip over. We're not sensible people generally, but even we're not complete lunatics.
Of course, we can't talk about this book without mentioning the Derbies. Probably Europe's most mental cross city football rivalry and if you've seen the footage from their first meeting this season before Xmas, you'll know what we mean. Clashes known for frequently being as lively and interesting off the pitch as on it. Moor gets to attend 4 of these games in the course of telling his story, 2 league matches plus a 2 legged Cup semi final and the book opens with the author and about 100 other Grobari beating as stylishly a hasty retreat as they can from the 3rd meeting that season without ever actually breaking into a run. All this whilst under a hail of firecrackers (this is another bit we won't be showing Dukey).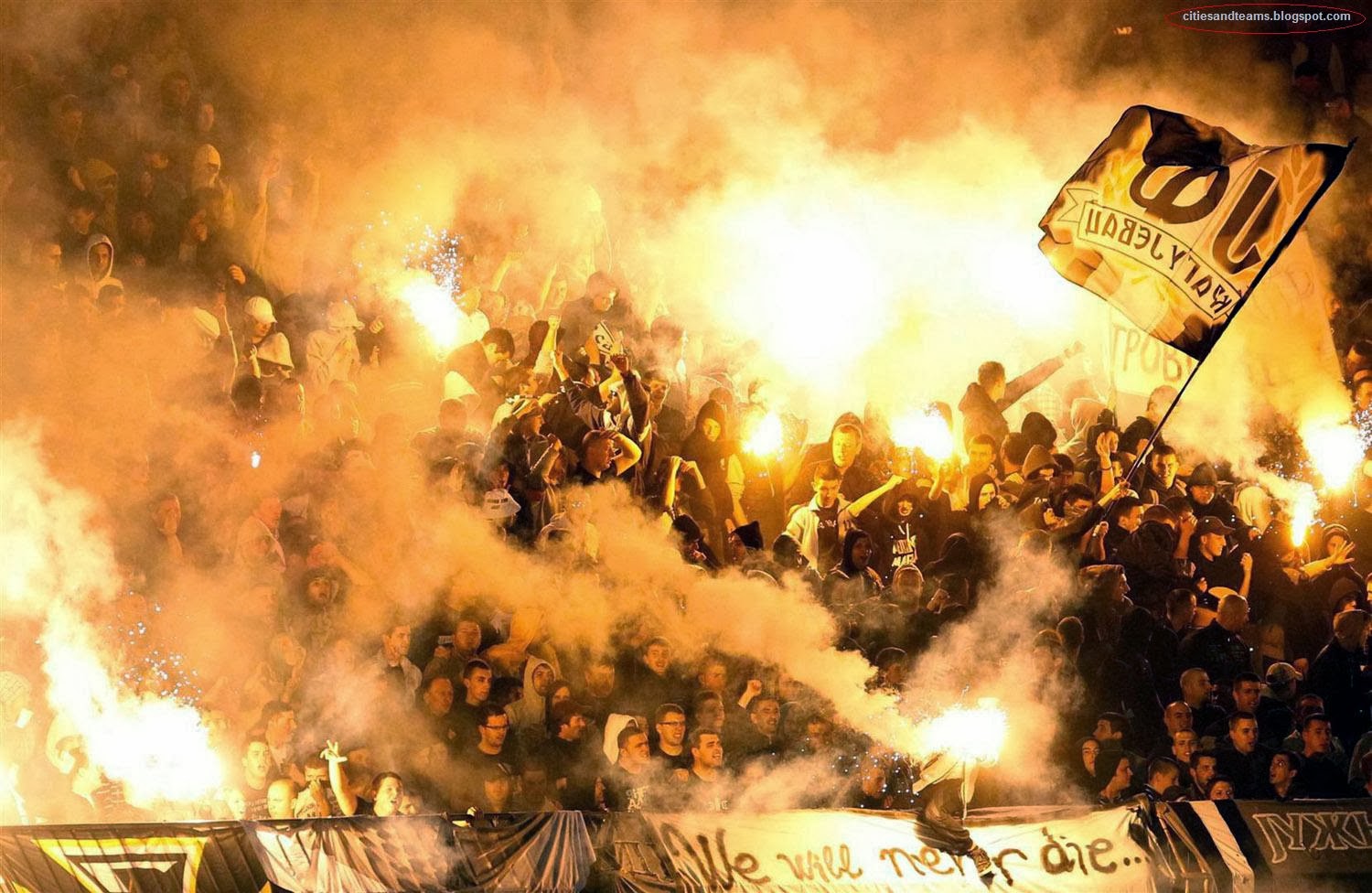 "I say old bean, your mother is really rather ugly you know!"
In all, 'Grobar' is a top read. Yeah, grumpy old bastards like me might find Mr Moor a bit 'post Euro 96' at times, but the insights his work gives into a footballing world most of us won't know sod all about more than overcomes this, making it one of the best new football books out there. I really wish more publishers would take a chance on stuff like this. Who wants another book about the bloody Premier League?
Now, any chance of a response from the Red & White half? Anyone? Oh go on….