It was the second week of March last time around I believe. This year it seems that it is the third week. And just when you begin to start to think that maybe there will be a late surge for the title, Boom, it's gone like a whisper in the wind. So here we have the Duke's rather sombre and sober affair down in the wildernesses of the stockbroker belts of Surrey.
With me still off work for another week I decided to take in the Youth's game at Banstead against Crawley Down Gatwick. And even though the score was 2-1 to the U's that does not reflect on the game with U's dominating the whole affair. It does dawn upon me that I've been witness not to just seeing both league goals conceded by the boys but also to the only two defeats that have been inflicted on them this season as well. Another purpose of the trip was to also confirm with Mr X that a lift to Woking was still on the cards. Needless to say that he didn't recall anything being said, but then again to be honest we were all a bit tired and emotional on Saturday!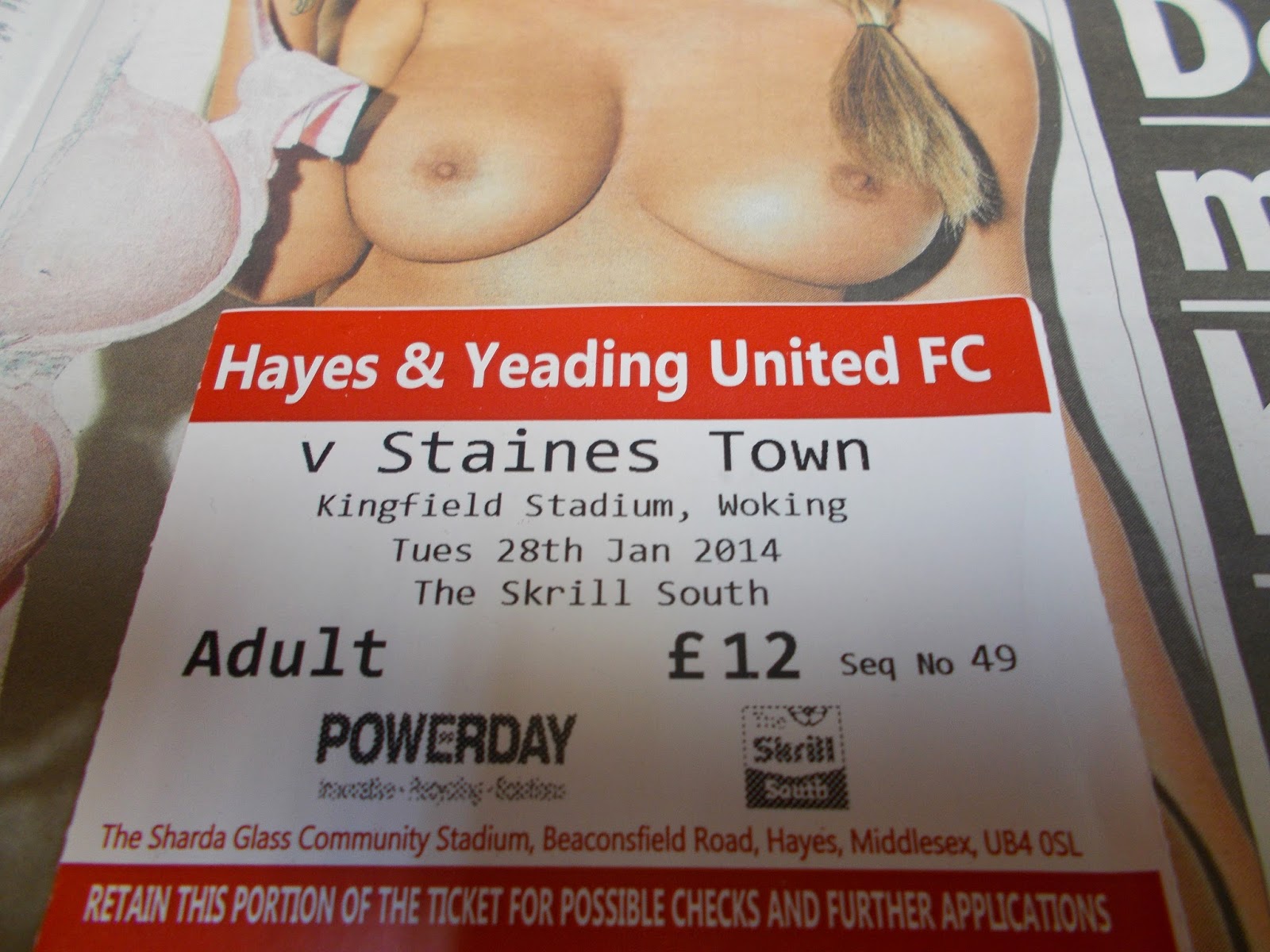 Erm, seems we're Staines Town now….
The plan was to take my executive car – plus the brand spanking new £225 tax disc – down West Sutton and park at the club. With these manoeuvres done with military precision, I text Mr X to pick me up and several minutes later he arrives in his hairdressers car. The way forward was to hit the A3, coming off at Ripley and going through the village of Send. Our thoughts during this trip lean towards the fact that the only thing we want from this game is three points. We also realise that tonight is going to be the last midweek away match of the regular season, and as Mr X remarks "my last sober Tuesday".
Arriving at a rather dim and dark looking Kingfield we are shown to park behind the stadium next to the social club and then we head towards the front. Paying £12 is one thing for a match but the ticket that was handed to me is something else. I could understand that it could have the wrong date on it. Quite why it has the wrong team displayed I don't know. I also see that it has their new address for their spanking new stadium that they are trying to build. It is slightly ironic that the name of the stadium is already out of date!
Hayes & Yeading (DICK count: 0) are rumoured to be sharing with Maidenhead next season. Saying that, a very talkative steward tried to inform me that Chelsea U21s was going to leave Aldershot and head up the road and that also QPR and Reading ladies wanted to move there as well. This was despite me trying to tell him that Reading ladies were going to Farnborough. Waiting for some of the other members of the Firm to arrive seemed to take a lot longer than normal, must be a drinking thing. We decided to have a cup of tea, big fuckin' mistake! For some reason it just tasted awful, I even saw Kebab Belly Bob lob nearly a full cup into the bin in disgust. Lucky for him I gave a couple of Cuban fag packets to cheer him up.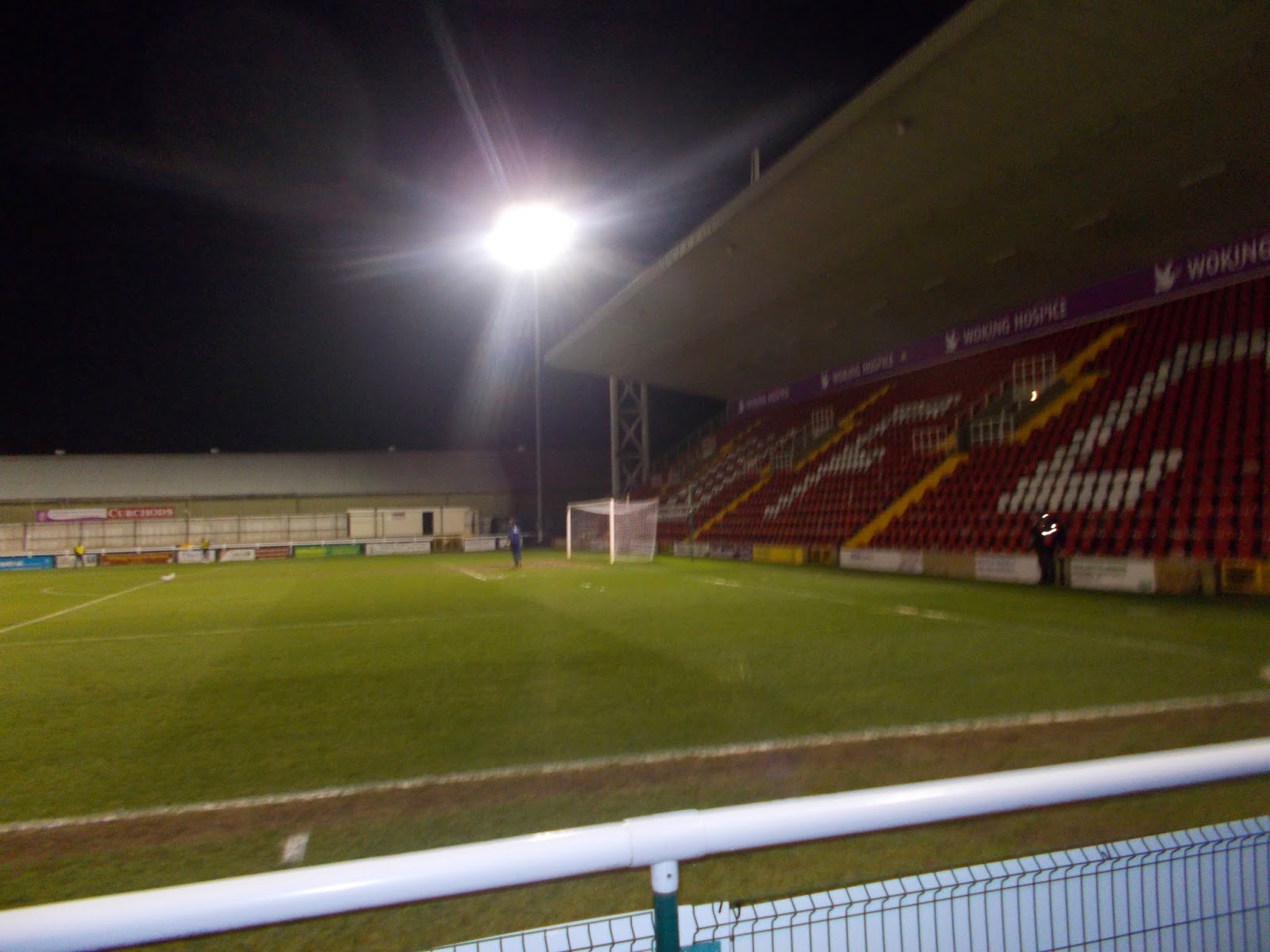 Another big empty stand behind a goal…..
Tonight's Team:
Brown, John, Binns, Spillane, Downer, Spetch, Scannell, Sawyer, Dundas, Taylor, McCallum
Bench: Sinclair, Shitta, Haysman, Slabber, Lovelock
There was very much a contrast between Saturday's match and this game. Where Dorchester failed to produce any real threats for Brown, Hayes & Yeading did manage to get Brown to do more work in just the first quarter of hour. Lacking any real ideas and resorting to lumping the ball up top, we failed show any of the football we've have become accustomed to. The best chance for us in the first half would have to be after a Dundo cross Sawyer managed to take all the sting out of it and aim it right at the keeper.
Now back in my Sunday league days, when I wasn't hurting people, it was always my job to stand on the keeper in order to prevent him a clear sight of the ball. In one particular game I do remember ending up In the back of the net in a little hugging match with one keeper and a defender. Now the Hayes & Yeading keeper a certain Mr Jamiez-Ruiz for some reason decided that every single corner that he had McCallum in front of him, he would push him away with two hands. By my reckoning this happened around six times throughout the game and it got two warnings from the man in black. Yes the man in the middle, none other than Mr Coggins. I could possibly forgive Jamiez-Ruiz for doing what he was doing because any competent official would've put a stop to it as soon as the first time it was brought to his attention. Unfortunately when you have Coggins in charge the chances are that is not going to happen.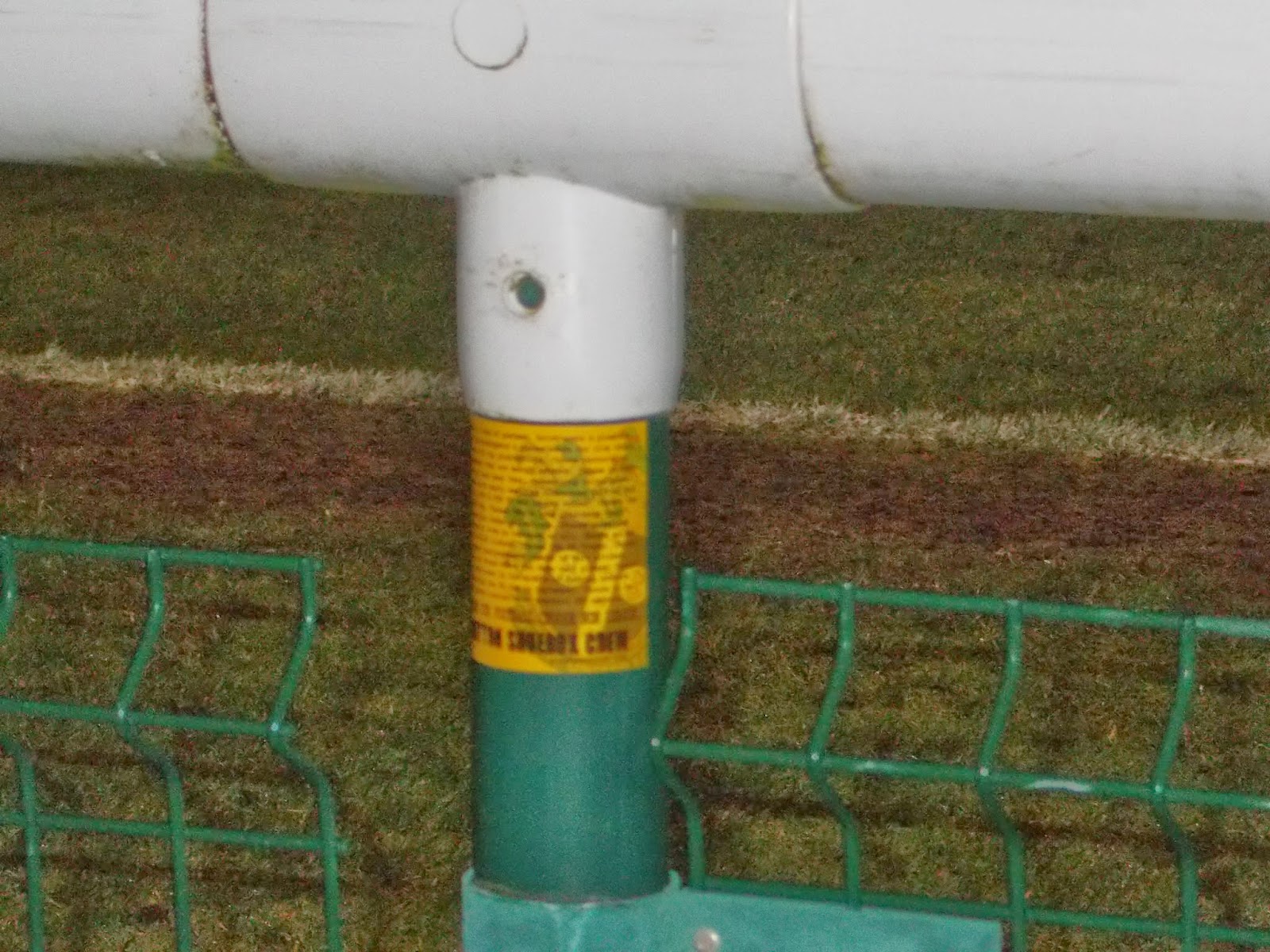 We have no comment to make on the matter….
At half time we move to down the side of the ground as half the ground is closed when Woking are not at home. With this in mind the amount of time wasted as the ball went out on the other side was embarrassing. They really do need to have someone on that side to retrieve the ball. The second half saw Sutton try to force the issue more with possession but yet again being let down by the final ball. The highlight of Sutton's chances was near the end of match when after Taylor had beat the offside trap he managed to hit his shot wide of the goal. Jamiez-Ruiz did manage to stop shoving McCallum at every corner simply by the fact that McCallum was replaced by Sinclair. Its now nearly two and a half games we've gone since Taylor scored against Gosport. Not bad for a team that were the former second highest scorers.
And there you have it another disappointing 0-0 draw against a struggling team. Unlike Saturday, this game was very much disrupted by inept officials and the time needed to get the ball from an empty stadium. I can't understand it, this team is capable of much more, the team is near enough the best that we have, yet they don't always seem to perform to their best. The attendance was given as 145 which was very much like the 233 that made the trip for a weekend 0-0 draw last season. There is no denying now that our hope of an unlikely title charge is now all but over. Saying that we are still undefeated in 2014 and must be now clearly nailed for a playoff spot.
Picking up a disgruntled QPR fan the ride back to the ground was quick and quiet with all parties trying to keep their hopes up. The only memory is of Mr X trying to get out of the car park with a loud thump as he went over a curb. It did dawn on me that if we were to finish second or third we would have home advantage in the play off semi final second legs. Personally, I would rather be at home on the Tuesday and away on the Saturday. Three guesses why? Bath at home on Saturday with Clough back but Binns now suspended. Laters people……..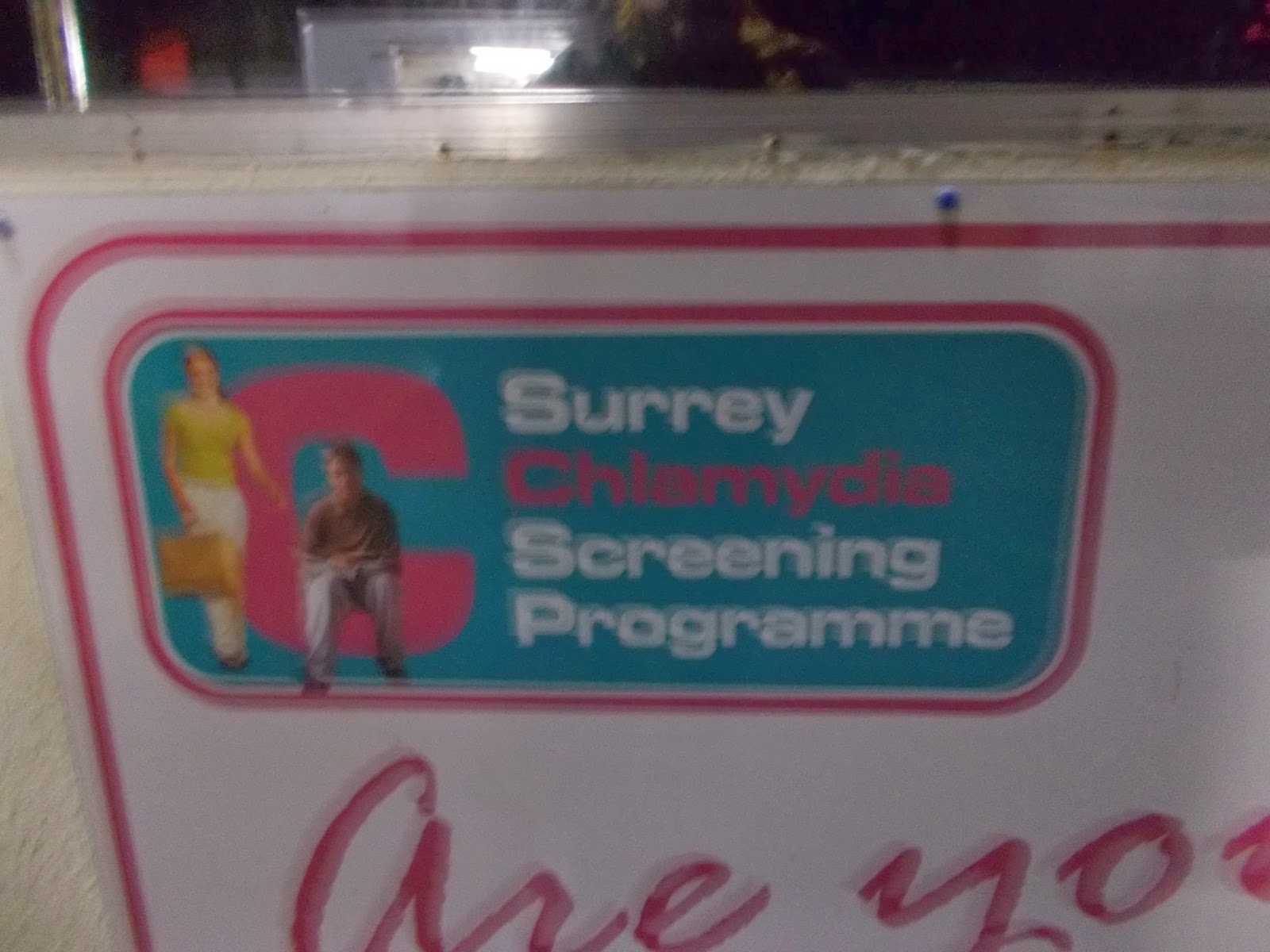 Stay healthy people!
Duke
Att. 145