I sense a pattern forming here.
Last day of last season and I get lumbered with doing the report away to Bath as our regulars Dukey & Juan were all 'worn out' from a 9 game run in April. Tonight, we're again away to Bath and with Dukey driving (and thus being utterly sober) and Juan currently wounded by cupids arrow and not travelling at all, it's down to dear old Taz to step once more into the breach and selflessly come to the rescue of these useless twats his comrades.
Still, it does help that I had loads of holiday left and have booked the 3 long distance trips we have left this year with half dayday off combo's to help use it up, with Bath being one of them. Plus with Greek & his missus taking a short break up the road in Bristol to coincide with the match, I decide to make the most of my time off and stay down too.
Having sacked off work at 1, it's a dart to Paddington for the train. Sadly, I get stung on the ticket as the bloke behind the desk won't do what dozens of his fellow ticket men bretheren have done over the years and issue me a ticket to the Network card boundary and then another from the boundary to my destination. Tosser. I try & argue my point, but with time slipping by I'm not prepared to have this man eat into my drinking time and instead lob up & (no doubt fail to) look happy.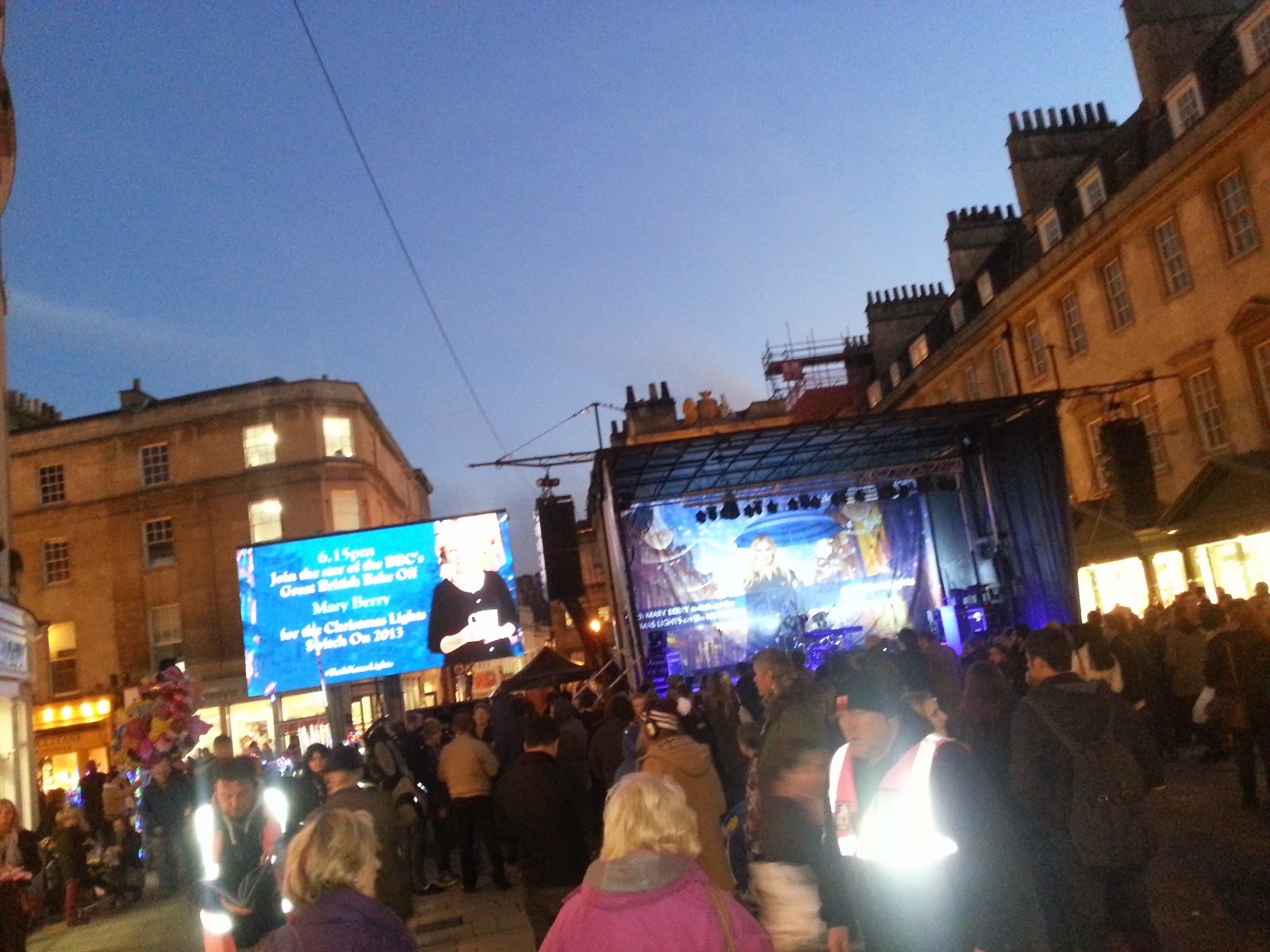 Who's doing it? Never heard of 'em…..
By the way GWR, if almost £50 is an 'off peak' fare, I'd dread to think what a peak one costs. It's only a train you robbing bastards, not a fucking LearJet.
Thankfully I find myself on the choo choo before it departs and find myself a seat in a nice quiet carriage up front so I can shut out the world and finish reading 'A Season with Verona' on the old Kindle. And yes, I will be boring the tits off you in the near future with a write up of that one. Unlucky! There's no delays and apart from a stop in Chippenham that brings back memories of a shit early 21st century FA Cup tie, the journey is uneventful and I find myself in Bath Spa just before half 3. Right, time to find my digs and a pint. In that order.
Leaving the station, fellow Sutton man Amber Aleman appears. It seems he too is here early for pintage and is also crashing overnight. So we resolve to join forces later once we've both checked in and I've found the Greeks. Smugly, I pull out my expensive smartphone and flick to google maps. Finding this hotel should be a doddle with the power of technology at my disposal! Oh. No signal. Bath you fucking bumpkin backwater! How the bastarding fuck am I supposed to find my way around with no chuffing 3G? Again, I resolve at this point not to allow other matters to eat into VDT and instead bag myself a tourist map for a quid inside the station. This proves immensely more useful than several hundred pounds worth of smartphone and I'm soon ticking 'Find sleeping place' off my to do list. Next up? Pint!
As I get my bearings back outside, Greek calls to inform me he's in the Waverly pub and is getting a round in. With you in a jiffy old bean! Thankfully the Waverly is one of the many we visited back in April, so I know roughly where it is and I find it swiftly enough that I walk in before Greek has even had his measure of rancid cider type stuff poured. To my amusement, the barman takes great pleasure in telling him the stuff he's just bought apparently has a bit of a laxative effect after about 5 pints.
Just going to have the one then mate?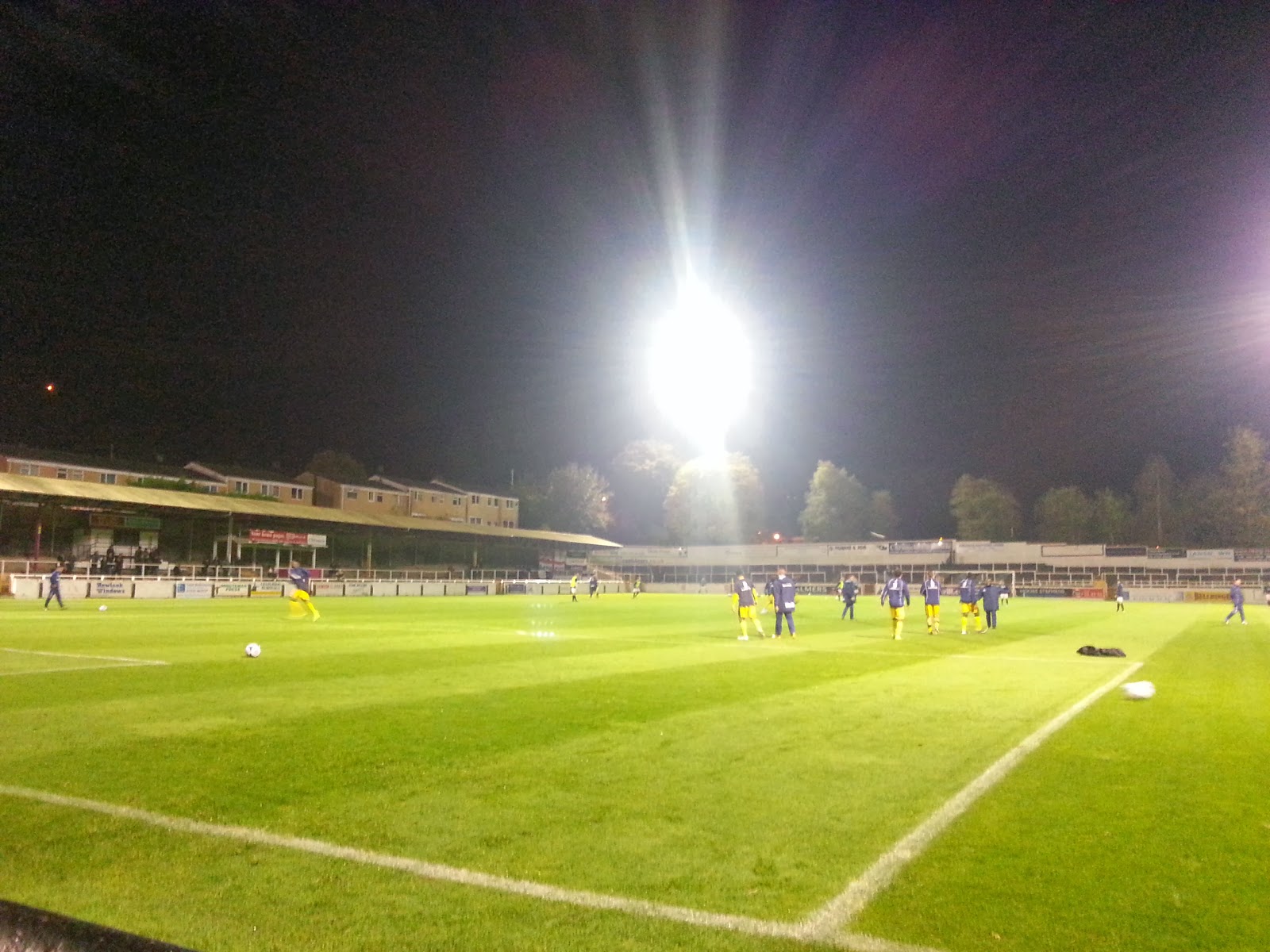 Welcome to Twerton….
The first beer goes down a treat and is soon joined by a second and some scoff. Then fully fed & only just having started getting watered, we stumble off into the night to join up with the other Sutton forces. We find them in the old Green tree where Greek is informed by another local about other ciders that make you poo yourself as well as your brains dribble out of your ears. Cliff, a Sutton exile who lives locally then joins us and we down a couple before sauntering up the road to the Pig & Fiddle for a couple more, having to fight our way through the crowds gathering for the grand Bath Xmas lights switch on, courtesey of Mary Berry. Whoever the hell she is.
In the Pig, a very sober and very driving Mr X soon joins us for a pint of orange & lemonadea and just as the pub starts to get seriously rammed with all the revellers who've just experienced the thrill of a lifetime watching someone we've never heard off flick a switch, we pile into a cab and head for the ground. With saturdays tough shift put in up at Kiddy, it's no surprise to see Dos shuffle the pack a bit with Stuart, Rivs and McDonald on the bench. Folkes & Scannell get starts.
Team: Lovelock, Nelson, Rents, Fuseini, Downer, Clough, Folkes, Dundas, Slabber, Binns, Scannell. Subs: Riviere, Telfer, McDonald, Stuart, Sinclair
From the off we're at the home side and playing some good stuff despite the changes. But for the first 10 mins there's few chances to be had. And despite the U's being the livelier team, Bath have the first effort from distance that Tom gathers. Our first real opening is after the quarter of an hour mark when one of those surging Binns runs down the flank takes him into the box and he pulls back for Fusieni to hit from 18 yards, but his effort is blocked in the area before it can test the keeper. From here, we go a little off the boil as the home side come into things a bit more. Our old mate Antony Coggins announces his arrival by failing to book Dundo after he's rather unceremoniously bundled one of their lads over 30 yards out.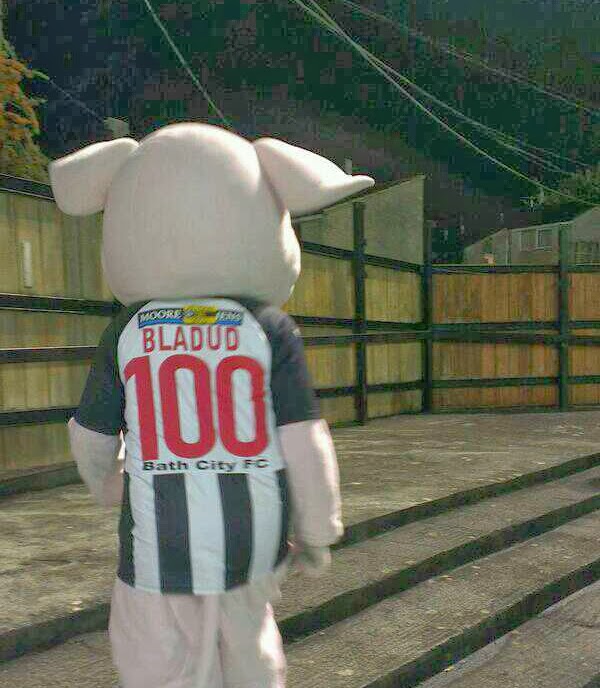 A 'stuck' pig. Hahahaha!
Meanwhile, we're amusing ourselves by ripping the shit out of the home keeper and his appalling kicking, as well as someone rather sneakily giving the home mascot, Bladud the Pig, a hearty hug and planting a 'Sutton on Tour' sticker on his back. This goes unnoticed until he's right round the other side of the ground when some local kids tell him of its presence and we're treated to the beautiful sight of a large pink pig in a Bath City shirt looking at us accusingly and waving said sticker.
Things suddenly liven up though several minutes before the break, just as we're starting to feel the chill and think about a possible adjournment to the bar to warm up. Folkesy causes problems on the right and wins a corner. Rents swings it in and Mitch stoops around the penalty spot to power a low header into the bottom far corner. Any thoughts of the cold are almost completely banished right before the whistle as some super interplay on the right ends with a cross swung in from deep by Mitch and Slabber powers a header against the bar with the 'keeper nowhere.
The break arrives and I decide I can't be arsed to head for the bar, so instead I gather flags and head to the other end whilst catching up on twitter and broadcasting some shite of our own. Still, the Mangotsfield lads seem quite chuffed with my pic of one of their stickers I've spotted on an ad board at our end in the 1st half.
As expected, the hosts come out with a bit more life about them second half and they revert to being a little more direct, rather than get down and play as much. Clearly thinking getting it forward quicker is the way to get some change from our defence. Despite upping the tempo though, we weather the storm and just before the hour, double our lead. Folkes surges from deep and ends his run by laying the ball into the edge of the box for Slabber. Slabbs drops a shoulder, wrongfoots the defender and rolls him perfectly before pinging a shot in off the underside of the bar. Fucking beauty!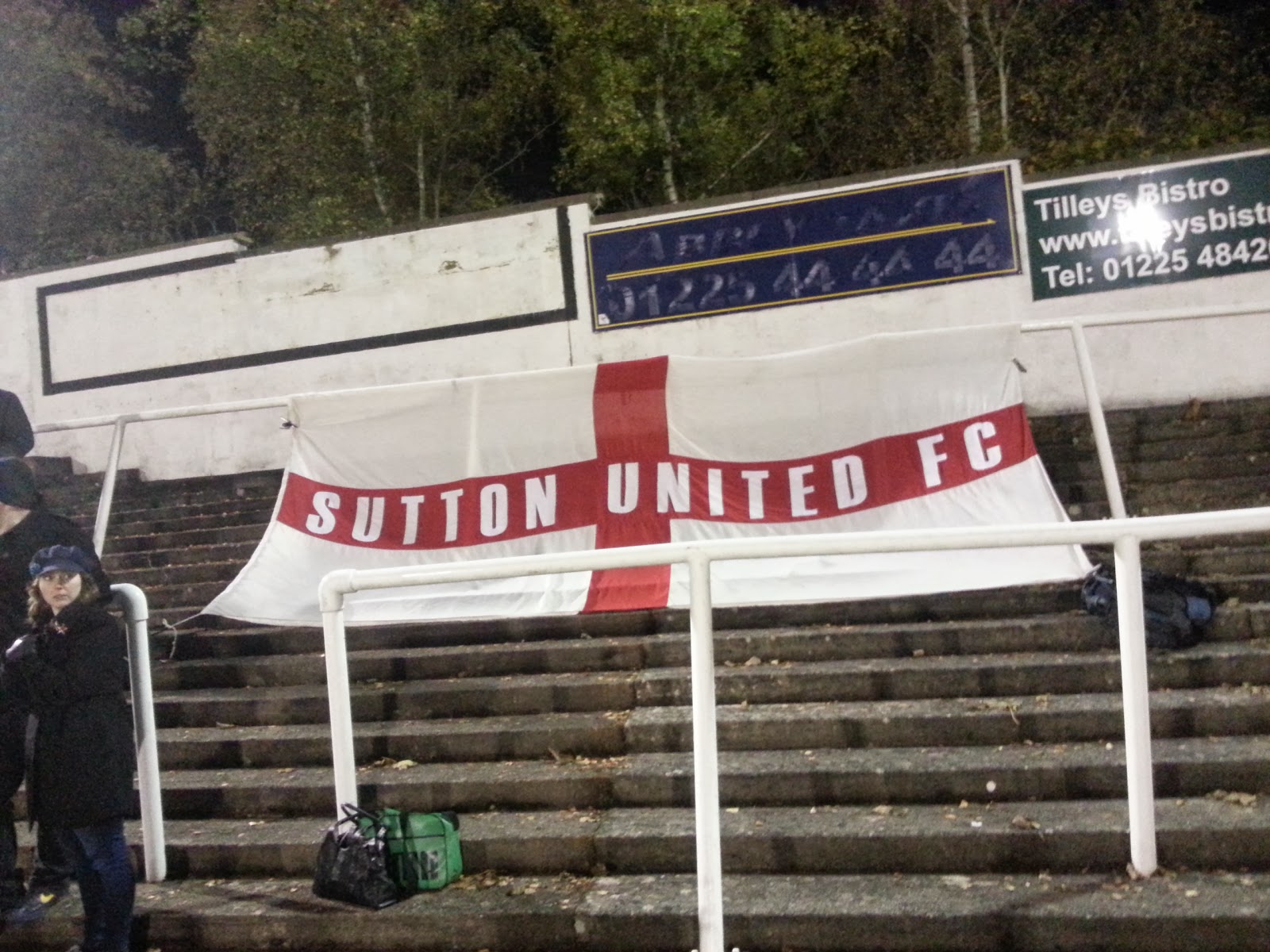 Couldn't be arsed to climb…..
Unfortunately, this galvanises the home side a bit and within a couple of minutes, they've pulled one back. We don't press the ball hard enough on the right and a deep, high cross finds their bloke completely unmarked 10 yards out and he places a perfect header out of Toms reach.
Still, the mood is lightened shortly after when Dos replaces Folkes with Rivs. It seems the persons sat in the stand have taken a slight dislike to young James for some reason and as he goes to step off the field, he responds to the barracking with a couple of little bows, much like a prizefighter does after entering the ring. It makes us laugh anyway!
From here we're definitely looking to try & hold on. With a few people starting to look a bit leggy after saturday's exertions, we're mostly forced into defending balls in and trying to hit on the break. The home side now having switched back more to playing through midfield now they have a toehold in the game. Most of our counters are largely wasted with a poor pass or touch, although Binnsy almost takes advantage of another shocking kick from their keeper, racing into the box and stinging his hands at his near post. And there's still 15 to go.
Mr 'keeper then has a hand in drawing the scores level. A cross in from the left looks routine, but he spills it and in trying to rescue it he's stumbling towards the edge of his box. So he offloads it to the nearest colleague who then advances a few yards, pings it cross field to the former Weston bloke Stearns. Rentsy really should close him down, but instead he just backs off more and more allowing the guy to crack a shot past the seemingly unsighted Tom inside his near post. The keeper then chooses this moment as the one to reveal that he really can't take a bit of inoffensive chatter about his pony kicking with a little dance on the edge of his box and directing a comment relating to 'wankers' in our direction. Oooooh, get her!
Things are not going well.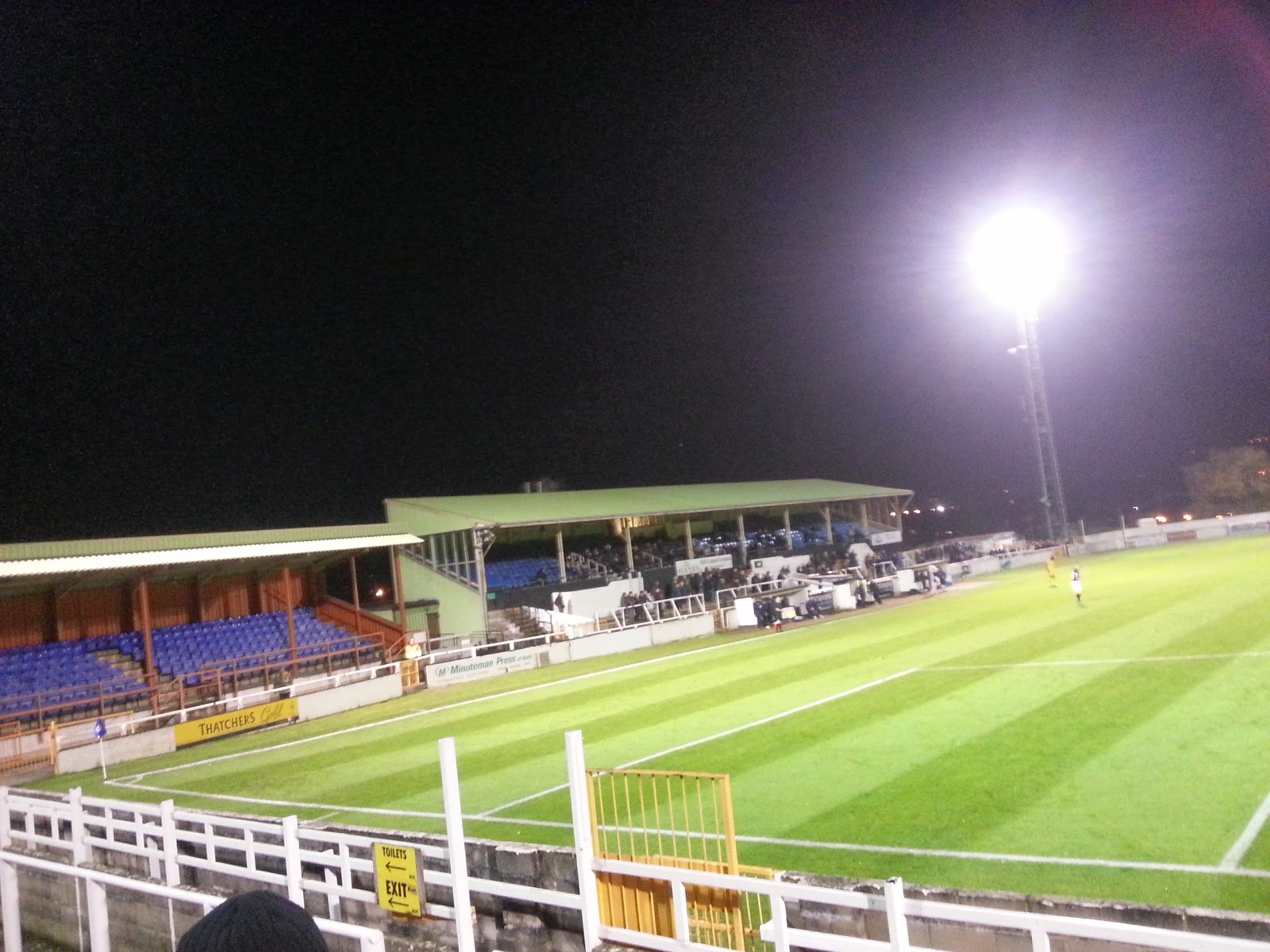 Stage right….
It gets worse 2 minutes later. We concede possession cheaply on the right and a little prod up the line sends their man racing away with a clearly struggling Downer trailing. For some reason, Downs decides pulling the man down in the box is the best thing to do in the circumstances and Coggins has little choice but to point to the spot. However, he then re-asserts his 'really not very good' credentials by failing to give him the opportunity to get first dibs on the shower gel by not showing him the second yellow the foul deserves. In fact, he doesn't even talk to him. Odd.
Up steps Stearn (one of the few players to actually beat Lovelock from the spot against us) and strikes firmly to the right. But Tom's guessed right again and as with so many other times in the past he gets good strong hands to the kick and pushes it away for a corner sparking minor celebrations at our end. We then get some more Coggins oddness when he announces 5 mins of injury time despite the physios having hardly been on all night. this leads to a slightly frantic finish and both sides could nick the win. McDonald wriggles into the box but instead of just having a dig tries to find the perfect opportunity to pick his spot and he's instead crowded out by what seems like half of the population of Bath itself. They then have a half chance at the other end, but Lovelock deals with it safely and Coggins finally blows for time.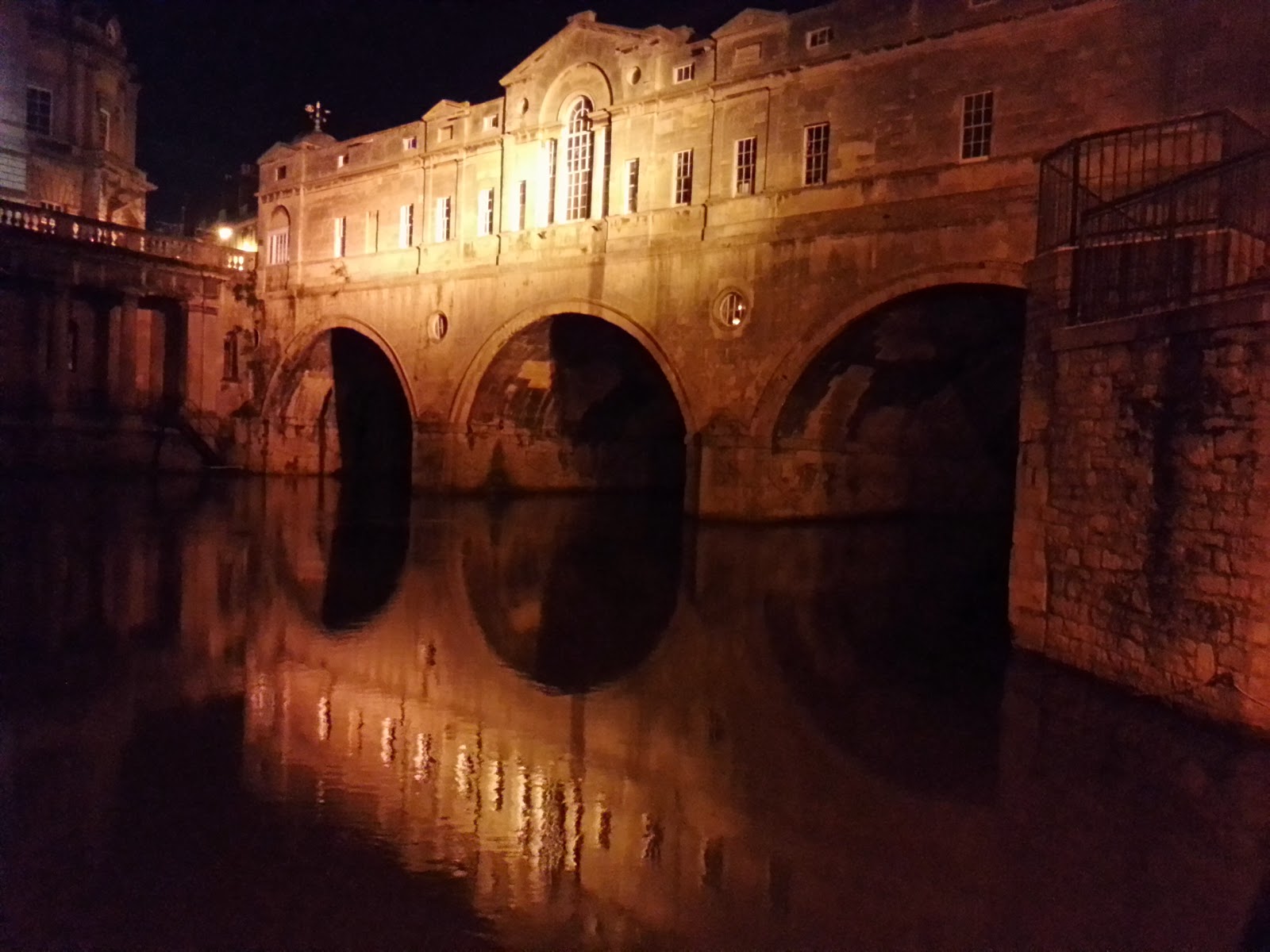 Touristy landmark stuff…..
We greet the lads first and then say our goodbyes to comrades who are having to travel back to Sutton before Mr & Mrs Greek, AA and myself adjourn to the bar for a snifter to warm the blood. A cab is ordered and at the suggestion of AA, we pile back into town to the Bell pub. This is where we see the evening out, enjoying a couple more pints before closing and then strolling back into the centre. With trains becoming scarcer, the Greeks decide to forgoe an earlier plan to sit in Belushi's and drink til' late and instead head to the station for a train back to Brizzle. AA departs over the pretty Pultenry bridge to his digs and suddenly, I'm once again all on my jack jones. Stood on the corner opposite my own hotel. Next door, a place by the name of 'Po Na Na' is still going strong, with a large crowd outside. And for a brief moment I consider heading in for a nightcap, but its poncy R&B choons wafting out onto the street tell me it'll be fucking expensive and full of dicks. So instead, I go for a little stroll up the road away from the hotel.
A few yards up, over a little bridge I find a small doorway brightly lit. Beyond the doorway are some stairs, leading downwards. With the river beneath, I assume they lead to the path by the river that leads down towards the Putleney Bridge. With no desire to sleep just yet, I totter down the steps and head along the path to go and take a couple of nice pictures of the landmark. About halfway along the couple of hundred yard walk I notice a sign set in the wall to my left.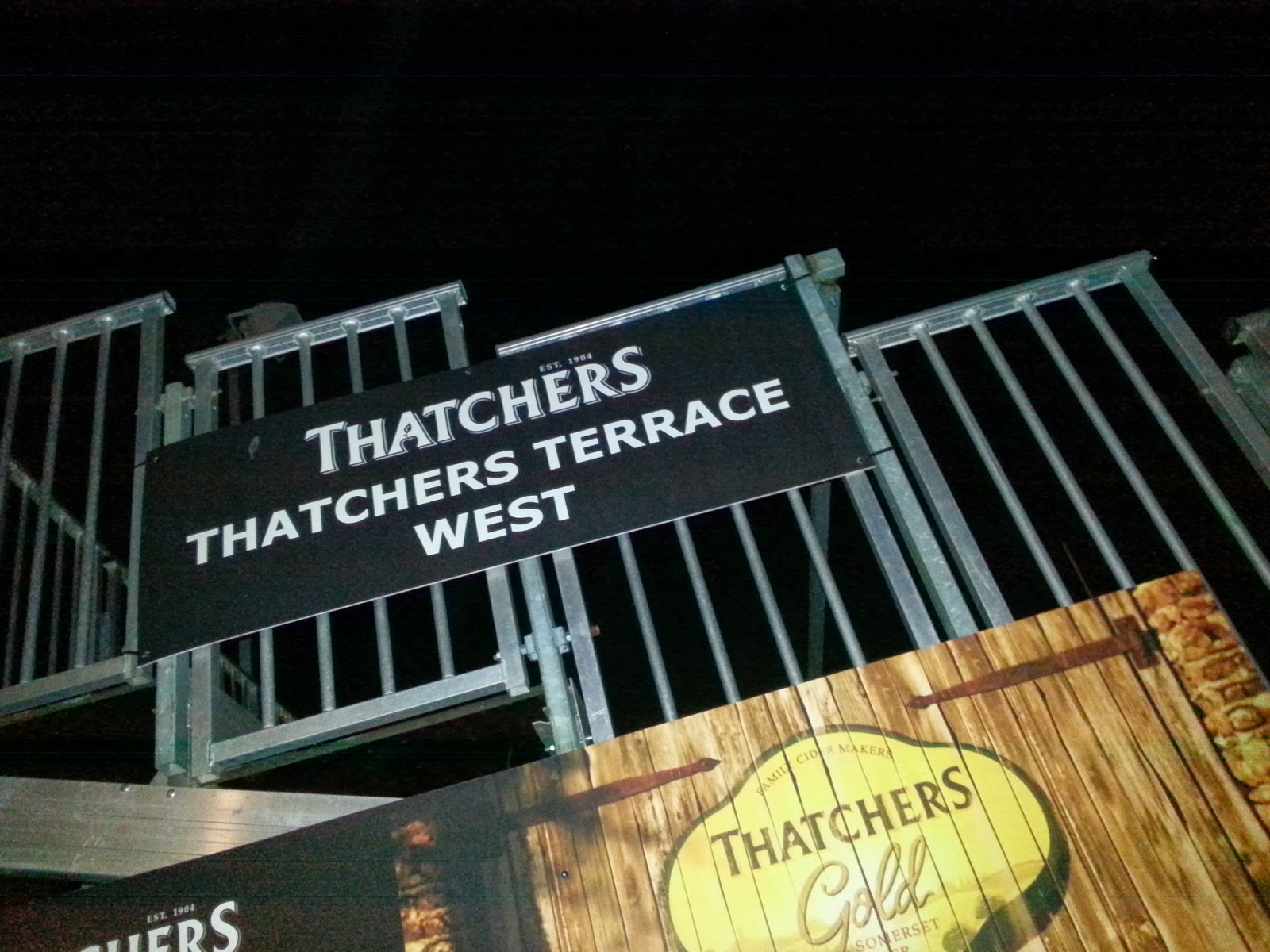 A terrace. With seats on it…..
"SEASON TICKET HOLDERS ONLY" it says. Eh? "ST holders for what exactly?" I mutter to myself and on closer inspection I get my answer. It would seem that I'm outside the Recreation Ground. Home of Bath Rugby Football Club. That's interesting, never even knew it was there! Oh well, best get these pics and go to bed…..oh. What's this? A gate? And not any old gate. An open one!
Yeah, you know what comes next. After a the cursory look around for anyone who may be watching and being satisfied that there isn't, I amble into the stadium. Come on, it'd be rude not to! And besides, it's not my fault some dick left a gate open is it? Oh no. Completely absolves me of all blame that does, everyone knows that! And so, after a quiet little nose around the 'West Terrace' end (which is actually seated. Those rugby types really are strange), I find a small gate in the perimeter fence open as well. They're a welcoming bunch these country folk! So having already committed tresspass I take a wander out onto the playing surface whilst trying to remember if that's a civil offence or not and find myself stood in front of the towering posts. And like any man probably would at this juncture, I suddenly find myself wishing I had a ball. Any ball! Come on, they're just begging to have something bladder based booted between them!
Sadly, a brief search fails to turn up a ball of any type in the immediate vacinity (clearly they're a lot more vigilant with their equipment than they are with property security round here), so I decide there's not much point hanging about any more. So I snap a couple of pics as best I can in the light, slap a 'Sutton on Tour' sticker on the posts as a sort of thank you to Bath RFC for my impromptu night time tour and stagger back up the path towards my hotel and beddy num nums.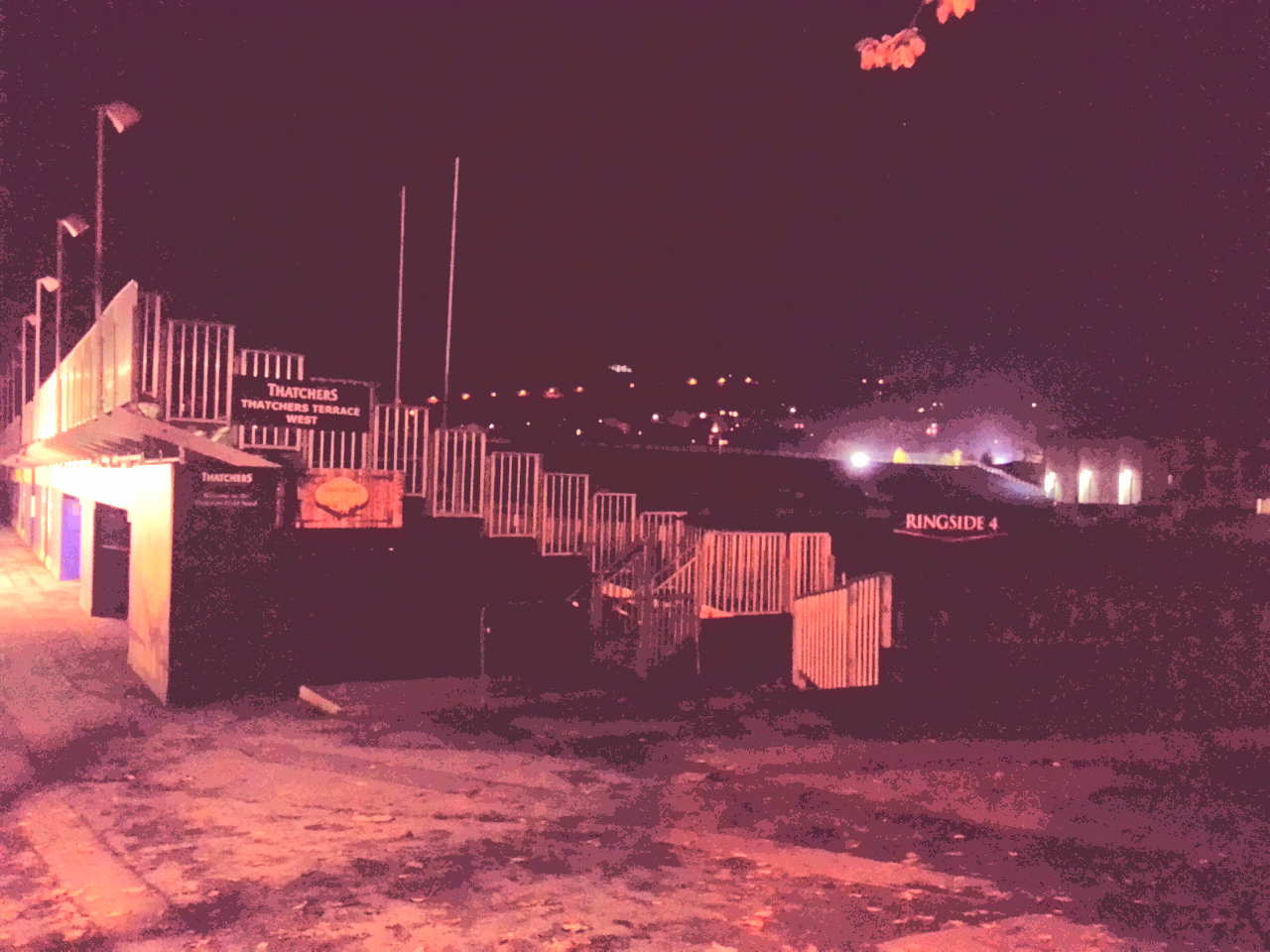 Tresspass about to occur…..
Midweek awaydays. Fucking dull eh?
Taz