The whole Gandermonium staff were of course all present & correct in Kiddy for the cup tie yesterday, although not all of us were on the chuffer and stumbling into the pub at opening time. Newest member Totts chose to take the supporters coach up as it was cheap and allows normal saturday morning family routines to be followed. With what turned out to be a slightly fraught journey up, we half jokingly suggested Totts tell his story of his own FA Cup 1st round day. To our surprise, we got an email this arvo with all the gory details! So, here's the tale of our man on the bus….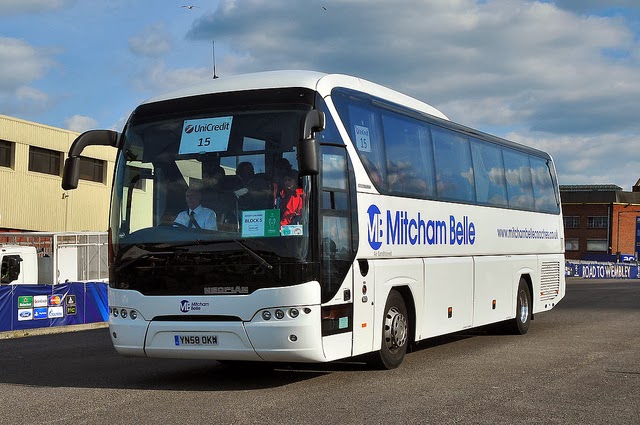 Sat nav not included…..

The Firm had warned me ages back that one of their assorted "first rules" is Never Take the Club Coach.
Well let me tell you now, I like a charabanc personally. Don't know if it's a throwback to the school trip to the natural history museum, 18/30 Ibiza excursions or just the Fools and Horses Jolly Boys outing, I don't mind a coach journey.


Add the fact that I had a ten am drop off at the Little League and the fact that I live in GGL and a ten thirty assembly just up the road for the three hour run up to Kiddy made plenty of sense. I was well pleased when Mark N confirmed that we had enough to fill a 52 seater and it would only be twelve quid each. Lovely.


The last club coach I had been on was to Ayelsbury in the cup 20 or so years ago when we won and it all kicked off, the first was to Barking some time around 74 when I went on my jacks as a twelve year old with a box full of sausage rolls and marmite sandwiches and I know we got beat and that's about all. I remain full of admiration for those who organise these facilities for the rest of us and as we were about to find out it is a thankless bloody task.


Anyway, we all piled on the Mitcham Belle bus and settled in and rolled out the gates bang on the button and were down the A3 and out onto the M25 in plenty good time and on course for a lovely hour in the boozer before the game getting in the spirit as this was obviously a dry coach and we would be well ready for a pint or two.


I was plugged into the Elvis Costello documentary on IPlayer, the rain had stopped and even the 25 was behaving itself. Unfortunately the man at the wheel was about to pull a stunt that would see us gritting our teeth and checking watches and mobile sat navs in the hours to come.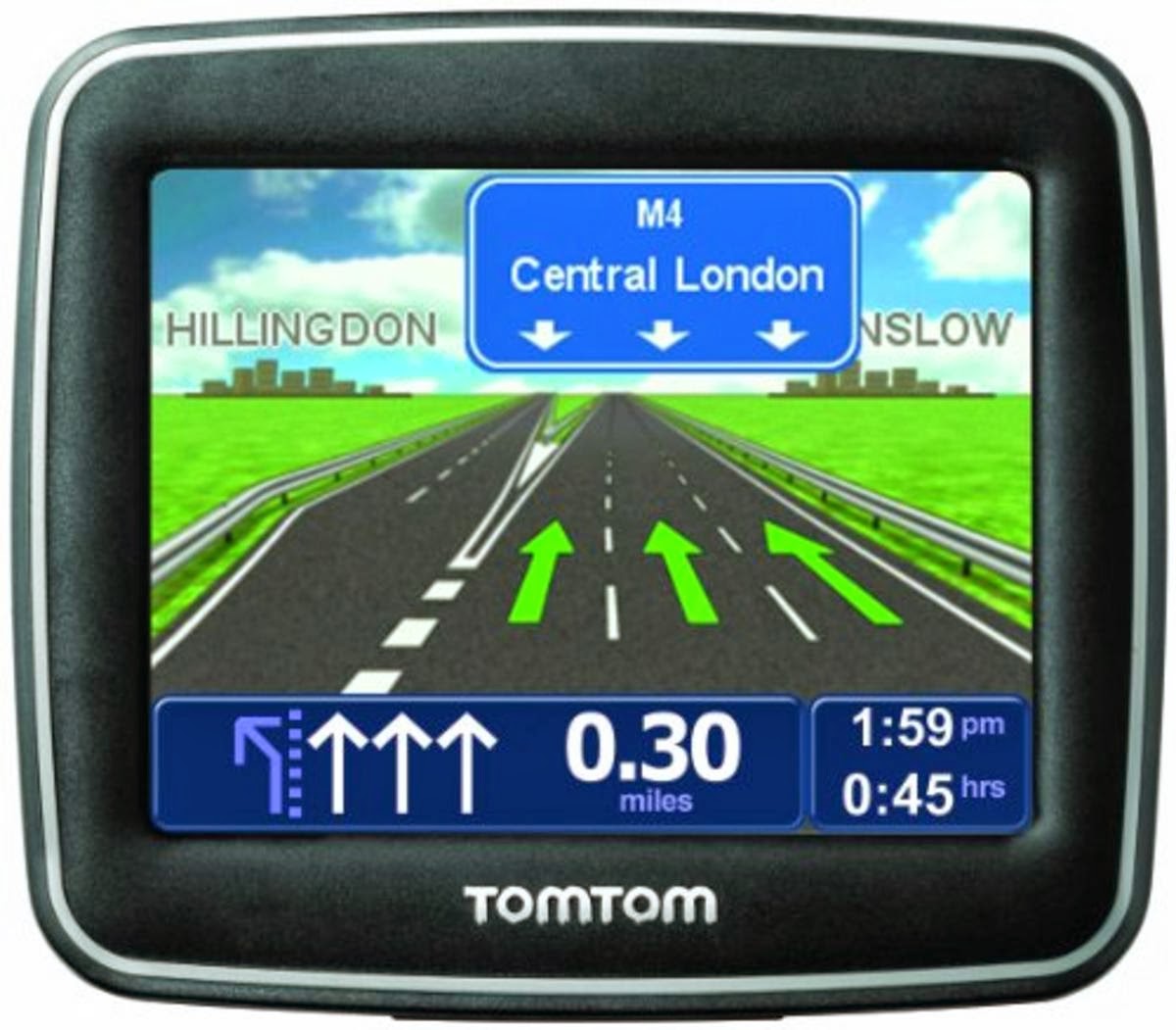 You sure this is this the right way mate?
He pulled off onto the fucking M4!!!! I didn't notice initially until someone a couple of rows ahead said under his breath "why are we coming off here."?
Now, the club directions could not be clearer M40 and round the bottom of BIrmingham and out to KIddy. Two and half hours on a good run , add half an hour for the coach and happy days.
We were merrily ploughing on out west and towards the Severn crossing. I hold my hands up, I should have stepped up and asked drives what was going on but, unless it's a ref, I hate telling someone else his job.


And I was thinking maybe he knows something we don't about roadworks or a smash up and he was going the m4 to pick up the A419 before Swindon and pick up the M5 at Cheltenham and into Kiddy via Worcester. A cross country route but would still have got us there in plenty of time.


Then we pulled in to services. A bit odd as we only had an hour and a bit to go and there was a khazi on the bus. Drives obviously knew we would need a break as he had only one thing on his mind – picking up the M5 at Bath. I am not joking, there was no other explanation to the mad arsed route he was embarking on by now.


And so we sailed down past the a419 turn off and a number of us realised we were in the shit. Until you reached the extremities of the south west the only roads heading back north were rubbishy A roads up through winding Cotswold villages with 30 mph speed limits and that is where we ended up after I guess words were had and maps consulted. The clock was ticking and what looked like a comfortable schedule was unravelling rapidly.


By now the mobile sat navs were estimating an arrival half way through the first half and that message was being sent up by SUFC official and various tweeters with the advance party laughing their tits off. They would get theirs later.


This was now getting like Von Ryan's express , if we didn't get to Aggy by five to three this coach could blow. Every set of lights was a minefield and every roundabout like an obstacle on gran tourismo. This was tense stuff and you could have cut the atmos with a Stanley knife. I am not joking when I say every second counted.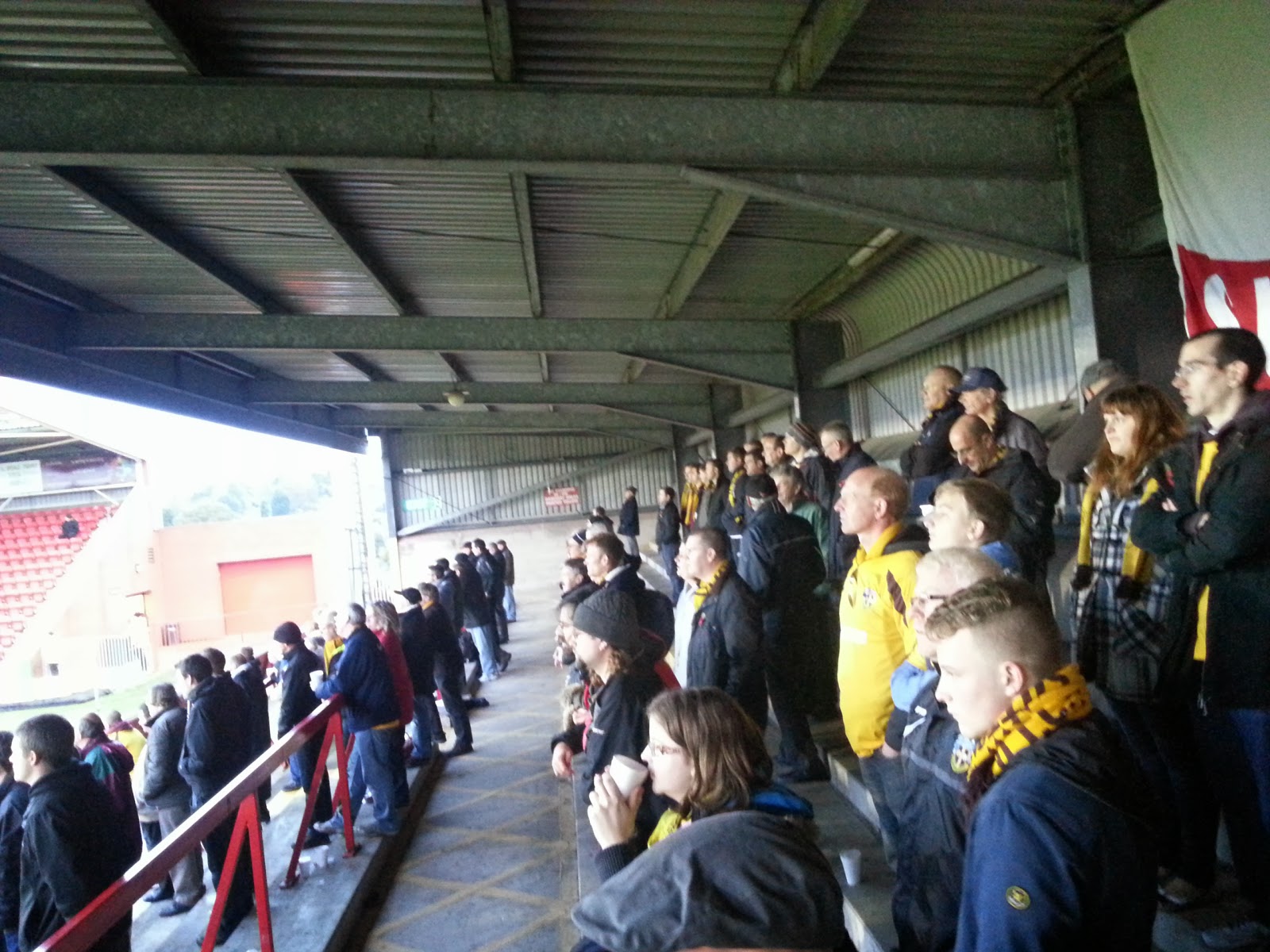 Made it just in time!
Luckily, and it was pure luck, we hit no further hold ups and eventually picked up the 419 at the Cheltenham junction we could have reached an hour earlier if we hadn't been crashing on towards South Wales and we made it onto the M5 and up through Worcester arriving at the Kiddy ground with minutes to spare. It was a bloody miracle. Not the best way to arrive at a big game with your nerves and your nails shredded but a least we were there to see Charlie give us early hope, particularly pleasing for the lad next to me on the coach who had him forty to one. Touch.


Having relayed the coach journey tale stone cold sober to assorted pissed up and entertained members of the dawn chorus, and finding there was no bar for a half time livener, I settled for a pie and cup of splosh as we watched the dream for another season come clattering to a halt.


Journey back was totally uneventful as we went back the RIGHT WAY and were back in sutton after around three hours and straight into the plough for the first pint of the day at just after 8pm.


I am making no criticism of the supporters club whatsoever, they got us there and back safely and just in the nick of time and you assume when you book a coach that the driver might do a bit of research on the journey and possess a working satnav. As and when we get back in the national league we will need to pool our resources again to get us around and about the country. This was just the luck of the bloody draw and could potentially have worked out a lot worse.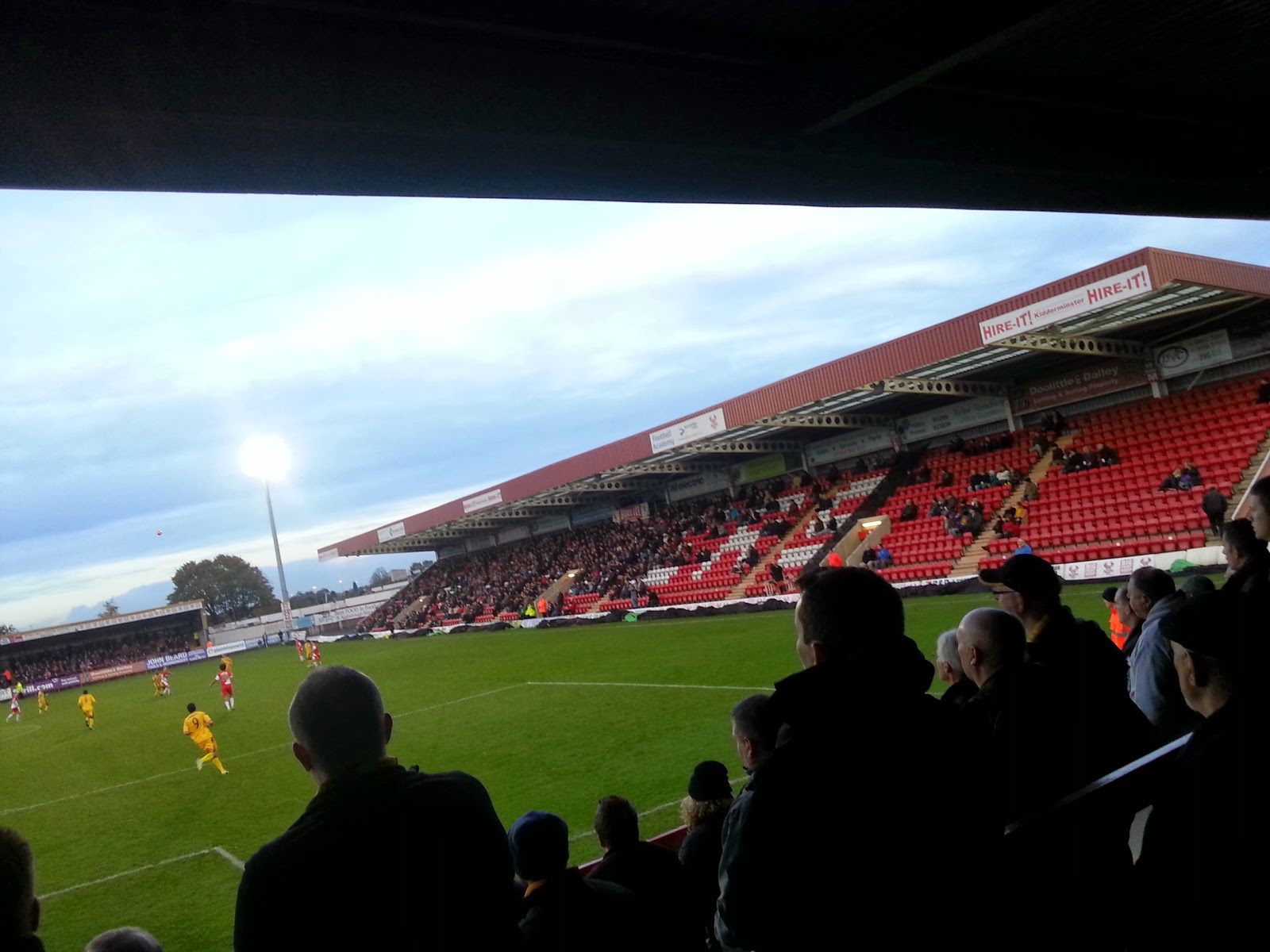 Well, that was well worth it!
Oh yes, "what goes around comes around " department. As I settled into listen to 606 the tweets started coming through that not only had the early risers been accosted by neo nazis, but their train was fucked up by points problems and they were running dangerously short of piss.


Just shows that even the best laid travel plans can go to shit very easily.
Totts