It's Sunday morning, and I've just woken up! The Mrs wakes up next to me, and tells me that I stink like death. Well I tell her, it must have been that last can of Strongbow that I consumed on the Tube back from Euston. Well where do I Start with this one? I guess I'd better rewind, and go back into the depths of the last 24 hrs.
So its Saturday morning, and I'm awoken by the vibration of my phone having some kind of fit. So I jump out of my pit, and carry out the standard three S's! Shower, shave and Shit! I grab my clobber for the day, and head out into the darkness of Thames
Ditton , and make my way to the Train Station to grab the 06:26 Train into London Waterloo.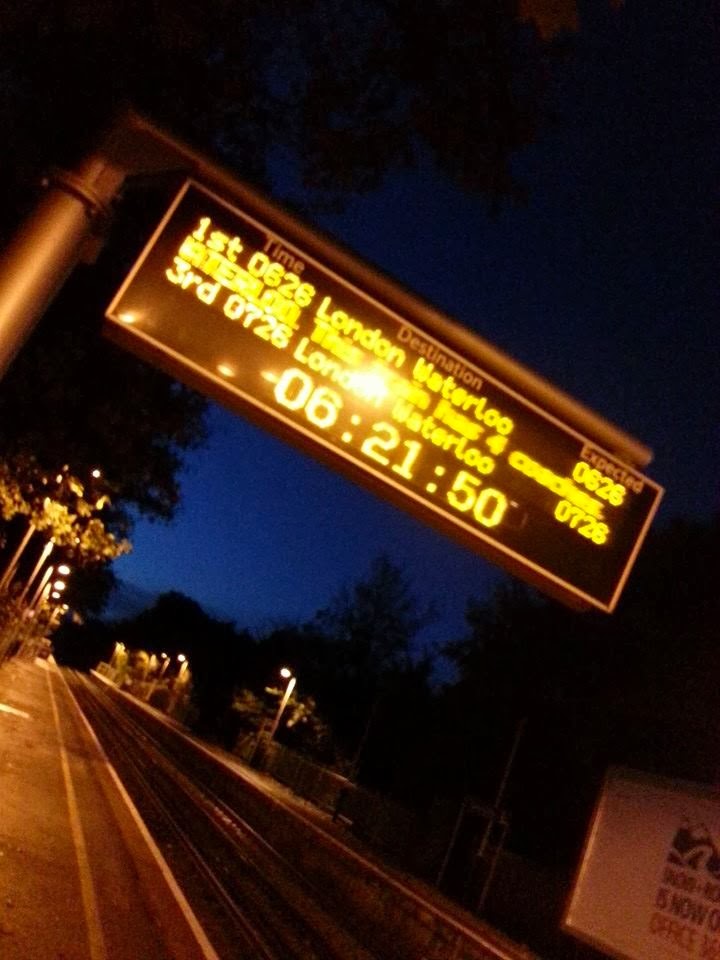 Fucking early….
The whole of Thames Ditton is clearly still sleeping away, something I should be doing really. Instead I'm up and out at silly o clock in the morning, to go and watch the beloved U's. So arrival into Waterloo, and I have to make a little de-tour to spend a penny, well 30 actually. 30p to take a slash is a bit steep; after all we are still in a recession! Zipped up, I make my way down the Northern line to once again meet the other members (idiots) of the firm making the trip up North to Kiddie! Well my arrival into Euston is early, so I've got time on my hands.  A quick divert for a coffee, and a smoke, and I feel a little more alive-dunno why I
decided to get up to London so early, but hey ho, goes with the territory of living out in the sticks I spose. Coffee consumed and the members of the firm arrive, bar one. The Duke running late misses his train. The train according to Duke was early, so that's why he missed, well that's what he told us. Sounds like a little bit of bull, oh well. All women, men and children accounted for,
tickets for the Virgin Train were handed out, and we sped off down the platform to find our section (not 1st class) to cause havoc for the next hour or so.
Members of the firm looking a little fatigued, our leader decided it was time to crack on with his trademark gift to us all, Vodka Jelly. It was only 08:50 am and we were eating this vile stuff.  An instant shot of wake up juice to those lagging/ sleeping! With the Jelly consumed, it was time for the first cider of the day to make an appearance, at 09:05. No wonder we were getting some  strange looks from the other passengers that decided to embark on this Midland Service.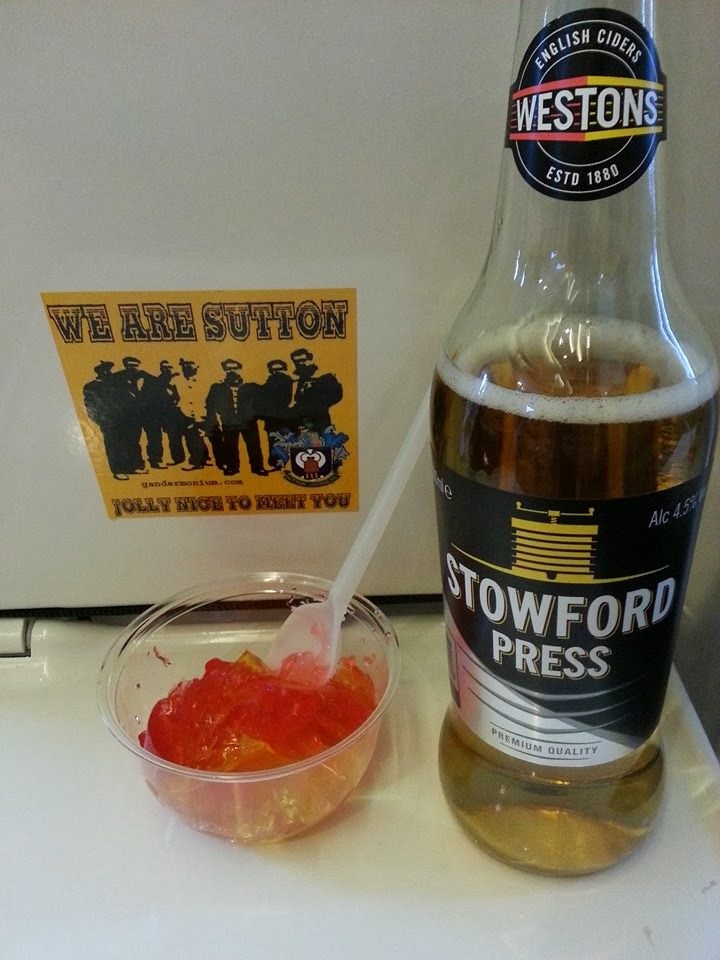 Cider, Vodka jelly, stickers…..
Again by my own fault (I only have myself to blame) the conversation turns to Juans mum once more. I tell you I've heard so many sexual innuendos before in my life. Still you got to take it on the chin right, after all I'm a team player, or some shit! Train journey going well, we rock up in Coventry, and we all know the history behind Coventry. So a member of the firm, jumps off the train, and jumps up, and slams a SUFC on tour sticker on the Coventry Train Station sign! Ha, we will never forget that moment of glory and clearly now, all you Coventry Fans will have a permanent reminder!  The Train pulls into Brum, and we all grab our gear, and make for the exit, only to stumble on ticket control (looks like passport control to me) a quick check of tickets, and numbers and we head out down the cobbles of Brum, and head to the next Station, to find out connecting Train Station, just a few minutes' walk.
We've made good time. In fact so good, that we jump on an earlier train to take us into Kiddie (insert poor taste joke here). On  board the train, we were all picking up some funny looks, from what looks like a ticket inspector, and some other official looking chap that works for the Midlands choo choo train company. Clearly these two fellas aren't impressed with our drinking on their services at just gone 10:00 am.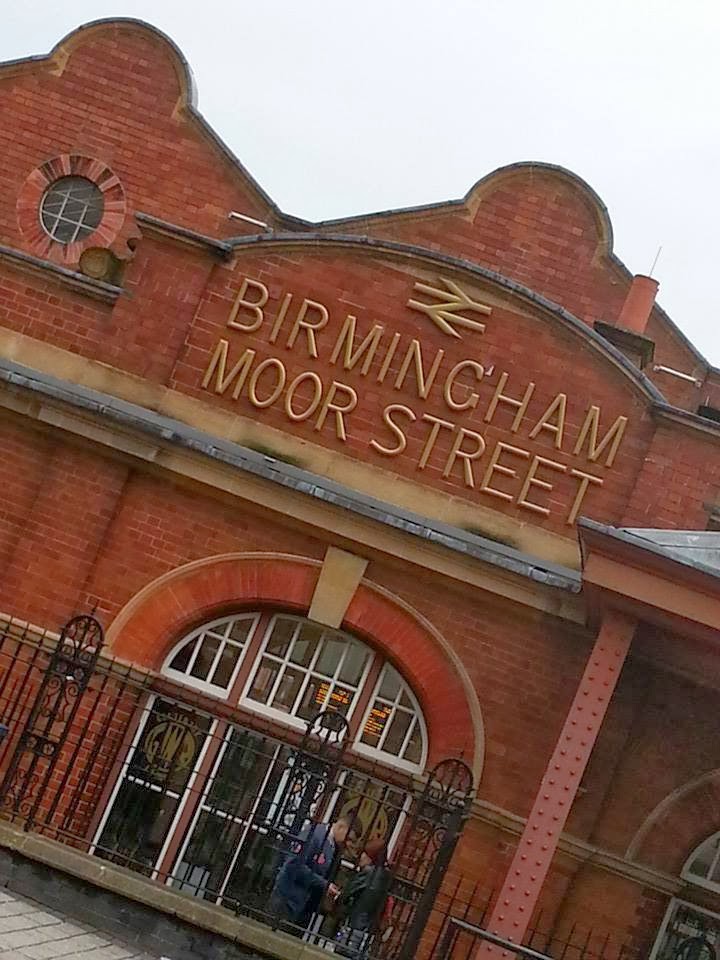 Nice station….
So he decides to check that our tickets are in order. Sorry fella, you won't be throwing us off this time! So our train takes us further and further into the Midlands. Every station we pass just seems to get grimmer and grimmer, most resembling a war torn city. Well
they say it's grim up North, whoever they is, got it bang on the money! Touchdown in Kiddie some 40 minutes later, and it's pissing it down, typical really, still I'm glad I had my Heb B jab in the week, so at least I'm covered in case I touch or pick up anything nasty like!
The E.I.C  had printed off a map of the local pubs, and he had been advised not to head into the town centre, but stay near the station, as there were plenty of pubs on offer in the local area-so we did just that! Arriving into Kiddie early, the first pub we came to The King and Castle was still closed so we had a little time on our hands. So I left the crew to doss about, and I went off for a gander at the local shops, and stumbled across one of those Army and Navy type shops that sell all the ex-military gear. The first thing that caught my eye was a balaclava. Ha perfect for Dukey, he loves a nice hat does our Dukey, and well for the cost of just £2 it was a no brainer. Now you can be 'Ultra Duke '!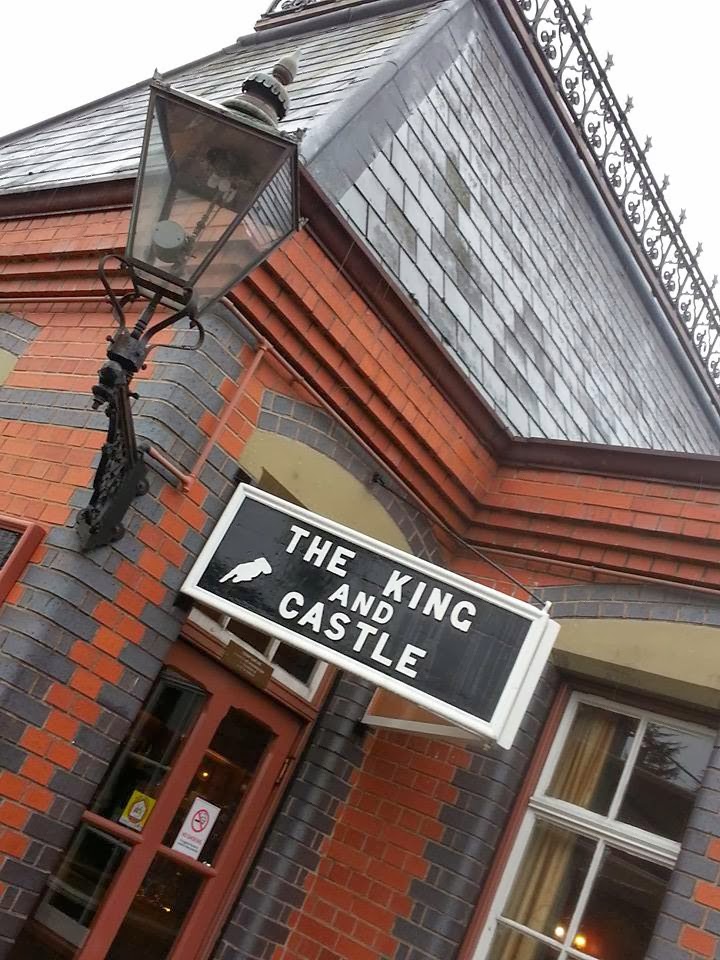 The best we could manage was a Duke…..
The pub now opened we headed in, the first order of the day, was a cider for myself, I think it may have been an Old Bessie, can't remember if this is right, but it was a good tasting cider. This pub, was rather quaint, a marble top bar, with a good choice of beers, ales and ciders on offer, decorated throughout with black and white pictures, and old photographs displaying the history of the Train Station next door. With our glasses empty, it was time to leave this historic pub behind and head onto the next one. As luck would have it the next one was directly opposite. For a second I felt like I was back in Brighton, this pub again covered with Scaffold on the outside, rain still coming down we headed in side. Now then this one was a little more up our street, with a section dedicated to Pool Tables, and a Dart Board. The Firm decided they would take up the offer of a game of spears and board. Mr X bagging himself a perfect 3 dart finish, pure luck I reckon.  Mr X so happy with his finish, danced around like the gaff, like he'd just scored a winning goal at Wembley! Time to leave and move onto the next pub. With map in hand with all followed our leader to the next pub. This one looked more like a converted Cottage from the outside. A few of the locals were drinking in this one, we made a quick pit stop in this one, as the owner of the pub, was blasting the heating, clearly trying to get us to buy more booze to keep cool. We knocked back the pints and bolted for the exit. A further short walk down the road, we found ourselves at the next boozer on route.
Best to point out at this stage Duke found himself a little local pussy, of the four legged kind. Beggars can't be choosers Dukey boy!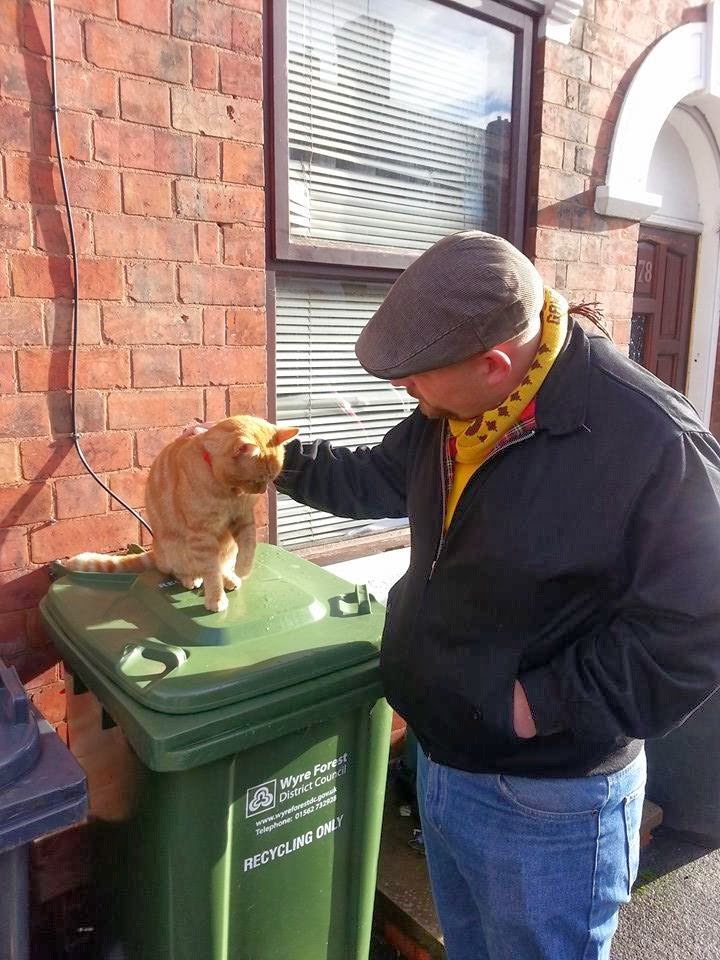 Insert obvious 'pussy' joke here….
So inside The Cricketers Arms the round was ordered from the Whip. The typical drink per person, ciders, and even a top shelf may have been ordered. A nice little pub this one, a bit more spacious with a Bowling Green adding to it's character! This one was good, local rolls filled with cheese for a quid, touch ! Even a Juke box, we love a juke box.  Whilst making ourselves at home, news filtered through via text, and twitter that the Supporters Coach had been delayed, due to the Coach Driver going via Wales or something. Clearly the Supporters stuck on the A roads weren't happy with the Drivers decision to take an odd route, by some of the texts being received, stating that their estimated arrival time was 15:20, not good!
So we thought we'd better leave this pub behind and head off to the ground to make plenty of noise to make up for our missing in action support.  Off we stumbled down the local back streets, making a circle route back towards the ground. With time just passed two PM we went into the Harriers Bar for a couple of drinks pre game to wet our whistles ready for the chants. Most went for the usual glass fillers, and even a couple of top shelf Gins too !  Time to make our way around to our segregated section of Kiddie ready for kick off. Lucky for the 56 souls on board the coach, they managed to just about arrive on time for kick off, phew!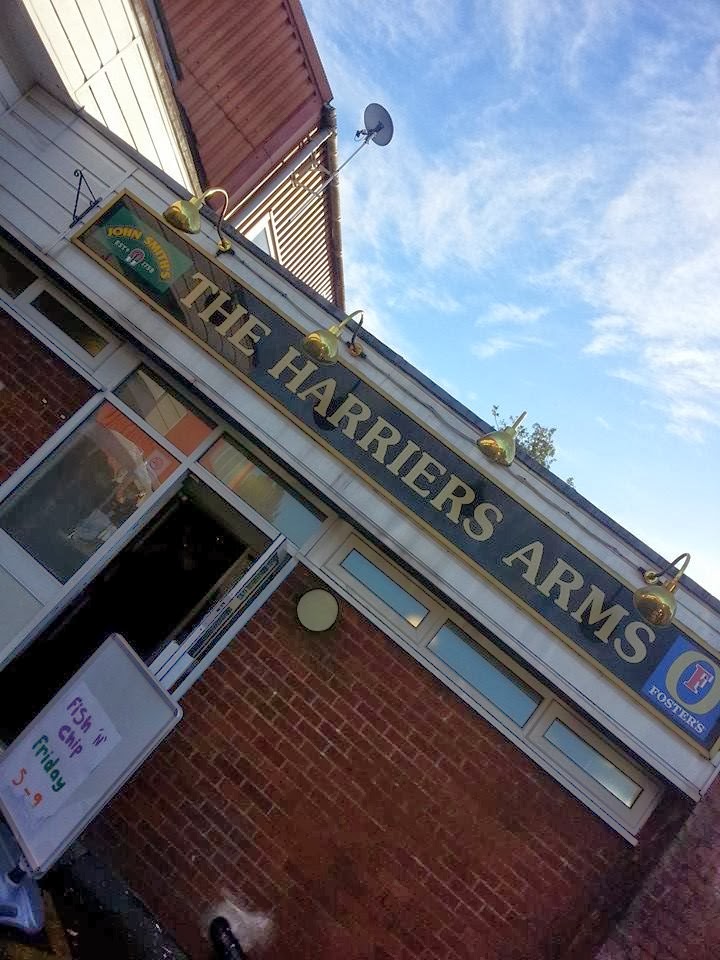 There were many many pubs….
Onto the game, well if I'm honest by this stage I was a little, how do you say, erm , under the influence of the liquid I'd been
consuming for the last 4 hours, so I apologise in advance but I can't remember much apart from the following.
Cloughie rising up early on in the game, and putting us one up, after 10 or so minutes, and what a peach of a finish it was. As expected, we all went a little mental, as you do. Sadly we couldn't hold onto the lead, and Kiddie came back and equalised soon after. Damn shame that, if we could have held out a little longer we may have settled, and kept our shape.  Soon after Kiddie continued to apply the pressure, and could clearly see the difference between conny couth and conny prem football, and the quality. Don't get me wrong I'm not saying we didn't play well, but you could see the difference in the full time step up. You can
easily see why Kiddie are top of the conny prem, they played some great one touch football at time, with great movement and pinging the ball out wide, and creating time, and space.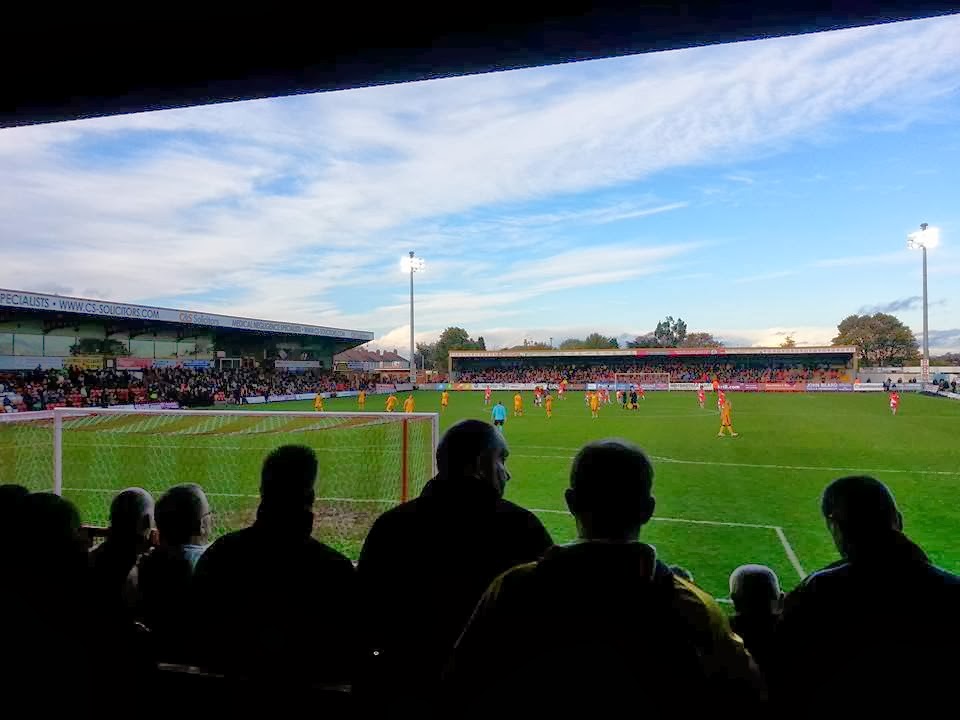 Obligatory action shot….
Still we did keep pressing on, and we did create some chances. However at the back Rents was under constant threat and pressure down the left flank.  So after the first 45 minutes we went down 2-1, and well after the break, if you were there is F.A. cup tears. Scanners had a great opportunity to pull one back, but a great save kept the ball out. Kiddie went on to put a further two into the back of Lovelocks net, and that's the way it finished, Kiddie 4, Sutton 1. Still we had progressed as far as we had needed to, with the money from the previous rounds banked. So I would imagine our focus will now turn back to the league, or as Duke keeps reminding me the Surrey Senior Cup !

Panoramamama….
Please can we win it this year so Duke can be happy? Well that's all the football content I'm giving you this week, as there have been a few comments from some of our regular readers, that there is just too much football on a football related website, yeah , I'll let you work that one out!
So we left Aggy, and went back to the 2nd chosen pub of the day, The Railway Bell, for a swift couple before alighting back at
Kiddie Train Station to grab our ride back into Brum. All was going so well for us miss educated drinkers until I decided to pop outside for a quick smoke only to be accosted by three of the local Skin head pro Nazi, Combat 18, EDL clan. With my back well and truly stuck to the wall. I think you could say I was in a little bit of a pickle, with my arse spinning like a 50p piece. I was given the full show by these local boys, even the hatred for various ethnic groups, by the ink stained tattoos all over their arms, neck and faces. Including their Blockbuster, and National Front membership cards! FFS why do these local nut jobs always want
to speak to me! I clearly must have sinned today! The funny thing was Mr X bowled past, and must have seen I was in a tight situation, but didn't flutter an eyelid!  Time to get the hell out of this place before anything happens.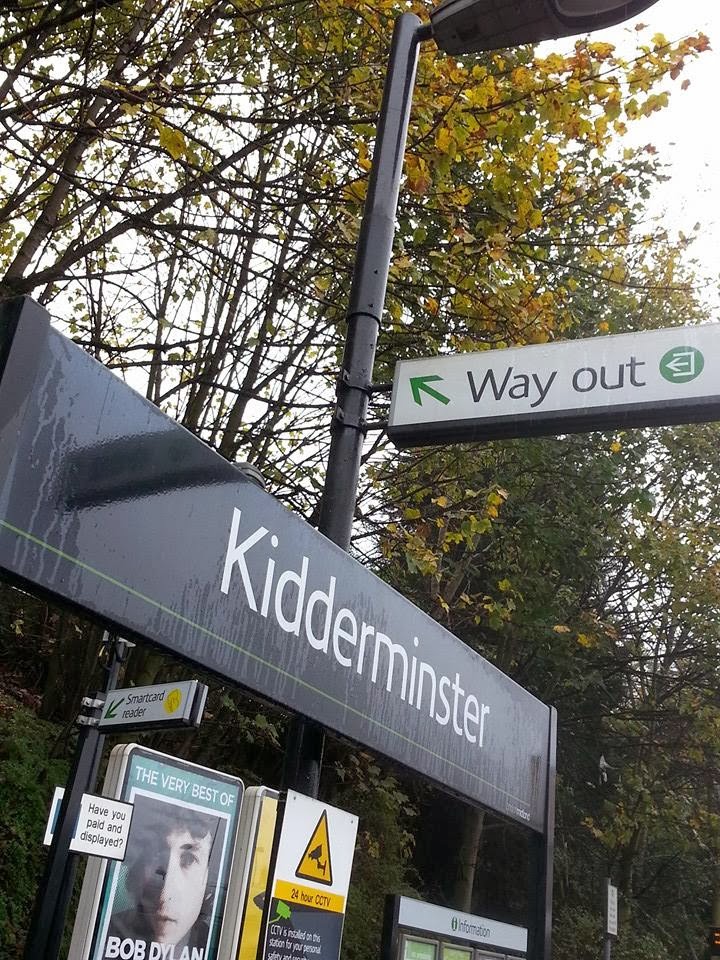 Welcome to Kiddy….
With booze picked up from the local supermarket we headed back up the hill to Kiddie Train Station to grab our ride back into
Brum. As we all get settled on the Train, the driver informs all travellers that the train is going to be delayed due to a point's problem on the route back into Brum. OH GREAT, and to top it off the local wing nut Nazis are only on the same feckin train as us, would you Adam and Eve it!  Stuck in Kiddie for an hour or so, we amused ourselves my swapping hats round members of the firm, whilst knocking back the various drinks purchased earlier.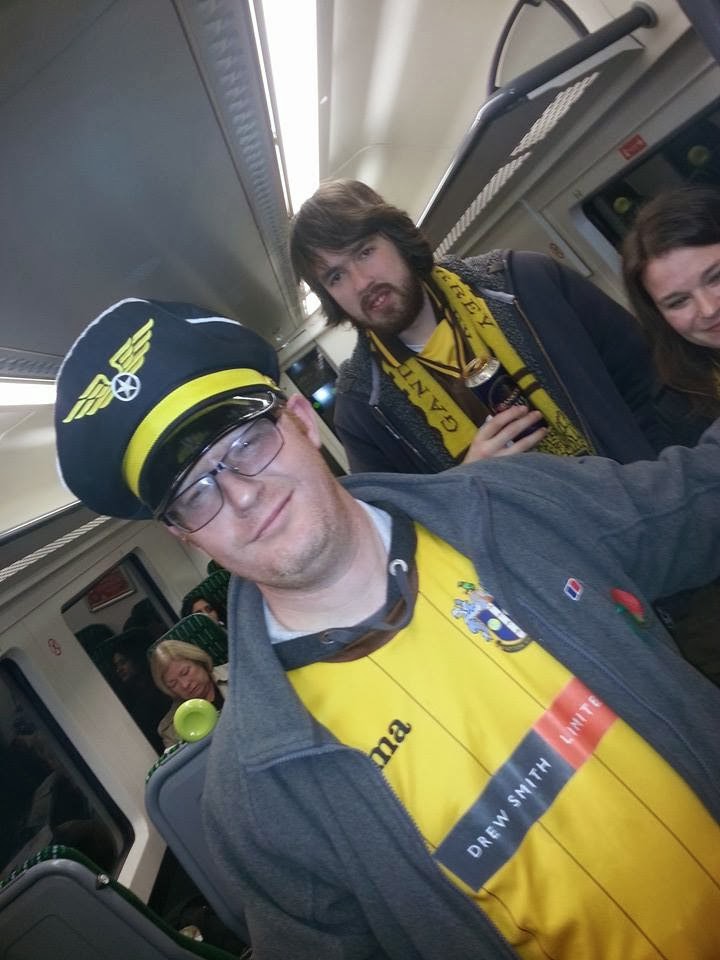 So THAT'S what happened to Lt Gruber from Allo Allo!
On the return leg, we were joined by Scouse Neil, plenty of one liners during the return journey from him. Let's hope he
can make another booze cruise. Finally back in Brum, we had 12 minutes to kill before catching our Train back into Euston. Two tasks were put to the group. The first being food was required, the second more beers needed too. Task completed with
moments to spare, we were heading back to London. Back in London, I left the Firm and headed back onto the Tube, and into Waterloo. On route picking up a Burger King Football special meal deal. Today I had done the double, both McDonalds and Burger King in one day! Have some of that you Salad lovers!!  On board the Train taking me back to Thames Ditton, a fine woman kept giving me the eye; clearly she must have been pissed.
Yep she was pissed alright; she wasn't giving me the eye, but merely checking out my onion rings and double cheese!
We came, we saw, we got f****d up!!
Juan