This is the 0919 service from Epsom. Calling at Cheam, Sutton……….
Duke's mind begins to wander away, not taking any notice of his surroundings, trying to think how after all these years he can still consume masses of alcohol with the other members of the Firm. And with Juan once again not getting permission from she who must be obeyed, it has to fall on the shoulders of the Duke who once again must spout some sort of drivel to keep you lot entertained so let get cracking and begin…..
Today saw the arrival of league leaders Eastleigh down the Lane and distraction from our recent cup exploits. So as per usual I left my house after twelve and headed down to the station, on the way I took some money out of the hole in the wall and done something I haven't done in months and that is buy some snouts as well. I hopped onto the one o'clock train to be greeted by the ever optimistic Firm Leader and we headed towards West Sutton and our first pint. The game on the box was the Newcastle v Chelsea game and there was a smattering of supporters in the bar. I even had to make a trip to the St. John's Ambulance people to change my dressing as I felt a tiny dribble down in between my butt cheeks after that was checked out we all headed out for the match.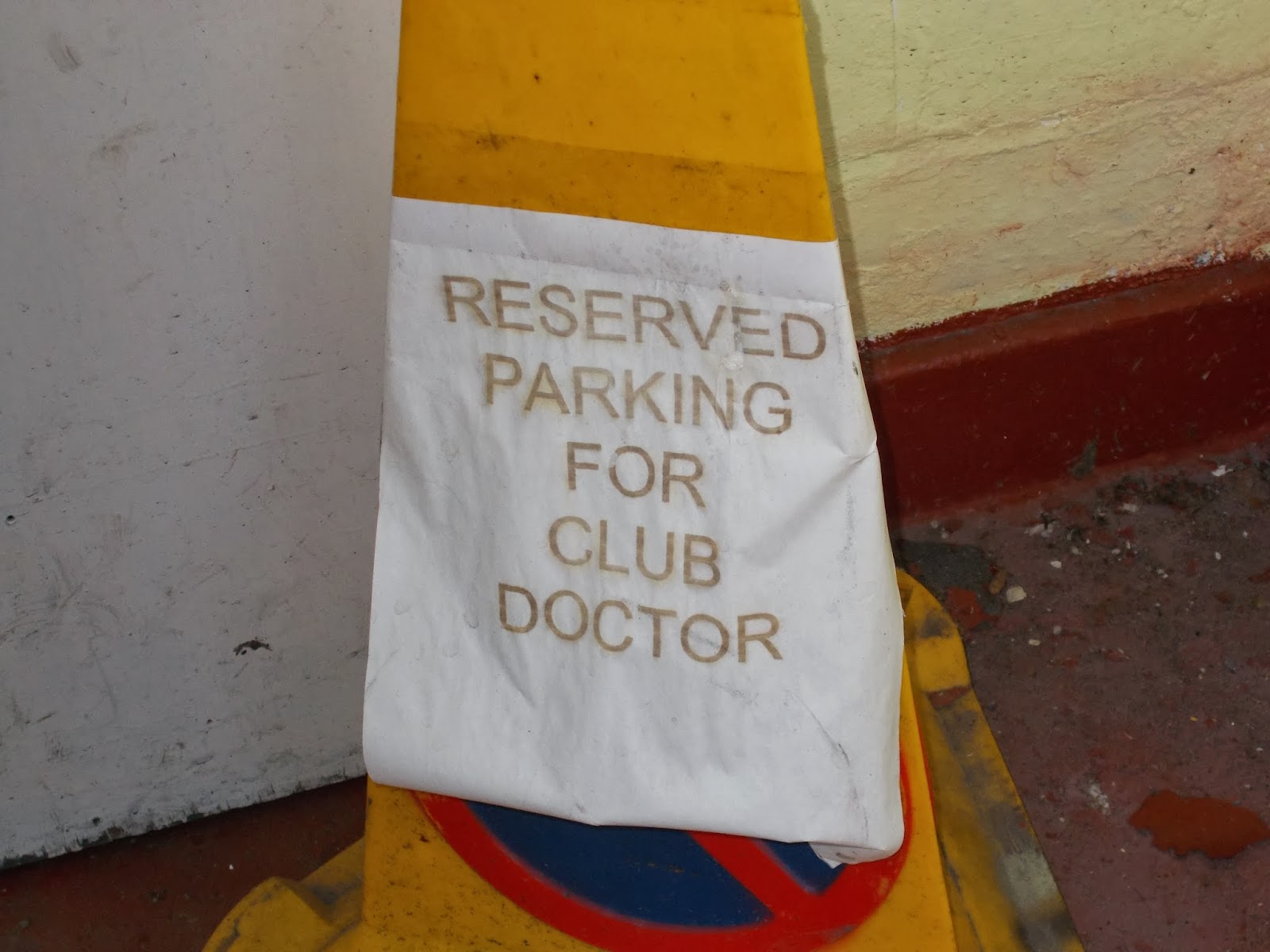 Dukey's bad back needs attention it seems…..
Team:- Lovelock, Nelson, Fuseini, Clough, Downer, McDonald, Riviere, Dundas, Slabber, Taylor, Binns. Bench:- Rents, Telfer, Folkes, Scannell, Sinclair
So onto the game and like most of the 691 people who were there the result doesn't tell the whole story. The game began with both teams trying to find their feet on a heavy pitch, the mark in the game was seeing Taylor limp off with what looked like another ankle injury. Its still a shame that we've yet to really see both strikers in full flow together but one day maybe. The next major talking point was Nelson's red card. Now I might be known for being more of a purist for this funny old game of ours and most red cards I believe are harshly given out but from what I saw I thought the fella got his foot stuck in the ground and Mitch crashed into him. The problem is minutes later the reverse happened to us and all the fella got was a yellow so with actions like that never endear you to the supporters.
Our luck took another turn for the worst when a seamless half shot was spilt by Lovelock and tapped in by the attacker to really knock the wind out of our sails. One nil down and reduced to ten men against the team top of the table. Luckily there was no more action to report in the first half and we went to the bar staring defeat in the face.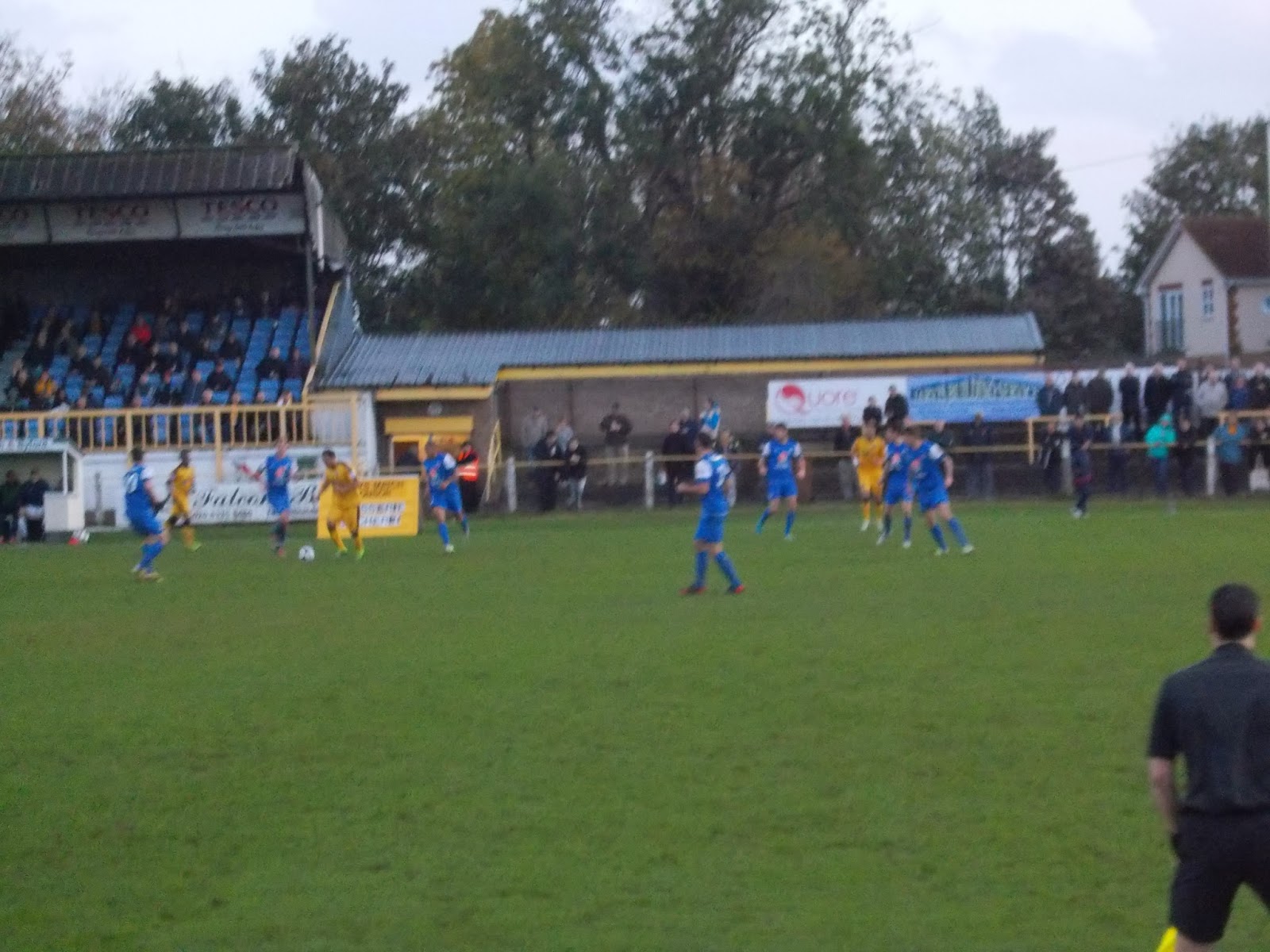 Eastleigh's play pictured at it's actual pace. Eg. None.
The second began with a flurry of action the most important part was seeing a Scannell run that ended up with him being just about upended by the new sub. Up stepped Dundo to take the penalty and unlike Slabber's effort last week he just smashed the ball down the middle much to the delight of us on the shoebox. The rest of the half had us knocking at the door of the Eastleigh goal the best opportunity that we was when super sub Folkes came on the the pitch he managed to get into a position that had been pulled back by the last defender and then he saw his shot saved by the keeper and as the ball fell for Scannell, we could look in disappointment as the follow-up shot was well wide of the goal. For the rest of the match we got to see how worked up their defenders got with us on their backs. Especially Collins who looked like he was about to explode at one point. It was a shame he didn't but what surprised me was the way that the away team came just looking for a point, even when they were one nil and one man up they still played very negative, I could understand this mentality if this game was played in late March/early April but in November?
After waiting for the final whistle and what seemed like a long time trying to get anyone appreciation towards us on the shoebox, Dos finally gave it and then even went over to the travelling supports as well which I thought was a nice touch. We all headed into the bar to wet our whistles when the Editor-in-Chief calmly walks in a produces the left overs from Rose's Tea Hut, unfortunately it was only one single meagre looking pie! Needless to a certain someone in the Firm still gobbled it down with out sharing it. Strikers are Key was up next and as per usual the bar was packed out with players, supporters and staff all very boisterous and jovial. The man in the middle as always was Mr Barry who once again entertained the troops.
In the distance a man talks cobblers before bagging a thousand quid….
A special mention must go to Scouse Neil's better half who was in charge of the velvet bag and as Shaw commented she can sure "Tickle those balls well". Of course it was probably the closest we will ever get to winning it but alas we were still one ball short and who's one was it I here you ask? Well it was only Mr Barry's! And after letting the boss pick a key it only went and open the bloody safe! FIX! Was the screams from the crowd but to be fair he did buy us all a bevy. Cheers Barry!
More beer flowed as all the talk turned towards Kiddie on Saturday and how everyone was possibly going to attend it. The few of us left decided to head into Sutton and our usual haunts. Upon arriving we were welcomed be some fucknut screaming "Brains!" to everyone that walked through the door. But it was time for a couple more drinks and as our numbers began to thin out it was for me to leave and head on to pastures new, so I left who was left and their argument with a Eastleigh fan on Twitter and headed up to the station to catch a train to East Ewell where I was to attend a little soiree, the only problem was that these houses didn't have any numbers on them so it was a bit hard to find it and let me tell you people didn't like me knockin' on their doors asking for directions. But I eventually found this place and FUCK ME it was modern. Double glazing, central heating and they even had a toilet that had a automatic light. Well we drank some more and eventually it ended up with just me on my own so like any other piss head I decided to clean up the kitchen before I passed out on the sofa. I awoke a couple of hours later and said my goodbyes and headed to the nearest train station.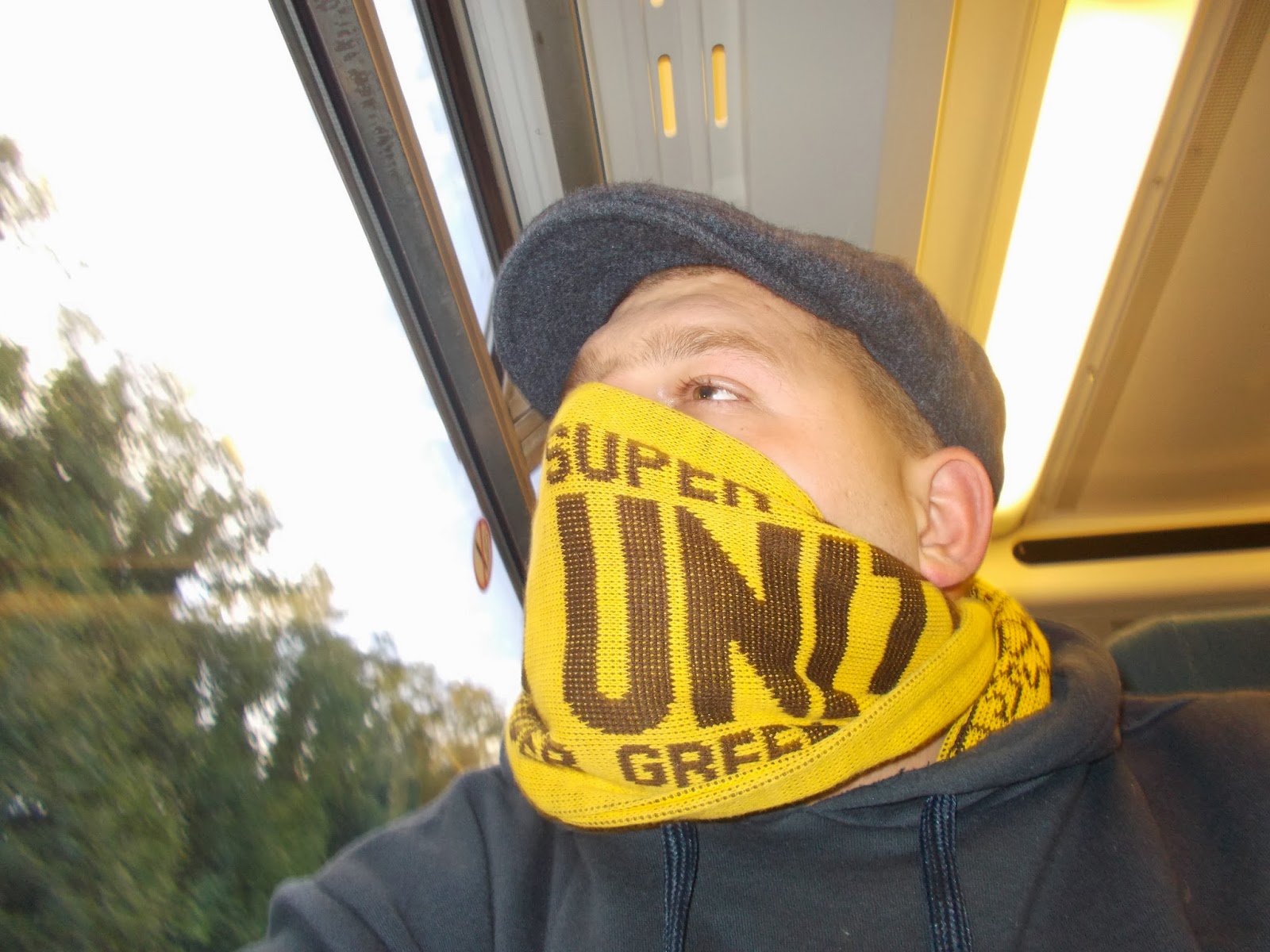 Sorry everyone, I've just farted….
To compel my misery the train home that I got was the wrong one so I had to alight at Carshalton Beeches instead and walk home from there. To make matters worse, as I was about to get off the train a little old granny leaned over and said.
"You flies are undone my love"
Duke