"This geezer was special, I mean REAL special. He was thick as shit in a bottle, he even made two short planks look like a fuckin' computer." What is he talking about? I hear you say, well I hope its you talking to me or otherwise not only am I talking to myself I've even began to answer as well.
The gist of the title is that as the one of my crew members has decided to go back home I'm now starting to get a string of lemons working with me on a daily basis. The wing-nut of the week that I'm talking about hear was exceptional. Not only did he have the tattoo "Mom" on one side of his neck, he also had the birth dates of his three children (from two different mothers) down his arm. I suppose its so he doesn't forget them, as his biggest conundrum was weather it was worth him working or just to stay on the dole in his council flat on the Cambridge Estate. Anyway, it turns out that he is one of Arsenal's most ardent supporters, "I always watch them when there on the box". Even after Monkey my driver asks if he has ever been to the Emirates before he replies "Why?". Seriously WTF?, and after telling him I support Sutton and I go home and away as one of the boys, he asks who we got on Saturday I reply with the correct answer, his remarks stun me and the driver and the title is hence…
Who are Tud-Binge Angles?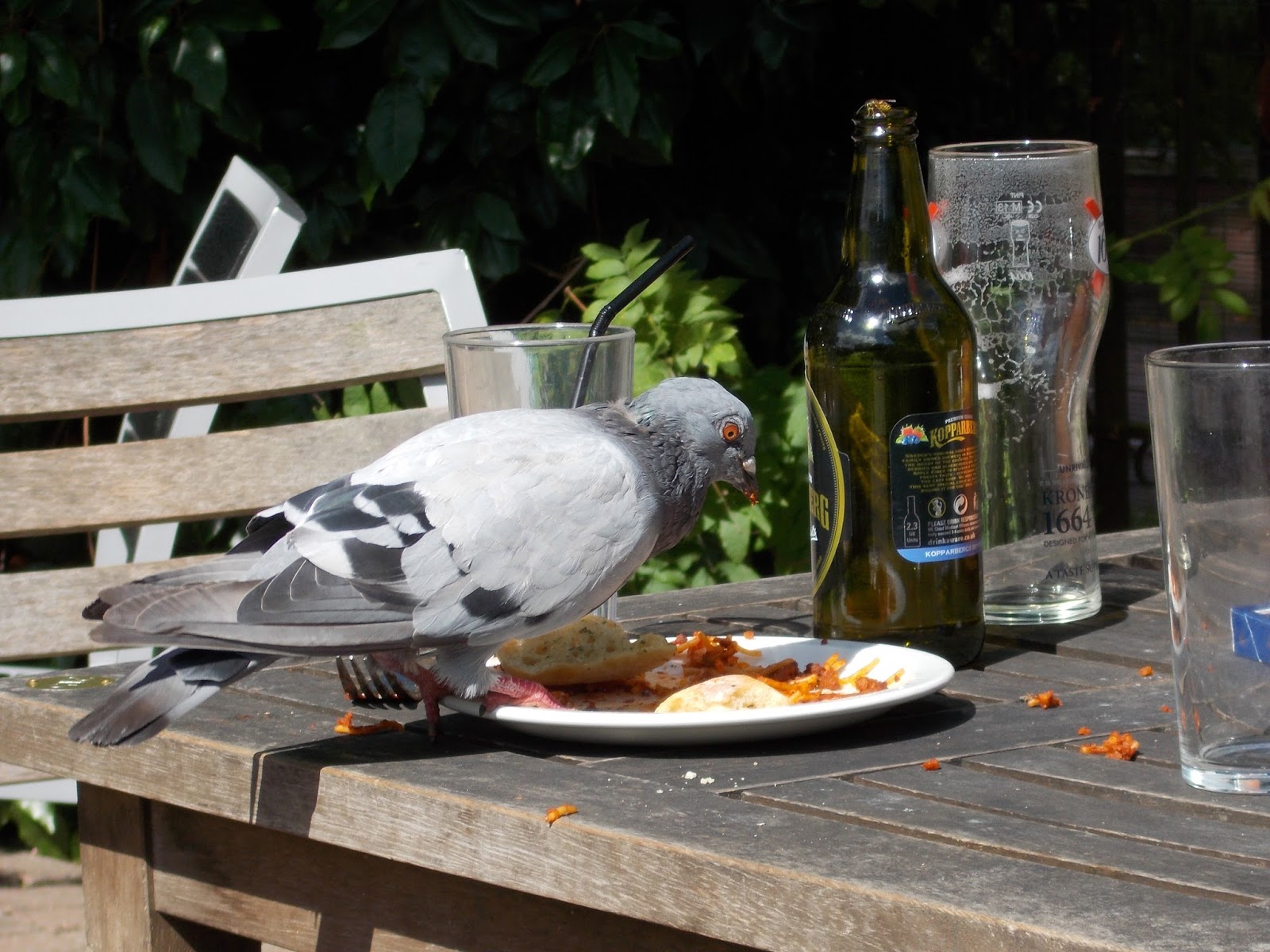 Dukey bird watching again….
And welcome Gentleman to another fun filled exploit of the Sutton United Firm!
The day began quite early for me as I forgot to turn off my alarm so at 0445hrs the phone goes off – to the theme tune of Men Behaving Badly – and I'm forced to try and get back to bed but as I look at the clock it feels like time has stood still and I decide to get out of my pit, fire up the old computer and begin my latest essay that is due Tuesday (why did I ever decide to do a degree at my age). Of course I didn't start it and pissed around instead. With time in hand I manage to sort myself out for the forthcoming trip to Kent. It is only 0900hrs when I'm readying myself to leave a shout up the stairs from the Old Man comes in the form of "You've got a fuckin' flat tyre!", my first thought was "Shit, not now" my second thought was "Fuck it, I deal with it tomorrow"
The train that I was due to get was the 1041hrs from Carshalton up to Blackfriars and for the third time in the row I was beaten to the station by our Editor-in-Chief who managed to hand me a child's rail ticket through a side gate as a group save ticket was being brought for us at Sutton. Not bad for £8.25 to Tonbridge and back. The line up for today's excursion was Myself, Mr. X, the E-I-C and none other than on his first booze cruise of the season Dr. Bell! Who having been proved totally wrong in his solution for the Fukushima Nuclear Disaster he finally decided to come with us and have a beer.
The plan of action was to head to Blackfriars where we could now get a train towards London Bridge and then head south to deepest darkest Kent. As we were not yet on the beer we decided to amuse ourselves with a light bit of banter and jovial tricks, the highlight being when the Editor-in-Chief having just folded up his now not required child's tickets and pushed them in between the seats, only then to realise that they were in fact his Tonbridge tickets and had to get underneath the seat to retrieve them.
We arrived in Tonbridge around 11 o'clock and headed straight to the local spoons which was the former post office and was named "The Humphrey Bean" and saw that our standards were slipping as already arrived and nearly finishing their first pints were Indiana Jones and his father.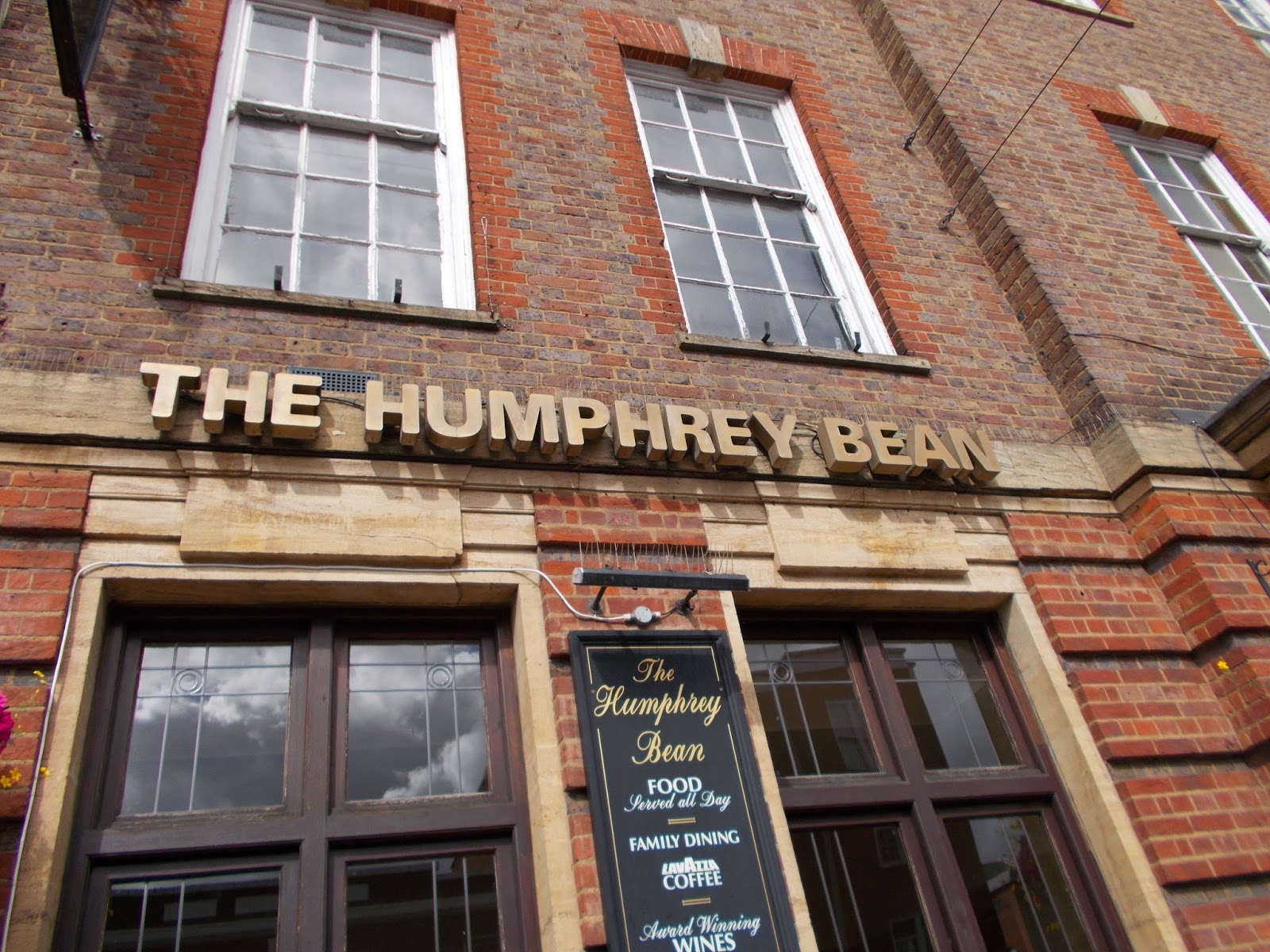 A long day started here…..
The decision was that we would have a couple of jars here and head off closer to the ground as we were still waiting for our local scout Wellie to arrive. Last time we were in Tonbridge, me and Dr Bell had drunk the place out of Green Goblin, so in the hope we could do it again we queued up like everyone else. Unfortunately they did not have any on display and in the midst of mild disappointment I got slightly confused and ordered a pint of Turborg instead. we all sat outside surrounded by the local wildlife on display and for half an hour at least we were all enthralled with a pigeon that was catching the rays as he stood motionless next to a table. Even the movement of people around him didn't make his lose his concentration and he stayed put, only after he had relieved himself did he finally trudge of into the sunset never to be seen again. We also managed to get to hear the dull set tones (got it right this time) of Mr. X as randomly he begun to sing "John Kettley's a weatherman, a weatherman, a weatherman" to the amazement of not only the members of the Firm that were present but also the locals that were in ear shot.
It was at this point that some of us decided to eat al fresco and order some sandwiches. Of course I didn't eat nothing again, and one day I will learn my lesson but not today. After filling our bellies with beer and food we decided to head off up to the George & Dragon as that was were the home fans drank and we wanted to see if there were any stragglers who needed our assistance in drinking their beers, another drink down our throats, hearing the announcement of what the starting line up was going to be and it was off to the ground were on route it was declared that we would not be going through the shortcut in between the cemetery and the back of several houses, as last season we did that in the dark and it wasn't the best experience I can tell you.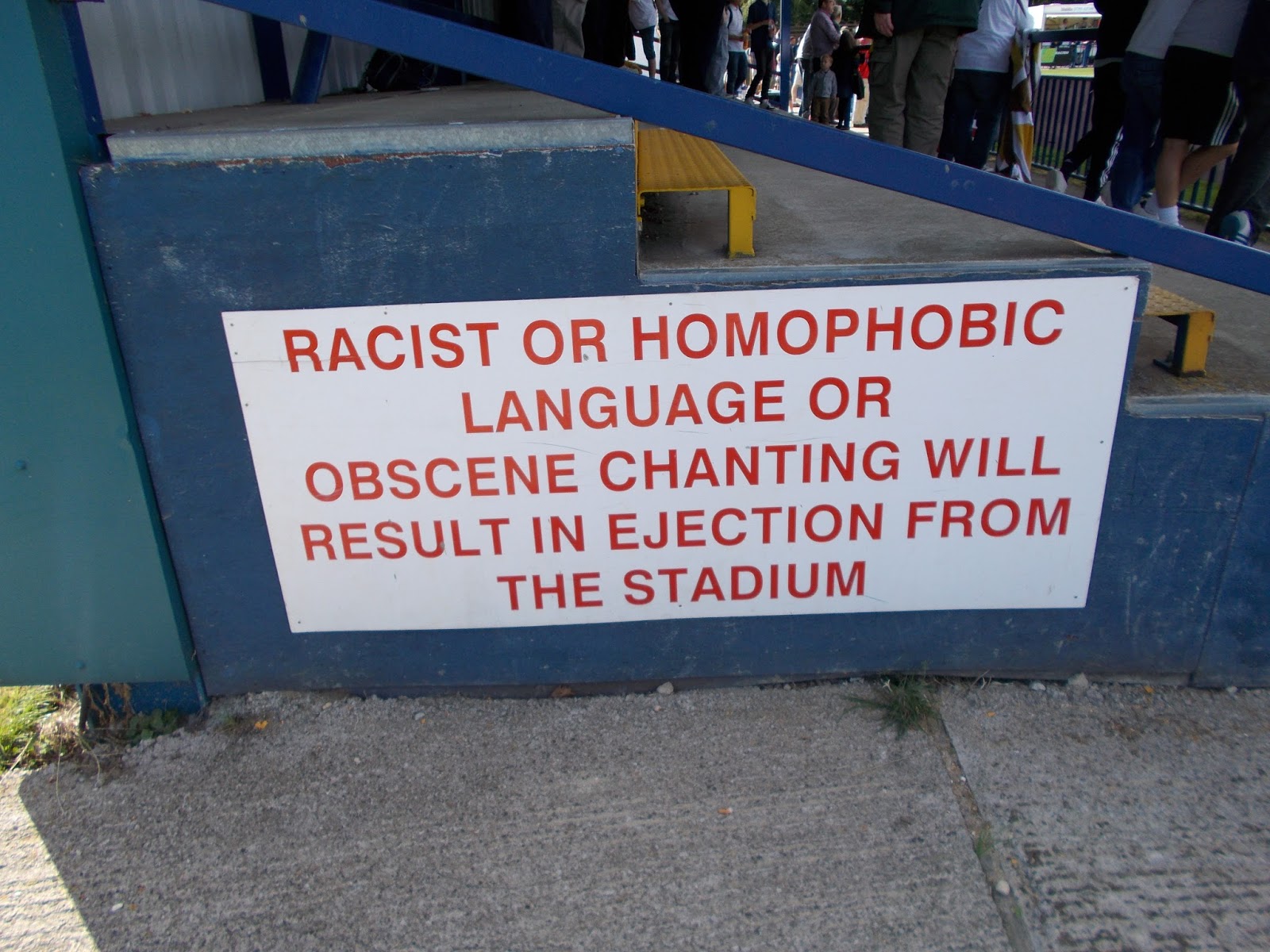 No naughty words!
Arriving at the ground there was still time to grab a sneaky short as we waited for the teams to decided what end they were starting and all that palaver that goes with it. The starting line-up for today was going to be:-
Lovelock, Nelson, Rents, Stuart, downer, Sinclair, Folkes, Fuseini, Dundas, Binns, Williams
and the bench was: Telfer, McDonald, Scannell, Taylor, Shaw
And lets all be honest, was that really an entertaining match? I can't think of anything that happened in the first half except for one of their fellers getting booked for a lunge on Ali and of course there goal as once again some suspect defending allowed the fella who got booked to get off a shot at target and leather it into the back of the net. I do feel that sometimes when we are required to defend on mass there appears to be more chances for players to get away from their markers and create space for a shot.
As the ref blew his whistle we headed straight to the bar to neck a quick bottle of Bud and try to work out between us if anything had actually happened in the first half. The second half had us supposedly playing with the wind but once again we failed to produce any of the football we have seen in spits and spurts this season with too many aimless balls upfront and no composure when we tried to work it up from the back. Having said that today we got a new top goalscorer in the shape of "OG" yes that's right the good old own goal has struck again. This time it came from a Scannell cross and the defender just beating Taylor to the ball and glanced it into the back of the net. In the ensuing goal celebration for some reason the goal keeper decided to not give the ball back to Dundo, and a little bundle in the goal net started. Tonbridge even had a chance to nick at the death but thanks to the legs of Lovelock the one on one was snuffed out. And so it ended another draw down at the Longmead, although I do believe that we are still undefeated there. But for the second season in a row we leave it late to get a point.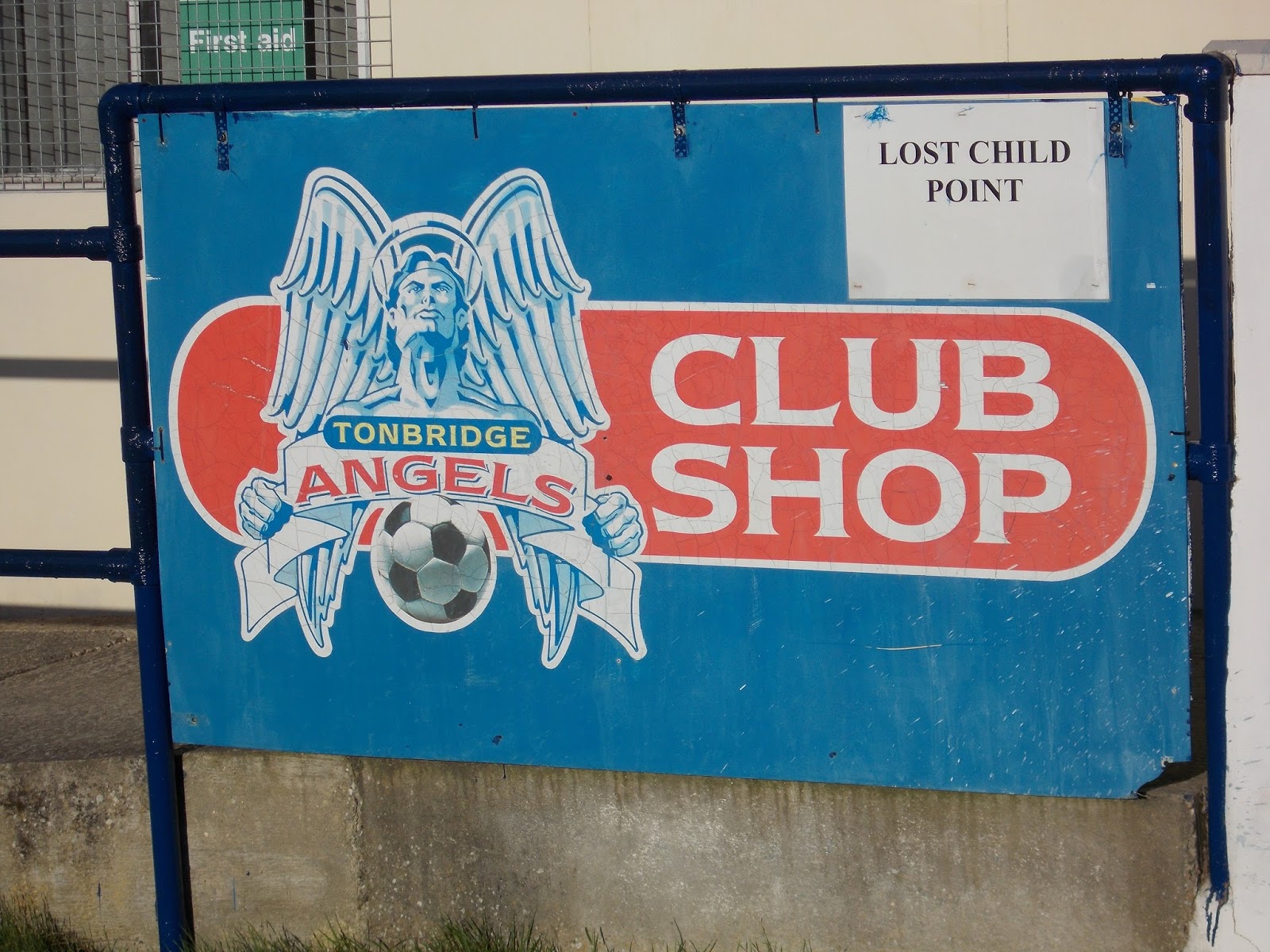 A veritable cavern of pennants & pin badges….
After the game we headed to the bar to check the scores and drown our sorrows, several times I might add. It was weird to only see one team in the bar afterwards, but I suppose we all can't drink sometimes. On the walk back to town we decided to stop at "The Royal Oak" for a couple of cheeky jars. It was at this point that my camera's batteries to give up the ghost and die, so a quick trip to the petrol garage next door was the order of the day. When I returned the Firm had decided that it was going to head into town to have a meet with the Dover fans who had been to Farnbourgh's first game of the season. The only bother was that as it was 1915hrs the train we were going to get was the 1950hrs and trust me the walk from the station to the ground is a fair distance, especially when you have nearly a full pint of cider on the bar.
So off we trotted to the station managing to grab a few bottles for the train and our Editor-in-Chief even went to MacDonald's to grab us four large fries and 40 nuggets to boot. Arriving back in town around half eight we headed towards "the Sheaf" the problem was no one knew exactly were that was and we ended up walking around in circles until someone spotted it. In the cellar of the pub we managed to bump into several known faces from Dover, there was also a smattering of other supporters with Tonbridge, Dorchester and Wingate & Finchley represented. The beer continued to flow even quicker as me and Dr. Bell got onto the Aspall's, I even managed to drop my pint and smash my glass (I wasn't the first to drop my drink that day!) as my hand to eye co-ordination began to be affected by the old alcohol.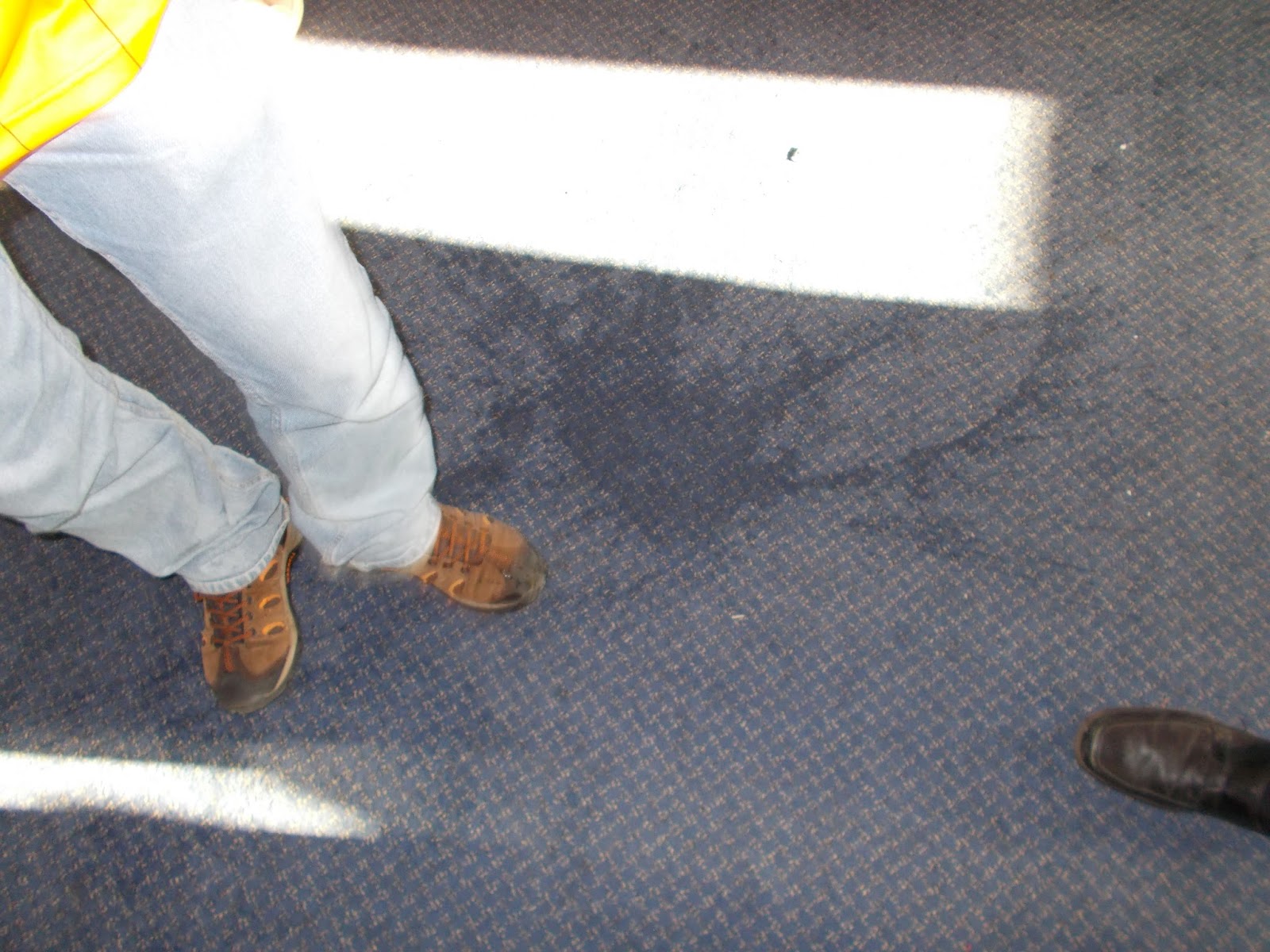 Someone had an accident….
Normally at this point most people would go home, but we are not like most people as we decided to head next door to a German bar to carry on drinking. That is after me and Dr. Bell were refused entrance but after some posturing and moaning the bouncer obviously had had enough of us and let us in. It was here that we were reunited with our "old friend" the stein glass and our other friend the good old shoot of Double Sambuca, and that just made the night more hazy. At this point Mr. X and Dr Bell left I believe, to be honest I can't quite remember, don't forget I was two sheets to the wind by now. Have to also give a special mention to a few Dorchester fans that we met on our travels, they gave it a right go at enjoying themselves with a bunch of the Sutton Firm who were no doubt spoiling their night, still I was informed by one of then that not only was it non-league day, it was also national cassette day as well.
And that is not the end of our tale, no definitely not, because as we left the German bar at closing there were no more trains back home so we had to settle for a train to East Croydon and then a walk over to West Croydon to get a Taxi home, I even managed to get a cheeky KFC as I was most definitely hungry at this point. The only snag was that our Editor-in-Chief took it with him as he got out first. I finally arrived home at 0200hrs a mere seventeen hours after I left on the Saturday morning. So there you have it our away trip to Kent, boring as ever with no drinking involved and nothing to report!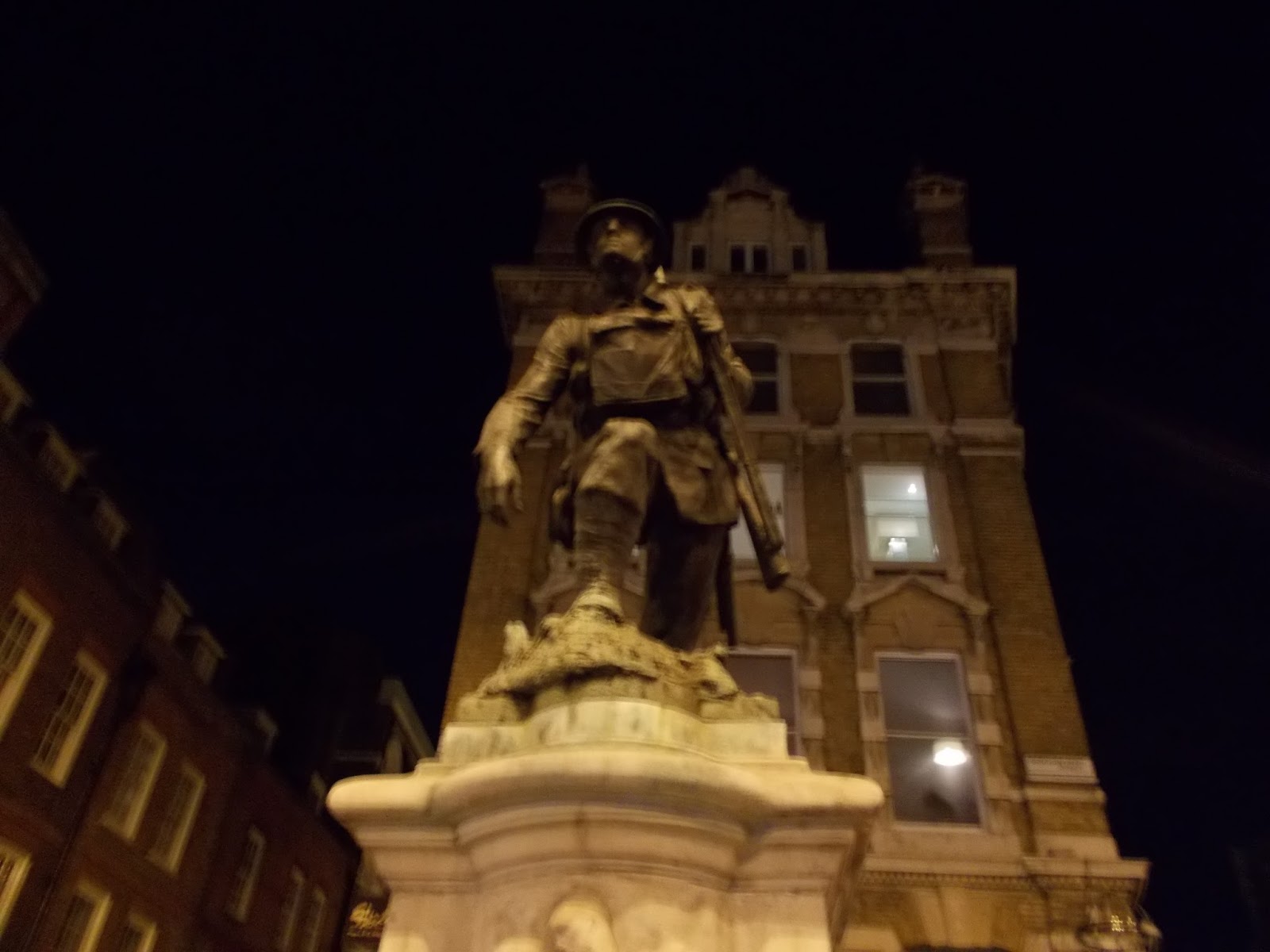 Don't remember this bit….
Duke