Some of you may have read from the official website (following the Tonbridge game) that Moses
has been released to find 1st team football, which I guess is fair
enough. A player of his age and ability wouldn't want to be sitting on the
bench week in week out. So with the departure of Moses, we now bring in Charlie
Clough-who in recent weeks put in for a transfer request to leave Dorchester
Town.
So within a week or so, for an undisclosed fee, Charlie comes in to
bolster up the back four with his experience in both boxes, netting 12 goals
for Dorchester last season. Let's hope his form continues in by sealing any
holes in our current back for, and his head finds the net at the other end of
the park!
Here's a little Bio, borrowed, or stolen from various
sources, mainly Wikipedia.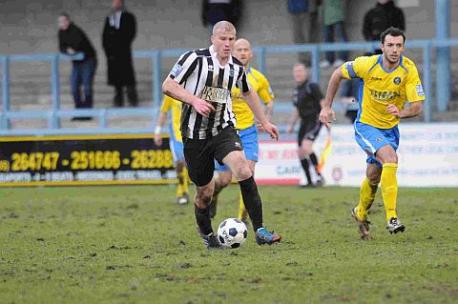 Soon to be Amber & Choc
Charles David Clough
Born 4 September 1990 is an
English footballer who plays as a defender previously for Dorchester Town. Originally from Taunton in
Somerset, Clough was admitted into the Bristol Rovers youth set-up, based at
the Bristol Academy of Sport, and was promoted to the first-team squad in the
summer of 2007. His football league debut, aged 17, came in a Football League
One match against Brighton & Hove Albion at the Memorial Stadium on 26
April 2008 as a substitute in the 68th minute. At the start of the 2008–09
season he was sent to Mangotsfield United on a month's loan to gain some first
team experience. The loan was later extended to a second month. In September
2010 he joined Newport County on a one month loan.

In January 2011, Clough joined
struggling Southern Premier League club Weymouth on a month-long loan. On 28 February 2011 he joined Bath
City on an initial loan period of a month. He was recalled from his loan period
on 28 April having scored two goals in eleven appearances. He re-joined Bath on
loan later that year, when they signed him in a month-long emergency deal. In March 2012 he joined A.F.C.
Telford United on loan.
Previous clubs include, Dorchester Town, Chippenham Town,
Newport County, AFC Tellford United & Bath City.
To finish up this update, here's a link to a local paper(Dorchester Echo) summing up the move….and a little preview of the fellas capabilities….

That's all from the one they call Juan…for now!