This update is sponsored by Paddy Power & Spencer Days accountant.
So this week in the world of Juan has been a rather 'topsy turvy' one to say the least. Let's start by turning back the clocks to last Friday afternoon. Time approximately 16:30 HRS, location Board Room. What happened next, I can only describe as a complete an utter bullshit experience! In a nut shell, I was advised that due to some unforeseen (this is where the bullshit starts) circumstances, we are going to have to end your current contract.
This followed my response (inner monologue) "Are you taking the fuckin' piss pal, you waited till 4:30 on a Friday afternoon to tell me that". What actually followed was a response of "ok" followed by me collecting my things, saying my goodbyes, and grabbing my bike and lycra (Sorry Taz) and jumping on my bike and going off home. Still I guess it was nice to have an early finish on a Friday for once! So yeah this week, has seen me re-working this thing called a Curriculum Vitae. Sadly after searching low and high on various websites, I still can't seem to find that winning job I've always wanted to do-looks like I'll be watching Jeremy Kyle for a few more weeks…
So enough of myself indulgent rabble, back to the reason you
lot come here. To read about what we do best, write bollocks about Non-League
Football, mainly our much loved S.U.F.C. So this weekend fixture takes us back
home to the much loved Gander Green Lane for our Skrill South Fixture against
Farnborough. Now then, Farnborough; well there certainly a little bit of
history associated in recent times with this club, let's take a little look
into the finer details. (Please note, my description may not be 100 %
correct-this had to be stated in case of any potential law suits)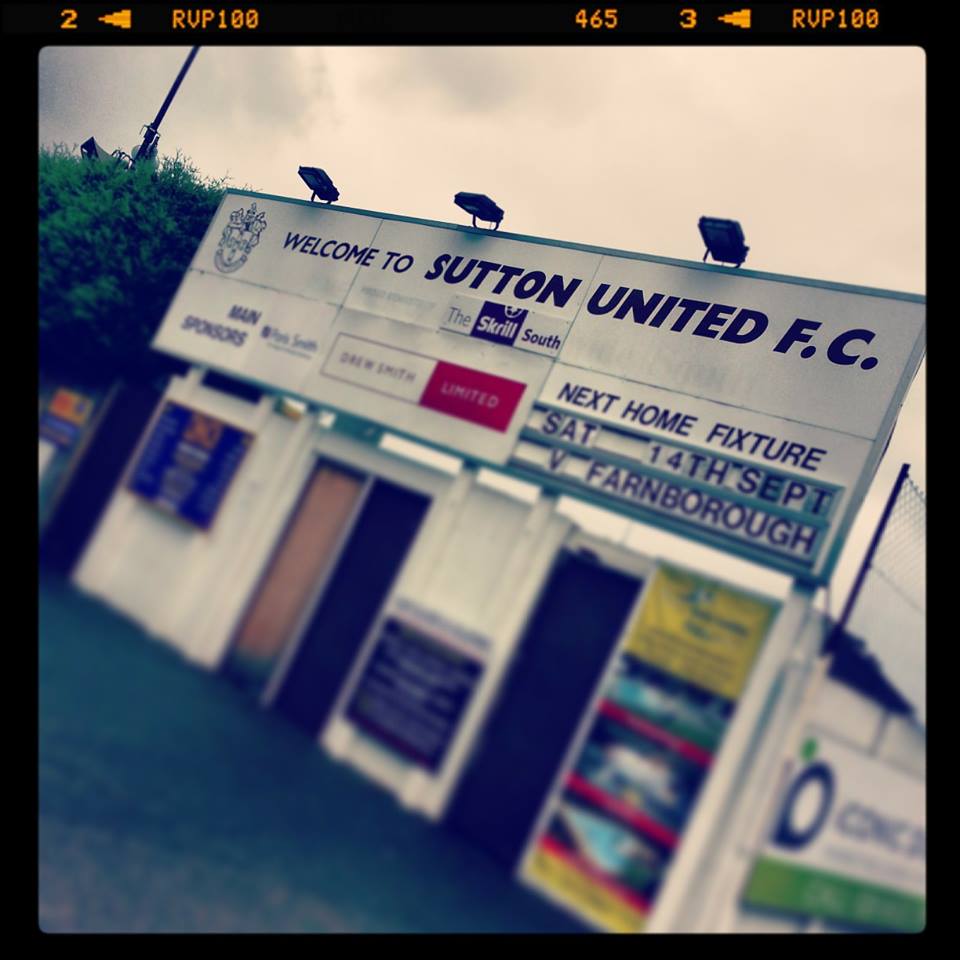 The gates to heaven….
Farnborough, past,
present & future on goings:
Well well well, where on earth do I start with this one? It
would seem, that back over on Amber Planet, the Farnborough & Paddy Power
thread has been taken to a new level. First of all, Farnborough first play the
cheats game, by declaring their intentions of bankruptcy post season last year
to avoid the inevitable points deduction, and to boot, decide to bring in a
HUGE sponsor deal via Paddy Power.
Oh Kevin, what have you done?

An extract
taken from Amber Planet:
"Ha ha, until the next self-inflicted
crisis. Anyone who seriously thinks that the saga at rottenborough is over
should seek help. I will be well pleased if we get our game and our gate money
in against them – and I would bank it sharpish – but I can guarantee there will
be plenty more twists and turns with the fraudsters and the gas meter thieves
before the season is out. Every game they manage to get in now will have a
twist of extra spice including in a week's time down here."
Following the 'back hander's' Paddy Power think, yeah let's
take this one, one better by renaming the squad via deed poll , after some of football's
greatest players, with reference to the
likes of, Gazza, Marradonna, Carlos, Beckham & Messi. Jesus that's awful,
on a huge scale. Following this HUGE
publicity stunt, Farnborough are then met by the rather pissed of authority,
or powers that be of the Skrill South, to meet certain demands, including a
payment to guarantee the costs of the away teams for the forthcoming season.
With time pressing Farnborough fail on a number of occasions to meet the
demands, and the start to their season is delayed some weeks. So with Farnborough's
opening game to Chelmsford called off, and their second fixture to Havant also
called off, Farnborough are now playing catch up. It would seem that no one can
pin down Spencer Days accountant to answer some rather intriguing questions,
the first being, "how'd you manager to sell a club, and then buy it back with
all the debt, you scheming, button pushing, miss-calculating dodgy g*t !" So
there we have it, in a nutshell of course, I wouldn't want to be spending my
whole afternoon going on about the ins and out's of Farnborough's bank accounts!
So back to today's fine Skrill South Fixture. An unrecognised two home fixtures in a row of
meeting Mr 'Justice ' Duke on the short train journey into West Sutton this
afternoon- is this becoming a bit of a regular habit for little old Juan, nah!
The misses has gone away this weekend so I'm allowed out to play once more.
The
look on Dukes face when he realises…priceless! So yes, I am indeed going to
be joining 'la firma' for a few beers pre & post match today. I currently
have no doubts in my mind as to where we will end up, more on that later.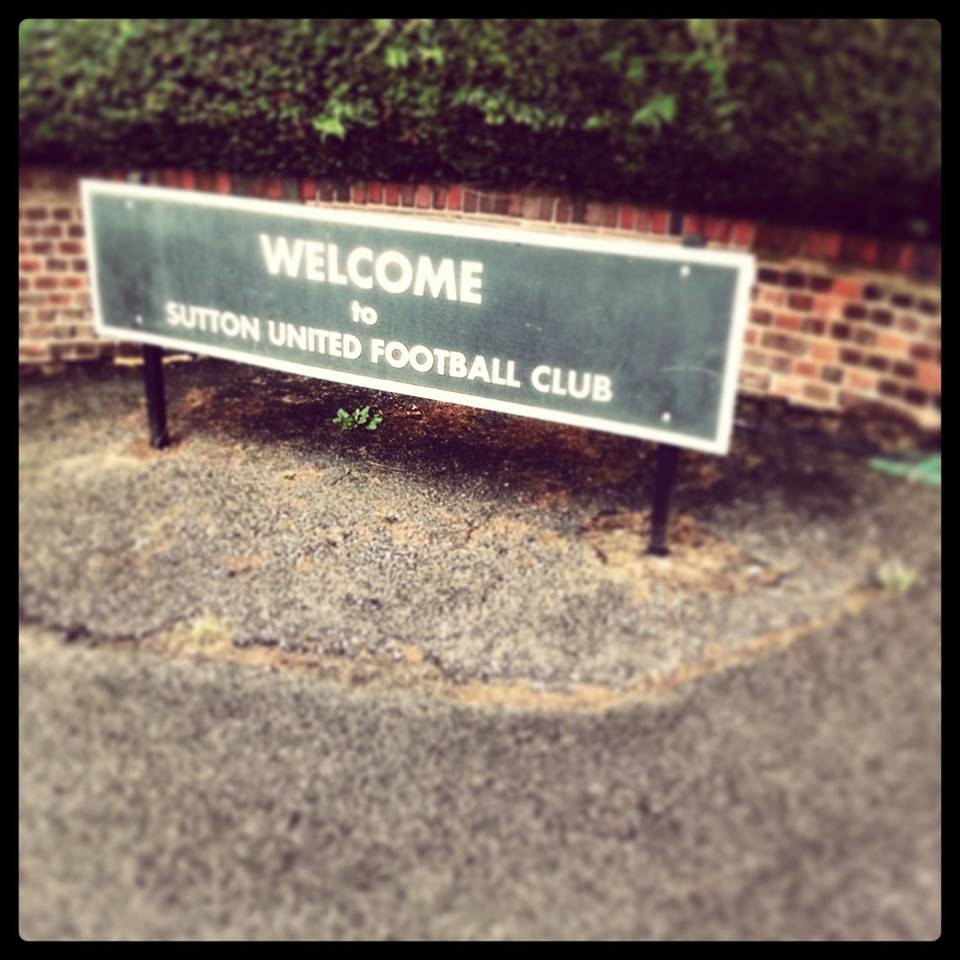 Yes! Welcome!
So back to the game. Well a typical autumn beautiful British
day, rain, cold, wet, and damn right miserable, let's hope the football
offerings are better. Today's line up, as follows:
Lovelock, Telfer, Rents, Stuart, Downer, Sinclair, Scannell, Fuseini, Dundas, Binns, Wlliams.
So with the game underway, on a slippy surface the first 10
or so minutes see both teams struggle to get the ball down on the pitch,
keeping possession a hard task in hand. Both Sutton & Farnborough when
getting hold of the ball, at times are both putting together some neat passes,
and good control work, considering the playing conditions are not the best in
the world, the constant drizzle of rain not helping. Sutton, without our key
strikers are forced to play Dundo in a attacking midfield position with Dale
Binns out on the left flank, Scannell out on the right, and Marv up front. For
some time, we resort to clearing the ball from the back up to Marv in the air.
But Marv struggled with most aerial attacks due to being man marked by the man
mountain of Farnboroughs number 6. Still Sutton kept pressing, and trying to
break down Farnborough's back four.

Another Juanpanoramic experience….
A number of through balls, and chances are created by
Sutton, a great chance, and through ball to Scannell, unfortunately sees him
twist awkwardly on his right knee, and sees him to go to round, needing
treatment from the Physio, Bobby Childs. With Scannell back on his feet, Sutton
continue to press, and again, Scannell picks up a further through ball on the
right channel, but again he goes to ground. Scannel this time can't continue and
is subbed. This fella has been a tad unlucky with the recent knocks he's
sustained. Still, I'm sure we will see his form return shortly. Both Farnborough and Sutton continue to press at both ends of
the pitch. Dundo however, working hard in the middle of the park, rises to the
clearance from the back, and knocks on the ball into the path of Williams.
Williams, cuts out to right, turns back inside, and fires a low cross across
the box. Dundo follows up with pace, and comes sliding across the 6 yard box,
and gets a toe onto the ball, and its bundled into the back of the net. Sutton 1-0 Farnborough.
Within minutes the hard work that Sutton have shown, is
reduced by what should have been a routine save for Lovelock. A shot comes in
towards Lovelock, and for some reason the ball just doesn't seem to stick to
his gloves, and the ball is fumbled, and goes out of his reach, and well the ball is at the
feet of Farnborough, and well he picks his spot and the ball is slotted into
the back of the net. Sutton 1-1 Farnborough.
Farnborough looking a little sharper than us, and perhaps
even a yard or two faster at times, continue to press our back lines. This
time, a shoulder to shoulder challenge between Stuart and the wrestling
Farnborough forward, is bought down within 6 yards of Sutton's box. Stuart awarded a yellow for his troubles. (Not
sure that really was a card to be honest) The Farnborough fella, clearly
fancies his chances, and steps up, and lofts the ball over the 5 man Sutton
wall, and the ball hits Lovelocks inside post, and goes in. Bollocks! Sutton1-2
Farnborough. With the ref blowing up,
closing off the first 45 minutes, it now gives us a chance to get our heads
back together, and re-focus on the job in hand.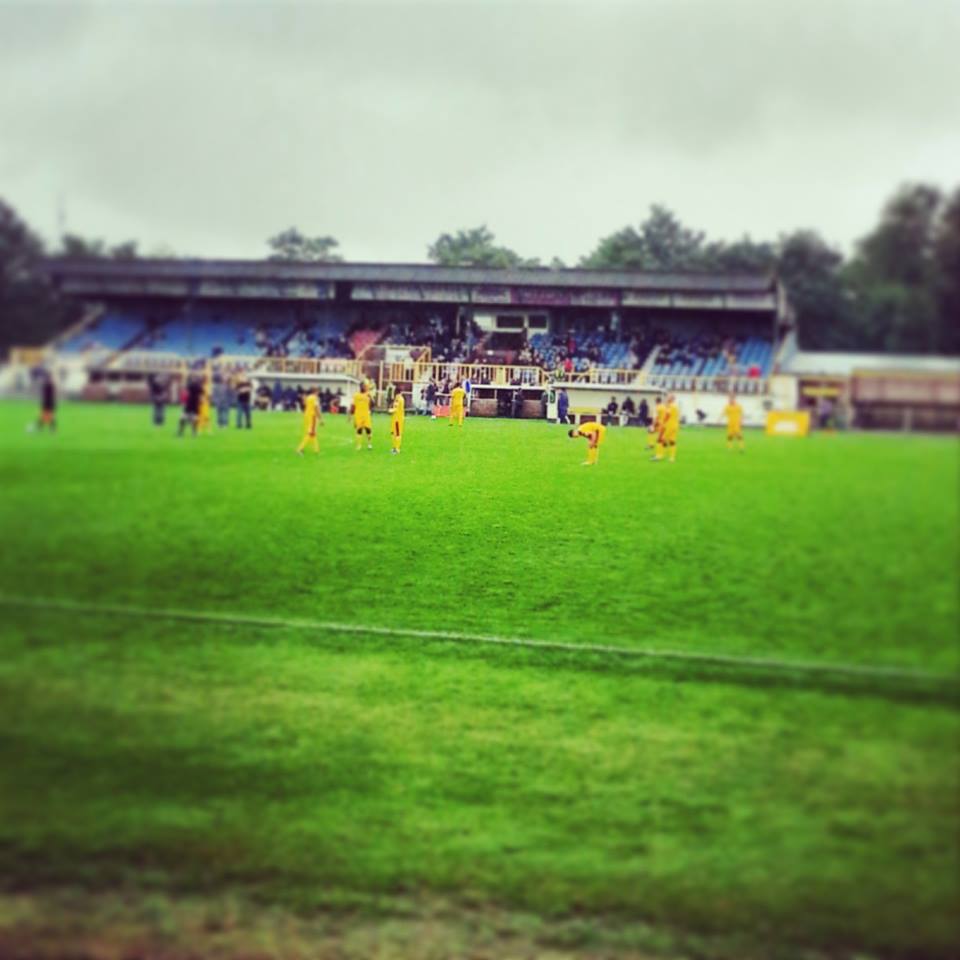 Have they started yet?
With the second half underway, the first opportunity for
Sutton, a cross comes in from the left channel, and Dundo again manages to lose
his man, and flicks the ball off the top of his head in the direction of
Scrivs, only for Scrivs to collect safely into the palm of his gloves.
Farnborough, not hanging around, continue to press forcing Lovelock to come off
his line to clear a further Farnborough THREAT. Sutton again, seem to have
upped the tempo and their game since break, continue to press Farnborough's
back four, and with a clear handball in the box, Sutton are duly awarded a pen.
Up steps Dundo, the man, the legend, the machine, and smashes the ball with
extreme power past Scrivs. Sutton 2-2 Farnborough. Below is a little clip of
the BIG MAN doing what he does best.
Sutton now firing on all four cylinders continue to press Farnborough,
and at times, are linking up well together. Jamie Stuart looking solid at the
back, collects the ball at his feet, and spreads the width across to Sam Rents.
Rents bringing the ball forward, Binns pulls his marker into towards Rents, and
lays the ball back to Rents. Binns then turns creates time and space leaving
his man for dust, and runs the channel, chasing down the through Ball from
Rents. Binns continues to put the foot down hard on the gas pedal, and swerves
in a great low fired cross into the box. Faux is steaming in from the right and
connects onto the ball, leaving Scrivs with nothing to do, apart from spreading
his body to prevent the ball from firing into the back of the net. Sutton 3-2
Farnborough.
Farnborough continue to press the ball, and again Sutton are
once more on the back foot. Dean McDonald this time giving away possession in
the middle of the park, and with a lack of concentration, Sutton once more
concede, bring the final score to 3 a piece.
Below, are a couple more snippets from the game, that I managed to capture on my phone:
With the final whistle blown, and the man in black receiving
a little stick for not awarding Sutton with a second penalty- a clear pulled
shirt in the box. We head into the SUFC Members bar to await the Strikers
are Key draw. So after a couple of Bulmer's are knocked back. Dos pulls the
lucky number from the velvet back, and some lucky sod goes on to pull out the
correct key, and cracks the safe, and takes home 900 big ones! Imagine what
damage us lot could do to the bar with £900 large!
A few more of the standard
pints are knocked back, (amongst finding out that Macca is a fan of
Gandermonium – not an avid fan mind you! That will change when he features in a
SSC match) and a few of the Sutton faithful depart back to their loved ones
for the rest of the evening. So as a group, a decision is made to head into the
wonderful world of Sutton High Street, and a further return to our local moose
hunting ground (for some, no names, no names!) At this point we were rejoined by the Editor
in Chief-under strict orders from his misses to go out with the boys and sink a
few jars! So the usual suspects once more consumed copious amounts of booze,
the usual Fosters, Ales and Stowford Press Ciders, as well as lining the
stomachs with the standard greasy re-heated chunks of chicken and well over
cooked (nuked) pieces of steak, and well the usual drinking stories begin to
unfold. A discussion on the potential adoption of an African Child versus the
cost of a designer handbag. For some reason we even had photographic proof of
the said African Child with a Kieth Lemon look alike!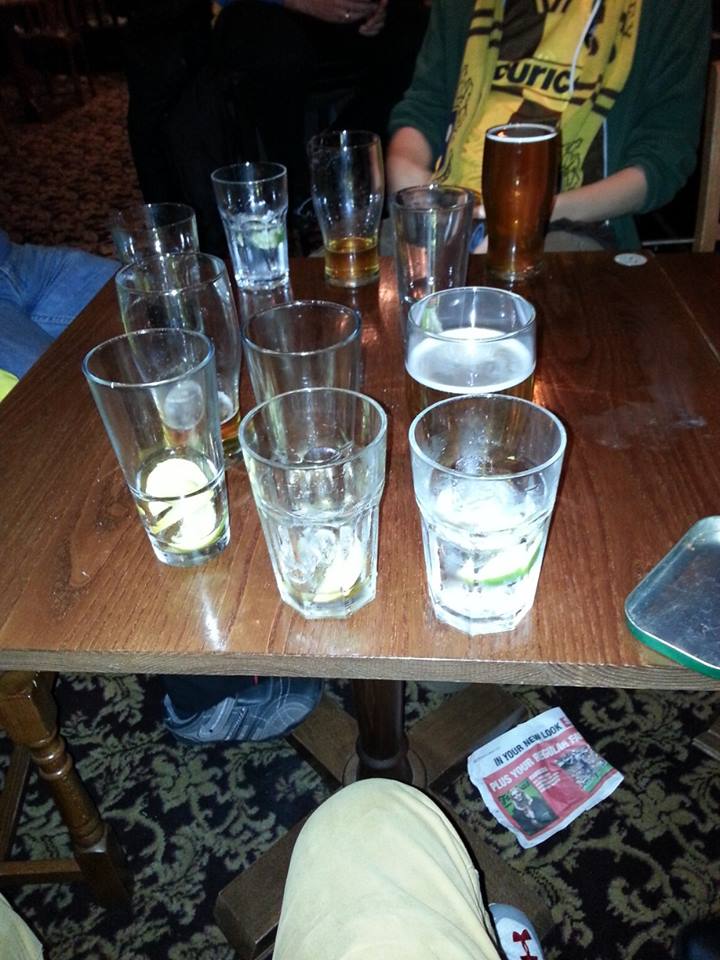 A quiet evening out….
The booze continued to
flow, as did the conversations a comparison of Mr X's dress sense versus
another member of the Firms, woolly oatmeal twist jumper that somewhat resembled
the carpet seen in the West Wing of Juan Towers. With us all now full to the
brim of beer, we now turned to the top shelf, and knocked back the faithful
Gins. Somewhat pissed, I mentioned that this refreshing taste of Gin, tasted
like Gordon's. For my mistake the Editor in Chief sent me to the nawty step
outside, until I had corrected the error of my ways, and guessed correctly.
Hendricks was the flavour of the night. Following the mistake of my ways, the
accents then return, a cross between, Stephen Hawking, an Irish man, and a Nigerian. This was time for
me, TAXI.
On a different note, I rocked up to watch the Sutton Yoof game up at Banstead F.C the other night, and one of our fellow fans, and current lover of the ongoings at Farnborough, may well be offering us his native tongue for the away fixture at Farnborough for a 'guest' update on Gandermonium. I'm pretty sure Bornatotter is going to love it…over to you for the away fixture.
That's all from the one they call Juan.