Have you ever had a doughnut burger? All you have to do is start with your typical bacon cheeseburger and change the standard burger bun for a glazed doughnut, slice it in half, flip it around and slightly toast it and there we have it, obesity in America.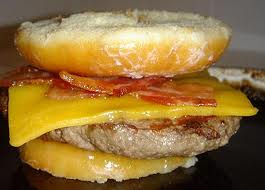 Mmmm. Buuuurger.
Anyway, welcome Ladies & Gentleman on a second instalment of the Bank Holiday weekend action for the U's. Today's game saw us take the trip back to the Island to take on one of the Essex boys in Concord Rangers.
The day had begun with the unusual feeling of having an away day game with the prospects of working the next day, so with the trepidation of a day on the beer, the worry of not having a hang over, but the recurrence of the old Delhi belly had me concerned.
The usual late night text had been sent around to all those concerned that the train we were hoping to get would be the 1008 from Sutton heading the London Blackfriars. With this in mind I managed to leave my humble abode around 0930hrs the plan being to once again take out another ton from the cashpoint and get his royal highness a cuppa for the journey. For the second time in the last two away days the Editor-in-chief was waiting for me at the station. He had even brought my ticket for me, even though he used my national rail card (reminds me, I do need to renew that bad boy).
The train arrived on time and we were greeted with the rest of the party, Mr X and the QPR supporter whose last game it was to be before he goes walk about. As most of us were due to work the following day, gladly we decided against any alcoholic beverages until we arrived up town. Most of the talk had turned to Saturday's game and the usual, yet sober, deciphering of how we managed to turn a possible win into a defeat in the second half. After portioning blame we were satisfied that hopefully there wouldn't be a repeat in Essex.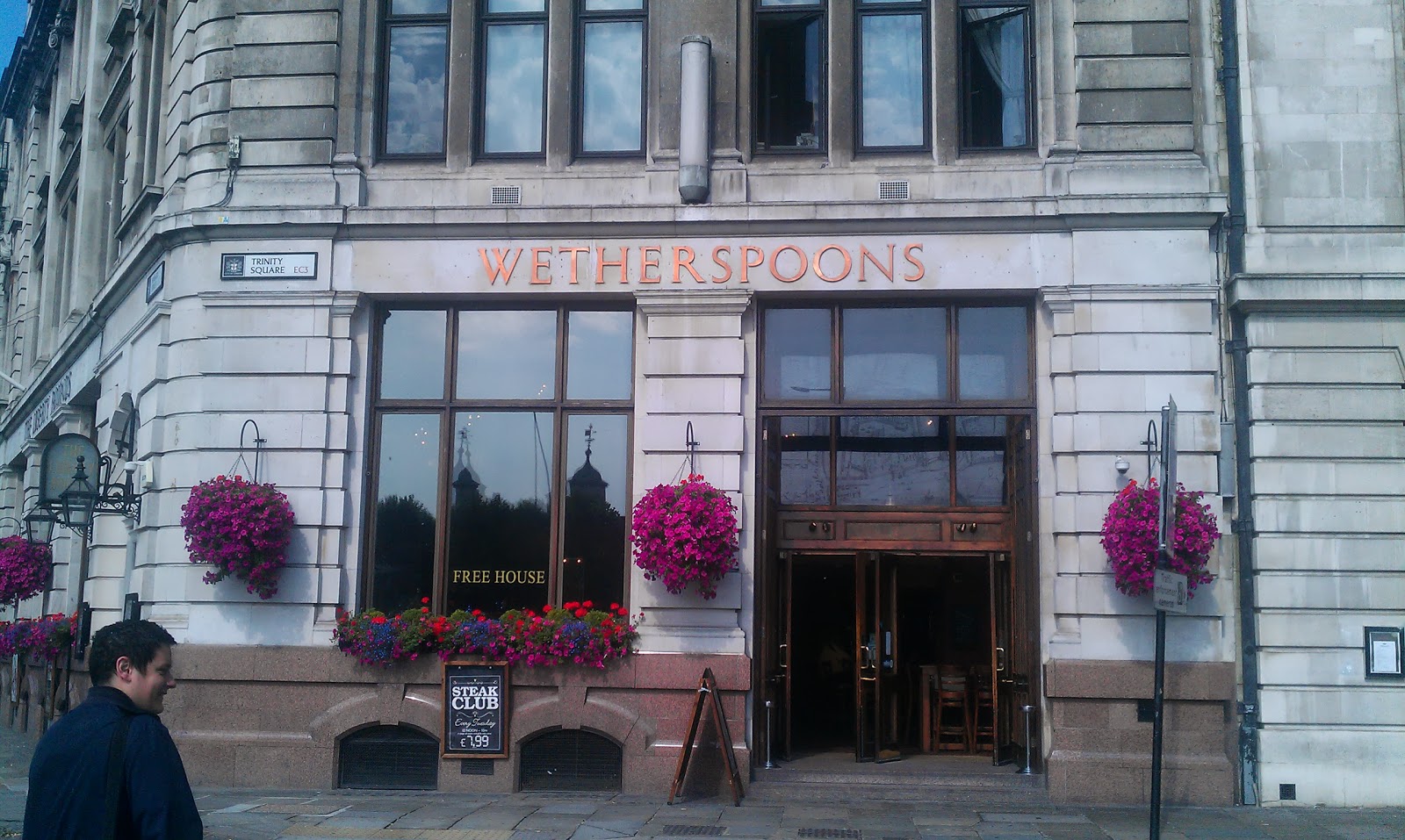 Dukey happy, just out of shot….
A quick ride on the tube to Tower Hill was required as we saw the hordes all head west towards Notting Hill, did they know something about today that we didn't? Once we arrived we scurried topside into the bright sunlight and the feeling was that I should've worn shorts instead of jeans, damn I was baking. The next trip required us to take a detour around Trinity Square looking at lamp posts for any stickers that one in our group hadn't yet photographed. I can tell you that some of the looks from some of the tourists we got were a sight to see. After failing in that simple venture and nearly seeing Taz get run over by a cab as he was taking snaps of a Cube we finally made it to our first watering hole, and one we always frequent, Weatherspoons!
For once we weren't the first in the pub as other associates of ours in the terraces like the Welsh Wizard, Indiana Jones and his Old Man were already seated and consuming their first drinks. I being me, was brought some concoction call "Cider Twist", cider with Raspberries added to it and the verdict was "Awful" but I managed to drink it as not to displease the person who brought it (even though it was from the whip). Bearing in mind that it was only 11 o'clock it was decided that we should get the 1340hrs train to Benfleet, just in case there were no taxis ready for us. So what were we to do in the meantime? You might think it was to get steaming drunk, but then you would be wrong because some of us enjoy our jobs and want to remain respectable in the morning when we arrive, obviously that's not me but I remained in line with everyone else.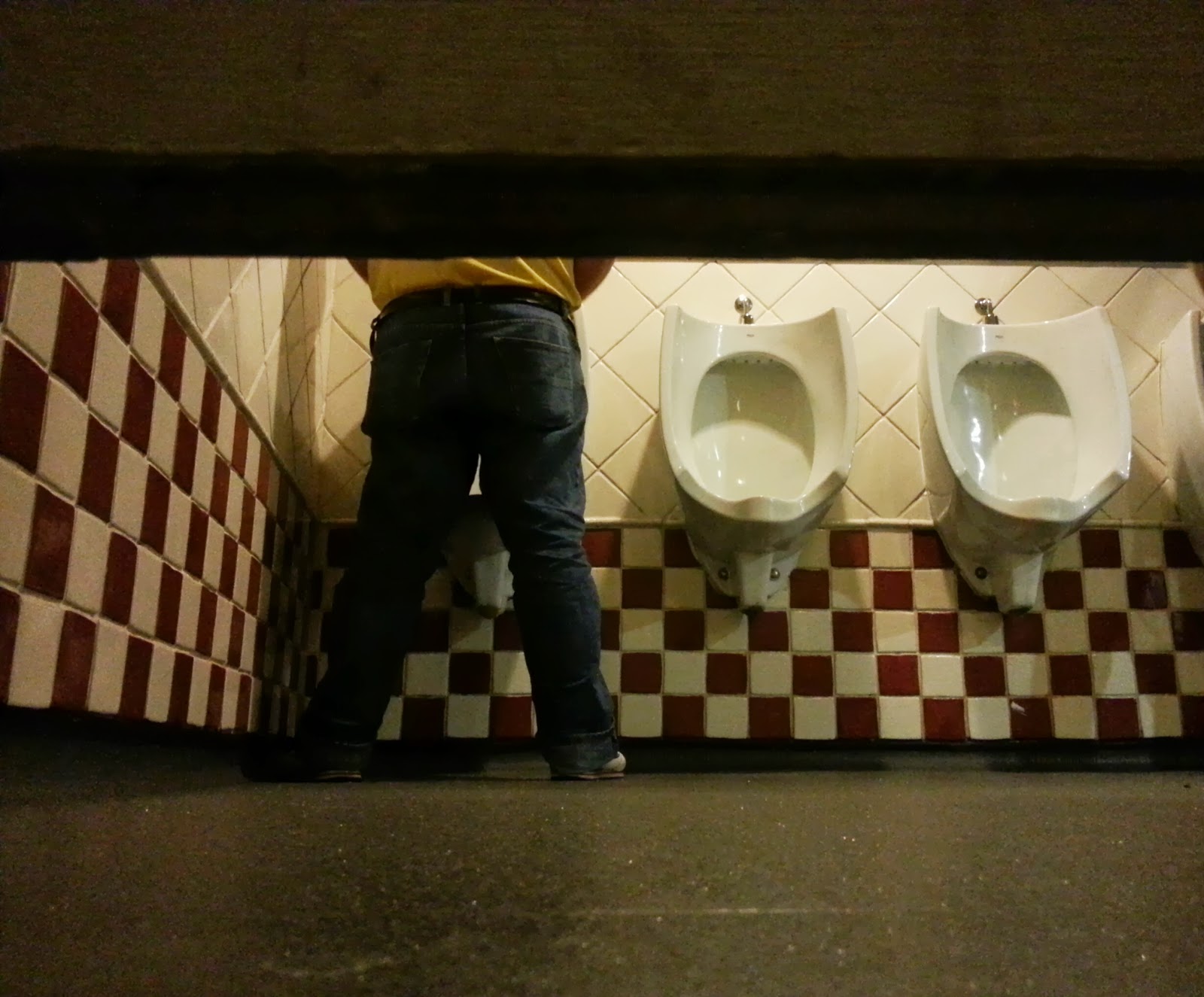 Voyuerism….
There was even enough time for some of us to get some lunch, you know to try and soak up the alcohol that was about to be consumed, even I considered it. Luckily, after seeing Taz's order of a Ham & Cheese toastie with four chips, which was on the small side, I decided against it. When Mr X's order of, let me remember, a Chorizo & Chicken flat bread with rocket leaves and shavings of Parmesan drizzled in a balsamic vinaigrette arrived. The first comment was "where's your glass of Rioja?" followed by "you middle class ponce!". There was even enough time for me to be flashed in the toilet by Taz, no not that way you sick person, for so reason (no doubt boredom) he decided to take a picture of me by the urinals as he was sitting in a cubical collecting his thoughts as they say.
As we walked to the station some of the other places we had been before tried to cloud our determination to get the train. Venues like the "Isis Bar", "The Fen" and that "German Place" brought back memories for some our us hardy travellers. Once we had made the station all that was needed was a quick delay at the Whistle Stop to buy some beverages and of the Canvey we go. Stations like Limehouse, Barking and West Ham were seen and disappeared as we headed to bandit country. Arriving in good time at Benfleet we even managed to get a couple cabby's to take us onto the island and towards the ground where another Vodka & Orange was the first thing that I ordered.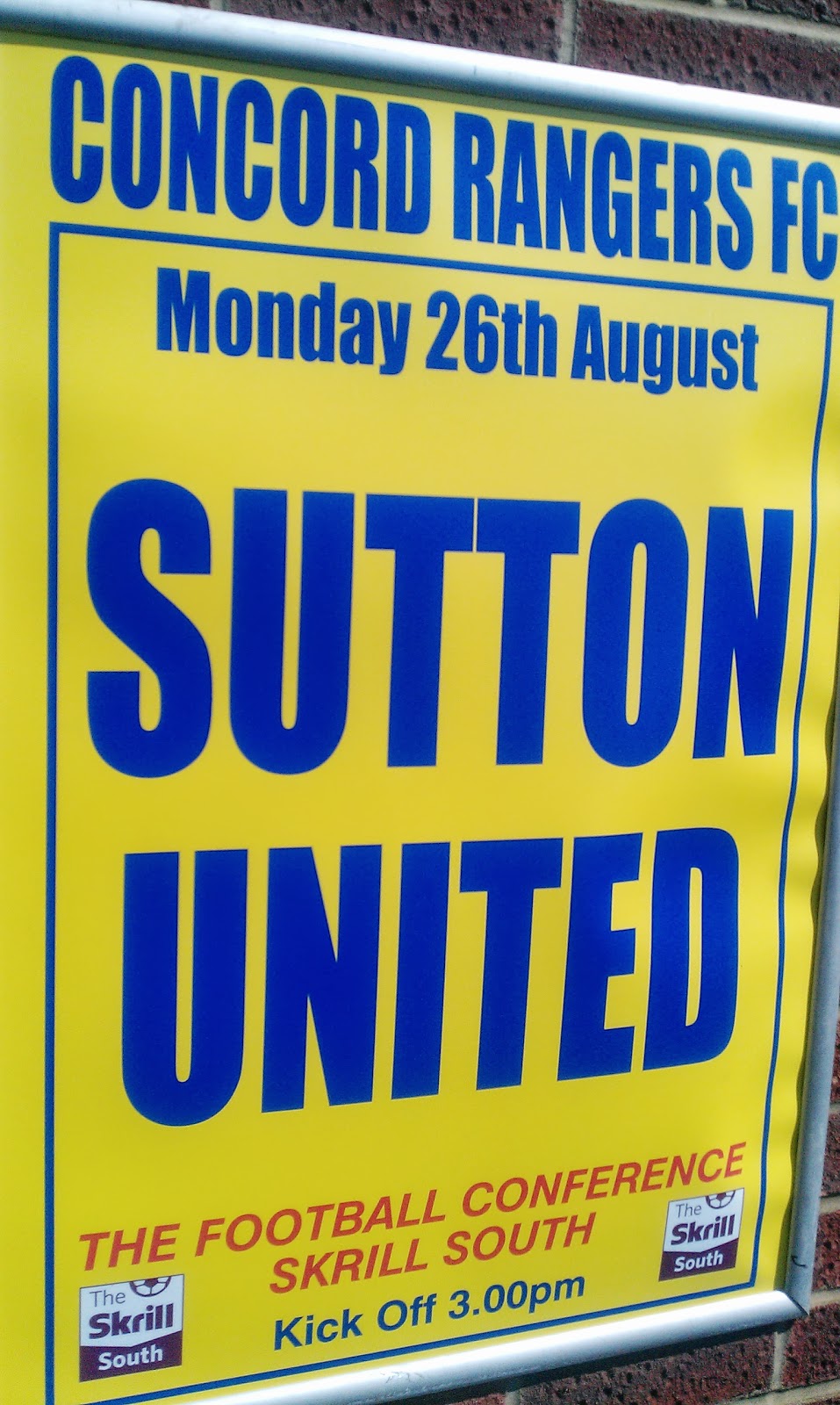 Nice advertising…
The news had reached us that there was to be some changes to the team that started on Saturday against Stortford and the one in particular we were after was the introduction of that young whip scallion of only 41yrs of age Mr Paul Norman Telfer.
I also saw that a certain Mr Rock was going to be the man in the middle for today's game, but more about him later. The starting line up was as follows:-
Lovelock, Telfer, Rents, Stuart, Downer, Scannell, Riviere, Binns, Dundas, Taylor, Williams
Subs were:- Folkes, McDonald, Sinclair, Fuseini, Nelson
On this hot bank holiday's day a 48hrs after Saturday's games you might think that this match could possibly not live up to much. Well you would be right it, it never really got our of first gear all the way through. With most of the first half having the U's starting at the back and passing it around until an option down the wings became available and the wingers just failing to give a decent ball into the box, the only major problem we faced was the possibility of Concord catching us on the break, and once it took the legs of Lovelock to deny one of the forwards. The first half did manage to produce what became our only shot on target all match when a cross to the far post by Scannell saw Taylor head a ball towards goal only to see it be tipped over by the keeper.
Now onto Mr Rock well he wasn't the most consistent referee we've ever had but I still can't see how after waving away the penalty shout we had after Scannell was clearly tripped in the box, seconds later he books Taylor for a late challenge on the keeper, and I think he also booked Binns as well for his complaining. But the issue I have when a Concord player done exactly the same thing to Stuart minutes later and with the linesman waving like he was doing semaphore, Mr Rock blows for the free kick. we wait for a card to be brandished, and does he? Does he Fuck!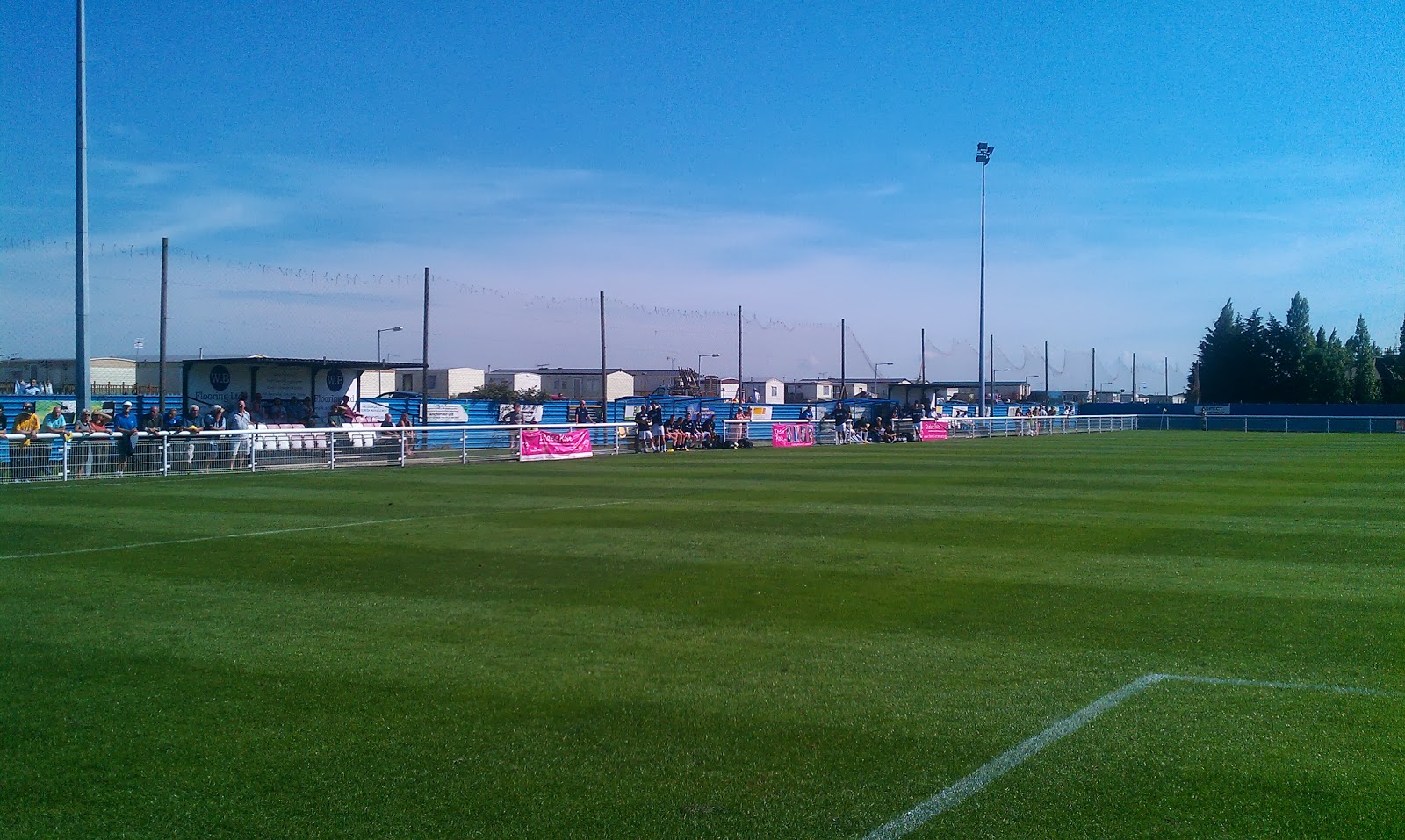 The Aspect Arena….
The second half saw both teams begin to tire and the result of that both teams began to create some space and pressure the defense. The action at the end of the game is the most memorable as after both teams had made a number of changes. We had brought Fuseini on at half time and McDonald on with fifteen to go, and it was when we were trying to bring Folkes on that we saw Concord pressure us the most that we had been pressured all game when once again our slight wobble at defending set pieces nearly bit us in the arse if it was not for Riviere who not once but twice headed a ball off the line. Even though the first once was after a Sutton player had headed it towards the goal. The real final piece of action was with what appeared to be Folkes' only touch of the ball as he careered in to the box. I think he was aiming for Dundo but the ball was just behind him and luckily he didn't managed to get his outstretched leg to it because it fell to Binns and all he had to do was compose himself and hit the target to grab us 3pts. But what happens? He leans back a hit the ball over the goal and even over the stand behind it! Schisse!
The highlight of the game for me must be trying to decide what was the "Tackle of the Day" was it:
Telfer's lunge in the first half down by the our right back's corner flag that not on resulted in a chorus of shout from the Concord bench, but to add insult to injury Mr Rock awarding the throw in to us.
Or maybe it was Stuart's trademark tackle (I taught him everything he knows) as after a over hit back pass from Dundo, the Concord forward was about to sprint past the captain, the next thing he knows is CRUNCH! and the ball sails off for a throw in.
So might say that Binns last minute slide challenge in the box that denied Concord a final shot on goal could it.
I'll let you make up you own opinions on this one as you know I do like a good challenge.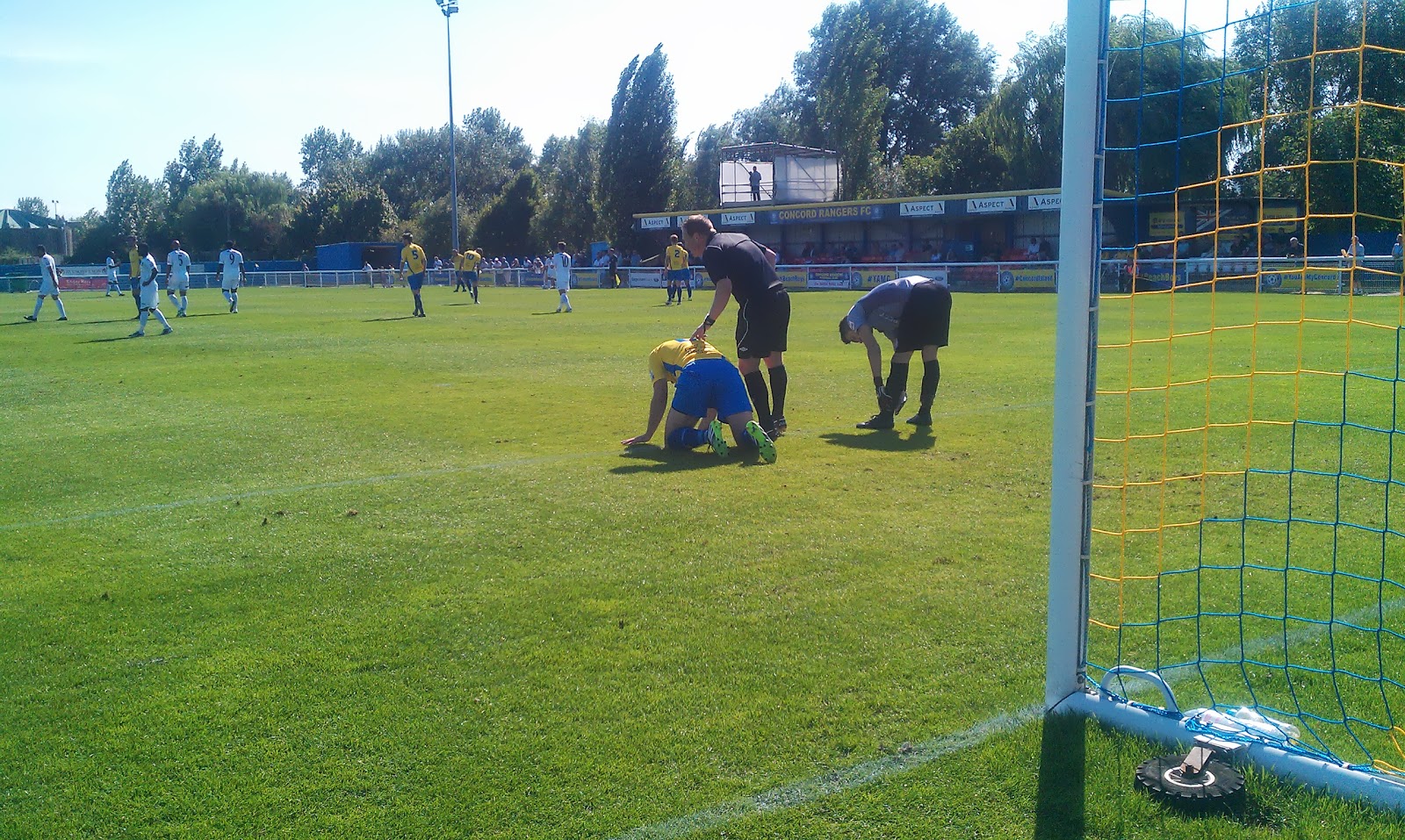 Wounded in action…
What can I say about the game then? Well for starters it ended 0-0 with an attendance giving as 320. The positives were that we attained our first clean sheet of the season including the preseason and…… no that's all I can think of at this point.
After the game we headed as usual into the clubhouse to wet our whistles and check up on the other scores from around the grounds as is the proper way. We being very organised today even sorted out transportation off the island to the station as well. Arriving we ample time to spare we said our goodbyes to the QPR fan and wished him well were ever he ends up. The actual wait for the train seemed to take forever, I don't think we've waited that long since we missed the train from Salisbury by 1 sodding minute and had to wait an hour for the next, resulting in drunken pictures and a stern telling off by the station guards for a bit of mucking about.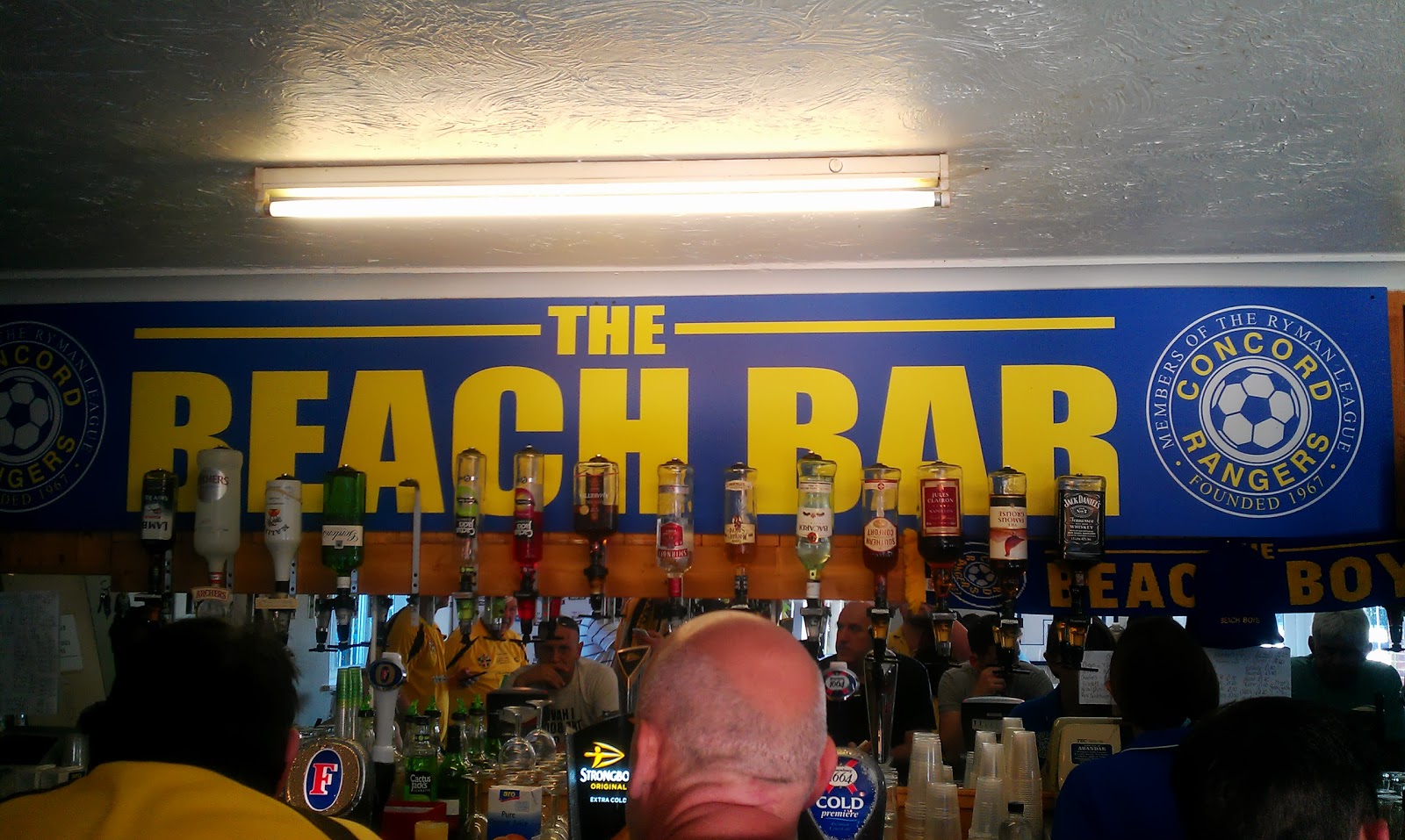 Liars! There was absolutely NO sand OR palm trees….
The train eventually arrived and as our luck would have it, there were hardly any seats for us to rest our weary bones, so standing was the only option for some of us. The only talk was about how we could rectify the problems with the team as all fans do around the country, and there were even some remarkably sober suggestions to boot as well. We even managed to bump into the Dulwich Hamlet Firm on our way back, but before you think the two Firms collided like a head on collision, they had also been to see their team draw 0-0 against Grays, so our talk because quite depressive.
A decision had been made by someone that we needed to go to a pub to decide what we were going to do for afters. So we headed to the Blackfrairs pub, you the one where I was alleged to have accused a young Russian lady of being a communist after last seasons trip to the Urchin's. Here it was decided that we needed to have some food and be able to watch the forthcoming Man Utd Vs Chelsea game on the box. Now you haven't seen so many blank faces as were displayed for the next 10 minutes as every single one of us was left clueless. The only outcome was to head back to Slutton as see what our options were.
And after seeing that the Old Bank was full of armchair Chelsea supporters we decided to what the football first and get food afterwards. What another bad decision that was because we had to stand through another 90mins of inaction as we saw two teams cancel each other out and end goalless. What another great weekend of bank holiday football to remember. After finally deciding on some cheap stodge before the taxi home we managed to even see a TV star down on his luck….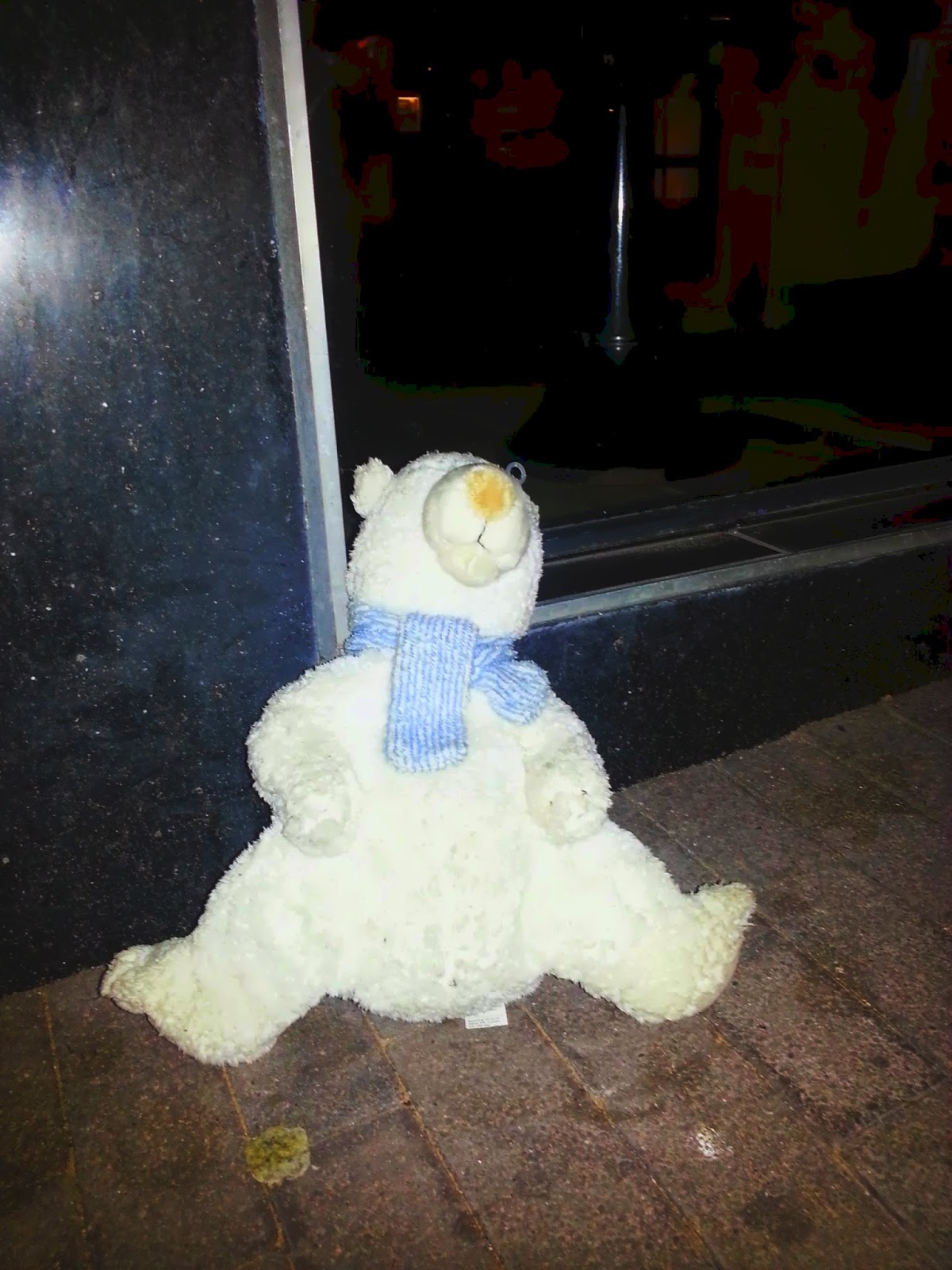 Wanna buy some frozen rice?
Take a bow the Birds Eye Polar Bear!
Duke