Well then ladies, gents and readers of Gandermonium. Where do I begin with this one? Firstly, are you sitting comfortably? So, following on from our eventful day of both drinking and football down in Dover on Saturday. I checked my bank balance this morning, and well I hat e to say it, but it's true what Dukey says….you do a least a ton on away days with this lot. Well for me it was over a ton, £147.13 to be precise, for the love of drinking and following the team we all love. And you can't put a price on love right?
Now before you get excited, today's match write up will not compare to Duke's latest detailed episode. His last piece covered pretty much everything, mainly as we had a 20 minute phone discussion on Sunday morning, recalling (almost) everything that went down in Dover. As is they way with these day trips, there was a small piece of info that Duke did forget to mention, something along the lines of hiring a speed boat and giving it the full beans down the River Wandle! This was actually a pre-drinking conversation that occurred on the train down, and at this point our lips hadn't even touched the golden nectar! So firstly that means we're just odd (where do these crazy ideas come from) and with the best part of 12 hours on the beer following it, it's no surprise that it was forgotten…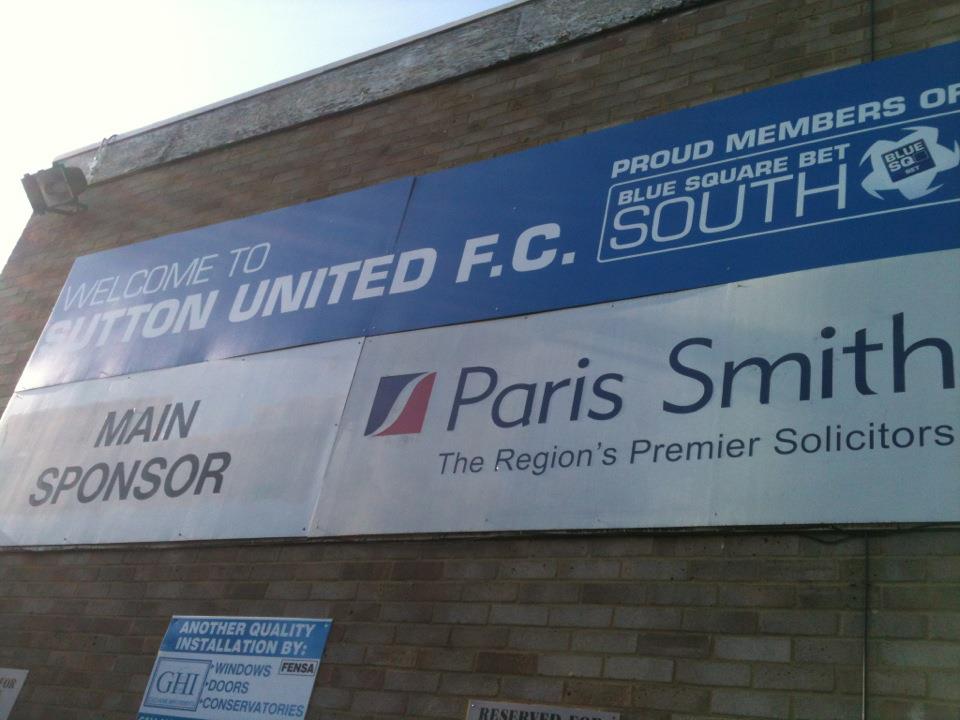 More advertising we're not getting paid for….
So, it seems there are exciting new things happening down at the lane, behind closed doors, but again at Gandermonium we do have a little snippet of inside information on these 'new' happenings but we won't spoil it for you, we're not grasses you know. You'll just have to keep locked to the official channels for further news. The details of these 'new' happenings were passed to us straight from the gaffer himself after that Dover game….clearly he must trust a bunch of idiots that drink far too much of the good stuff at weekends! And lets face it, every pint we consume kills off at least 10 brain cells, so between us I'd say we've virtually got about 10 or so left! So the odds of us remembering the important news in the first place I'd say are well against us.
If you weren't down in Dover on Saturday, you can find some highlights below. Please note however, I use the word highlights as a loose term, given the fact the video footage below for some reason is missing a 'key element' or two of Saturday's game. But then again, we shouldn't be too surprised seeing as the bloke working the scoreboard on the day couldn't even be arsed to change it when we scored….
Anyway, I always do this when I'm writing up an update on here, for some reason my mind wanders right off track….and then bounces right back.
So lets get back to business, and get back to today's Bank Holiday fixture at home to Boreham Wood.
So the big question we are all asking is, we will continue the same style of play and momentum as that of Saturdays display, well given the weather conditions of today's match, it sure will be a toughie! Best point out it was a bit chuffing windy at times, but I didn't think it was so windy that all of our support was quite literally blown away from the turnstiles today!
Well to find out more on today's fixture, read on.
So today's Line up is as follows:- Lovelock, Wheeler, Rents, Stuart, Downer, Sinclair, Folkes, Fuseini, Dundas, Beautyman, Williams. Subs: Benjamin, Griffiths, Tomkins, Serbonij, Murrell-Williamson
We started the first half brightly, given the difficult cross wind conditions being felt at all areas across the terraces. The first 10 minutes or so, we seemed to cancel each other out. The pitch not helping matter, having had a pre-match treatment, or rather a sprinkle of water, but the wind clearly drying the pitch out quickly, causing the ball to bobble at least two or three times before reaching any Sutton player. Still with that in mind, we pressed on, putting together at times some neat triangular pass and movement type play, but again missing, or lacking in the final touch.
No, it's no trick, we really are playing them….
The first, amongst many incidents missed by the ref in today's game, was the challenge on Marvin Williams, on the outside of the Wood box, I think there must have been at least two fouls on Marv, before he hit the deck, and this was clearly not seen by the ref. How did he not see it?
So again, Sutton pushed on, at times putting together some real nice work of the ball, we really did look as though we had carried on the momentum from Dover on Saturday. The first Sutton goal came from a curling pass down the left channel from Rents, in the direction of Marvin, making his run past his man. Marv doing well to beat his man and collect the ball under pressure from the Wood right back. Marv's great touch and turn took the ball round and past the Wood right back. Marv then saw Beauts making his run into the box, and then played into Beauts feet, who again, with a bit of magic, looked up and saw Faux at the far post, a sweet pass across the six yard box, was easily slotted home from Faux.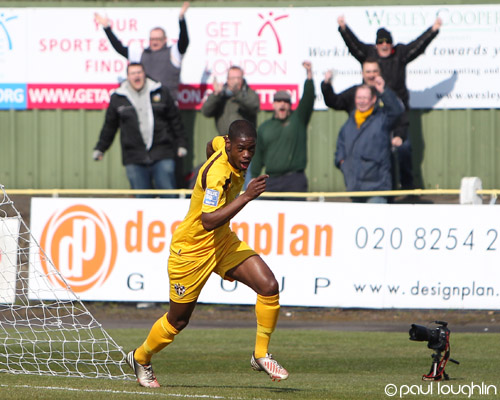 Sutton 1-Wood 0
It seemed as Wood were playing the long ball tactic today. The typical old school type hoof the ball up to your big man up front, and leave him with the task of holding the ball. This worked for a bit of time, but nothing really to worry the Sutton back four. Lovelock, was called upon on the odd occasion with one of his typical running punch or heading clearances, and for some reason when ever this occurs, my body tenses up a little. Remember what happened at Havant & Waterlooville!
Pressing on Sutton taking hold of the first half, and building a further attack, from a layoff to Sinclair, who again, decided to pull back the trigger and have a shot on goal. Spilled by the keepers gloves, only for the keeper to jump back onto the ball to prevent any further collateral damage.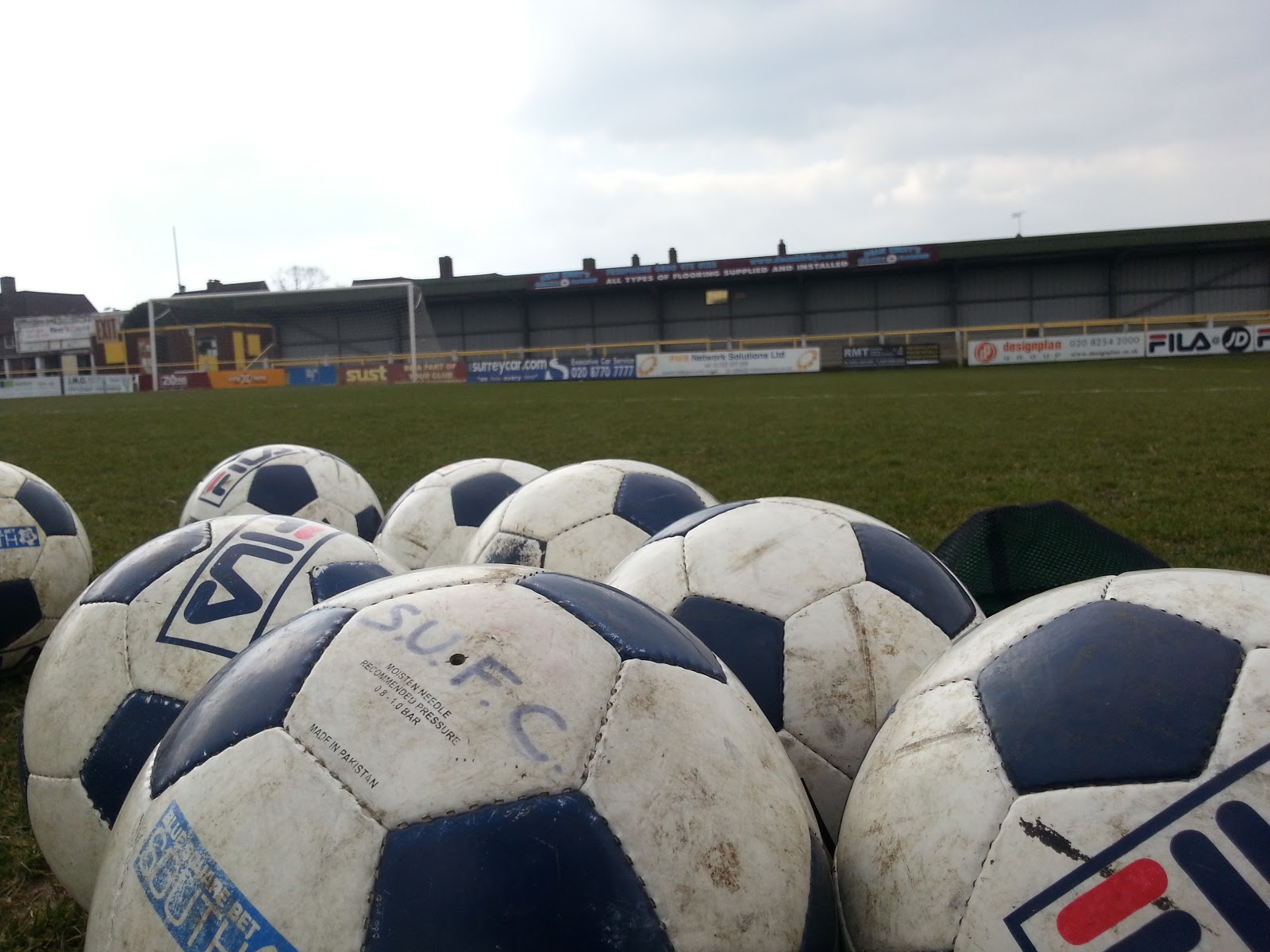 What a load of balls!
During the halftime interval, today's crossbar challenge was won by ticket number 393 belonging to Dave Burgess. Now Dave not being the tallest fella in the world decided to line the ball up on the edge of the box for his attempt at the cross bar challenge. So Dave took his six steps back and two to the left-Johnny Wilkinson-esque so I was told at the time, and cracked his shot off, for it to go wide of the left stick. Unlucky Dave! Could have at least hit the target though mate…
Onto the second half, and Wood definitely came out the stronger side, Wood have definitely been given a good talking to in the dressing room. Wood came out and seemed to have increased their tempo a tad, by pressing the ball harder, and making us work harder.
A fine dink again down the left channel for Marv to latch onto, again we saw Marv beat his man, and again cross the ball hard and low into the box, but sadly no amber shirt present in the box to slot it home. Still at least every game in recent weeks we seem to be creating more and more chances. I think with a real out and out striker, every chance we create, we'll stand more of chancing of converting this into goals-well hopefully anyway.
We started to sit back a little deep at times, and allow Wood more time on the ball. Wood clearly trying to get back into the game. Again the ref not noticing a number of poor fouls, and being very one-sighted, and giving Wood everything they claimed, making a right meal out of it too!
Sutton's second goal in today's game came from a free kick taken by Beauts, who dinked the ball into Dundo, who really has been an influential player this season. He held the ball up using his strength, then laid the ball off back to Beauts on the right, who looked up, found his spot, and tucked it home. It all looked so easy. It was as if Wood just stood still, and let us straight through.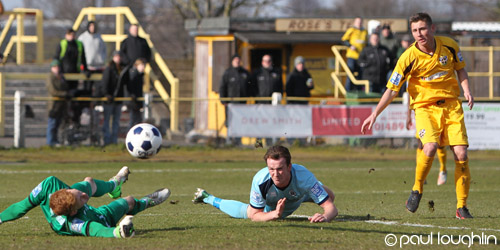 Sutton 2-Wood 0
Following the 2-0 nil lead, we then seemed to loose a bit of shape as the new lad Wheeler was replaced by Benjamin. Following a lack of concentration at the back, and sadly I didn't get the exact details on the Wood goal, but from what I can remember it was a corner in from the right, and Wood had a man completely unmarked over on the left, the ball came across to him, and all was needed was a calm finish. It was a shame we conceded, we could have done with seeing this one out without conceding, but hey ho.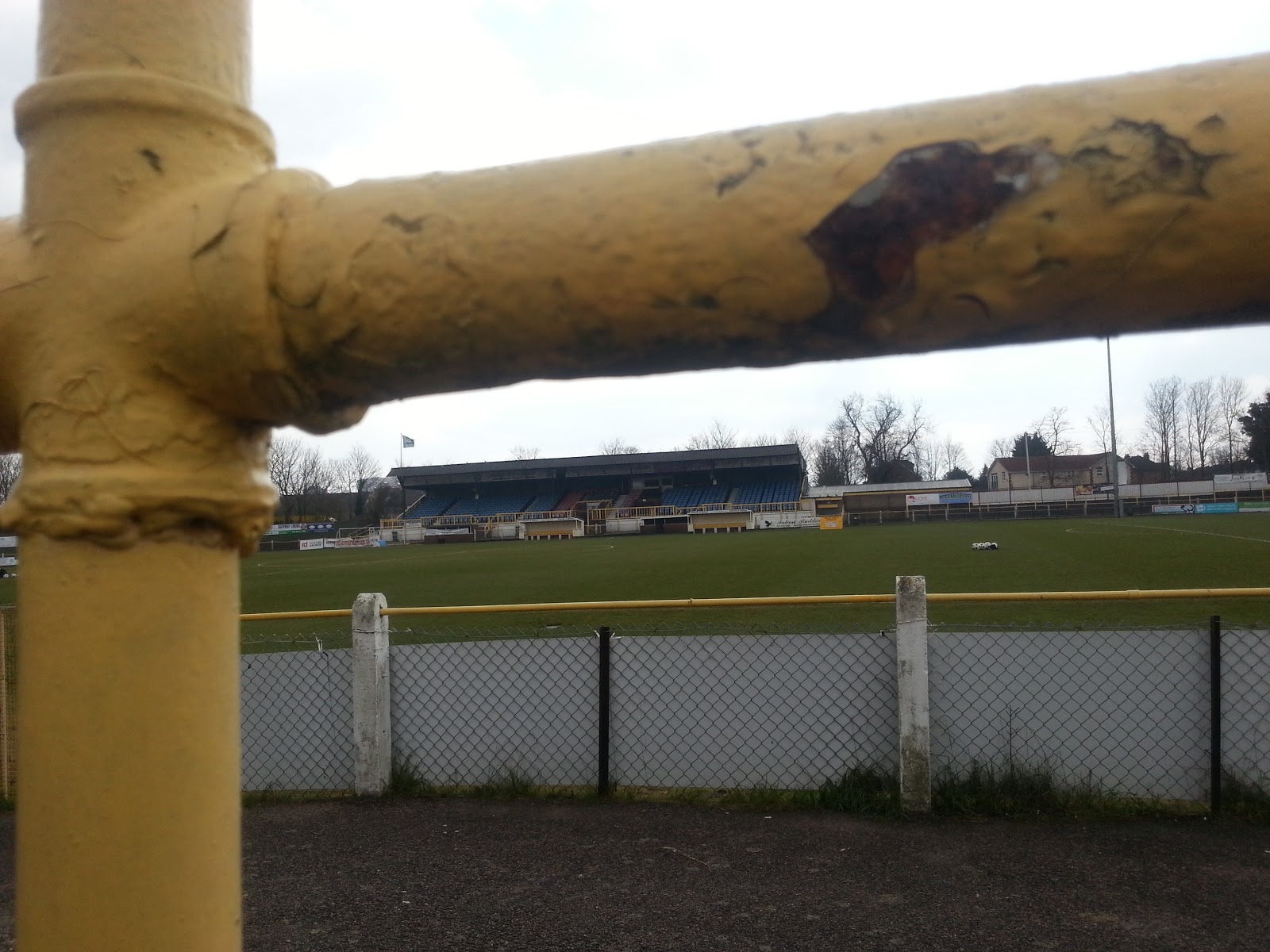 It's fine. Lick of paint & it'll look good as new!
Sutton 2-Wood 1
So rather than go for a full on match report today, I thought I'd go with something slightly different and go for a match type summary instead. If you prefer the style of previous reports then do let us know! you can comment on here, or you send us a tweet! So to summarise….
Today's Ref- Out of 10…..I don't think I can bring myself to even award you with a number sunshine, I guess you must be related to the same clown at Dover…apart from he is slightly better than you, cause he's got a Twitter account! The standard of officials has dropped at this level, that's for sure.
Today's Performance-Out of 10…a strong but deserved 7. Well you can't argue with a win that's for sure! So all in all a good Bank Holiday of football, 2 games, and 4 points, you can't really complain at that return.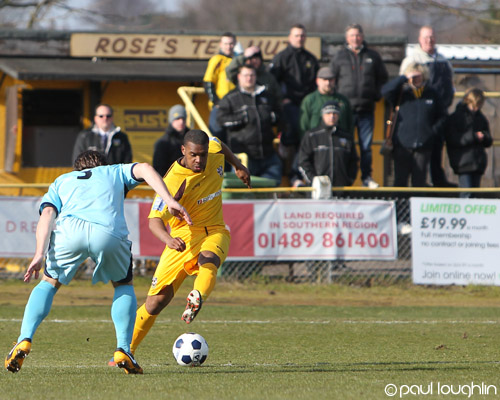 On a different note…(mind beginning to wander again….) I think we can all agree on one thing for sure at this stage, those play offs won't be happening for us this year, but a more realistic mid table finish. Next year however, if all comes to fruition, we will be keeping key members of the squad, and building from there. Again keep your eyes peeled over the summer for news and player updates.
On an even different note….(mind has now totally left body…) Now I know what your thinking, your thinking well, as soon as the season finishes, Gandermonium closes it's doors for the summer, and re-opens again for the pre-season friendlies (more news to follow on next years pre-season friendlies-again we have inside information). Well Ladies and Gents, readers of Gandermonium, sadly not for myself and Duke. Our editor in Chief decided that we still need to work as hard as ever. So Mr Taz, has decided to give myself and Duke the task of reviewing Football related films over the Summer, but the best part of all, is that the Editor in chief gets to pick them for us….and the first batch of films have been handed out to us……it's going to be a long summer of reviews I can tell you! But hey you need to be kept entertained, right?
Talk of being entertained, have a butchers at the clip below!!
Just for Clarity……..(I did warn you my mind wanders off track)
Now there seems to be a bit of jealously in the ranks of some members of the Sutton faithful. Just because myself and Duke are partners in this blog thing we do. I would like to strongly point out that there is no need to be jealous of our so called 'bro-mance', just because we are indeed partners in this website thingy, it doesn't mean we hold hands or go for windy walks. Well not yet anyway!! And certainly not when there's witnesses present…."GUILTY"!!!!
Finally, a special thanks to Paul Loughlin for supplying a number of pics in this weeks update. Paul can be found updating his own website http://www.from-the-lane.co.uk/ and of course Paul is also the official club photographer too! Thanks for letting us use your snaps chap and m ore importantly not charging us for it!
That's all from the one they apparently now call Juan (now apparently pronounced 'Ewan' in a poor Welsh accent).
Juan