Welcome to the second Gandermonium Literary review. Yes, it's once again time to suspend your disbelief that the idiots involved with this can actually read and don't just partake in books with lots of pictures in them, usually to be used in conjunction with some sort of colouring implements.
This was one of the books I received from Santa this year in
my stocking, along with its Italian equivalent 'Calcio' (which we'll get to at
some point in the future) and was one I'd been looking to read for a while, but
for some reason had never quite got round to buying. If you're a regular reader of 'When Saturday Comes' then it's very likely you'll have encountered the author at some point, as he regularly supplies comment on the Bundesliga to that mag.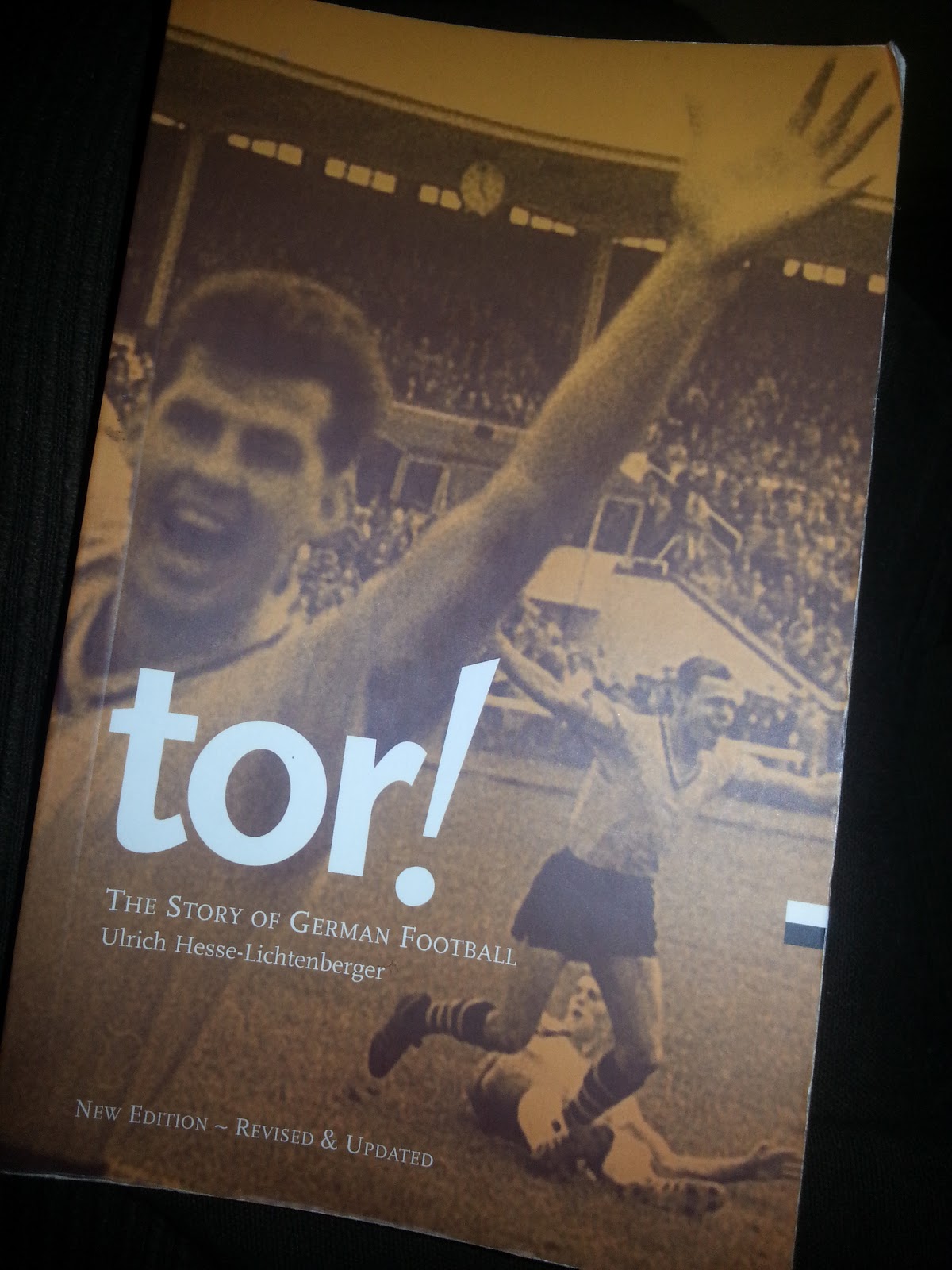 The book….
One reason I'd had this on my list for so long was that
despite Germany having been our footballing nemesis for much of my childhood
and early adult life, I'd come to realise that I actually really knew fuck all about
German football as a whole. As do probably quite a few of you I imagine. Sure, we could
probably name plenty of club sides, probably come up with the fact that
Bayern have won 4 European Cups (you can poke the 'Champions League' up your
arse) and that Kevin Keegan played out there for a couple of years but could you produce the nugget that Germany only acquired a national
league in 1963? No?
Well, nor could I until a couple of years back. Hence why
this went on my 'must read' list.
Once started, the book itself is clearly a true labour of love. From the opening pages,
there's a real warmth to the writing and the author manages to cover simple
historical facts such as all those confusing letters German sides tend to have
in their names without making it feel like you're reading a school textbook. He
also does it with no lack of humour too. Yes, I said it. A book about German
football written by a German containing humour. Ok, it's German humour and thus
quite wry and knowing, but anyone who can make you smile whilst relating
otherwise ordinary facts such as what the VFB stands for at the start of 'VFB
Stuttgart' or that a lot of German clubs tend to put the year of the formation
of the athletic or Gymnastic clubs they wereare affiliated to rather than
their own start date in the name, is alright by me.
Things kick off with a short prologue giving an insight into
the 'Miracle of Berne' set the day before the 1954 Word Cup final and then goes
through the expected origins of football in the country. As expected, us Brits
feature at this point although surprisingly not quite as much as you'd have
expected given our proximity to each other and certainly nowhere near as much
as that found in Spain and South America.
The text flows effortlessly from the scorn of the aristocratic
late 19th century 'Turnen' (gynmastic) socities the clubs evolve
from, to becoming a mainly uppermiddle class sport before finding roots in the
working class industrial heartland of the Ruhr and onto the effect of the
coming of the Nazi regime. Our author even takes a moment to divert to the side
story of the schism in the Dassler family that lead to the formation of two of
the world's most recognisable sports brands.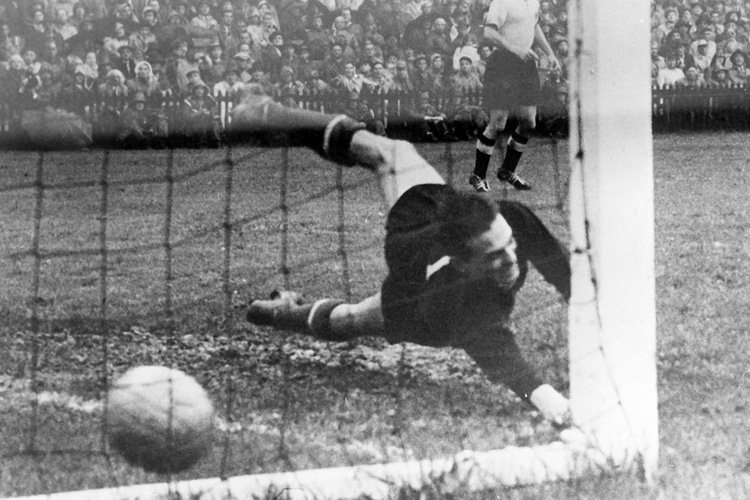 Helmut Rahn's shot beats Grosics and the Miracle of Bern is complete….
However, the key to the story is 1954 and the 'Miracle of
Bern' where the mainly amateur & unfancied West German side shocked the
Hungarian 'Golden Team' containing the likes of Hidegkuti and Puskas (a little over 6 months after their famous 6-3 success at Wembley). Reading
Hesse-Lichtenberger's account of the events that day and the aftermath, it's
clear that the victory is as big a deal and means as much to the Germans as '66
does to us. Although that's where the similarities end as that typical Teutonic
reserve prevents them from harping on about it every single fucking time a
tournament comes round. On the subject of 1966, it was refreshing to read the
matter of fact opinions of the West German side that played and lost that day.
For example, goalkeeper Sepp Maier on that infamous 'did it cross the line?'
goal. "The linesman said it was in and that was that. I'm not bitter, no way!"
with the only really dissenting voice was his fellow stopper, Hans Tilkowski
who 'concded' that effort. However even his views are understandable when he
explained that he only had the hump about it as it was the third time he'd
suffered a slightly iffy defeat inside a few weeks on English soil, with a 1-0 pre-tournament friendly loss to England and another to Liverpool in European competition with
his club Dortmund.
In later chapters, the author takes you through how the
National side of the 70's was both loved and then not quite so loved with the
'72 European Championship winning side being lauded as much as the '54 team,
but the same line up that triumphed just 2 years later, less so. Right up to
how German football faced the oncoming tide of saturation coverage on TV and
the riches it brought the clubs in the early 90's. Which, 'while it undoubtedly
changed the face of the Bundesliga, wasn't quite the overwhelming everlastin
bullshit-fest it was here in England and gives some insight into just how those
sneaky Gernmans always seem to find themselves in international finals, no
matter how average their side may appear.
The only real weakness is the section on the East German
Oberliga, which is fairly scant given the near 50 years it was in operation.
But our scribe covers this intelligently & logically at the start by
pointing out that it would be impossible for someone like him who had not lived
in such a state to try & explain the vast, complex web of social &
political shenanigans involved in any great detail. Whilst mildly
disappointing from a historical point of view for the reader, you can certainly understand where he's
coming from.
Overall, 'Tor!' is a fantastic read and a wonderful insight
into German football. It's beautifully written and for what is effectively a
history book, I found it as near impossible to put down as the most gripping
thriller. Easily the best footballing tome I've read in some time, if not the
best. Herr Hesse-Lichtenberger is to be congratulated.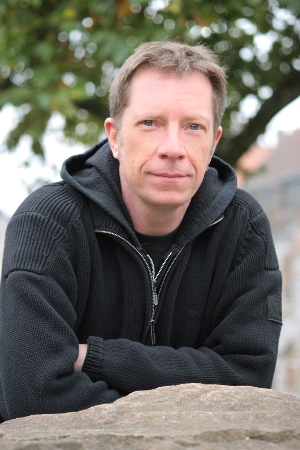 The author…

I only wish many more in this country would bother to
read it. Especially the sort of mongs who think singing shite like "Ten Geman
bombers" at games is the height of hilarity and have seen 'Green Street' far
too many times (eg. Once).

Definitely an 8/10. Highly recommended.
—————————————–
If you wish to find out a bit more about the author, there's an interesting little interview HERE with a music site about the writing of the book and other aspects. The link? Mark E Smith of the Fall being a big fan of 'Tor!'