Good evening sports fans! Well it finally had to happen and it did. I actually went back to work (well for the one day anyway!). And in order to recover from that trauma, I of course needed some more time off, so of course a quiet trip to Dover was in order to get some seaside air in the lungs. And after receiving the usual informational text from Mr X it was agreed that we would be getting the high speed train from St. Pancras in order to get to Dover for opening time for this one.
The morning routine was as it always is, the time and tested shit, shower and a shave before splashing on a touch of the old Brut (just for the ladies!) and then it was a quick walk up to the station to catch the 0902hrs train to Victoria where I meet several other members of the Firm. Now, contrary to popular opinion, we are not always on the beer. And this was a the perfect example as it was the perfect time for a cuppa as we began to take in a new fresh morning and headed further up town. This was also of course the perfect time for some of us to grab a bite to eat. Or if you are like me, to sneak off and have a cheeky fag. That's nutritional innit?
The 1010hrs high speed train down into Kent that we got from St. Pancras was, for me, the first time that I have partaken in this modern transport marvel and even though I didn't think there was much difference in the time it took to get to Dover, the fact is that as it doesn't go around all round the houses it does actually make a mighty big difference. Like an hour difference.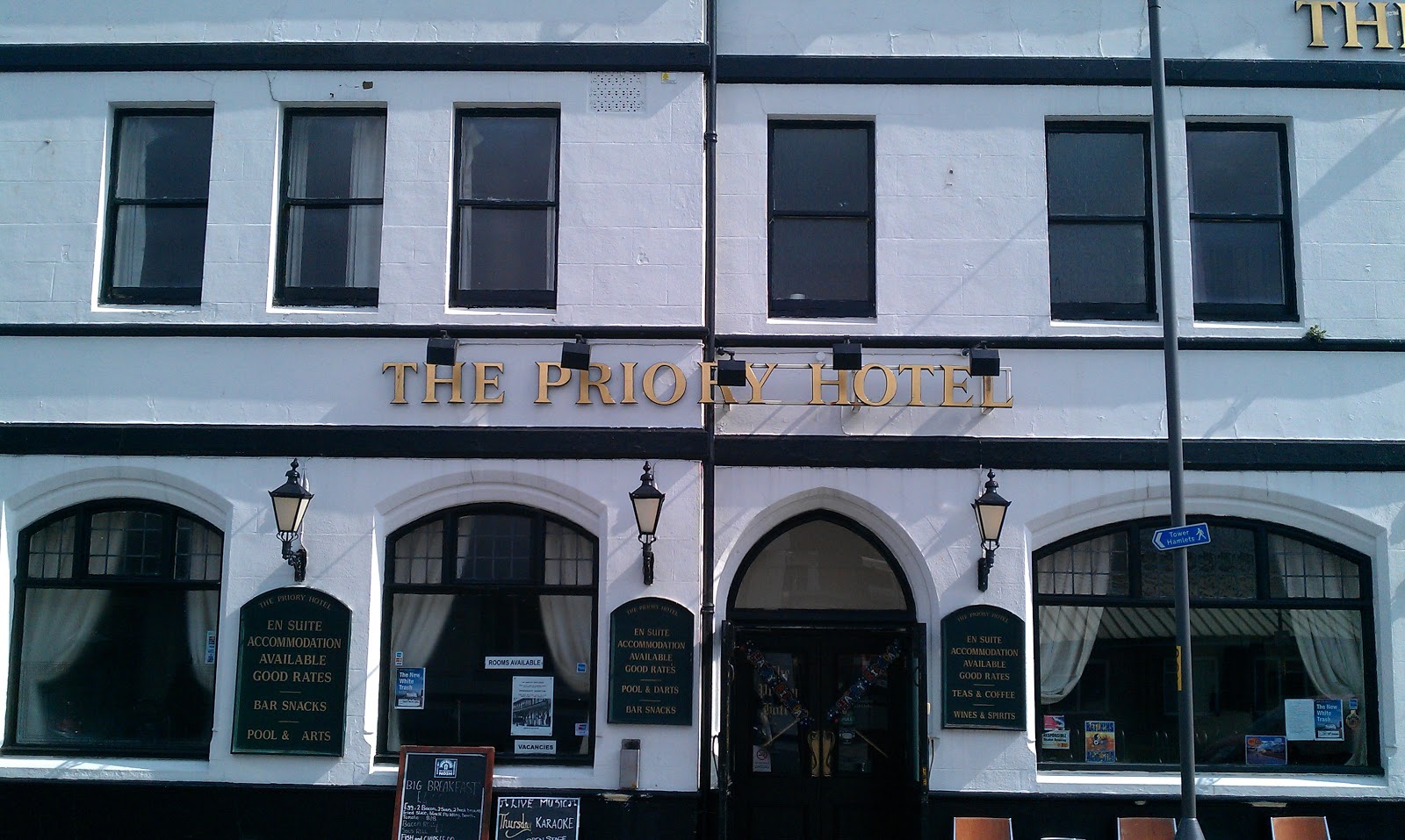 Pub #1 in a series of many….
The train ride down was full of the usual banter & bollocks, the highlight was discussions on next Saturday's disability awareness day and the apparent amusement of perhaps seeing the Duke playing blind football! Fom the window we see the glum that surrounds Stratford Intl. station with all that dull concrete and not a lick of paint anywhere. Looked like one of those 70s films trying to depict some sort of a futuristic dystopia, the sort of place that they make Soylent fuckin' Green in. I half expect the geezer from 'Logans Run' to be checking my tickets.
Speaking of which, when the ticket man came round to inspect our briefs, Mr X's was ok, the Welsh Wizard's was ok, the editor-in-chief's was ok and even Juan's (pronounced You-arn today) was ok. And at this point I presented my ticket and what happens? The geezer just totally blanked me and walked off! Is my ticket good or not mate? I need to know! Further out into Kent, was also when we saw signs of snow fall beginning to be appear in the fields around us. Still despite this the hope was today would finally see some decent weather (a couple of cold quick showers was all we had in the end) and a bit of football.
We arrived into the Dover shortly after opening and meeting up with a few known home fans outside, our first port of call was of course the pub right opposite the station where the first drink of the day was quickly devoured by us parched patrons. Now it is well known that I am a cider drinker and I drinks it all of the time. But I can be a bit partial to the old Jeremiah Weed stuff that's doing the rounds at the moment, so the fact that just as we were leaving I discovered in the corner of this boozer was an advert for it along with their trademark jam jar glasses disappointed me. Bollocks! Missed out!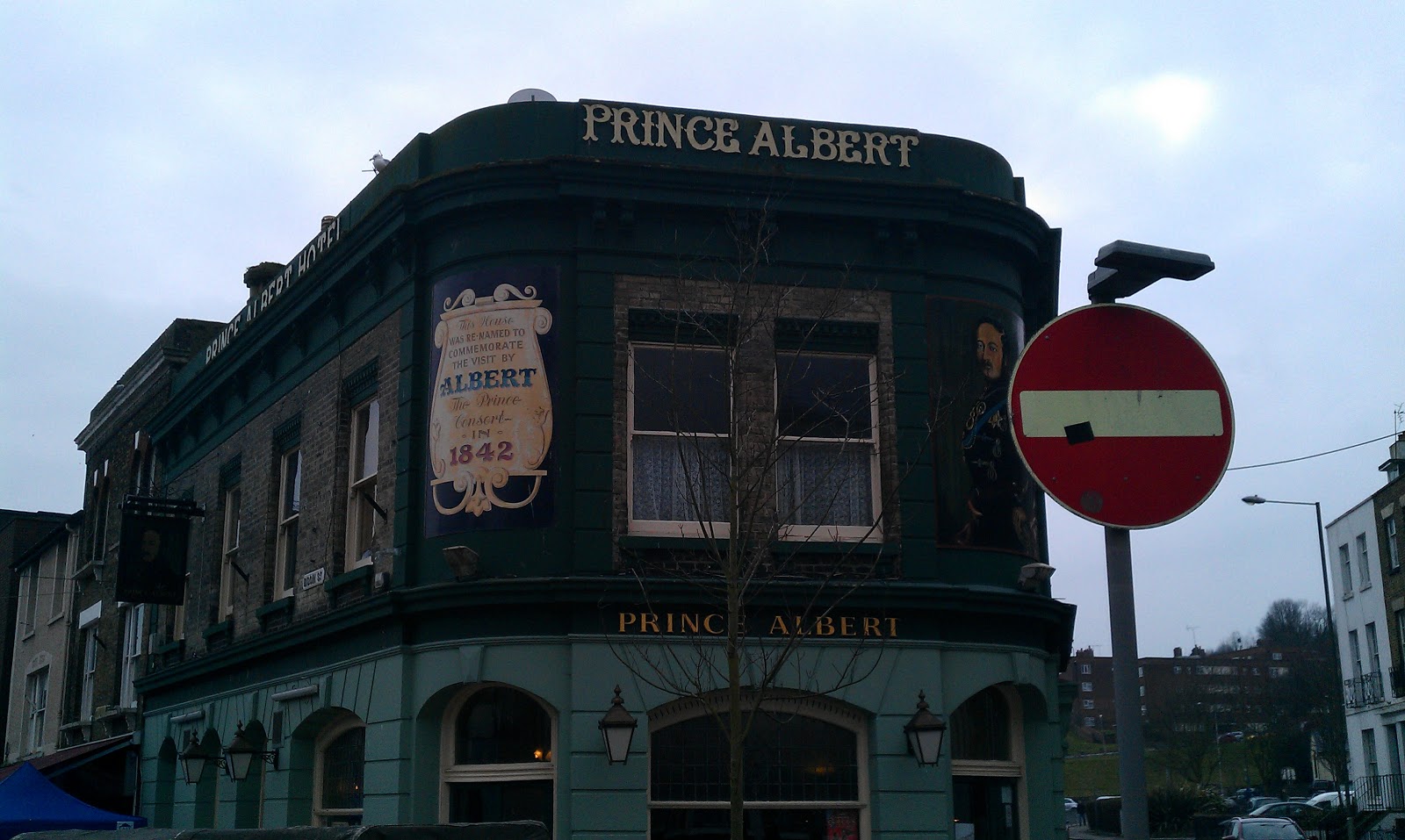 Insert cock piercing joke here….
The booze cruise was definitely up for a pub crawl today as we moved into the town and stopped in the Prince Albert to refresh ourselves further and don't forget, we did try to stick to the one drink limit to see if we get around as many pubs as we could before kick off. In the Albert there was enough time to watch some Albanian TV and stock up on fags, plus a couple of pub sports before we moved onto our next stop, which I think was the Red Lion, which had the couple of locals in confused as a dozen fellas walked through the door of this dead place and had the poor bird behind the jump running around like a blue arsed fly for five minutes serving us all. I'm sure we done another pub as well immediately after this the name of it escapes me for the minute.
And a special mention to one of our unfortunate drop outs of the booze cruise, Bornatotter, whose inadvertent mention of the word "guilty" in a post on the forum after the Weston game on Tuesday became our word of the day, which of course somehow got changed to being delivered in the style of Mr. Humphries from 'Are you being served'. No, I've no fuckin' idea either. Still, you can now imagine the Firm trotting up Dover high street trying to look mean with the occasional waving of the hand and a outburst of "guilty!".
The final stop before the game was the The Three Cups, which came highly recommended by the Dover fans among us. Well I say highly recommended, it was just the pub they all go to before a home match anyway, so when in Rome…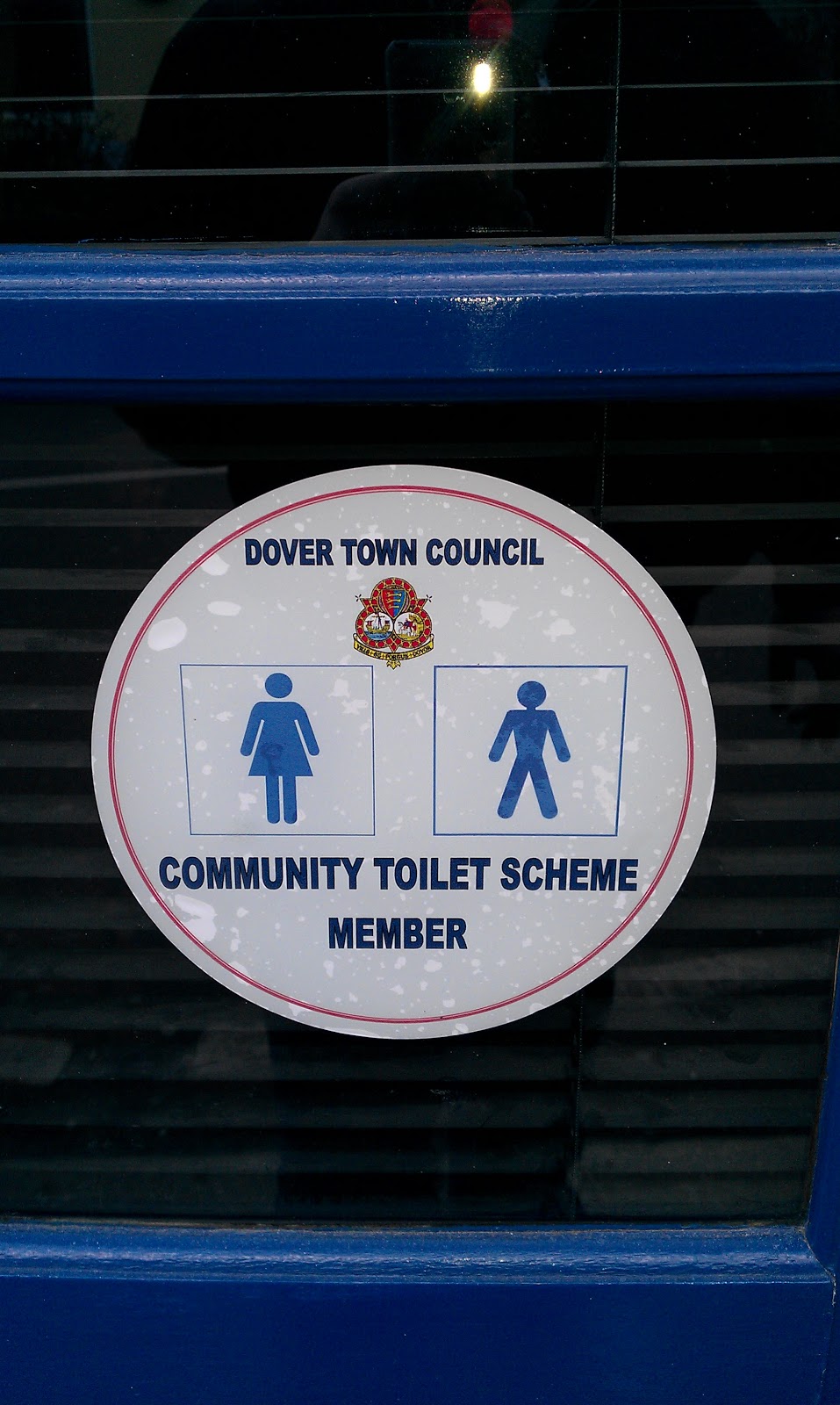 Seriously Duke. WTF?
Suitably well oiled. The game itself up at Crabble was, for a bumper crowd of over a thousand, I thought one of those that you hoped more than expected to get anything out of. And it ended up being a very tense affair, like in the first half there was nothing of note that happened except for once again a couple crosses that went begging for someone to get a part of their body to and the effort of the half was when new boy Ali Fuseini hit the bar from 25+yrds just before the interval with a shot that just seemed to dip at the end.
The second half was a different ball game with both teams looking like they couldn't really be arsed and were going to see the game out as a 0-0 draw. But that was all to change when Sinclair got harshly sent off for a challenge that happened shortly after two Dover ones the exact same occurred where on both occasions the ref (who is on twitter apparently) didn't even give a free-kick and waved play on! Once again within a couple of minutes of going a man down, a goal mouth scramble resulted in Ben May tapping a simple goal in and the thoughts that we'd end up on the losing team in a 0-0 again started to surface.
Regulation match action shot. It's the rules….
At this point we got the old customary approach from the stewards about our language, apparently you can't call the ref a "Clown" no more because there are children present! And just like last year at Dover you get a lot of wrong end supporters that feel they must complain and chip in all the time as well, which is a shame because the ones that we met on our travels were excellent ambassadors (Drunks!) for their club. Can't think why? Our disappointed mood suddenly all changed however when in the last minute out of nowhere Benjamin runs through the middle of the park and when just outside the box unleashes a cracker into the top corner! 1-1! That of course sets the wild celebrations off at our end. Made sweeter by the fact I can jump around in front of a group of stonewalled wankers, waving my hands in the air. "Guilty!" indeed. It could have been even better a minute later if the fuckin' lino hadn't wrongly flagged Dundo offside even later on as he hooked a belter into the onion bag, but in the end we had to settle for the point. Although no one seemed to tell the geezer working the scoreboard, as it stayed 1-0 to Dover to the bitter end. Look pal, if you can't do a fuckin' job properly….
Nicking the late goal was our excuse to head into the club bar for a quick one and to see what the other scores were coming in from around the grounds, and the news here that Chelsea and the Scrum had lost only increased our delirious moods (If only we had won!). This was the moment for one of the highlights of the day, when after trotting out my favourite old story of being a former professional break dancing world champion to a Dover fan who was a bit worse for wear, someone else in the Firm tried to top that by declaring his was actually employed as a "Dolphin Trainer" and after that complete load of old bollocks had silenced us, he for some unknown reason then tried to replicate the sound of a Dolphin as if to convince us even more. Sadly for him, what he produced ended up being more like a Sea lion in distress! Awayday bollocks. Can't fuckin' beat it.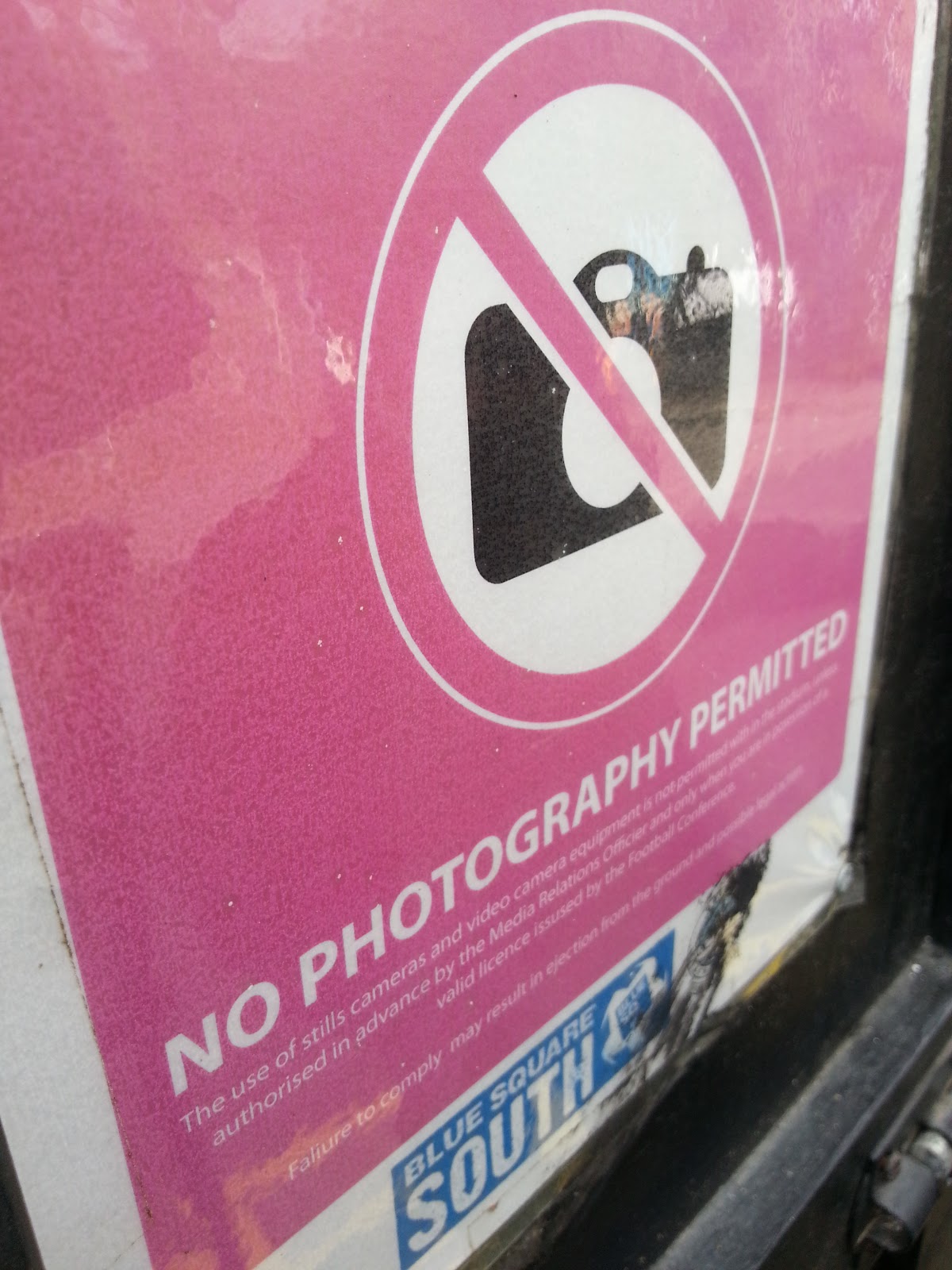 Oh yeah, wanna bet?
From the ground we ended up going back to The Three Cups to celebrate our hard earned point and to commiserate our near victory at the death and of course to charge our pony HTC phones as well. I think now looking back we must have had at least three pints each in this establishment. When the call came that instead of going to back to the station we were actually going to hit The Old Endeavour pub instead because they had, wait for it, Karaoke, you could tell we were well pissed. Yes sports fans we were in a singing mood! This was in no doubt helped by plugging the coins in the jukebox and some of us wanted to share our dulcet tones with the rest of Dover. There was still time for a Dover fan to give us his T Rex impression, and not the 1970s glam rock band type, but the actual dinosaur. It still amazes me why and how he done it, but I can tell you it totally bemused us in the same way the Dolphin trainer had earlier. I think there might be a video of it somewhere too?
Like other away trips in the past, this was an occasion for me to leave my phone behind, this time in The Three Cups, luckily again someone knew I was charging it there and brought it along to the next pub with them, but one day I know I won't be that lucky. The last pub on the list was destined to be a messy affair and you knew that this was going to happen when on one of my numerous fag breaks outside, after most songs I would hear "Fuckin' Shite!" or something like "You're Terrible, get off!" from outside. After one I was joined by Juan who after hearing the same just looked at me and named the culprit. It was none other then our Editor-in-chief! Seems he's quite the music critic is old Taz!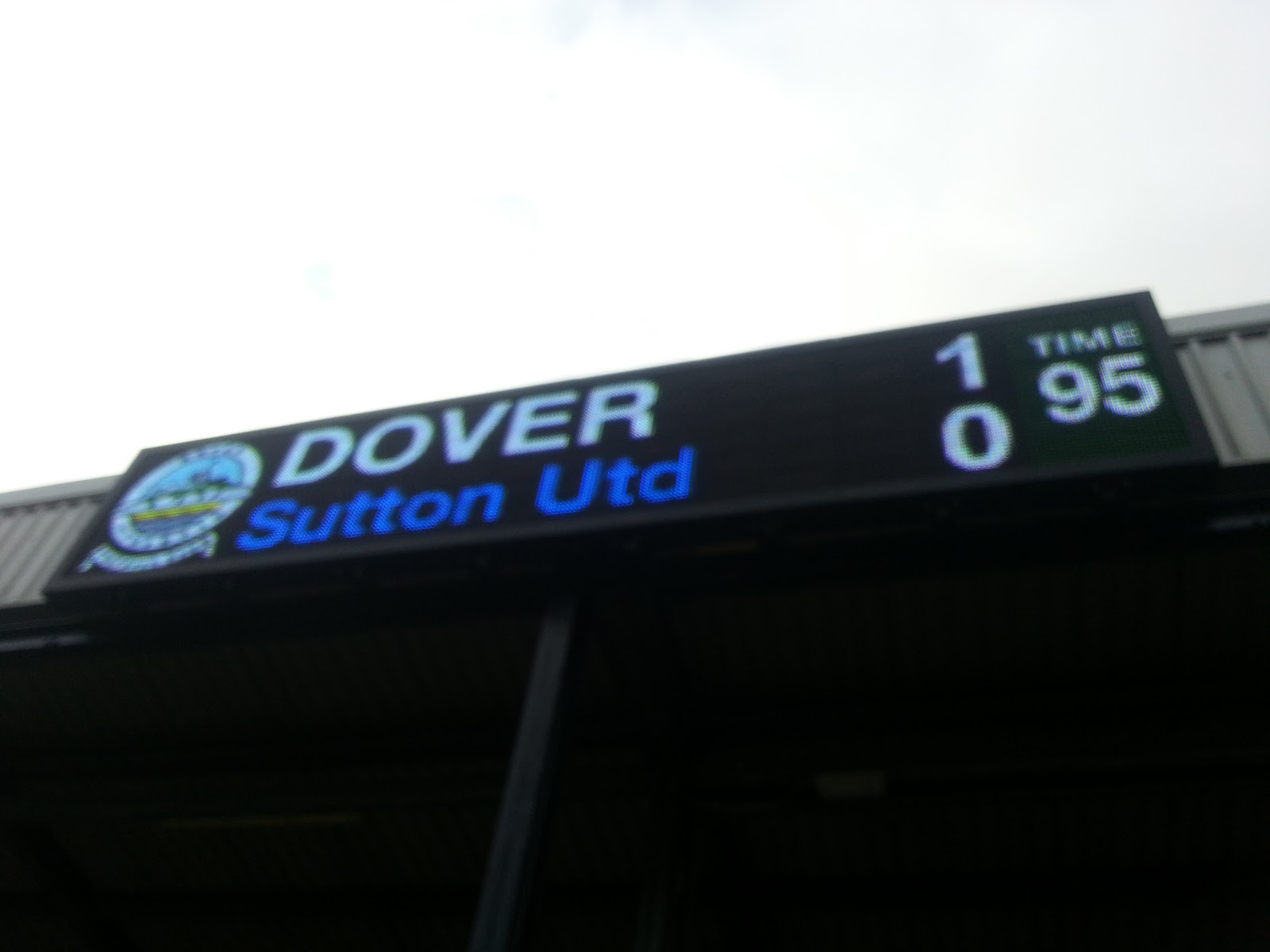 No no, we only scored 5 minutes ago. You take your fucking time sunshine….
The time to leave was soon upon us though as the last train departure was approaching and deciding to get some food for the trip, we sent Juan off to the chippy to get munch. He summarily returned with five packs of chips and five battered sausages, a decent effort. And for the record this chippy didn't do gravy, which is a disgrace I think you'll agree. The trademark mad dash for the last train home then occurred as per usual we had two cabs booked and with no real communication between the two crews we both decided to top and get booze and luckily some of the firm managed to keep the doors open at the station for all of us to depart on the last fast one to London. So long Dover!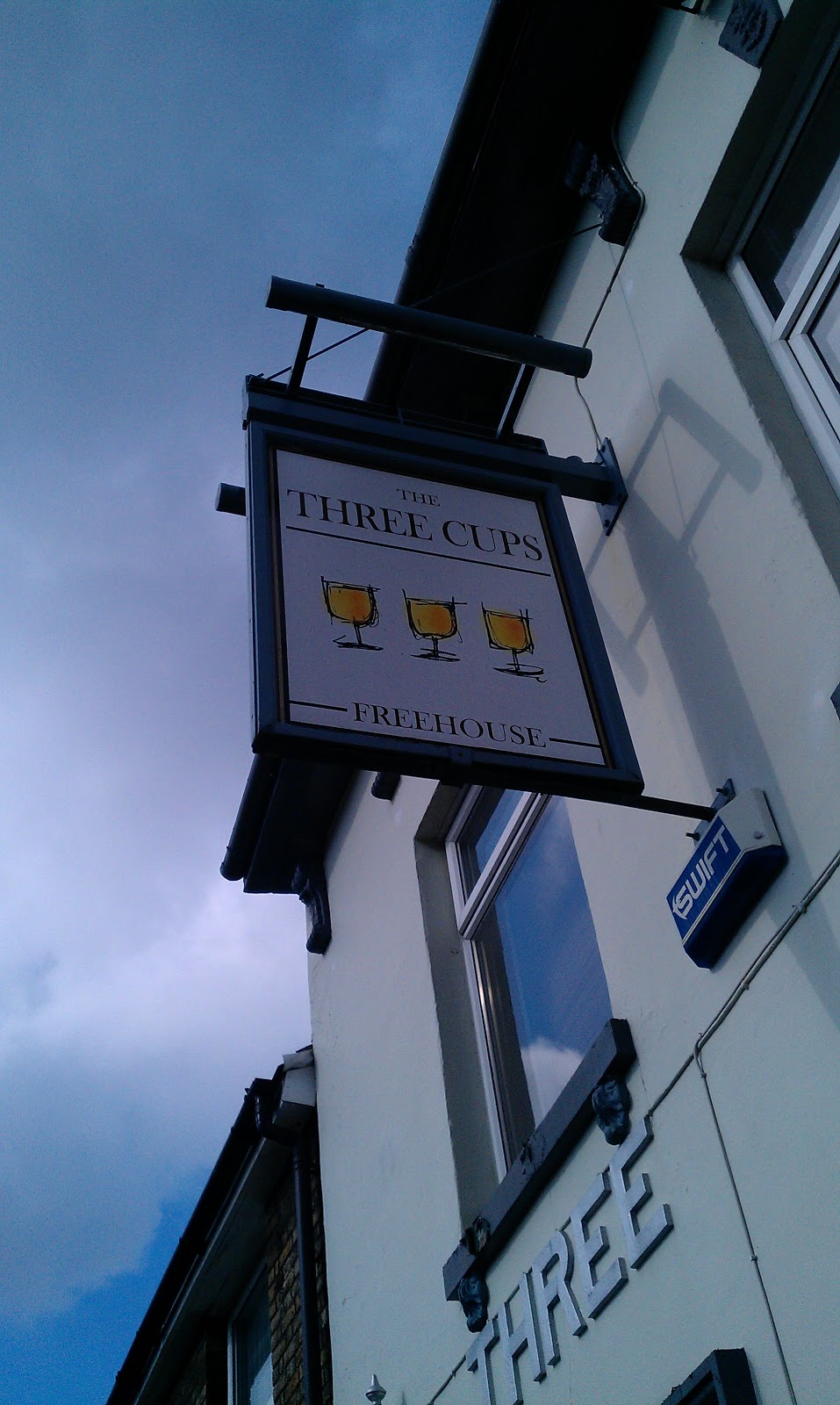 3 cups? So that'll mean 6 girls? *shudder*
All along the way home from Dover to London I tried to get a Tony Adams video up on my phone, you know the one where they stuck a mic on David Ellery for a Arsenal Vs Millwall match? I haven't got a clue why though. This was interceded with the drunken rabble that we are begin to lower our standards by the minute. First there was Editor-in-chief continuous declaration of his love for chips, a rather disgusting act done with a Oasis bottle (animals) and then mine and Juan's conversation done as if we were a Dutchman and a Boer. I'll leave you to work out who was who. Sometimes I do wonder about our mentality!
Even the journey home from Victoria had its moments with the Editor-in-chief and the Welsh Wizard disappearing to get yet more food with one getting Burger King and the other MacDonald's. Finally on the last train home there was still time for someone to pass out (can't think why!) and for the Welsh Wizard to drop all his chips over the floor! Happy Days!
And that was the end of another awayday booze cruise for the Firm. Boreham Wood on Monday and hopefully we show some of the spirit we had today. Oh and for the uneducated, here is the video of Tony Adams, lets hope this works!
Duke.