Well well Ladies & Gents…..
A double header from Juan! Yes readers of Gandermonium Juan is back to cover our next home fixture V.s Billericay! Now being that neither myself or Duke are massive fans of Essex, or for that matter Essex sides we flipped this one on the turn of the coin…and well I lost the flip! Note to self, always call heads!
So it's Friday night and it's time to put together the introduction for this weekends fixture!
It had been a rather easy going relaxing week in the world of Juan, buying and selling, pushing pens round my desk, sharpening my pencils, creating weird and wonderful objects from various pieces of office equipment, such as paperclips and bluetac as well as generally watching the world go by, and dreaming of Saturday. Until one evening I returned home, logged into the ever so boring world of Facebook ( or rather the place where the unemployed spend all their life) and I had received a message from the Editor in Chief….Taz.
Well the message read, something along these lines…
"Ladies…I need you to get together as many pictures of any related S.U.F.C pics that you can! It can be anything S.U.F.C related, terrace pictures, drunken pictures, match day pictures, programmes…well you get the idea."
So up to the dusty realm of the loft I went, with a bit of a huff and a puff, and dug out the first box of S.U.F.C historical goodies, and some two and half hours later, and some 200 pictures later, I put together the first batch of pictures for the Editor in Chief to get his ' laughing gear' round…..so here we are ladies and gents, here's a little taster of what Juan found, in his treasure box…………………scroll on down!!
That's right we played em, friendly or not..we played em..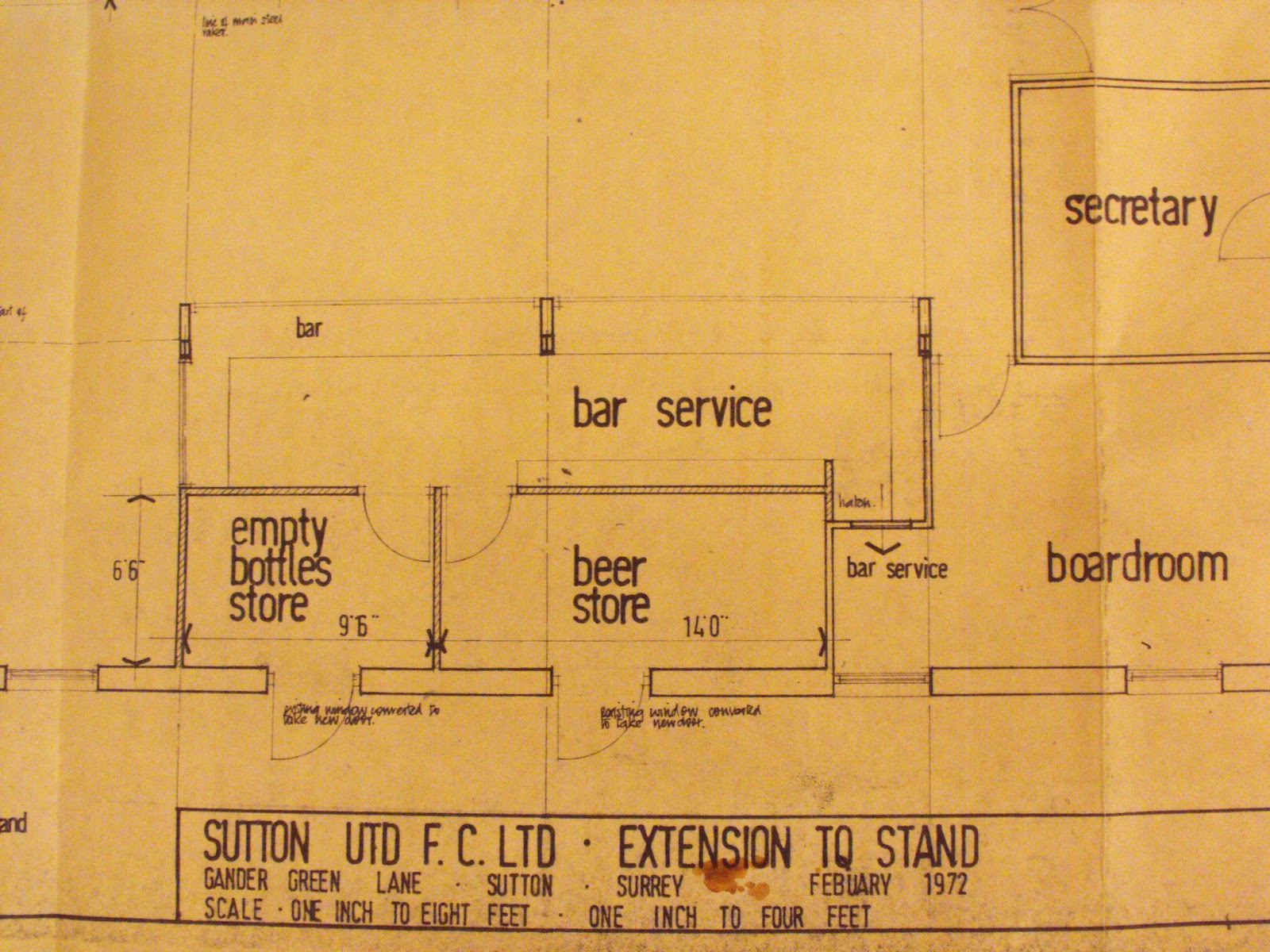 Now that's what I call a plan right there…bar service!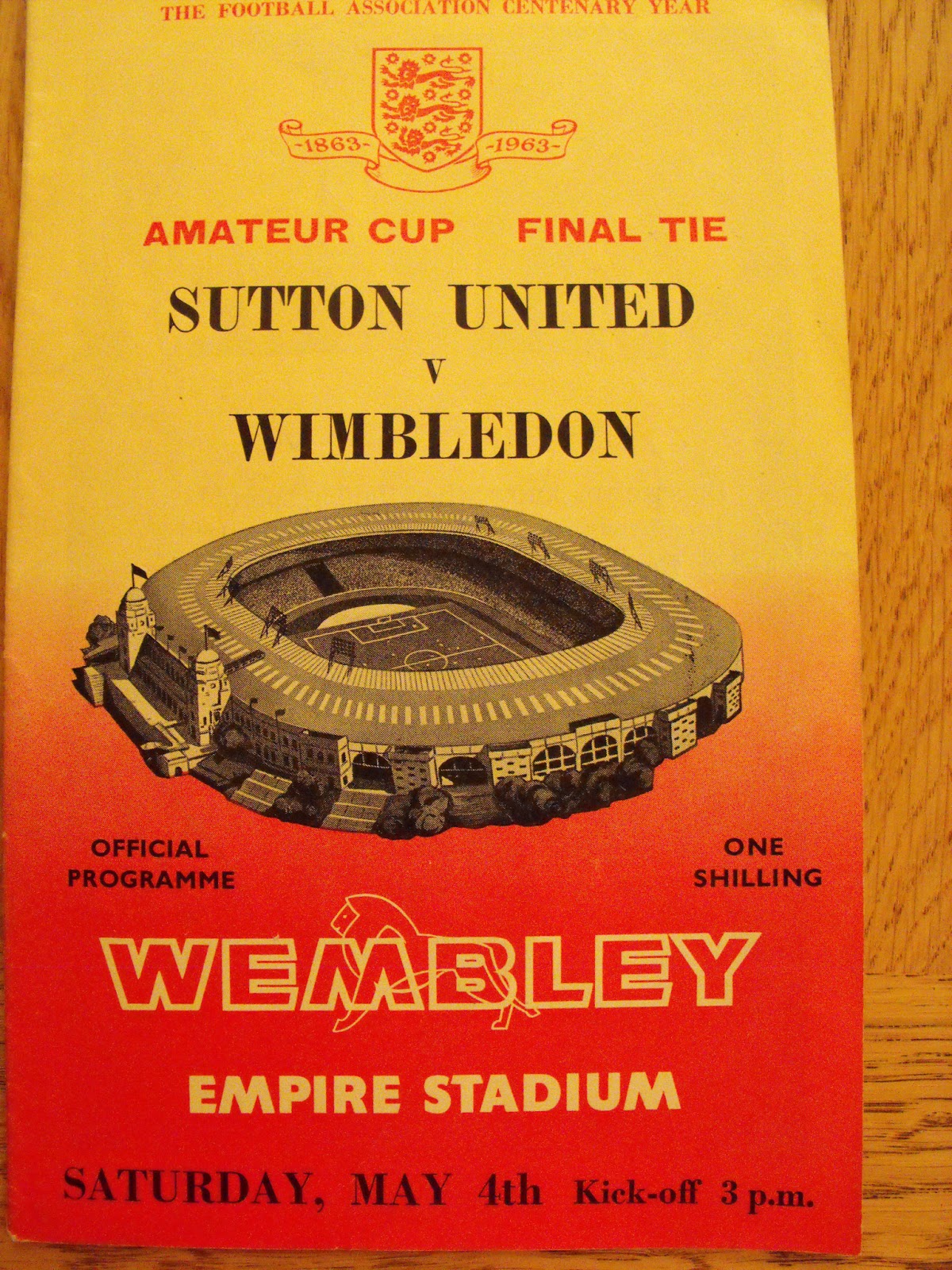 "Looks like we made it"…oh yeah we did!!
That's enough of a teaser for now, come the summer months, myself and the other crazy fools that update Gandermonium will be meeting up in the 'War Room' aka the pub one fine summer evening and will be putting together some sort of plan (probably an update of sorts) together, so all you readers can access all these pictures, after all it's history that needs to be shared!
Between now and then, why not follow us on twitter, then you'll see that we have recently set up one of those Instagram** accounts which allows us to feed pictures straight to you via twitter or directly via the account. It will only take you like two minutes to sign up for a twitter account…simples. Then you'll find us, or even follow us by adding us @gandermonium
**No Duke, how many times do we have to keep telling you….it's not a strippergram!
Right then, back to business. It's Saturday afternoon, this can only mean one thing, time to get myself down The Lane for today's home fixture. Weather conditions for today's home fixture Vs Billericay, sun, sunny, warm…..ahhh better!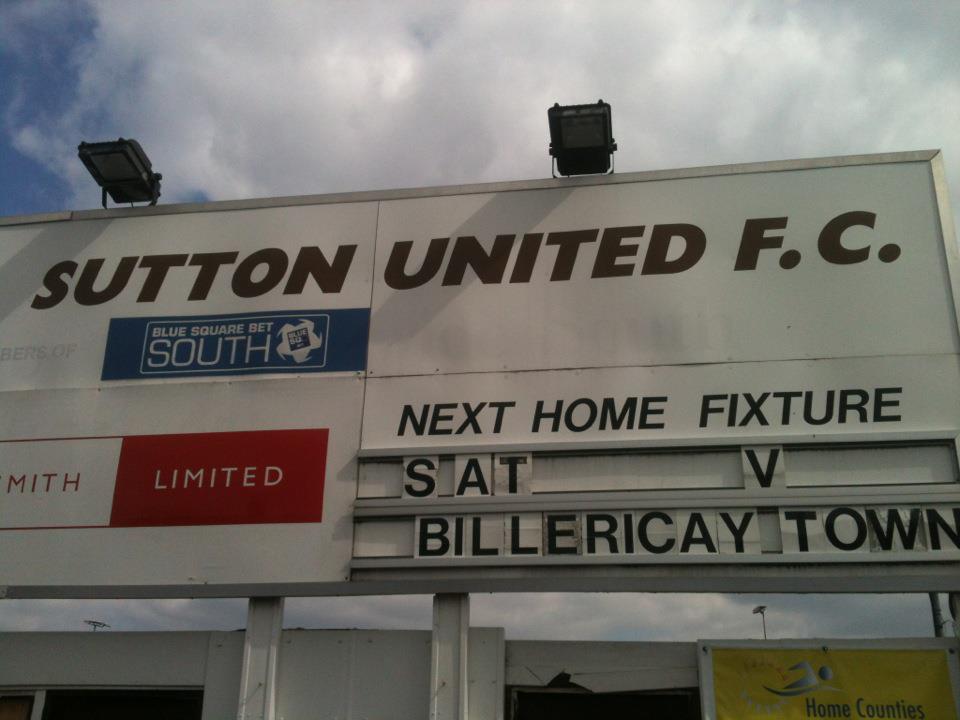 Blue sky, and a tad cloudy….forecast looking good.
Line up as follows:- Lovelock, Wheeler, Rents, Stuart, Downer, Sinclair, Folkes, Fuseini, Dundas, Beautyman, Williams. Subs – Benjamin, Griffiths, Murrell-williamson, Serbonij, Shaw.
Match Summary.
So with the weather conditions set for the afternoon, and the turn styles spinning it was time to kick off. Sutton starting straight out the blocks, putting some sweet passes, and commencing with the same composure from the home fixture on Bank Holiday Monday! The first free kick was awarded to Sutton within a couple of minutes of kicking off. Dundo being bought down on the left flank. Free kick duly delivered in low across the box from Beauts , heading for Dundo, but Duns being unable to turn and keep the ball at his feet, resulting in a quick panic type clearance from Ricay.
Further pressing play from Ricay, saw their first chance of the game open up, delivered in via long throw into the Sutton box, cleared away and over the top from Sutton for a Ricay Corner. The Ricay corner was played in short, only for Dundo to be switched on and focused to clear away any possible danger.
With our heads back and focused, a steaming run down the right channel from Marvs, looks up and checks to his right, and checks to his left, and sees Rents running into space, Marv lays the ball of for Rents to deliver the ball into the box, only for it to be blocked away.
Further forward play from Ricay, sees Sutton clear it away for Ricay to be awarded a corner. With the corner delivered into the box, a free Ricay head connects to the ball, for Lovelock to go down to his left, and safely hold the ball in his velcro gloves.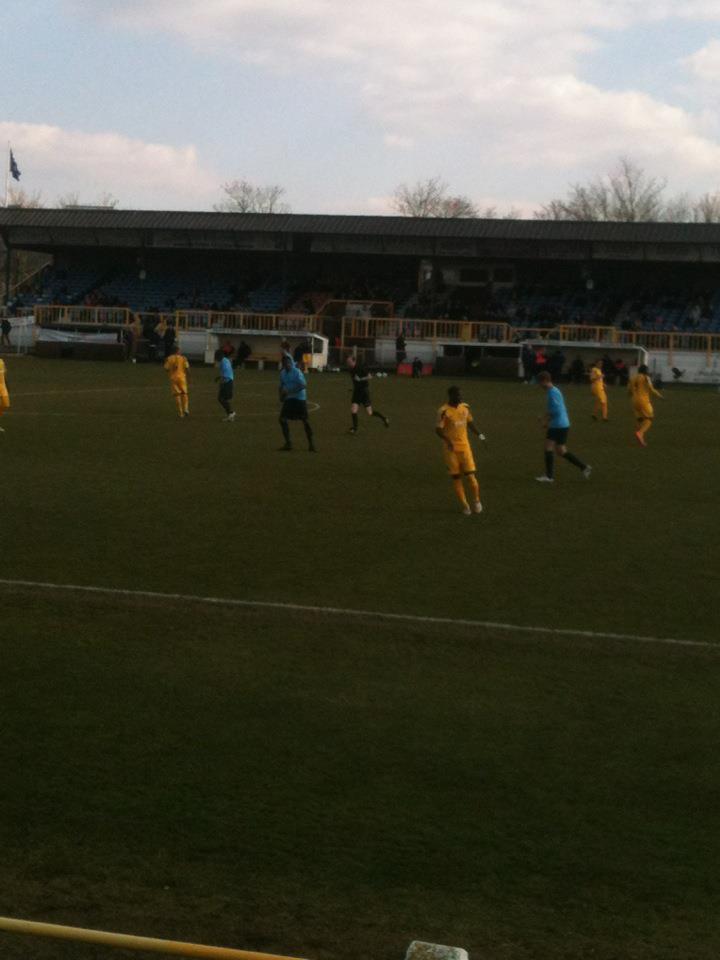 Regulation match shot #1
Sutton make a further charge run down the right channel, a dink in type cross from Rents, the ball gets deflected up and out of the 6 yard box, and Marv on the edge of the box, tee's up a strike just on the edge of the box, and hammers the ball hard in the direction of the ground, only for the ball to hit the deck, with a slight bobble, and the ball bounces with some height over the top of Kevin Scriven, who is standing a few feet of his line and bounces over the top of his left glove, and dips under the bar ,and drops sweet as sugar into the back of the net.
One nil Sutton, Golden Goal time 11 minutes.
Sutton 1-0 Billericay
With the Ricay heads still high, and trying to pull the leveller back, the Ricay surge forward , forcing Lovelock off his line to clear a loose ball whilst under pressure. A further lack of concentration from Sutton, again give Ricay a further life line, goal scoring opportunity, by allowing the Ricay forward to find room, time and space out on the right wing, and connects onto a lovely through ball, only for his going for glory effort to be blasted wide.
With Sutton realising the points at stake in today's fixture, Sutton re-grouped and gained back the required composure. Sutton again putting together some great runs, and passes, down both channels, Faux seems to be getting better and better with more and more game time, and looks great as an attacking midfielder out on the right flank. With Faux being bought down on the edge of the area, Sutton are awarded a free kick on the edge of the box. Rents steps ups, and he looks as though he's going to ping this one over the two man Ricay wall….but no, he goes with the option to lay the ball back 15 yards to Beautyman, who pulls back the right Adidas boot, and lets a right footed curler rip, for it to fly just over the bar. Now from where I was standing it looked as if the direction of the ball was going to end up in the top right corner.Still a worthy effort.
Sutton by no means sitting back, continue to put Ricay under pressure, with a dreamy through ball, and with a little jiggery pokery going on in the box, Scrivs trying to smother the ball, but missing it first time round, and Faux just couldn't quite wrap his foot or get a toe poke on, Scrivs second time round smothers it well, and cancels a further opportunity for Sutton to increase the lead.
A further break in Suttons attacking play, gave Ricay a further goal scoring opportunity with a cross coming in from the left channel, and again a free unmarked Ricay man up front had the opportunity to pull one back with a free header, only to be denied again by the safe hands of Lovelock.
Moving forward into the second 45 minutes, Sutton came out even stronger in the second half, creating more chances, and denying Ricay anytime on the ball. With the new Sutton signing, straight outta Bromley, in the middle of the park, looking really cool, and calm, and dealing with anything and everything Ricay were trying to create, by breaking down the creative side of Ricay, and picking up any loose balls, by slotting through a ball into the path of Dundo, forcing Scrivs of his line once more.
Again, Faux really starting to show his more creative style of play by chasing down the Ricay left back, and chasing down a loose ball that the Ricay left back failed to deal with-Faux again showing his pace by driving past him up the right channel and crossing the ball across the six yard box, only for the ball to bobble slightly up in front of Beauts, the bobble of the pitch causing Beauts to send his shot screaming over the bar.
Sutton's second goal came from a poor clearance from Scrivs, collected by a Sutton shirt, and re-distributed back out to Beauts, Beauts being completely unmarked out on the left stick, on the edge of the six yard box, and with Beauts being unmarked, found his spot in the back of the onion bag, and slotted it home with the easiest of finishes.
Sutton 2-0 Ricay.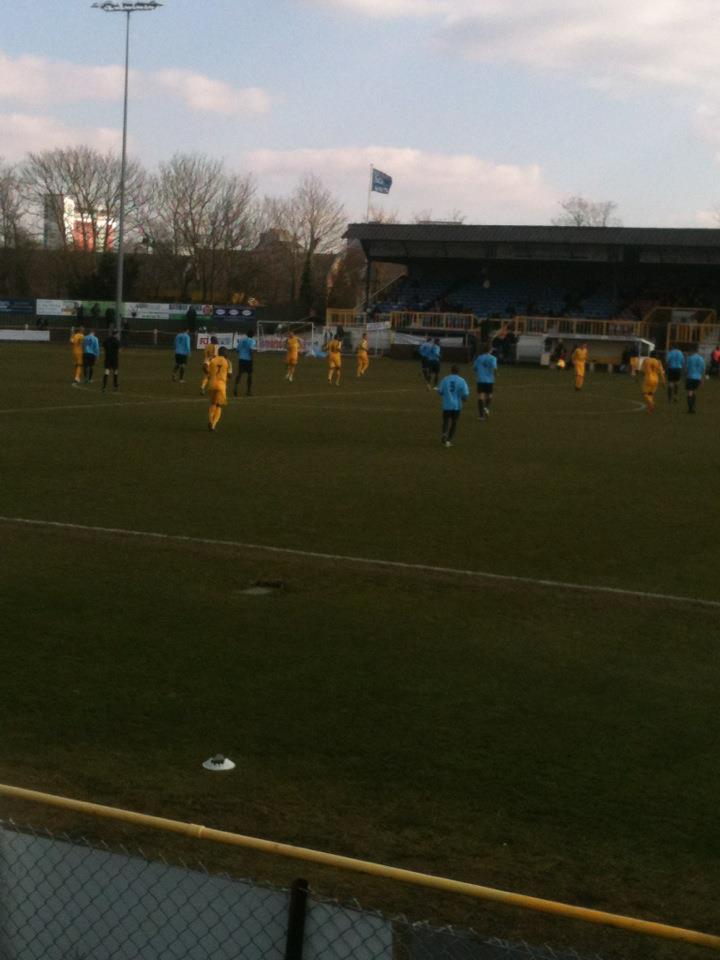 Regulation match shot #2. I think we spoil you lot sometimes…..
Well with us being up by two, clearly we thought we would have another go, this time Suttons third goal was put home from Sinclair. Thus being a build up from a free kick, taken by Faux. Faux looking up and sees Beauts to his left but decides to play in Sinclair. Sinclair steps to his right, and goes past his man, looks up, finds his space, sees the chance, and well places it under the keeper, …..hello goal number three.
Sutton 3-0 Ricay.
A couple of subs in the second 45.
Faux replaced by Benjamin. Sinclair is replaced by Serboni, and the machine Dundo is replaced by the younger looking Dundo, Murrel-Williamson.
….Not much else to give in facts to the game apart from Ricay having only one real threat on Lovelocks net. So all in all a great result for us today. Today's points will see us safely into the middle region of the table, and no worries or woes of relegation. Plenty of positives to take away from today's game.
Today's officials…..A Sterling 7, better than what we've had in the last few weeks by a country mile.
Today's performance……at times some great passing and movement. Three great finishes, at times we made it look easy, and I mean real easy. If I'm honest Ricay are one of the poorest sides I've seen at this level in some time. We could have easily converted more chances. Juan's predication-I'll be surprised if Ricay will survive the drop if they carry on like that.
Post match….
Sadly for me tonight, I couldn't join the boys in the post match drinking session, as again I had been attracted by a member of the opposite sex. So I would have to leave the mighty members of the Sutton Firm to cause carnage to Sutton High Street tonight, once the sun had passed the yard arm! However I'm sure Dukey boy will fill me on the nitty gritty in the morrow.
For me however, it was time to grab my latest buy from the Club Shop, and don my new Sutton United Vale Do Lobo, Portugal '84 Polo Shirt and hold hands with lady friend for the night. With a splash of paco rabanne and a quick spray of lady attraction it was time to hit the Blue Anchor Boozer for some Bulmers.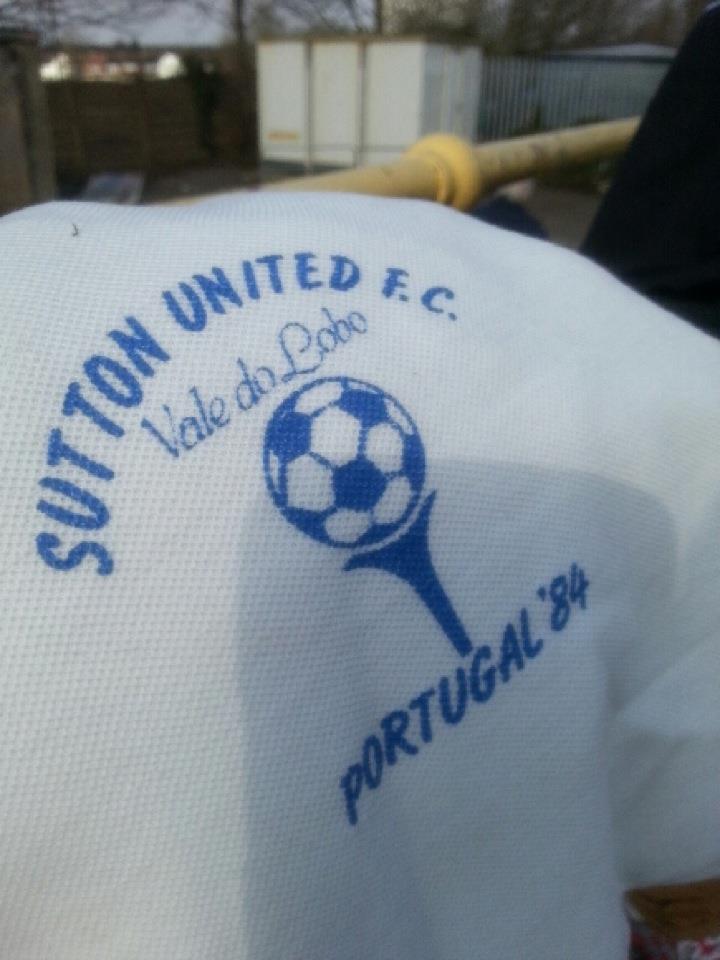 Juan's latest bird pulling clobber….
…..and well a gentlemen never tells….to be continued….
Well that's all from the one they now call David Bailey, a.k.a Juan, a.k.a Ewan!