Ah, the third poxy trip to Essex! And for once we take away the three valuable points back with us to Sutton. I don't how it has happened but once again it appears that I will have to cover our trip to Essex, not that I mind, after all I am on for a perfect season once again, but not for the first time I shall be writing this masterpiece sober!
It is also good at this junction to point out the message of thanks that was put out on the club's website thanking those of us silly fools that came out and tried to get the game played on Saturday (It was well worth it). even though we looked like a bunch of hooligans doing community service with the Old Bill in the background! But in the long run it was better to play it, than have it postponed for another day. I also saw on the Amber Planet forum a couple of keyboard warriors having a little pop at us as always, well the less said there the better me thinks!
Today would have been a slight difference in our journey plans with me getting the bus to Cheam to get a lift to the game. Of course I get my times (and some of my dirty clothes) all mixed up and before I knew what was happening I was well late! So having to don my designer SpongeBob SquarePants Boxers I jump into my car and head over to West Sutton to dump the car and a little 12min walk to Cheam.
I meet up with another member of the Firm as he is driving us in his car and off to Essex we go for the last time this season (Potters Bar is in Hertfordshire!), this of course was not going to be a smooth operation as the traffic on the M25 slowed us up quite a bit, not to mention giving those bastards at Dartford £2 to go into some tunnel. We eventually arrived at Billericay, and after trying to work where we were, the only two places being recognised were the local police station and the Rising Sun pub opposite (says it all really!).
Being told to park in next doors football pitch was quite a difference from last time we were here at the end of April 2010, which was a dust bowl then, to tonight's quagmire and as some of us were yet to change from work they weren't a happy bunny I can tell you! But don't worry sports fans we got our own back by the fact that as we approached the ground we saw a couple of stewards talking to some Sutton fans and as we were heading to the bar we walked past the turnstiles. It was on 15yds on we realised that we had not paid to get in, RESULT!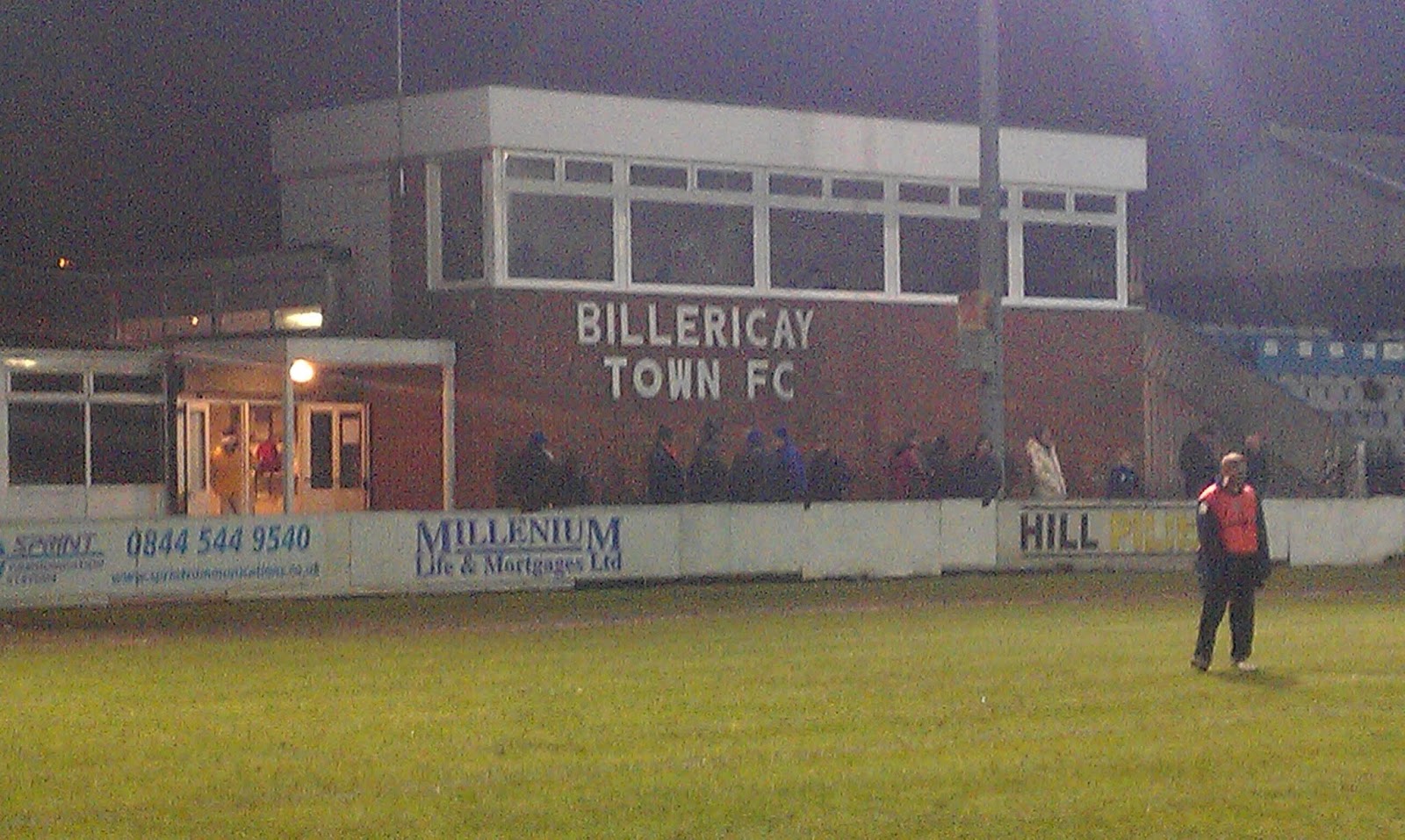 Welcome to New Lodge. Did someone say 'Jaeger'?
Now it is here where after getting the first beer of the trip we get the news via Twitter that the lino is running late, and there is a possibility of a delayed KO, so we saunter out of the other exit to the ground to head to the burger shack. And let me say the place I thought did some decent grub last time, but the following conversation went the other way…..
Duke: Can I have a steak roll please?
Bird behind the Jump: Sorry we ain't got no steak.
Duke: Ok, Can I have a Cheeseburger then?
Bird behind the Jump: We ain't got no Cheese.
Duke: Better make it a double burger then, with bacon.
Bird behind the Jump: Ok, £4 then
Duke: And a can of Dr Pepper PLEASE.
Bird behind the Jump: We don't do Dr Pepper!
Duke: Don't worry, here is £4, Just put loads of Onions in it.
Bird behind the Jump: We ain't got any Onions…..
And I tell you they didn't even give us a tissue as well and this thing ended up being the greasy thing I've tasted in a long while. And to compounds matters news reached us that the kick off was delayed until at least 2000hrs, so what was I to do? Of course I could always go back to the bar!!! Another pint and we were back out to see the boys walk onto the pitch it was only 2005hrs and there appeared to be a few ressies among the pack with the team being:-
Lovelock, Daly, Telfer, Stuart, Rents, Folkes, Sinclair, Beautyman, Williams,
Dennis, Dundas.
And on the little bench was:-
Shaw, Benjamin, Serbony, Griffiths, Murrell-Williamson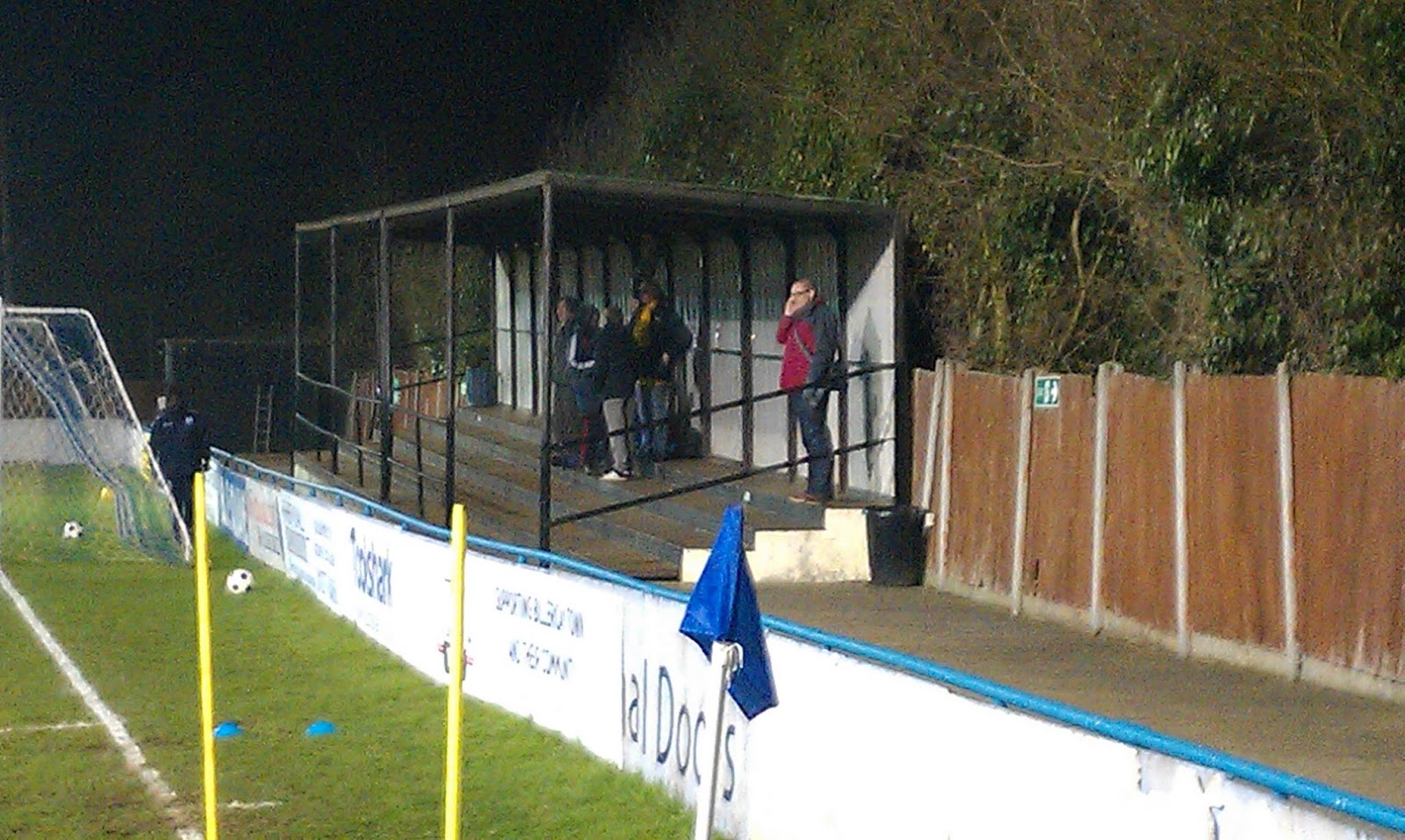 "Well, it's not exactly like the Kop, but….."
The game itself was really one of those Tuesday nights that was going one way, and then turn the other way. I mean there was some terrible reffing as there always is at this level and some sloppy defending for their first goal a simply cross and the fella jumped higher than the three Sutton boys around him to head it in and what appeared to me as a flapper from Lovelock (Who either side made two crackin' saves!) for Charlie Fuckin' Talyor to tap the ball in for there second we did manage to get 4 (yes 4 again!) goals to the good and I will try to describe them to you if the old memory holds out…
Goal I: Harry Beautyman/OG?
The first goal in the 33rd minute came after a nice spell of pressure and as the ball was played out of the box Harry turned towards goal and from nearly 18yds out sent a shot aimed at the top far corner, only for it to hit the head of their no. 6 and divert it towards the near post and then to slip under the keeper for good measure as well! 1-0!
Goal II: Craig Dundas Penalty
Our second goal came around the 67th minute mark when after some swivel hip motions by Dundo in the box he was clearly tripped and as Sinclair picks the ball up he sees Dundo standing on the penalty spot, and we know who would win that argument! So up steps Dundo and smashes the ball under the keeper to level the scoring, and to also level with Watkins on the all-time goalscoring list to boot. 2-2!
Goal III: Chris Benjamin/Marvin Williams?
Our third goal came within two minutes of the 'Ricay restart where some good work by Folkes down the wing, result in a sweeping shot by Benjamin was saved by the keeper only for it to squirm under him one again and here were the controversy lies the ball was spinning in no doubt about it. The question is did Williams touch it before or after it crossed the line? well from where I and others were standing I felt Williams tapped it on the line but others disagree. And as Twitter says it was Benjamin then I clearly do not weld the sort of power yet to change scorers! 3-2!
Goal IV: Harry Beautyman
Finally a simple goal to describe, from my memory Beautyman manged to receive the ball in the box and cut it past a defender to create some space and with all the goal to aim at he wrong footed the keeper to hit it near post and guarantee Sutton the points! 4-2!
Post match thoughts were that the five ressies that the Dos had picked all contributed to this vital win and even though I don't agree with playing Dundo in the middle of the park I can understand why we need someone like him in the middle of the park. All the boys played well on the heavy pitch and it made a change to the last two games with more players showing that hunger to win the game. Another highlight of the night was as the three subs came on (Benjamin, Serbony and Murrell-Williamson) someone behind every time asked the question "Is that Leroy?". Ha! Ha! you can't make this stuff up!
Fuckin' HTC Cunts! up to this point I had only managed to take a few photos and as I hurriedly tried to catch up we a quick fire few at the end of the game my phone starts to play silly buggers and kept turning its self off (HTC users we know exactly what I mean) so I ended up with nothing!
The ride home was a rush job as we go through various results from other games and discuss our run to the end of season and if in fact were the play offs still possible, a plus point to the delayed kick off was the fact that as it was well after 2200hrs we didn't have to give any money to Dartford as we crossed the bridge back to south of the river. Back to West Sutton and back into my now frosted car and of home for a well earned cup of tea!
Duke