Well, well, well……
Where to start with this one! If I'm completely honest I'm finding it a big struggle to put fingers to the keyboard to type this one up! Mainly for two reasons, firstly the game yesterday. Wow it was BAD on a big scale! The other reason, I've got a bit of the alcohol shakes following last nights drinking session! My body just isn't as hardcore as the other members of the Firm! But fear not readers of Gandermonium, Kasabian have given me the inspiration I need to write this up….So sit tight…here we go..
Well I guess it would only be the right thing to do, to start from the top, so I'll give it a go, just don't rely on me for 100% accuracy!
So after meeting up with the Duke on the 13:05 train down to the ground. When arriving at the ground, it was all little up in the air as to whether the game would still be on or off! Just as Duke had consumed a fine gulp of his pre-match tipple, myself and fellow members of the Sutton Hardcore were called up for "National Forking The Pitch Service" (we are here to Fork this up) to allow the game to go ahead, following a further re-inspection around the 2PM mark. Still, we grafted like Spanish mules for a good hour to get rid of the standing water problem. Perhaps wearing white trainers was a bad idea….but at least I hadn't gone for the suede effect!!#No names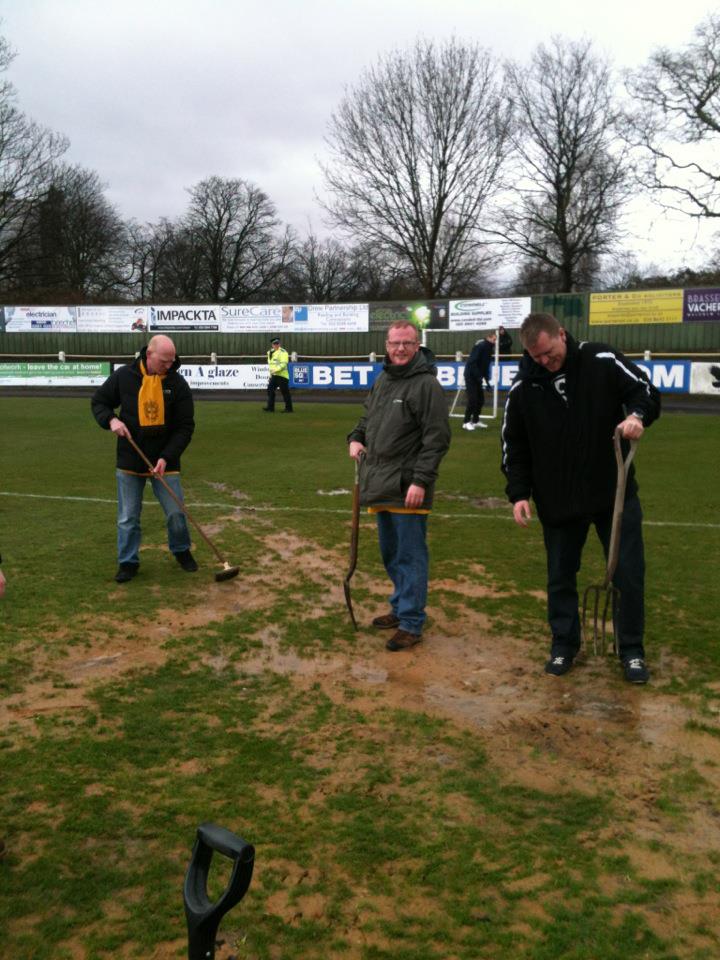 "Wasn't us guv! Was like this when we got here. Honest!"
So after ditching my fork, I grabbed my Budget Boosting bucket, and resumed normal duties. A Stirling £84 odd quid was raised today, not a bad effort given we had some firm competition from the local Scout Groups collecting for additional funds.
So lets get down to the nitty gritty affair of today shall we! I'm half tempted to go with something a little different today. I may not go into the usual detailed match report, but perhaps more of a summary today! I can't quite get into "Keyboard Warrior" mode this morning. I can hear the sighs of relief all the way in the west wing of Juan Towers. Today's write up could well be that of a similar write up to Duke's update following Tuesday's nights home defeat to Truro! I can't comment on the Truro game, as couldn't make it but it didn't sound good at all!
So lets get down to todays home fixture against Farnborough then shall we.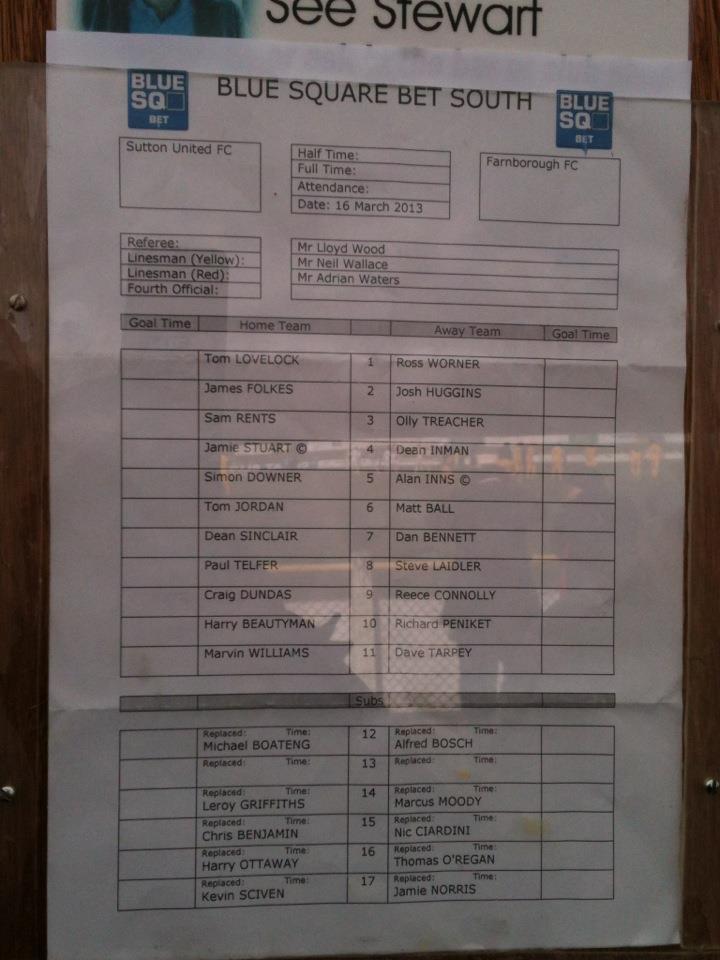 Some players. Some did better than others….
So we went for a change in attacking, we started off attacking in the reverse format today, rather than attacking towards the Collingwood End, we went for the Gander End. Given the pitch conditions you could tell from the off that this wasn't by any stretch of the imagination going to be a 'pretty' game to watch! So a little link up and cheeky one-two between Marvs and Faux down the right channel, sees Marv run down the channel to try and break in an early cross, for it to be put out for a corner. Rents steps up to deliver the corner into the box in the direction of Telfer, who had lost his marker, and had a completely free header at the back stick, only to put it wide!
So we had started strong, good high work rate, and putting together at times some decent play/passes given the conditions not an easy task.
A further run down the right channel from Faux, again seeing his attempt to cross the ball into the box, go out for a further corner. Another delivery in from Rents;- this time a short delivery onto Marvs, who carried a little flick off the top of his head, only for it to be cleared away with ease.
With the Marv again putting the burners on, he came steaming into the box, only to be taken out for a penalty appeal to go unheard. Not sure how the ref didn't quite hear the appeal, given it was a rather high pitched yelp! The build up from Marvs, was created by a cheeky , and neat bit of play between Dundo and Beauts.
So with the work rate looking ok, we then go and loose Tom Jordan to a challenge. A bit of a man down situation for him. Tom goes in for a challenge, and in doing so, busts his shoulder. I can't quite remember the full low down on the injury, (following the post match chat with the gaffer) but Tom ended up at St Helier Hospital. Hope it's not too bad Tom!
So on we cracked, kept pushing to try and get something, but both Sutton & Farnborough basically cancelling each other out.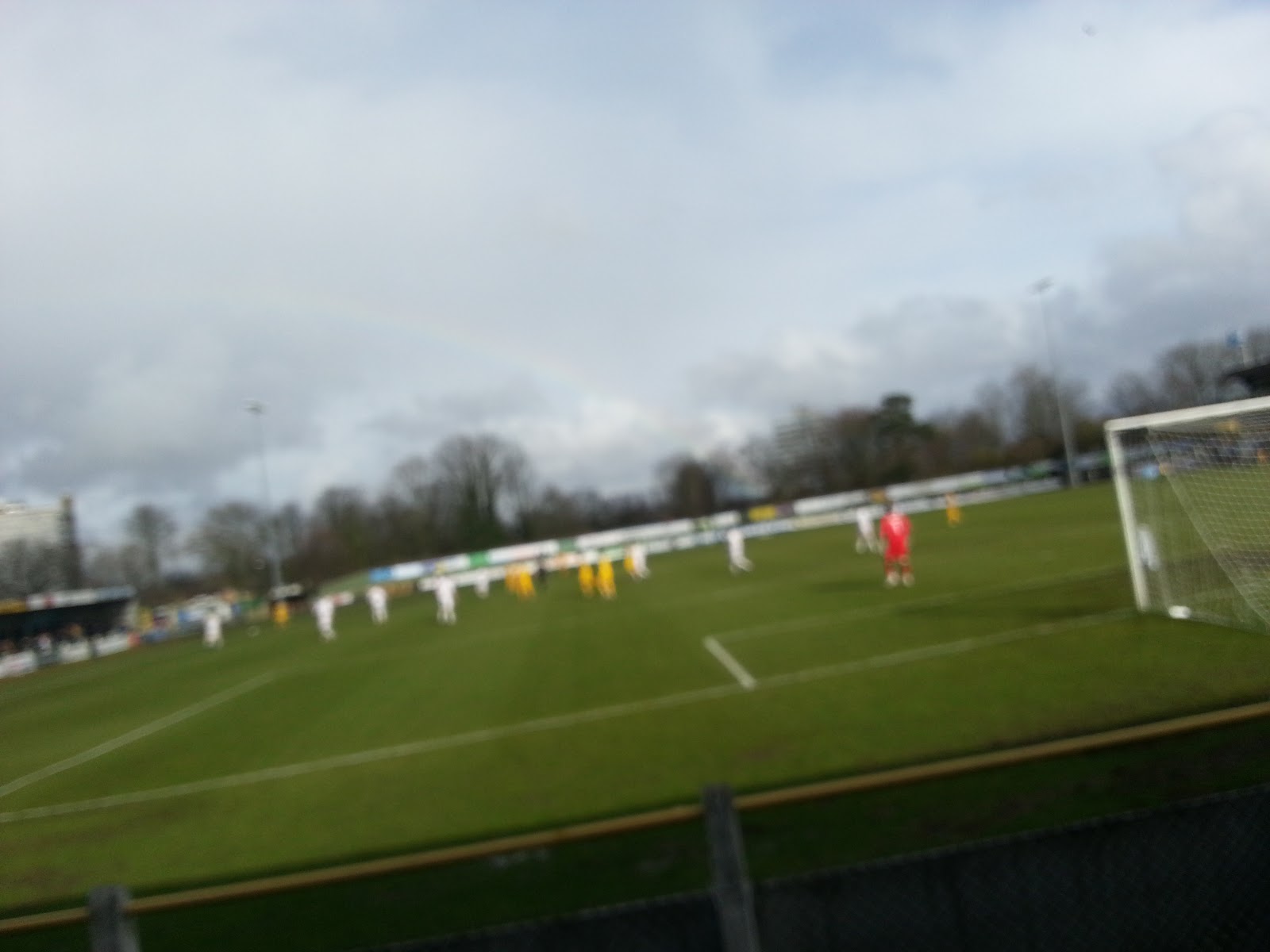 Lazily set up & half arsed execution. The pic! I'm talking about the pic!
A further corner delivered in by rents, again heading in the direction of Telfs, Telfs just miss timing his attacking run and jump, for the ball to skim off the back of his head for it to be cleared away with some easy.
Again, I lost track of the number of set pieces we had today, with no final product.
A lovely cross from Dundo from the left to right channel in the direction of Faux, making his run down the right channel, only for the ball to skim of the slightly damp pitch and past Faux, Faux unable to stop it. But if it had come off, it would have been a lovely piece of football. Following this, after a challenge on Faux, he was subbed off and replaced by Benjamin. Faux then later received a couple of stitches on the left side of his head. I didn't quite see what caused the head injury. So rather than bringing on a full back, we decided to carry on with an attacking style of play.
Farnborough were then awarded their first set piece corner of the afternoon, delivered in from the right, a slight second of panic from Sutton, but not causing too much trouble, and cleared away with ease.
Sinclair now pressing down the right channel, beats his first man, and takes a few extra strides before lashing in a low swinging cross towards Marv. But Marv was beaten to the ball by the keeper, duly palmed away. So that was another fine chance that we had created, without making a clinical finish.
Beauts now picking up a loose ball on the outside of the box, has a clear opportunity to shoot on goal, or perhaps a chance on goal, but instead decides to be unselfish and lays the ball off to Rents, who tee's the ball up on his left boot, for a curling attempt on goal, only for it to be again denied by the Farnborough keeper, who palms it away, and Farnborough clear the ball away.
I feel it's best we leave this one well alone….
So then we go and concede on 62minutes. From some poor defending, a completely unmarked man given room, space and time, to let a shot off, clearly from the fact of not pressing the ball hard enough…so here go, another one of those the writings on the wall type situations! So from the off, after the break we clearly just weren't pressing the ball hard enough, failing to get hold of the ball, and the lack of touch and control.
Given the condition's, you would have thought we would try and keep hold of the ball, and play a shorter passing game, instead of just lumping the ball up to Ottoway for him to try and hold the ball up, or to try and create….something. Further run down the channel from Faux, again for his cross to be punched away by the Farnborough keeper. Faux then goes off to be replaced by Ottoway, a slight change in game plan, tactics, by smashing the ball up to Ottoway, to try and create a chance…or rather no chance. So things steadily head in a down hill direction, every time Marv gets hold of the ball, his starts to loose his touch, starting to look a little like Fola at times!
Benjamin makes an attacking run, only to be brought down on the edge of the box. A further free kick awarded to Sutton. The wall is built by Farnborough, Rents steps up to have a go, he shoots low and hard around the wall, but the attempt on goal is easily saved by Farnborough keeper. A further through ball from Ottoway in the direction of Marvs, making his run, but Marvs not being strong enough to shoulder of his man..again another goal scoring opportunity denied.
Benjamin goes off to be replaced by Leroy-again not sure this a game for Leroy. Personally I think Leroy has been lacking his pace and fitness since he played for his in the Ryman League winning squad. We don't seem to see any of his attacking runs down the left channel, and his touch is somewhat lacking.
The last bit of attacking play from Sutton (before I gave up taking down any further notes) came from a cross in from Telfs into Dundo. Dundo fires a shot off, that lacks both direction and any real threat of power. We could tell Dundo is furious at himself as we witness the the unhappy Dundo roar!
So I got a little fed up with the progression of the game, and so I decided I'd check to see if the Juan Step was still looking good at the Collingwood End. Oh yes it was still there….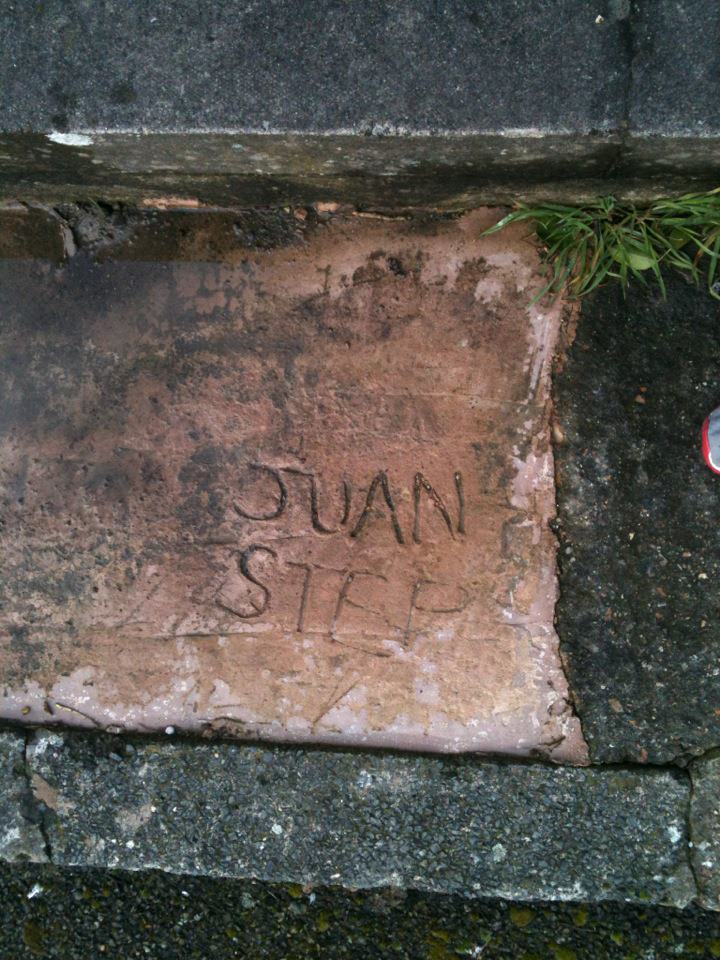 Name scratched in the dirt….
Well that for me was enough of the game, a very poor display if I'm honest. We grafted hard to get the game on, and we were rewarded with that display. Not cool, not cool at all.
So it was only right we hit the bar post match for a few ciders, to help heal the pain. So it was my round, £25 quid later everyone was happy, not for the result, but for the fact I'd got a round in! Is this a change in Juan's drinking habits…maybe! So after having a few more beers, and ciders….being that it was Greek's birthday! We were joined by the Gaffer, who did not look at all happy following that performance, and his own words there are a number of players in the current squad, that are "taking the fucking piss", so I guess we shall shortly see some changes. At Gandermonium we do have some inside information on player movement's, but we can't divulge this I'm afraid, you'll just have to keep your eyes peeled on the official site for further updates.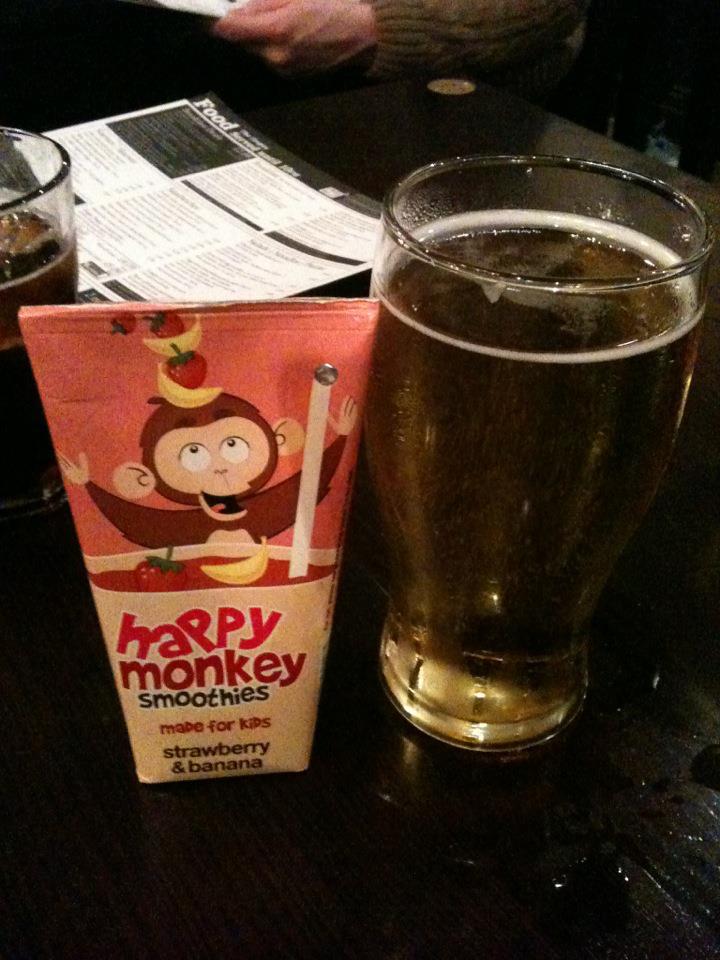 Did someone ask for a non-alcoholic beverage again??
So the mighty firm headed into Sutton. Now when I say mighty, there was only a few of us, short in numbers again. So we had Greek, Duke, Loffers, Chalmers myself and Miller. We headed down to the Grapes for more beverages an bit of grub to line the stomach as we all know what happens when we drink and we don't eat ….don't we Duke!!
So after a few more drinks were consumed, it was time to call it a night….
Ri'cay on Tuesday night…I won't be there! I've had enough of Essex for one season thank you very much! Plus with all the current betting scandals going on with Essex sides, I wouldn't want to be out of pocket now would I.
I did say this one would be more of a summary!
This update has been sponsored by shite football, lots of cider, a Bombay Sapphire, a cab journey home, two aspirin's, a happy monkey smoothie and two cups of tea.
That's all from Juan.