Well the game for me tonight was a tough decision as to whether I would be in attendance or not due to suffering with the latest batch of the "man flu" (it's a man killer ya know) doing the rounds! So after receiving a text from Duke asking me whether or not I had turned totally "Gay" by me telling him I wouldn't be going tonight.
This was duly followed by a stern re-education in midweek football and the importance on me doing the write up on tonight's game, so 'ol Duke Boy could finish off his so called History coursework which was due to be submitted the same night as the game, so it was left down to me (or rather nominated) to do the write up on tonight's game Vs Basingstoke! (N.B-This isn't me moaning by the way, I'm just trying to make Duke feel bad…but failing epically)
So I donned the faithful Northface Mountain climbing jacket, complete with woolly hat, smeared my nose with Vaporub, and jumped into Dukes motor!
So onto tonight's game. Now the big question they we were all contemplating was; would we see the same momentum carried on in tonight's game from Saturday, when we beat the Eastbourne at Home. Well if you want to find out, you'll just have to keep reading!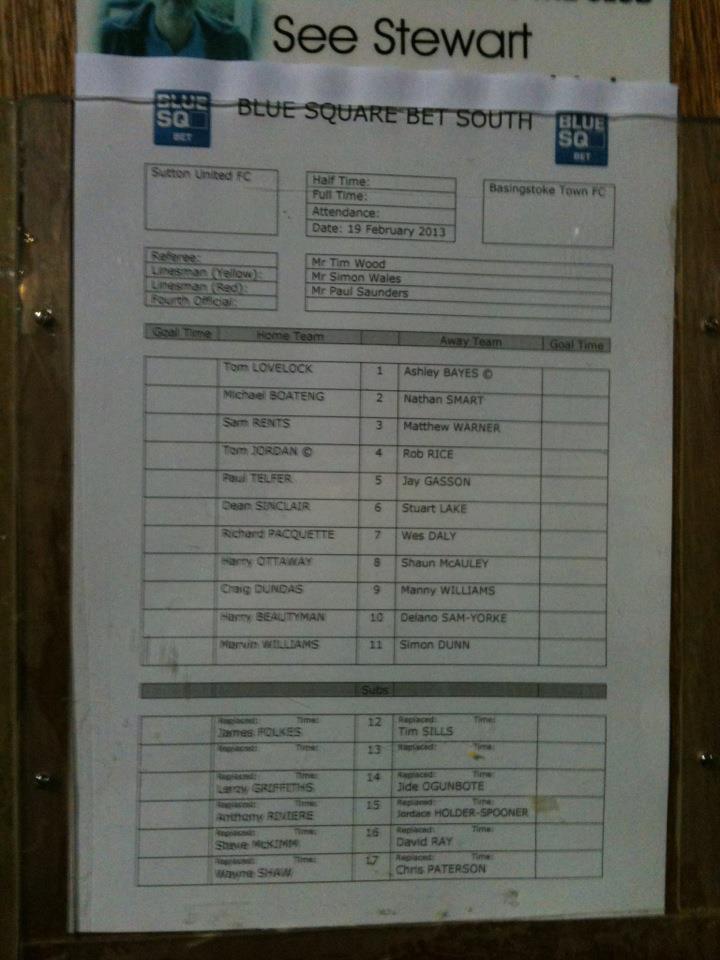 The line ups….
So the line up for tonight's game goes a little something like this; Lovelock, Boateng, Rents, Jordan (c), Telfer, Sinclair, Pacquette, Ottaway, Dundas, Beautyman, Williams  Subs- Folkes, Griffiths, Riviere, Mckimm, Shaw
1st Half 
So we started bright, straight out the starting blocks, with great pace, and a high work rate, which led to our first bit of attacking play from Marvin down the left channel-a typical attacking run, I guess you could now call it his trademark ! Anyway Marv was taken out-as per the norm with most right backs and centre backs that can't handle his pace, which led to free kick, the ball was floated into the box in the direction of Ottoway, who dinked it back of his head towards Pacquette ( Pac-man) who stepped straight into the direction of the Ottoway dink, calmly put the ball in the back on the 'Stoke net with a smoothly finished header.. Happy days one nil up in about two minutes, talk about a great start, to a big 3 pointer game!
So we kept pressing the ball well. putting together some rather sleek passes alongside great movement at times, we really seemed to be have a good work rate! Great passing and movement between Harry Ottoway and Beauts, a lovely through ball from Ottoway, but beauts couldn't quite chase it down, a little too much pace on the ball.
A lovely run down the right channel, sees Boats send in one of his low-flying crosses to Marv- whom of course finishes it with an exquisite touch.
Happy Days 
More attacking play from Sutton- a delivery into the box from Ottoway, across to the other side of the box, for Beauts to collect, who then sees Rents available on the reverse side of the box, Rents collects and runs about two yards down the left wing, inside the box, only for him to be denied his return delivery back into box.
We keep working well, and creating the opportunities, until we start to take our foot off the gas, and becoming a little to comfortable, and a bit slack in the centre of the park!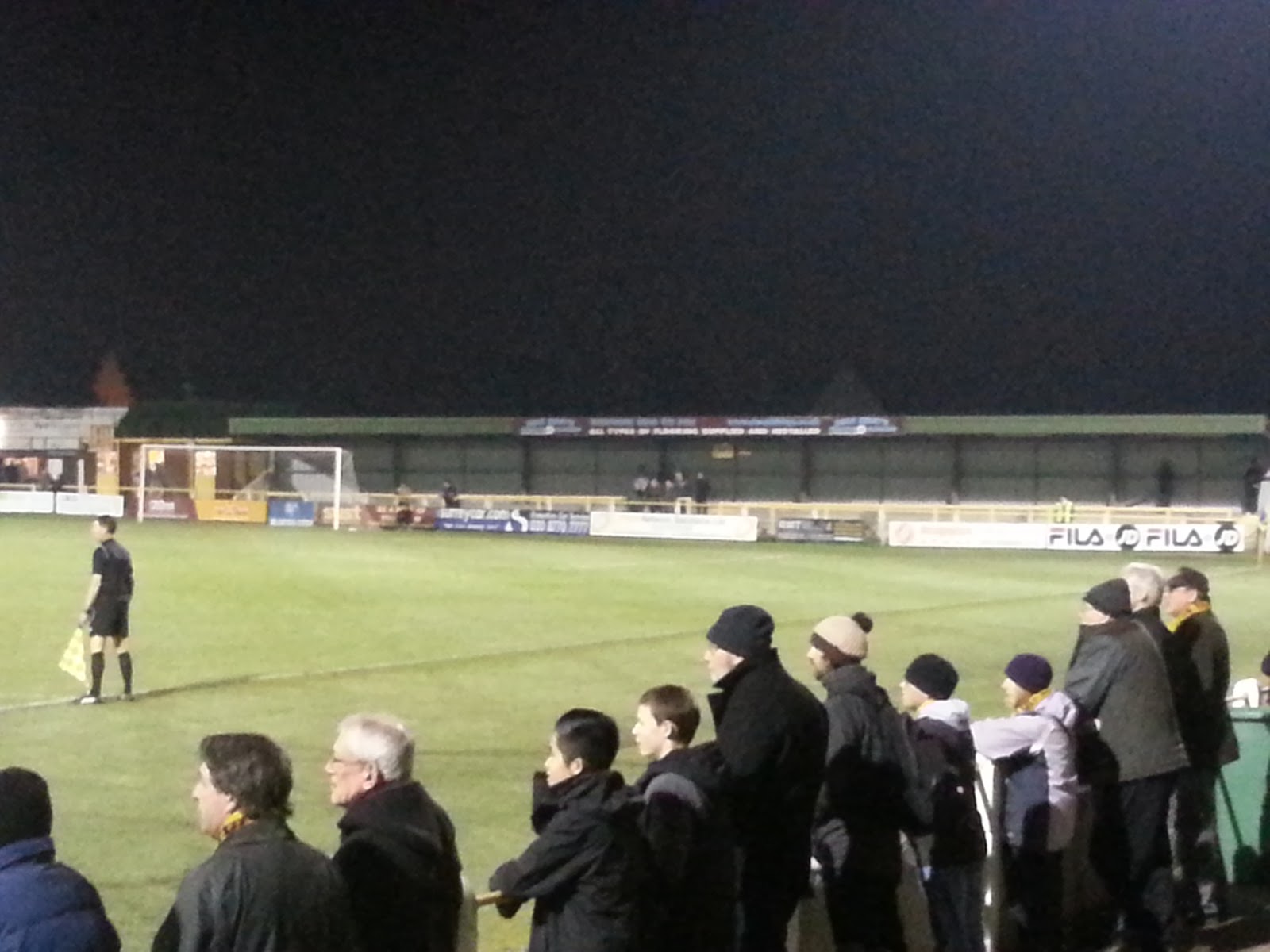 If you squint, you can just make out the pitiful away support…..
Stoke, start to come back at us, and try to create some chances, but most of the effort seems to be coming from the tactical hoof, and some rather obscure passes, to say the least. For some reason we start to sit back and start playing a little too deep for my liking, and not pressing the ball, and giving Stoke too much room at times.
However Dos, shouts out his annoyance and frustration from the technical area, and we soon pick up the pace and start getting ourselves back into the game. With more build up play from Marvin and Ottoway linking up well together, a nice cross from Ottoway played in towards Marv, who is next to the Stokes keepers left post, and tries a cheeky inside foot attempt on goal, only to be denied by the Stoke keeper.
Stoke come back from our attempt on goal by upping their energy to levels to match ours, by hoofing it up the pitch, only to be caught by the "off-side trap" on a number of occasions. Lets be fair, we weren't hanging around to settle for just the one nil advantage now was we!
We kept pushing for the second, a delivery from Rents down the left channel ( following a shove in the back on Marvs ) gets cleared away for a rents corner on the Collingwood Rec side, delivered into Pac-Man, who looses his marker, for a free header to be put over the bar. Followed up by a further Rents corner delivered into Jordan- who again puts it just over the bar! 
Stoke now really start to lift their chins, and an opportunity arises for 'em from a low fired shot in the direction of Lovelock, who stumbles on his first collection of the ball, only to jump back on it securely to avoid any potential danger arising from the first stumble!
Further attacking play from the 'Stoke sees Tom Lovelock racing off his line to clear away! At this point we really seem to go off the boil, giving away a number of rather silly and stupid free kicks! One in particular, is delivered into the Sutton box, again Lovelock comes off his line to punch the ball away. Stoke are really pushing hard to get back in the game…..and then the world comes crashing down and they pull one back.
 So the first half sees us up 2-1.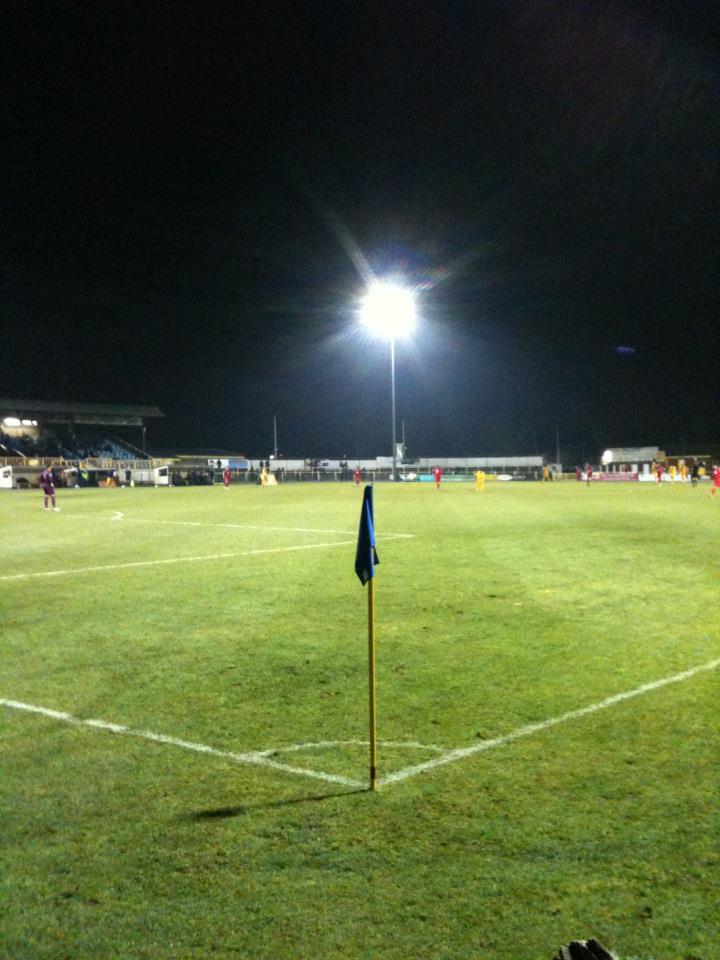 Juan gets an art-on!
2nd Half
You'll have to excuse the first bit of match reporting in the 2nd half, as I was busy stuffing my face with pastie and a brew….well sometimes you gotta!
So Stoke came out strong in the 2nd half, closing us down quickly and pushing us back, and squeezing us tight, not giving us much of a chance to put any decent play or sleek passes together!
So we get awarded a free kick , that's swung in from Rents, cleared away from the Stoke who are on us straight away, picking up the pace and steaming towards Lovelock, who is quickly again off his line to clear the ball away.
So we start to realise that Stoke are trying to pull one back to take a valuable point back home. Well, we didn't take that well, and started upping our game , putting together some sweet passes on the inside and outside of the Stoke box, some good connecting/ link up play between Beauts and Ottoway.
Stoke still pressing us, to get back in the game, which at times causes us a few problems at the back, a lack of concentration and damn right foolery, and lack of pace from Telfs (however you can't knock him for his experience) sees us under constant siege for a number of Stoke attacks, down both the right and left channels.
At this point, it's only fair to point out that after having a good first half, the man in black starts to have a shocking game, missing poor tackles, making shite decisions, and every time we make a challenge-giving it against us….and well that Tim Sills crying off like a baby at everything…..bore off Sills ya Knob!!
Couple of subs made-Deano and Pac-Man go off and make way for Rivs & Leroy!
We still seem to be under pressure from the Stoke, after not clearing our lines, which of course leads to a Stoke goal, as we get exposed down the right flank, the Stoke player fires the ball across the box, which finds a Stoke striker totally unmarked on the left, …well he has all the time in the world to bury it….!
Two a piece, so we've thrown the lead away, is this the end of our roll of wins…..I think not !
We continue to press when we can, but at times we are starting to look tired, and worn out (not helping us is the frost which begins to settle on the pitch) and a bit of a mountain to climb to bring back the 3 points!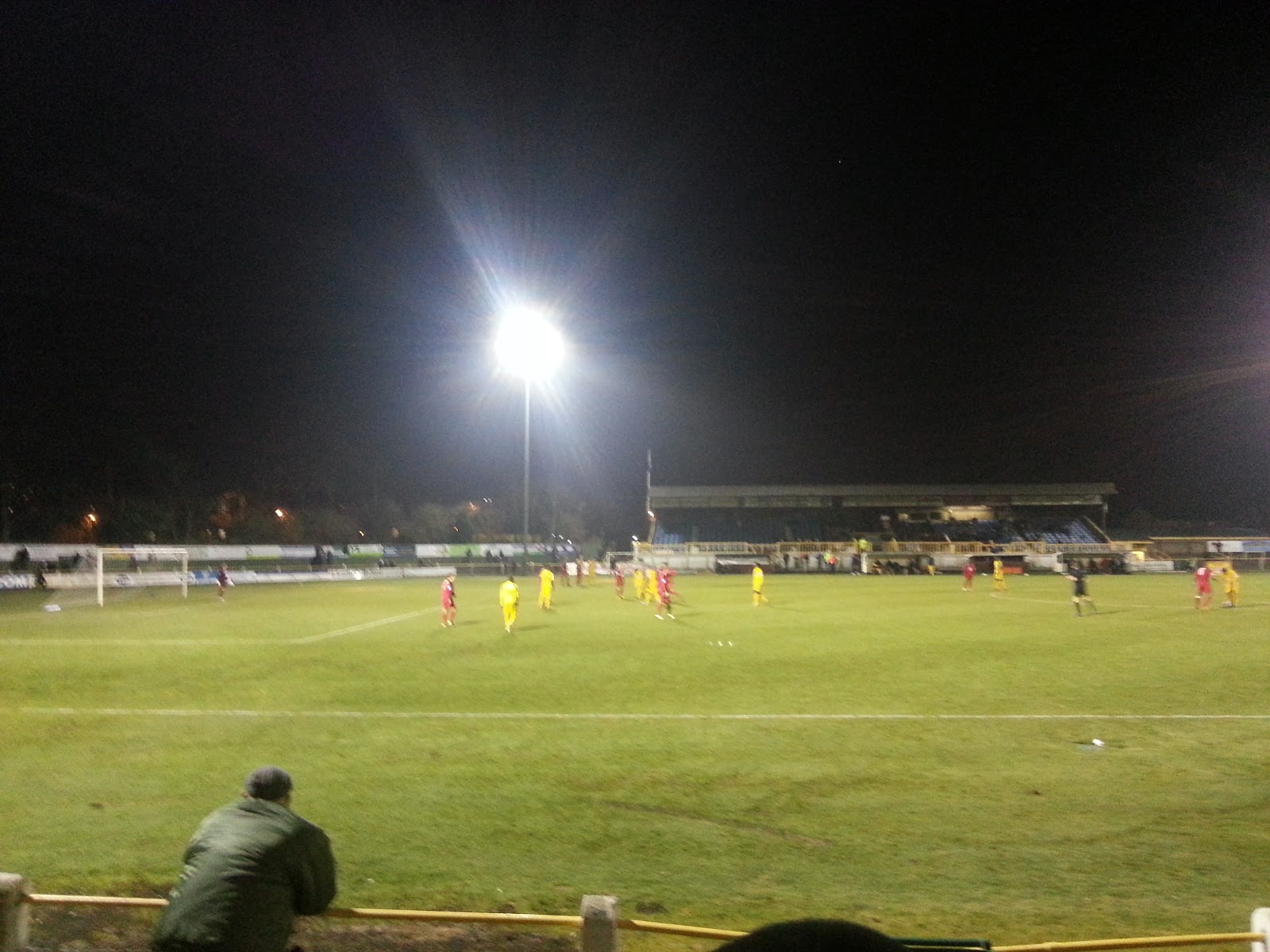 A cold, man-flu'd up GGL….
Marv again starts one his "ghost" past ya runs up the right, and gets taken out by Stoke, and the Lino doesn't even see it, let alone the Ref! A very very poor challenge!
We dig deep to find some fuel left in the tank, A cross across from the left of midfield from Dundo finds Leroy on the left wing who dinks the ball into space for Rents to latch onto, who reverses the ball into the box, to be denied by the post.
Further pressing play from Sutton, sees us awarded with a corner delivered into the box by Rents , a dreamy corner delivery, which is heading in the direction of both Dundo and Jordan and Timmy Sills (Sills shuts his eyes-see tweeted pic) the ball latches onto a part of Dundos body, and finds it's way into the back of the onion bag! YES YES YES YES YES YES…Thank you Basingstoke, Good night, much love…..and thanks for coming.
So we finish tonight's game with the big 3 points and pushing ourselves higher up the table. So can we carry on this work rate on Saturday, away at Chelmsford! Well let's hope so eh…..
For those of you that were at Chelmsford last year, don't forget to bounce on the terrace again this time round!
Juan