Here's a break from the norm eh?
The old Gandermonium was a bit set in it's ways, our match reports were about as wordy as we got. But with the return of this load of nonsense, we thought we'd try something a bit different to keep things interesting. With this in mind, I give you the first 'Gandermonium Literary Review'.
Yeah, I know. Amazing innit. We can read.
For the debut of this new (and no doubt probably rather irregular!) feature, I've gone with Aidan Smith's "Heartfelt". It's the story about a bloke who's a massive Hibs fan and decides to follow Hearts for a season. Now, the story appealed to me as I love rivalries in football. Everything about them and the older the better. Plus I realised that despite it being a huge part of the history of British football, I didn't really know much about the culture etc north of the border. And this wasn't yet another tome about fucking Rangers or Celtic. Also, there's the fact that Smith is a 'known' Hibee as he writes a column in the The Scotsman's sunday edition and regularly makes glib remarks about the other lot in it. A either a brave man then, or a bit of an idiot.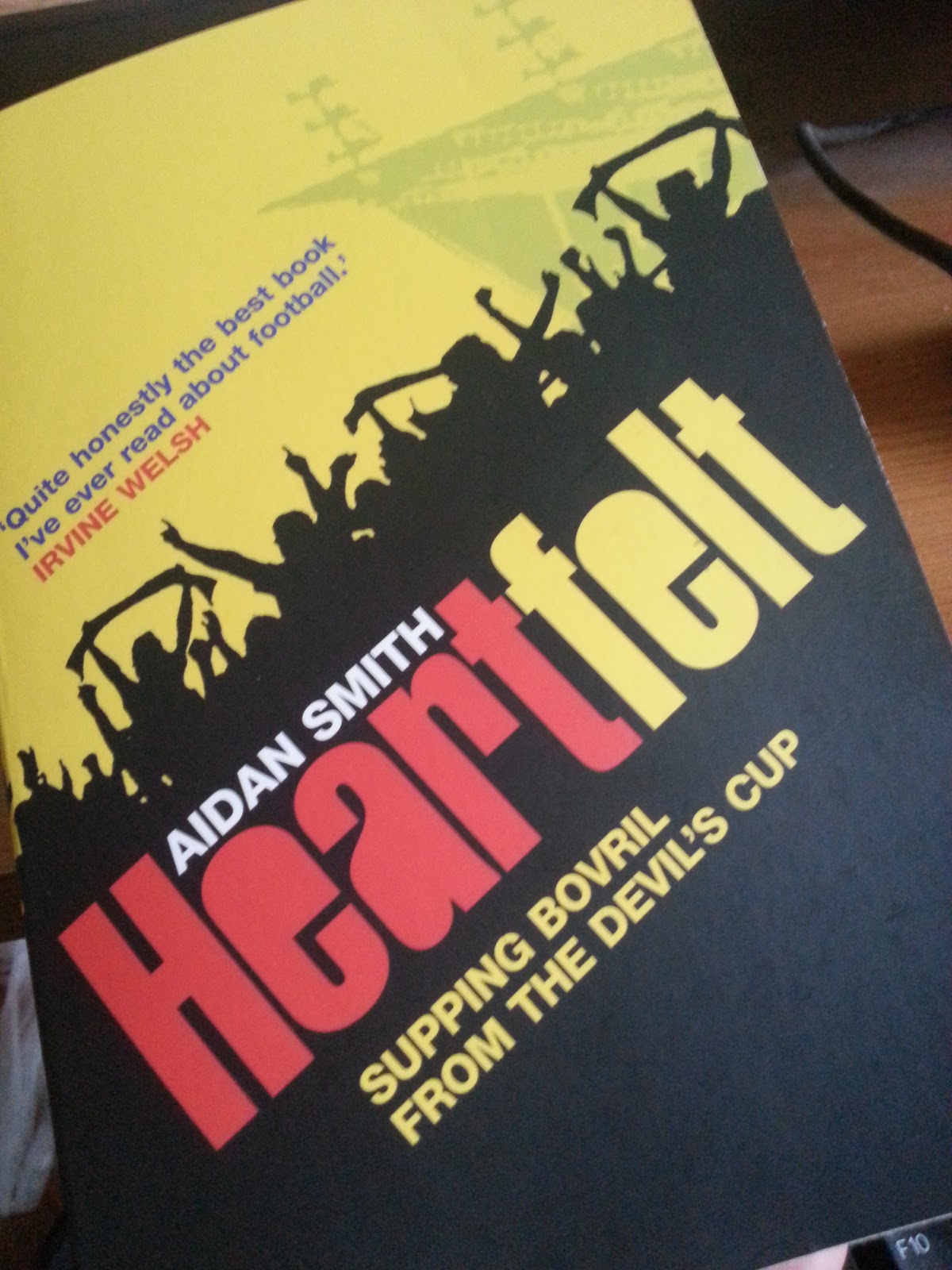 The story of a turncoat, dreamed up buy his agent….FFS.
So it's with great expectation I picked up and got stuck into this tale of turncoatery. Only to have Mr Smith dig himself into a massive hole from the off. In the prologue, he admits the idea for the book (and thus the reason for going to see Hearts for a season) came from his agent, not him. His fucking agent! This is then followed by the admission that he's a middle class, artsy fartsy media type whose father was a playwright who drove a Saab and his family had a holiday home in some lovely fishing village up on the coast. Just the sort of person I really don't like at football if I'm honest and quite early, I find myself hoping he gets a slap at some point.
He also doesn't help matters by filling early chapters with the usual tired pro-my team anti-the other lot type rubbish you get in such rivalries. We get the full reportoire of one side (Hibs) are the artistes who taught Brazil to play and the other (Hearts) are the dour, pragmatic cloggers. One set of fans (Hibs) are erudite & well educated, whilst the other lot (Hearts) are ill mannered neanderthals. He even christens Craig Levein's side 'Gallumphicos'. And all this before a ball is kicked. It's a shame, as I'd have preferred a slightly more intelligent approach here. Although to be fair, there are glimpses of balance, such as when he grudgingly admits he likes Tynecastle as a venue.
There are other titbits to keep you going early doors too. The season Smith chooses is 2004/2005, where Hearts are in trouble financially and it's looking likely this will be their last season at Tynecastle (or 'Swinecastle' if you're a Hibee) with a move to the vast Murrayfield in the offing. It's also the season that sees the arrival of Mad Vald, Vladimir Romanov, at the club. So I plough on.
To be truthful, I found the first 1/3 quite hard going. What with it being his agent's idea, the slightly above playground level of banter about the other side, Mr Smith then sets about his mission in a less than vigourous fashion. Of the first half dozen games of the season, he only actually goes three times. And for one of those games, a derby match against his beloved Hibs in some tinpot 'Edinburgh Cup' match, he sits with his mates in the Hibs end! There's also the fact that he goes to watch Hibs play at home on the saturday as Hearts 0-0 draw with Livingstone is being played the following day (although he does record the fact his Hibby mates rip it out of him all afternoon). In fact the only real interest this half arsed start provides is his visit to the 3-0 win over Kilmarnock at Tynecastle in match #3, where he accidentally shouts "Hibs throw!" during the game, then spends the rest of the game in a paranoid panic that his 'cover' is blown and then on his way out (leaving early natch) overhears a home fan say to another "There's that cunt Aidan Smith!". A line that had me laughing out loud and is probably one of the things that kept me reading. If nothing else, it would seem the author can at least poke a little fun at himself.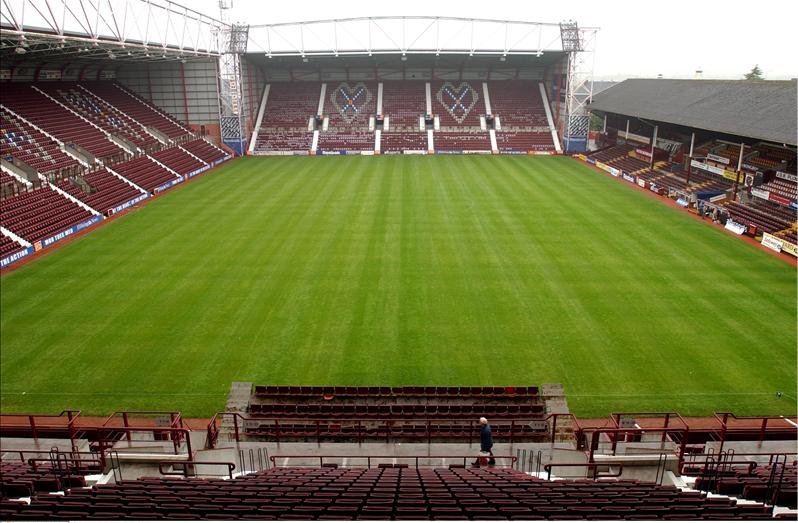 Tynecastle. Home of Hearts….
The book doesn't really pick up until Smith comes to a conclusion in November that I did after about 5 minutes reading. That he can't do this alone, he's learning nothing and he really needs 'inside help'. And thankfully in this, he manages to enlist the help of Billy. An insurance salesman, Hearts fanatic and member of the Tartan Army with who he used to play 5-a-side with a few years before (there's a funny exchange after their first meeting where they run through the guys they used to play with and 'Lost touch' is the general response). And through Billy we also get to meet, for me, the real star of 'Heartfelt'. Ricky.
Ricky is a a rather shady character with a hinted at naughty past who works with Billy in insurance and admits on their first trip away together to a CIS cup game at Dunfimline "I'm a wee bitty racist". Despite this admission though, this slightly conflicting anti-hero provides most of the good lines from here on with his wonderfully dour humour and some cracking observational comments. His wry "Love the Orange wash you've put on it mate, very classy!" to a lad trying to sell them a print of the 'Govan Young Boys Protestant Flute Band' in a pub near Ibrox is a particularly beautiful moment.
It's with the introduction of these two characters who agree to guide our author through all things Jambo, the story improves immeasurably. Billy the human sat-nav who knows the prefect route inout of every SPL ground and where to park, who likes tussling with female wrestlers in hotel rooms and Ricky, the German football admiring, ABBA loving skinhead with a sharp eye and even sharper tongue bring the story to life for me. Mainly as they're just the sort of oddballs you should be hanging out with watching your team. They're what make it really memorable and create the stories, certainly not the fucking football.
After Christmas, things pick up and you get some really good observations (for outsiders like me!) of playing the Old Firm away from home, some insights into just what the rest of the SPL thinks of them and other tit-bits, such as racism still seemingly being a little bit out in the open at Scottish games (although on both occasions exact examples are given, the person responsible is ejected). There's also some brilliant crowd comments included such as the classic "Fuckin' BOOOOOOO!" (who says the Scots swear too much?) and my personal favourite, "Ya fuckin' skinny wee gay Mongol junkie Drylaw shite!" which is aimed at Derek Riordan after he gives Hibs the lead in the New Years derby game at Easter Road.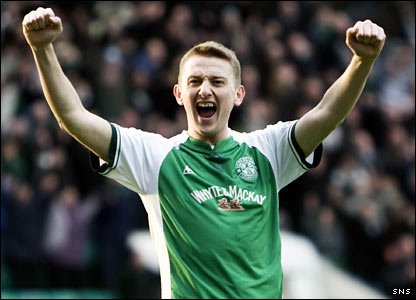 A "fuckin' skinny wee gay Mongol junkie Drylaw shite".

Apparently.
What pans out is Hearts worst season in a while (despite a spell in Europe and a trip to the Scots cup semi-finals), with Hibs playing super silky football with a team made mostly of kids, all intertwined around a rather telegraphed sub-thread about Smith's father actually having been a Jambo despite accompanying the author to Easter Road and away games for nigh on 30 years. Smith's brother (the sadly underused Sean) reveals this quite early on in the form of thinly veiled taunts when he undertakes the challenge and it's no surprise when a letter from a long lost uncle unveils the shocking truth that er, yeah, he was a Jambo actually.
In the end, Smith finds himself predictably conflicted as having become good mates with the likes of Billy & Ricky, he's not really one of them. He's not a Jambo and never will be. But you also get the impression he's more like them than the guys he hangs out at Hibs with (one being a humanist minister!) and probably enjoys their beer and burgers matchday experience more than the grilled seabass with a nice Chianti he's used to.
Overall, 'Heartfelt' starts slowly, becomes reasonably entertaining but by the end tells you little that you probably couldn't have already guessed would happen if you or I were to undertake the same thing. That the 'other lot' are the same as you basically and not a bad bunch overall, they just chose a shit football team. There's also a distinct 'what if?' feeling about it all. The season he covers doesn't really pan out in a particularly interesting way other than he misses out on the best Hibs side for a good few years. Plus the real Romanov nuttery at Tynecastle doesn't start until the following season and the desperately longed for Edinburgh Derby in the Scottish Cup fails to materialise, it too happening the following campaign with Hearts winning a semi at Hampden 4-0. But then again, that's not really the fault of the author, it just wasn't that interesting a season he chose to change sides.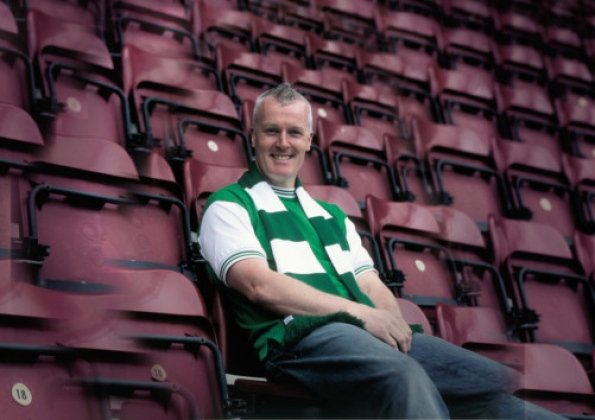 The author in more familiar colours….
To be honest, if you're familiar with the Edinburgh football scene, I doubt this'll tell you much you don't already know. Nor I doubt will it change your perception of what either side thinks of the other if you are a Hibee or a Jambo. However, if like me, you're relatively new to this particular rivalry thanks to the blanket coverage of the Old Firm, it's not a bad read despite the slow start.
Overall a 6/10.
—–
In the course of writing this, I did some research to add to my notes and found THIS cracking little article from the author in the Scotsman about him hooking up with his old Hearts mates prior to the all Edinburgh Scottish Cup final in 2012. Hearts won the final resoundingly, 5-1.