What a difference a week in football makes….
I write this blog in the early hours of Sunday morning listening to Ode to Joy by Tchaikovsky and watching old news reports of a little game in 1990 between Bournemouth and Leeds. And I feel reinvigorated to continue…
Well I have to be honest the day did begin with some actual enthusiasm for the game, I might have had another humiliating week at work, but it is only one more week to do and then I get an enforced five week break away from the idiots at Kingston Council (lets face it, if any one of them were to appear on mastermind their specialist subject would be general incompetence!). But I digress, so back to the day against Eastbourne.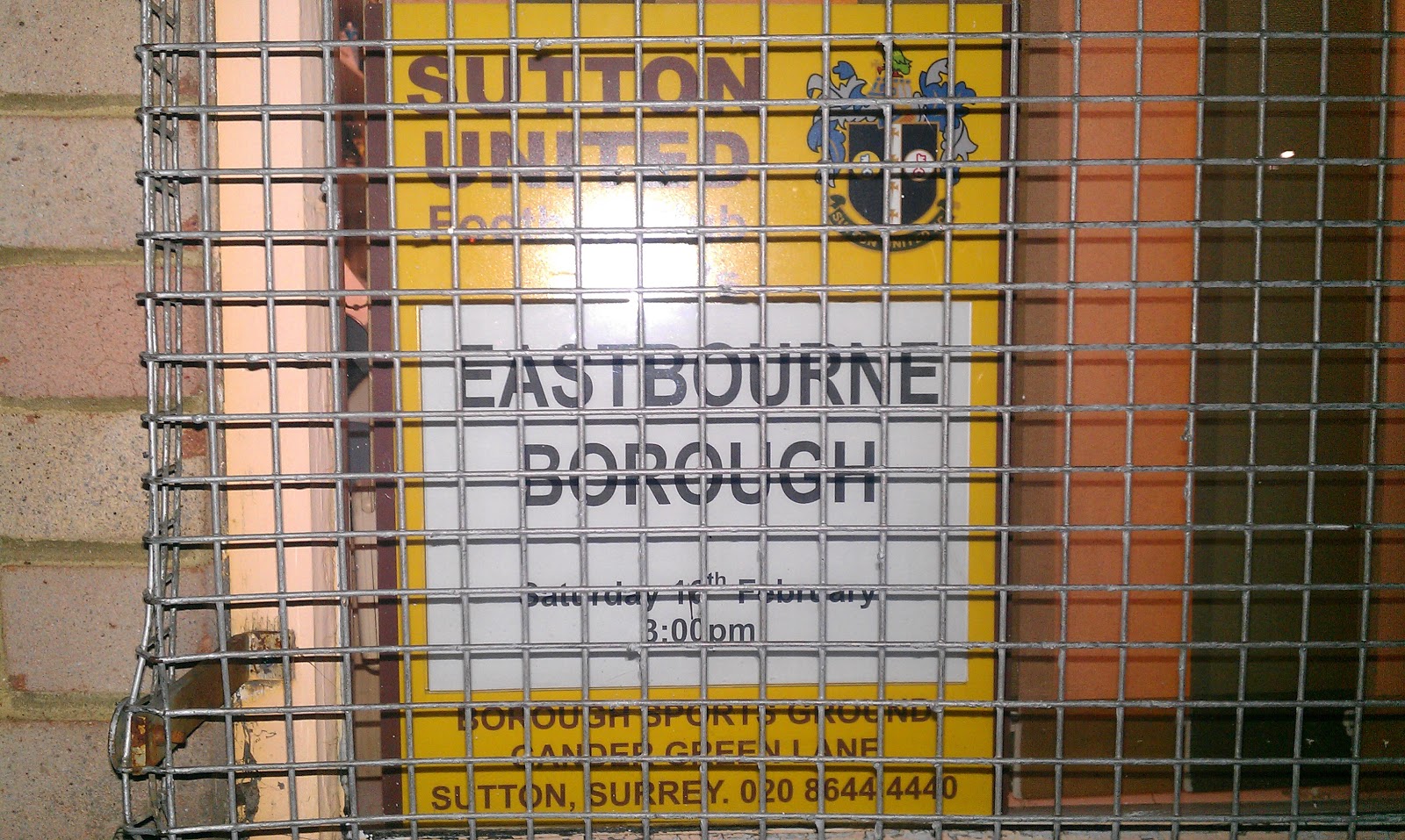 We really need to have a word about the photographic quality on here!
And after the win during the week against Welling, I even went down to the home of the Scum to see the Youth win on penalties in the Surrey cup on Thursday. And this all lead to the point of me thinking we could be about to go on a little run that could change this disappointing season into something different. The pre-match amble was as what would be expected from the Firm the 1300hrs train from Carshalton even had time to stop at Sutton and pick up the Sheik (Juan – looking very dapper!) on our trip to West Sutton. We even manged to meet the Viscount in the bar and after several other members of the gang turned up we were greeted with the news that Love Cock, sorry Lovelock was starting. many a tongue began to wag into the reasons behind this decision and what had happened in the week to bring him back to his club. The only other change was enforced by Stuart's two match ban and he was replaced by Boats. Of course to bitter disappointment to me, at half two who walks through the door? none other then Greek who straight away demanded his use of his season ticket. Which I suppose is technically ok because it is his season ticket, but I do look after it you know I feed it, clean it and take it for walks but doesn't matter another £12 for the club.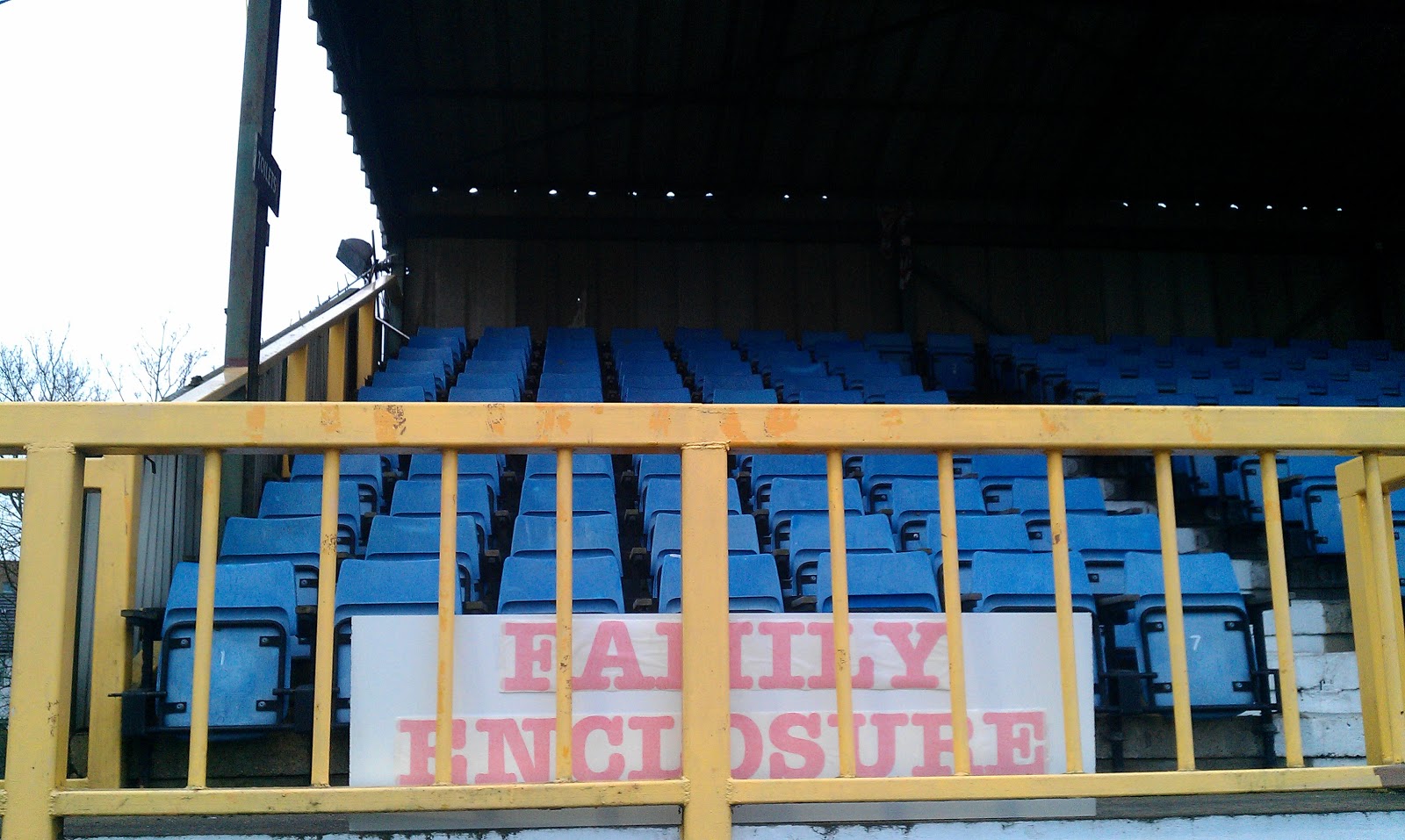 To reiterate, Dukey will NOT be stewarding this section.
The game itself was definitely a game of two halves as in the first half we managed to show some of the football we saw on Tuesday as deft little cross from Beauts into the box was met by Harry who somehow managed to chip it into the far post for a crackin' one nil lead. this was followed by ex-U Uddin clearly bringing down Hank Marvin in the box so Rent Boy could put the demons of Tuesday behind him and smash the penalty into the back of the net (See vid below. You're Welcome! – Taz). Get in there! The second half was less of a spectacular as we had to play shooting towards the Rec, and as the game went on the feeling of waiting to see Boro' getting a late goal and the last few minute siege that we have become accustomed to was increasing with every minute but thank fuck it never came and we rode out 2-0 winners and up to 11th for the first time this season. It was good to get our first double of the season and as I try to think back of any time Lovelock was troubled I struggle to come up with anything. But at the end of the day its night, and three points is three points, no bookings or in juries are always helpful and with an attendance of 587 that is over a hundred more than what we had at against Eastleigh.
The post match drinking was quite a sober affair if I am honest, it all started after the game as we managed to stay several hours in the club bar, even to watch the FA Cup game between Oldham and Everton, there was even a surprise entry into the drinking that was to follow, Juan, who managed to fight through his kidney stones to have a skinful with us. So after seeing the late equaliser by Smith that gave Oldham a draw we all decided that the time was right to head into town and were else do we go but the Grapes of course!
The drinking in the pub would have been a quiet affair had we not been approached by some drunken fella who began sounding off jokes from his phone which Juan began finishing the lines for him. I even had to revert to some of the interesting stories of my love life to bring some humour to the table and without a doubt my love life is a barrel of laughs to get anyone rolling around in stitches!
(caption removed to protect the stupid)
You know the night is coming to an end when the pints start to become shorts, mind you unlike the rest of the rabble there I did not get nothing to eat (because eatin' is cheatin') and as I was other wise detained talking to some people everyone else ordered without me. Thinking back I really should have ordered something to eat because I am Hank Marvin now, well anyway, I managed to have several glass of Sweet Tea and even tried to finish off Chalmer's flat pint for good measure as well before the ever longing ness to return home because to much and the few of us that had remained decided to call it a early night at 12 o'clock. The long walk back home to Carshalton was a mix of me trying to come up with new songs for the Firm and trying to remember what we agreed on in the Bar about Bath away at the end of the season, and of course the now famous images of the Duke walking down the road talking to himself  which no doubt freaked out the passers by.
Oh well, no worries, Stoke at home this Tuesday and Chelmo away next Saturday, so back to Essex for the boys!
I am now going to rest my head on my pillow for a few seconds……
This is about as much sense as most of this lot ever make….
Duke.