Well where do I start on this one. I did come up with an alternative title for this blog…something along the lines of 'we've clipped the wings', but after receiving a tweet from the Oracle of Gandermonium today advising me that if I didn't use the above title, tweeted on Gandermonium last night…Taz would hurt me, and hurt me badly! So there we are, that's how the title for this blog came about!
So after working like a Spanish seaside Donkey the last couple of days at work, Duke picked me up from Juan's Mansion and took me to last nights game, so yeah Duke your my hero…and he still reckons it's my fault his pad and disc replacement that cost him…well lots of pennies and pounds today is my fault!
So well onto then game report. Kick off delayed by 5 minutes or so due to a last minute official change. So it only seemed right that myself and Duke visited Rose's Tea Hut for a pre-match Tea and chocolate given it wasn't the warmest of February evenings since records began!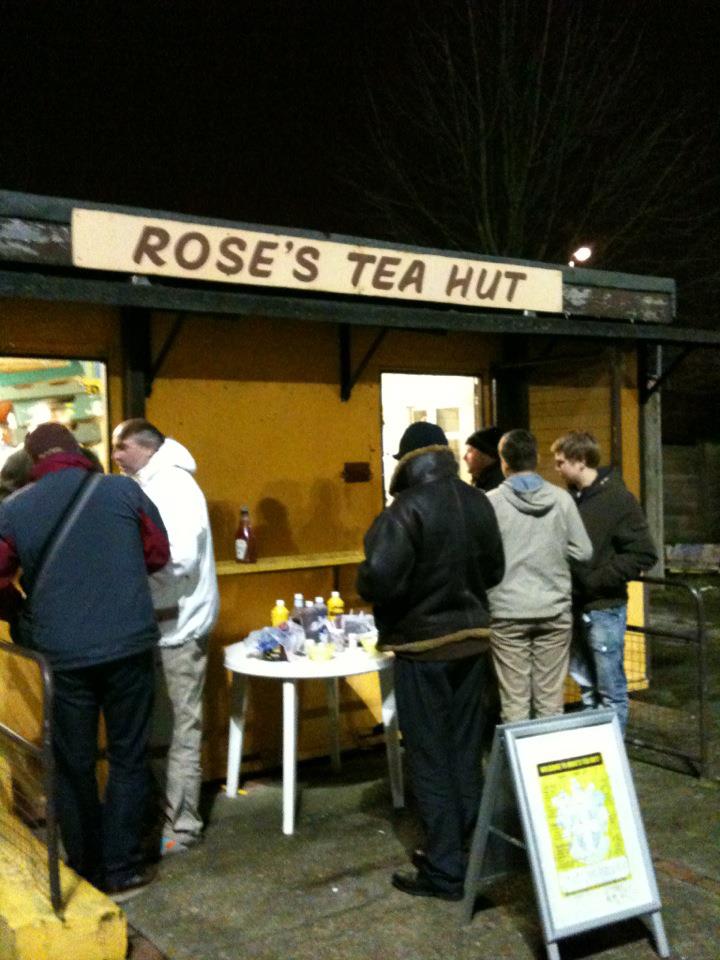 Now with extra Bovril…..
So today's line up V.s Welling was slightly different to that of Hornchurch on Saturday gone.
Line up: Shaw, Downer, Rents, Stuart, Jordan, Ottaway, Riviere, Griffiths, Dundas, Beautyman, Williams Subs: Pacquette, Sinclair, Folkes, Telfer, Boateng
1st Half Action
So we came steaming out the blocks today, we were looking good it has to be said. We looked sharp. positive and full of energy. We were knocking the ball around well, and putting together some smart passes, and looked as though the game plan was coming together. We were playing some good balls down the left channel, some nice through balls to Beauts-Beauts playing in the "hole" created! We really seemed as if we were a different team to Saturdays poor first half away at the 'Church! From what I could see, Welling were really struggling against us within the first 20-25 minutes, as we were keeping possession well, and creating space.
So, a long throw in from lefts on the left Collingwood Side found Beauts, who delivered the ball into the box towards Harry O, whom couldn't quite squeeze past his man to get his shot away, this was followed up by a Rents corner, which was cleared away by Welling. Leroy picked up on the clearance and had a cheeky little one two pass with Rents, Leroy then sent in one of his trademark left footed crosses into the box, a real dreamy cross, which wasn't followed up! We seemed to be creating quite a few chances, but again, we were lacking that final ball/end product.
Welling started to up their game a bit, bit of pressure from them saw us under attack, with a shot from Welling going wide of Wayne Shaw's left stick! Still nothing to worry about eh!
We continued to knock the ball around the park quite freely at times, playing some real sexy football at times, very pleasing on the eyes! Further movement from Harry O upfront creating space for himself, and generally working his socks off, you gotta admire that from Harry O, he's like a little Jack Russell, always going and going and going, never giving him, so you can't knock him for his wok rate, that's for sure! Especially given the lovely through ball from Rivs into Harry O,…but his touch just let him down, just a Yard too much!
Aaaah. The romance of GGL under lights…..
Another chance from Sutton came from a placed ball from Dundo through to Harry O again, but Harry was met with a crunch between himself and the Welling Keeper! At this stage typical Jamie Day (Welling) giving it all the north and south the man in black, shouting for every decision to go his way…well not tonight sunshine, the man in black was having none of it, by letting the game flow. So more pressure from Sutton, a chance created by a cross into the box, flicked back from Leroy's 'thug for life' haircut towards the feet of Harry O, who couldn't quite keep his shot down on the turn of the pivot, shot heading over the bar.
At this stage we were thinking we could really do with a fox in the box, Jolly'esq type striker, perhaps even a goal poacher…well if it hadn't have been for the recent fox cull, then maybe, well maybe!
So with more pressure on the Welling back for, it was time for Rents to step up and deliver a trademark corner kick from the left stick, Colling wood Rec side. Corner kick duly delivered into the box, heading into the direction of Jamie Stuart whom lost his man, and had a free header, only to be denied by the woodwork…pesky woodwork seems to be causing us all sorts of problems in the last couple of games!
Following the free header from Stuart we seemed to step off the gas here, and lost our way for a short while, as Welling went on the attack, and forced a save from Shaw, pushing the ball away for a corner. Shaw again collecting the ball safely into his Velcro gloves from a Welling effort, and I quote from a fellow Sutton Fan.."Shaw, a pregnant gazelle, with fifteen babies inside"…followed by.."well i wouldn't get in his way, would you…"
So at this stage we were all thinking can we keep going like this, running our socks off, would we run out of steam…would we last, could we keep this going……….of course we can, and oh yes we did! With Magic Marv tripped in the box, and a clear pen from where I was standing! It was that time again for Rents to do his thing, bury that ball in the net, give us that boost we really needed, and had worked so hard for. Well it wasn't to be, not tonight any way….keeper cam off his line, moved to his right and then back to his left, and stopped Rents from claiming one from the spot! A damn shame, it was a golden opportunity for us to go in at the break with a bit of weight released from the shoulders…hey ho sometimes in football it goes against you.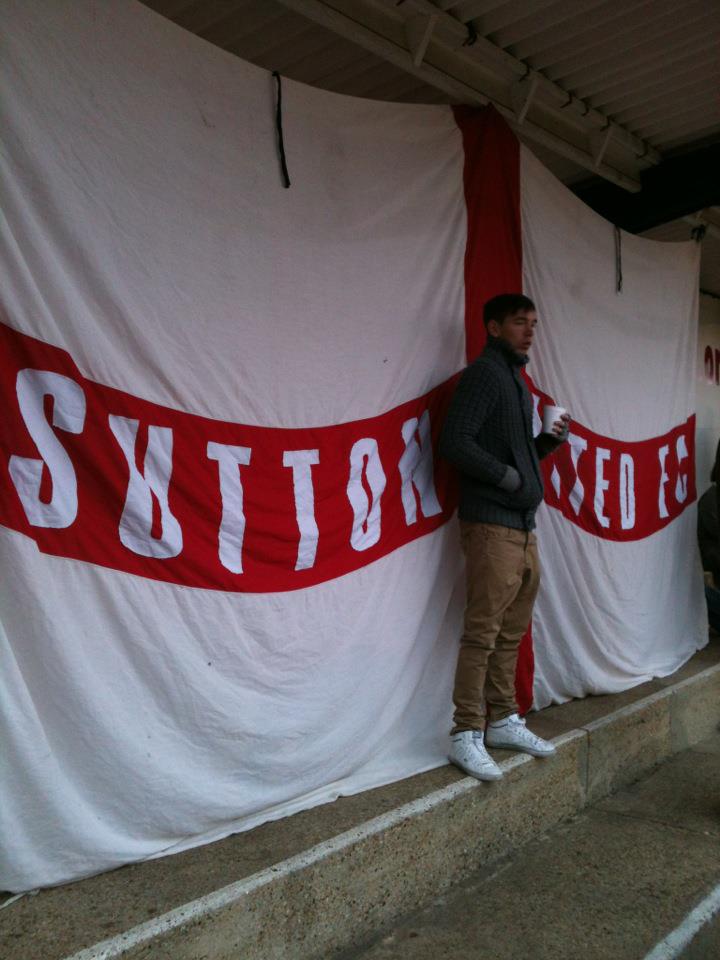 Juan cheats and uses a pic from the weekend….
2nd Half Action
So the first five minutes we seemed to have lost our way a little, with Welling having a through high ball over us, and in the direction of Shaw. Shaw came to collect , but miss-judged the bounce, and the Welling forward went past Shaw, to his left, and was given a golden goal scoring opportunity, but fluffed, or janked it over the bar….what a tit! Well that was a wake up call if ever there was one!
So heads back up and keeping positive. We were awarded with a free kick, stand side of the pitch, rents steps up and swings it in with his left boot, and misses every Sutton head, but collected far stick by Harry O and delivers the ball back into the box, but again another opportunity is cleared away by Welling.
Up the left channel comes Leroy with his left boot, and fires a shot in, but it's a bit of a weak effort from the fella.  With Marv, Beauts and Rivs trying to break down the Welling midfield as  best they could, putting together some cheeky sexual passes at times, it was only fair that at some stage we would find that elusive looking goal, until Downer takes his throw from out on the left which finds Ottoway, across to Rents back to Downer, who crosses the ball into the box to find the tank that is the goal scoring legend Dundo (50 goals for the club now) who places the ball past the Welling keeper, and we are one up….happy days, everyone going crazy in the Dean Kirby Terrace. GET IN!
Welling up there game after going one down, for periods of time our back for our under siege with crosses coming in from different angles…but to be fair, most efforts on goal are dealt with by the big fella Wayne!
But Sutton being Sutton tonight, we don't just fancy sitting back on a one-nil advantage, we carry on like we really want to finish the lads off, and take all three., and you know what we did. A Cheeky run from Marvs down the right flank steaming past his man, dinks the ball in the box, towards Harry O, Harry O turns knocks the ball half a yard to his right, finds his spot, pulls back the trigger……and lets fly, back of the onion bag, happy days we are two up, can we believe. So the Sutton faithful in the Dean Kirby Stand go mental once again in celebration as we take the two goal advantage. Let's be honest its about time Harry got his goal, a well deserved one two in my opinion! Still, at least that will give him even more confidence come Saturday!
So we have another handful of chances, and were not giving up which is a bonus, we keep attacking and really want to bury Welling in the ground now.
A couple of changes were made, Marv Goes off and is replaced by Sinclair, and Ottoway is replaced by "the gun for hire" -those that have read a previous blog, will know whom I speak of !
So all is going well with our 2-0 lead until Jamie Stuart lacks real drive to clear the damn ball away, by giving away possession in a stupid position..if your not sure, just clear the ball away! Anyway Welling latch onto the poor clearance, which leads to them sticking past 'ol Wayne!
So the game finishes Sutton 2-1 Welling!
Still happy days eh, 3 points in the bag, which pushes us up the table to 13th, gives us a positive goal difference !
Too many good performances tonight to pick out just one man of the match, but for me I'll give a special mention to Wayne Shaw who did a Stirling job tonight…and as we all say "he's fat he's round he's worth a million pound"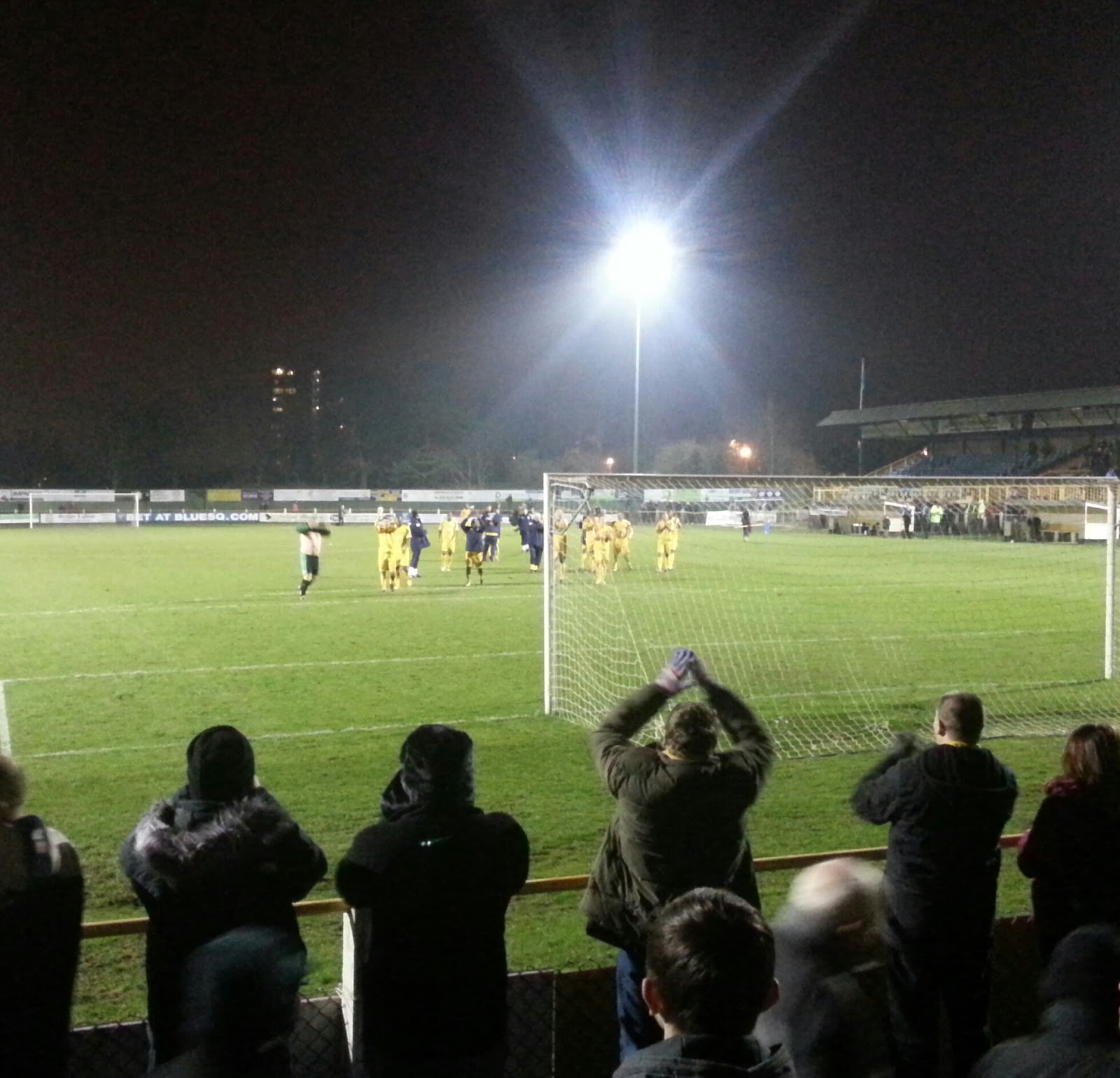 Clapping the boys off….
Onto Saturday..Eastbourne at home. See you there.
Juan