Another sober affair….
Well seeing as this is the first time I've Blogged on the same night after the game, I intend to keep it short and sweet for a number of reasons. Firstly because we got smashed 5-0 at home in a BIG game, which potentially if we had won = more money in the coffers, and secondly'cause me trusty plummers mate pen decided to give up the ghost, and run out of ink just after half time-must remeber to take a spare scribe for future note taking!
So, lets start with a couple of positives.
Firstly no Snow or rain arrived as per the forecast generally found on the BBC website, or as it's now know the Amber Planet Forum!
Secondly the game was on! I'll point out here, the man in black decided to almost call the game off a couple of hours prior to kick off!
Well that's the positives out the way, onto the game.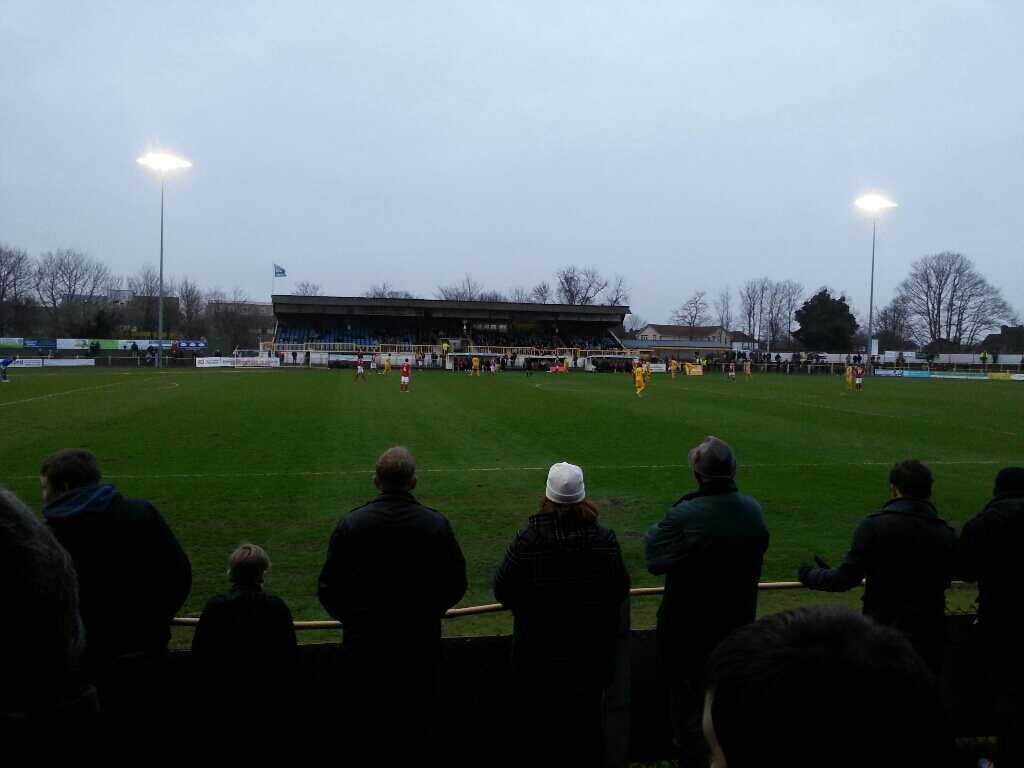 GGL. A little busier than normal….


First 45
So first half we started brightly, we came out the starting blocks with a positive stride, and focus. We were awarded a free kick within the first 5 mins-taken by Rents, duly delivered towards Ottoway, which was cleared away by Wrexham for a Sutton Corner. The corner was then delivered into the box by Kavs, which was cleared away by Wrexham only to find Old, who put his shot wide.
Throughout the next 10-15 mins we were putting together some neat passing, a nice bit of 1-2 football between Dundo & Marvs. A few typical runs from Marv down the left flank, and Marv getting the ball into box, but just not finding a Yellow shirt!
So we kept the pressure going , and kept Wrexham on the back foot. I don't think Wrexham thought we were going to be playing this well for the first 25 mins or so.
We were awarded further free kicks taken by both Rents & Kav, one of which came back out to Kav, and his shot was deflected wide, and again put out for a further Sutton Corner. Again delivered into the box by Rents, cleared out by Wrexham to Downer, who put his shot over the Bar.
So further pressure from Sutton, we really were looking as though we were up for this one.
Wrexham were having trouble dealing with Marvs down the left flank and the power and strength of Dundo in the middle of the park.
Speaking of the Man of the Match (Marvs) he was taken down on the outside of the box by getting knocked on his ankles, and the free kick was duly taken by Beauts.
At this point it may well be worth pointing out Beauts has been down at Exeter this week training or whatever you want to call it! Hmmm think what you like on that! Will he be with us next season or will he be off to pastures new.
So we just seemed to step off the gas and let Wrexham take over the possesion and they were working our right channel, with some great movement and passing of the ball. You could tell they were a full time squad, and you could see why they were top of their league pushing to get back into league football. Well they certainly had done thier homework on us, that's for sure, and yes it pains me to say it, that YES we had watch them play twice. Yes yes I know they had there main striker suspended for this game, well clearly that made sod all difference-don't believe what you read in the papers, especially the Guardian, what a load of 'ol shit!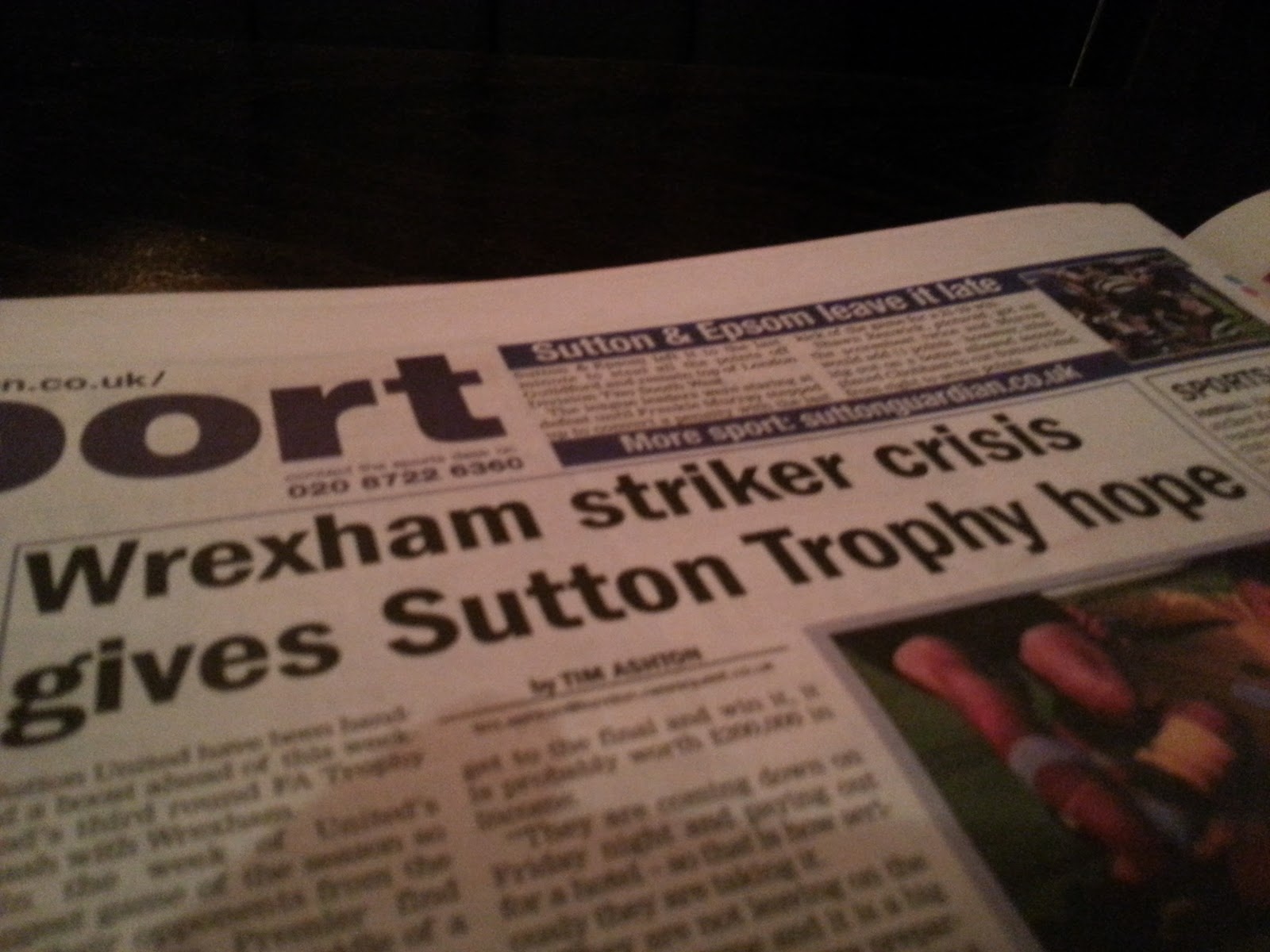 How to make yourselves look a bit stupid…..
Any way back to the game, where was I (goes back to trace some kind of scribble on pages of note taking book). Oh yes that's right, Tommy Kavs gets booked for a perfectly timed challenge! From that it seems (the Wrexham free kick) we just fell apart, and go 1-0 down, and I mean fall apart, a total loss of positioning and composure! Bollox, a big game, we are playing well, and are putting the pressure on the big boys and we go and give away an utter shit goal-seems to be the trend of the season at the moment! So we let one in around the 32 minute mark! ….and then the whole world and our Trophy run seems to come crashing down!!
So in the blink of an eye we go 2 down! I pinch my right arm just to see if this is a dream or a nightmare, and oh yes no,yes no, it's reality as the 3rd bloody Wrexham goal goes in! Christ have we just imploded in on ourselves or what! Well what a mountain that's going to be, going in at H/T and trying to come back from three down, oh yeah, well anything's possible eh! Well it aint when you going in ay H/T and you go and concede another one and go in 4-0 down at half time!
Well, I knew now, this wasn't a bad dream, this was a fookin nightmare!
So, I've herd of hills to climb, but bugger me this was a Mountain…Jesus!
So H/T arrived, and this weeks lucky winner of the Boost the Budget comp was won by "Bornatotters" (can be found on Amber Planet under that alias) daughter Jo Martin, good attempt at the crossbar, unlucky, but she has won free entry into our next home game.
So onto the 2nd Half-2nd 45.
My pen at this stage was suffering, ink running low, it looks as though, looking back at my notepad, i've carved into the paper-I knew I should have trained to become a tattooist! Ink and carving, how hard can it be…. maybe not….i'll just stick to writing this old sober affair for now!
So we came out with a bit of fight left in the belly, surprsing really given that we had the air well and trully kicked, or rather sufficated in the first half!
well we nicked a corner in the first five mins taken by Kavs, which floated into the box, and was cleared away, leading to another corner taken by rents, which found Dundo's feet, which was clipped over the bar!
A neat bit of passing from Harry O accross the park to Marvs- who took one of his magical touches, but just couldn't seem to quite get passed his man to get the ball into the box…….
….and well by trusty pen died it's last oscar winning moment here…and thats all I managed to get! My memory has drawn a blank, partially because there's too much sugar buzzing through my body due to excessive amounts of Dietcoke and J2o's! …and adding to the fact …I'm trying to forget about todays some what dire performance. The first 25 minutes we played well, and there well….pppfffftttt ! Yeah that'll do I'll describe it with a Ppppffffttttttt !!! Time to get the basics right first and foremost, and then build on the pretty football. Time to go back to the ruff tuff take no prisoners type football, get the ball in the box-use wingers, and get an out an out striker who can get the ball in the net! ….lastly get rid of the dead wood, or as I like to call them brown envelope collectors! Maybe a tad harsh, but they say the truth hurts! Normally I'm quite reserved in judgement, but after today and how we played I find it hard to take positives away from that!
and I quote Taz, we just lack that real BIG push in big games ! We are the underdogs in big games, and I'll allways standby my team, but there are some players in this years squad that need to prove themselves !
And now I quote Marky N (two quotes in two consec blogs…you lucky lucky man!)
"You gotta have faith"….I got faith!
Well enough of that shit! Onto the Bar, the famous S.U.F.C bar that is! So there's me drinking the 'ol faithful Dietcoke-honest Guv I don't have an addiction, I've just got a medical problem! So after trying to brighten up a crap day of football, we all remind ourselves of Duke's outing to his fav night spot in Sutton. Or as he refers to it, as Moose hunting ground…well after all the boy is young, and as he puts it, he's got needs!
Yes the night Duke pulled a Sutton dreamy girl, maybe the 'one', or maybe not the one! So yeah we all had a laugh at Duke's night of passion, which amused us for sometime, re-reading text messeges exchanged between parties the next day!! Ha ha ha ha Duke you legend, where would we be without you and your humour!! or should I say fuck Up's!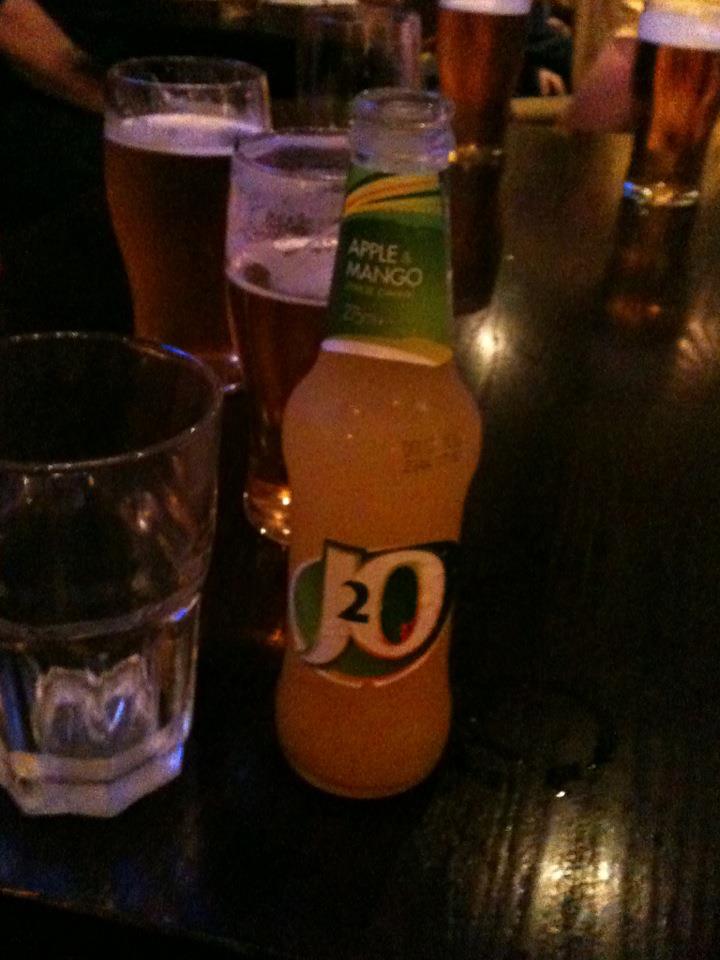 A refreshing beverage…
So after leaving the bar, we headed into the old faithfull grapes for a few more…I say few more, for the rest of the firm it was beers all round for me it was J2'o's , and other crap non-mind changing liquid !!
Yes, that's right ladies and gents, that's how extreme my drinking is at the moment, Apple & Mango fookin fruitjuice!
So inbetween various Yes, and no, that's not conversations and various tweets, annoyance, frustration and anger, more beers ciders fruitjuices were knocked back, turning the Grapes into some what of a rather excited place to be if you fancied a disscusion about non-league football, my mum (again-Miller ya knob) or loosing in BIG matches, talking to strange people, getting stared at for wearing a football top, getting talked about for wearing a football top, eating cheap pub grub, well the Grapes is the place to drown ya sorrows!
So tonight's comical moment goes to Miller or as old readers will know him as Windy. He knew I couldn't drink so he decided to perk up and offer to buy everyone a round, so I thought it only right to get in on the action….and well, this is the drink he got me (see pic below)…..one day Miller, one day I'll get you back…….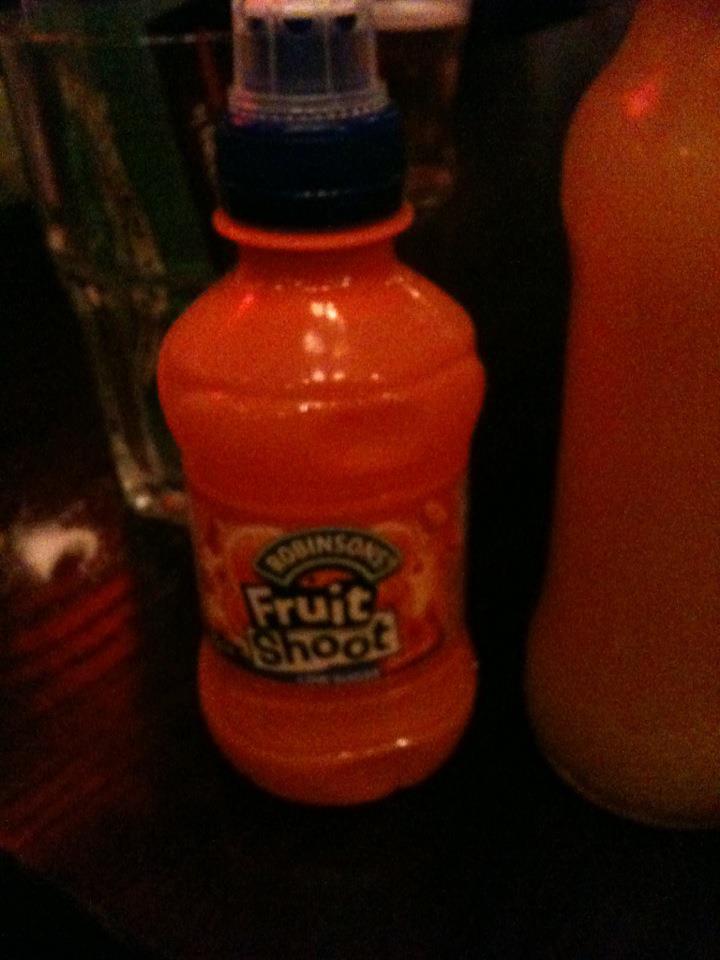 Well, he did ask for something 'non-alcoholic'…..
I know I can't drink right now, but no need to take the piss that badly…..!
My apologies for the lack of football realted pics, but the drinking ones-seemed funnier! Or rather I as I was told, "that's fuckin funny" you've gotta write about that!
So at the point of being bought a Fruit Shoot, and being told by Taz that you can buy 'em at Rose's Tea Hut it seemed only right for me to leave the hardcore in the pub, and for Juan to retire for the night.
So i'll leave you with a Juan final moment….
….it's the Surrey Senior Cup next Tuesday, will the lights go out on Sutton United, for those of you there last year, you'll see that I've played on the words a little there…
So the scores on the doors…out of ten.
Football 5/10 a generous five.
Drinking 3/10 can't drink won't drink
Entertainment value -post game, a classic 7/10.
Of course I apologise for the lack of grammer and other bit's in tonights blog, I'm tired it's just gone 1 am I've had too much sugar, and I'm trying, very hard not to feel down.
Oh well onto Tuesday, and it's Surrey Senior Cup time. Well that's Dukes baby, so he'll be doing the write up on that one!
Oh yeah, and if you're not following us on Twitter or Twatter, then why not….follow us, do it you know it makes sense! Scroll back up the page and look to the right!!
That's all from me….for now!