I fumble with the keys, trying to remember which is the right one and try a couple with no joy before on the third attempt, one finally turns in the Yale lock and in customary fashion with the floorboards creaking under the effort, shoulder the stiff old door open and half stumble into the gloomy interior beyond. There's a blind covering most of the one solitary window on the far wall, but there's still enough light to illuminate the dust now floating in the air, no doubt disturbed by the sudden movement of my less than elegant entry. Ah, it's been a while since I was up here in the old Gandermonium editorial offices I can tell you. The familiar, musty smell of stale cigar smoke and kebab farts fuelled by bellies full of ale and Dark Fruits hangs faintly in the air with the dust as I fumble for the light switch by the door.
Eventually, the room is finally illuminated by a bare, single 40 watt bulb dangling from the ceiling flickering into life. As my eyes adjust to the change in light, I can now see the battered old leather wingback chair in the corner, Totts favourite spot where he used to sit, his feet up on a perfectly measured stack of Dukey's adult reading material whilst puffing on a Cohiba as the rest of us argued the toss over all sorts of fucking nonsense and hoping to avoid being asked to do another blog loaded with 70's nostalgia and knob gags to help get our arses out of the fire and pull in the punters. On the chair sits a battered old humidor, that I know for a fact will be empty. Totts would never leave a decent Cuban lying around, that's for certain. An empty bottle of Johnnie Walker blue label lies on the floor under the table next to the chair along with a stack of battered vinyl records.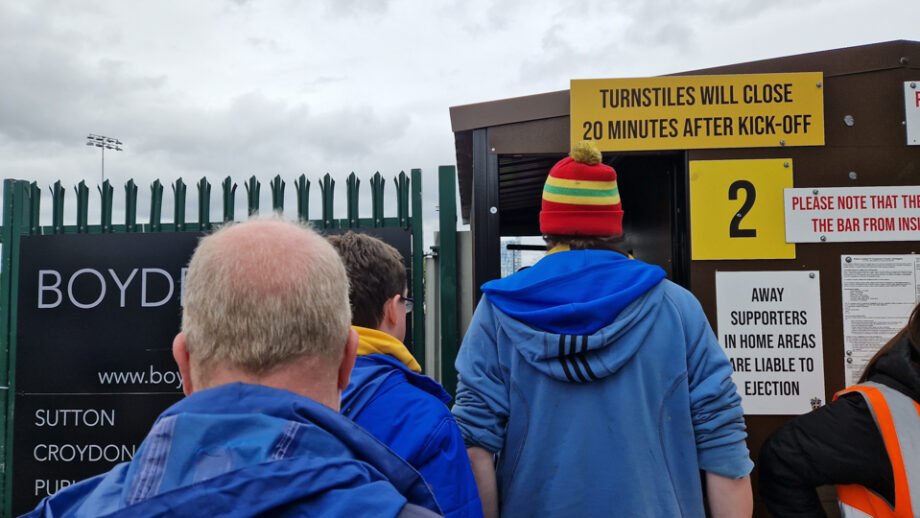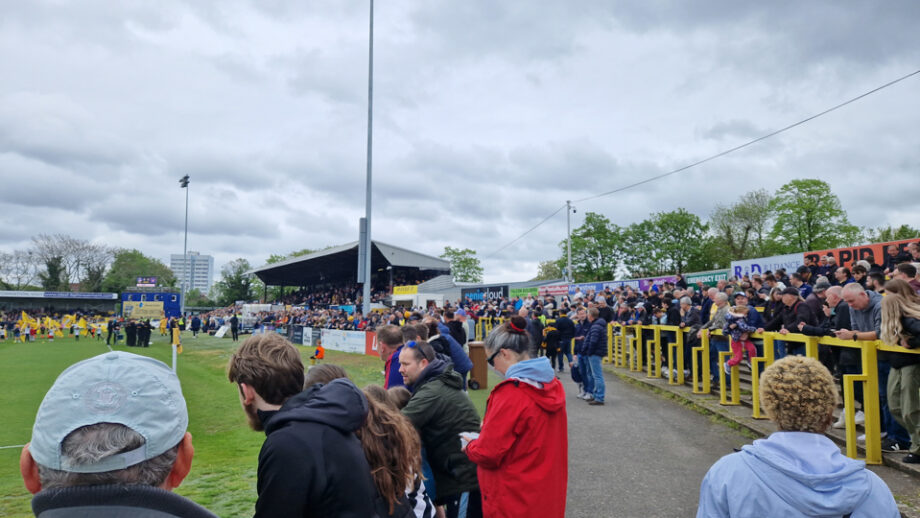 On the table a knackered old vintage Dansette sits unused with a disc still on the deck. Probably the Clash knowing Totts. Across the room is Dukey's "Imagineering" pitch, a tattered and torn bean bag plonked in front of a small portable colour tv with both a VHS and a Betamax player underneath it. A toppled stack of more exotic reading material, a couple of tapes and an old Littlewoods catalogue to one side, a full ashtray and a couple of crushed, empty Dark Fruits cans on the other. I quietly thank whatever deity that is listening that there's no open box of Kleenex visible as well. That bean bag is definitely one for the skip I think with a shudder.
Against one wall is my desk, the shit old 'Tiny' PC still sits, now unused in a good while, it's yellowing exterior almost Sutton Amber in colour having spent a few years in here absorbing the combined output of Totts lad-de-dah's and Dukey's cheap Eastern European duty free fags. There might be a window in here, but it never opened, not even sure we tried to be honest. A load of various crap is pinned to the wall above the monitor. Old team sheets, faded match tickets and a rare golden goal winner, along with a couple of print outs of AmberPlanet forum posts coating off various members of the gang. Next to mine there's Robbo's own spot, a studiously tidy little desk where a pot of perfectly sharpened pencils sits in front of a neat stack of paper, his English A-Level certificate hanging in a frame on the wall above. He'll be wanting that back I guess.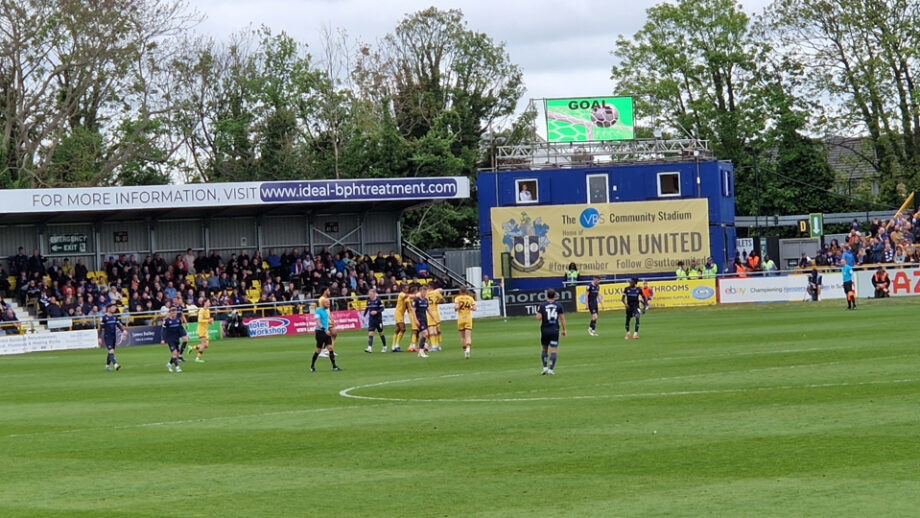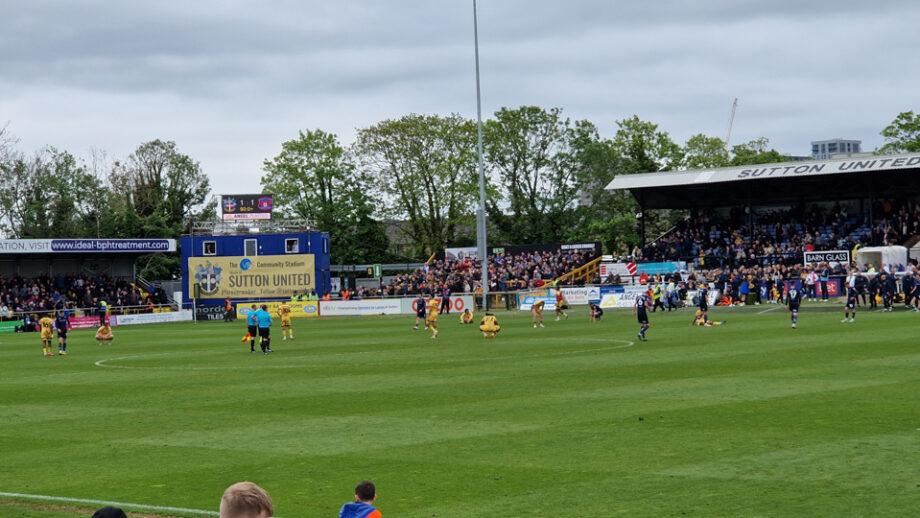 In the other corner, behind the door is our trusty fridge, which I definitely am not brave enough to open, with a kettle and 4 chipped and tea stained mugs sat on top. Beside this sits a battered cardboard box next to a stack of others containing amongst other things, unsold 7 inch singles of 'Back on the Shoebox Terrace Again' and Comrade X 'Sten Guns in Hackbridge' t-shirts. Ah yes, that'll be Juan's stuff we already cleared up ages ago when he quit, going by the copy of Cycling Weekly I can see on top as well as the 'Juan Sheet' scrawled messily on the side in crayon, in what is definitely Dukey's handwriting. "Suppose I'd better get clearing all this shit out" I mutter to myself, finally closing the door. "Ah bollocks to it…." I add before parking myself in Totts wingback and putting my feet up on the stack of pornos. "…I'll get started in a minute". Right, how do you turn on this Dansette?
Yes folks, this is it. End of the road. Last stop. This service terminates here. As I mentioned a while back, ironically, in the Carlisle away blog in December, you are now reading what will be the last regular entry here on the pages of what we call 'Gandermonium 2.0' and what you probably know as "That load of bollocks from those Sutton United dickheads". After now more than 10 years of churning out this nonsense since Dukey & Juan persuaded me to restart and give them the keys back in late 2012 and not a single competitive game left uncovered in that entire time (no really! And no, friendlies definitely do not fucking count), it is time to clear out the old metaphorical office, load up the van and lock the doors for the final time. I've also genuinely no idea how we've managed to get every game covered in that time as there was a few tough assignments along the way, but by hook or by crook we managed it, from Dublin, to Glasgow, Guiseley and Wigan and a few spots in between, sometimes using methods that people of less than stout dispositions, law enforcement agencies and treaties from Geneva may have frowned upon. But fuck it. What's done is done. And anyway, you try finding someone to do a midweek away in Halifax at a couple of days notice. It's not fucking easy, I can tell you. So yeah, if you contributed to it along the way, cheers. We've definitely already bought you all a pint for it as well. No, you fuck off.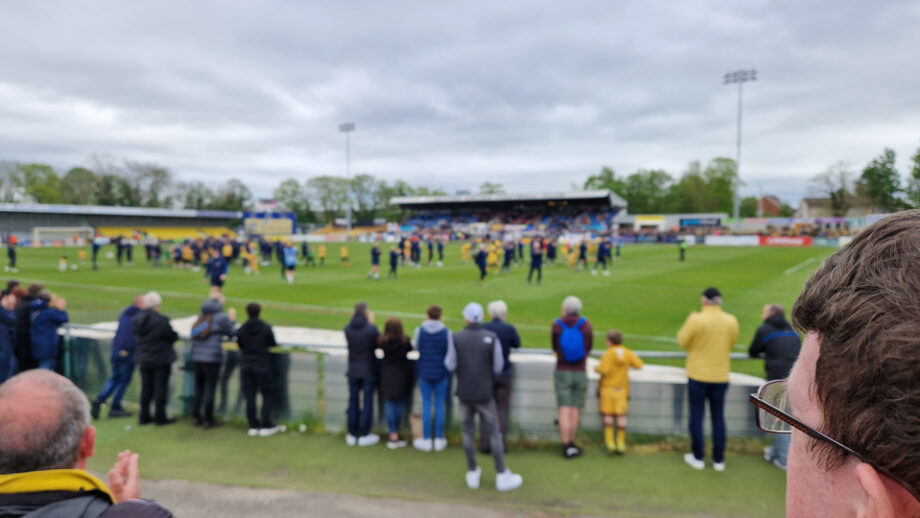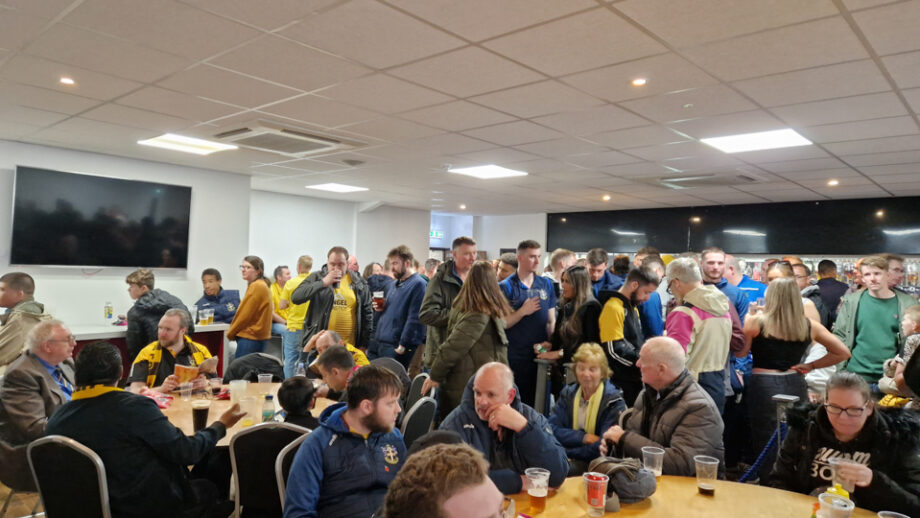 And so we move to the last day of what has been a long old season and Carlisle at home. This campaign is drawing to a close, oddly, on a Monday. Mainly as it seemed the FL didn't fancy upsetting loads of flag shagging wankers and daring to play our national sport on the same day some posh lad called Charlie got a new hat. Still, at least the aforementioned Charlie was nice enough to say we could have the Monday off to kick our balls about and what not, so that was something I suppose. Of course, some tit then went and decided to make it a 12:30 kick off. Marvellous. Still, having the Saturday doing nothing was certainly a nice treat and enabled a lie in along a relaxed watch of the absolute madness of the National League play off semis out the corner of our eye in a mildly disinterested fashion from the sofa. Bastard League indeed, with 10 goals between them and both games seeing stupidly late equalisers in added time on the 90 before being settled in the extra 30, with another late late winner in the case of Notts County who saw off La Bastarda top shithouse villains Boreham Wood at the death. We also got to see on the Sunday who would be joining us from League 1 as they saw out their own last round of fixtures, with the already doomed FGR returning to the fold along with Morecambe, Accrington Stanley and some retail park in Bletchley. The latter no doubt being welcomed back with open arms by that mob on the other side of the Thameslink loop. And not because of the ample parking or the drive thru KFC. Still, 2 new grounds is not to be sneezed at I guess and gives us a little something to look forward to when the fixtures drop in June.
With the early boot off, I set my alarm for 9 and dragging myself into the shower, I'm soon feeling far more alive. When I emerge, Mrs Taz is also up and about and a cuppa awaits me in the kitchen when I go to knock up a couple of rounds of toast. Lovely stuff. With it being a bank holiday, I'm again reminded that buses will be shit and about half 10, I'm bidding my beloved farewell and heading down Croydon Road to grab an X26 into Sutton. As I stroll, I get some sounds on and am immediately treated to 'Sunshine on Leith' tipping into my lugholes. The bus is busy but this being the quickie, I'm jumping off at the post office soon enough and with a Greggs in hand, begin the walk to my very own little paradise. Outside the Spoons is the now customary assembly of old bill & vans mooching about in such numbers that even Putin would think twice about poking his oar in round here, hardly surprising given that the visitors have apparently sold out their allocation for today, so there's 1400 almost-Scots in town for this one. Another thing that would no doubt make old Vladdy P think twice about starting a ruck for no good reason. The walk is quiet although I'd wish the weather would make it's bloody mind up, with it being a little muggy with my jacket on and a bit nippy without, I can't decide which is the more comfortable. At the top of the driveway, I find Frakey on guard as always, chatting to Scotty Coaches. "How long you hanging around for today then?" he chirps, referring to our "Fuck this, pub" departure after an hour up in Rochdale. "Depends how shit it is mate!". And at least today the return journey to the pub won't be anywhere near as long if it is.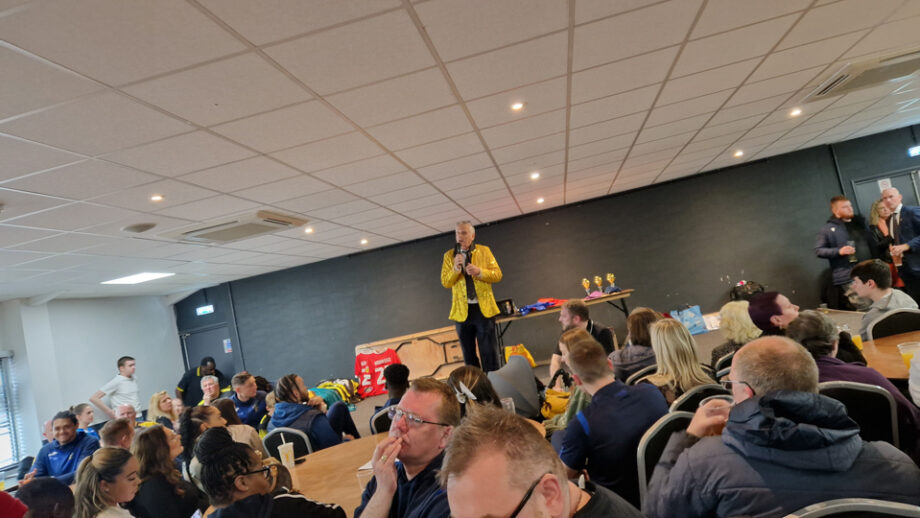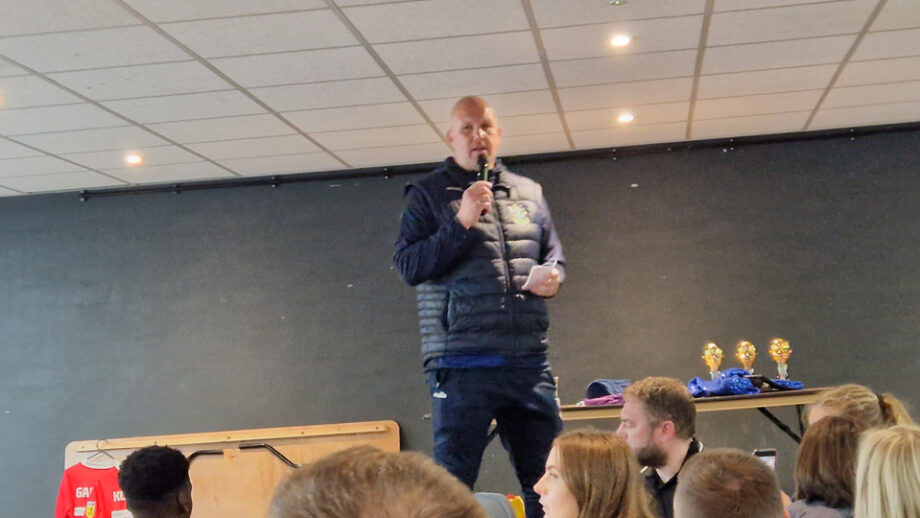 As I near the bar, SLO Loffers appears and looks a little tired. Busy day my dear? In the Allders, a pre-match brunch is underway and I refrain from nicking a pain au chocolat on the way past lest I incur the wrath of someone who's actually paid for it. In the back, I find the players bar replete with some new furniture that looks like we've been rooting around in skips outside the CBeebies studios and perched at some new high tables are Dr Bell, Steve and Rax enjoying a pint. "Here, I've just got Steve one" confesses the good Doctor, handing me fiver. Touch! With the main bar the only one open, I pop back out and get a pint of Guinness in to kick off as 4Days and Lil' Chris roll in. As my pint settles, we get to hear about our new sponsor for next season, something to do with lasers apparently, which sounds cool as fuck to me. I hope they've got a silly ska'd up ad jingle like Angel Plastics did, which if you're dealing with lasers has to be a given, surely? I'm also reminded that we again have a cultural exchange with our friends from Forres Mechanics up in Scotland and Roddy, Paul and Mike are in tucking into the continental spread along with a pint. Back in the players, we watch a re-run of the Notts-Wood play off madness on the telly as we catch up. Soon in are Ipswich Lee, fresh from a good 2 weeks on the lash after the Tractor Boys League 1 promotion. He's been so caught up in it all, he's not entirely sure if he's still married or not. "She called me a silly Ipswich man as she left the house last and I haven't seen her since!" he admits with a shrug. He's also keen to show off his 90's retro Sutton hotness with an old 90/91 one season wonder shirt he picked up of eBay ages back. First time I've seen one of those in god knows how long!
Rose, Kizzi, Boldewijn, Goodliffe, Milsom, Hart, Ajiboye, Beautyman, Smith, Kouassi, Angol. SUBS: Dickinson, Rowe, Fadahunsi, Neufville, Gambin, Dundas, Wilson
As we sup and the bar fills out more, we're joined by Greek from Brunch along with Roddy confirming we'll be around for one after. Also drifting in is Chalmers and his good lady. We also find that Jamie Collins is in the house today, obviously as Havant's season ended without involving the inconvenience of the post season bunfight, he's got some time on his hands to do some, er, scouting. Still, JC's on good form and seems to be enjoying his first management stint regardless of the season's outcome. "No doubt you'll be hovering for a few of our cast offs today!" chuckles Belly. The Doctor also voices a feeling of confidence about the big money prize in SAK afterwards. "If we do come out mate, I'll go do it" I offer. With pre-match being shorter than normal, we only get time for two and as 12:30 approaches, we leave the already mostly deserted bar and head for the turnstiles. Here's hoping that we can put in one more shift and end the season on a positive note. Shouldn't be hard, they're only one of the divisions top scorers and looking to seal a play off spot. Doddle. Ahem.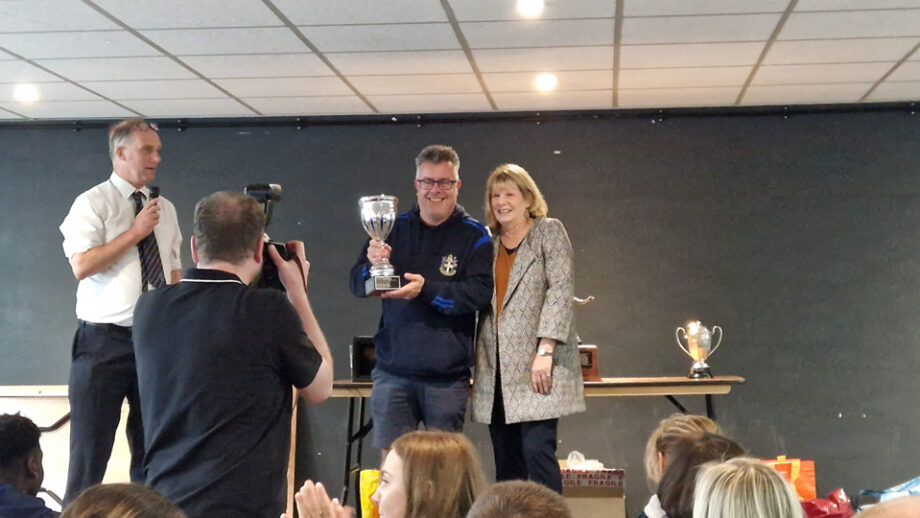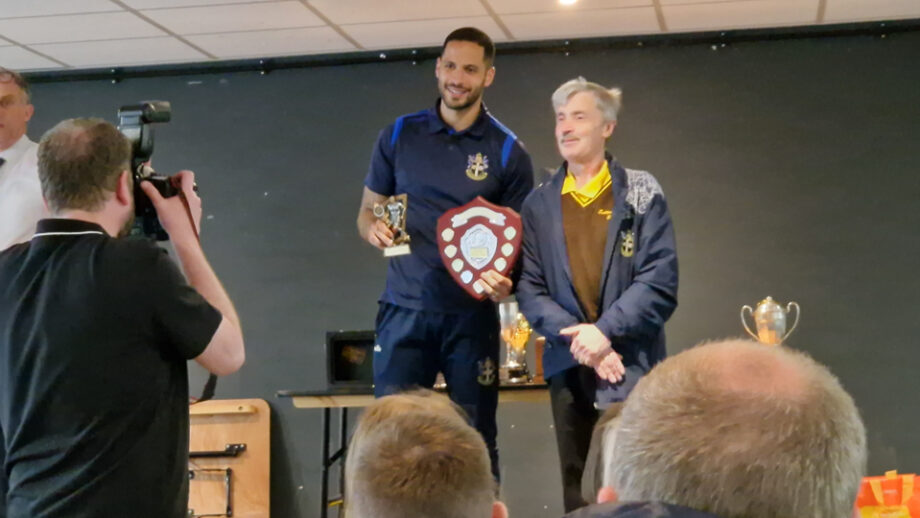 The early rumblings on the pitch are fairly even, but we're at least looking a little sharper today and Dave has a dart that's ended somewhat cynically and not deemed worth a card by the ref. Milsom whips it back post, Ben nuts it back across and Angol can't quite keep his header down and it drops onto the roof of the net. But before we hit the 20 minute mark, we do a weird thing. And score. Kylian works hard wide to win the ball, lays off to Enzio, has a run inside and gets the return inside the box and confidently steadies himself before firing into the bottom far corner. It's a nice moment for the U's Academy product who's sadly not quite had as many minutes as we'd hoped earlier this season. A couple of minutes later, the oppo are almost back on terms after a soft as free kick is awarded about 20 yards out. Taken quickly and short, the resulting shot thumps back off Jack's cross bar and the rebound is shanked well wide. Wakey wakey lads!! The rest of the half is pretty even, but Dave really should give us a 2 goal cushion not long before the break when Angol nips in on some keeper\defender confusion and lays the ball back to Ajiboye with the goal gaping. But rather than take it first time and make it 2-0, he takes a touch, a defender closes down and his lifted effort is too high and lands on the roof. Sighs and hands on heads all round on the Curva.
At the break, the score line means that we'll possibly finish 13th, which kind of sums up the campaign quite well I think and Mr X tries to convince me that Sam Hart, playing in a wide midfield spot today, is actually from Essex and not up north as literally anyone but the daft token Scotsman could attest to having heard the lad speak even just the once. "Pretty sure his nickname's 'Manchester Jesus' in the squad mate!" I add, as if to try & add needless weight to my already watertight argument. With the wind at their backs 2nd half and shooting towards their fans, Carlisle come out after the restart and set about putting us under pressure. As with many games this season, we have defending to do, but there's not a lot of actual danger a lot of the time and as the half wears on, the best they can muster is one decent low ball across the 6 yard box that 2 lads sliding in front and back posts can't get a touch on. Meanwhile, we offer little in attack as just keeping possession in higher positions seems to be something that's deserted us after the break and not for the first time this season. However, like after being level up there in December, we're in no danger at all as time ticks down until a long throw from the stand side is flicked on and Joe Kizzi can't adjust quickly enough to guide his own header anywhere other than inside the near post to make it 1-1. "Fist fucking header from a set piece he's got on target all fucking season" is one comment near me. Kylian forces a sprawling save soon after from their keeper, but we never quite look like nicking a winner and at the final whistle, players on both sides slump to the turf after a long, hard old season.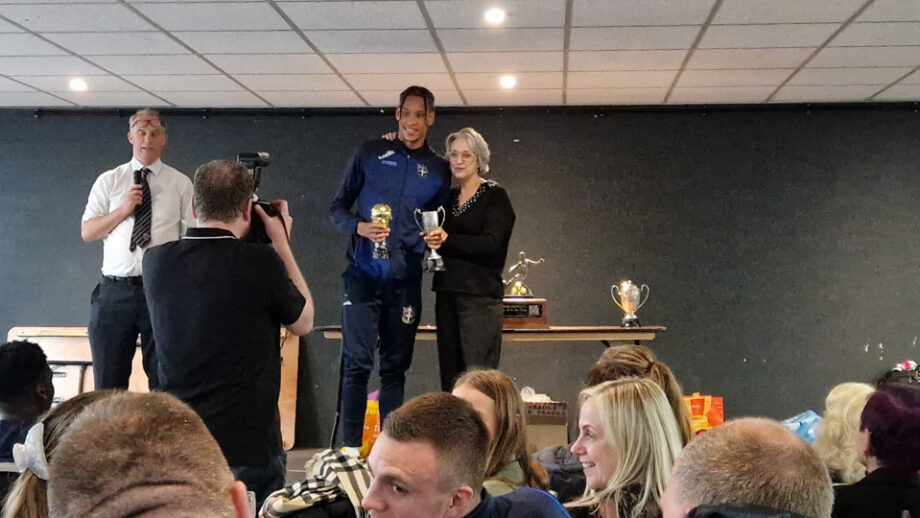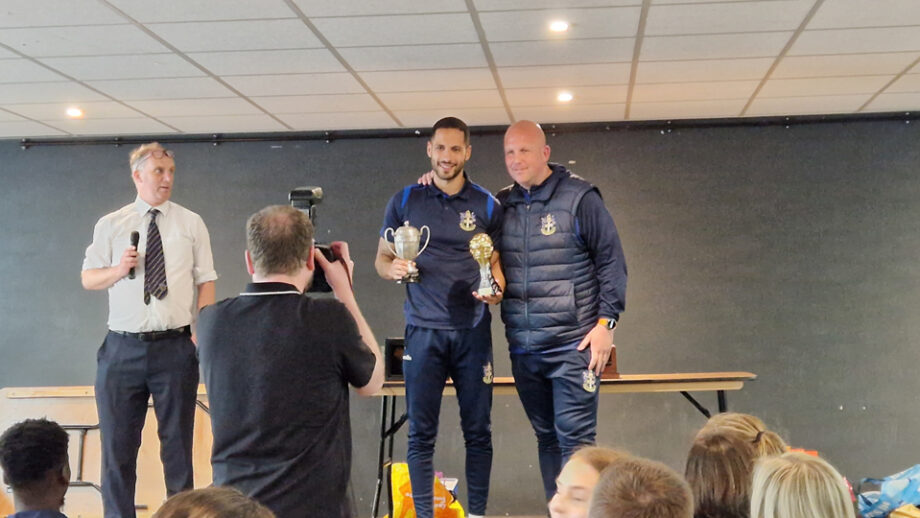 Results trickle in and in the end, we wind up 14th, which to be honest had we been offered that in August we would have almost certainly taken with a smile and an overly polite stream of "Thank Yous". Still, the mission is to stick around as long as we can and with the new SKY tv deal announced this week for 24/25 season meaning 40-50% more cash moneys above what we're getting currently, that will no doubt remain the aim next season too. 50 points anyone? Carlisle's point gets them 5th and they go into the play offs next weekend. Eventually, the players wander round on their farewell lap and take in the applause of the remaining crowd. Right, time to get a pint in I think? With Greek having bagged a table in the main bar, we head there and take the weight off before I duck into the back bar for a quick catch up with Kev who I've not seen in a while. Then it's back to the main room and the big end of season Strikers are Key draw. SLO Loffers is dragged up on stage to be Debbie McGee to AB's shouty non-Magical Paul Daniels and the first ball out ends up with Sam Hart offering to pull out the key as the 'winner' isn't in. "Yeah, he does sound a bit Northern" admits a sheepish Mr X as he walks past to chants of "Manchester Jesus" from the rest of the squad. Sadly he fails to open the safe, so another ball is pulled. This turns out to be Magnum PI's, much to our table's disgust.
This soon turns to mocking delight as he too fails to open the safe. Right, two keys left, 50-50 chance. "Bollocks to all that messing about" mutters Dr Bell "We only need the one key Taz old son!". Loffers does the deed again and this time she pulls out…..Steve's ball! Fucks sake! Keep it subtle love, people will start asking questions if this carries on! Naturally, more disgusted heckling follows, along with more delighted mocking when he too fails to pick the right key. One to go. Winner takes all. Drum roll please. Loffers once more fondles AB's balls in his velvet bag and pulls out number 45. Oh god. That's OURS! Dr Bell sits there opposite me, wagging his finger in my direction with that daft "I told you" look on his grinning boat race. I'm never going to hear the end of this am I? "I'll be right fucking back!" I declare and head for the stage and 1450 sheets of lovely moolah. I dispense with the formality of opening the safe and instead insist that, as money equals power, AB can damn well do it for me. Come on shouty thesaurus man, get me my readies! This also somewhat changes my plans a little, as I had fully intended to do the off shortly after all this tosh was done with, but with north of 350 quid to soon be burning a hole in my wallet, I drop Mrs Taz a text to let her know I may be delayed a touch. "I'm getting sushi take out then" she declares in reply. So that's settled then I suppose?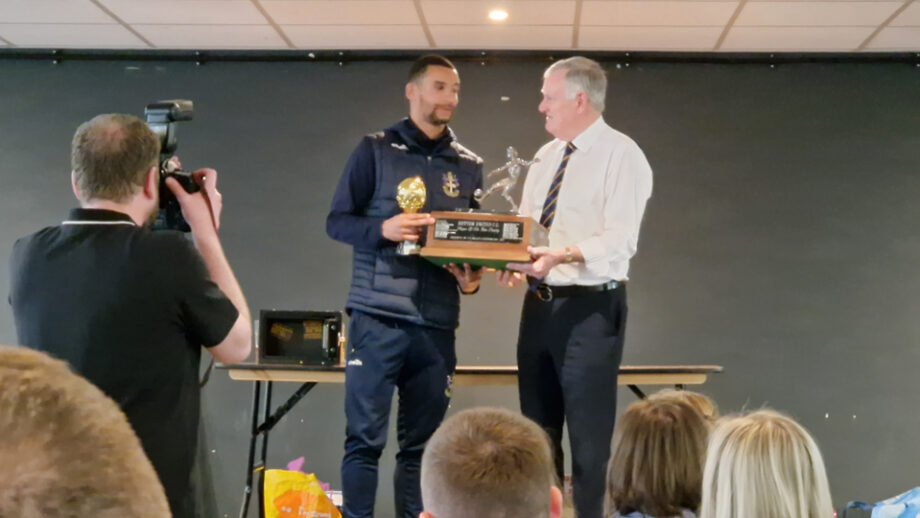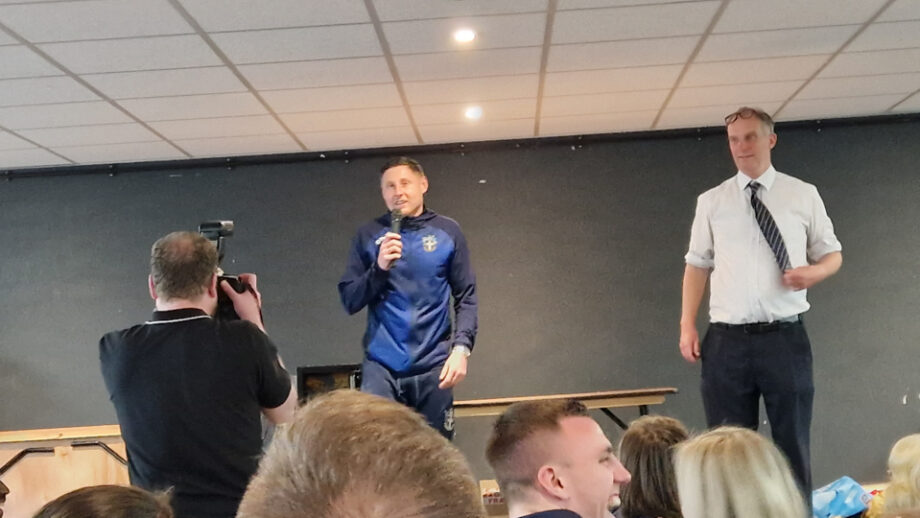 Paid up, I divvy out shares to Bob & Cath as well as Dr Bell, the other members of the 'Lennys Size Nines' syndicate, which everyone is delighted with as it's the first time in about 5 years we've even been drawn out, let alone won. Next up is the usual awards stuff, here Joe Kizzi picks up Supporters Player as well as retaining the players player gong, something that Press man Tony Dolbear thinks might very well be a first. Young player goes to Ali Smith and Club Player of the Year of course goes to our skipper Easty. Who, having collected his loot and done photos, wanders off back to the bar cackling as Chairman Bruce announces that vice skipper Harry Beautyman is to give a speech on his behalf "Stitched me right up" complains H as he reluctantly takes the stage and thinks of something vaguely sensible to say. Good to see our lot are still a set of bastards then. More of that next season please gentlemen. League 2 has had an easier ride this year. With the gongs done, the shirt auctions start and despite my early plan of trying to bag one of the now super rare Red 125th anniversary shirts from the Crewe game, these hopes are soon dashed as some geezer lays out a daft 625 quid on the one remaining top, Kylian Kouassi's number 27. Fucks sake. In the end, I settle for picking up a Tope Fadahunsi away afterwards and be done with it as everything else goes north of 200 quid.
Right, I suppose I'd better get to the bar and spend some of these winnings before some of these wankers start crowing about being thristy. With everyone weighed in financially or with pints, we settle in and get to chat with the Forres lads finally who've of course had a fine old time once again and are thoroughly refreshed thanks to some top notch PRoWS hospitality. I also discover that Roddy is one of the names featuring on the back of our black third shirt as he'd bunged a few quid our way during our pandemic fundraising. Top lad! We also confess that we're well overdue another visit to Mosset Park and promise to try and arrange something for early in the Highland League season to get a few of us up there for beers and football. Time presses on and with bellies rumbling, I and Steve elect to bag the 20 to 8 round from West Sutton and hit up O'Niells for some dinner. Waving off Dr Bell at Gander Green Lane, as he totters off to get his missus a slap up chippy tea with his new found wealth. Soon after we arrive in town and pint up, Indy rolls in and after some buggering about with what's actually left available on the menu, food arrives as Steve gets to watch Southampton's slim Premier League survival hopes largely kyboshed as they get soundly thumped by a ruthless Forest. We're soon joined by a few stragglers from the club in Greek, Ossie, SLO Loffers, Tatey and Ipswich Lee, who rocks up with Easty's PoY 'to keep' award. Fucks sake, what is it with nicking stuff from end of season shindigs and ending up in O'Niells eh?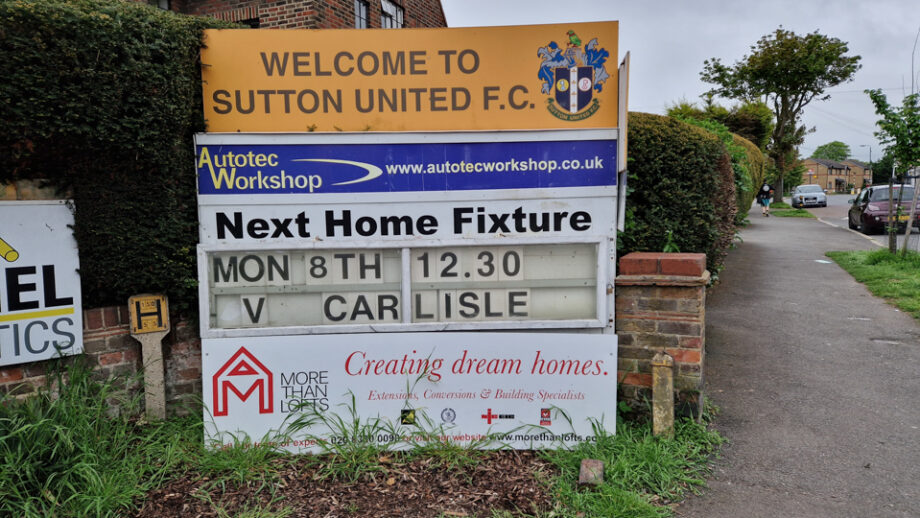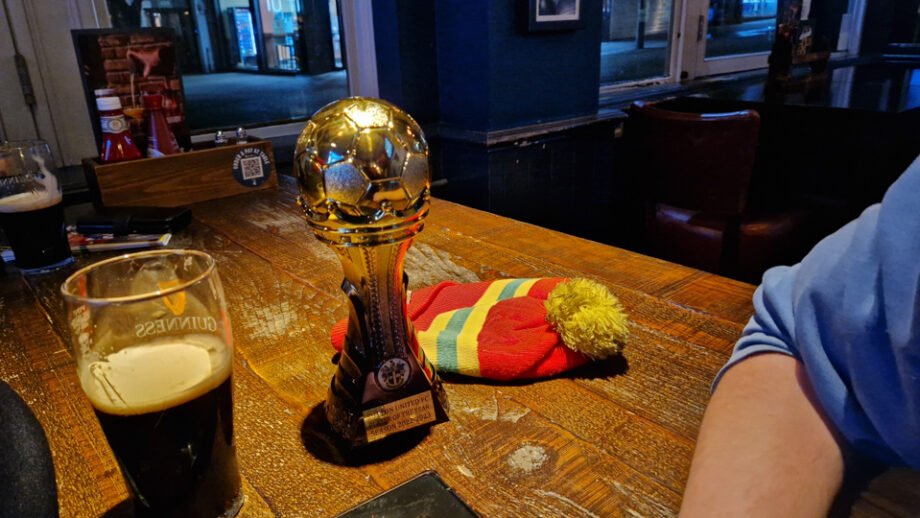 Fed and watered, I eventually take my leave of the remaining mob and with a 407 due head out into the rain to get my bus back to HQ for the last time this season. Thankfully it's on hand before too long and I'm back home to find a sushi stuffed Mrs Taz on the sofa watching some shite on telly. "Loadsamoney!" I declare, waving my wad at her. "What on earth are you on about? I thought you weren't going to get boozed?" she enquires. Clearly Harry Enfield inspired 'Friday Night Live' didn't make the tv schedules in late 80's Zimbabwe at all then. Disappointing when someone doesn't get a cultural reference innit? Guess I still have work to do on that front. Maybe it's something I can give more attention to now I'm knocking this nonsense on the head? Certainly an option.
Before I finish, a massive thanks to everyone for reading over the last 10 or so years and all the kind words we've had about what is, essentially, a load of old nonsense about childish idiots drinking too much and watching a standard of football in the lower reaches. Also thanks to Dukey, Totts, Juan and Robbo for making this version of Gandermonium what it is now and giving us such a diverse insight into all this palaver for you to all enjoy and also of course a big thanks to everyone else (Frakey, Clarkey in particular on this front) who's chipped in with entries over the last couple of years to help keep that daft unbroken run of coverage going. Your contributions mean more than you will ever know. Also, a final reminder that the site itself definitely isn't going anywhere and this crap will all remain firmly online for as long as we keep paying the bill. And we will of course be doing the odd entry now and again in the future as the fancy takes us, so keep your eyes peeled on the socials for those as and when they appear. If nothing else, you'll get annual Surrey Cup howling at the moon from Dukey. Guaranteed.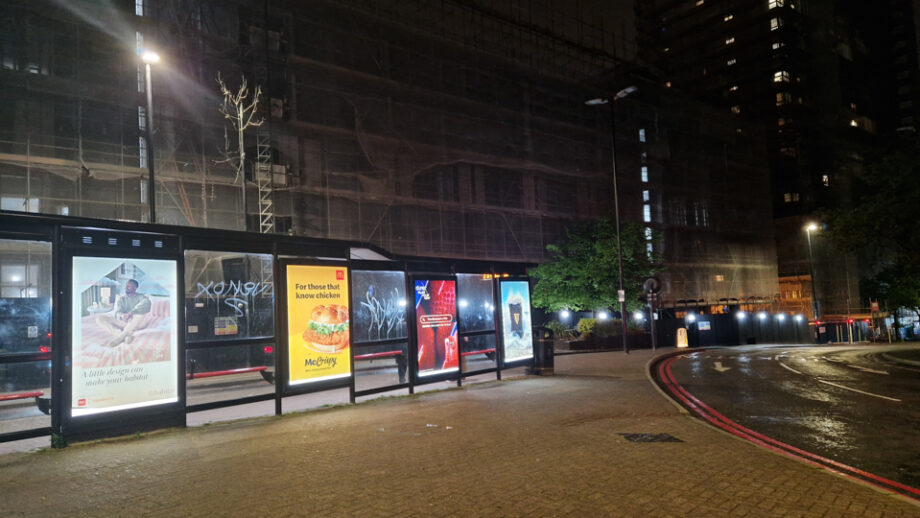 Right, that's your lot. I'm out of here.
Enjoy your summer folks. See you at the bar.
Taz