Welcome back to a brand new football season which remarkably is Sutton United's third as a Football League club. It's still hard to believe even now that they've reached such an exalted status and I don't think they got the credit they deserved for their promotion from the National League in 2020. Perhaps the ballyhoo was restrained by the fact most of that season was played under severe Covid restrictions with much of it taking place behind closed doors. Nevertheless as a traditional non league club Sutton did exceptionally to finish above many ex league clubs with significantly bigger resources.
Indeed Sutton had been playing Isthmian League football as recently as 2011 so to my mind their promotion to the Football League was a far bigger fairytale than Wrexham's this year. The Welsh club's success got the full bells and whistles treatment from the media which was pretty inevitable considering the Hollywood background of their owners, However with the wages they pay and the news that they actually flew to the vast majority of their away games a fairytale it most assuredly wasn't.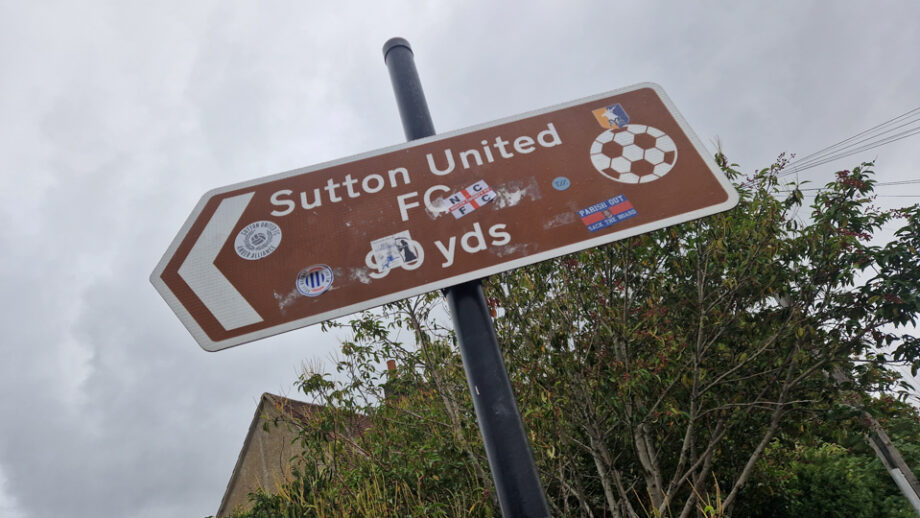 Well that first paragraph was all a bit serious and may have taken some of Gandermonium's usual clientele by surprise. Normally matchday blogs have swerved away from anything too considered and have instead concentrated on the authors valiant attempts to circumnavigate current day transport difficulties while also consuming vast amounts of pre and post match ale. However as many will know the Gandermonium massive have been knocking out this sort of material since God was in short trousers so have decided that from this season not every match will be covered. Instead there will be a more selective approach to which games are blogged ; although you may have already realised there is nothing select about this offering.
As those who've read my guff before will know I am first and foremost a Fulham supporter and have once again renewed my season ticket there. I was therefore tempted to go to Craven Cottage for their final pre season friendly with Hoffenheim before realising that at my venerable age I could see an actual League game at Sutton for the same price. What sold it most was that a good friend of mine was also coming to the match and suggested a pre match meet in the Gander. This is the establishment where I spent many of my formative years with my Dad on the road from adolescence to adulthood; although thinking back he seemed to be on the reverse journey at the time . One of our regular companions in those days was my lifelong best friend Mark Frake. He will be familiar to most at Sutton where he is club historian and match day car park steward who these days lives by the mantra ' If you're not on the list you're not coming in'.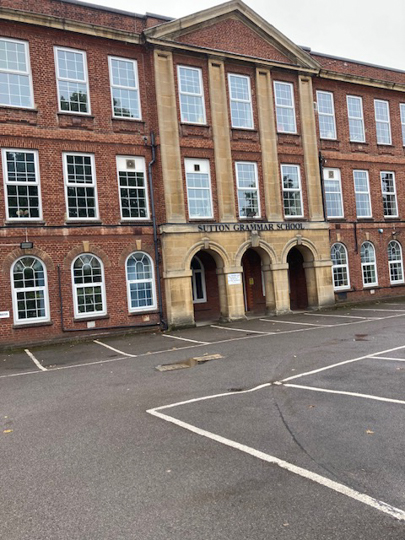 To those that know him his car park duties fit in well with his glass half empty take on life. It was in this vein that he tried to dissuade me from coming to the game. It was not only the fact I've been a bit of a Jonah on my recent visits to GGL but also his lack of optimism after the U's disappointing pre-season. It wasn't only Sutton's form that worried him. County had scored goals galore in hunting down Wrexham last season before deservedly (if nervously) navigating their way through the playoffs. They'd found La Bastarda an equally unforgiving mistress as Wrexham although by comparison managed to escape it in record time. With promotion secured they've strengthened further and with the wind in their sails are expected to do equally as well in League Two this season.
Frakey's innate pessimism failed to put me off though and even better than that he offered to be my chauffeur for the day being as we're now near neighbours on the Sussex coast. Car park duties mean an early start for Mark so we were on the road soon after 9am. Mark is more used to me taking the piss out of him but here I should pay tribute to the countless hours he gives the club either standing in a wet cold car park or writing any number of articles for the club programme. He and so many other volunteers are the lifeblood of Sutton United and are a big reason the club has remained humble and true to its roots.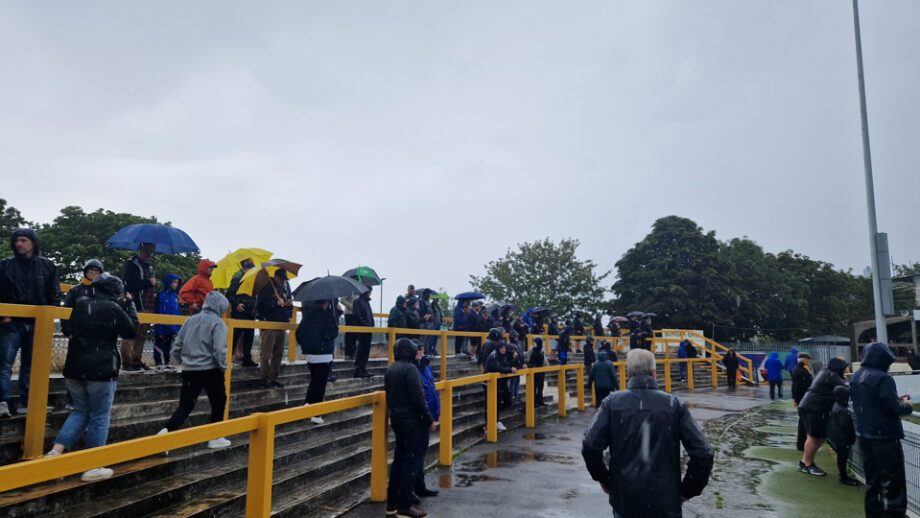 Anyway that's enough of pumping Frakey's tyres; normal service was resumed on the run up to the promised land. A range of eclectic topics were discussed although if I referenced any of them on a public forum like this then being cancelled would be the least of our worries.Traffic was light and we arrived at HQ before 10.30 but on arrival I was disappointed to learn my Gander drinking buddy was unavoidably detained and couldn't make the game. Frakey said I could kill time instead by assisting him on car park duties but as the terms he was offering were some way short of my not unreasonable demands I politely declined. Actually I may have lied about the politely bit. Instead I thought I'd have a wander into town and in between dodging showers had a little trip down memory lane. I moved away from Sutton in 1991 just before family came along so decided to look up a couple of places I used to live and also scooted by my old school to see if it still looked how I remembered. I was surprised that no blue plaques were on show recording my presence but nevertheless still enjoyed my personal nostalgia fest.
It was soon time to trot back to the ground where I had time for a pre match pint in the Fan Zone. As the heavens had again opened I grabbed a seat under cover and by happy coincidence found myself next to Frank Loonstra from Holland. Frank was on a short football watching trip to London and actually had a mention in the match programme. He'd got to know about Sutton from our epic Cup run in 2017 and ever since had wanted to visit. I said that we might be in for a tough afternoon but hoped his presence might bring the U's good luck. I bid Frank farewell and darted into the ground just before kick off as the rain eased from deluge to downpour. I was horrified to see Frakey had forsaken his usual spot on La Curva to seek sanctuary undercover behind the goal. Perhaps four hours on car park patrol had made him moist enough already? Close proximity to a moistened Mr Frake was not a happy prospect so I took a spot just beyond the corner flag in time to see the teams emerge. The U's had a few debutants in amongst the familiar faces and with a raucous atmosphere from the away end it was time for the new season to begin.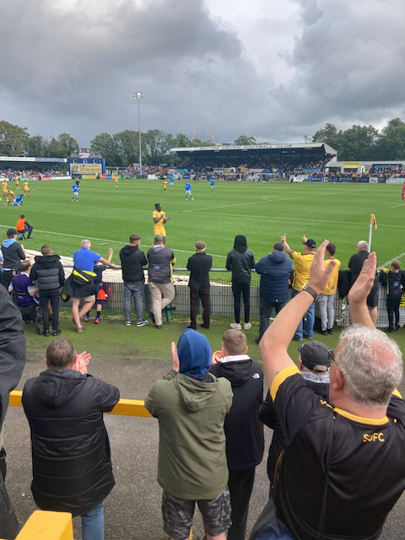 Rose, Kizzi, Goodliffe, Sowunmi, Milsom, Eastmond, Beautyman, Coley, Patrick, Smith, Kashket SUBS: Arnold, John, Clay, Angol, Fadahunsi, Kasimu, O'Brien
Sutton started brightly as new boy Scott Kashket's pace down the right won an early corner. It was two old boys that combined then with Rob Milsom's pinpoint delivery finding a practically unmarked Joe Kizzi at the back stick to nod us in front. The visitors responded well initially with their neat passing game and Craig Eastmond and Milsom were both cautioned within the first 6 minutes. However inside another 8 minutes the referee was looking for a card of a different hue. A wayward back pass had put Kashket clear and when the official adjudged the County keeper had pulled him down on the edge of the box he had little choice but to send him off. The visitors survived the resulting free kick but were now rocking as Sutton's new look forward line gelled quickly. Josh Coley and Kashket's pace were causing havoc, Harry Smith was an ideal target man and Omari Patrick had one sighter before doubling the lead in the 23rd minute with an excellent strike. Kashket had time to hit the bar before the ref called time on a first half that had surely surpassed all our expectations.
County started the second half brightly but all the tidy approach play was failing to fashion any clear cut chances. With an extra man Sutton defended with discipline and were then clinical at the other end to score three more goals of real quality. First Coley teased in a cross from the right for Patrick to power in a header. Then substitute Aiden O'Brien slid Harry Beautyman in to finish with precision before Smith iced the cake in muscling home a close range header. In between David McGoldrick netted a consolation for the visitors for whom nothing much went right from the moment the referee blew his first whistle. The final whistle sounded after a mammoth 10 minutes stoppage time followed 9 minutes in the first half. If this carries on the PFA may be making demands for players to be paid by the hour and come autumn fans will be struggling to make it home in time for Strictly or even last orders? I guess we'll soon be accepting of these new rules as long as they are employed consistently. In any event when close of play was finally reached Sutton found themselves top of League 2 for the first time in their history and Frakey very nearly actually broke into a smile.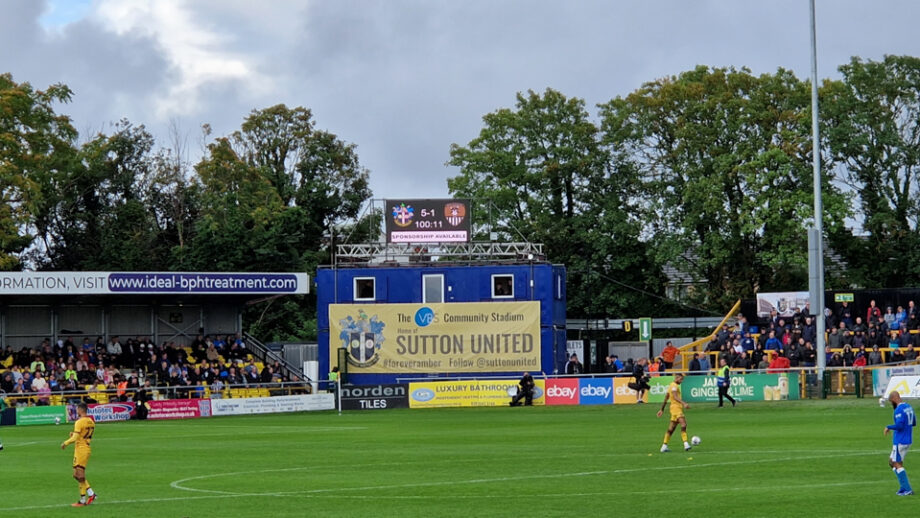 Now that surely is worth writing home about?
Clarkey