For reasons that I neither understand nor want to, I offered to blog Sutton's trip to that footballing, perhaps even, societal, outpost, Barrow(-in-Furness). I compiled one a few seasons back and got criticised for my description of Barrow by one of its proud residents for doing so. Having walked around the centre last season, I maintain my stance. And as a qualification for being able to do so, I can state that the south coast town I now live in is very much the same and if possible, even worse, since the local Harvester on the sea front burned down last Thursday. And if the loss of a Harvester is such a blow, then you need ask no more.
Barrow's saving grace is according to two Sutton fans, who having stayed for the weekend last season, liked it so much they did so again, the submarine dock. Interesting no doubt but terrifying too. I will take their word for it. I am if nothing else, gracious towards my fellow Sutton fans' opinions – well most of them anyway. For this trip I had nabbed the spare room of my mate (cheers) so my waking start to the day was 0415 rather than 0300. With overnight roadworks shutting the A24 in part, I thought his kind offer was the sensible way to go. With an ASLEF overtime ban in effect the early start from Sutton was still necessary just in case. But all went without hitch for the first leg to Euston. As I stood waiting outside Sutton Common station, five Magpies tottered across the road. That, I believe is silver. A good omen or just runners up spot? We would see.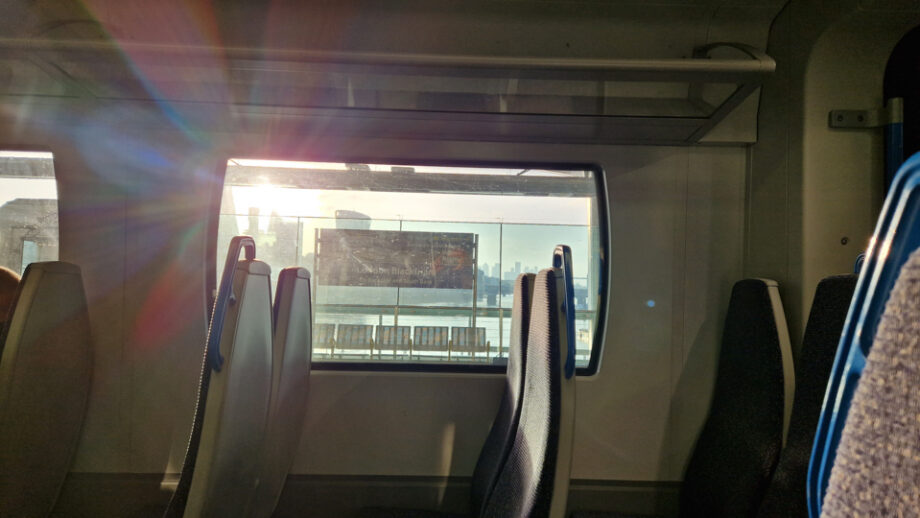 Interesting characters frequent the tube at all times of the day. This morning it was a woman of probable middle-age, dozing in her seat clutching what I assumed was a bottle of rum with the dregs in the bottom. Some of the content pooled on the carriage floor (well, I assume that was the identity of the liquid everybody else was trying to avoid). On my arrival at Euston, Ray was already in situ chomping on some foodstuff and I trotted off to Sainsbury's for sustenance (if one of their cheese and onion sarnies can be described as such) and we were soon joined by Taz, 4 Days, Chalmers and last but not least Magnum PI. They were soon in JS for their own breakfast needs before the ritual ticket distribution began. And a bit of a shock was in store.
I had mine already sorted but the lastminute.com approach by Gandermonium's elite was about to rear its frequently exposed head very early in the season. Taz suddenly realises that Mr X (up on an overnighter in Didsbury) had given him some of the return journey tickets instead of the correct outbound leg ones. Taz dishes them out hoping that an explanation to the Avanti staff would suffice. Surely enough, ticket checking people are at the platform gate and while I ease through with no dramas, Taz and a couple of the others have to sweat on the sympathies of train staff. They get lucky and the early part of the journey is spent contacting Mr X for a photo of the correct travel docs that are in his possession.
Magnum PI is the target of my less than sophisticated sarcasm (well abuse) for much of the journey to Lancaster but Chalmers is perhaps a worthier recipient as his repeated calls of nature suggest his bladder is worse than mine and he's a good decade younger than me; incontinence products in later years Mr C? He also reveals a trip to the GPs and a doc with big hands while I retell the tale of my full prostate examination in front of two young female students some years back. It's a bundle of laughs up on the red eye to the far northern reaches for sure.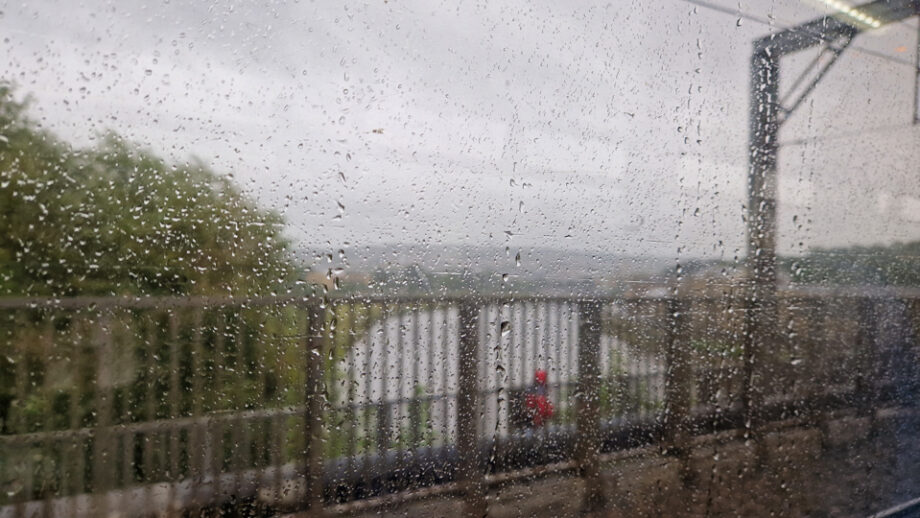 At Lancaster I have to get a single to Barrow, already having the return leg covered. The NR website was quoting £8 so I was somewhat surprised, perhaps even distressed, when £14.50 was removed from my card. It didn't help that the lady behind the jump told me the return fare was just 10p extra. For a poor, impoverished pensioner (PIP) like myself this was unrequired info. The best part of any rail trip to the outpost that is Barrow is the hopper from Lancaster. I have always enjoyed using the train ever since my first long haul to Italy in 1979 by rail. Not sure I have ever mentioned this but…
By now Mr X is with us as is Bev who was elsewhere on the train up from Euston and it soon transpires, we're rather fortunate re this leg of the journey. Two consecutive cancellations of the Lanc-Barrow service means that other fans are having to shell out for cabs from Lancaster to make kick off. Later we discover what was an £80 fare last April is now £100. Is inflation just greater oop north or are there just dodgy operators profiteering? Probably the latter because, if some commentators are to be believed, everybody else is.
This two carriage rattler is quite busy and there is little leg room. Not a real problem for the vertically challenged like myself but certainly so for the likes of 4days and others. The views of Morecambe Bay, it's salt marshes and wide expanse, are spectacular even as the rain comes down. The opposite side view is the edge of The Lake District and some truly wonderful little towns and villages. We are treated to signs boasting the birth place for Stan Laurel (Ulverston) and the station scenes for that classic David Lean film, Brief Encounter; it's in black & white so that will be lost on any young/ish reader still awake at this point.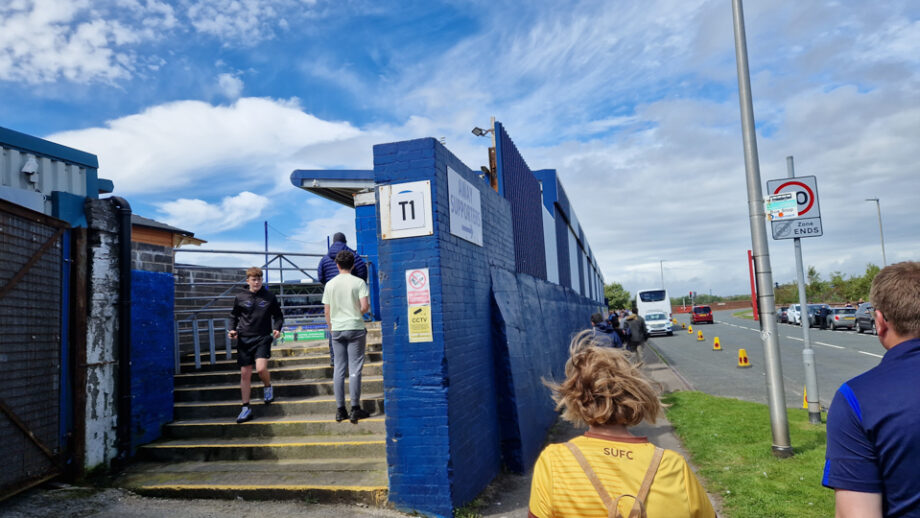 On arrival in Barrow, the rain has stopped but as ever the wind is ridiculous. Bloody August FFS. Having staved off growing pressure throughout my sojourn north I debunk to the hotel facilities while the others get their first of many in. Having ended a few hours of mild discomfort, I break with tradition and order a pint of a local IPA; nought drastic just 3.7%. Kath & Bob are also in and staying down the road and while I give Magnum another ribbing, Columbia takes the lead against The Lionesses on the telly. Soon after Hemp levels following a bit of fuck up by Columbia's 'keeper.
Gandermonium are well into their second as they begin to discuss next moves. Bev uses h-t in Australia to head for The Blue Lamp (offering me the opportunity to raise yet another b&w film and explain its connection to Dixon of Dock Green on TV (some of that ended up in colour!). And the others soon follow Bev, no doubt happy to leave me with my old git trivia. Not before though, I am tasked with match ticket collection. I have by now opted for a second pint of the fruity IPA. The Thomson Twins have arrived to relate the story of their £100 taxi fare story but are soon off to Wetherspoon's for a cheap feeding frenzy.
Pint supped, I head off to the ground, timing my journey so I know how long I have later to make the 1719 back afterwards. No tickets at reception but two progs are snaffled in the shop and tickets are located. A quick chat on the official coach with the great and glorious while one of the coaching staff greets me with "what are you doing here?" That's a question I still can't answer. A nice half hour or so with the revisiting Sutton couple and chips in the fanzone then a wait for Gandermonium to appear for ticket distribution part two and then into Holker Street or whatever it is they call it these days.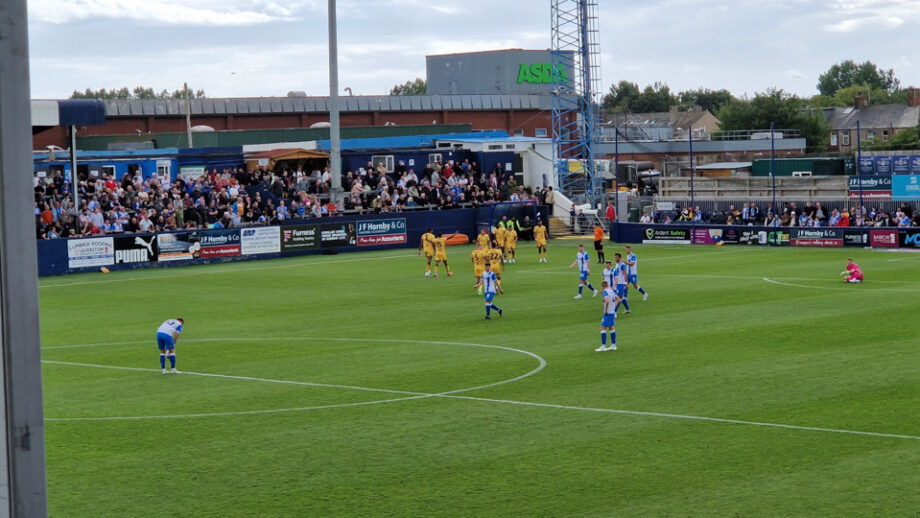 The away end has had a revamp with a new elevated seating area along the side but no standing for the eventual 94 (was it really that many?) visiting U's. There are problems with this new facility. Because of the main stand the sight lines have never been good in that corner of HS and while elevated it's still not perfect. Added to that are the metal stanchions holding the roof up (a roof that will offer little protection to those under it as it is more like a canopy and leaves those seated open to the elements) are an added obstruction. Sat near the front you can't see the pitch immediately below especially after the stewards have allowed U's Yoof to tie their flags to the front railing. If the U's management are considering this option, please think again or at least have a think about sight lines. The strong wind is blowing towards us and at times it's hold on to your hat but it's sunny and no rain. Injuries to Kashket and O'Brien limit U's attacking options. The Gaffer goes for experience in Angol and Smith. N'Guessan is back but on the bench as is Dundo.
Rose, Kizzi, Milsom, Sowumni, Goodliffe, Eastmond, Beautyman, Patrick, Coley, Smith, Angol SUBS: House, Dundas, Nguessan, Fadahunsi, Clay, John, Mellor
U's defend the wind in the first half and the hosts start well but Harry B as an early headed chance before what would probably prove our ultimate downfall incident occurs. I didn't see it but a Barrow player is writhing around on the deck when Smith breaks into the box to get a shot away. The ref stops the match and is having a conversation with the 4th official over their head pieces. Result, red card for Smith. He walks off with no argument while the Barrow player is tended too and is soon up, fine and dandy. Bizarrely, bearing in mind the ball was still in play when the incident occurred, the ref does not start with a free-kick from where Smith's infringement took place. What if his shot had gone in?
Now, I am not going to have a go at a player for a silly error but it's a long and expensive trip to Barrow and watching eleven U's players for just the first fifteen minutes and the likely outcome of that situation ain't ideal. Garner hits the woodwork for the hosts before Angol nicks the ball off White, and through on goal hits his first shot at the 'keeper but finishes the rebound into the far corner. Blimey, something to hang on to now. Goodliffe protects Rose with a brilliant double block, the first of which, would have left many a player doubled up in agony. Not our Ben though.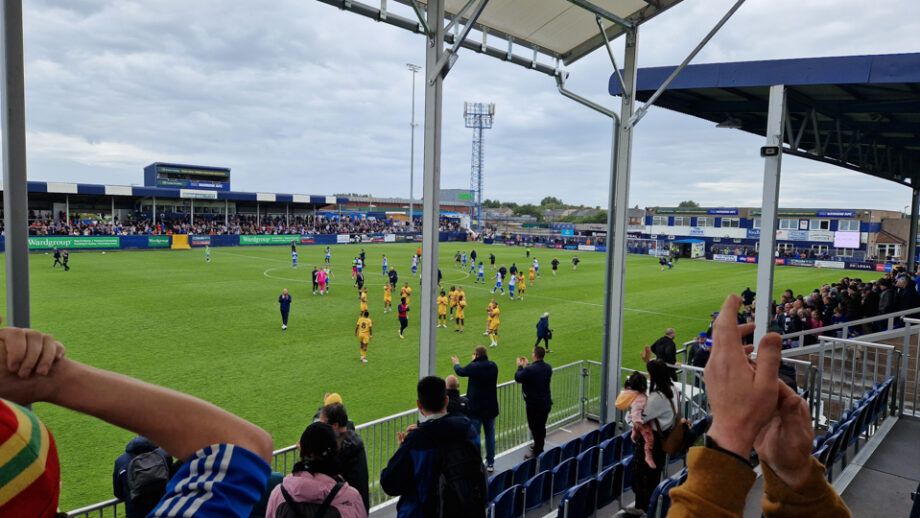 Only two minutes added on at h-t produces derision from the home terraces and under the new guidance, you couldn't really blame them for exhibiting their annoyance. A bland h-t cuppa is drained and to the second period. Barrow huff and puff but U's stand firm. At the other end Patrick shimmies to take three players out of the game (a long time since I have seen a player do that) but a heavy touch allows Firman to smother. A better touch and with Omari's finishing prowess we could have been in dreamland. Sadly our hopes aren't to last.
Sadly, a misplaced pass on U's attacking right sees the ball moved to the Barrow right and a fierce finish beats Rose at his near post. Three minutes later a pass through the middle allows Proctor to prod under Rose and while not as spectacular as his goal for Port Vale it earns all three points for the hosts who have failed to impress anything like Sutton did against ten men the previous Saturday. Much as that has to do with the hard work off the ball by the Sutton players for which they should be commended. For the record, the ref gave us SFA while yet another lino exhibited his inability to spot an offside when it was staring him in the face; not just the once either. Standard EFL lower league fare.
Only six minutes added (like going back to the good old days of way back when – well last season actually) means no requirement to leave early and it's a brisk walk back to the station for the 1719. It's actually there and ready to go and another hour journey around the magnificent countryside and coast to Lancaster with Bev and Amber Aleman enjoying its glory too. (Gandermonium have gambled on the 1802, the cancellation of which last season, saw the mad scramble for taxis and is how I knew the going rate earlier!). The Euston train arrives on time but seat reservations have been abandoned so it's a question of grab what you can wherever. The journey back would be boring but for the cheeky Border Collie who keeps trying to sneak out from under the seat to take in his surroundings. I manage to grab a few Z's and as we near Euston I head off through the carriages to the front bumping into a couple of Cambridge United fans. They're happy with a one hundred percent start to their L1 season and there is brief reference to their penalty shoot out defeat the previous Tuesday.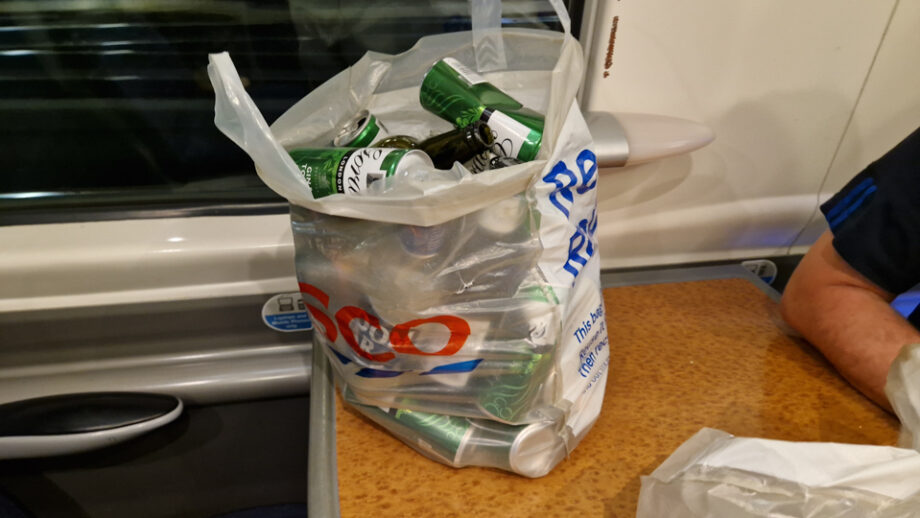 The tube turns up as I hit the platform and Victoria is soon reached. The Sutton train runs on time as does the penultimate leg of my journey from Sutton to Sutton Common. I arrive at my mates for a very brief chat and then it's to the car and the A24, arriving back on the south coast at 0030. I will take getting back to the south coast from Barrow half an hour after midnight every time.
However, as Ossie tweeted, if I say I'm doing Barrow away again, lock me up (well try anyway!) or as Gandermonium often says after a galling defeat oop north "Fuck our lives".
On to Tuesday and Gillingham at GGL. The car Park is full already so don't even bother.
You're welcome.
Frakey