Jump on jump in, next ride! Barely have the cake withdrawals and hangovers subsided following the big quasiquincintennial shindig on Saturday (yes, we have learned a new very big clever word, so you can bet your bottom dollar we're gonna make the most of it!) and we're once more thrown into the League 2 mixer for another contest at the Stade de Gigi-El. This time out, it's Crawley Town in, er, town and here's hoping we don't go wearing that red clobber again for this one. It was confusing enough at the weekend. Poor old Magnum thought Crewe had brought about 20 mascots down for the game! Of course, our thanks must also go to Totts for knocking us up one last hit for that one as we wind down this season. Cheers squire!
Sadly for the Crypto Capital of Sussex, things on the pitch haven't improved on the NFT front or since we nabbed a 2-1 win there on Boxing Day and made them go viral with the shittest corner routine in footballing history. They're still without a win on the road this season and have lost their last 5 with only Rochdale keeping them off the foot of the table. So yeah, we're all fully expecting a dogshit 1-0 home defeat and getting called all sorts on the socials by mad acca weirdos for 'costing' them some arbitrarily made up amount of money that only ever existed in their heads. No one cares lads, fuck off. When the fun stops, stop and all that.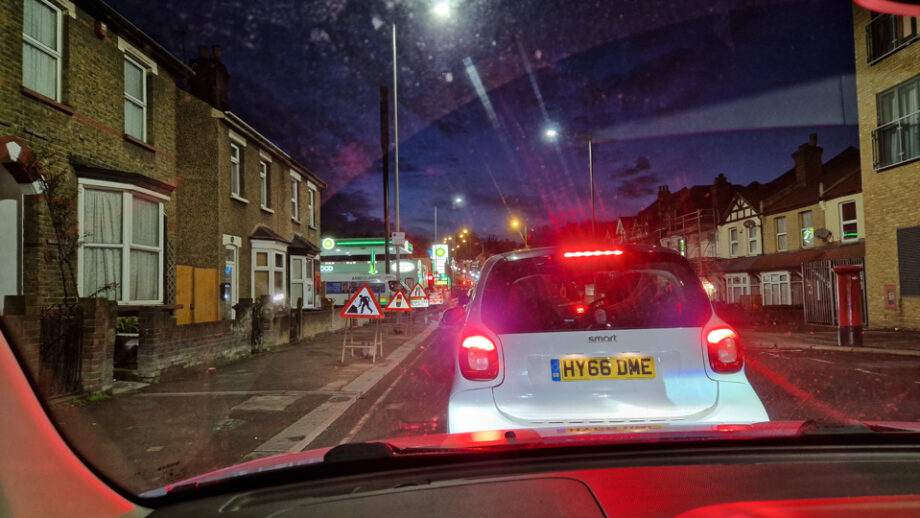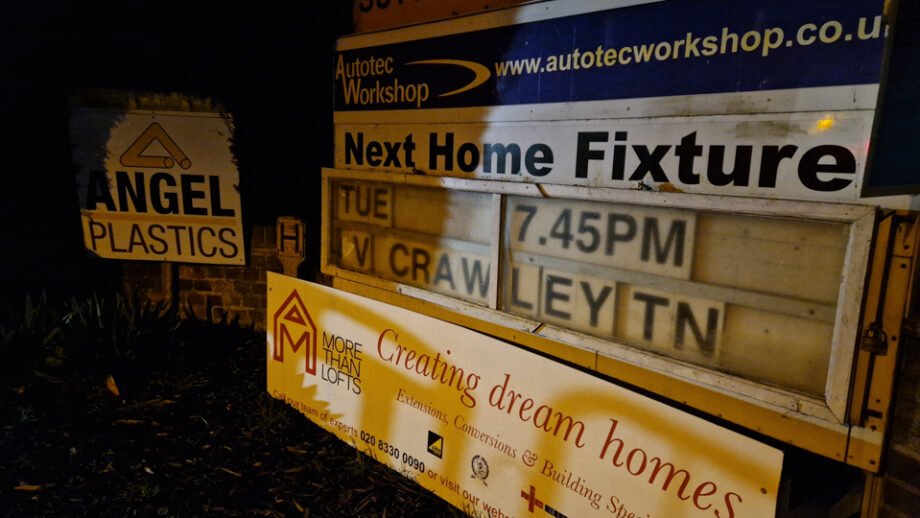 But before we get to all that, despite saying in the Newport blog that this place wasn't going to get like the Times Obituary column, I sadly have to once more dip into the realms of mortality and mention the terribly sad passing of former U's striker Sammy Winston last week at the criminally early age of just 44. Sam was only with us a season and a bit, joining as the final piece of the Ryman League winning puzzle in the second half of the 98/99 season joining Naz and Mark Watson up front and then manfully lead the attack the following season as we finished dead last and made an instant return. But he made an impact on us here at GGL regardless.
A stocky little unit of a player blessed with blistering pace, he presented us with many fine memories on the pitch such as his goal at Aylesbury in the decisive 4-1 win there, the goal at Dover for our first point in that Conference season and the diving nut in the last minute at GGL to deny the ever smug K's all the points in a hard fought local derby. As well as all this, he was a damned nice lad to boot, always a smile on his face and plenty of cheek with it. He went on to have properly prolific spells in the Ryman after leaving us and our thoughts go out to his wife & daughter. Rest easy Sam and thanks for the memories mate. Also, if you wish to drop a couple of quid to help the family with funeral costs, you can do so HERE.
Right, back to hopefully happier matters. With the game at GGL I take my recent approach and decide to give that Victorian workhouse, Latin spouting, streak of piss Rhys-Mogg the finger and toss off the office today in favour of working from HQ. Whilst this means I'm drinking my own tea supplies rather than my firms and basically getting under Mrs Taz's feet all day, it's pretty cold out today and I've no real desire to get up 90 minutes earlier to freeze my nuts off and slog in on the train, only to spend the day trying to make sure I can nick out in enough time to get to GGL for kick off. Plus I'd be on the bus home after as well. Did I mention it was cold out? I did? Well there was good reason to, as it's fucking cold out. So yeah, bollocks to that. W.F.H. Get it fucking up ya Jacob you cunt.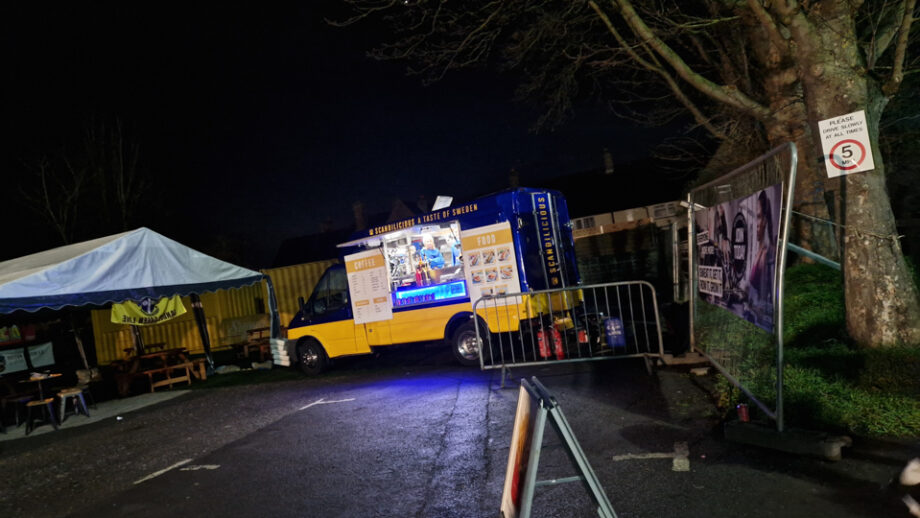 The day goes without incident and the laptop is slammed shut dead on 6pm. From there it's a quick change into some warmer gear suitable for a night on the Curva at GGL and Mrs Taz fussing about whether I am indeed wrapped up warm enough in the first place. Bless her. Yes dear, I have got a 2nd pair of socks on and yes, I will be putting my warmest hoody on. Thank you. All sorted, I bid her farewell, no doubt much to her relief at finally getting some peace & quiet today and head out to the motor. A quick dart to Sutton later and rather than risk the VIP Gandermonium spot outside Mr X's drum, I dump the car in the usual spot by Homefields and walk down. As I park up I spot a bright orange jacket in my rear view that I'm sure is Steve on his way down from the high street. His pace matches mine however on the stroll and I never quite catch him up. As I wander past West Sutton station, a bunch of young lads head the other way with cans but making a bit of row about the football. Odd, you're going the wrong way chaps!
Up the drive and a quick nod to Frakey on the way past as he scans the horizon for people trying to get into the car park without the requisite paperwork. He's looking a little pale today however and I almost ask if he's feeling under the weather before remembering he'd mentioned on the twitters that he'd shelled out a bullseye on eBay for a rare Gillingham v Sutton programme from the mid-40's this week, so I reason it'll probably be that which is causing him the distress and leave him be. On the way to the bar I note that the fanzone is unsurprisingly closed tonight given it's fucking Baltic out, but rather fittingly given the weather the Swedish grub truck from Saturday is once more plying it's trade. I'll have some of that before kick off I think! In the warm bar and with a shandy on the go, I catch up with Indy, 4Days and Lil' Chris as well as soon confirm that the orange jacketed figure from earlier was indeed Steve. We're soon joined by Magnum and the pre-match bunny is mostly what I mentioned earlier about them being shit and not having an away win yet this season. Call us pessimists if you wish dear reader, but we've been doing this nonsense long enough to spot warning signs like that thank you very much. Here's hoping though eh?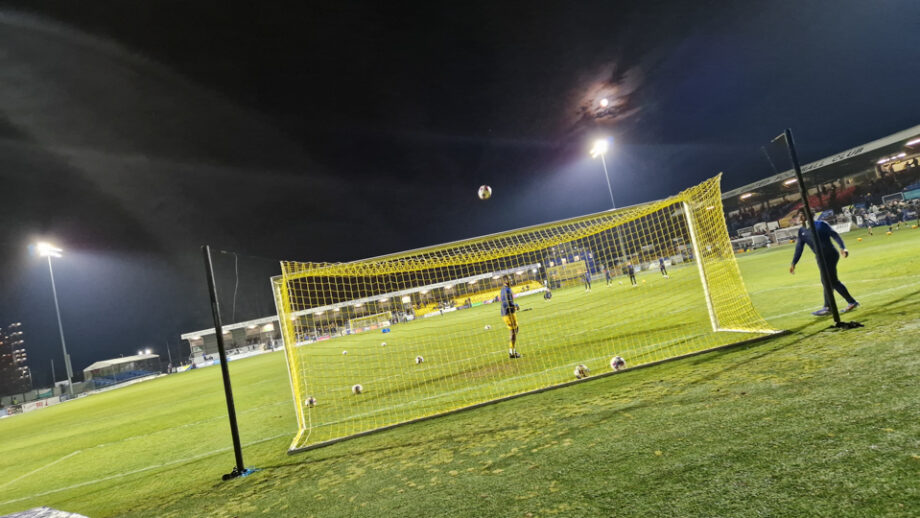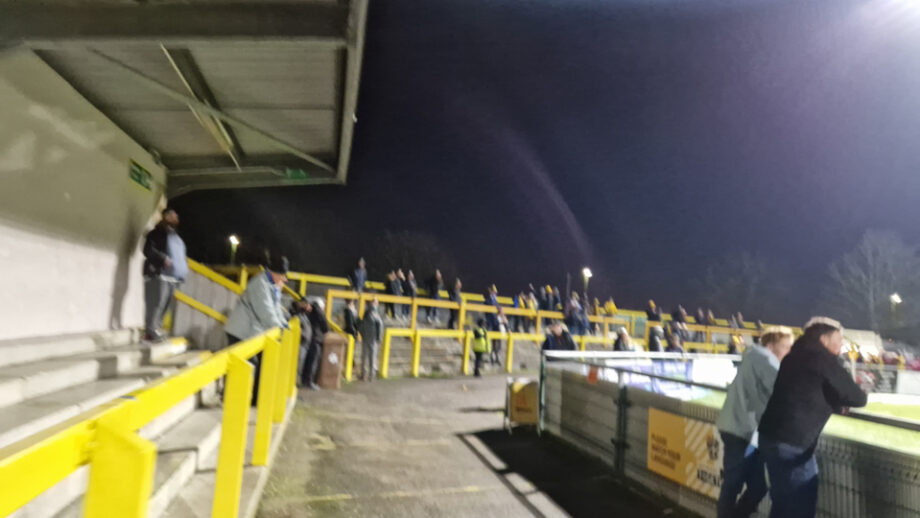 I polish my pint in quick order and leave myself a 20 minute window bfore kick off to head out and grab some food. The Swedish van produces a very decent pulled chicken roll with a ton of coleslaw on it. It's admittedly a touch rich at a tenner, but it's a decent feed and probably infinitely better for my life expectancy than a dog burger or something else inside the ground. Will it work as a regular feature at that money the way things are right now? Probably not. But still, good luck to 'em. At least it's decent quality. Right, suppose I'd better get my game face on and see how this latest League 2 bunfight is going to pan out. I hit the turnstiles and make my way up to a rather sparse looking Curva, joining Mike the Pod on the top step, where he proceeds to run me through how many layers he's wearing tonight to stave off the brisk March evening air. I have to stop him though when he gets to the bit about his lycra leggings. Far too much information for me mate thank you very much! Magnum's soon with us and letting us know that the local Plod were in the process of nicking some youngsters inside the turnstiles. Seems it's either collars being felt for the pyro from Saturday's game or someone's got tugged with some on them tonight. Tut tut!
Rose, Kizzi, Rowe, Goodliffe, Milsom, Eastmond, Smith, Ajiboye, Randall, Dennis, Bugiel. SUBS: House, Boldewijn, Kouassi, Beautyman, Hart, Lovatt, Angol
As kick off approaches, the ground fills out a little more and the away end is already making itself heard with no less than 2 separate choruses of "Sutton's a shithole, I wanna go home" as well as them popping off some red smoke before we've even kicked a ball. Still, I guess they decided getting the pyro out of the way early doors this year was probably best given that last season they waited until our third goal went in before bothering. Sensible lads, we like it. Although the irony of this given the Po po's activity at this end minutes before is not lost on us. With the game underway, the visitors are making themselves busy and working hard to keep us from getting away to anything like last season's 2-up-inside-ten-minutes start here. To be fair, despite their lowly position, they don't look that bad really. They move the ball reasonably well and show endeavour, however they lack that little spark up front and despite a couple of promising forays forward there's no issues for Rosey.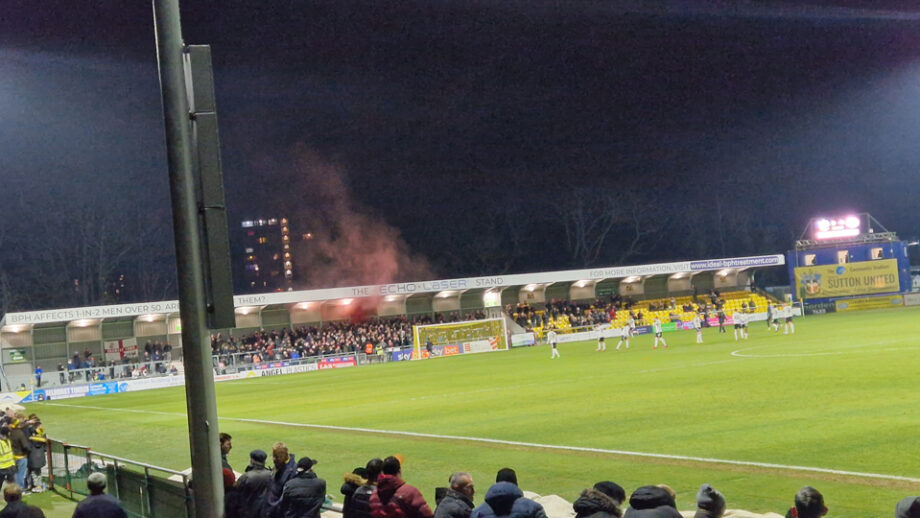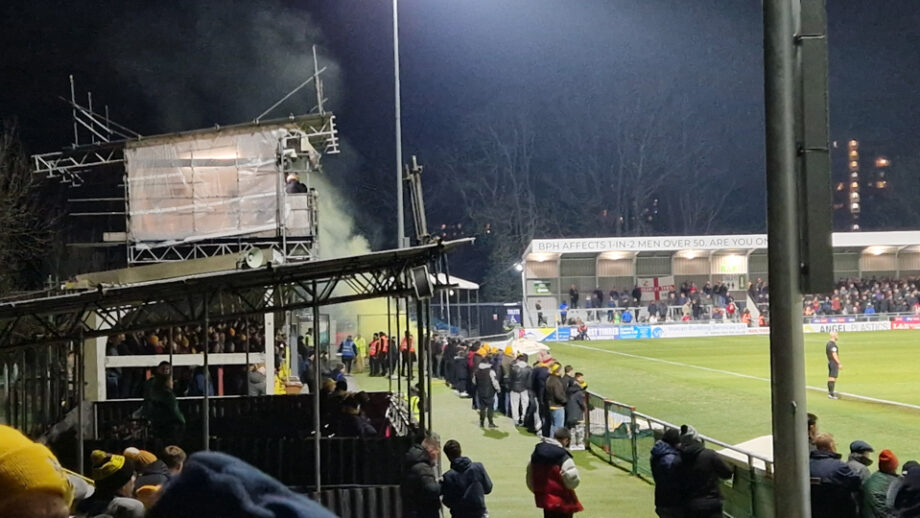 We struggle to make much impression with that final ball again being our downfall. Dennis, making his first start, does get a sighter midway through though with Ali threading one into the channel but his low shot across goal is wide. Given the lack of incident on the pitch, silly chatter ensues and we wonder just how likely Barrow is to be off at the weekend given this cold snap we're going to get this week and also just how much any John Yems NFT's issued by our oppo's Cryptobro owners would be worth these days. Not much we'd wager. With the break approaching and the lack of excitement turning most people's attention to how cold they were getting, we finally find a bit of quality. Milsom hits a diagonal into the box, Omar chests down to Easty but it's a little behind him and he elects to spread it wide for Dave. Ajiboye finds space and stands a ball up to the near post where Omar plants a firm header down past the keeper. Perfect timing. Less so is the yoot down on the Rec side popping off yet another yellow smoke bomb, not an hour after one of their lads has had his collar felt for doing just that against Crewe on Saturday. Kids eh? They'll never learn. At this rate, most will be banned before the last day of the season.
So, 1 up at the break and we're feeling a bit better about life, apart from the cold that is. Need to get these done early 2nd 45 we reckon. I also scoff at Magnum's assertion that we'll have snow in the morning round here. "You've been reading too much Daily Express mate!" I mock. 'Aged well' as the young'uns might say these days. Thankfully our hopes of a fast start to the half materialise and a couple after the restart, the lead is doubled in outrageous fashion by our Lebanese geeze. Dennis turns in down the bye line, tees up Smith who's shot is blocked, but he prods the rebound towards Omar and who with his back to goal backheel flicks the ball over his shoulder and into the far corner. The cheeky bastard. Such a silly goal is suitably celebrated too as the big man nicks SUFCTV's little goal camera and takes it along for the ride. Footage of that should no doubt have surfaced online by the time you read this! From here, Crawley have a bit of a wobble and for about 10 minutes, we should put the game out of sight. Omar almost completes a perfect hat-trick, forcing a solid save from the keeps with his left at the near post.
A corner finds Kizzi back stick for the nod back and we're equally surprised to see the keeper fail to gather and us not stab in the loose ball to make it 3. The visitors heads continue to wobble as first one lad piles into Joe leading with the arm on the touchline way after the ball has gone, a challenge that earns him a yellow but looked far naughtier and then their 6 give Omar a full blooded elbow on the corner of the box and despite being in plain sight of lino and ref, also only cops a yellow. Milsom swings that free kick into the arms of a diving keeper at his near post. At this point, the away fans patience breaks and the first anti-owner stuff of the night is clearly heard as well as chants of "You're not fit to wear the shirt". Ouch. To their lads credit though they do at least keep going and soon Rose is being tested for the first time tonight. A decent low little skidding cross in finds Telford who finds Jack's legs with his shot. Our stopper isn't done though and he has to react well to paw out a follow up at his near post. A header at the near post from a decent cross in on the stand side is flashed over Jack's bar.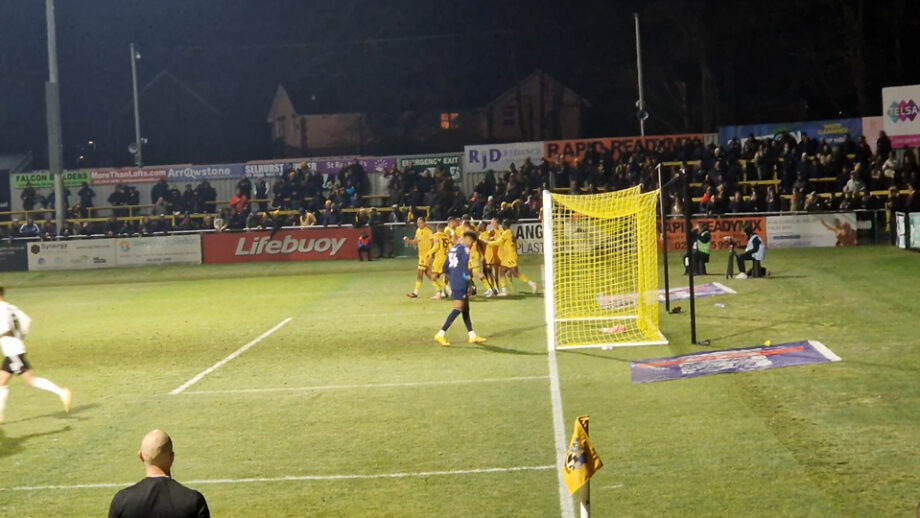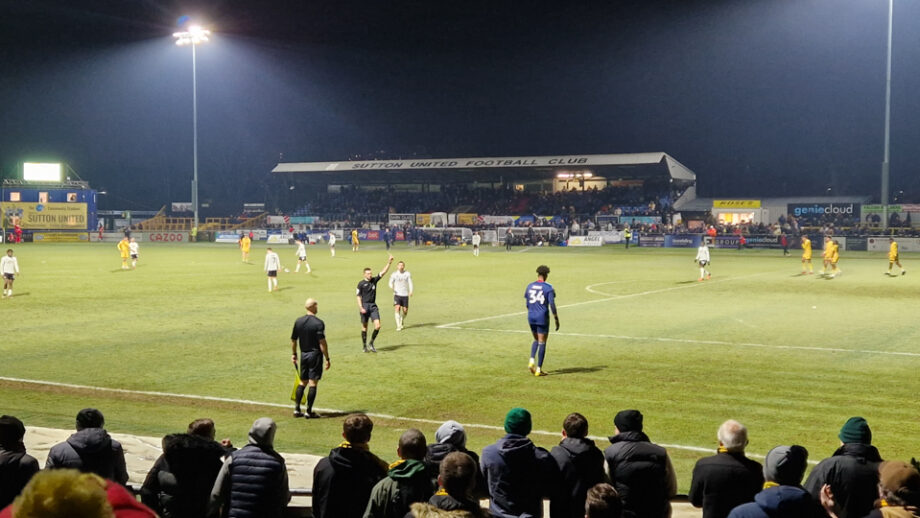 The purple patch ends however as we go into the last 10 as their 6 finally gets the red he deserved earlier, copping a second yellow for a lazy check on Kouassi, on as a sub. What makes this all the more bizarre is that the ref lets Angol play a through ball that Kylian can't get, their keeper play it out and one other oppo player touch the ball before he blows for the free kick! Playing advantage yeah ref? Crawley throw bodies forward from here and Rose has to make a solid low stop from a shot through a crowd, but the pressure's building and with a couple left, the keeper turns provider by pinging a ball right through the middle to pick out an unmarked Angol who strides through and sweeps in the 3rd. Sadly this year there's no pyro to mark the occasion from the away end. Game done, we see out 5 added without too much trouble but at the death the less than effective lino in front of us caps a stirling 'offsides and throw ins' performance when the keeper flaps a corner and Kylian forces the ball towards goal before it's hooked out from clearly a good yard behind the line. Yeah, no goal that apparently. Worst part is, the fella is literally stood on the corner flag and can see it just as clear as we can. Fucking bellend.
The ref decides that's enough of that at this moment and blows up for time to everyone but those remaining in the away end's approval. Of course, our lads get a rousing reception whilst the visitors side give their lot a cursory clap and fuck off down the tunnel, clearly not wishing to find out just how not fit to wear the shirt they are. Can't say I blame 'em really. With toes barely retaining any feeling, I and Steve decide that a routine home win is not requiring a celebratory beverage and with brisk farewells, we do the off and head back to the motor to start getting some feeling back into the bones. A quick dart into the ever dangerous CR postcodes to bin off Mr Southampton and I'm back home for a hot Vimto and to get cracking on this nonsense.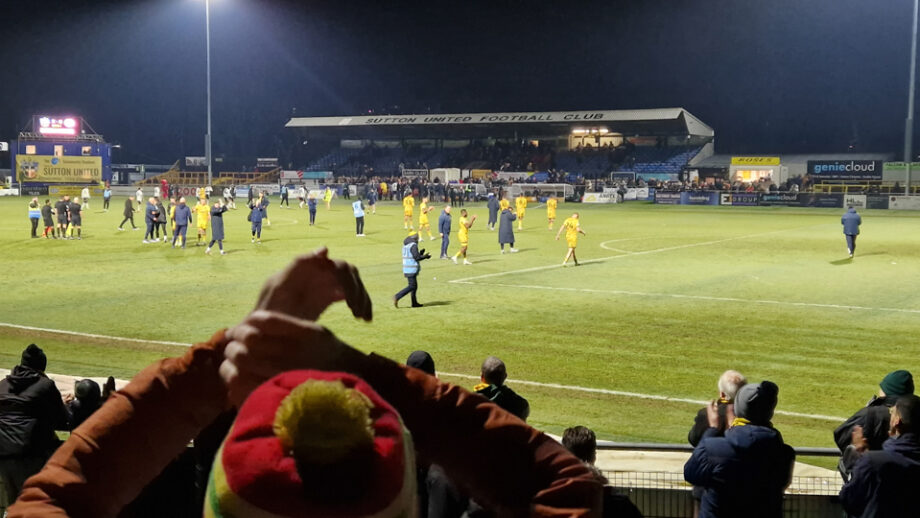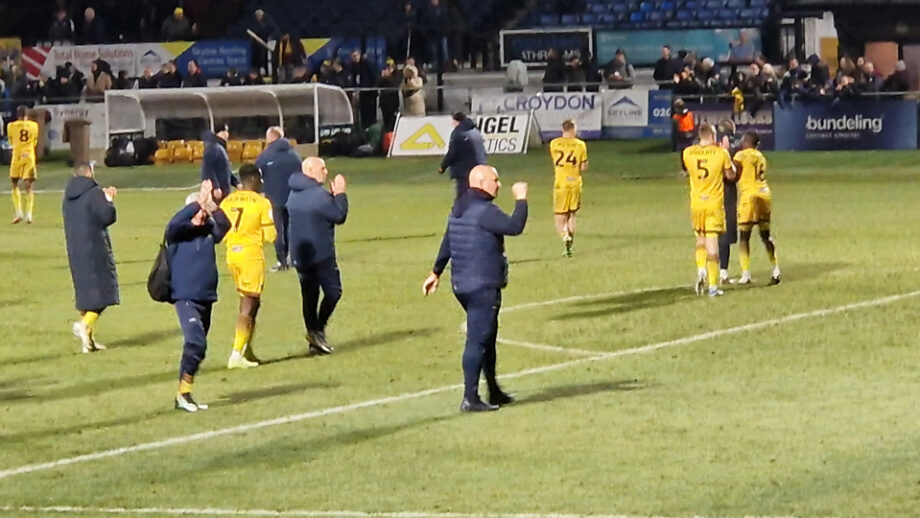 Yeah, you heard me. Hot Vimto. The perfect late night non-caffeine bone warmer I reckon. My inner 8 year old was delighted and has the ever wonderful Mrs Taz to thank for this as she'd picked up a bottle in passing on Sunday after my folks had told her stories at Christmas about us as kids getting that when coming in from playing outside in the snow and such like many many moons ago and, curiosity getting the better of her, decided that she'd finally try this Northern delicacy for herself. Unlike that episode with chip butties, she's admittedly still on the fence with this one, but this matters not. I'll certainly bloody drink it if she doesn't.
Right, so do we reckon we'll get to Lancaster or Barrow itself before Saturday gets binned then? Answers on a postcard kids!
Taz