Amazing what a lift nicking three points at home under the lights on a Tuesday night gives the mood around a football club. Now, we weren't exactly to be found at the bottom of a bottle thanks to recent form but Tuesday's late show against Swindon not only added 3 more points to the League 2 total, putting us not only in touching distance of the magical 50 points mark that'll keep our Non-League arses here for another year, but also made sure we stayed ticking along nicely just outside the playoff places. Poised to strike at any moment, like a tinpot Amber and Chocolate coloured cobra. Or something.
That win was to be followed up with another home game, this time with Doncaster making the trip to our dull little corner of South London suburbia for the first time in over 20 years. Yep, Donny have been down here once before back in 1999 during our fleeting return to the top level of the Non-League game that season, where we finished stone dead last and returned to the Ryman League as quick as we'd arrived. Still, we at least won that last encounter thanks to a Mark Watson goal and it was covered in all its glory right here on the first iteration of this site. Yes, we really have been doing this shit that long. In more recent times, our first trip up to the their new gaff back in August didn't go quite so well as having dominated the game, we shat the bed at the end and turned a 1-0 lead into a 2-1 deficit in injury time. That too was covered on these very pages, obviously.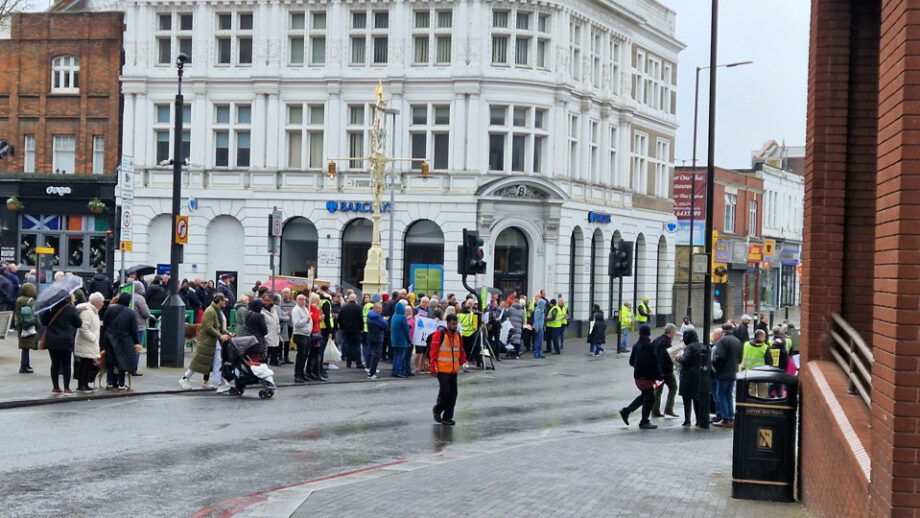 In a possible change to my usual Saturday home game routine, Steve wondered if I fancied meeting up for a bit of Breakfast at O'Niells. A kind offer I think you'll agree, however despite his charming company and a bacon butty, my duvet was the hot favourite here and I of course fucked that right off and stayed in my pit for a lie in. Having finally surfaced and sorted myself out, I bid farewell to Mrs Taz and get out for the bus. Stepping out into that half arsed fine spitty type rain, I annoyingly find I've just missed a 407. And an X26. And there's no trains anytime soon. Bah! Guess I'm waiting then. As I hang around for the bus, numerous check ins from GGL on the Futbology app start pinging on my phone. Show offs.
Eventually dropped of top of town as per, I head for my normal pre-stroll snack and spot a large crowd milling about at the lights. On closer inspection, this appears to be a protest about the proposed ULEZ expansion out to these here parts. Yeah, it's bollocks to be fair, especially considering the LBS is about the only London borough that gets sod all from TFL, so expecting us to help fund it further is a bit rich. However, I think the lad here with a life size carboard coffin on his shoulder with 'Democracy' written on the side of it is probably going a bit OTT. Swerving this little impending break down of law and order, I dip into Greggs, get supplies and trudge through the shitty damp air to the Republic.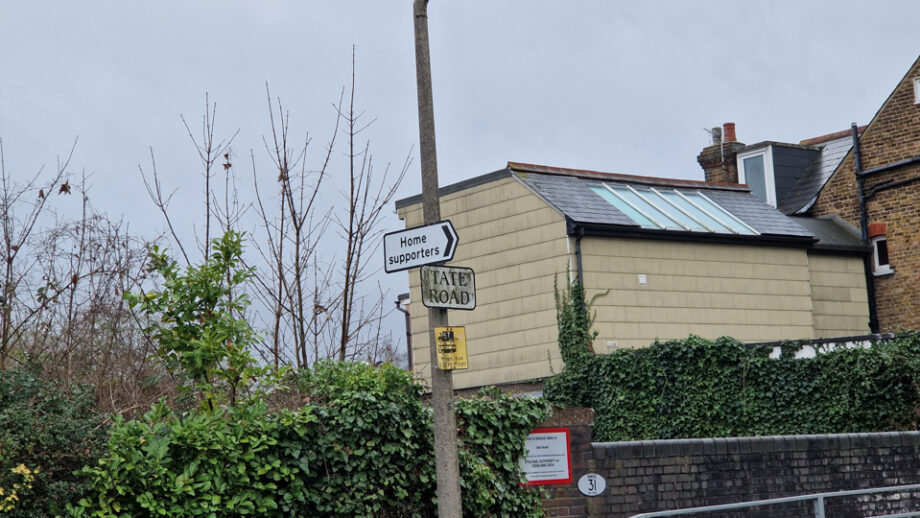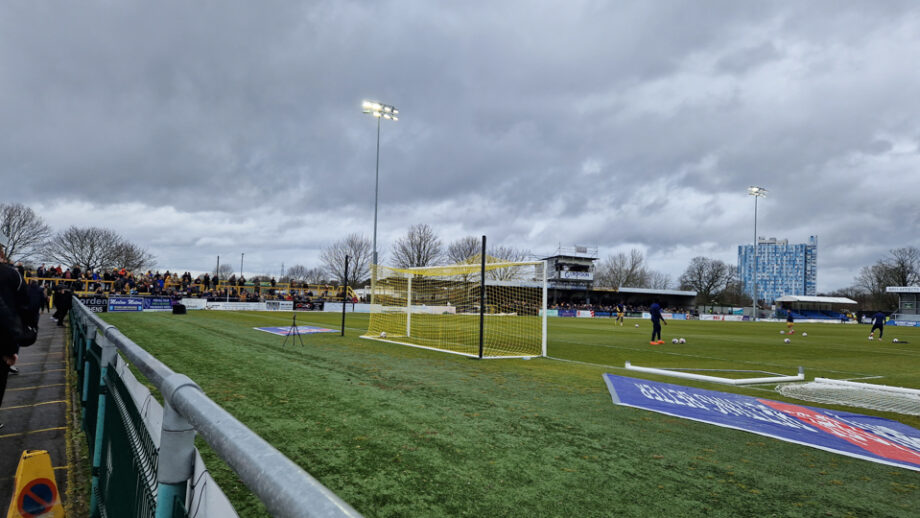 At GGL, there's already some faces in. Greek and Steve fresh from their breakfast date, Nic's about as is 4Days and Lil' Chris, all taking in Villa Arsenal on the telly. Also down today is Matt, 4Days Wales away mate we'd met for a beer pre-match up at Tranmere. He's local for the weekend and with a spare Saturday has made good his promise to pop down and take in all the joy and wonder the Republic has to offer. Oh and some shit League 2 football. That too. On the box, I note that Arsenal's title tilt is taking another dent and just as the sentence "I see they're fucking it again" forms in my brain and makes it's way down to my pie hole to be broadcast to the world, Zinchenko lashes a low one in to level up the scores. Abort ABORT! Phew, saved it. Would have looked a right bell end.
As the Gooners turn it around thanks to a cracking OG from the Villa keeper, we realise that Greek is wearing his shirt that caused some debate at the Salford home game earlier this season as to whether it stated the word 'Meh' or 'Men'. The same shirt he thought about wearing to the reverse of this fixture but thought better of due to it being Donny Pride that weekend. I also spot a bloke wandering in with a cap on that clearly displays one of our PROWS logos of the kind flogged on our tat store. Another satisfied customer! Or not as it turns out. Some enquiries by 4Days later and it's revealed it's actually a Jekyll that he's had made up himself after acquiring the artwork online. Fucks sake, everyone's at it these days! Right, suppose we should get this football stuff watched.
Rose, Kizzi, Rowe, Goodliffe, Hart, Ajiboye, Randall, Smith, Beautyman, Wilson, Angol SUBS: House, Dundas, Gambin, Lovatt, Kouassi, Dennis, Boldewijn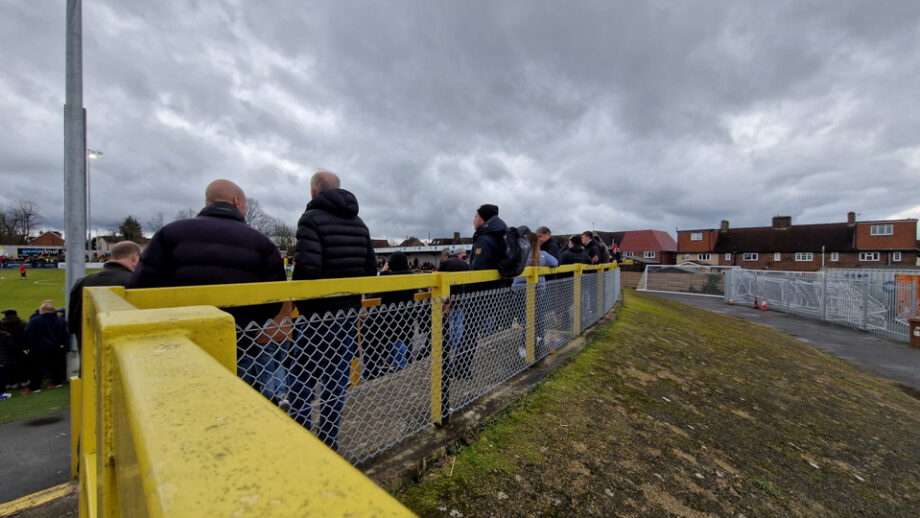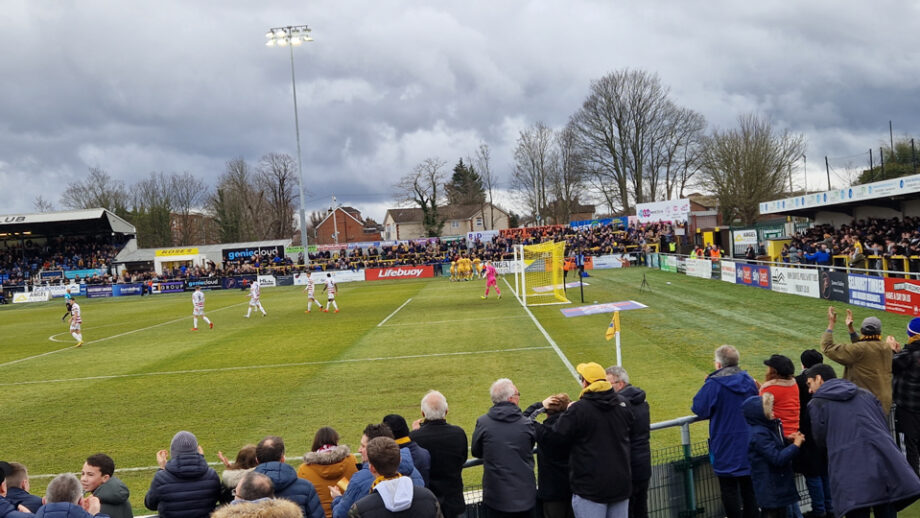 With a couple of wins under their belt lately, the visitors start brightly and full of confidence. Which is annoying. They play some decent stuff between the lines and the U's back 4 has to be on it's toes in the first 20 or so as Donny dominate possession but fail to really do much to test Rose. Their best chance being us giving the ball away and a shot from an angle being deflected over by a decent block in the 6 yard box. Slowly though, we get a foothold in the game and as Angol begins to hold up the ball better up top, Harry has a shot well saved one handed by the keeper and Angol himself fires in a solid hit on the turn, but again the keeper's on hand to beat out the shot that is admittedly straight at him. Rose is tested before the break with a shot through a crowd, but makes a strong save and Coby makes sure the rebound doesn't reach the lad following in.
It's not been a half to warm the cockles as we've largely been on the back foot, but after Tuesday's 2nd half surge, we're hoping that today will bring more of the same. It doesn't look like it though from the restart, as Coby first misses a header that his centre back partner has to tidy up and then a minute or so later, he misjudges a bouncing ball and an attacker runs in behind. With the defence trailing, the ball is squared and their lad has a tap in. But Coby's back to atone for his error and makes an amazing block on the line to deny a certain goal. A minute later, Donovan gets some space wide, pulls it back to Randall and he brings a smart near post stop out of the keeper at the expense of a corner. This is stuck back post, Ben nuts it back across and Coby gets up highest to nod in the opener.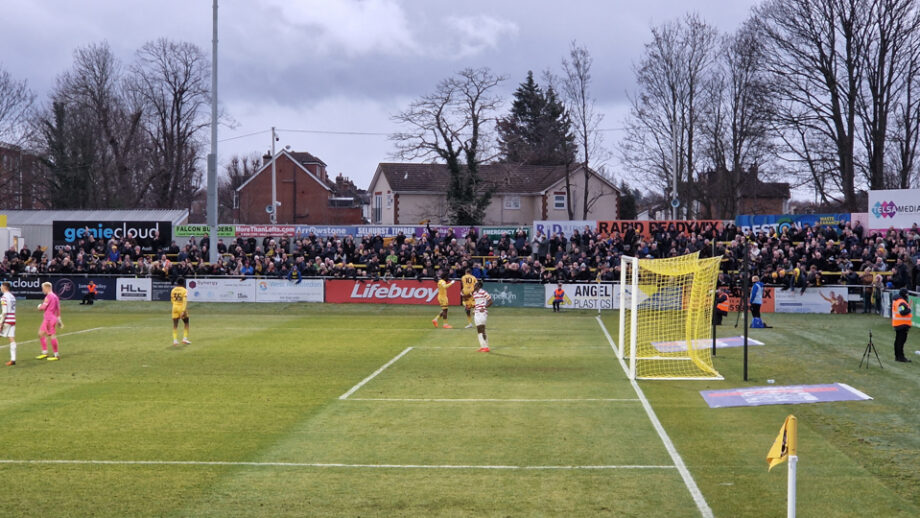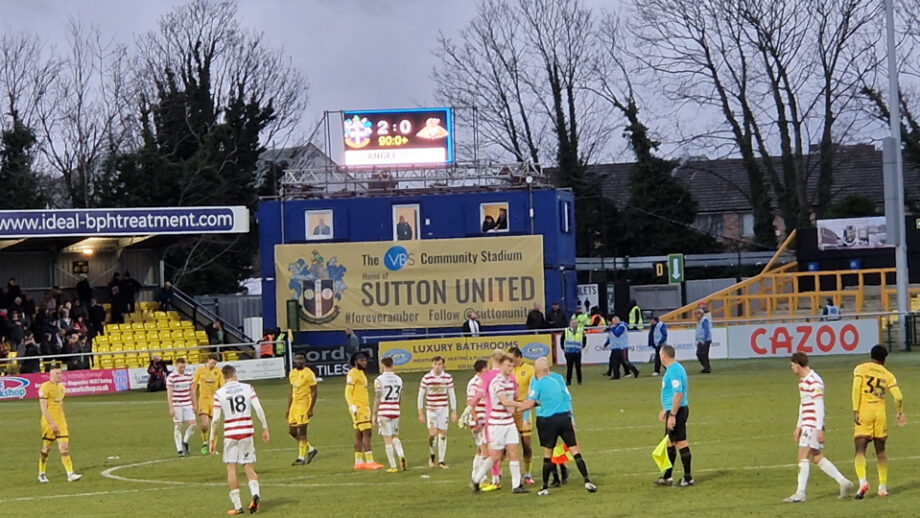 It almost immediately gets worse for the visitors as they try that performative 'play out from the back' horseshit, the one where some sides down here seem to think they're Man City and not 4th Division cack. Of course, our high press wins the ball straight back dropping them right in the shit and Randall bends one inches past the post from 20 yards. When will these sides learn? Fuck your 'philosophy' lads, you're just not fucking good enough for all that carry on. They're not done though and as the half progresses, they get themselves back in and waste probably their best chance immediately after bringing a sub on. A decent deep ball is swung in from the Rec side and the sub digs his shot into the turf at the back post and it loops just over Rose's crossbar. They keep pressing for a leveller but without ever really threatening our goal again and with time almost up, the issue is put to bed. A set piece is cleared, the ball drops to Ali and with gaps all over the shop he sweeps a great first time ball into space for the largely quiet Ajiboye to sprint onto and slot past the advancing keeper to make it 2-0. That'll do pig.
With the points secured we retire to the bar for a swift pint and to check scores. Seems we've edged up to 9th after today and are only 2 points off the play off spots now. Guess we're doing this daft bollocks again then eh? Oh well, could be worse! I catch up with Keepo and Fish as AB starts his Strikers Are Key warmup. The former having bene poncing about in Holland watching some games. "Endless total football yeah?" I ask. "Not really, all shite games!" chuckles Keepo. With the SAK draw done, the first ball out is that of Dirty Barry's syndicate and he's summoned from the VP's bar ("He's not even a fucking member!" quips Keepo) by a chorus of 'Walking in a Barry Wonderland' by all the mob present. And with 1600 quid up for grabs, West Sutton's premier Grot merchant only goes and pulls a winner! "That's a LOT of special interest VHS tapes". Chalmers pulls the second draw but isn't as fortunate as the world's most sexed up pensioner and he fails to open the safe bagging the bullseye consolation prize.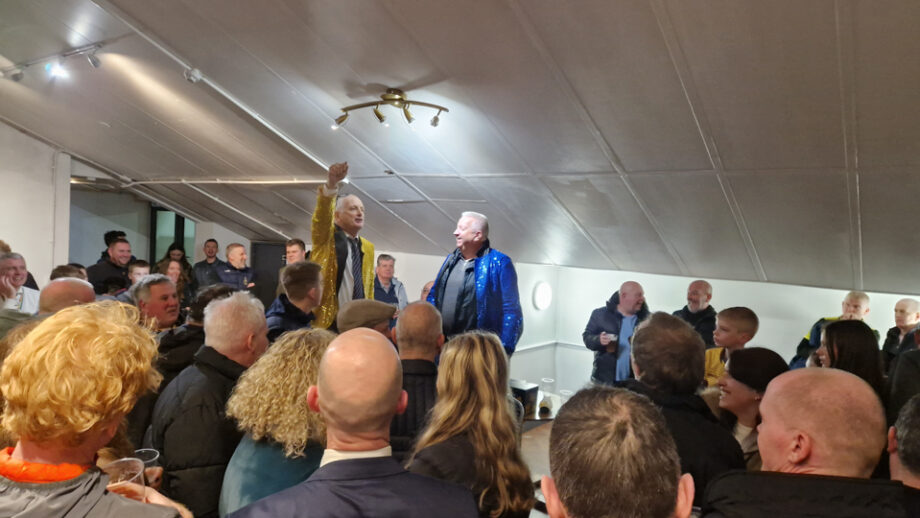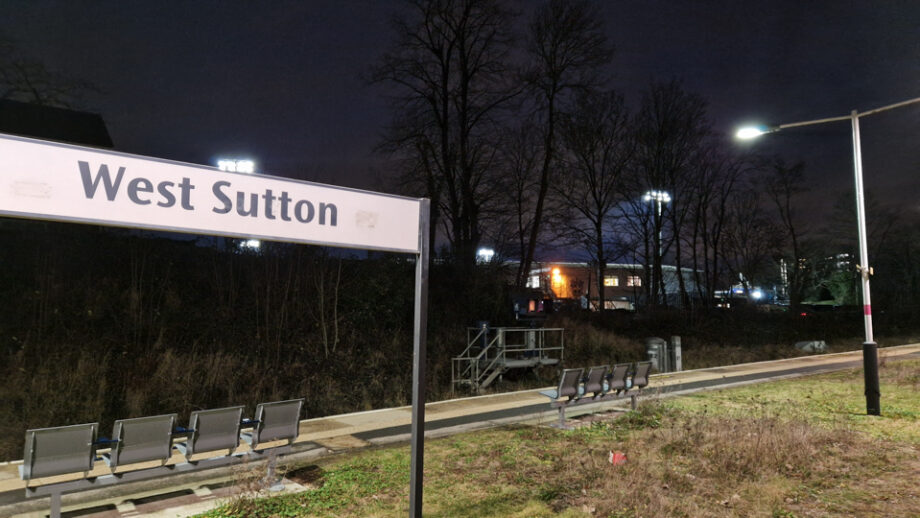 Magnum's soon on my daily to remind me of the train home however and necking the last of my pint and leaving all the mob to a DB funded piss up at the Race Night this evening, I and the PI amble out into the cold for the train to the Badlands. On the platform, Dundo's sat with his cans on, no doubt coming up with another masterful set for the changing room boom box. We also catch up with Johnnie who's on his way to some party off up town. Ah to be young and fancy free again! As we head around the loop, Magnum is quite vocal about how much he's looking forwards to his Chinese for tea tonight. So much so that when alighting at Carshalton I bell up Mrs Taz and ask if she too fancies some Asian cuisine as well this evening. And with the go ahead, having reached the 407 stop on the high street, I make the call to get it all ordered up, meaning it should be waiting for me when I arrive. Up here for thinking, down there for dancing as they say!
The plan works perfectly and I'm soon back at HQ with a big bag of takeaway and stuffing my face on the sofa in front of the telly with her indoors. A thoroughly successful day all round I'd say. What's that? The Donny Rovers forum is a right old laugh about today's defeat to little old Sutton??
Oh go on then, just a quick read.
Taz