Yes, it is I, the Duke of Sutton & Hassocks back once again for the renegade master. So you can wipe that daft look off your boats. The Surrey Senior Cup is back on the agenda and of course, tradition round here dictates it has to be no other than me to write a lil' ditty to accompany the football. I do love this competition you know. Have I ever mentioned that before? It's a right little look back into the past of when things were much simpler. But I understand that things move on. Not always for the best mind you.
Merstham away is the tie. It's been a few years since we've travelled down to these parts. In fact it was a rather eventful night the last time out, but for all the wrong reasons. Proper cup shock that was and no mistake. Worse than Farnborough last week that's for sure, as most of us knew was a real possibility of us playing shit in that one. No one thought we'd lose to Merstham!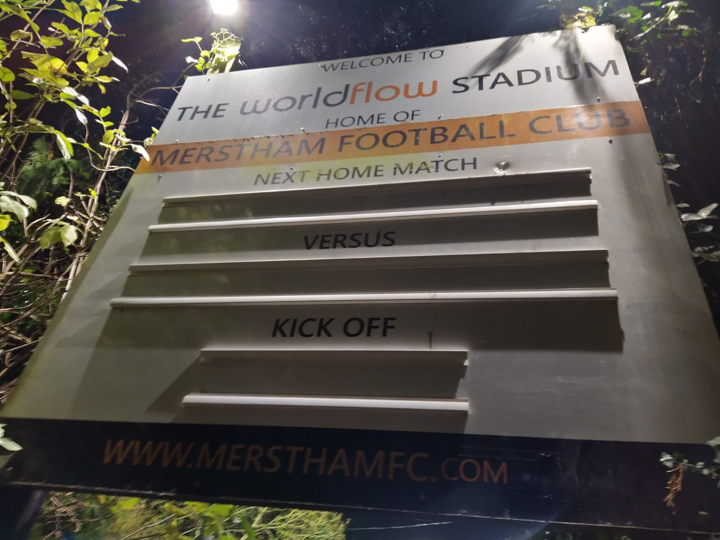 Once again the official Twatter handle goes odd ball in the build up to this huge clash by claiming it's been a decade since we last won this illustrious trophy. Sorry lads, but more like double that! Yeah, it has been a near two full fuckin' decades since we lifted the trophy against K's down at Imber Court. And there were no dancing stewards that day either! It's even a decade since we were in the final last and that was not a good night at all, still gives me nightmares in fact. And not just because fuckin' Juan blogged it. Speaking of which it was his 40th Birthday on Monday. Getting' old fella!
It's a simple trip to Merstham that only involves me telling a little white lie to the Duchess to allow some room in the old schedule for it. "Just going for a pint of milk love". Straight into the jam-jam and it off down the country roads like a Russian tank hiding from a Ukranian drone. I find a parking spot nearby and begin the walk to the ground, only to bump into the elusive Mr X who has also made the trip but had spent ages looking for somewhere to dump the motor. You either got it or you ain't sunshine. £5 Entry on the door (no weird barcodes here!) and we are ready for a clash of the kids as no first teamers are playing for us tonight in order to protect them for the vital task of improving the wonder that is our league form at the moment.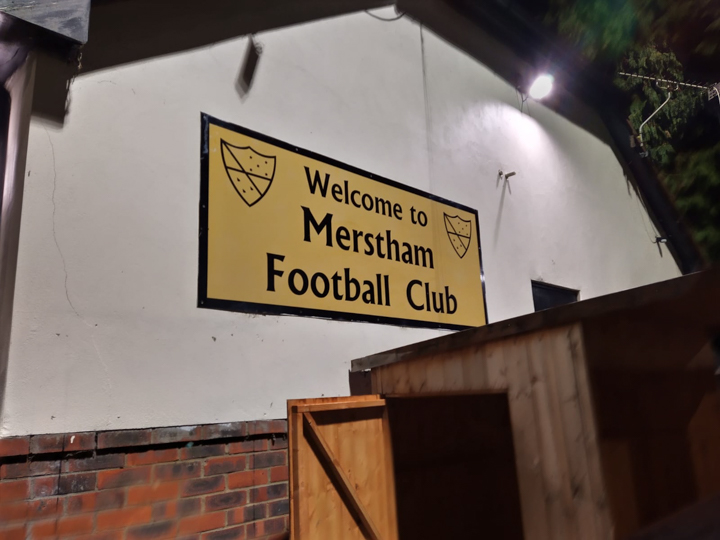 Chalupniczak, Charles-Cook, Sullivan, Khinda, Taylor, Nunes, McNally, Throp, Costello, Olabiyi, Tanner. Bench Warmers: Roberts, Morgan, Williams, Grant, Traore.
Before the match had even kicked off, we lost the young Tanner to an injury in warm-up and he was replaced with Grant. What a great start and pretty much in keeping with our "Can everyone stop getting fucking injured please?" season so far. Just before kick off I'm sent to the tea hut by Mr X, but my complaints are soon soothed a bit by it only being a quid a cuppa (these non-league prices!). Brewed up, we moved round behind the goal we're attacking and we're already partaking in the first cigarette of the match, as we are of course allowed, for this grand occasion, to relive the good old days once again, whilst Sutton produced a dangerous cross into the box that has the man of mystery remarking "Haven't seen that all season". Ah, a duty free menthol Pall Mall never tasted so good.
Sutton started with a tempo much like the first team, keeping the ball moving as we peppered around the Merstham box, all while we kept fingers crossed the kids didn't carry on the seniors other habit of giving up on the game at the 80-minute mark. Then Sutton took the lead when the centre-back in the middle of the box, received the ball, turned on a sixpence and leathered ball home. 1-0! That's more like it fellas. Take a bow Jack Taylor. Crackin' goal.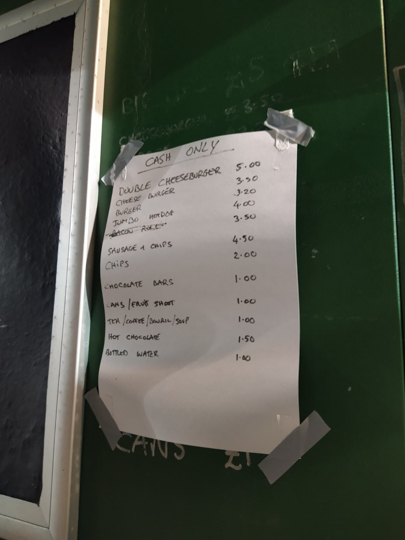 Sutton continue to pile on the pressure, but Merstham still try to play it out of the back regardless. Not sure what this obsession is with using the centre-backs inside the box when the keeper takes a goal-kick. Just lump it up the pitch lads and go from there. To be fair, I was surprised how young the Merstham team looked even compared to ours. As Rax commented: "I've paid a fiver to watch 16-year-old boys". Hmm, any other setting and that would definitely be misinterpreted. But not here, we're all fuckin' serious grown ups us.
Around the twenty-minute mark and Sutton get a free kick down by the Merstham corner. It's crossed in and flicked on. And unlike the usual Kizzi miss we've come to the know lately, it's met by the head/hand of Daniel Olabiyi and it's 2-0! Wow, two up already. Maybe this won't be quite the worry that I was thinking it was gonna be on the way in. Sutton tried to carry on in the same measure after this but Merstham finally managed to get into the game without really troubling the U's back line.
Second half, and we take our places down at the far end. With the rain now ceased, I take the opportunity to have a chinwag with our very own club photographer Mr Loughlin. And he has got some right good shots of the action so far. Damn that man can take a photo or two. Much better than my efforts, he must have a proper good camera. So good in fact he can definitely raise the question of our second goal not being given for hand ball. And not only that, has evidence of a possible hand ball against Merstham that was not given in the box. Fuck VAR, we've got LAR.
The football on the pitch was at start a more leisurely affair in the 2nd half with both teams cancelling each other out. That is when out of nowhere we get to see our1980's-style permed centre-back pull one out of the pickle barrel and send an overhead smash against the post. My attempts at getting a shot of the action we about as good as our ability to score some first team goals. I'll leave that to Mr Loughlin I think. It wasn't going to be long before again we were shown some sexy football with a crackin' shot from Cameron Grant that came off the Merstham bar. Most had by this point agreed that this was the best football they'd seen all season from Sutton. Shame it wasn't the first team.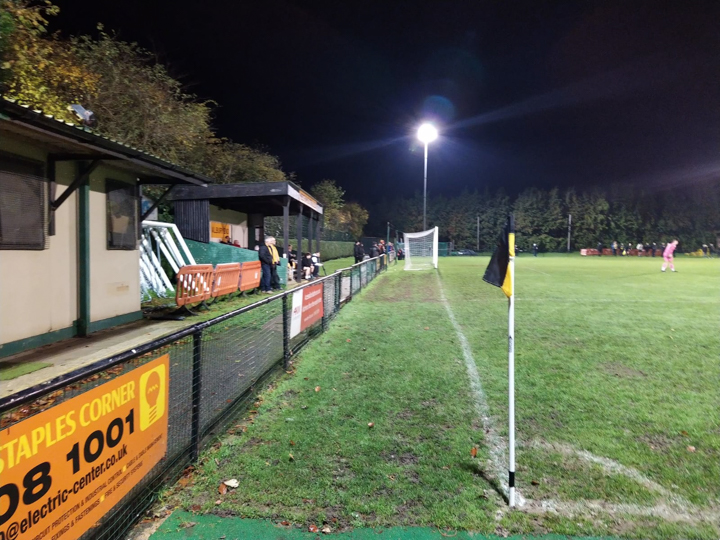 The third and killer goal was to eventually come late on when Jorden McNally got onto the end of a low ball across the box to finish with a tap-in. 3-0! That's how you do it lads! After this and the flurry of subs the game lost its mojo and the only highlight would be when the announcer would announce things with a slurp on his tea inbetween names. And by names, I mean numbers. "10 is coming off for 12". You gotta love non-league!
Most of the half was also, as usual, spent chatting about all shit to pass the time like we used to back in the day. Questions like "Who were the three youth players that Dos signed after a SSC game?", "When was the last time we played on a Monday night?", "Where do Horley play?" & "When was the last time we paid £1 for a cuppa?" to name but a few really boring questions that ex-non-league fans talk about.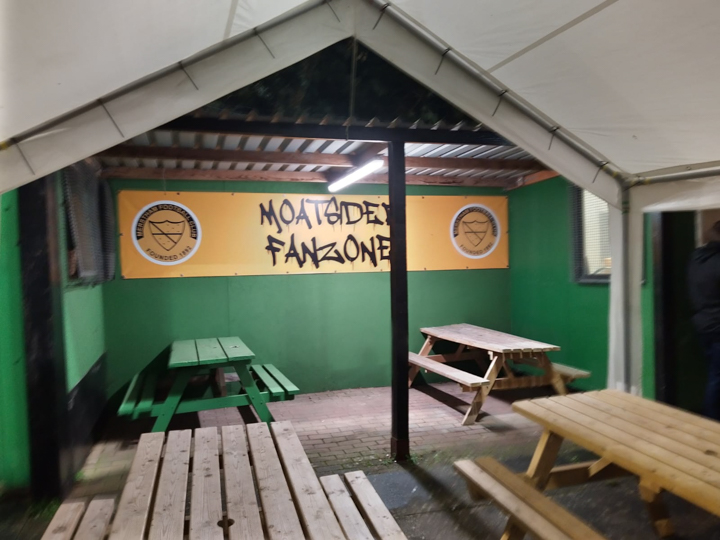 Final whistle and its time to say goodbye everyone except Rax as I offer my Christian services to give him a lift back, out of my way, to the wilds of Leatherhead. By the time we've even torn up the countryside through Gatton Bottom, we've reached the M25 and it's a saunter down to the next junction. Rax is dropped off at the local shopping centre to find a pub for a quick nightcap and I'm heading North back into the big smoke. Or Worcester Park as we call it round here.
So that's me done for another round. Of course a victory now means that I've got another match to go to and another blog no doubt to get fuckin' lumbered with write. Oh well, back to reality with Rochdale at home on Saturday in League 2. Yet, there is still a part of me that looks back to the old days thanks to the last announcement made as we left the ground last night. "Our next game is against Chertsey Town…".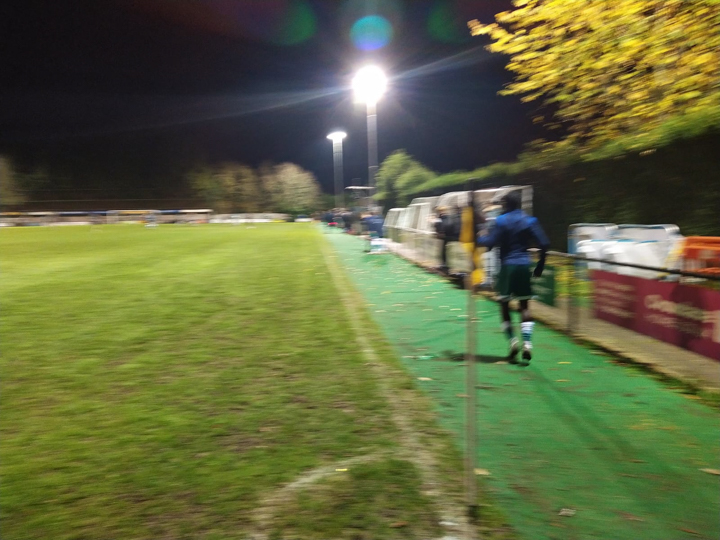 Enjoy!

Duke
Att. 199