You can tell who the glory hunters are. A bit of a dip in from and the usual Gandermonium scribe disappears to leave yours truly lumbered with another head scratching session, ie. where do I go with this? Then of course, Kebab Belly Bob is a no show too. Some family bollocks to attend – on a Saturday afternoon? What about your football family FFS? Priorities, eh.
The week's football started with a trip back in time (well, not that far back tbh) and the near grass roots of our beautiful game; Merstham (note the lack of a second r in their name) in the Surrey Senior Cup. Merstham was the scene of the infamous walking stick episode back in 1981, a match that U's won by 9-3. The academy boys did the club proud defeating an equally young home side 3-0. However, the libellous statements made by some on Twitter about me soured what was an otherwise pleasant distraction from the woes of an injury hit senior squad. It is normal at this juncture to state that my solicitor has been consulted but as I haven't got one, I won't.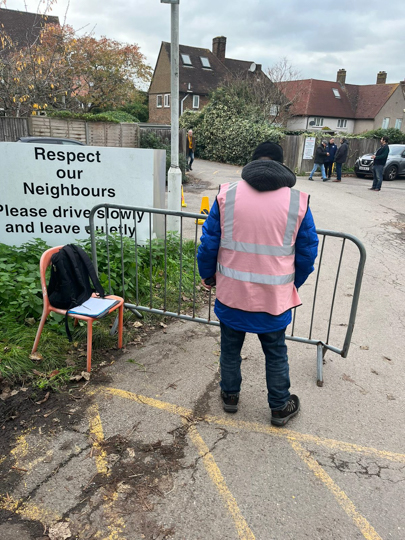 As I type, the 2022 World Cup's opener is just under two hours away (although on my TV at present some guy has just woken up to discover he his sharing a bed with a severed horses head and someone appears to have stuffed cotton wool into Marlon Brando's gob). There has been much debate about whether we should be watching this Qatarstrophe (the WC not The Godfather) but as I am not sure how many such tournaments I have left in me I have opted to view. It doesn't feel right though. Wrong time of the year for a start. (Un)fortunately, proper football will get in the way of my normally near-religious zealot approach to watching plus, as a fat bastard (there's one on my TV being strangled at present) I will miss tomorrow afternoon's match because of a pre-diabetic course session. Seems my fruit based breakfasts are no compensation for an afternoon of chocolate digestive guzzling.
The FIFA President didn't do himself or his organisation much good with yesterday's diatribe. Personally, after this fiascos over, I think the various FA's across the world should tell Mr President and his mates to fuck off and then start a new body from scratch. FIFA's credibility had already been murdered by Blatter so managing to appear to kill the same thing a second time is quite an achievement. So to some real stuff. L2 and all its glory. An early departure from the (recently) not so sunny south coast up the 24 with little traffic to comment upon and the joys of car park duty. Mr X is already in situ as he readies himself for another busy stint in the Club Shop. AFCW tickets purchased along with match day prog and a quick check to see that my contribution is ok (a bit late if it isn't) then on with welcoming the great and the good to the old lady that is GGL or VBS if you prefer.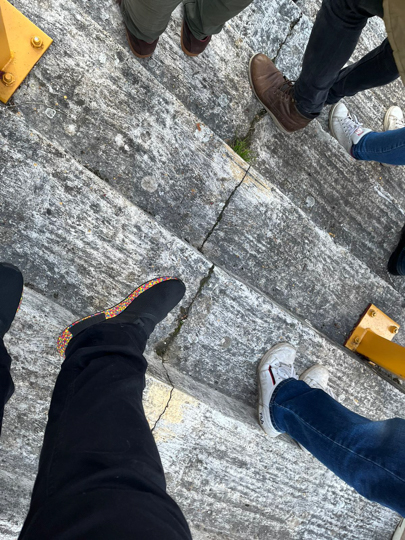 This car park stewarding malarkey can have its moments but today is reasonably smooth. One aspect though is noticing the weather and it has to be said it is remarkable how few rainy Saturdays there have been in the last couple of years and indeed, icy ones. Climate change, eh? Thank fuck I ain't in my twenties or indeed younger.
U's visitors today are Rochdale. Considering the fact that between them the two sides had netted 29 goals in 36 games so far this season suggested this was to be no goal fest. With the Sutton absentees list pretty much the same as last week and the week before ad infinitum the team selection sprung no surprises.
Rose, Boldewijn, Kizzi, John, Milsom, Eastmond, Neufville, Lovatt, Kouassi, Wilson, Randall SUBS: Hart, Ogundega, Dundas, Fadahunsi, Kendall, Ward, Thomas
Up on la curva, the usual suspects minus KBB gathered, some realising only at that point that our old mate Sam was in the middle. Now, with Easty a card away from a suspension and this being the last match before the ten card target comes into play, fears that U's skipper would end up missing Carlisle away (who could blame him if he did?) were real. Sam and Easty have history, big history. However, Sam surprisingly kept his cards in his pocket all afternoon, although there was little to get them out for to be fair. One poster on the Rochdale forum listed the officiating as being very poor. Blimey, he must have been lucky this season so far if he thought that and certainly not seen Sam at his most bafflingly eccentric. He actually had a decent game. Decent in comparison to many other refereeing performances this season; not that bar is very high.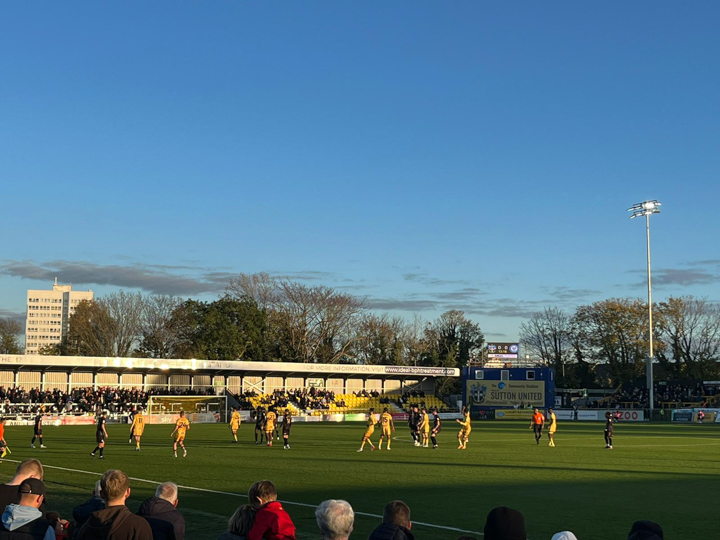 That same Rochdale poster who belittled the ref, also had a go at pretty much everything else from the day. He might have been right on some things but our pitch? Poor? What, 'cos your lot lost on it? Do fuck off.
Dale started well and had decent possession. A couple of early scares including Rob Milsom stretching to prevent Quigley from a golden scoring chance. Sutton grew and enjoyed a lot of first half attacking. What was to prove the only goal came in rather bizarre fashion. Will Randall's corner swung in from the left and dropping to hit the far post and then the back of the net. Been a while since U's scored direct from a corner, Matt Gray (no, the other one) at Dorchester apparently being the last one. Before that Steve Smart at Grays and even further back, Trevor Bladon at Clapton. Any others anyone?
If I was a Rochdale fan I wouldn't have been too chuffed with their 'keeper's contribution in all this. He is a big lad and there was no significant wind to deal with. So a fuck up basically; and a bit of long awaited luck for the beleaguered U's.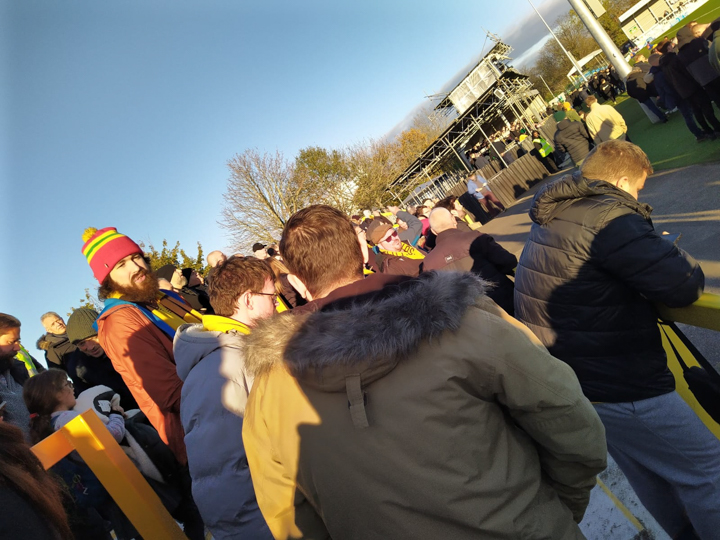 Across the rest of the match, Sutton probably had the more, clear cut chances with Milsom diverting a shot with his head off a post, Donovan Wilson's touch not quite good enough when needed and Tope Fadahunsi heading over from a fine cross when he really should have scored. In mitigation it would have probably been his first touch of the ball plus he has seen little in the way of football action recently. Rochdale pressed for much of the second half but found U's defence defiant and Jack Rose in goal, in great form. Rochdale's record goal scorer, Ian Henderson missed a great headed chance while Joe Kizzi did enough to prevent another 'Dale chance hitting the target.
When the board went up for five minutes of added time (correctly in my opinion) the nerves began a jangling on la curva (by the way there was some serious headgear going on up in the heights, serious enough even to challenge that of Qatar bound 4Days) but U's saw it out for what in the current circumstances was a massive three points. It wasn't a great spectacle and I actually thought we played better against Bradford the week before but the difference was the goal. And at present the result is the most important thing.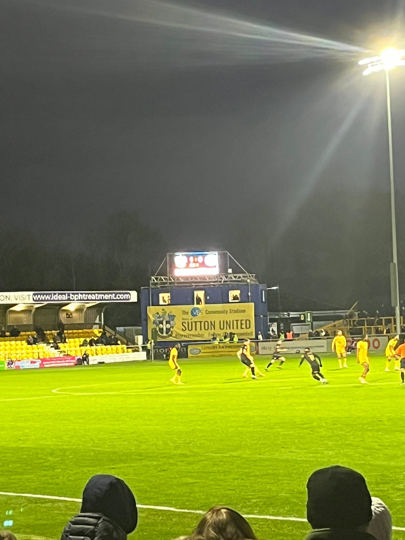 Afterwards another old Sutton lag dropped me some scrapbooks of old press cuttings and a few old programmes that are in better condition than the ones I have already. A satisfying afternoon and boy does it make that drive back home in the dark almost enjoyable.
Right, I am off for tea, chocolate digestives and the mouth-watering prospect that is Qatar v Ecuador.
Attendance: 2,954 – decent considering recent form.
Frakey
Thanks to Greek, Nat and others for the donation of pics!