Merry New Year reader people! Yes yes, I'm well aware it's the 14th of January. But I've been unwell you see, so this is the first opportunity that I have had to bring you the greetings of the now long departed festive season! I did think I was over the worst of my terrible illness, but then I had a huge relapse, became utterly delirious and found myself on the way to fucking Merstham for a Surrey Cup tie.
Trust me, that's one complaint a dose of Night Nurse just ain't gonna touch.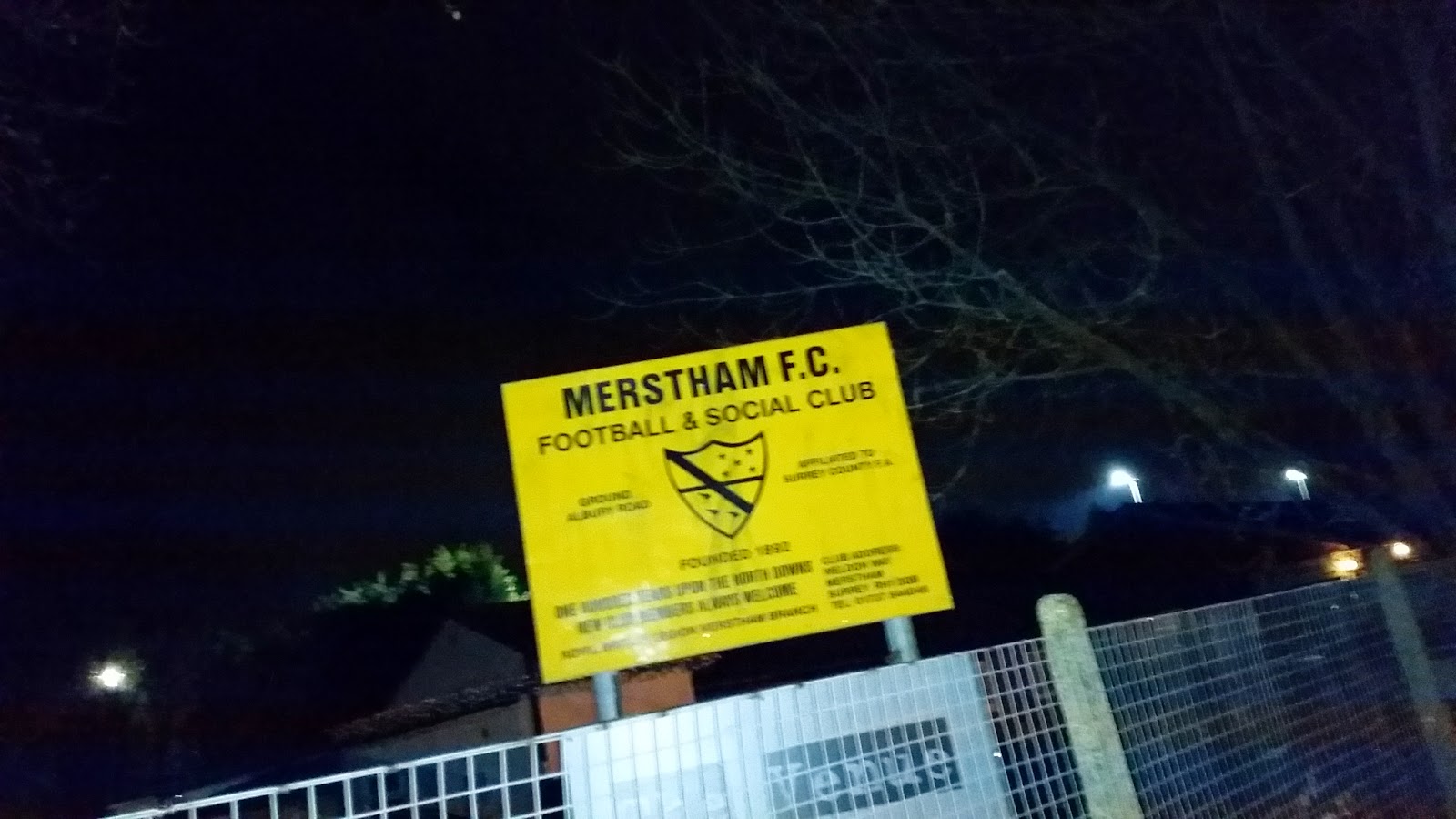 Dukey based smoke effects not included.
To be honest, another night at HQ poodling about doing nothing of much consequence didn't really appeal. Plus I'd missed the last 2 scintillating episodes in the BBC3-esque black comedy series currently passing for Sutton United's season, so was a bit withdrawn with regards to a football fix. And besides, staying in might involve an actual visit to BBC3. Which was not a risk I was prepared to take.
Most importantly of all however, I owed Tom one. With a faint waft of Brut, he'd manfully stepped in to do the Wealdstone game for me on NYD whilst I lay on my death bed and once more had to write about an uninspiring Conference South match that we failed to win. So given how high a regard he holds the County's premier knockout cup competition, it was the very least I could do for his lordship the Duke of Sutton & Hassocks to cover the game & thus allow him to fully concentrate on this huge clash without having to worry about writing about another haldf arsed defeat it all up for your delight and amusement. Although to be quite frank, come about 9:45pm last night, I wish I'd been more of the view of "Fuck him, never really liked the bloke anyway. Never bought me a drink either" and not bothered.
A bit like the team really.
For once, Thameslink are able to run a train as per the advertised timetable and I find myself at a damp West Sutton at a quarter to 7. Waiting outside is Mr X, with Crockett in the passenger seat of his Italian made motor, recently christened 'Donna' by Dukey after the trek down to Weston where much amusement was had with it's feature of reading out text messages in a female voice with an Italian lilt. A quick pitstop in the club carpark follows to pick up Dukey and we're off down the 217 and the wilds of Surrey.
On the trip down, the usual abuse is partaken and we also question Crockett's sanity given that not only does he hang around with us a fair bit watching this nonsense, he's a QPR fan too. And we thought we had it bad! Chatter also understandably turns to expectations for this evening. County Cup advocate Dukey is non-committal with regards a scoreline and simply declares "If we don't win tonight, I won't be fucking happy". Mr X reckons a 3-1 defeat. I on the other hand am slightly more specific.
"They'll go ahead, probably after doing nothing, we'll huff & puff, eventually equalise and look like the only possible winners before chucking in the usual calamity in the last couple of minutes".
Now, read on to see if Mystic Taz's eerie portent of doom does indeed manifest itself in somewhere in Surrey.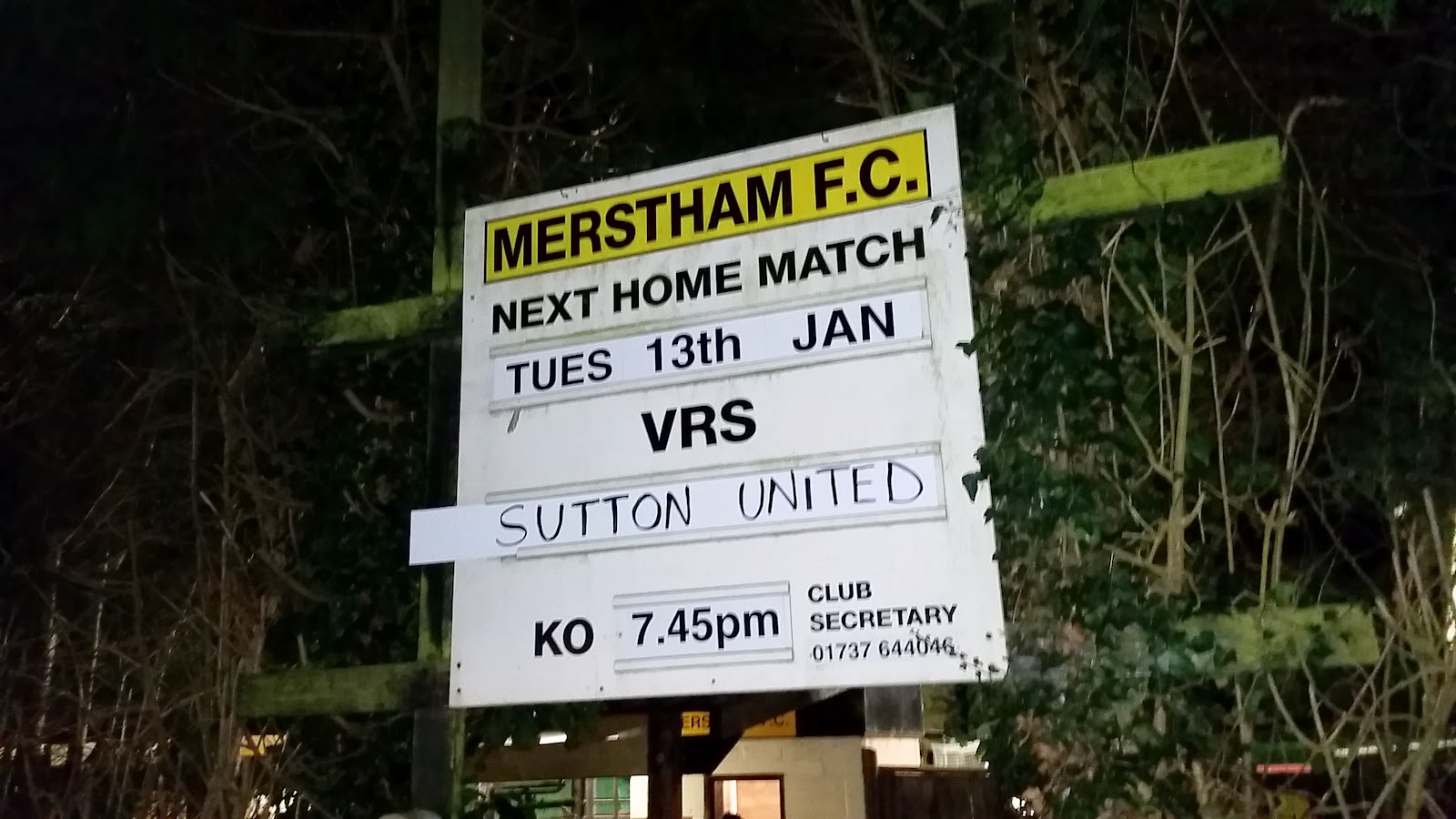 "That's disappointing, we're in the right place….."
Despite it seemingly being in the middle of fucking nowhere, we're soon in the sleepy hamlet of Merstham where the inhabitants are obviously so posh, they refuse to have any ATM's in the locale that let you access your money for free. "What? Money? For free! With no charge Dear lord no! What are you, some sort of asylum seeker or something?? You'll pay £1.75 for the privelege like every other honest working rich person!". We find a spot & park up just around the corner from Moatside, the home of our Ryman 1 South hosts. Which is actually a rather misleading name for the place to be fair, as whilst it was admittedly dark at that hour, we saw no signs whatsoever of a moat anywhere nearby. Or indeed a castle that would require the presence of such a watery type defensive boundary.
Bloody charlatans. We reckon they just made it up to make the place sound more interesting. Which is a shame really, as had there actually been a moat, we'd have had somewhere to chuck our team later on that evening.
Crockett, Dukey & I head into the bar for a quick snifter whilst the mystery man wanders into the ground tightly clutching the flask of tea he's brought along for the occasion. He thinks he's being practical on a cold night watching the football and claims it's a lucky Surrey Senior Cup flask, when we all know he's really just betraying his Scottish roots a little too clearly and is too fucking tight to actually buy a cup of rosie.
TEAM : Lovelock, Evans, Collins, Wellard, Cooper, John, Hippolyte-Patrick, Southam, Dundas, Gomis, Wishart SUBS: Dos Santos, Serbonij, Bowry
Beers downed, we head in ourselves shortly before kick off (with not a drawbridge in sight, let alone a bloody moat) and find that we're largely fielding a first XI instead of the largely ressie side we'd half expected. We guess that with no game on the saturday, the management have decided that the lads need the game time. Although just the 3 subs is a little worrying, especially considering neither of the outfield players is a defender and we've got Louis John starting for the first time in donkeys after injury. Our current lack of depth is also somewhat exposed by the fact that Dundo is joined up top by Wellard.
With the home side in great form at the mo, boasting an unbeaten run of something like 11 games, we expect that we'll be in for a torrid night. Unfortunately, whilst what transpires is a reasonably contested affair, there's little to set the pulse racing. The hosts look confident, but don't quite go about their business with as much as zip as I'd expected, whilst we mainly pass sideways with occasional forays down the flanks. Wishart has the most joy in this respect, but a couple of runs to the byeline come to nothing.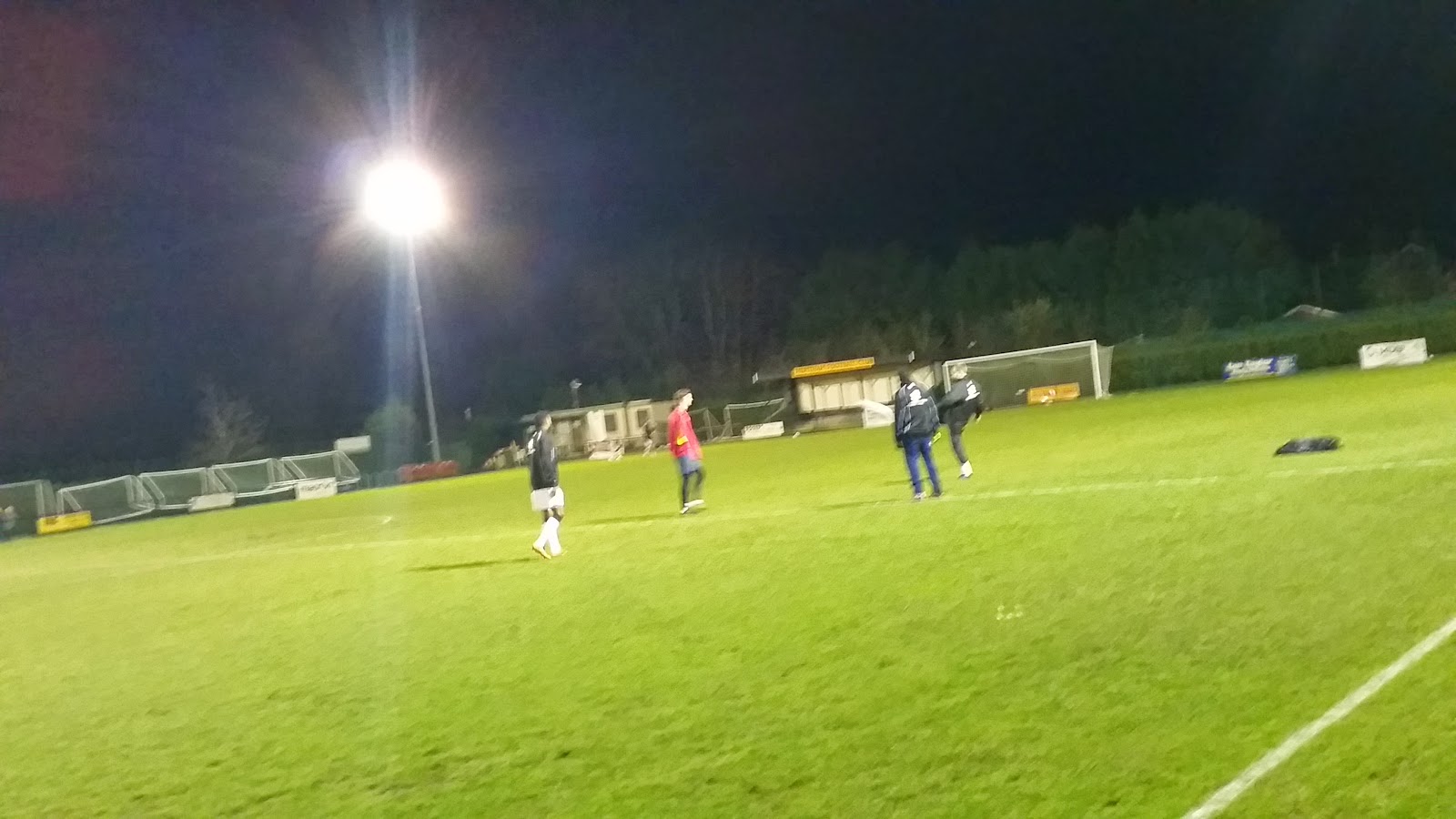 "Are they ours?" "Doubt it, they're moving…."
Merstham have plenty of the ball in our half, but create little threat. Meanwhile we manage to carve a couple of decent openings with Dundo having a low effort from an angle stopped and a Jack Evans free-kick from 20 yards deflected and forcing a good save from the 'keeper. Then, as on a lot of occasions this season, we give away a really soft free-kick out wide in our final third. Having watched us as much as we have, you just get those little feelings when something is going to go wrong. This is one of them. The free-kick being hit low and hard, pinging off the far post and finally nestling in the opposite corner. Just over half an hour gone.
We huff & puff a bit more and create little in response. The best chance falls to Beds shortly before the break, harrying about 25 yards out from goal he blocks a hurried pass and bursts into the box. But having drawn the keeper, his finish lacks quality and he thumps his shot straight at the stopper. Then in injury time, an unexpected bonus is handed to us when the Merstham number 2 leaves his foot in as Wishart turns him on the touchline in front of the dugouts.
It's not a particularly malicious challenge, but it's somewhat pointless given the field position and the fact he's got several colleagues behind him covering. The ref isn't happy with the intent however and shows a straight red card. Someone nearby isn't convinced this will help us however, muttering "Great, we're going to lose to 10 men".
Half time arrives eventually and I head for the tea bar to procure Dukey and myself a much needed cuppa. Mr X meanwhile greedily guards his little silver flask. The tea is served in proper mugs, which makes it taste just that bit better than out of a polystyrene effort. We're also amused to find Frakey's mug is defective and his own brew is departing from it's receptacle via another exit other than the round one at the top.
Says a lot for the football when that's just about the highlight of the night.
The second half sees Louis John withdrawn at the break with Serbonji replacing him. We assume that it's more a precaution than another injury. We also hear that Micky Spillane has been massively held up by an accident on his way in, Medlock isn't fit and that of the 2 outfield subs on the bench, even Jerson needed a fitness test late on. Confidence building stuff.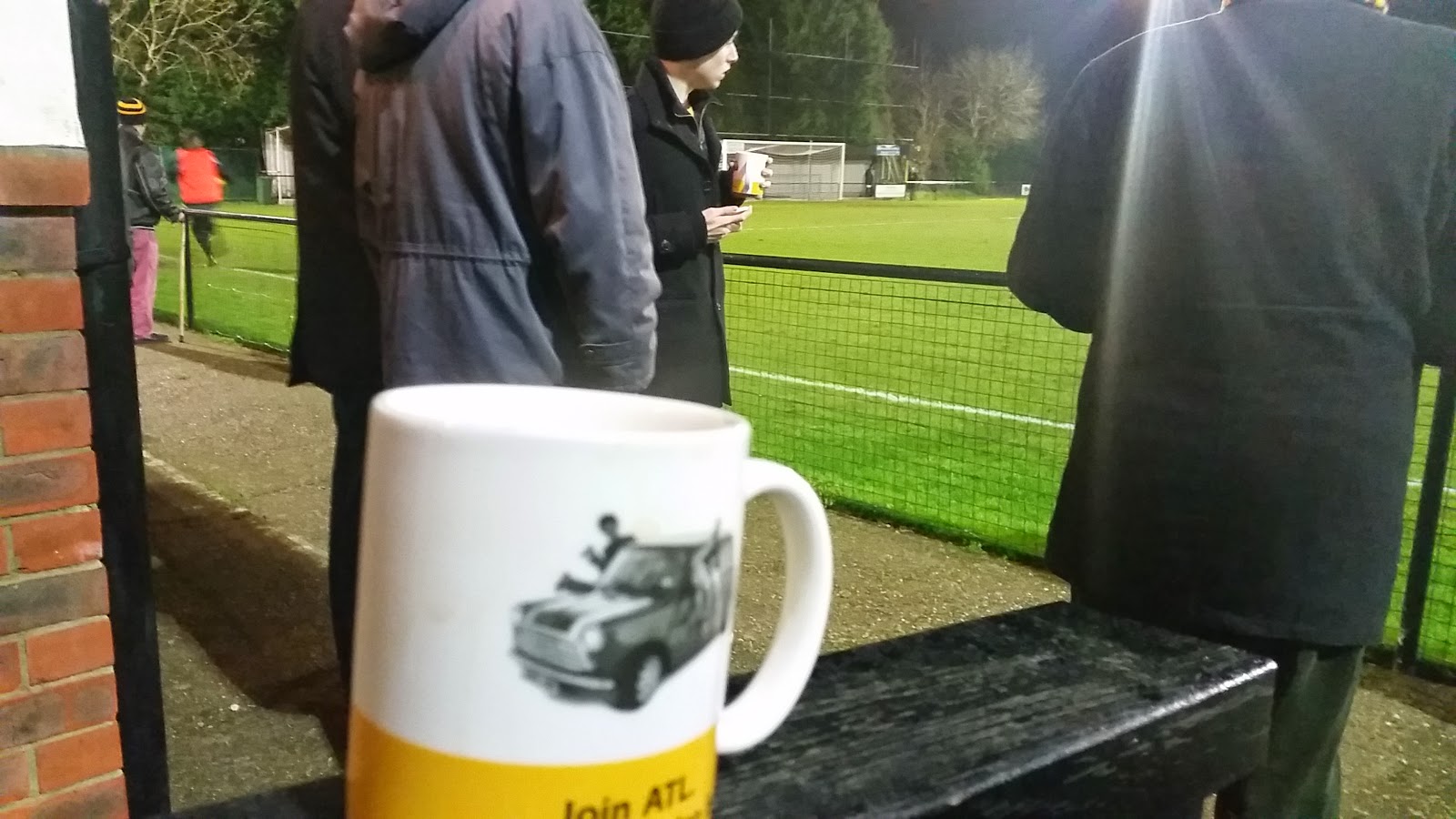 Poorly taken 'half time cuppa in a proper mug' shot….
Having a goal lead and a man less, it's no surprise when Merstham come out and defend deep in the second 45. It's also no real surprise that we have 90% of the ball and completely run out of ideas when in the final third. It wasn't really until about the hour mark that a glimmer of hope appeared when Beds hits a low cross shot towards the near post that the 'keeper makes a complete hash of and the ball squirts away from him across goal about a yard out. Typically there's no one there in a white shirt to tuck it away.
With this opportunity and it looking like we're once more onto a loser, we finally make a breakthrough. More rather uninspiring toil around the Merstham box eventually leads to the ball falling to Shaun Cooper about 25 yards out. He tries his luck with a shot and it takes a nick off one of the massed rank of home defenders, finding it's way into the back of the net. Finally!
Oddly though, the goal doesn't really bring a step up in tempo. There's a little under 30 mins to go and we're right back to toiling away. Surely we'd quite like to avoid extra-time? I know we bloody well would behind the goal. The best opportunities drop to Wellard cutting in from the right and firing a dipping drive just wide and a couple of efforts hit straight at the keeper. Mainly though, we seem to lack any real ideas in how to pull the 10 men around and we often make the wrong choice when we do create any gaps.
Oh did someone mention Deja Vu? No? Oh, thought they might given what happens next.
Having largely been restricted to the odd break which comes to nowt, right on the 90 minutes Merstham hit us on the break. A ball over the top finds Evans miles out of position and Tommy Hutchings, who gave us a right pain in the arse for Leatherhead in those 2 epic cup ties a couple of years back, breaks free, draws Lovelock and slots home. At our end, groans of both pain and utter familiarity at the fuck up that's just unfolded in front of us drift into the cold evening air all around us.
Ah, so that's how we were planning on avoiding extra time.
With such a late blow, there's just no time to recover and the final whistle goes soon after. A couple of us take the opportunity to point out what a fucking shambles this latest occasion has been before heading for the exits. Let's get the fuck out of here.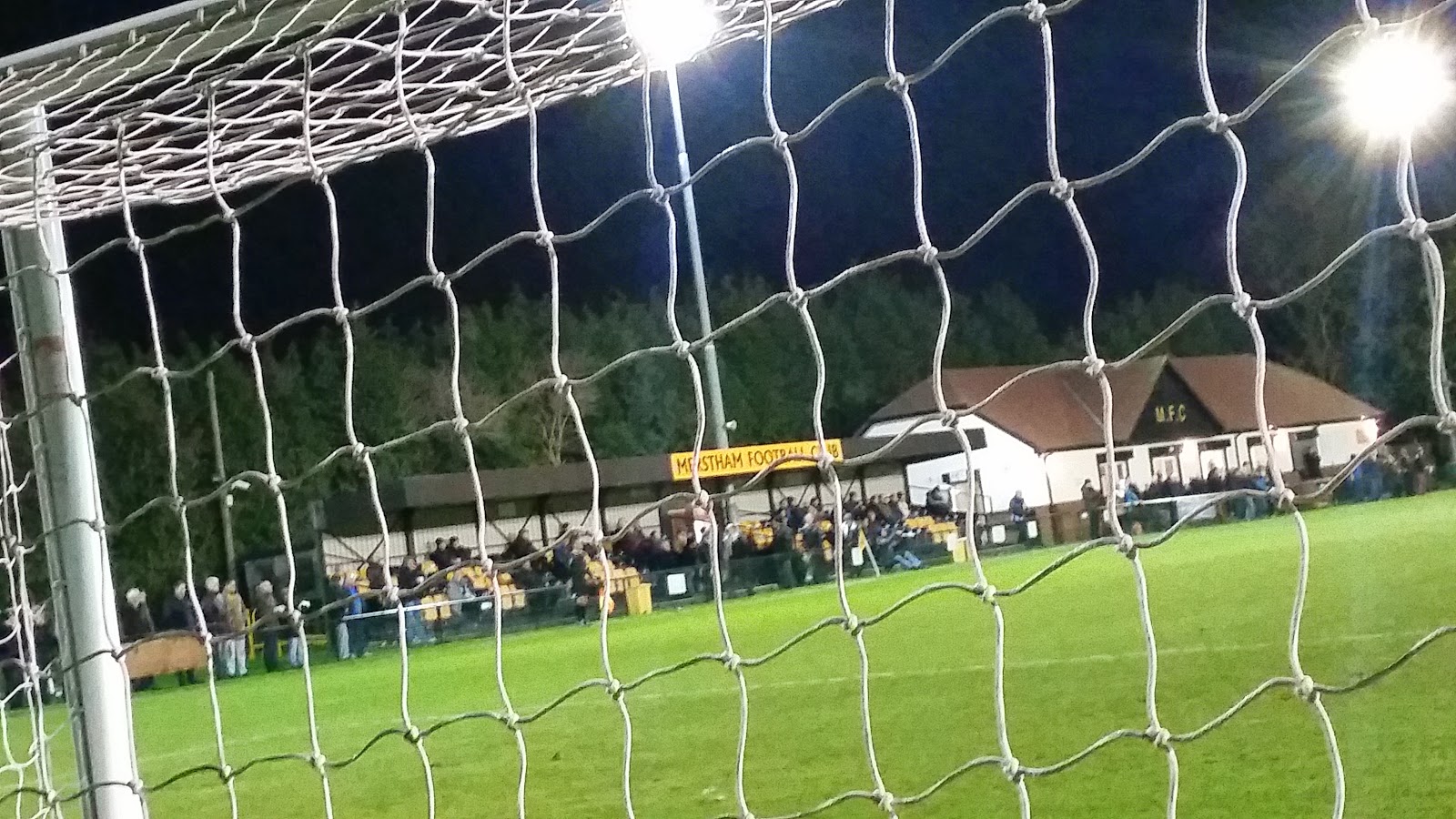 Moatside. With no moat.
The journey home is largely us cursing our team, although Dukey does break the tension by wondering aloud if it's possible to get a 2 for 1 deal on his pending back op to have the bit of the brain containing Sutton United removed at the same time. Unlikely we reckon. Sounds more like the sort of thing you'd get on BUPA rather than the NHS mate….
Now, let's be honest, yes this was 'only' the Surrey Cup. As a club, it's pretty much the bottom of our priorities at the start of a season (regardless of Dukey's hopes & dreams), but despite this it's still a first team fixture and one that we've basically fielded a fucking first team line up in. To lack any real drive or tempo in ANY competitive game, especially given they've all just had a week off, is frankly bollocks. Most of this lot are fucking footballers. That's ALL they do. So for essentially full time players to play an actual competitive fixture like it's some sort of chore isn't acceptable. "Confidence is low Taz" I hear you say. Well what better way to get a bit of the winning habit back by putting in a vaguely effective shift against a team two divisions below you? And one that played for half the match a man down!
Christ, sod the team. A bit of action and a fucking win would do wonders for our confidence on the terraces too! Because all we're seeing this season is the same rubbish over and over again. The same errors, the same lack of drive or tempo to our game, the constant and frankly infuriating habit of thinking games last 80-85 minutes and not 90. Yes, we are supporters, but for christ's sake give us something to actually get behind. . Fuck me, even when we do think 'Sod it' and give unconditional backing, we get the brush off like at Hemel in the trophy! With pretty much everyone straight down the tunnel with barely a second look. Yeah cheers lads. How to make friends & influence people eh?
To be honest, my personal patience with this collection of players, barring a couple of exceptions, is all but exhausted. They're largely a joyless bunch to watch and the odd flash of application such as the second half at Basingstoke, or the second half at home to St Albans just isn't good enough for what this club and the people involved in it (both officers and fans) are investing on a weekly basis both monetarily and emotionally.
As a final word, all credit to Merstham on the win. They worked well as a unit and for each other. Which is something else our lot could learn a thing or two about as they've shown precious little of that as well. Plus they're a decent little club. Fair play & good luck to 'em.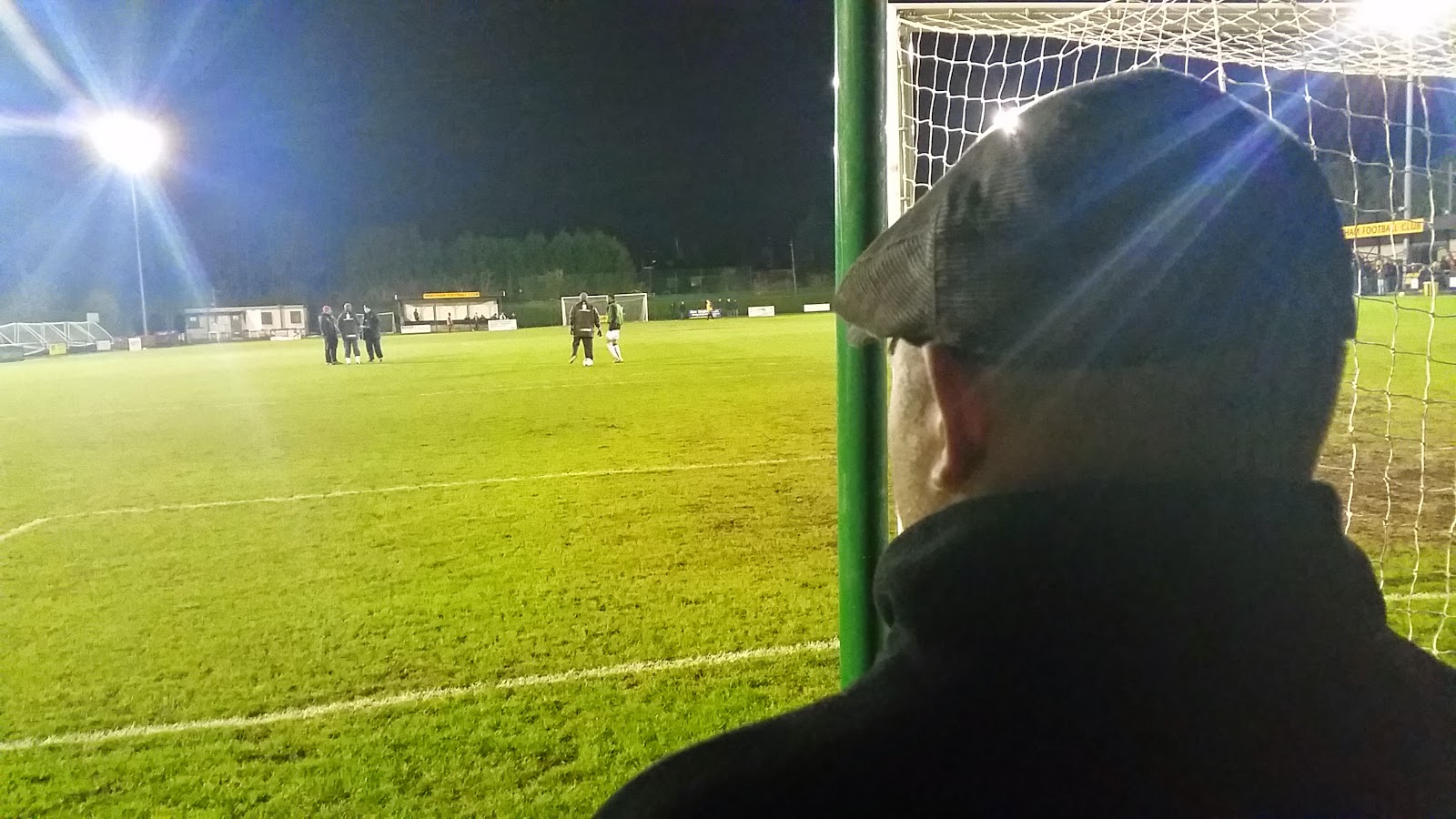 Dukey looks on whilst trying to remember the Samaritans hotline number…
Right, I'm off to do my voluntary shift on the Samaritans switchboard. It's the only way we can persuade them to take Dukey's calls every year when we bomb out of this fucking competition. Well, it's either that or make a large cash donation. And considering we need every penny for beer to blot out this shite, that ain't an option.
Still, good job we're not facing anyone with a vastly expensive League 2 standard strike force soon eh?
Oh cock it….