What the fuck? We actually won a game! Get in there my son! There be dancing in the streets of Raith tonight. It goes to show how much a win can lift your spirits. Of course that totally buggered up the start of my blog and I nearly had to re-write it entirely. Taz will no doubt be chuckling in his tea, knowing that trying to get ahead would blow up in my face.
I love a good statistic me, you know the ones that a thrown at each over in conversation between people. I've always found that you can always find a good statistic to support you when you need it. When this dreadful season finally comes to an end and is confined to the record books, all that will be left were the fading memories and the statistics.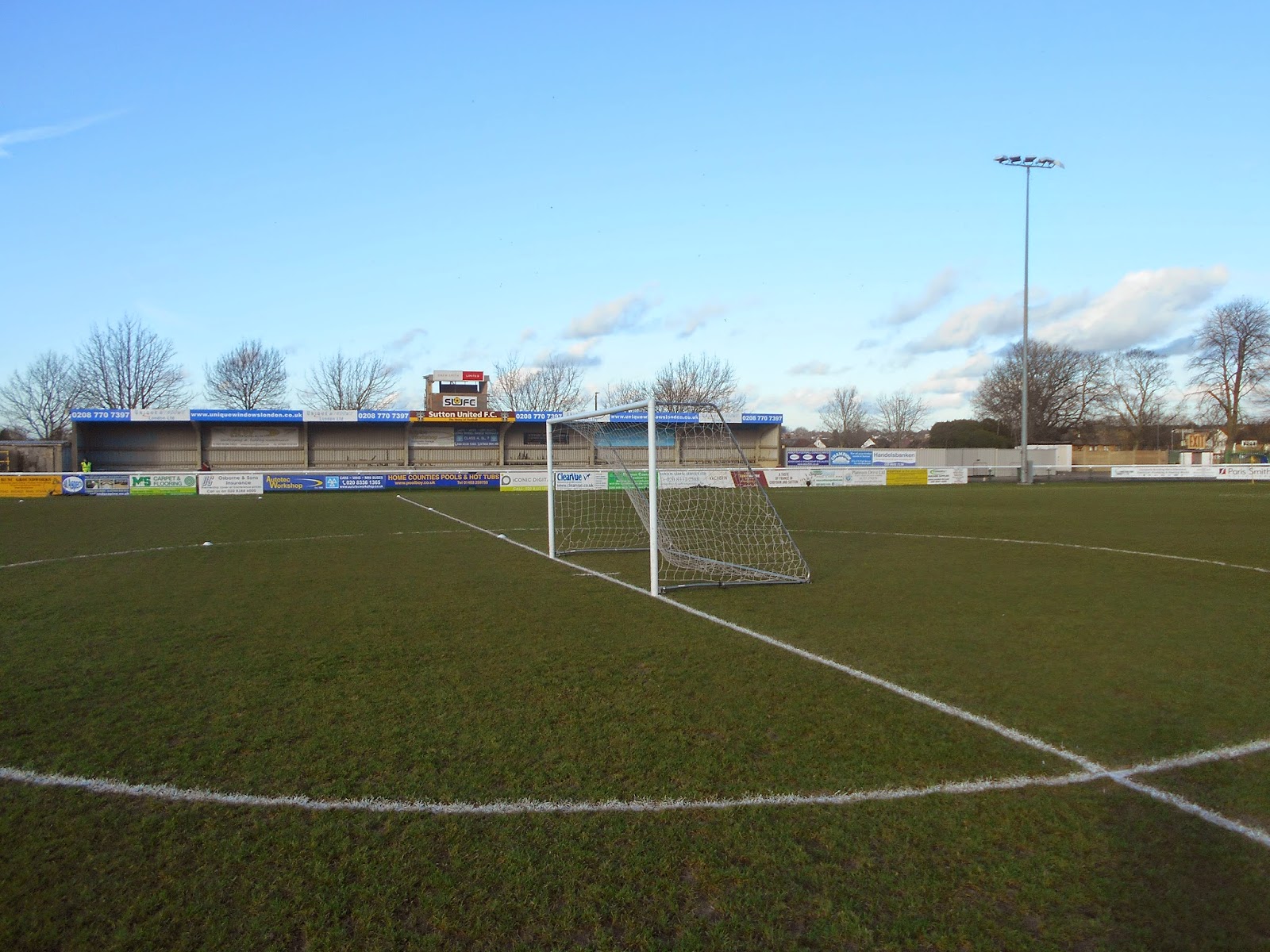 Don't think that's in the right place…
Now what statistics am I going to talk about? Well what about first that we've had only four wins in the last eighteen matches? Or maybe we could say that in the last thirteen league games we've managed to scrap together two victories? Short term, we can say that there has only been one solitary win against Stale Buns since Christmas. Of course that has all changed since five o'clock on Saturday.
Anyway other than myself, I don't think you all want to dwell on the past. I'm not even going to go on about the gutting depressing mediocre unpleasant disconcerting frustrating disappointing Surrey Senior Cup exit to a team with ten men two divisions below us on Tuesday night. If you are really looking to punish yourselves like a masochist with a hard-on or one of those that engages in a spot of Flagellantism. Click here.
Today we are to entertain Ebbsfleet and all the money that comes with it. If we are about to have a post-mid season shuffle in order to starve off relegation, then Ebbsfleet are doing to the same but in their case, it's to head up to the top of league and out of this division. Recent well publicised additions include ex-don Danny Kedwell and Cambridge boy Adam Cunnington and for nice fat pay packets.
With no trains on the loop this weekend I would have to change my plan of getting to the game. As lady luck would have it, the Firm Leader offered his better half's driving ability to take us to the game via a cash withdrawal at a local hole in the wall. I was convinced that today could go in two directions. The first that we would get absolutely bummed into oblivion and the second was that we might sneak a one nil win.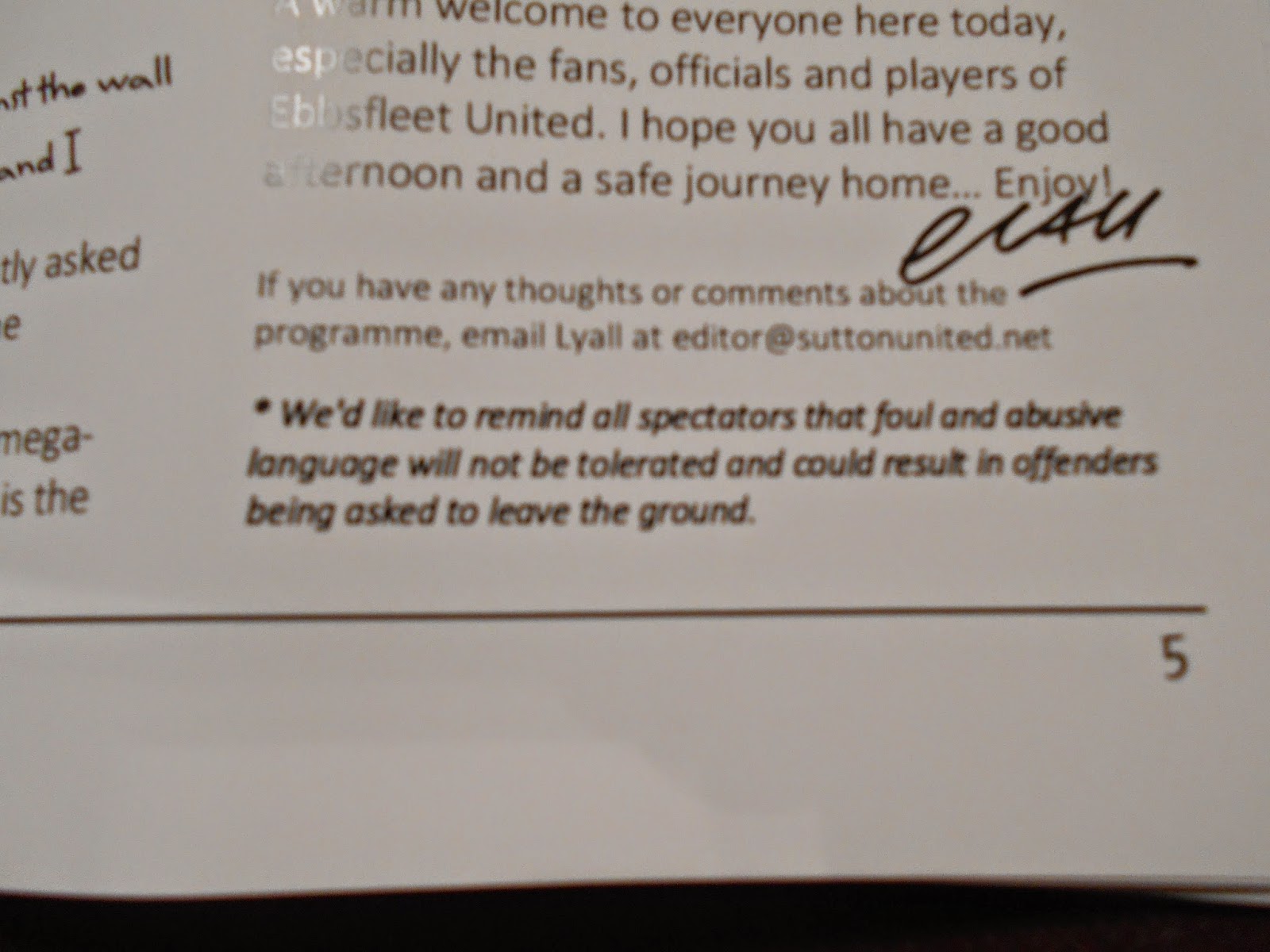 No idea who that could be for. Ahem.
We arrived at the ground at the usual time and headed into the bar. Already propping it up was Wardy & Mark N. The first point of call was to asked Wardy if he was posting on the forum under his own name. His response was simply put as "I wouldn't know how to log in!". As if to emphasise his point, as the rest of the Firm turned up, Wardy complained about the amount of late night notifications from our Whatsapp group was keeping him awake. We had to then demonstrate to him how to put his iPhone on airplane mode. "But I'm not on a plane!" he protested.
The team sheet was put up next to the bar and we got to see who was starting. I was surprised to see that the new keeper Howe was starting instead of Lovelock, but not of new boy Fitchett and old boy Scannell returning. Walking outside I saw the pitch looked a tad heavy in places and that there was actually a sizable amount of travelling support.
Howe, Wishart, Collins, Spillane, Cooper, Wellard, Scannell, Southam, Dundas, Gomis, Fitchett. Bench Warmers: Lovelock, Hippolyte-Patrick, Evans, John, Medlock
Taking a spot in the nearly full Shoebox as for once we swapped ends, the game begun. Within fives minutes we were in the lead when after a definite handball from Dundo, he laid it to Wish who gave it to Scannell. He gave us an inch perfect cross onto the nugget of Gomis who guided the ball into the back of the net. 1-0! We couldn't believe it on the Shoebox.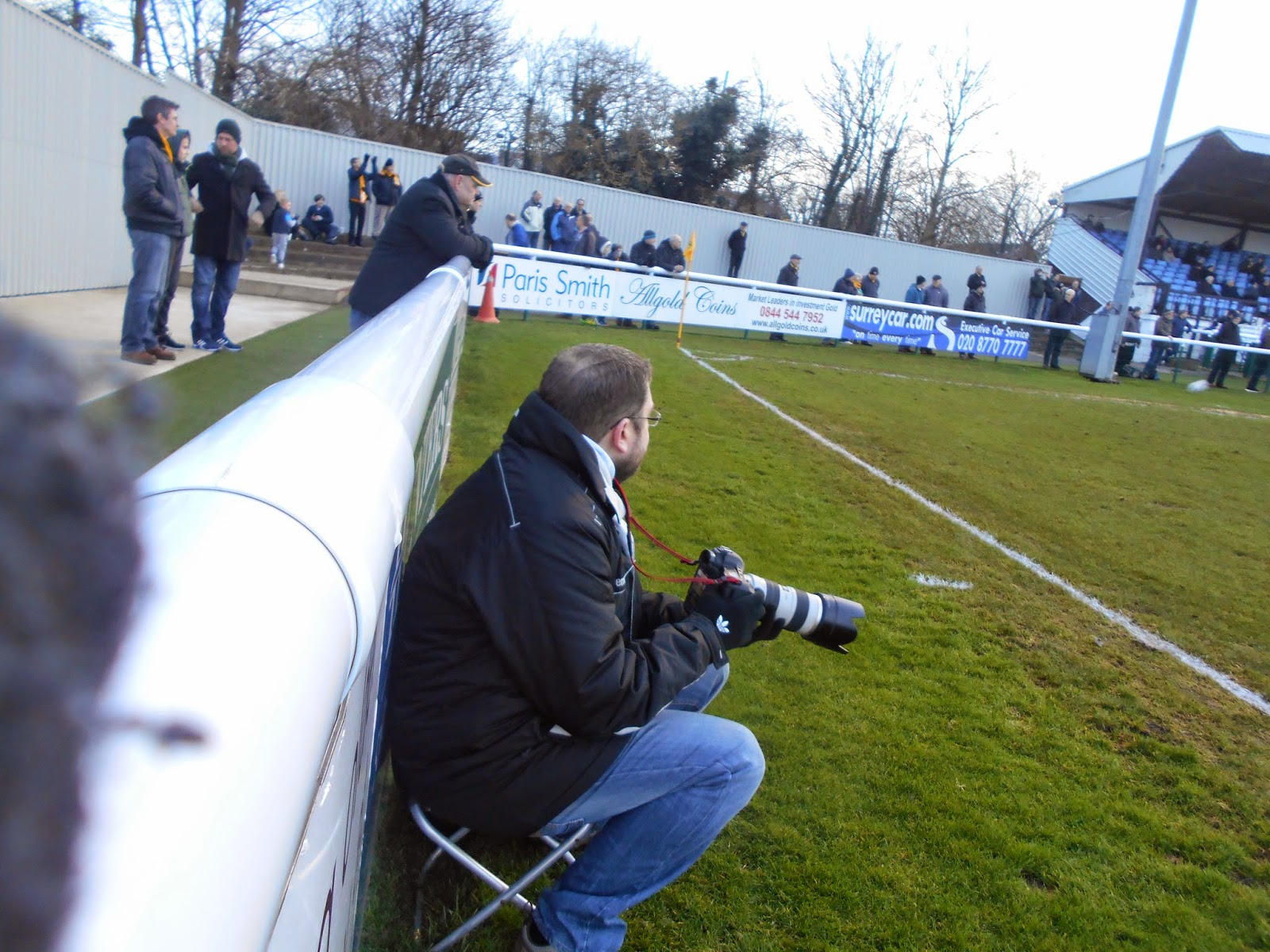 Snapping the snapper.
While we were still amazed by our start, Scannell picked up the ball in the middle of the Ebbsfleet half some minutes later. He pushed the ball out to the right where Wellard did his trademark cut in and slotted the ball past the keeper. 2-0! We went delirious on the Shoebox and our cheers went all around an otherwise very quiet stadium.
The question was now how long we could hold on. Dundo was booked for a clear foul and Ebbsfleet began to string some passes together. Still new boy Fitch could've made it three but he failed to beat the keeper with a shot straight at him. Ebbsfleet were nearly back in the game when a shot from nowhere crashed onto the bar and out for a goal kick.
The second half had us take root behind the goal at the Rec End. The only question on our minds was how long we could keep Ebbsfleet at bay. The longer the half went on, the deeper we went. This was made more apparent when Dundo was swapped with Evans just after the hour. A few of us tried to get the supporters to sing some encouragement to carry us over the line.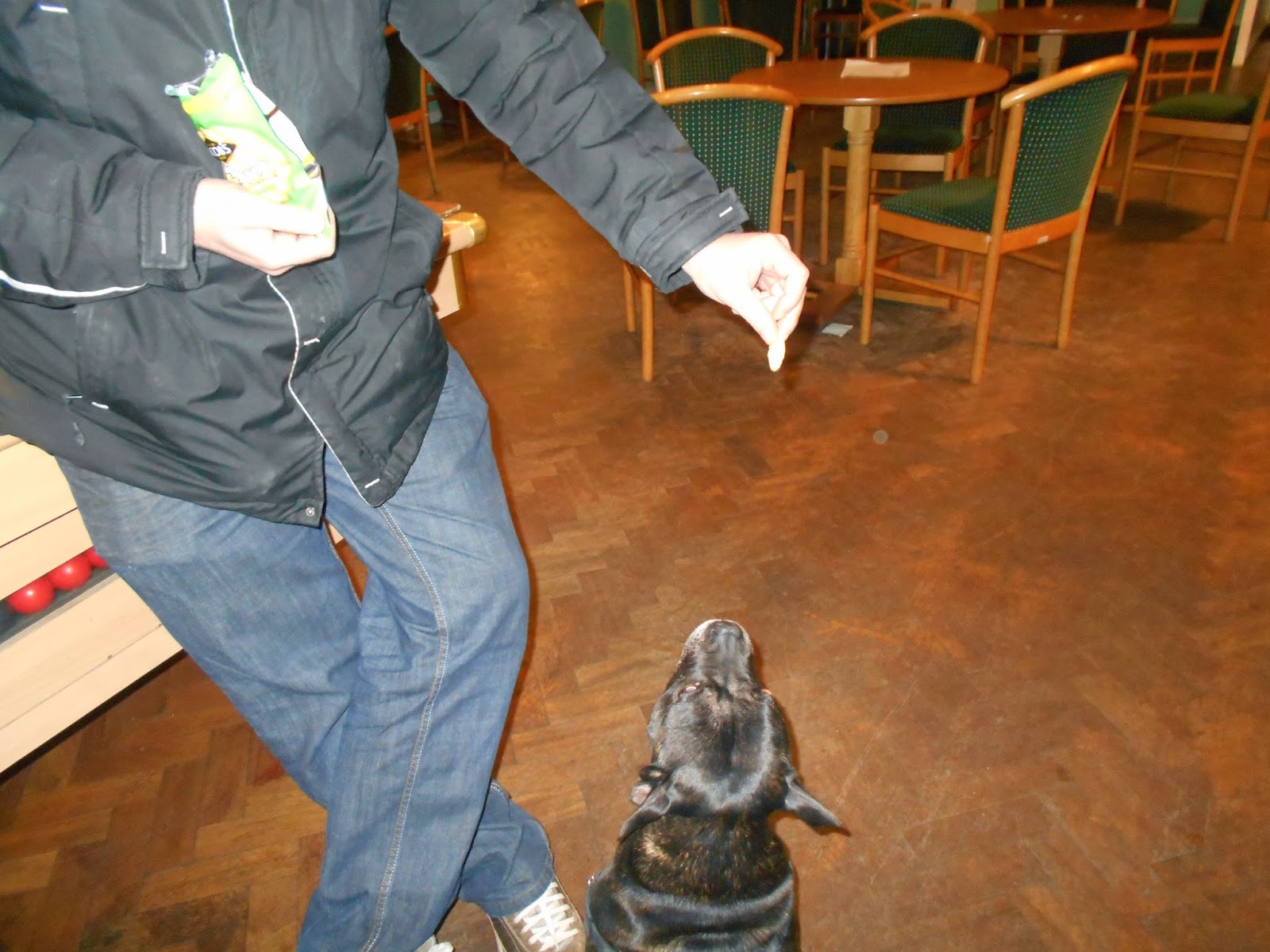 Performing a 'Magic' trick.
Suddenly Collins collides with an Ebbsfleet player in the box. A yellow card is shown and the ref points to the spot. From where I was standing I thought it was a penalty. Most other people thought it was a soft decision. Either way Kedwell stood up to take it and with some force smashed it left of centre past Howe.
That meant we had just over twenty minutes to hold onto our solitary goal lead. You would think that Ebssfleert would come at us with everything they had, but luckily that didn't happen. With ten minutes left Fitch was replaced with John and now we went ultra defensive. Shaq was also brought on late for Scannell and by the end of it Ebbsfleet had seemingly run out of ideas. At times the football was as ugly as a Fiat Multipla, but a win is a win!
I was still celebrating as me & 4 Days pulled up the nets and headed into the bar for a couple of beers. With Scans being back in town it was down to him to pull the ball out of the bag and to once again fail to open the safe. Then again he does love the attention and after a good shift from him on the pitch who can blame him?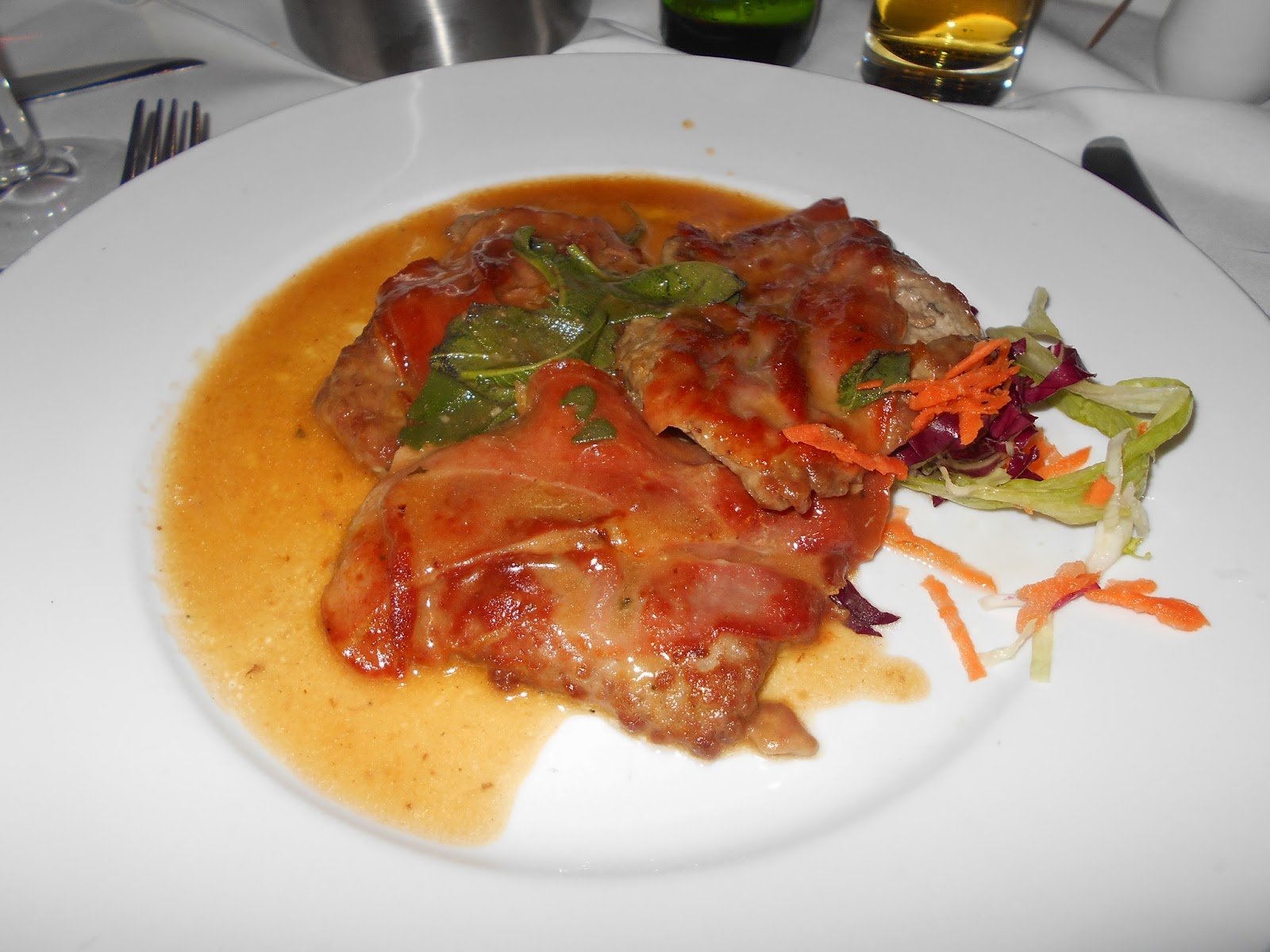 Proper nice grub.
Eventually we decided to head to Sutton to carry on the festivities. This time we were going to do something different. First we got a sherbet to the station and from here we walked to our new favourite restaurant. The man from Chieti once more supplied us with some lovely grub. I personally went for the Veal, which was exceptional. After masquerading as a group of civilised individuals for as long as possible, we then headed to O'Neills to lay down a few strong ones including Skittle Bombs. One disgusting drink was a little Guinness that nearly had me vomit all over the place. Trust me I can't fuckin' stand Bailey's & Tia Maria. Especically not together!
The 'Spoons was next on our list where we were joined by the elusive Juan who was dragged away from pumping his car to celebrate with a pint of coke. It wasn't long before we decided to call it a day and 'magic eye' Firm Leader, Taz & myself got into a cab. The time was twelve o'clock! Fuck me we are getting old!
So there we have it. We've defeated big spending Ebbsfleet and edged closer away from the drop. Next week we are away to Havant and another tough game. On a final note I've seen that there has been a spot of bother on the forum. Well as you know most of us at Gandermonium don't really post on it anymore and even myself has limited what I say on it. Who would've thought that another win would cause controversy. Just remember the stuff after the Stale Buns win? Trust me, I haven't. Buenos Dias! Amigos!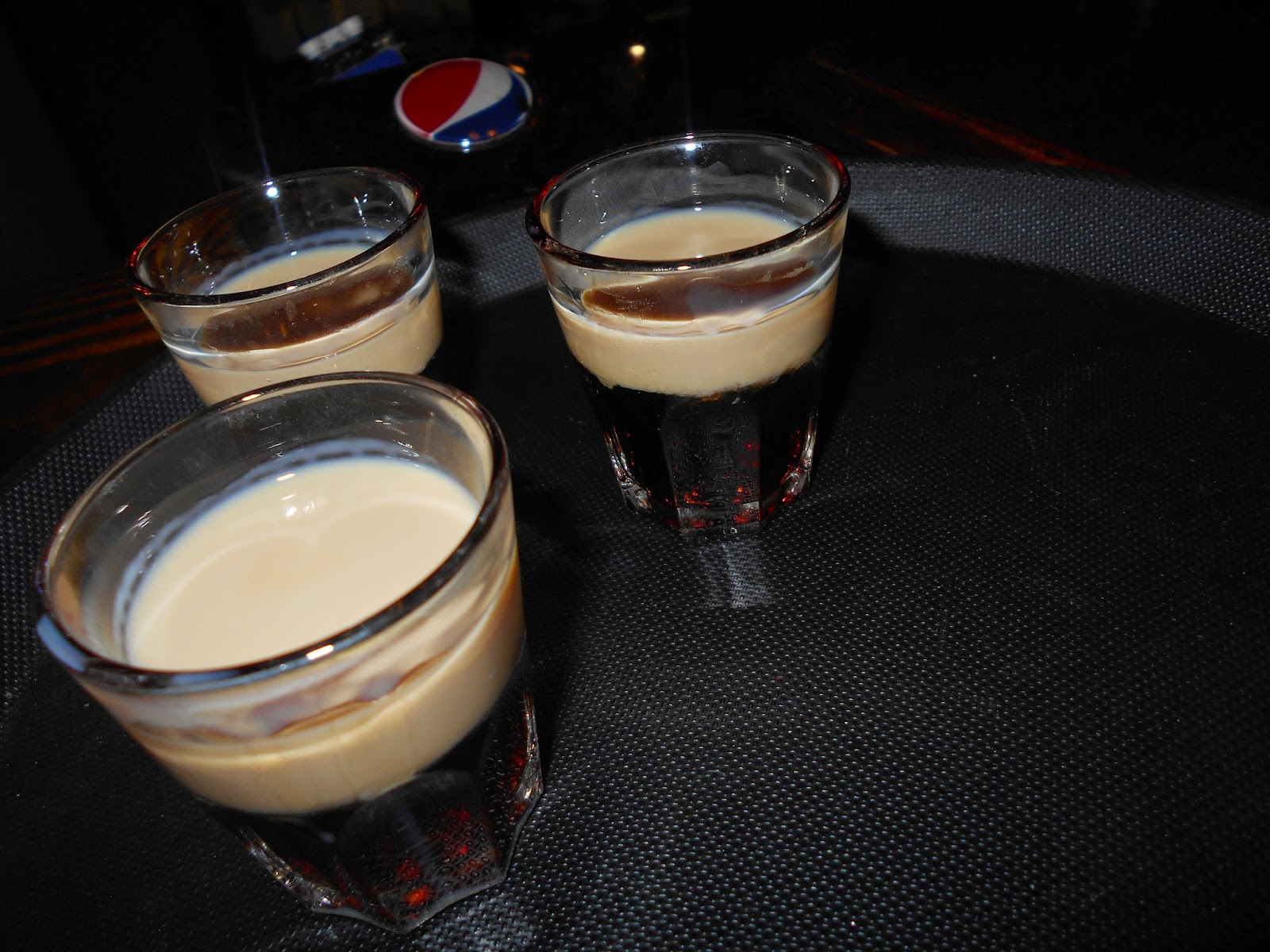 Little Guinnesses. Ick.
PS: Nearly forgot to mention Chalmers & Mr X (will he ever be revealed?) are celebrating their birthdays as well. May your livers take a good battering!
Duke
Att. 696