This blog is being sponsored by the National Black Pepper Appreciation Society in conjunction with the Association of Black Pepper Consumers. Some have said that Black Pepper is a kind of addiction for me and to be honest it probably is! For some reason I ended up at the end of the night with not only a packet of Waitrose's black pepper but also a pepper mill. How did that happen?
The plan was to get the train from Sutton to Portsmouth via Horsham. I decided that the best way to get to Sutton was to jump on the train from Carshalton. Taz decided to get the bus, wrong decision as his bus turned up twenty minutes late and he nearly missed the train. Getting on at Sutton was 4 Days, Taz & Crockster. The others were due to get on at Cheam.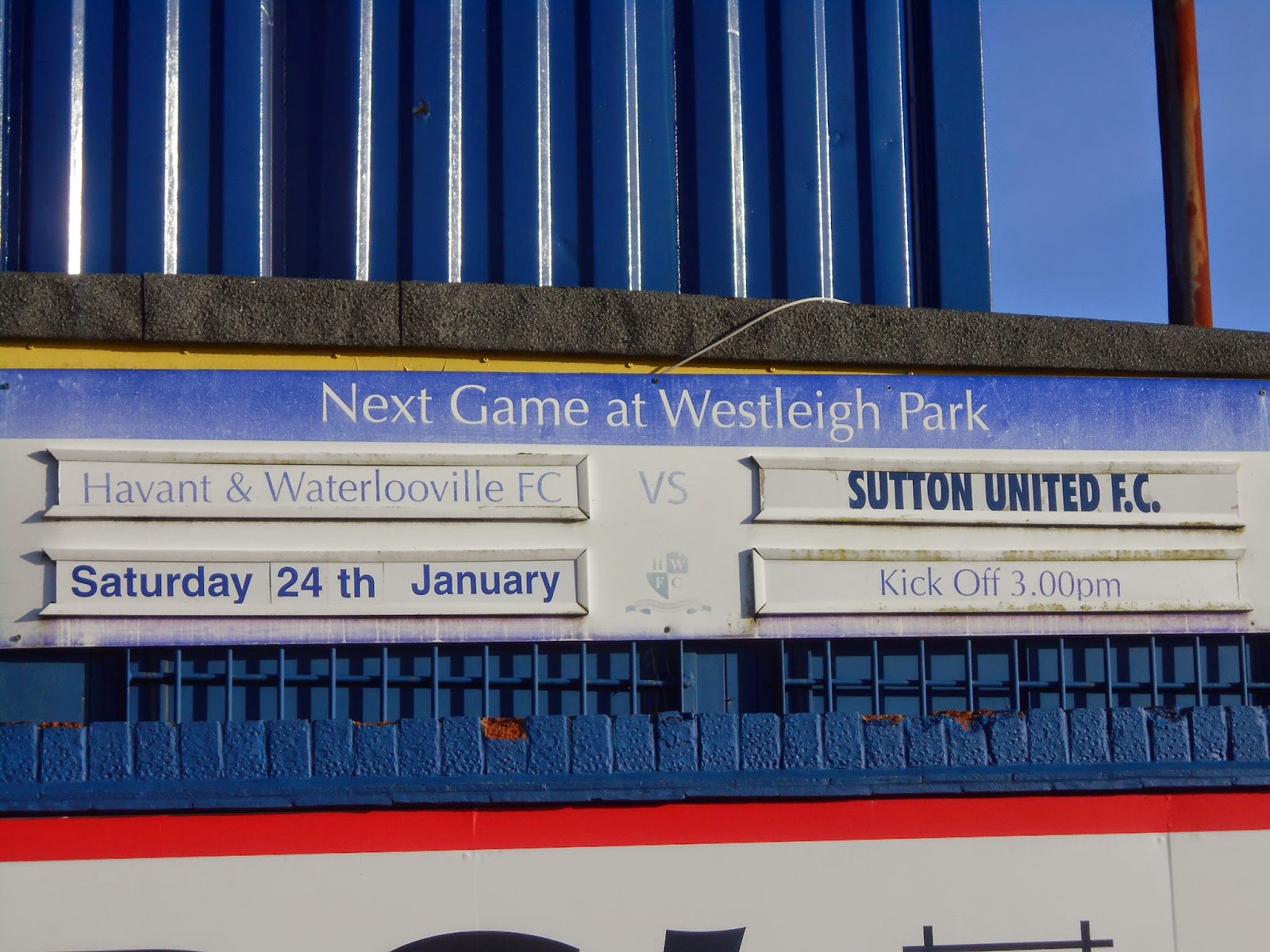 It's a sign…
Wardy had brought some of us a couple of ham rolls (no pepper). The train was packed with all these ramblers and once they had fucked off we could stretch out and discuss the forthcoming match. Arriving at Horsham there was enough time for a quick fag before our next train arrived. It wouldn't be long before we were doing the Mr X heritage trail.
The first pub of the day was the White Swan where we discussed the plan of action. 4 Days didn't want to hit 'Spoons so we decided on something else. Mr X came up with some random bollocks about there being 18 countries with only one land border. Of course this sets us up for half hour of trying to work out each one (which we got!).
The second boozer was the Fleet where after a beer and a game of pool we aimed to get the two o'clock train back up to Havant. We even managed to get more beer for the train. There was a sad moment when one of the beers was lost by trying to balance it on little Crockster's head. At Havant we got a sherbet straight to the Westleigh outside of the ground before heading into the ground. One of us managed to wangle in as a concession. not as a child like me at Farnbourugh but as a OAP!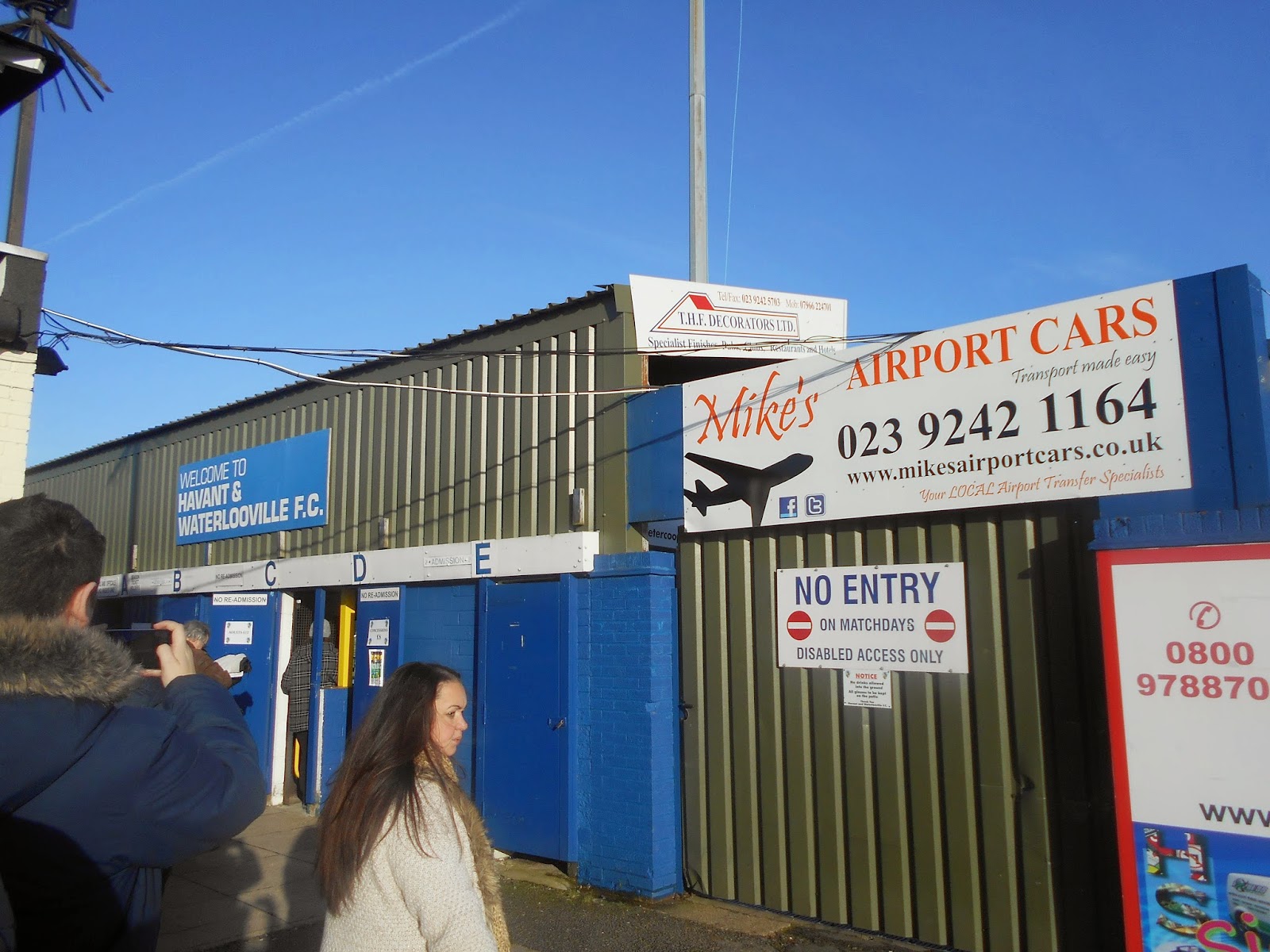 The crowd masses
Howe, Wishart, Collins, Spillane, Cooper, Wellard, Scannell, Southam, Dundas, Gomis, Fitchett. Bench Warmers: White, Binns, John, Hippolyte-Patrick, Serbonij.
The pitch was not in the best of conditions but then again I've seen a lot worst in my time. The opening of the match saw both teams create half chances. What was more of a distraction was the steward coming over to us to say that Havant was now a non-smoking ground! Well fuck that I said, I'm not going to spend any more money at this club today.
Our attention was changed when after twenty minutes Wellard's shot from the left of the box rebounded of the right hand post into the path of Fitch who tapped it in. 1-0! Well that was a turn up. Suddenly it was all about Sutton and we begun to put pressure on the Havant defence. Fitch definitely good be one player that could turn our season around.
Five minutes later and the impossible had happened. A silly back pass from a Havant player was too short for the keeper. Fitch got hold of the ball and took it around him and rolled the ball into the back of the net. 2-0! Wow! I didn't see that coming. Unfortunately we didn't capitalised on this but saying that Havant seemed very shaken and the rest of the half was very edgy.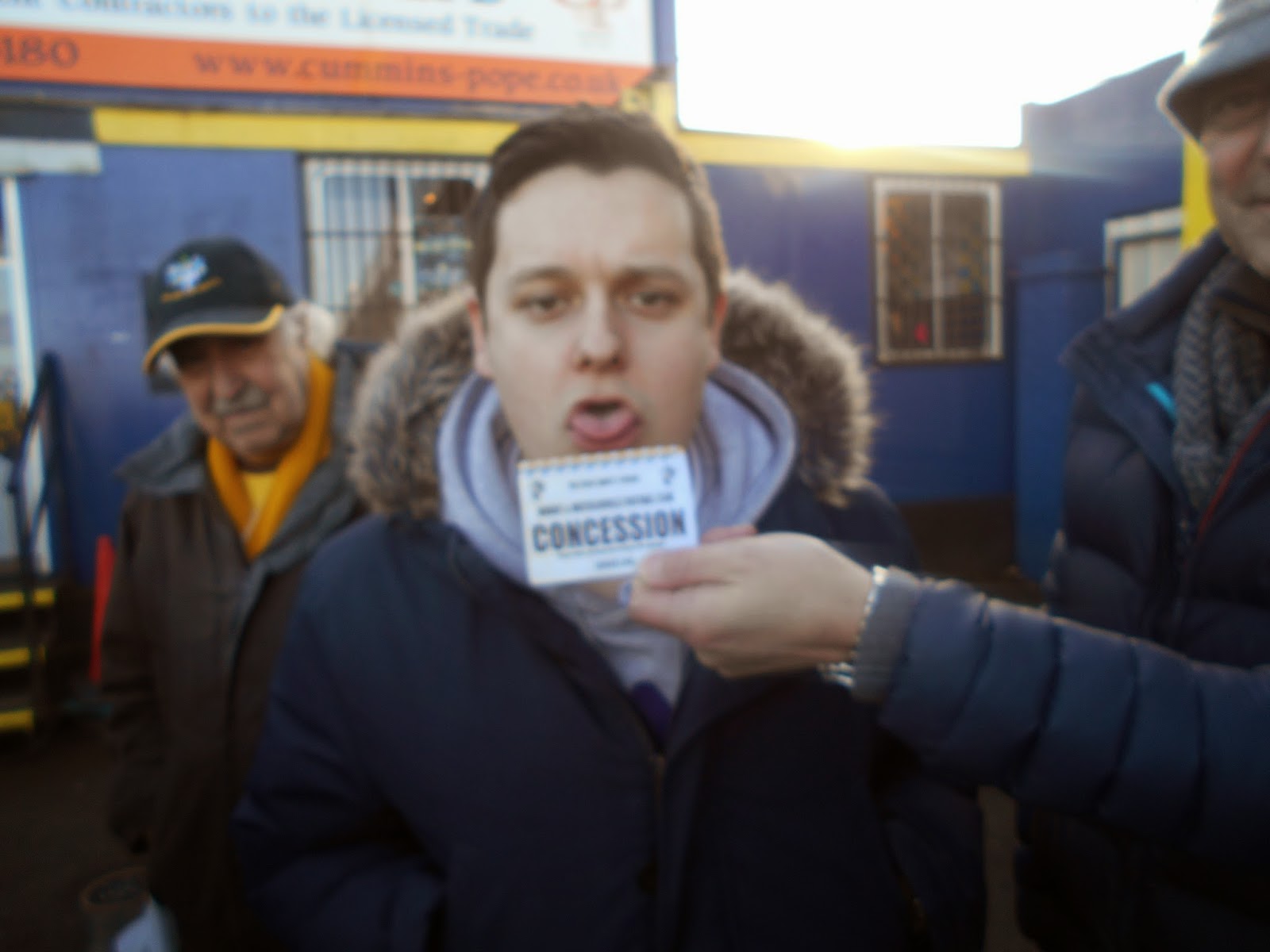 Lick it. Liiiick it.
The second half saw the tide start to turn against Sutton. Then the man in the middle decided to get in on the act. First he somehow booked Dundo for a tackle that would've been acceptable in a girls match. Then after a Havant attack was cut out, we attack, Southam was then body checked as he ran for the ball at the centre spot.
I didn't think there was any malice in it but the ref totally disagreed. The way that he ran up to the player you could tell that the fella was in danger. BOOM, red card! Wow, that was never a red card. The resulting player Nic Ciardini (looking rather stout) took the early bath. Of course for most teams, going a man up would be a benefit for them, but not us.
Within a couple of minutes Havant were back in the game. Scannell went to clear the ball in the box and after he done this, a Havant player fell over his leg. The whistle was blown and the ref pointed to the spot. All the boys behind the goal with me were stunned. How the hell that was a penalty I don't know. I reckon the ref was just trying to level up after the red card.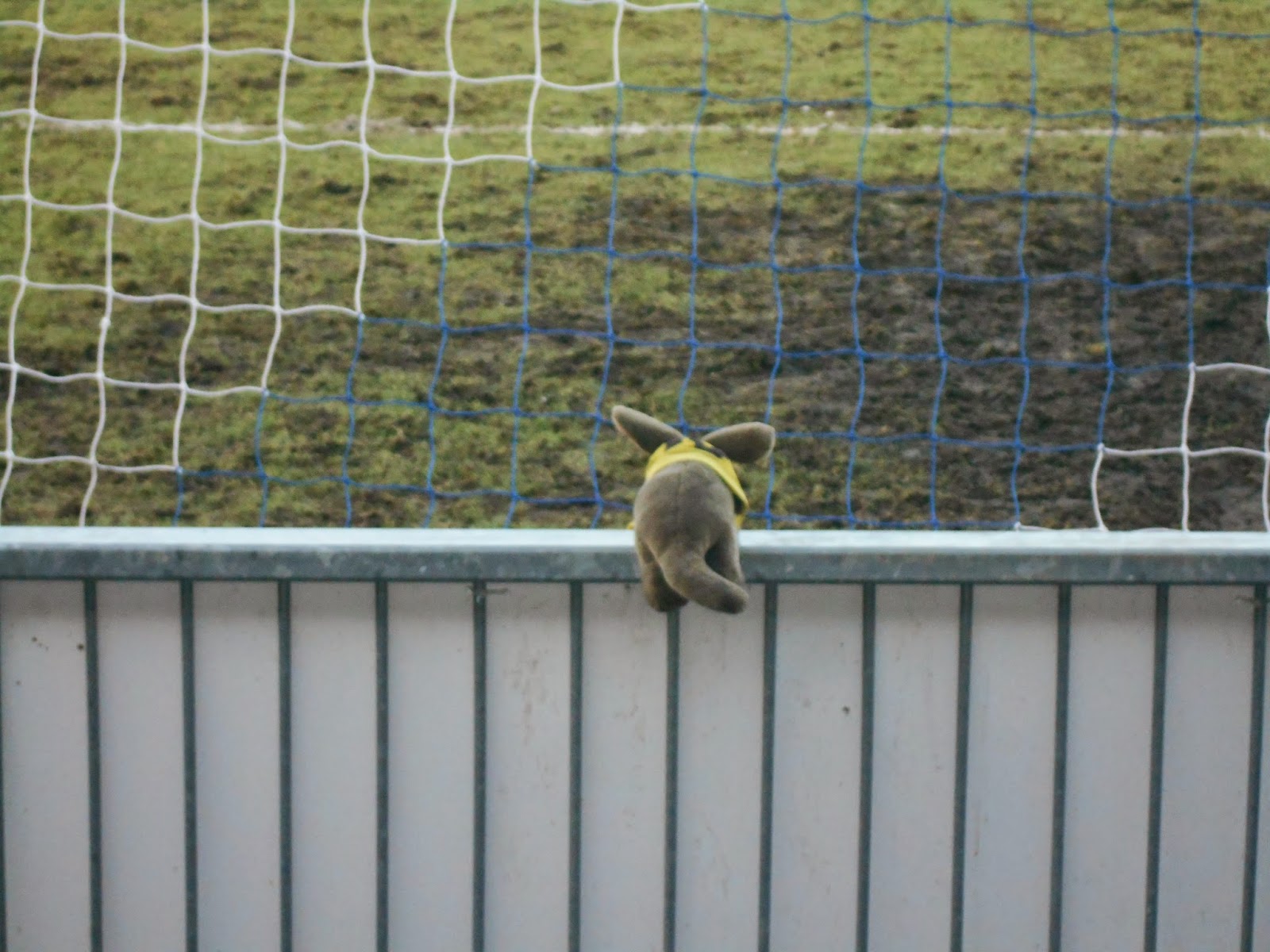 Ardvaarks arse
After the penalty was dispatched and Collins took a yellow, the deficit was down to one goal. I felt it would only be as matter of time before they equalised. Wellard was beginning to hobble about and had to be replaced with White. The question was: How fit is Jamie? Sutton didn't seem to crawl into their shells just yet and kept up the attack.
It was one of these attacks that lead to our demise. I can't remember who it was, either Wish or Fetch who lost the ball just outside the Havant box. Suddenly a long ball is pumped up field. Cooper with a easy heading clearance just heads it to a Havant player. This player just gives the ball to the fella who was meant to be marked by Cooper. He turns him out and then unleashes a thunderbolt of a shot that sailed in off the far post.
The score was all square now and there seemed to be only one outcome. Binns & John were brought on for the final ten minutes. John nearly gave a penalty away with a labour some tackle that got his name in the book. Havant did have the ball in the back of the net but luckily it was given as offside. Four minutes of added time could break the deadlock and we came away with a valuable point.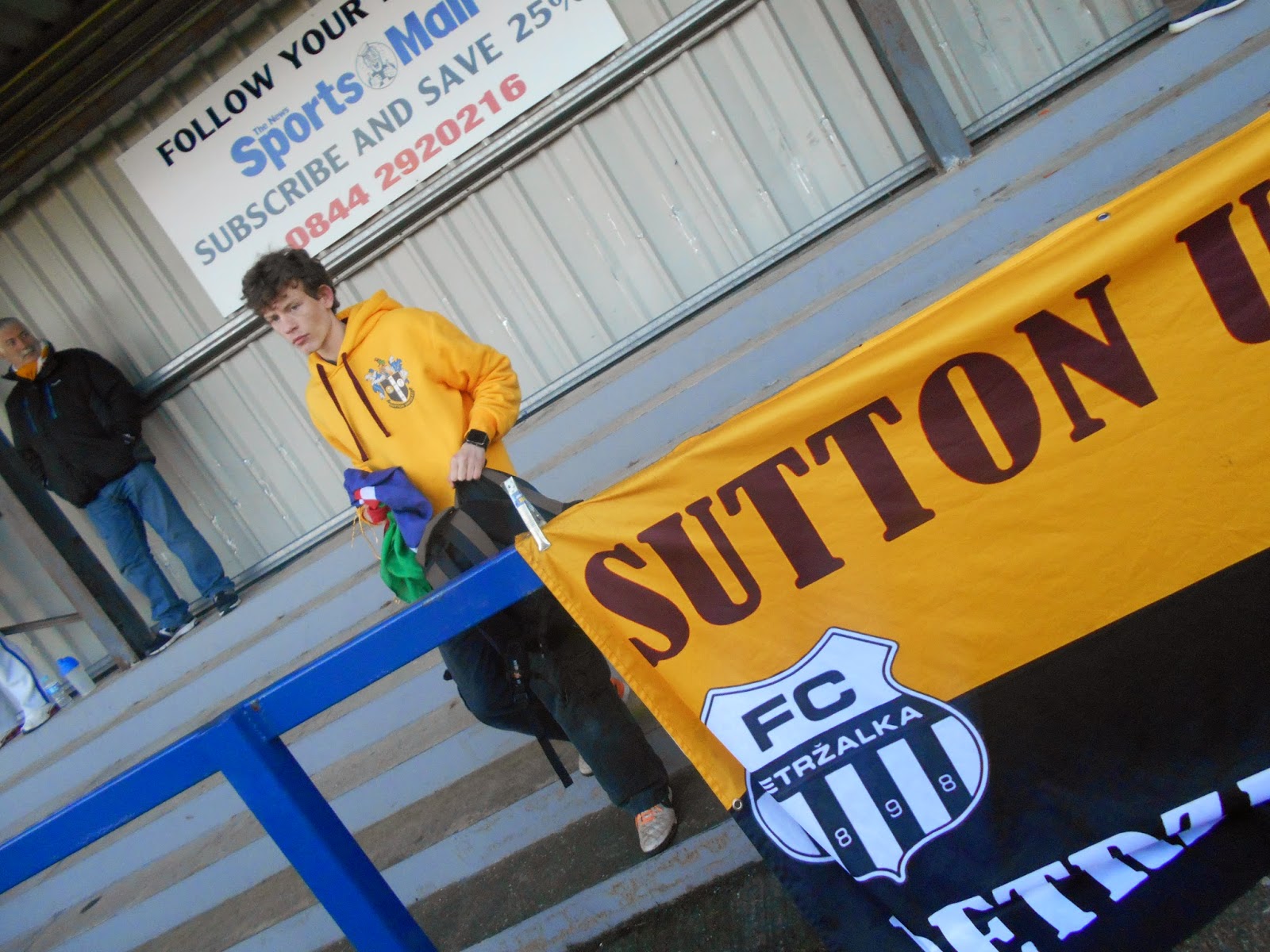 Flags
After the game we headed straight to the Old House at Home and a couple more beers as we watched the start of the Liverpool v Bolton match. Someone brought a little jar of Chilli & Honey nuts that missed the valuable ingredient of chilli. Although some of the group would clearly dispute that last remark.
With time marching on we made moves to head back to civilisation. Some went for the booze run while others went for food at the local chippy. Now the best thing for me going to the away trip to Havant is near the station is a local fish & chip shop. Inside this chippy is a fella with his little Chinese wife that did some of the best chip shop curry sauce anywhere.
Unfortunately this place has gone and been replaced with something else. To make up for that I had to scour the menu. Three ingredients stood out to me. Chips, Cheese & Gravy. Well all three were asked for. Couple this with lashings of onion vinegar and the ever dependable black pepper made a meal fit for heroes.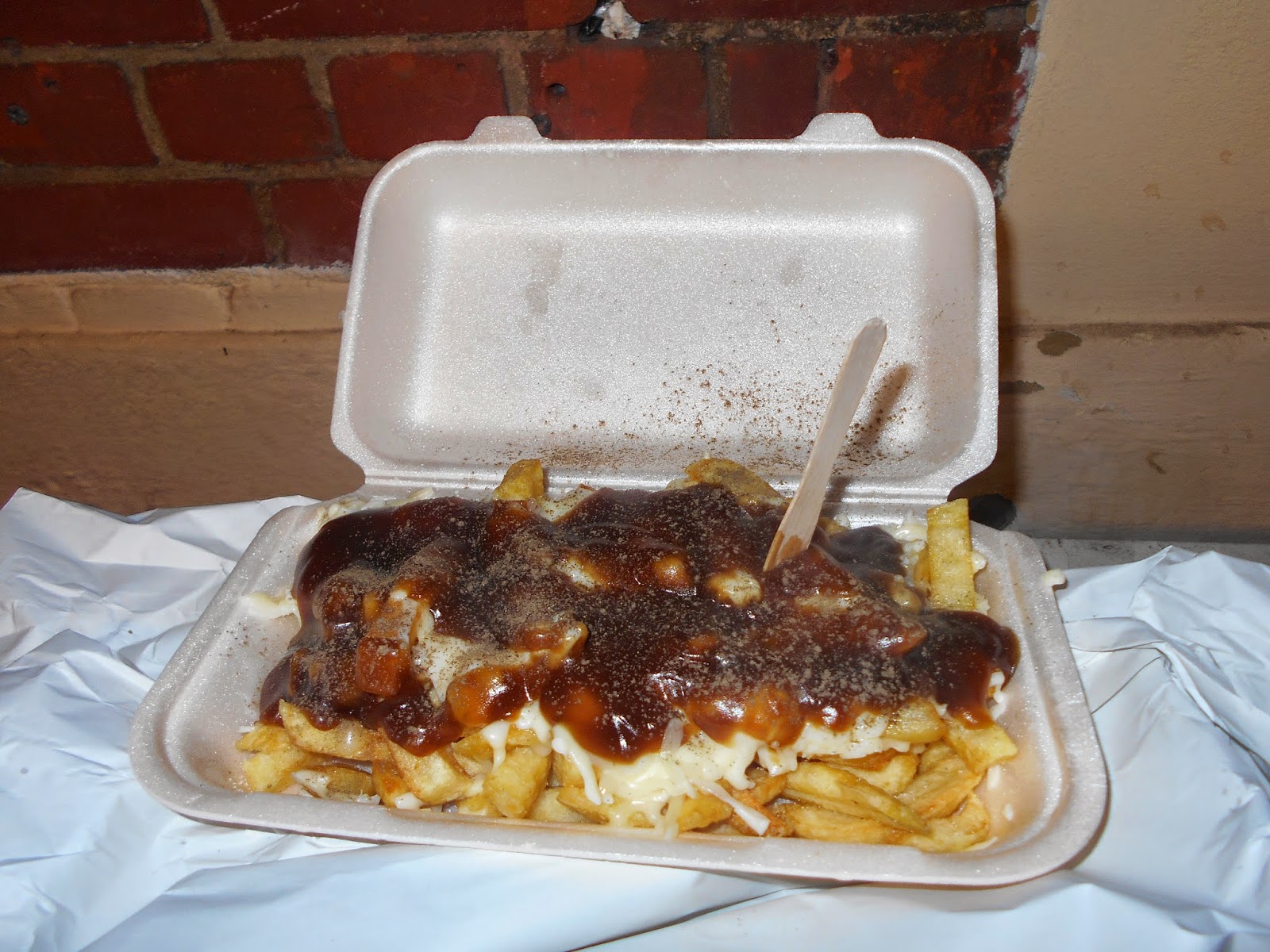 Indegestion
Making a good call by missing the next train (as it was full of Nigel's), the following one was empty and that gave us space for some weird conversations. The first was all about puppets for some reason. I don't know how we got onto it and how this followed with Taz being likened to Jim from the hit children's tv programme Rosie & Jim. Also it seems I was convinced on the classic duo of Keith Orville & Harris.
Having arrived back in Sutton we headed for the Old Bank to discuss our options which were basically drink more alcohol anywhere that would let us. The final stop of the night was O'Neils. Mr X didn't last much longer and was soon gone. The three remaining firm members to a spot at the back of the pub. As luck would have it next door to us was a Coventry fan. Either way I did eventually make it home at some point. I still don't know where all this pepper came from but it will no doubt be used up.
So there we have it another point on the table and we remain in 15th place. Things have changed since that black day nearly a fortnight ago. With a little more tweaking we could be on the ball. Saying that we'll probably lose against Hemel on Tuesday now! Who is covering that I hear you say? Well yours truly as I'll be travelling up in the old Donna Rachele.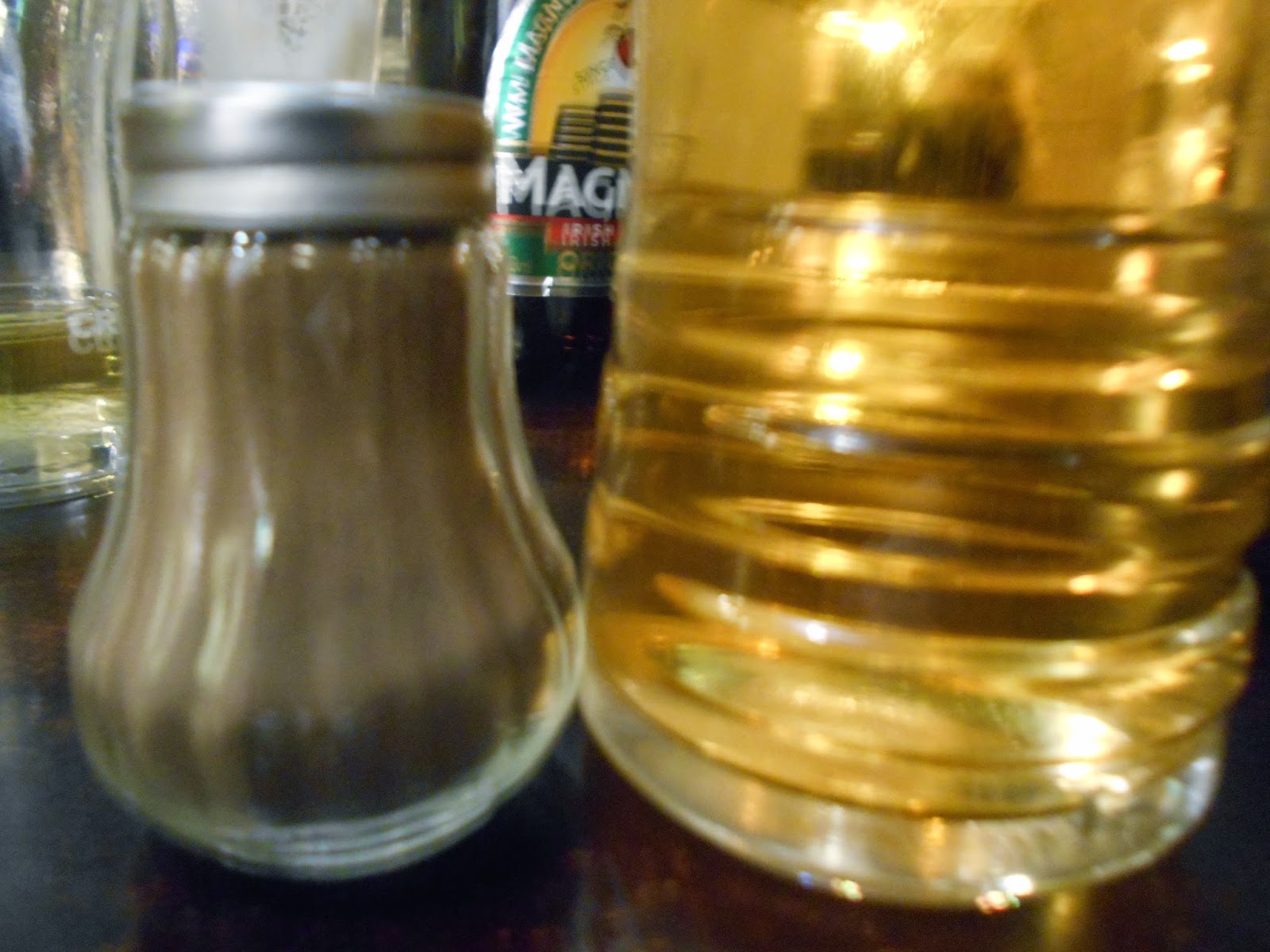 Pepper & Cider
Duke
Att. 629