The last time I was at Havant we were at the arse end of the Vanarama South league and my Dad still had some colour in his hair – but having only started to follow Sutton the season previous the hair had been slowly going greyer with every loss on the record. Yet with every enthusiasm we could muster we travelled down in vain hope of 3 points on the road.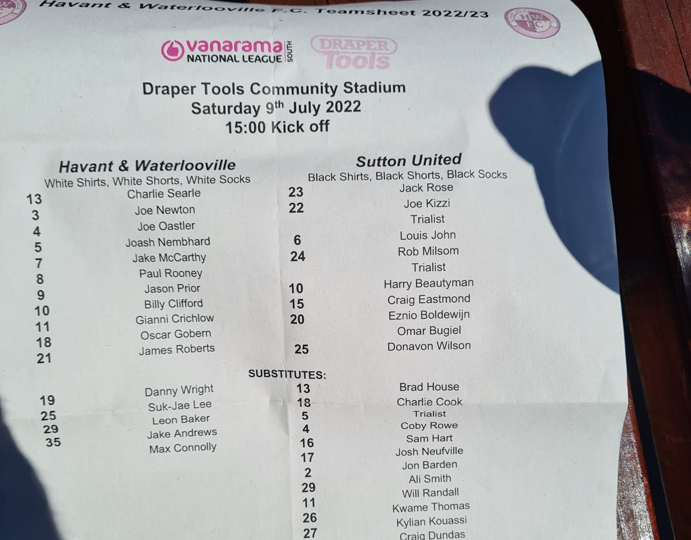 I was due to meet a someone that I got chatting to on the old U's forum called Sallycat. 10 minutes in and this lovely lady came up to me and started chatting away to me after she clarified who I was first. Lovely giraffe earrings! I remember during this process we had banged in two tasty little goals and three points looked like a dead cert. Oh how I joke. We somehow managed to throw this lead away and in quick time it was 2 all. We held on for a point and the season petered out from there.
The following season though saw us lifting the trophy after winning the championship however, and that began the process of the craziest of journeys. I think the mob who run this place might have mentioned that once or twice before? Anyway I digress. Where was I? Oh yes Havant pre-season 2022.
As you would expect for most getting to grace these pages, we like to start any matchday as hungover as possible. That way we can justify a full English to kick things off and this game was no exception – please see my wifes choice of brekkie as evidence. So what with late scoff done the hangover was clearing nicely just as we popped off to Havant. Not a bad journey down but still a ball ache. I think after meeting the legendary Dirty Barry at Wembley the train could very well be the future. It's less hassle and you can get wankered there and back. Again, I think the regulars on here might have mentioned that once before too. Still, a good philosophy on life that Barry, cheers.
We arrived and parking was annoying but we managed it. I was excited about seeing the lads in action – we had just signed a new winger from Luton and the heavens were shining on him and another new face, Kwame Thomas who knocked in a lovely little goal with a peach of an assist from the trialist (I didn't catch his name, I should have looked it up really but what the hell I'm not a scout). A good penalty from Harry the newly wed then gave us the lead. Perhaps married life has blessed his foot and he won't miss one all season? If he does, I take the blame lads I apologize in advance. Other than that we were all ok, nothing great but another 90 in the legs is always good and that's what pre-seasons are all about after all.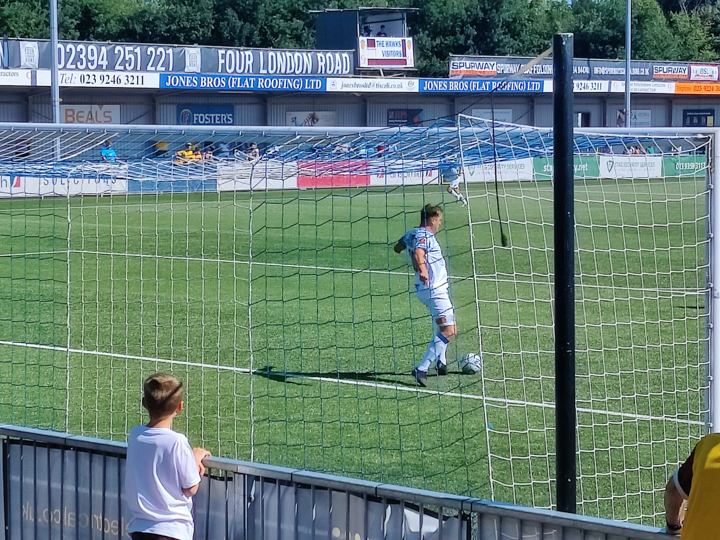 On the way back we swung into the Harvester for some well earned munch to help see off the remainder of last night's excess. The salad bar has been upgraded, as this underpaid waitress follows you around saying "is that enough beetroot" before you get to order a double burger that there is no way you can finish. All in all you can't bugger up a harvester, well you can actually, but they've changed the menu since then, so…
We managed to dodge the missiles coming back through Carshalton and eventually found ourselves somehow in the Whispering Moon for a lovely pint about 12 hours after saying we are done with the whole alcohol thing and made several promises to the higher powers that we wouldn't indulge tonight, but hey we lied, oh well. The pint did not go down well as we were both stuffed but that's what the top shelf is for. A quality day that had a disappointing end when I got home as I couldn't find Babestation (I think I maybe spent too long with Barry at Wembley!) and the wifi was down. Oh well on we go!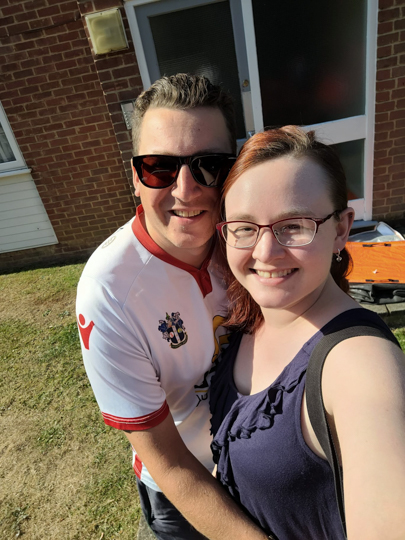 Richie B