Everyone waxes lyrical about midweek games. Especially at this time of year as we head deep into Autumn, all that poetic stuff about matches under floodlights yadda yadda yadda. And to be honest, I largely agree with them up to a point. That difference being however they don't have a ravenous few dozen people expecting a load of thoroughly entertaining old tosh written about said affair, one where we largely ignore that romantic old bollocks and rabbit on about other pointless crap instead. And all produced whilst we're largely pretty much stone cold sober. It's a proper grind, I can tell you.
What makes it worse is that the Gandermonium editorial office is currently about as heavily populated as the staff cafeteria at Chernobyl. Yes folks, in case you hadn't noticed, it's largely been just me on my lonesome this season sat here knocking this pony out on our one remaining working typewriter whilst Totts is otherwise engaged with the vitally important transition of power in the PRoWS politburo and Dukey keeps his head down knocking up baby formula and changing nappies whilst trying to convince his good lady to let him out on the piss to various northern League 2 outposts, let alone have access to her laptop to write about it. It's a tough old life I can tell you, made all the worse by Totts not so much clearing out the drinks cabinet as fucking removing it entirely to bolster the stock in his new 'vintage tat' endeavour for his retirement on the South Coast. Cooing something about "That'll polish up lovely that will" to himself as it disappeared into the back of his van. And as for Robbo? I've no idea where he and his A Level in English have got to. Still, as you can tell, I'm clearly not one to complain. Much. So, you'll pardon me if I plaster on this fake smile and plough through this old cobblers one more time.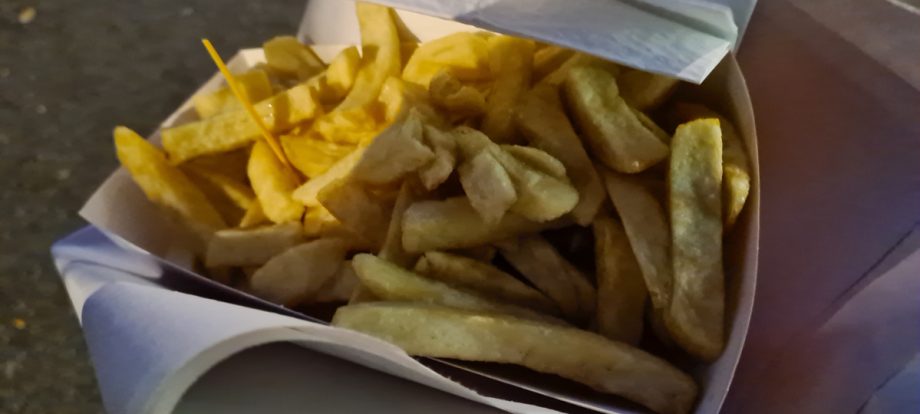 My solo efforts here on the blog are made a little more trying this time out by the fact that I've woken up feeling like I have dropped out of a dogs bottom this morning. I'm all of the sniffles and have a bit of a cough, which instantly means to Mrs Taz that I have contracted a particularly fatal dose of the 'Rona and should be immediately burned at the stake lest I spread it to the rest of the world and destroy humanity, or even worse, pass a dose onto her. The fact we were packed into a terrace at Crawley at the weekend doesn't help my defensive efforts on this front either. Fortunately however, we have some test kits here at HQ still from when the plague was at its peak and despite having her ladyship ram the stick up my hooter like she's cleaning a fucking chimney in a Victorian manor house, the results come back in the negative range. Although I'll probably now need to go for an MRI to check on the damage to my frontal lobe caused by my beloved's less than caring testing manner, but that's another matter entirely.
With humanity saved and even better, my earholes remaining unbent from possibly giving madam the plague, I struggle through a day 'at work' largely sat in my jim jams at home in front of my laptop, necking cuppas and eating my body weight in toast to try and get my mojo back in time for tonight's big clash at the Lane. Firstly, I've not missed a league game yet this season and secondly, as already mentioned, there's no one else to put this crap out so it's vitally important that I put this man flu nonsense on hold, even for just the 24 hours. Still, by the time my day ends, I'm feeling a touch more human and ensure that I wrap up warm for an evening at the football. Which is a fucking stupid decision really as turns out to be about the warmest mid-October evening in history outside. Even just sitting waiting for the bus I'm sweating my cods off. Genius.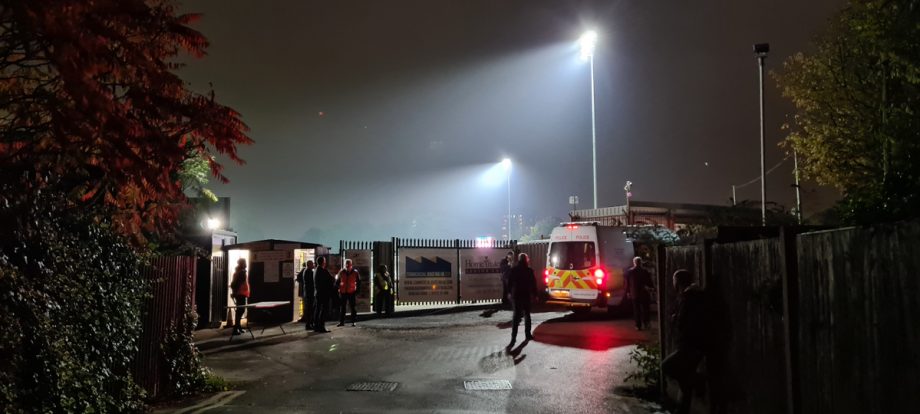 The 407 ditches me in town and with no time for dinner before departing, I swing by Finnegans chippy on the High Street and purloin a portion of their finest chippage to shovel into my sniffly face on the walk down to the Republic. See, it's not all Greggs and Ribena with these home games you know! This actually does a top job of filling ones belly and making me feel far better about life. So never underestimate the restorative powers of a portion of chips ladies and gents. You can poke your Vitamin C up your arse quite frankly. At the ground I wander up the driveway where the GGL floodies are already illuminating the West Sutton skyline and head for the bar. Here I find the usual lack of staff and queues that have become a bit of a trademark since our promotion. Wonderful.
Fortunately the players bar isn't too bad so I grab a quick pint, scan the faces present and at the back by the pool table locate Mike, the US based Arsenal fan whose podcast we graced not only before our infamous cup tie against them 5 years ago now, but only just a couple of weeks ago. He's over for the first time in a couple years thanks to Covidbollocks and is taking in 4 Gunners games, as well as checking out our currently billy big bollocks full time professional selves this evening. We catch up over a couple, whilst a few others drift in. Ipswich Lee arrives from his day job at the FA and offers a beer before spending a good 20 minutes queueing to get a pint. Rax also appears and we chatter amongst ourselves before we decide that due to the queues there's no chance of getting one more in before kick off and we head for the turnstiles instead. Thankfully there's no queues as with Vale at home so there's no need to go round to the Rec to get in tonight. Once in, we locate the rest of the gang on the Curva and settle in for the off.
Bouzanis, Kizzi, Wyatt, John, Goodliffe, Beautyman, Smith, Ajiboye, Randall, Bugiel, Olaofe SUBS: Bennett, Wilson, Barden, Korboa, Boldewijn, Palmer, Rowe.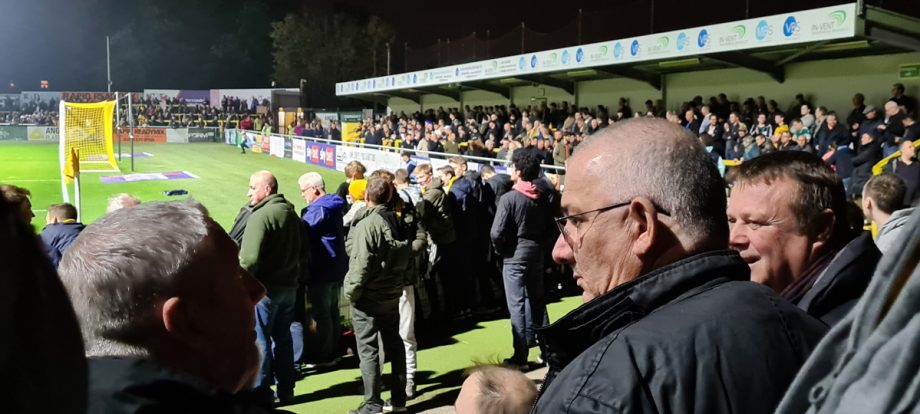 The visitors are in great form away from the County ground and we can soon see why as they're popping the ball around nicely. This leads to tough first half hour for us as we fail to really make the ball stick in their final third or really exert any kind of pressure. A storming run from Dave which is ended by a timely tackle in the box is about all we have to shout about, whilst their midfield pairing, including 4Days man crush Jon Williams running things in the middle. Despite having tons of the ball they don't really create much until around 20 gone when we don't clear our lines well and Williams does a PL flop on the edge of the D to win a soft free-kick. Annoyingly, their lad whips it perfectly into the top corner to give them the lead. This then gets their tails up and for a few mins we're properly on the back foot. First a ball into the box results in a shank straight to Wyatt, who than responds with a shocker of his own and bobbles it to an unmarked red shirt who hurries his shot and sees it come back off the base of the far post, then they somehow manage to miss the target entirely when Kizzi loses his man on the far side and the low centre is somehow skied high and wide of the target.
Typically, just as it seems we might just have weathered the storm, we go two down. Again we don't clear our lines well or get out quickly enough to meet a shooting threat and Williams has all day to pick his spot with a curler from 20 into the top corner. Fucks sake. Again, it's a great hit, but if you're gonna stand off players like that, they're going to pull your pants down. His little dance by the corner flag annoys a few and 4Days gets a little out of his pram at his hero being called a 'fucking prick' and such, but he's firmly reminded that this is club stuff and his Welshist international nonsense carries absolutely no currency here in the PROWS on a matchday. Finally, like the Vale game, the second goal seems to spark us into life and for the last 10 of so in the half we set about finally getting a foothold in the game.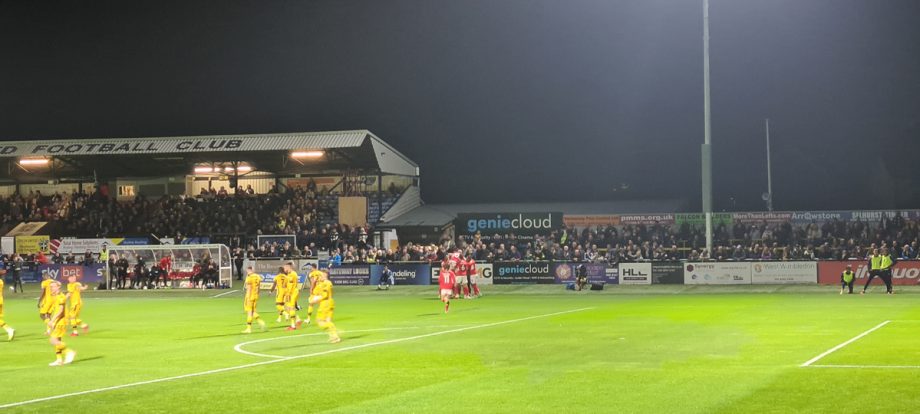 We stick in a couple of decent set pieces, both resulting in loud handball shouts, one goes against us, but the second goes our way and the lino flags for the pen. Harry steps up and pops it down the middle to halve the deficit and from here, we're the ones with tails up. Another ball in is flicked on, then headed back across the box but Ben can't keep his own header down and nuts over, and right on the break, Issac outmuscles a defender for the ball on 18 and turns it in only for the ref to blow up for a foul. Better! They also have one ruled out for offside, but the flag is so late from the extremely poor lino on our side that all it serves to do is piss everyone off, both home and away. It just goes to show how little the guys who dream this crap up actually play or understand the sport. Why on earth does a lino have to wait until a geezer who is five yards off touches the ball before he flags? He's the only attacking player there for christ's sake, it's inevitable.
The second 45 is more like us and we're right on the front foot from the off. Issac's running the line up top and pressing them in their insistence in playing everything out from the back. Omar's more involved and the midfield has stopped fucking standing and admiring Williams and started getting on his daily far more. End result, we're bang back in the game. Chances though are hard to come by and Harry's free-kick from the edge of the box just wide of the near post is the best we can muster. we then see off their midfield maestro as he's subbed shortly after chucking his toys out he pram following Harry having the audacity to challenge him for the ball and not long after Omar's already put in a "Yeah, I'm a full international too mate" reducer on half way that earns him a yellow. Sadly though, the removal of Issac for Wilson just after the hour removes the tireless press on their box when they have the ball that's stopped their building from the back and then straight after, Harry goes down awkwardly after a challenge and has to be helped off with what looks like a shoulder injury. Barden comes in and does a fine job, but our flow is killed somewhat and the visitors are able to get back out a bit more after this.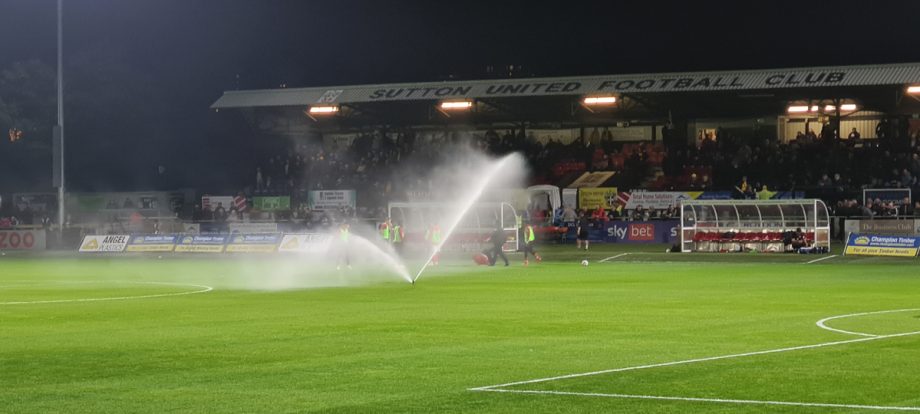 As such, the last 20 is pretty open stuff with us pushing for an equaliser and them being a danger on the counter. Bouzanis has to make a decent save after a ball over the back four has their lad darting in off the shoulder, whilst our best chance of levelling comes just as the 90 expires, with Joe Kizzi diving in for a header far post, but he makes too good of a contact and directs it straight at the keeeper at a perfect height. In the end, the 2 goal head start proves decisive and the visitors continue their fine away run with all 3 points in the bag. As we head back to the bar, the chat is largely of frustration over the first 30 where once again all the damage has been done. What is it with us and these tiki taka type outfits where we just sit off and give them 2 goal head starts before we start playing? We did it here with Barrow 2 seasons ago, a couple weeks back against Vale and now tonight. Ho hum, clearly there's lessons still to be learned from League 2. Wipe our mouths, move on.
Back in the bar, I sup a quick beer with Mike and the lads before they head off for the train back into town. Our American friend keen not to repeat the outcome of his first two trips to GGL which saw him first end up in Cricklewood and then missing the last train and having to get a cab back to Islington from West Sutton. Shame he lives in Washington really, as he'd fit right in here! A couple more beverages are partaken as we disassemble the evening's events a little more. Before long though, most faces have moved on home and as Mr X sups up and declares he's heading off, I rustle up a cab and head back to HQ myself for a lemsip and some much needed kip.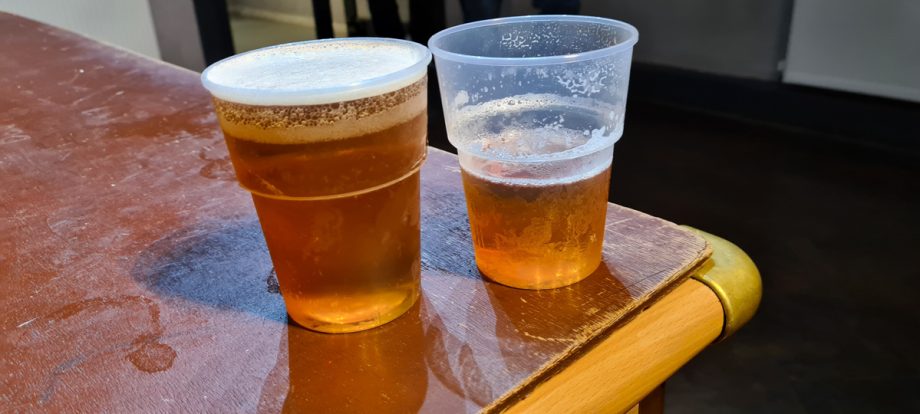 Just the 8.20am train out of Euston on Saturday. Delightful. See you in Rochdale kids.
Taz