There are some things we're getting used to in League Two. Away ticketing arrangements that vary insidiously from one game to another. Soulless, tinny, edge-of-town stadia surrounded by traffic-clogged roads and retail parks (the old town centre grounds having long since been flogged for development). And coming up against clubs we'd previously known best from the pools coupon. One such is Rochdale, from the west Pennines town that gave us Gracie Fields, Lisa Stansfield and, less palatably, Cyril Smith.
As is commonplace for me these days I travelled up on the Friday, greeted on my arrival in Manchester by its famed light drizzle. I checked into the hotel where I'd booked a windowless room for £79 (breakfast not included). At least I was slap bang in the city centre, and in less than an hour I was meeting up with Peter (staying in Rochdale, but who already had a three-pint head start on me) in the front bar of the Hare & Hounds, a classic three-roomed Joseph Holt pub near the Shudehill transport interchange. We'd been here prior to our match at Salford in August, but it was worth a revisit.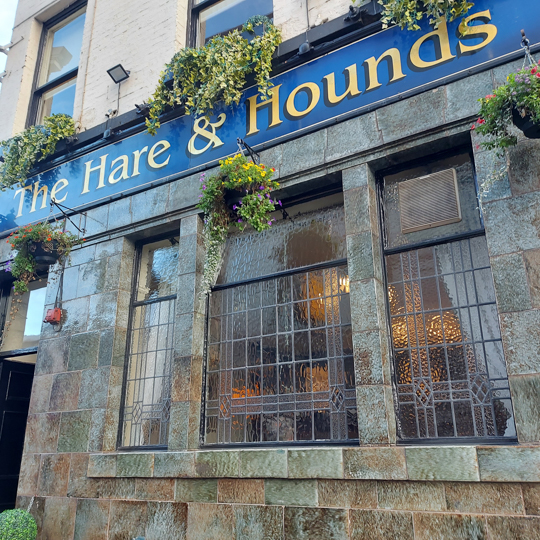 We were handily placed on the edge of Manchester's Northern Quarter, and the next port of call was the Angel, a pub in which the carpet and furniture appear not to have been replaced in the last fifty years, but which compensates for that through the range and quality of the ales. Then a short and prescient walk along the Rochdale Road brought us to the fabulously ornate Marble Arch Inn, known for its sloping, mosaic floor. A couple of my Twitter followers noted the 'London prices' displayed above the bar, but £4.00 for a pint of the 4.2% Manchester Bitter didn't seem excessive. We fancied a bite to eat here, but were told that food was only available for customers who'd booked. That did feel a bit 'London'. Never mind, we found a Chinese restaurant in Oldham Street. Here I managed to knock the liquid soap dispenser off the wall of the gents', the container promptly emptying two-thirds of its contents over the floor. My attempts to mop up the ocean of blue sludge with paper towels had the effect of creating some neat skid pads for the next person who entered. Oops!
Sustenance duly taken on board, we continued our little crawl with visits to the Crown & Kettle and Smithfield Market Tavern (between them offering a good choice of Mancunian beers) before finishing up back on Shudehill at another Holt's pub, the Lower Turks Head. A pint of mild in the back bar, while watching some of Arsenal's 3-1 mauling of Villa, finished the evening off nicely.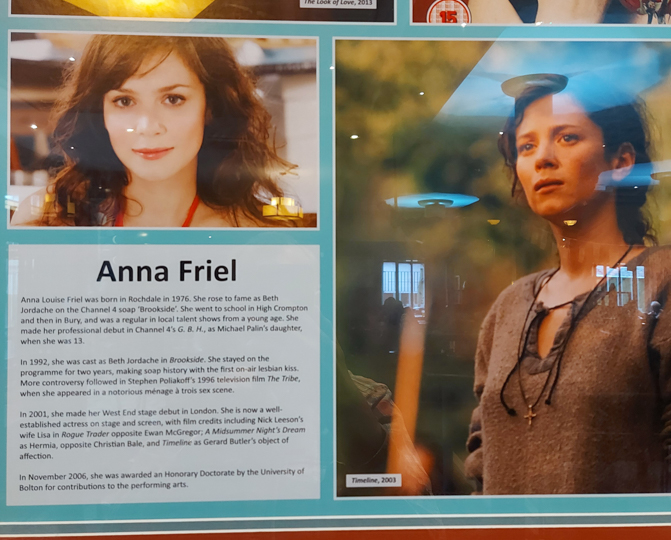 The next morning dawned grey and chilly. As luck would have it, Network Rail had decided to close the railway line to Rochdale this weekend (a hindrance at least familiar to regular users of West Sutton station), but this did give me the opportunity to take the tram. The 50 minute journey, via stops that included Oldham Mumps and Derker, got me to Rochdale shortly after opening time. I headed straight to the Regal Moon, a Wetherspoons conversion of an art deco cinema, for a pint and breakfast. On the wall beside me was an information panel about local lass Anna Friel, probably most remembered for that 'lesbian kiss' scene in Brookside.
I then met Peter in the imposing, stone-built Flying Horse Hotel, close to the neo-Gothic Town Hall. The bar's impressive row of handpumps did detain us a while. One of the locals recommended two new micropubs, and as one of these, the Pint Pot, was on our route we stopped off there for a couple of halves. The pub boasted a splendid, bucolic mural along one wall. We were the only customers at first and got chatting to the barman about football. He gave us the number of a cab firm that "all the locals use". That was good enough for us and an important piece of research was duly complete.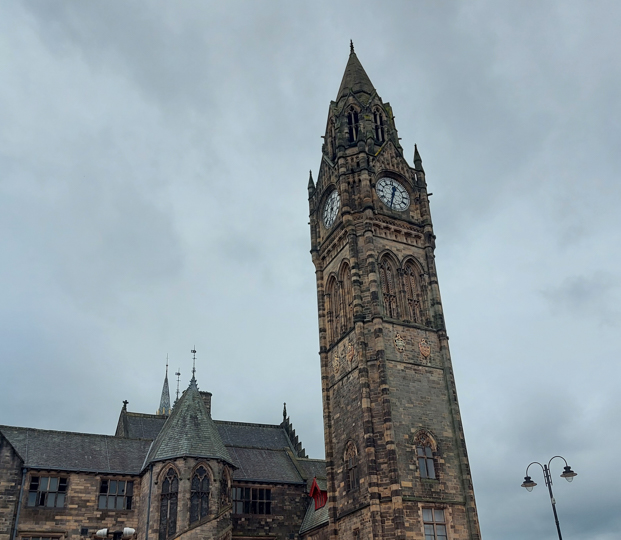 Our final Rochdale pub was the wonderful, wood-panelled Baum (pronounced to rhyme with 'storm'), which was the Campaign for Real Ale's national Pub of the Year in 2013 and has maintained its high standards since. We'd just sunk into the comfy seating, beers to hand, when Cathy and Bob turned up. It was tempting to stay there all afternoon, but a cab had arrived by 2.15 to convey the four of us to Spotland. Here, after a quick catch-up with some of the other travelling fans in Rochdale AFC's bar, it was time to enter the 'Crown Oil Arena'. (As one of their fans told us, everyone of course still just calls it Spotland).
Bouzanis, Kizzi, Goodliffe, John, Milsom, Boldewijn, Barden, Smith, Randall, Wilson, Bennett. SUBS: House, Wyatt, Rowe, Ajiboye, Korboa, Olaofe, Bugiel
Matt had freshened the side up a bit after Tuesday's defeat to Swindon, with Rob Milsom returning at left back and Enzio starting out wide, David Ajiboye having to settle for a place on the bench. We've had some bad luck with injuries lately, and after seven minutes, Louis John – who'd been wearing the captain's armband today – was forced off with what may be a hamstring strain, Coby Rowe coming on in his place. Rochdale hadn't won any of their last six games but started brightly, Deano making a good early save from Jake Beesley. Then on 23 minutes the ball was lobbed forward, Alex Newby ran on to it through a gap in our defence and volleyed into the corner of the net. Their keeper comfortably saved efforts from Will Randall and Richie Bennett. Then, just before the break, the latter got into a tangle with Beesley, appearing to tread on the prone Rochdale player. Cue our first red card of the season. Groan!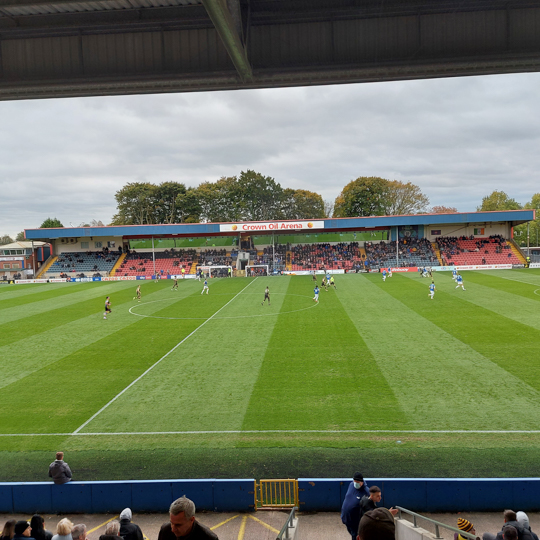 A goal and a man down, Sutton struggled to make any impact after the restart, the home side having a goal disallowed for offside before netting a second that did count. Donovan Wilson was ploughing a lonely furrow up front for us, and not much changed after he was subbed for Tanto. Then on 79 minutes Matt played his joker, bringing on Omar for Enzio, so we went 4-3-2. The impact was almost immediate as we won a corner, Omar's effort was blocked, but Tanto rammed home the rebound. 2-1 with 10 to go. We got another corner on 90 minutes and astonishingly, scored again, this time Ali Smith heading straight in at the back stick.
Wild celebrations ensued. Time for a hoedown? Hold hard! As Mike Harding once sang, it's hard being a cowboy in Rochdale. Four minutes of stoppage were shown but, as the game crept up to a fifth added minute, a Sutton header out of defence was collected by Aaron Morley and he fired home from the edge of the area. 3-2. There was barely time for Sutton to kick off again before the ref blew for full time.
That's the third time this season that we've lost a match in stoppage time. Still a bit to learn about game management, lads?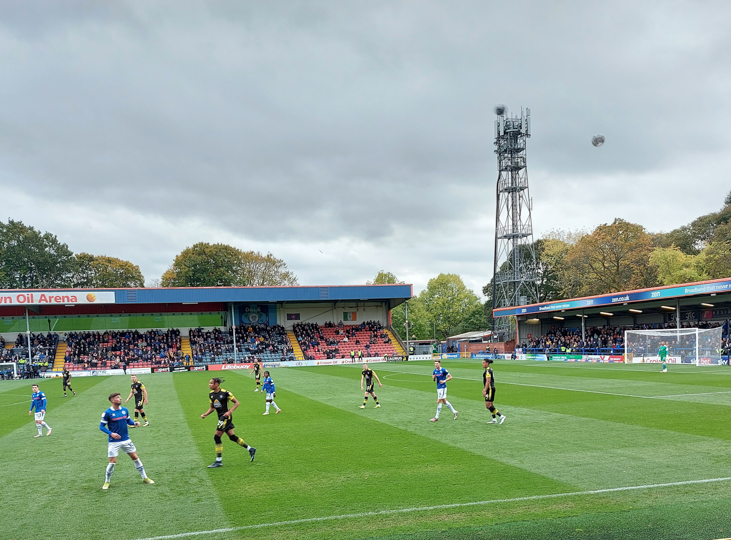 Suitably disgruntled, Peter and I found our pre-booked cab and were taken straight back into the bright lights of Manchester. We were dropped outside the Marble Arch Inn, and our mood wasn't exactly lightened when we found it closed for a private party. Er, it's supposed to be a 'public' house! We wandered on to the Angel for our delayed first post-match pint, then continued to the Castle, where we squeezed into the back bar and sank Titanic porter. It was then time for me to hotfoot back to Piccadilly station for the 19.35 back to Euston. Peter went for a later train, which unfortunately for him, turned out not to exist, and he had to spend an unscheduled night in a Manchester hotel. Definitely a day of mixed fortunes.
Sutton slip to tenth in the table, but we've still won more than we've lost this season. A win at Colchester on Tuesday, our game in hand, would take us back into the play-off places Look forward, not back. And I've a feeling that we'll be returning to Rochdale in 2021/22. The trains might even be running then.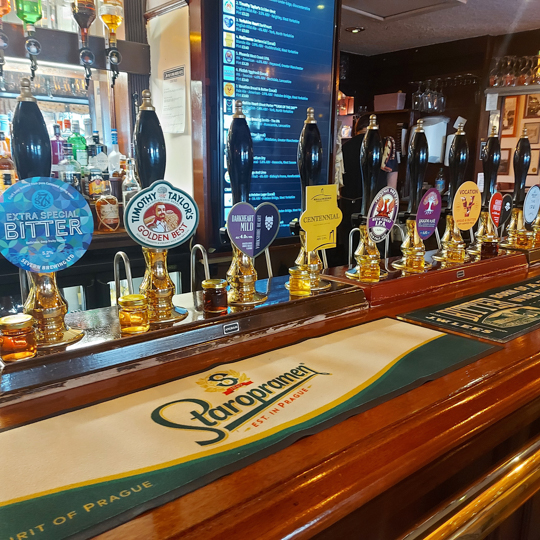 Amber Aleman