As the National League season is now at an official end it's now a question of wait and see as to when the U's will take the field again. It's still not clear how promotion and relegation issues will pan out but it's not something that will unduly concern Sutton fans. Matt Gray had done a stellar job guiding the lads into a comfortable mid table position where only a supreme optimist could see us threaten the play off positions or a supreme pessimist could see us plunge into a relegation spot.
Therefore if the League positions are finalised as they are now with Sutton in 14th spot we can congratulate ourselves on a job well done and look forward to another season at Non League football's top table – whenever that might be.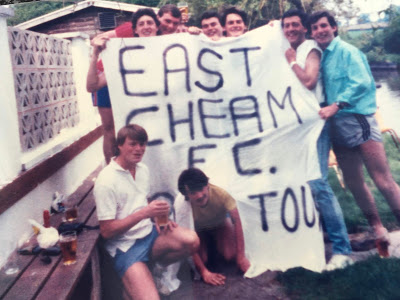 Sunday League Yobs!
Obviously football is not the overriding concern at the moment as this awful pandemic has taken hold. However that doesn't stop us hankering after a pursuit that gives so much pleasure and no little pain. Indeed the longer we go without the game even the misery of a galling late goal defeat at some Northern outpost has a curious kind of allure.
Fortunately there is no shortage of football nostalgia online to remind us of better times, although this is no real substitute for live football. There have been some games played in Belarus that have acquired a cult following amongst some. I'm not sure what this tells us about the tastes (dubious, or otherwise) of these aficionados but desperate times call for desperate measures. The Bundesliga has just reappeared, albeit behind closed doors, but again this doesn't satisfy our basic urge to see our own team in action preferably as the meat in the sandwich of a day spent quaffing an assortment of ales in as many hostelries as possible.
As a Fulham fan it is possible that my team may still play the Championship to a conclusion, but if so it would undoubtedly be without fans present. I would undoubtedly watch any such matches if shown on TV but it truly wouldn't feel the same. In all honesty I can't see the rush to 'finish' this season when we've no idea when the next one can start. Ultimately it will all revolve around money and we can only speculate as to what may happen next.
The lack of football has had another negative impact as the good fellows at Gandermonium have been suffering from a lack of fresh material to punt out. The virus has caused many casualties but this loss to English Literature is probably one of the cruellest blows of all. Fortunately one or two have stepped up to fill the void including my good friend Frakey, whose epic tales on the Anglo Italian venture of 1979 triggered such happy memories. In fact the Everlasting Ray of Sunshine has become something of a media darling at present, as I understand he will be appearing on SUFCTV at the weekend. A housewives favourite and no mistake!
The 80's were SO fashionable….
I've been scratching my head as to how I too might make a contribution, knowing that, whilst the lads aren't that fussy, the subject matter should essentially be Sutton United based if possible. I am therefore penning this missive in the hope the Editors may either have their backs turned or be a little more forgiving in the current climate. However in an effort to squeeze it past the censors I will throw a reference in to our home game with Ebbsfleet earlier this season . However the true tale revolves around a holiday taken in the summer of 1986 when whilst Bobby Robson's England were in Mexico trying to recreate the glory of 1966, a bunch of ne'er do wells from these here parts were on a canal boat trip in the Midlands.
Included in the line up were yours truly, the aforementioned Mr Frake and one time erstwhile U's FA Cup custodian Chris Vagg. Myself and Frakey had been veterans of previous canal boat trips and had completed the Avon Ring on a past expedition- and no that isn't a euphemism! Mark and I were junior hands before but this time we were the salty old sea dogs of the mission. Hardly reassuring news for our shipmates.
There were a total of eight of us on the trip which was christened the East Cheam Cowboys Tour being as all of us either played for or had tenuous links to East Cheam Football Club. A Wikipedia search for East Cheam FC will show they were considered a crack Sunday League outfit in the mid 80's although there is an equal chance that I've just made this entire sentence up. I leave that to your own judgement.
We were well prepared for the trip. A couple of the lads had done recent sorties across the pond and returned with caseloads of beer for our trek north. We'd wisely booked a minibus and driver to take us to our port of departure although at one point it did look like we'd need to jettison either some passengers or luggage to get all the ale on board. We arrived at the Boatyard early on a hot June Saturday afternoon to acquaint ourselves with our vessel. The look of dread on the Boat's owners as we piled off the bus belied their rather surprising decision to allow an all male party of early 20 somethings to hire their boat. They gave us a series of surprisingly brief instructions on how the boat worked (while probably secretly increasing the non refundable charges for damage) before bidding us bon voyage.
On set of the pilot episode of popular kids show "Rosie & Jim". Probably.
The trip set off dreamily. Just three or four miles upstream was a pub come nightclub right next to the canal. We moored up and made some serious inroads in to our French stash before availing ourselves of the Inn's hospitality until closing time in the early hours. We surfaced at a civilised hour the next morning only to encounter our first problem. None of us had, nor remembered where the Boat's ignition key was. This necessitated our first call to the Boatyard for a spare key and our first dent in the deposit.
No matter, we were soon on our way although in those days of restricted opening hours we had to moor up at 12 at the first suitable hostelry. We resumed after lunch rather hoping the UK's drink driving laws only related to Road traffic and not barges. To make sure we found a decent pub for the evening we put the pedal to the metal, or whatever the boating analogy is. This created something of a wash to our rear and occasioned plenty of waves of greeting from some rather unhappy anglers on the bank.
Prior to setting off we'd made no hard and fast plans as to our itinerary. Me and Mark knew that to complete a circular tour back to the Boatyard would require something of a commitment to get it done in a week. Having sized up our capabilities and crew it was clear this was never going to happen but fortunately a happy coincidence made our decision for us. Worcester was not much further upstream and on the Wednesday it was due to host the Benson and Hedges Cup semi final between Worcestershire and Kent. We therefore ambled to a stop in Worcester on the Monday night and set off in search of the ticket office the next day. Fortunately we got tickets for the match which meant there was no point moving the boat again being as we'd of course need to remain there for the match the next day.
Wednesday arrived and it was a beautiful summer's day. Our French stash had long since disappeared so we loaded up with tinnies for the cricket which went very much the same way long before lunch. Fortunately the bars in the ground were well stocked which led to much merriment and singing . There was one particular ditty aimed at that veteran of the BBC Commentary Box, Peter West which whilst we thought it highly amusing at the time, would assuredly have not got past the censors now. To look at Mr West's face as he emerged from the box it was clear he did not share our amusement.
This? This is a goalkeeper….
In fact as the day went on and the beer flowed It he atmosphere grew more sinister. Amongst the Kent support was a crew of Millwall and Charlton football fans who looked as if they were there for more than the thwack of willow on leather. Indeed we heard there was a firm of Man United fans in amongst the home support and that it was all going to go off at close of play. Being of the lily livered variety most of our number thought it would be wise to make our excuses and leave as soon as the game ended. However one of our mates was a Charlton fan who'd got entangled with some faces he knew and another one of our mates thought he'd keep him company.
England were playing Poland that evening in a do or die group game and it had been our intention to find a pub to watch it. However the amount of sirens heard in Worcester town centre that evening suggested it had kicked off big time so we thought the safest place to watch the game was on our little portable telly back on board. We had a tense evening as we were moored up pretty close to town and had visions of our two mates bringing trouble back with them. Fortunately that didn't happen and Mr Lineker's heroics that evening left us all in good heart.
The mood dropped the next morning though when our trusty vessel wouldn't start. It transpired that as we'd not moved the boat in 3 days nor run the engine, the battery had gone flat- who knew?? The Boatyard were called out again. I don't know why they looked so glum when they showed up. After all they hadn't had to travel far!
As it was now Thursday and we had to get the boat back by Saturday morning there was only time left to turn the boat round and go back the way we came. At least the Boat firm wouldn't need to top the fuel up much for the next hire. The remainder of the trip was relatively incident free apart from the blockage of our chemical toilet. Apparently beer bottles aren't meant to go down them in case any readers are curious.
More disgraceful drunkeness….
The tenuous link to the Ebbsfleet game? Oh right, that! It is that 7 of us (not the Charlton fan) are still in regular contact and decided to have a get together that day by doing the pre match lunch and availing ourselves of the hospitality. As it turned out only 5 of us could make it that day but it was still a thoroughly enjoyable outing, only slightly dampened by Ebbsfleet nicking the points with a last minute winner. The highlight of the day was learning that Micky Joyce had once scored 9 goals in a game. He's kept that one quiet!!
Hopefully it won't be too much longer before we can do it again.The football that is, not the boating holiday. In the meantime stay safe, stay alert and drink beer (not Domestos).
John Clarke