So, with the U's not so much flying as falling at the end of
Part 1
, we find ourselves in the bottom four coming into another busy period of the season. So, as we kick off Part Two of our season review, the big questions remain. Can we turn it around? Can we really get any worse? What the hell are we doing with our lives? Yeah, like we're gonna tell you the answers here. You don't get off that easily chum! There'll be no spoilers from us, where's the fun in that eh?
NOVEMBER
With a dire October finally behind us, what we really need is a confindence booster. Sadly though, what we've got to kick off November instead is
BARROW
away
(1-0).
Which not only involves heading to Middle Earth and then doing a left, but they also happen to be top of the league currently. Lovely. Still, the U's official match preview does it's level best to rally the weary travelling support by reminding us we've had 26 corners in the last 2 games! It doesn't really work, as you can probably imagine. Still, the lads dig in and provide the league's front runners with a real test. Sadly though, the same old problems are on display. They score from a wicked deflection, we meanwhile can't hit a cows arse with a banjo despite several reasonable sights of goal.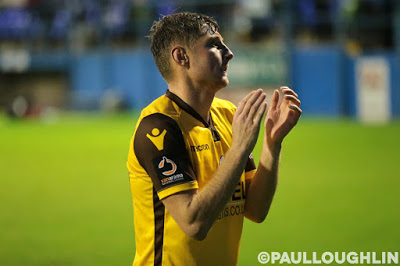 Deflation @ Barrow after another narrow defeat….
Travelling support urging the lads to keep going post-Barrow…
Browny's back! Wayne Brown scores against Horley in the SSC.
Still, the effort's there and you can tell we've put them through the wringer given the relieved, clenched fist celebrations at the end from the home players. At the end, the weary few who've made the trip get stuck into the clearly downhearted side when they come over to acknowledge the support. After all, when the chips are down, do you fold or go all in? Daft question really. Keep fucking going lads. It has to turn sometime. Let's just avoid mentioning silly bollocks like how many fucking corners we've had eh? That night out in Lancaster on the gas, it's decided that to really make a go of this staying up lark, we'd ideally need to at least be on 25points by Xmas. That way we'd be half way to 50 with about half the season left. Where are the points coming from? That conclusion was sadly lost in a blur of boozing & stupidity. Oh and breaking a minicab.
Being out of the Cup means that we get a weekend off the following Saturday which gives the team a much needed rest and Matt uses the time to ponder his options and make some moves. He's stuck with the lads he has up to now, but as we said. Fold or go all in? He chooses the latter too and looks to make reinforcements, but not quite in the spots we'd have probably have imagined. First up we clear the decks a little with Crossley Lema's loan to Leatherhead being made permanent. Then we sign a familiar face on loan, Louis John, who rejoins from Cambridge United where he's found his game time limited of late. We assume this is an experienced cover for JC who's been in and out of the side with knocks all season. Either that or finally a replacement for Dale Bennett at right back?
Ajiboye puts us in front @ Torquay
Harry with the winner @ Torquay!
Enjoy that did you gaffer?
After the brief break, we return to action by getting the Surrey Cup started, facing HORLEY at home. A fairly strong side is put out and the inevitably see off the County League side 3-0 without really breaking sweat. The side features our 2nd choice keeper Ben Dudzinski making a rare appearance and marks the return of Wayne Brown after his ACL last season, the midfielder opening the scoring in his 60 minute cameo, much to the delight of his team mates. The following day, there's more movement on the player front with Nik Tzanev, a 6ft 5in keeper signed on loan from AFC Wimbledon. Jamie Butler's not been at his best this season and seems like he might be struggling with an injury, so Matt's gone big to cover him. Naturally, this means Dudzinski is surplus to requirements and he heads off to Gosport on dual reg to make the neccessary room.
With the pack shuffled slightly, we head to TORQUAY for Dirty Barry's Porno Pool Party Weekender and some National League football. The hosts are ticking along nicely with 4 wins in 5, whilst we've not won since September, so a tough afternoon is expected. What follows is a gritty, battling performance all across the park in welcome and well deserved 2-1 victory. Ajiboye gives us the lead before they level, but Harry adds to his ever growing tally with what proves to be the winner in the second half. Fucking finally, a win! It's a big one and the reaction of the lads and management at full time shows what it means to the group. Right, let's build on this you bastards!! Naturally, this sorely needed win is celebrated long into the night, which helps us forget that the Gandermonium travel sec has once more bought our tickets for the journey home for the wrong date. Twat.
Bromley in front at the Lane….
Game on @ Dagenham!
Tommy rifles us in front @ Daggers…..
Dan Matsuzaka departs before the following week's game with BROMLEY, eventually winding up back at Braintree. The clash with our old isthmian mates is tight, but the difference is chances and mistakes. They take theirs and we make them. With the game finely balanced and Sutton looking hard for a leveller at 1-0, JC lets the ball roll under his foot and moments later it's 2-0 & game over. Arse. Has that momentum and morale boost from Torquay been killed by another unfortunate defeat? I guess we'll have to go to DAGENHAM (2-1) midweek and find out! The Daggers have had a funny old season, starting poorly, then racing up the table before slumping back into the bottom half again. We've also been drawn at home to them in the Trophy in a couple of weeks too, to no-one's excitement at all. They lead at the break, but the lads stick at it and the game turns within a couple of second half minutes. Easty bundles in an equaliser and then almost straight after, Tommy Wright shows some of his pre-injury dead eye finishing to rifle home and nick the win. Seems there might be some life about us yet!
…..and gives it some!
Lift off for Tommy @ home to Harrogate!
Pinging in number 3 v. Harrogate @ GGL
With two wins in three games now, we welcome play off chasing HARROGATE to the Lane. Our tails are up though and we give them a proper going over for an hour. Sadly though, we're only the one up when the inevitable error arrives and they nick an somewhat undeserved equaliser. Thankfully though, we keep going. Tommy Wright again to the rescue, this time lashing in a 25 yard thunderbastard to restore the lead soon after and then settling everyone's nerves with a couple left to seal a well deserved 3-1 win. Three wins in four and suddenly we're no longer worrying about getting cut adrift in the bottom four, but firmly back in touch with the pack immediately above. 21st spot and that magical 25 points we'd dreamt of post-Halifax is up on the board. It seems we're actually a bit ahead of schedule chaps! Maybe it'll be a Merry Xmas after all?
DECEMBER
As per usual, the season to be jolly is going to be a busy one with five National League games with the Trophy tie with Dagenham splitting them to fit in around all that boozing and eating and having to be crammed into 21 days. Try giving that sort schedule to a Premier League club, they'd shit their pants and the papers would b full of whinging. We start the Christmas rumble with a much anticipated trip to Nottingham, as much for the boozing opportunities as for the football if we're honest. After a slow start, an improved
NOTTS COUNTY
awaits and we fear the worst when they take an early lead, but again the boys stick at it, dig in and once more it's Harry Beautyman with the goal
(1-1)
to earn us a point and delight the 200+ U's fans who've made the trip, including Dirty Barry and his poultry themed headgear. Such is the 2nd 45 showing that we're probably a touch unfortunate not to turn that point into all three by the end. Naturally, the hostelries of Nottingham relieve us of much of our coin and our memory during the after match festivities.
Harry squeezes in the equaliser @ Meadow Lane
Delighted travelling U's fans at Notts
Omar levels in the trophy against Dagenham…
Dylan Kearney subsequently departs for Dulwich Hamlet, with him seemingly out of favour with the management since early on in the campaign, which is a shame as he had real potential. Naturally, the little Irish shithouse is soon scoring goals and making himself a cult favourite in the land of beard oil, craft beer and red corduroy trousers. Fair play to him. Next up for us is the long midweek slog North for the re-arranged
AFC FYLDE
game from a couple of months back. Inevitably, it's not a classic and the point earned
(0-0)
at least moves us out of the bottom four and displays a bit more of the chaps new found resilience. We'd have lost that one six weeks ago. The League halts for the FA Trophy next and we reacquaint ourselves with
DAGENHAM
in a somewhat less than anticipated tie. Another 0-0 looks likely until they nick one early 2nd half. The U's toil somewhat, but Omar Bugiel steps up near the end to thud in an equaliser and earn a replay
(1-1)
, although Tommy Wright so nearly wins it at the death with a little prod against the post.
So, an unscheduled trip to Essex and some ticket price fuckery. The hosts drop their prices from their absurd 21 quid for away fans and obviously expecting a low turnout, make it a tenner with no segregation, before then changing their minds and bumping it back up to 15 notes and sticking us in the little stand by the corner flag. Again
DAGENHAM
lead the tie but Harry, who else, levels from the spot. Extra time, oh the excitement! Omar bundles us ahead near the halfway mark, but we can't quite see the job through to the end and 2 quick goals in the second period
(3-2)
sees us out of our second FA comp this season at the first hurdle. It's disappointing, but with an away tie at Notts County the reward & sandwiched between trips to Chesterfield & Stockport in Jan, there's not too much grumbling about our exit.
Extra time in Essex
Omar makes it 1-0 @ home to Wrexham
Three, is the magic number!
It's back to Gander Green Lane for the visit of
WREXHAM (3-1)
on the Saturday. Another of the big boys, who like Chesterfield and Fylde, are having something of a nightmare season and have spent much of it bumbling about at the wrong end of the table rather than at the other end as they'd no doubt expected back in August. Their poor form is pounced upon by the recently rejuvinated Sutton and we're 3-0 up in about an hour thanks to an Omar Bugiel hat-trick before the visitors notch a late consolation. Omar's form carries over into the Boxing Day trip to
WOKING
in the pissing rain as a brace secures a
2-0
win there, our first at Kingfield for about 20 years. His first goal is an absolute worldy, lashed in on the volley from about 35 yards in the very first minute. Pick that one out, foot like a traction engine etc etc. It's so good it overshadows Dukey turning up looking like he's come by Spitfire. Xmas present was it mate?
In such red hot form, BT Sport of course make Omar and some
YEOVIL
1bloke who's scored 7 in 8 or something as the big deal in our televised clash at GGL. Sadly for them, Omar's missus gives birth on the Friday and the Lebanese Geez is sadly absent from the U's line up. In an entertaining clash however, Harry puts us ahead, before two pretty awful goals hand the initiative back to the visitors. However Ben Goodliffe fires in his first goal for the club and then an almighty mix up between their keeper and a defender allows Ajiboye to cap a man of the match performance and walk in the comedy winner
(3-2)
. It's a big win and caps off an otherwise pretty rubbish 2019 football wise. Those 3 points, along with the others already harvested in December leave us on a grand total of 36 for the season and sitting in a dizzying 16th place, closer in points to the play off spots than the relegation ones. It's been some turnaround!
Omar's 1st min thunderbastard @ Woking on Boxing Day
Which pleases the skipper greatly!
Almost as much as Omar's 2nd goal in fact!
But, just to remind us how shite this calendar year has largely been, Jamie Collins sadly announces his retirement from football on New Year's Eve. It seems he has been offered a very good job out of football but it means not being available for training during the week and being as he's 35 and had a disrupted season anyway, he's taken the decision to knock it on the head sooner rather than later. Cya JC, we'll miss you mate!
Ok, laters Twentyteens. You weren't at all bad if we're honest, although you did turn a bit weird there at the end. Right, time for a new decade.
Ajiboye walks in the winner v. Yeovil live on the box….
JANUARY
The 'Roaring Twenties' dawns with the return game on New Years Day against
WOKING
. Just how shit that moniker is will be harshly exposed month or two down the line, but come 4:45pm on this first day of the new decade it seemed somewhat apt! Refusing to play a couple of lads due to our plastic pitch and their injuries and other such flat earthy tinfoil hat shit, Woking's lack of depth is exposed in brutal fashion by a U's team high in confidence. After Harry puts us ahead early on with a free-kick, it's simply one way traffic and by the time Harry doubles his tally from the spot in first half injury time, he's rounding off a 5-0 lead. That's right. Five fucking nil. At half time. Goals from Wright, Goodliffe and Ajiboye combined with that H brace making the second half a formality. Foot well and truly off the gas second half, they pull two back while we coast to the final whistle, but Dundo appears at the end to place the cherry on the cake and round out a lovely
6-2
hammering.
Harry tests the keeper early New Years Day. A test he fails….
Ben accepts the acclaim for making it 2-0
Ajiboye's rocket makes it 4-0 v. Woking. NYD.
The following day, Matt confirms that Tzanev's loan is being extended to the end of the season, a move which surely means we won't be seeing Jamie Butler again this campaign. Next up is a trip up to
CHESTERFIELD (1-0)
who are still having a terrible year. Sadly though, they'd chosen the week before to finally fire the manager who's got them into this mess. Yeah, cheers for that lads, couldn't have waited a few more days eh? We play ok, but it's a tight, one goal game and the hosts take 3 huge points in their battle to stay up. The defeat is compounded after the final whistle when Easty gets into a bit of fisticuffs with a home player and both cop themselves a red card for their troubles.
The Trophy exit at Daggers gives us a weekend off, which given the Xmas schedule and the fact there's another long away trip up next, is a blessing in disguise. As with the last break prior to the Torquay trip, the Gaffer uses the time well and the recruitment of defender Coby Rowe from Haringey Borough is announced, this clearly to give the backline some depth with JC's retirement. The following trip to
STOCKPORT
provides us with another weekender, this time in Manchester, which proves slightly more entertaining than the
0-0
draw we see on the pitch at Edgely Park. The U's have the better chances in a forgettable contest, but a point on the road at this stage of the season is better than nowt!
Dundo with the icing on the 6-2 New Years Day cake…
Goodliffe's 'equaliser' @ Chesterfield about to be ruled out…
Post match, red card, argy bargy @ Chesterfield
During the week, the squad gets a boost as Louis John's return to GGL from Cambridge United is made permanent before we then return to action at GGL with the visit of SOLIHULL MOORS, who thoroughly endear themselves to the PROWS citizenry with some pretty dour shithouse wankery under the charge of former Blackburn & England 'keeper Tim Flowers. Again, it's our profilgacy in front of goal that costs us (0-0) what should probably be 3pts against a play off chasing set of cunts. Still, it keeps the points tally trundling upwards to 41 and with there likely to only be 3 down this season, leaves us needing really only three wins to be sure of safety.
With David Ajiboye having settled nicely as the season progressed, the U's management return to the South Coast and add striker Callum Kealy from Worthing on a dual reg for the remainder of the season, clearly looking to get some more talent on the cheap. Obviously room needs to be made and Aaron Jarvis is the one to make that room, heading to Hemel Hempstead on loan. Back on the pitch, January ends with Dukey's now annual Surrey Cup disappointment as a largely Academy based side comfortably loses
3-0
to
LEATHERHEAD
down at Fetcham Grove. The highlight of the evening is undoubtedly Totts blog covering the match, which finally details an oft threatened tale of him and a disco dancing contest in their old clubhouse back in the 70's. Yep, the game was genuinely
that
good. But enough of such frivolity, onwards my friends into February and the final third of the season with a chunky feeling 41 points tucked firmly in our pockets and our arses squished into 15th place in the National League table.
Way more interesting than the game was at Stockport!
Solihull Moors being shit house wankers @ GGL
Leatherhead in the SSC represented by this rather dark, uninteresting picture….
Now, what's all this stuff we're hearing on the news about a nasty virus that seems to be causing problems in a far off Chinese city named Wuhan? That doesn't sound fun at all….
As always with these reviews, we'd like to thank the jolly good sport and rather good snapper of images that is Paul Loughlin for once more allowing us to plunder from his impressive library of pictures for this rubbish & to help make it look far more professional than we could ever hope to with our own stuff. Check out the full sets of his work on Flickr HERE. They're dead good and have been in the NLP and everything. Cheers!