So, in PART 1 we had an OK start, followed by a slow dive into the bottom four, followed in PART 2 by a pre-Christmas surge in results largely setting us on the way to safety. So, how will the season pan out in this, our final instalment of the 2019/2020 season? Uh, rather strangely and not quite how any of us would have imagined as it turns out…..
FEBRUARY
We begin February with a return to La Bastarda action and the relatively short jaunt down the High Speed rail line to EBBSFLEET. The hosts are still well in the shite in the relegation zone, with their gift wrapped win back in October failing to spark anything but a brief sojourn out of the bottom four. Despite not looking as effective as they did that day at GGL, they still lead at the break thanks to a lifeless showing from the U's. But a much better 2nd 45 sees Beauts add to his bulging goals tally and in the end we're probably a little unfortunate not to win it (1-1). Eight points and counting!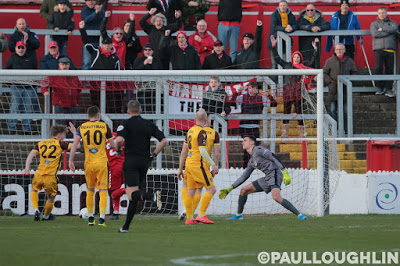 Ebbsfleet lead @ Stonebridge Road
Beauts dives to nod us level @ Ebbs
Post-goal celebrations @ Ebbsfleet
With another Trophy enforced break meaning the home game with Fylde is off, management decide to keep the lads ticking over with a practice match against Steve McKimm's Tonbridge Angels at Gander Green Lane. The U's notch a 4-2 win with goals from Wayne Brown, Milsom, Ajiboye and Issac Olaofe, a striker brought in on loan from Millwall to try and boost our 'goals for' tally. Not a bad start mate! At this time, the UK finds itself battered by a succession of mundanely named storms, all of which we christen far more simply with the moniker 'fuck off'. This turn in the weather of course isn't much of a problem with our magic rubber carpet, but it does hurt sides who are less forward thinking. Like Halifax for example.
Easty lends moral support at the Tonbridge practice match!
New faces. Kealy congratulates Olaofe on his goal v. Tonbridge
Harry sends the Barrow lad for a half time cuppa….
Like all long trips North, we are on an early train out of London, but on this occasion it means we've left the capital some 40 minutes before the pitch inspection at the Shay and we have to turn around at Stoke when it's inevitably called off. Poxy weather. Still, could be worse. This 'Coronavirus' stuff seems to be getting a bit serious in China eh?
The Halifax game is quickly rearranged for the 4th of March and we return to action at home on the 22nd with an evening kick off against league leaders BARROW (2-2), live on the gogglebox. Despite having the wind at our backs, we're basically played off the park 1st half as we show the top side far too much respect before a cracking little goal from the red hot Harry Beautyman gives us hope at the break. A much better second period sees a penalty won by Olaofe and Harry converts to seal a point, although there are sniffs near the end of a possible upset. With goals at a premium, we've been missing the livewire Tommy Wright thanks to his long injury lay off, but it seems other problems are plaguing the lad and it's announced during the week that he's going to take a break from the game to get himself back in a better place mentally. Get well soon Tommy!
….and gets us back into the match!
Issac felled against Barrow. Harry slots the penalty.
Omar onion bagging with our one shot on target @ Hayes Lane
The disjointed shortest month of the year concludes with the trip to BROMLEY who are in a pretty stinking run of form at the moment, a stark contrast from the top spot chasing they were doing when leaving our gaff with 3points back in November. A tough game ensues, but an inspired performance from Nik Tzanev and Ex-Brom man Omar Bugiel putting our only shot on target into the onion bag means a battling and very welcome 1-0 win, one that whilst we remain in 15th spot, means we're now up to 46 points and safety is very much on the horizon. Slowly but surely.
Celebrating 3 big points @ Bromley
MARCH
With an England C call up for Ben Goodliffe announced, the swiftly rearranged HALIFAX trip is next, with the boys and a hardy few travelling North midweek. A battling performance deserves some reward, but an unfortunate late penalty conceded by Coby Rowe presents the play-off challenging hosts with all 3 points (0-1), it also marks the debut of Frakey as guest blogger as most of the regulars usually responsible for this shite can't make it. Our hero! Sadly, the club's 'tog Paul can't do the trip, so there's no pictorial evidence of this momentous clash to help pad out this shit grace these hallowed pages. Sorry!
Milsom's free-kick has just put us ahead @ home to Torquay
NUTS!! Randall's shot goes in against Torquay @ GGL
Torquay celebrations
Meanwhile, the mysterious 'Coronavirus' has by now ceased to be some problem in some far off Chinese city no one's ever heard of and is now starting to become a very real issue here in Europe, with Italy and Spain seeing the worst of the illness so far. With this in mind and with talk of 'social distancing' firmly in the news, the National League advises teams to stop doing the usual 'Fair Play' handshakes before kick off. Yeah, that'll do it lads. We take on TORQUAY the following day at home and see off a poor National League South level outfit with a comfortable win (2-0) that really should have been 4 or 5 but for the actions of the vistors keeper.
It's a brief moment of relief as the virus gets a new name, 'COVID-19' and looms large over everything in the coming days. On the 13th, two days after the WHO officially declares the situation a Worldwide Pandemic, the Football League and Premier League announce the suspension of their games that weekend. With us fully expecting the National League to follow suit and that to be it for us the foreseeable, we're all really quite surprised when the League announces later that day that our own games that weekend will go ahead! A weird day is capped off by Solihull paying a fee to Salford for former Aberdeen striker Adam Rooney. Er, lads, have you not been watching the fucking news? A few games in our league fall by the wayside between Friday and Saturday morning as teams report players or staff being ill and not wanting to risk it, along with a fair few other leagues pulling the plug entirely, but our clash with HARTLEPOOL (1-1) is definitely on and remains one of the few games still played. A decent match in a slightly strange atmosphere is witnessed by a good following from Pools, the usual GGL regulars and a load of ground hoppers along with a few waifs and strays including a stag do from Boston in the USA. Olaofe scores his first for the U's early before the visitors level in the second half, but Sutton finish strongly and a couple of late chances go begging, with an effort off the post and a last second effort cleared off the line meaning the points are shared.
Issac bags @ home to Hartlepool….
…triggering some Covid-19 Proof celebrations.
Hartlepool level in the National League's last stand @ GGL
In the bar after, most seem to accept that this is probably going to be it as far as 2019/20 goes. With Italy and Spain now in a full on national curfew situation to try & control a disease that is extremely contagious and spreads via normal human interaction & proximity to each other, no one expects to be back stood on terraces or playing again any time soon. Still, seems as good a time as any to release the early bird deals for Season tickets eh?! Marketing genius!! The inevitable shutdown comes on the Monday after Hartlepool, with the National League board finally suspending action until at least the 3rd of April. Yeah, not happening lads. Unsurprisingly, Ben Goodliffe's debut England cap goes down the khazi with their game also called off. Despite the looming viral apocalypse, a meet the manager meeting goes ahead that same evening however.
The following day, things get far more serious. Sutton United is effectively shut down, with all social gatherings etc deemed unsafe, pitch bookings are cancelled and the bars are shuttered. With 6 weeks of the season ordinarily still to play, that means we now have no income with wages and contracts still to honour. It's obvious to anyone that this is a serious threat us and all clubs at this level. The point is hammered home when Barnet immediately cut a load of staff and reveal they are currently running losses of 100k a month. Further illustration as to the size of the storm enveloping the world as EURO2020 is cancelled and other large sporting events follow suit. The club reacts the following day with a statement.
See you when we see you gaffer!
With funding now a major concern, the National League meet the FA with a proposal from the Dulwich chairman of £17m funding being provided at 250k a club to keep everything going. It's a lovely idea, but no one expects the cash to be forthcoming any time soon and certainly not to those sort of levels. The FA, Premier League and Football League also drop their immensely optimistic target of finishing their schedules by the 1st of June. Instead everything is suspended now until the end of April. This is followed a week later by the FA cancelling all football from Step 3 downwards. Their season is null and void with no promotion or relegation, which is harsh on the likes of Jersey who have already won their league.
On the last day of March, 13 days since the Hartlepool game at GGL, the National League announces our season is suspended indefinitely. They're fooling no one, we're done. It's all about the details now.
APRIL
Funnily enough, April dawns with no one particularly interested in being fooled. Still, it doesn't stop the usual outlets trying. The Sutton Guardian is a decent effort to be fair, claiming we're moving into AFC Wimbledon's new home at Plough Lane from next season. The ACInter Milan 'quote' from Bruce Elliott being a particular highlight.
April Fools!
With no football to entertain us, most people turn to distractions online. One that helps us pass a few days is Vanarama's "World Cup of National League Goals" where they divvy up 32 of the league's top strikes to be voted on via Twitter. Of course, Omar's belter from Boxing Day features and we set about making sure everybody knows it, eventually seeing off no less than 3 efforts from Notts County to take the crown. Take a bow Lenanese geez!
Lots of Notts….
Any big worries of financial crises are thankfully abated when the UK Government allows football clubs to place their staff on furlough, with them covering up to 80% of their wages. Naturally, SUFC grabs this lifeline with both hands, placing all the squad and management on the scheme, with only the Academy lads remaining active. Some clubs take the piss out of it though, like Liverpool & Spurs, who place loads of support staff on furlough whilst still paying their players. Fuck off lads. Naturally, after a outpouring of anger about this, they reverse the decision after a couple of days. And Speaking of the Premier League, they decide some positive PR is required and announce they'll advance everyone next season's 'solidarity' payment as a gesture. This totals some £125m, but barely £2m of that reaches us in the National League, with the NL sides taking £58k each and the NLNNLS sides getting £13k. It's not quite the 250k a club the lad at Dulwich had suggested a couple of weeks back! Now, whilst it's a welcome bit of bunce, it should be remembered that this is an advance. It simply means there's now a 58 grand hole in next season's budget. However, we'll cross that particular bridge when we come to it I guess!
Champione, champione, ole ole ole!
The last day of the season comes and goes, with the league still undecided what to do with the unfinished campaign. In fact it's almost a week later when they finally announce what is blatantly obvious to all, the season is over. There's no decision made however on relegation or promotion, with the league seemingly waiting for the FL, who are in turn waiting on the PL to decide their own outcomes. What a mess.
EPILOGUE
With the UK now leading the European stats for fatalities due to COVID-19, we roll into May and with contracts up, there's obviously some squad movement at GGL. Jamie Butler and Aaron Jarvis are both announced has having been released, with Nik Tzanev and Issac Olaofe returning to their parent clubs as their loans have expired. Cheers for your efforts lads.
Cya Buts!
Ta'ra Aaron!
The club also makes an appearance on ITV evening news in London, focusing on the effects of the shutdown on clubs like us. It's reckoned the pandemic has cost us in the region of 100k. However, we seem to be keeping our heads above water and we've not launched any desperate fundraisers yet, so I guess we're not exactly dead in the water just yet.
It's now early June as I polish this section of the review off and as yet, the FL and NL have still made no decisions on their seasons outcome. The PL meanwhile is surging towards a restart inside empty stadiums, this of course having nothing to do with them having to lob up several hundred million quid in rebates to the TV firms if they were to can the season unfinished. Oh no.
For us, we've no idea when we'll be back playing. There's still talk of it being towards the end of the year, but no one really knows for sure. I guess we'll be back when we're back. So, we'll leave it there. The news over the last couple of months has been fucking depressing enough as it is without us going over it all again, besides we're a drunken football blog, not a current affairs one.
So, all of us here at Gandermonium hope this finds you safe and well. And you can rest assured that as soon as we're allowed to be back necking pints and watching 5th division football, you'll be right there with us for the ride as always. Cheers for reading, we'll see you on the other side.
Whenever the hell that might be!