I'm a sucker for old football clubs and grounds that are no longer with us and after the stunning response to the pieces I wrote up on Banstead Mental Hospital FC and the long-lost Mitcham Stadium it became clear that many others are as well and I had been casting around for another contender.
My criteria? Must have played Sutton United at some point to make it relevant to this here blog and must be a part of the manor that I am familiar with. The more obscure and undocumented the better.
So Beddington Corner, located down the Carshalton Road between Hackbridge and Mitcham Junction, ticked all the boxes. Not only that but my erstwhile Twitter sparring partner Hackbridge Harry, who lives within gobbing distance of the old Beddington Corner ground, had been lobbying me to get stuck in and I didn't need much encouragement.
See, I worked at Scaffolding Great Britain for a couple of years in the late seventies/early eighties on the Willow Lane Industrial Estate and most lunchtimes would have a couple of pints, a few Rothmans and a cheese and onion roll in the Goat on the corner of the green.  I knew that there was a ramshackle football ground just over the main road, this would have been around the time when Fisher Athletic were in exile there, but I knew nothing at that time of its important place in local footballing history. So, let's put that straight.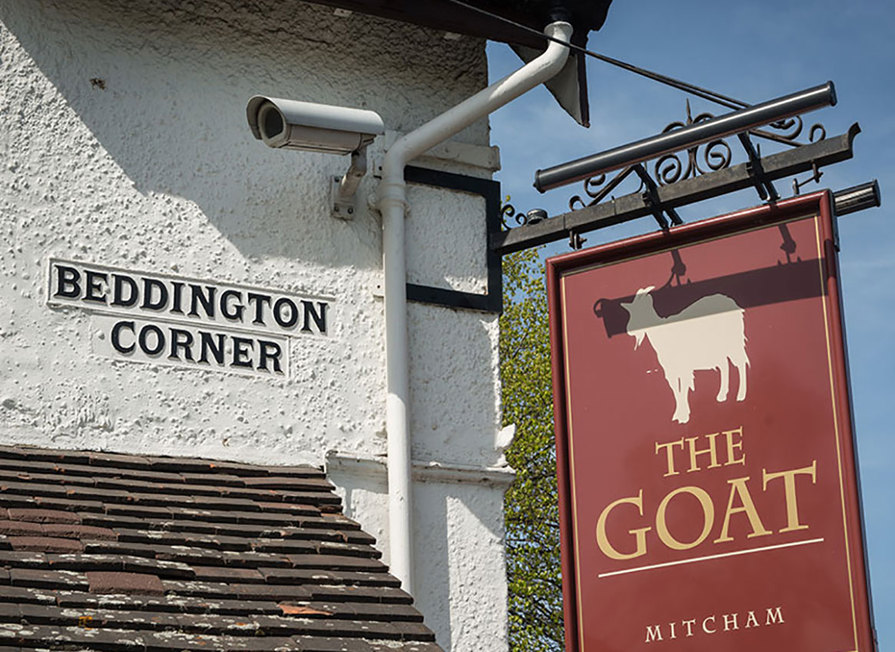 Beddington Corner and the famous Goat pub….
Piecing together what we know of the Beddington Corner FC story has not been easy but with the usual on-line search tools, brilliant assistance from FA Cup Factfile, Sutton historian Mark Frake, the local Mitcham History Notes and it's brilliant football historian Stan Churchillmann, Collect Football, @groundtastic and others credited at the end of this piece we have enough to give it a go but, as always, if you know more, please don't hesitate to send us a message. Let's see this as a starting point.
Thanks to a widely available Ardath cigarette card from the 30's we know that Beddington Corner FC was formed around 1895. We also know that they were founder members of the Surrey Junior League – along with Sutton United – which they won in 1900/01 and their strong showing at that level would have been a factor in their move to the Southern Suburban League Division 1 West in 1903/04 which at that time contained just six teams, including Wandsworth-based Summerstown who went on to win it and who are another long-lost local club I intend to take a look at at some point in the future. Dulwich Hamlet Reserves finished bottom that term with just one point from their ten games and were rightly booted out.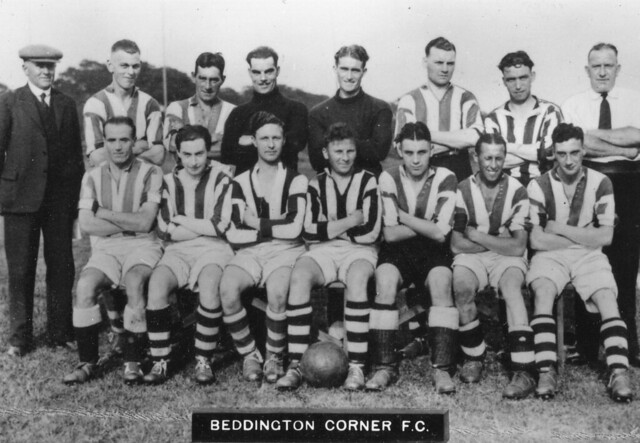 Beddington Corner FC cigarette card. Circa 1936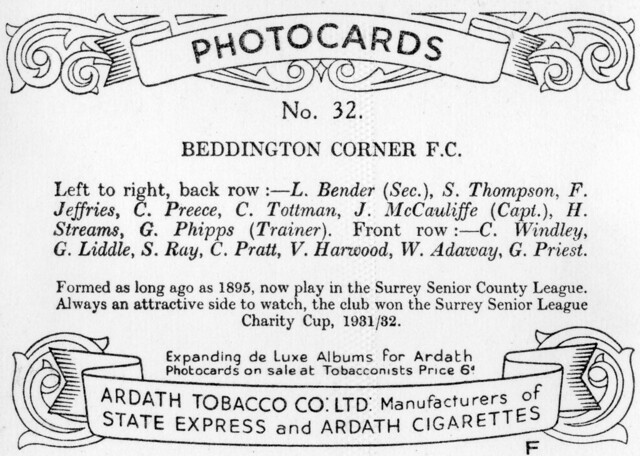 Rear of Beddington Corner FC cigarette card. Circa 1936
Records and maps are patchy but it would seem that around about this time Beddington Corner moved into the football ground across the road from the Goat. The Corporation Cottages, which are the last remnant from that era still standing, were built in 1903 and my hunch is that there were something to do with the ground, standing on their own at the entrance, and they were certainly listed as the postal address when Morfax Social Club later took over the facilities after the second world war but more of that later.
Rewinding a few years, the earliest newspaper mention we have found for a Beddington Corner game is from a home fixture against Sutton St Barnabas Reserves on the 16th of January 1897 in an unspecified competition and the following year there are fixtures listed in the Croydon Chronicle with the club competing in both the Surrey Junior League and the Herald League which also featured a Sutton United side.
The first full match report located is from a one all draw away to Epsom East Street in the third round of the Surrey Junior Cup – a competition in which The Cornerites were to enjoy some success – in the Surrey Mirror from Friday November 29th 1901. A year earlier, in 1900, I am told that they knocked an early incarnation of Leatherhead out of the same competition. Back in those days all levels of football were given extensive coverage in the local papers and those reports are a precious resource for those of us delving back into our sporting history. The first record we have of the Cornerites lifting a trophy is in 1906 when they won the same Surrey Junior Cup beating Tooting Graveney in the final. I assume from that that the lower levels of the Southern Suburban still ranked as intermediate grade football.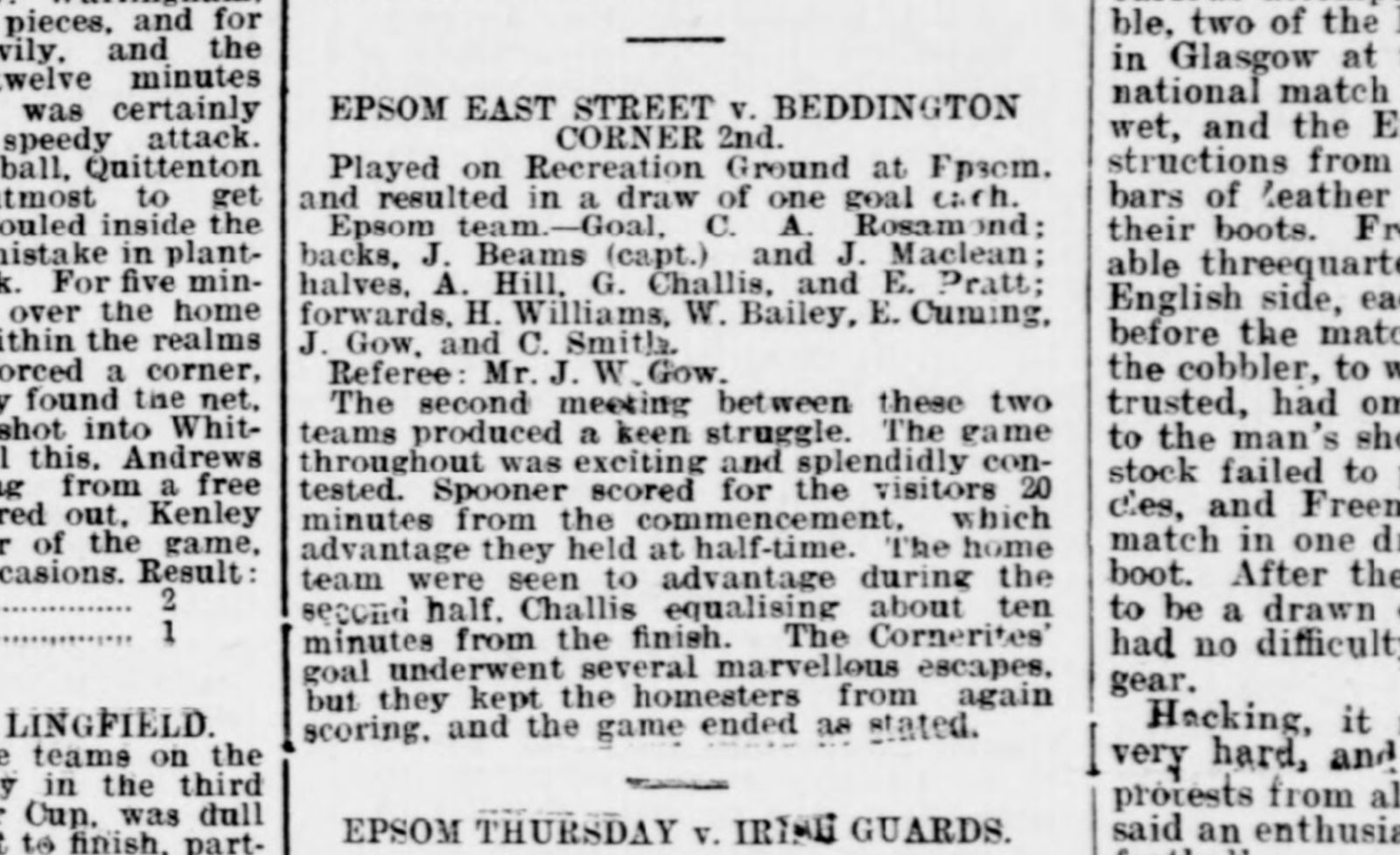 Match report, 1906
The elevation to the Southern Suburban League was a challenge for Beddington Corner but they were finding their feet and by 1905/06 had been joined again in Division 1 West by Sutton United – the first time we have a record of the two clubs meeting competitively. Also making up the numbers in the tiny six club division at that time were Carshalton St Andrews – yes, yer first actual "Robins" – who a couple of years later would go on to merge with Mill Lane Mission and create Carshalton Athletic.
In 1907 there are reports of Beddington Corner again reaching another cup final which we cannot find records for, on this occasion reportedly losing to Croydon Common from a short history of that club. Now that's a team with one hell of a story to tell. Shortly after that final the Cock Robins embarked on a dash for growth that catapulted them through the Surrey Senior League and into the professional Southern League with their eyes on a place in the Football League with plans to expand their 15,000 capacity ground in Selhurst, The Nest, into a top drawer 40,000 stadium. Despite a legendary FA Cup run that took the mighty Woolwich Arsenal to a replay Croydon Common folded in 1917 due to unpaid debts with the opportunist Crystal Palace subsequently moving into the old Nest ground. The base of the old main stand still exists in the Selhurst Train Maintenance Depot but remember this – if Croydon Common hadn't folded the Nigel's probably wouldn't exist.  Extraordinary to think that they were early contemporaries of Beddington Corner.
These were truly important formative years for football on this manor and not always in a good way. By 1907/08 the Southern Suburban League had been reorganised and Beddington Corner won the new Division 1 Mid hands down with Sutton United finishing bottom on one point – narrowly pipping Carshalton, on two points, to the wooden spoon.
The report of the Cornerites AGM at the Working Mens Club in May 1908 from the Croydon Guardian shows the club making a healthy profit of £7 19s 7d despite having money-spinning home fixtures against Sutton and Carshalton scratched due to bad weather – the meeting agreed to enter the same competitions as the previous year and to enter the reserves into the Sutton Hospital Cup.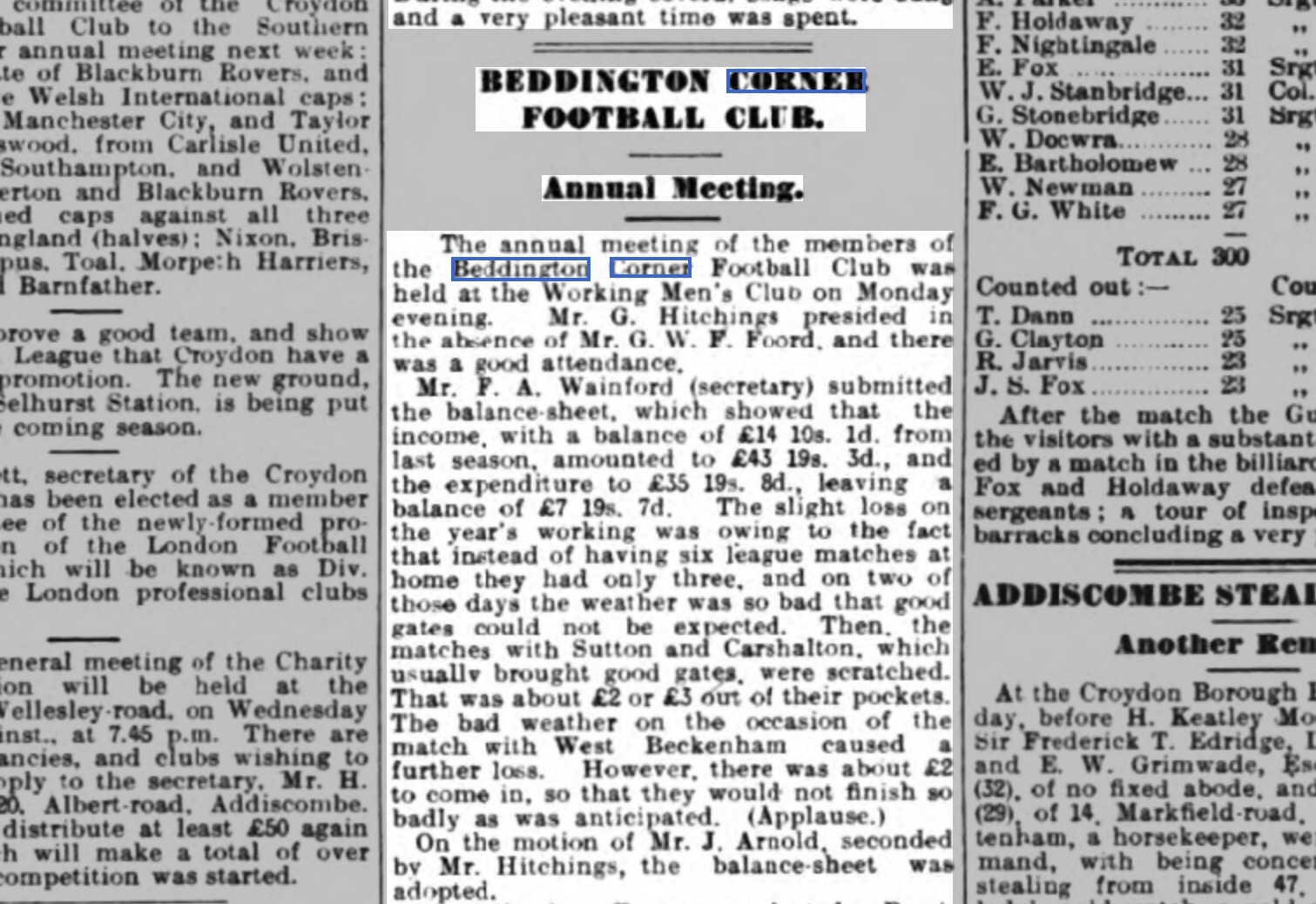 Beddington Corner AGM report. 1908
The 1908/09 season saw the club moved to Division 1B of the Southern Suburban League – this must have been a reorganisation as Sutton United were in the same group – and they also found themselves rubbing shoulders with the fabulously-named Brighton Railway Athletic  (works outfit of the northern arm of that rail company) and the very worshipful Tooting Church Institute, who despite having God on their side, finished bottom. I am indebted to local historian Stan Churchillmann for pointing out that Brighton Railway Athletic also played on Mitcham Common, at the Croydon End by The Jolly Gardeners pub.  Proper local derby with the Cornerites that one would have been.
By 1911 the league had been reorganised again with Beddington Corner coming second in Division 1 East behind Charlton Athletic – presumably their reserves – in a much expanded competition.  In 1912 the league pack was shuffled one more time and Corner were now finding life much tougher, coming second bottom in the Senior West Division that now contained serious Surrey senior teams including Kingstonians – the winners – Redhill, Sutton United, Dorking Town, Wimbledon and, one of my favourites, the Caterham-based Guards Depot. Beddington Corner were also knocked out of the London Senior Cup that season by Sutton.
A press report from 14th December 1912 shows that they extracted some revenge though in a league game which ended Beddington Corner 2 Sutton United 0:
"These teams met …..at Mitcham Junction on Saturday in miserable weather….By furious rushes and lusty kicks the Cornerites managed to beat Worral on two occasions with the result that they won by that margin and Sutton are still without a point in the League."
That is how you write a match report. Marvellous stuff. That same 1912/13 season and the jump to senior status saw Beddington Corner go national, entering the FA Amateur cup for the first time, losing 3-2 away to Dorking in the 1st qualifying round.
By now times were tough, and with the drums of war beating out, Corner finished rock bottom against the same roster of stiff opposition in 1913/14 and got knocked out of the amateur cup with a 7-1 drubbing away to Tooting before football was suspended for the duration. We have two other reports of games against Sutton United that season, one from the Adult School Ground, as it was then known, from November 1913 which Sutton won 2 -1 and this absolute belter from a one all draw in the return fixture which suggest that Beddington Corner didn't mind handing out the rough stuff as they battled it out at the bottom of the table:
"If anyone were to suggest that certain members of the Beddington Corner team are not sportsmen they would probably be very indignant. On the strength of their play on Saturday however, there is good ground for suggesting that some of the team ought to seriously consider whether they are not bringing discredit upon the club buy methods which are the reverse of sportsmanlike. What ought to have been a fine game to witness was spoilt by tactics which can only be described as "dirty"……nobody was sorry when a very unpleasant game ended."
Dirty Beddington Corner?  If I didn't have a soft spot for this club before I started writing this piece well I certainly do now even though it's my own team that they were knocking lumps out of.  I imagine that they were back in The Goat after the match for a few light ales laughing their heads off at the old Sutton softies but as the young men from both sides prepared to march off to the trenches it would be some time before Beddington Corner found themselves back in action in the senior ranks.
As football got back into gear after the end of the First World War the records are sketchy and it is not clear when Beddington Corner got themselves back into shape but it is reasonable to assume that it must have been at junior level before the new tier of intermediate status was introduced in 1920.
A match report from the December 1925 records Beddington Corner getting dumped out of the Surrey Intermediate Cup third round  by Colliers Wood one nil on what was described as "a hard, frostbitten ground [that] prevented those finer touches and consequently many intended movements were spoilt by players slipping."  They were made of tougher stuff in those days and games went ahead in conditions that would be unthinkable today – the winters were a damn sight harder as well.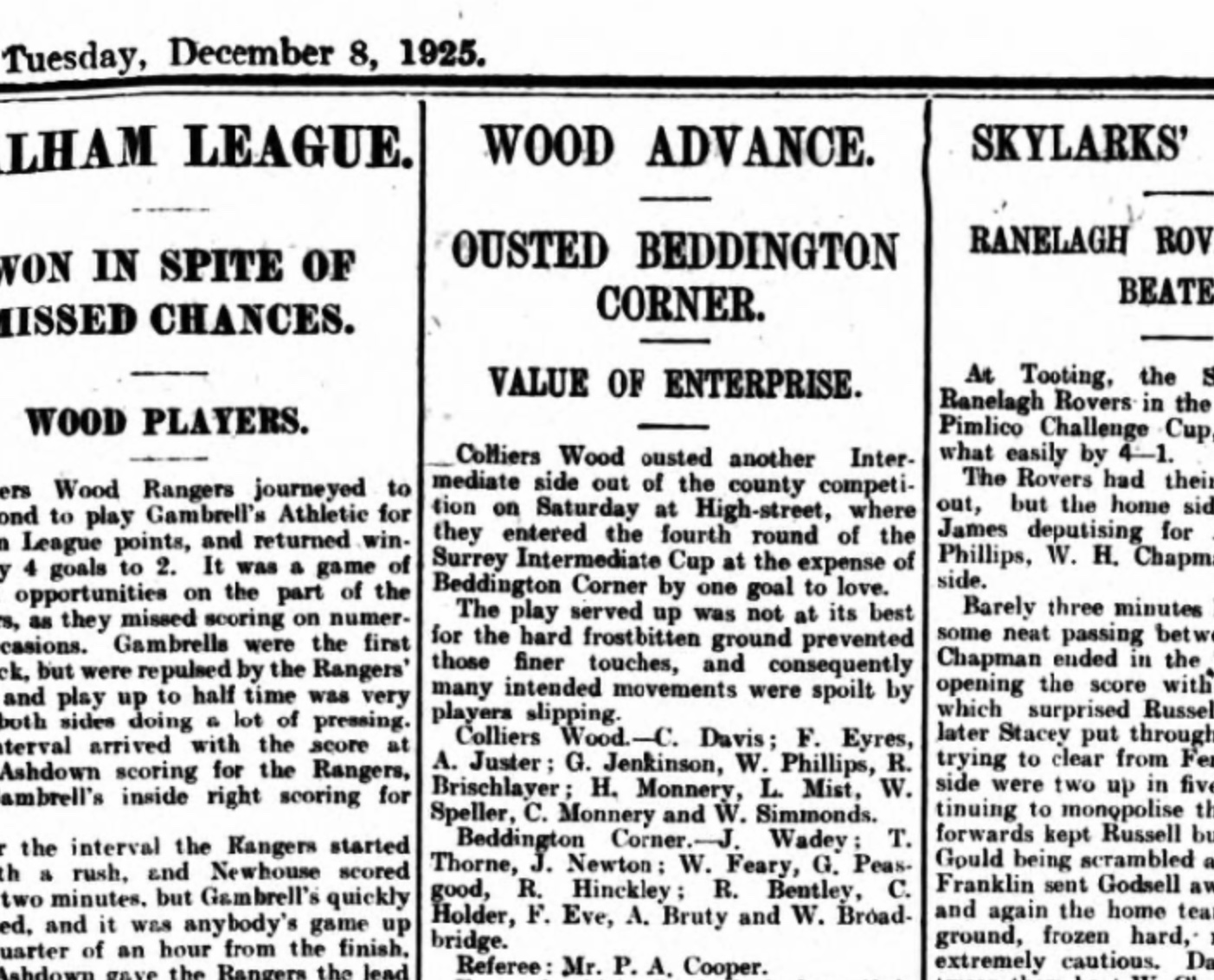 Colliers Wood v Beddington Corner. Surrey Intermediate Cup. Dec 1925
A few seasons later Corner left intermediate level and were back up to senior status in the lofty heights of the Surrey Senior League alongside the likes of Dorking, Guildford and Reigate Priory and in their first season, 1928/29, they finished a very creditable fifth out of a division made up of twelve clubs. That season also marked their return to the FA Amateur Cup where they were knocked out one nil by local league rivals Wallington in the first qualifying round. The following term, 1929/30, saw the club enter the FA Cup for the first team although they suffered an 8-3 battering away at Epsom Town in the preliminary round, got stiffed six nil by Carshalton Athletic in the first qualifying round of the Amateur Cup and finished second bottom in the league. Bit of a mare all round really.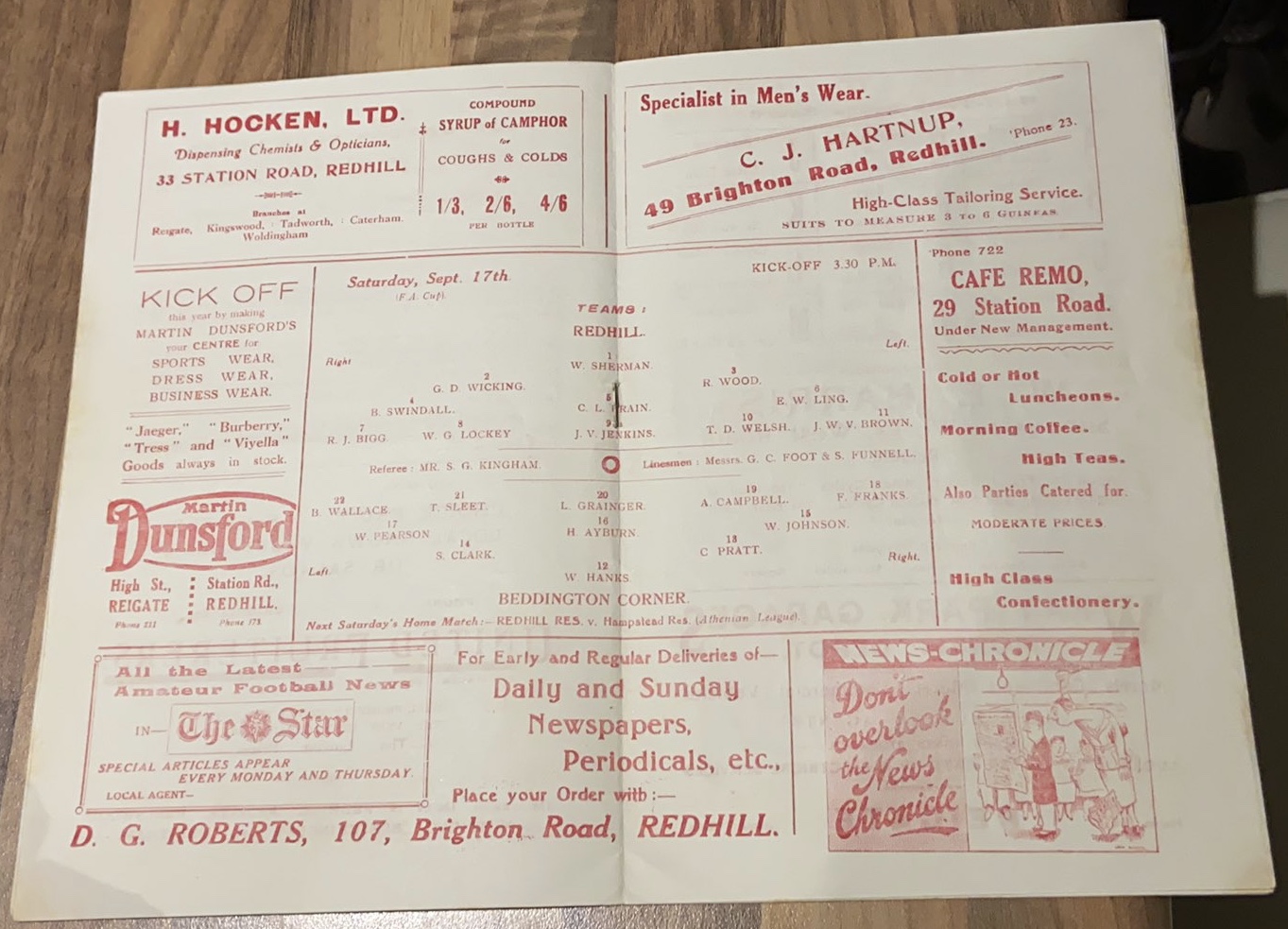 Redhill v Beddington Corner
The 31/32 season was much better for the lads and probably their peak – finishing fourth in the Surrey Senior League, their highest position ever, and recording their record FA Cup win, a five one victory at Walton On Thames in the preliminary round before losing by the odd goal in three at home to West Norwood in the 1st Qualifying. Corner also won the prestigious Surrey Senior League Charity Cup.  Things weren't so  good in the Amateur Cup though where they crashed out to local bogey side Mitcham Wanderers with a stonking 10-2 defeat at home. Mitcham had done them over in both the FA and Amateur cups the previous season as well. Fellow local sports heritage buff Stan Churchillmann is currently working on a history of Mitcham Wanderers and I have no doubt it will be a cracking read.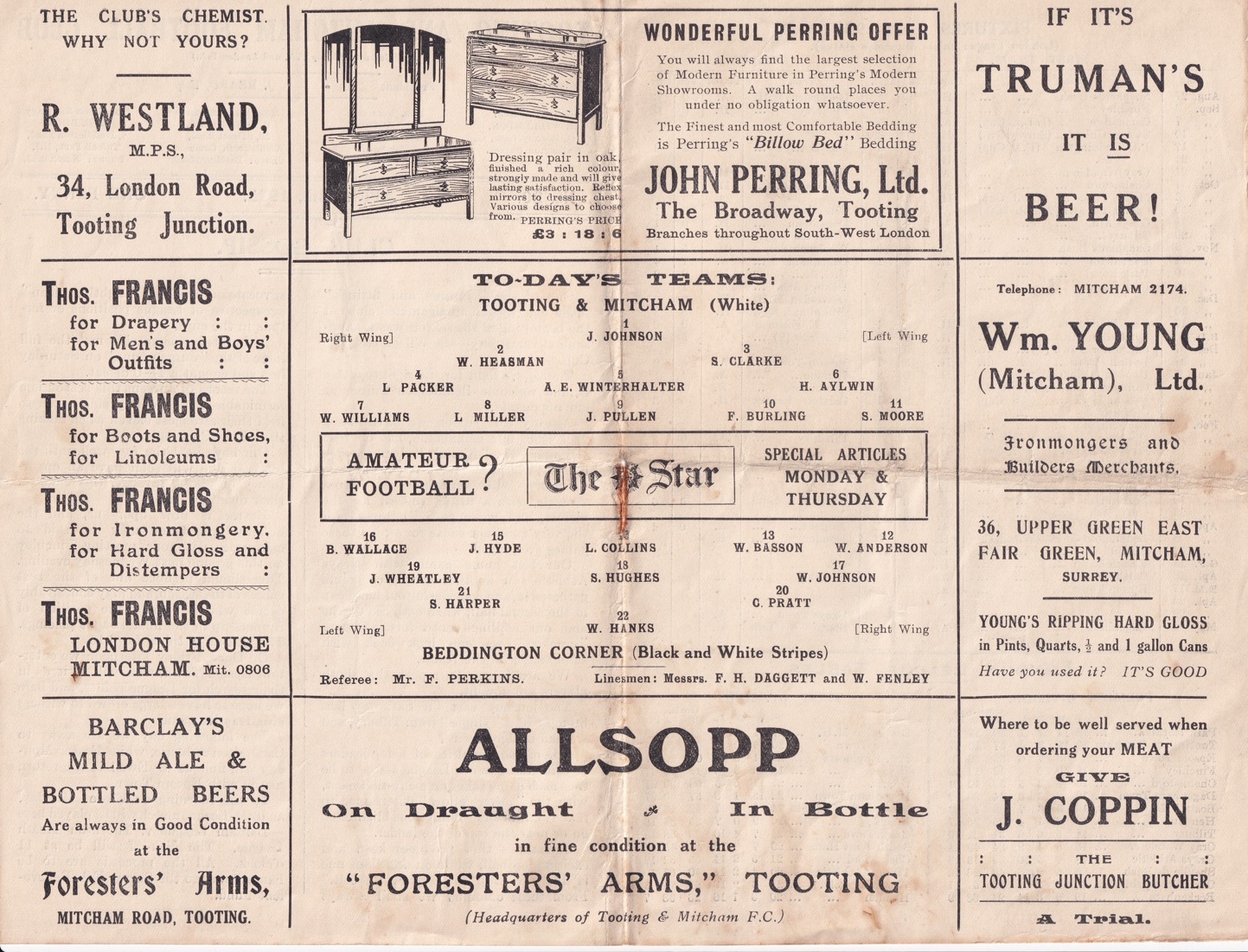 Tooting & M v Beddington Corner
For the remainder of their time in the Surrey Senior League, Corner never finished outside the bottom three as the league slowly expanded bringing in the likes of Met Police, Hersham, Streatham Town and my other local favourites Banstead Mental Hospital. The clubs time at senior level was drawing to a close and they would manage just a handful of further appearances in the FA Cup – pulling out a plum home draw against the big boys of Woking in the preliminary round in 1935/36, which they lost four nil thanks to a Harry Hooker hat trick, and an away game at the same stage the following year against Redhill which resulted in a four one defeat.
In the 37/38 season the club once again slips off the radar. War was still a year or so away at this point but Beddington Corner had clearly dropped out of the Surrey Senior League and were no longer competing in the national FA tournaments either. What happened? Their form hadn't been great admittedly, but in their final year they finished third off the bottom of the county league and there was no relegation system anyway.  Was it our old favourite ground grading? This is doubtful, as Banstead Mental Hospital were still going strong at the same level and they had nothing more to offer than a roped off pitch and a cricket pavilion.
Did the club go bust?  Possible, but again doubtful as it resurfaces after the second world war under the same name at intermediate level and carries on for a good number of years. Might it have been something to do with the use or availability of the ground? This has to be a possibility. The factories and industry that had developed around the area would have been increasingly important as the country made preparations for war. I am convinced that at some point the ground was requisitioned for wartime use of some sort. A fantastic aerial picture taken long after the football pitch had been abandoned, and when Morfax Social Club were seeing out the last few years in occupation of the buildings, shows that the bar, and what were the changing rooms, were all built around a long Nissen Hut. Post-war maps show these exact same military buildings and describe them as a "pavilion".
The strategic location would have been important.  On the Luftwaffe flight path across the South Downs and into London, close proximity to important factories and just across the common from the vast expanse of Croydon Aerodrome. I hope that this piece might spark some memories and produce additional information. It would be fantastic to know more. Certainly the Nissen Hut changing rooms are remembered, but not necessarily fondly.  Must have been a bit nippy in there on a cold January day as you rubbed the old sporting linament into your thighs prior to kick off.
Whatever the wartime use of the ground maybe it took a while for it to be demobilised and brought back into footballing action. A brilliant team shot of the club from 1947/48, unearthed by Mitcham History Notes, shows Eric Stepney lining up with the squad – brother of former Tooting and Mitcham and Man Utd goalkeeper Alex Stepney. The first post-WW2 press mentions of Beddington Corner show what is listed as the reserve team playing in the Surrey Intermediate League in 1949. I'm not sure if this is just a mistake, or whether there were still plans to try and get a senior team back in the game, as by the following season the division just lists Beddington Corner with no mention of it being a reserve side and that's the way it stays.  Both Sutton United and Tooting and Mitcham ran "A" sides at this level.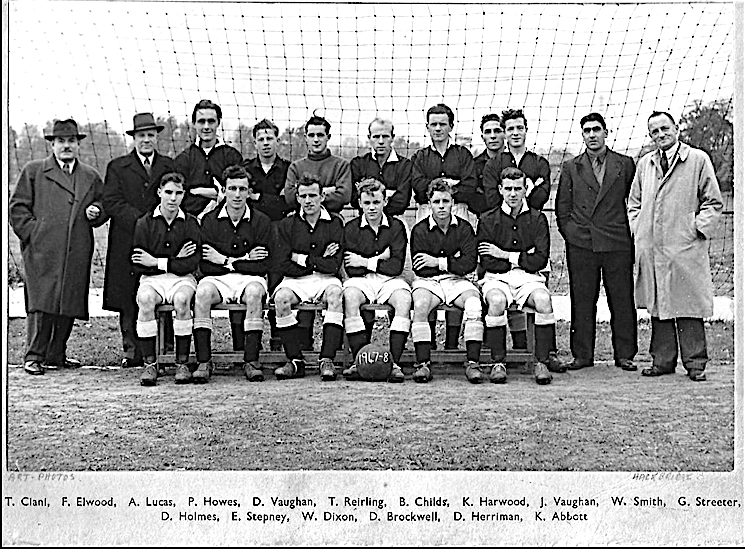 Beddington Corner FC. 1947/48 Season.
The Cornerites were well established at this level right through into the sixties and a programme form a Surrey Intermediate Cup game at Gander Green Lane supplied by Mark Frake shows them losing two one to a side that included the great Dave Roffey in goal and where the programme notes refer to Beddington Corner as:
"….strong challengers for the League title……Beddington are one of the strongest Intermediate sides in the county and had a good win against Leatherhead in the last round. This is not the first meeting between the two clubs in this competition and in fact the last occasion brought Beddington a victory by 4 goals against 2…."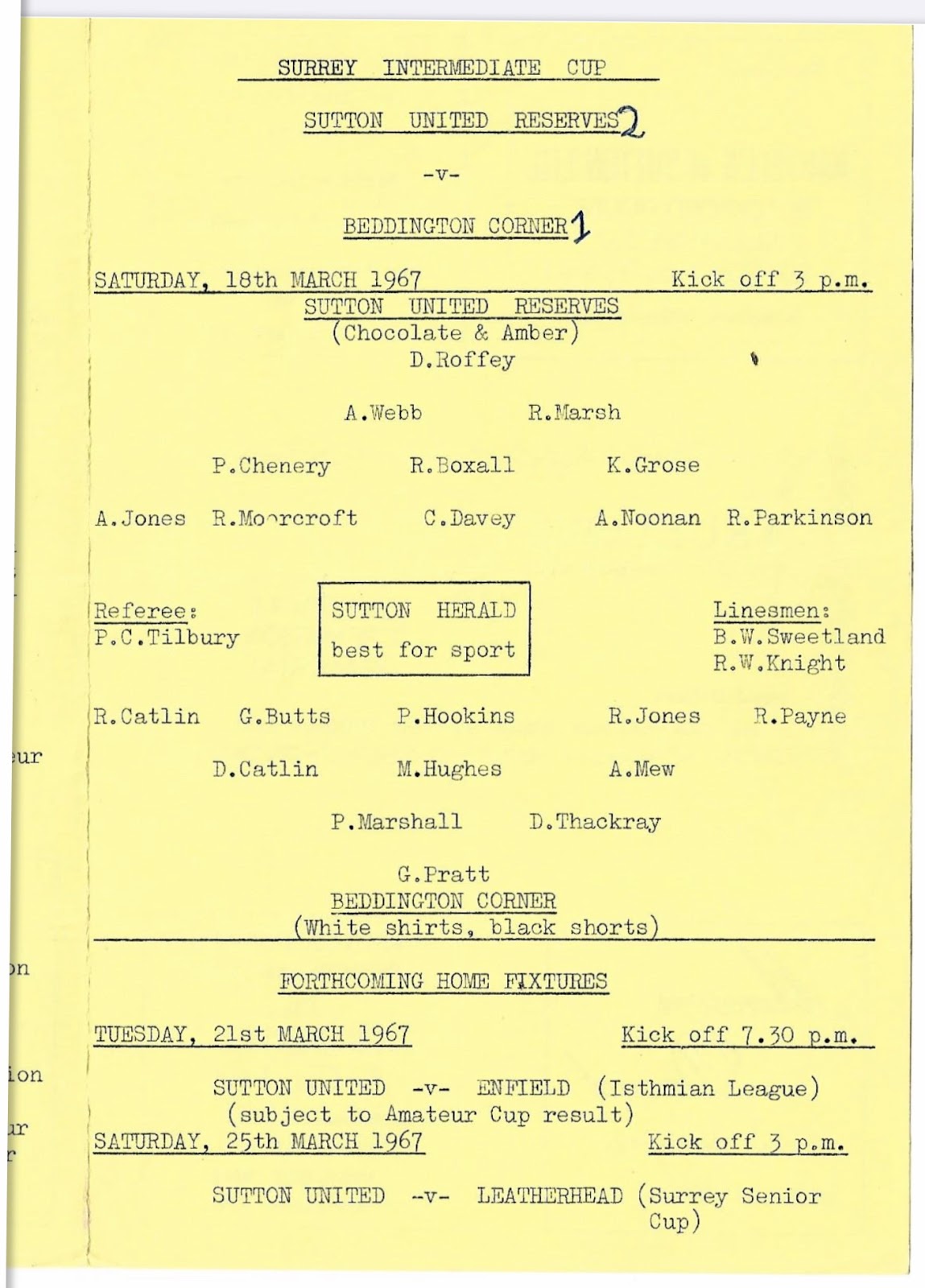 SUFC Ressies v Beddington Corner. 1967.
But from here on the trail starts to run cold and what happened next is shrouded in mystery but out East an ambitious club is casting an eye over the possibilities.  Thanks to Jim Maycock we know that Fisher Athletic were on the hunt for a new ground. After a final season in the Parthenon League in 1965/66, playing in exile at the Evans Memorial Ground in Roehampton, Fisher had a year out in 1966/67 and Jim is fairly certain that they reformed the following season to play in the Kent Amateur League Western Division 2. At Beddington Corner. Just as Beddington Corner FC drop out of the picture. Coincidence?  You tell me.
So who did kill Beddington Corner FC? At some point their ground and facilities had been acquired by the Sports and Social Club of the engineering company Morfax, based just over the main road on the Willow Lane Industrial Estate. Was there some sort of financial consideration in play over the use of the football pitch? We can only speculate. I've asked around the pubs all the way through from Mitcham to the arse end of Hackbridge and no one is talking. But I don't like the smell of this at all. As we know, Corner were doing fine, challenging for the league title, and then they seem to just vanish and Fisher are conveniently placed to fill the gap. Draw your own conclusions.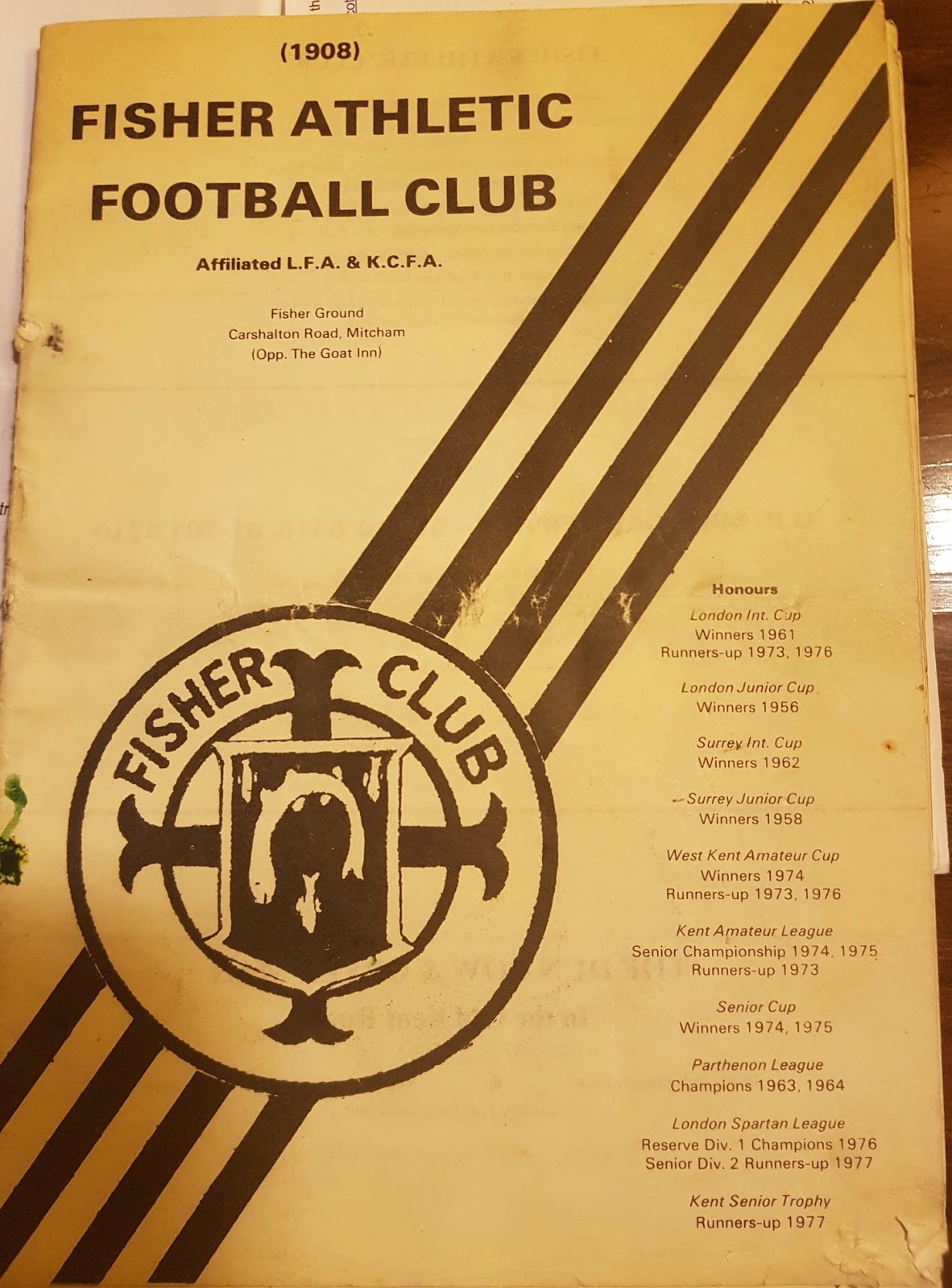 Fisher Ath. Exiled in Beddington until '82.
Fisher remained at the Beddington Corner ground until 1981/82. There is a fantastic story that when they were applying to join the Spartan League in the mid-seventies and were trying to meet the ground grading regulations that they actually took the league officials to the Nat West Bank sports ground a couple of miles away and successfully fobbed them off that they were in fact at their rented Hackbridge "stadium".  However they blagged it, must have worked as Fisher were safely installed  in second place in the Spartan League Division 2 in 1976/77, won it the following season and were contenders in the premier division by 78/79. Non- League authority Tony Incenzo tells the tale of how out of the millions of games he has been to one of the most memorable was a cold night at Fisher in exile on the corner of Mitcham Common in the Spartan League against Chingford, when just three spectators turned up.
Thanks to Vince Taylor from @groundtastic, we have some pictures of that Fisher set up at Beddington Corner from the superb Bob Lilliman archive. They show the covered standing area and the dug-outs and the view across the wasteland from the ramshackle pallet fence all the way to what was the Croydon B Power Station and which is now IKEA.  We also know that planning permission for the various Fisher ground improvements – including the breezeblock-built covered standing area, was obtained retrospectively – ie. after they had been caught out by the authorities. The dreadful state of the pitch didn't stop Morfax from renting it out to Sunday League sides and I've talked to numerous Sunday morning heroes who claim to have played there in the eighties.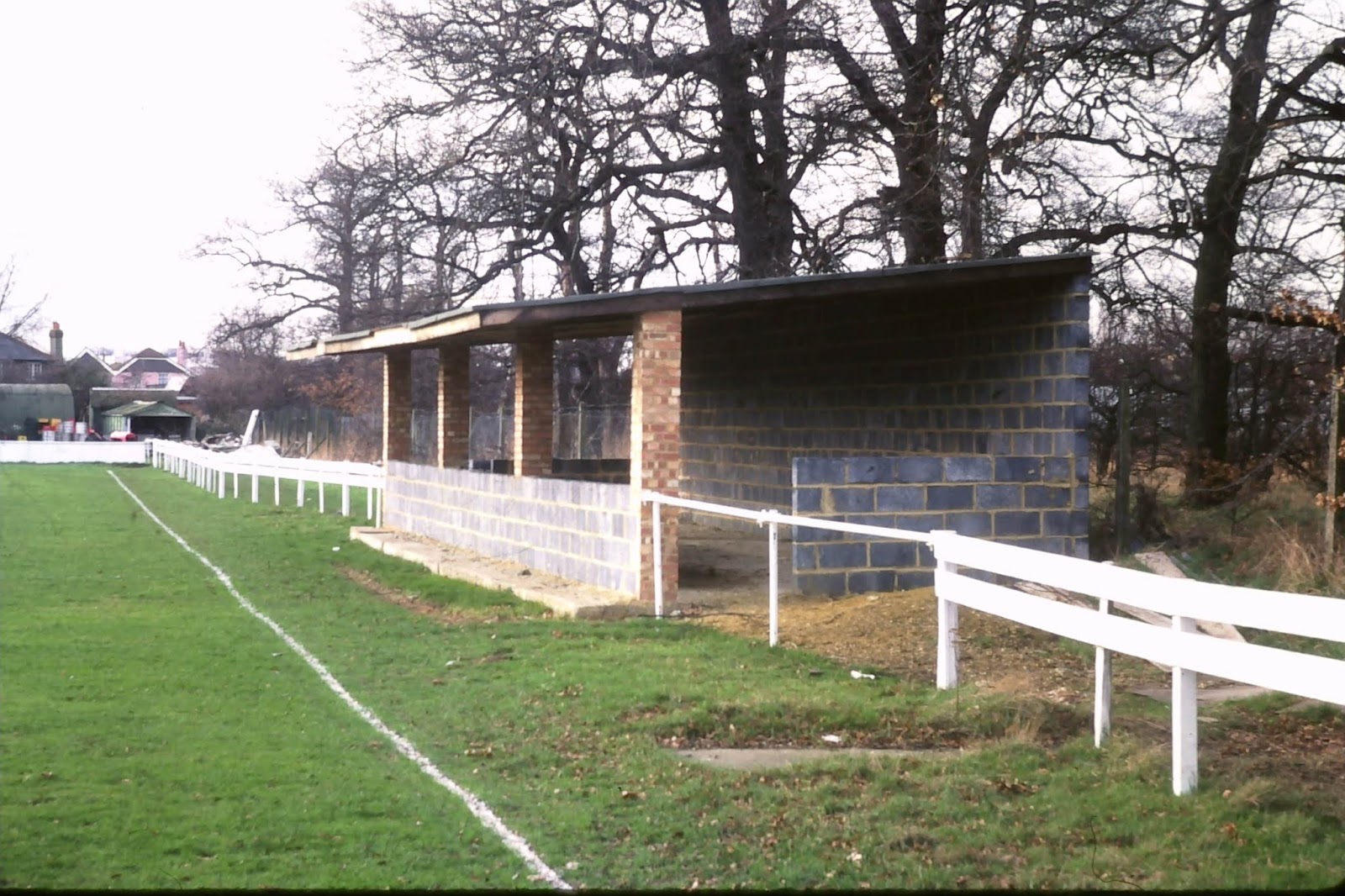 Main stand @ Beddington Corner. Late 70's.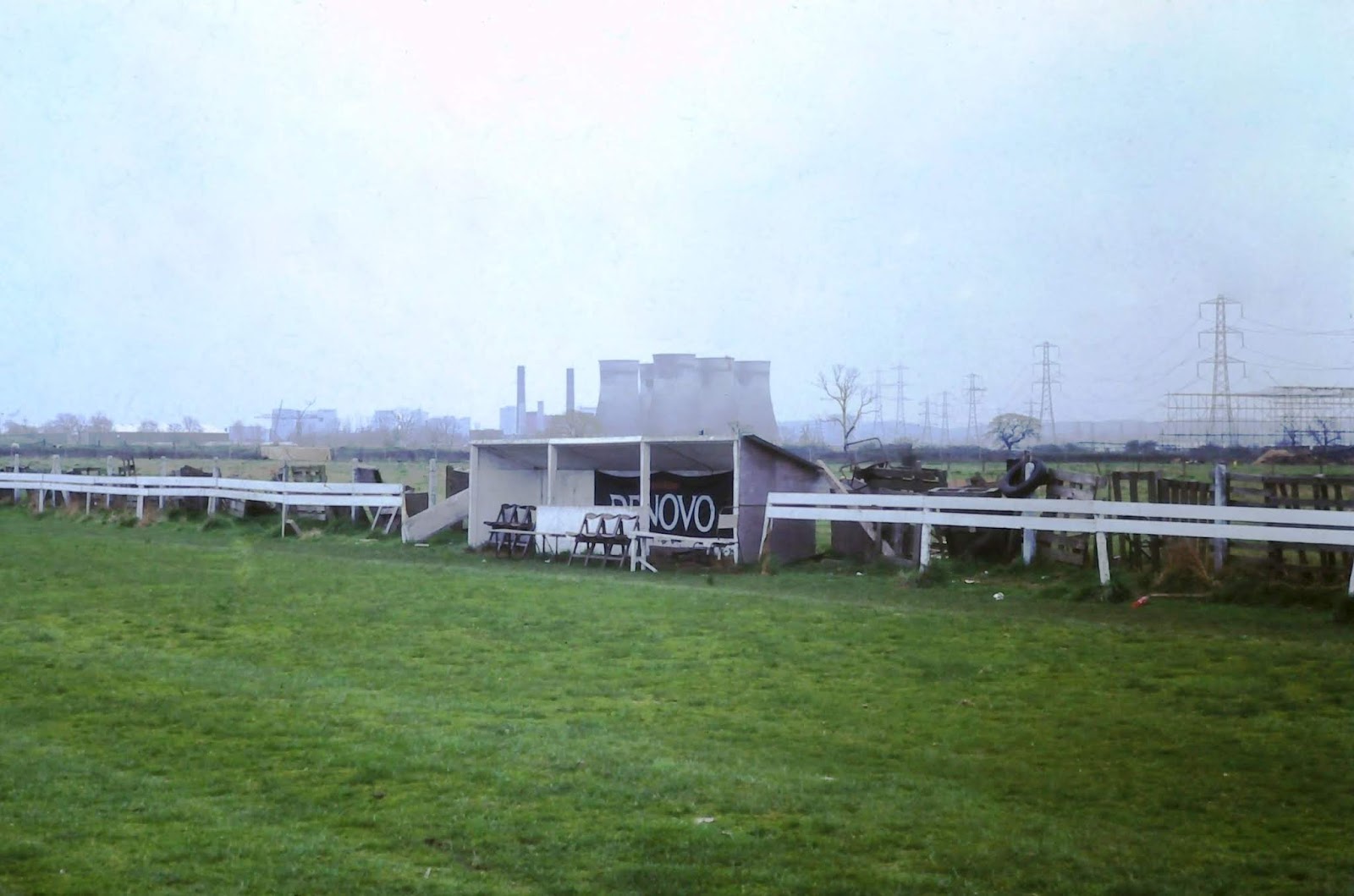 Looking across to what is Ikea today…
Fisher eventually moved out and back home to Bermondsey and their well-appointed new ground after the end of the 81/82 season – having topped the Spartan Premier in their last two terms in exile on Beddington Corner – and what happened to them as they went shit or bust and ended up homeless once again is another story but suffice to say it's good to see a club under their banner back in a permanent local home once again.  When I started writing this piece I assumed that that was that in terms of this small area on the edge of Mitcham Common being used for senior football and it was just a matter of time before the increasingly run-down facilities were eventually flogged off. But I was wrong.
Yes, there is one more twist in this tale and once again I am indebted to Stan Churchillman for putting me in the picture.  See, there was one last hurrah for the old Beddington Corner ground and I am pleased to be able to slot this final piece into the jigsaw. Who knew that Wandsworth FC played there in the London Spartan League briefly in the mid-eighties?  I didn't but thanks to Stan I have the programme to prove it. Wandsworth went on to merge to become Wandsworth and Norwood before moving to Thornton Heath and changing their name to Croydon Athletic. Wandsworth had played for most of their history on Wandsworth Common, facilities unsuitable for the heights of the Spartan League, and Norwood had played at the fabulous Herne Hill Velodrome. Access to the old Fisher facilities allowed them to progress.
Wandsworth FC, later to be Croydon Ath…
But this was a marriage and merger made in hell. The club prospered in the Spartan League and after being knocked back on ground grading issues were eventually promoted to the Isthmian League where they motored through the ranks. Croydon Athletic was bought in 2008 by Mazhar Majeed, a property developer and agent for members of the Pakistan national cricket team who was implicated in the infamous spot-fixing scandal during the tour of England. The football club became embroiled and were investigated by HM Revenues and Customs after Majeed was recorded by an undercover journalist stating that that the only reason he had bought the club was for money laundering purposes. There was a mass exodus of players and management and the club failed to fulfil fixtures and the ground was locked up and stripped of anything valuable as it headed for oblivion.  The Chairman was found dead, with a bullet wound, having committed suicide in a garage in Sutton.  Fans of the club formed AFC Croydon Athletic, which was accepted into the Combined Counties Football League and their crest retains the rams heads from the old Wandsworth FC badge. A nice touch.
And that was that for football on the old Beddington Corner ground. The social club carried on but aerial pictures just before its eventual closure show that the pitch and the surrounding area had rapidly fallen into disrepair and been overtaken and swallowed up by the undergrowth and the ravages of time. When the social club eventually closed I am told that it became a club house for a biker gang and all sorts went on down there and my old mare Stoddsy the Plumber who put our bathroom in drank down there, which speaks volumes. All that remains now is the Corporation Cottages and the rest of the site is a scaffold yard with no trace of the former usage remaining but I hope that this piece will ensure that this sporting corner of our manor, and its long history, will now remain as a matter of record in perpetuity.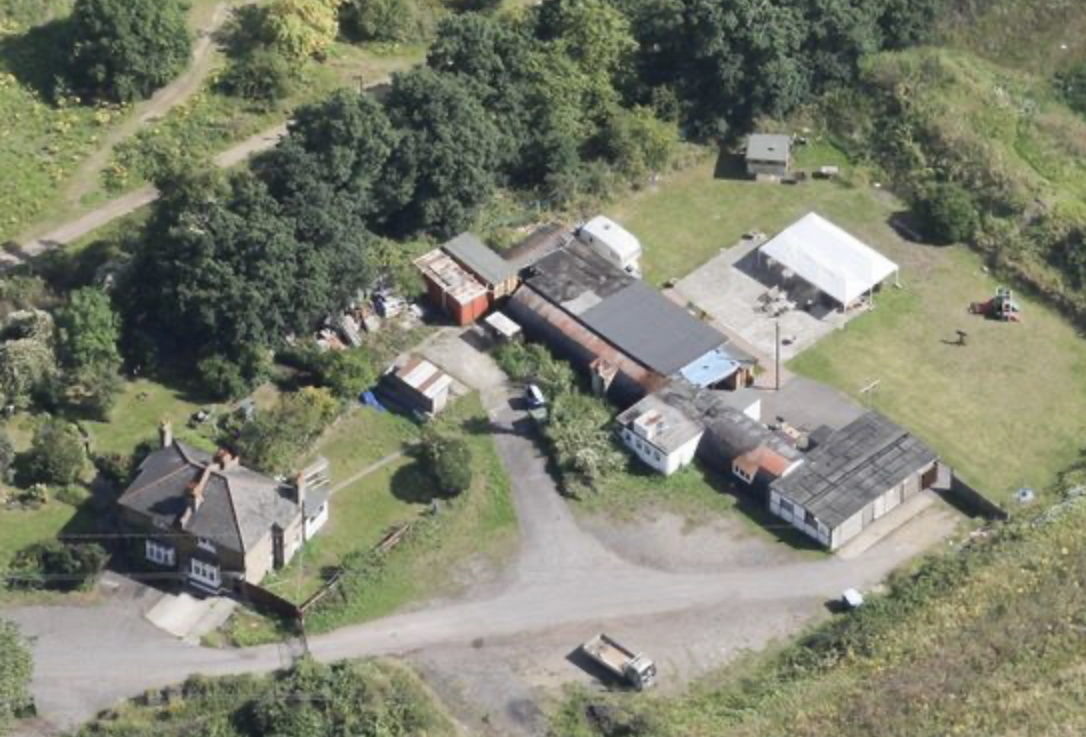 The Beddington Corner ground shortly before demolition…
Totts
Big thanks to:
Stan Churchillmann and Mitcham History Notes, Vince Taylor from @Groundtastic and the Bob Lilliman archive, Phil from @FACupFactFile, Mark Frake, Mark from @cardinal_tales, Taz, Jim Maycock (for some great stuff on Fisher),  @CollectFootball, The brilliant 'nonleaguematters.co.uk' resource, and finally the British Newspaper Archive.