Ok, Let's face it shall we. Barring the thumping we gave woeful Woking on New Years Day, January was a pretty big come down for the Sutton Boys. Four games without scoring a goal, getting really embarrassed by Leatherhead in the Surrey Senior Cup and Eastmond getting his marching orders against Chesterfield for failing to connect a punch. So the question is, would February go the same way?
We're back in action once again sports fans as we're due to take on the Viva Las Vegas boys of Gravesend & Northfleet Ebbsfleet down at Stonebridge Road. But with their own win against woeful Woking on Tuesday night, and their draw against Torquay last Saturday, they've picked up a couple of points recently going into this match since their 7-0 drubbing at champions-elect Barrow. And as I've said before with us now four games without a goal and slowly sinking to where we were before Christmas, this could be a cracker of a match or a limp wet fart. But before we begin our little tale, let's start with what went down on Tuesday night by the River Mole.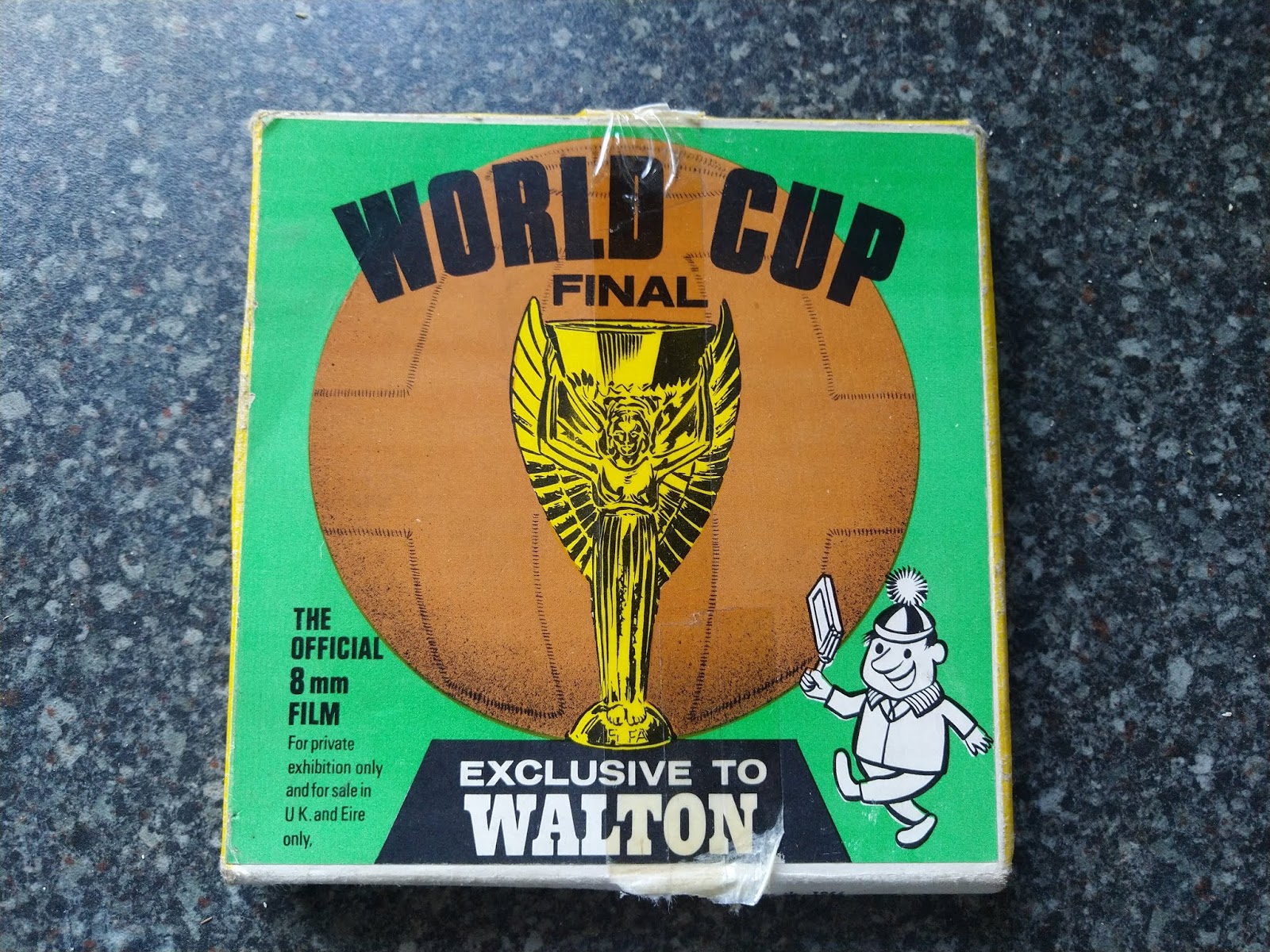 Random…
And didn't Chairman Totts do well with his blog? It might've been a very disappointing 3-0 Defeat to Leatherhead that got hardly mentioned football-wise, but that didn't stop our Eternal Leader of the Republic from rolling back the years as he told us a tale that has been so long in the making that I thought we would get HS2 done and dusted before its debut. But after taking a back seat from a run of Surrey Senior Cup blogs that started after a very damning performance against Merstham, I thought I'd better note down a few expressions about how I felt afterwards on Tuesday night.
A couple of days later, and I could now write down something without every other word involving a rude expletive. And trust me when I say it was more ruder than Gandermonium blog or even what come out of the mouths of those that frequent The Shoebox. To say that I was disappointed once again would be a major fuckin' understatement. It was really an awful awful display of football. To be fair, when the team was first announced, the few of us that had made the trip, knew that the writing might as well be on the wall. Way too many academy boys for my liking and they've failed to impress us over the years. Especially in the years since the disbandment of the reserve & youth sides. When that abysmal first goal did go in, we all knew that it was Goodnight Vienna. If you ever get to see that goal on the highlights reel, you'll know exactly what I mean. Fuckin' embarrassing!
I'm beginning to think that I'll never see us lift the trophy ever again as we put out what could possibly be the worst team performance seen in a generation. It was so comical at some points that I thought Noel Edmonds would appear in the middle of the pitch and scream "Gotcha!" at us as the whole gig was just a wind-up at our expense. I think you could've grabbed a few of us from behind the goal and we'd have given a better account of ourselves. Football isn't a career for some of those that wore the Amber & Chocolate that night. We even had to pay £12 just for the privilege to be disappointed once again. A whole article of 'Why Do We Bother' could be written on this subject.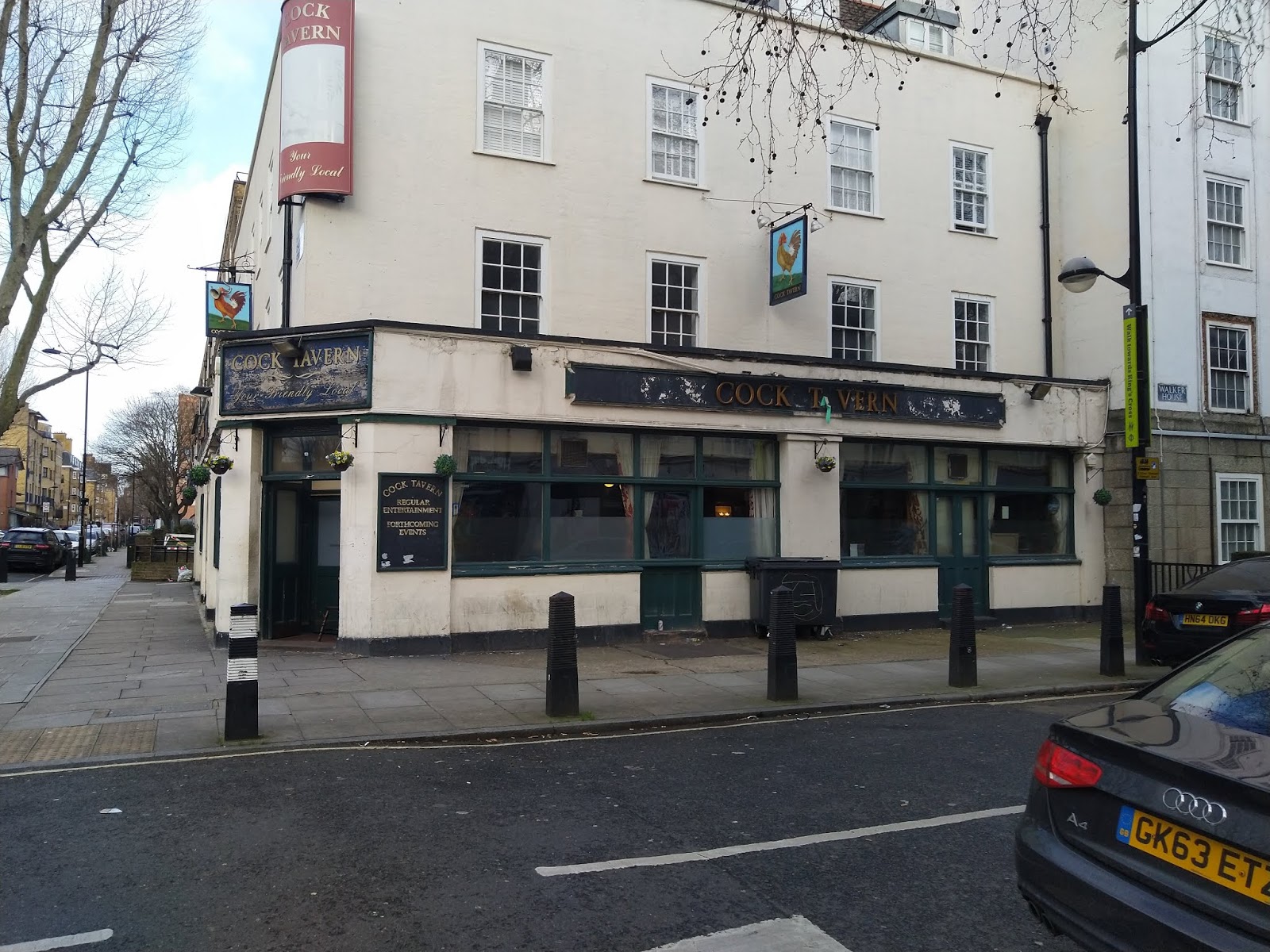 Surprisingly, A pub we didn't enter…
Anyway, lil' rant over. Let us continue on. Last time we were at Gravesend & Northfleet Ebbsfleet was for a 1-0 Win on a warm Tuesday night when Eastmond latched onto a poor header to knock the ball past an onrushing Ashmore. And the last time we were round this parts for an afternoon of festivities was for another 1-0 Win that was something like our first ever win in at least recent memory or even longer. One problem with the place that is Gravesend, is that it isn't the best of drinking holes, so the plan is as before to head up town and have a few jars before heading East on the local Choo-Choo as late as possible before kick off.
It was the 1019hrs from the Badlands of Carshalton for me as I head towards the station. The train is on time and Dr "Three Burgers" Bell is slumped in a seat after an 'eventful' evening down the Pigeon Club with his local darts team. It's not the best route to take as the Underground via Morden is probably quicker, but it's an easier one to take as it's straight through to St Pancras without changing and it was due to get onto the platform for just after eleven. Which is when pubs tend to open.
Arriving at St Pancs, we then make the trot through the back roads that Mr X seems to struggle every time he's around these parts, even though it's signposted both ways and in fact, you can see the stations on the same road. The first pub of the day is "The Doric Arms" outside Euston station where we come across Mr X & Indiana Jones who've just started on their, hopefully, first pints of the day. Shortly after we've arrived, we're joined by Taz & Southampton Steve to complete the complement of Gandermonium wankers making the trip through the fleshpots of Euston on this sunny January afternoon. The usual bollocks interesting talk is soon kicking off, the main discussion being about one of our members who had a colleague of his come to work with a duck the other day. And I ain't talking about no Peking or Crispy Fried variety either. Your proper farmyard quack-quack type. Things are obviously done a little different down in wilds of Weybridge.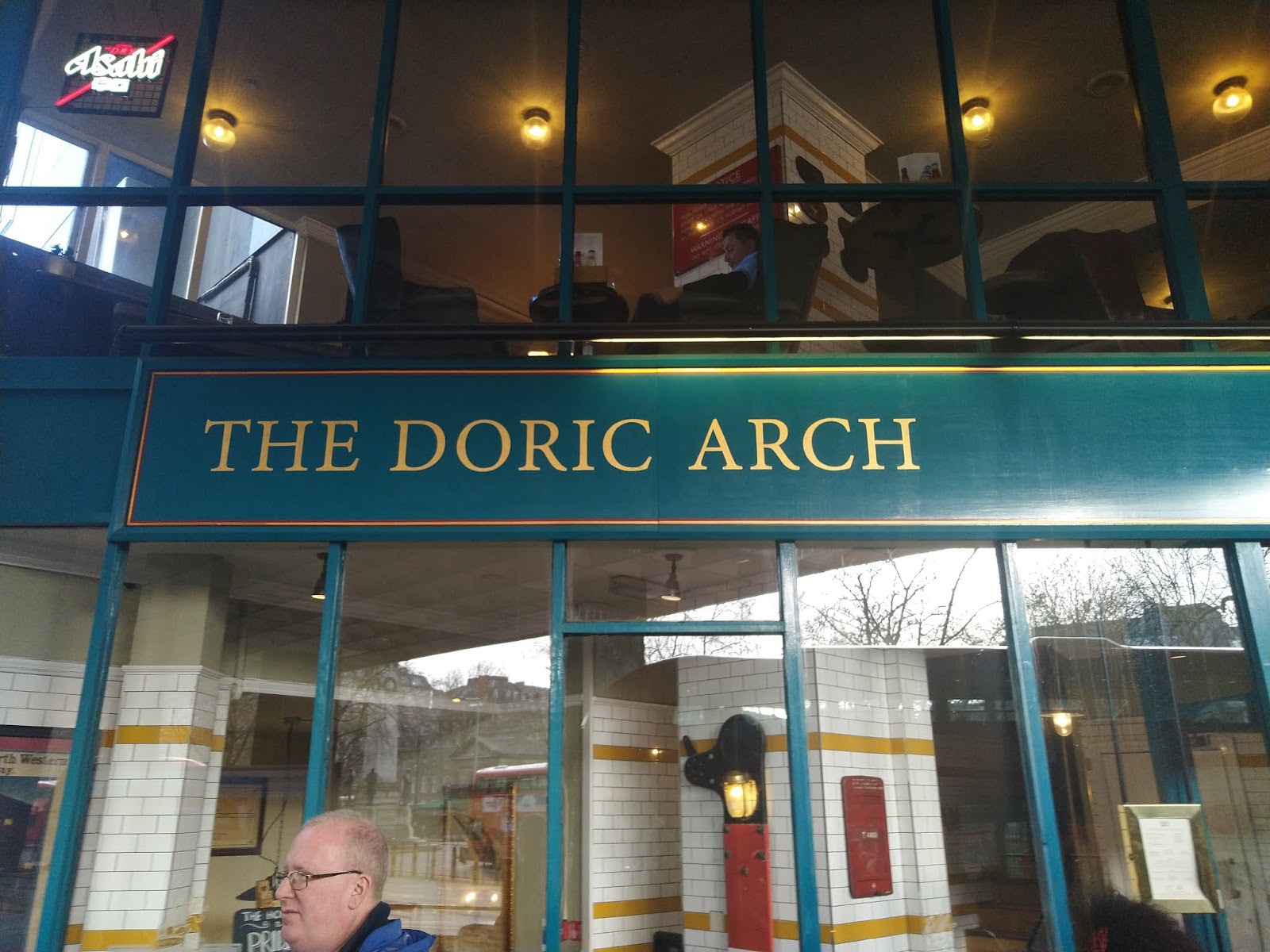 The first pub of the day…
Not wanting to rest on our laurels, The first pint of the day is quickly dispatched as we move over the road to the "Euston Tap", a famous location from the past as one of our gang once found love in here whilst he was on crutches. It also seems that the "Cider Tap" has apparently changed into another "Euston Tap" but was barred shut. So there goes another bit of the old routine as there was a few times where I was required to schlep over the road on my tod to get my Cider whilst the rest would shout and swear at me from over the way. Ah memories. The conversations were not getting any better as we ended up with a crackin' conversation about the punctuality of trains that run through Brentford station. You couldn't make it up!
Pints consumed we move on once more. This time it's "The Rocket" a location that was made memorable to a few of us as the last pub we once drank in with a few Dorchester supporters and ended up missing the last train home. Cue getting two very long night buses to get us back to Sutton, that as luck would have it, because all of us had fallen asleep n the top deck, terminate there. Ah, the Conference South days. Much more innocent times.
Clocking Red Oxide & Son walking past the pub up a side street, we figure there's got to be a previously unexplored boozer nearby and after a quick Google of the Yahoo on Netscape, we head in their direction to the first new pub of the day. "The Somers Town Coffee House" is not exactly a coffee house at all but a quaint boozer that was quite impressive inside, despite it being a little on the pricey side. And that's the problem with drinking in town, you're paying London prices. Over £5 a pint doesn't do the whip any favours at all. Halifax it ain't! Other cheap Northern boozers are available.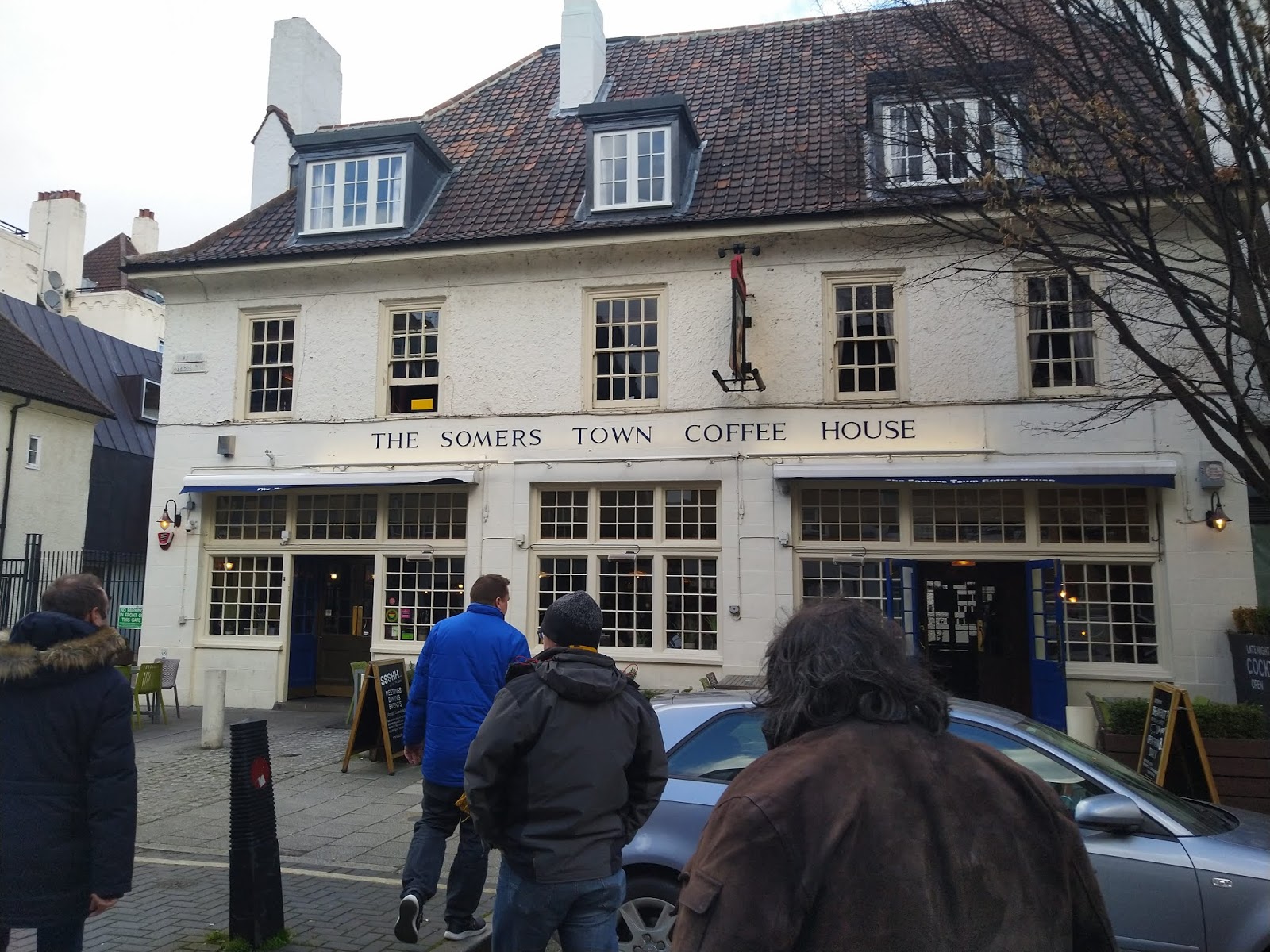 A great, if not cheap, new pub find…
The time begins to fly by and when we finally get back to St Pancras, we're reduced to only having a cheeky short as our train is due to depart for Kent at ten minutes past two. Luckily there is a 'Spoons on the station nowadays that seems to be filled to the brim. But like an oasis in the desert, right in the middle is a couple of tables that have been occupied by other members of the Sutton massive pre-loading for the match. Afternoon lads!
Everyone is on the train so when we arrive at the white elephant that is Ebbsfleet International Train Station, we get through the barriers without any kind of issues, like the one we had here previously with the British Transport Police being called. The only issue that we had was twenty Sutton United fans full of beer tying to use a station toilet with no lights on. Spooky! And not what you want to be doing with Dirty Barry on the lurk.
It's a short walk through the station car park to get to the ground where I think we needlessly walk around to the away end, even when segregation was not being enforced. £17 entrance fee and we're on the terrace waiting for the match to begin. Looking at the team line up, it looked like we were playing our strongest side possible with new boy & Jarvis replacement, Callum Kealy, on the bench.
Tzanev, Barden, Goodliffe, John, Davis, Bugiel, Beautyman, Ajiboye, Wright, Wystt, Reid. Bench Warmers: Bolarinwa, Rowe, Dundas, Kealy, Milsom.
There was a proper ropey field of a pitch and a very gusty cross wind that made it difficult for both teams to play any sort of football. Except that both teams continued to try and kick the ball high and wide despite this. That's the sort of shit that we even understood at Sunday League level not to ever do. Shooting at the far end had one or two of us head in that direction to get closer to the bar action, with others staying behind. But inside the first ten minutes Gravesend & Northfleet Ebbsfleet had taken the lead.
A free kick is whipped into the box and Tzanev appears to come for it. But the ball doesn't reach him as it possibly gets held up in the air. The closest Sutton player is no where to be seen as one of the home boys is free to head the ball home unchallenged. Bollocks! That's the sort start we really needed isn't it. Especially when you hear all the time Matt Gray talk about is defending set pieces. Let's hope it didn't rattle us too much.
After that, Sutton tried to get themselves back into the match with some pressure, but they once again failed to test ex-U player David "One match at Basingstoke" Gregory in goal. Wright would have a low hard shot that did't find the target from a corner. Beautyman would also have an effort that went straight to Gregory, who's handling ain't the greatest. At the other end, Davis would receive a yellow for going over the ball and catching a player made very possible by the heavy pitch.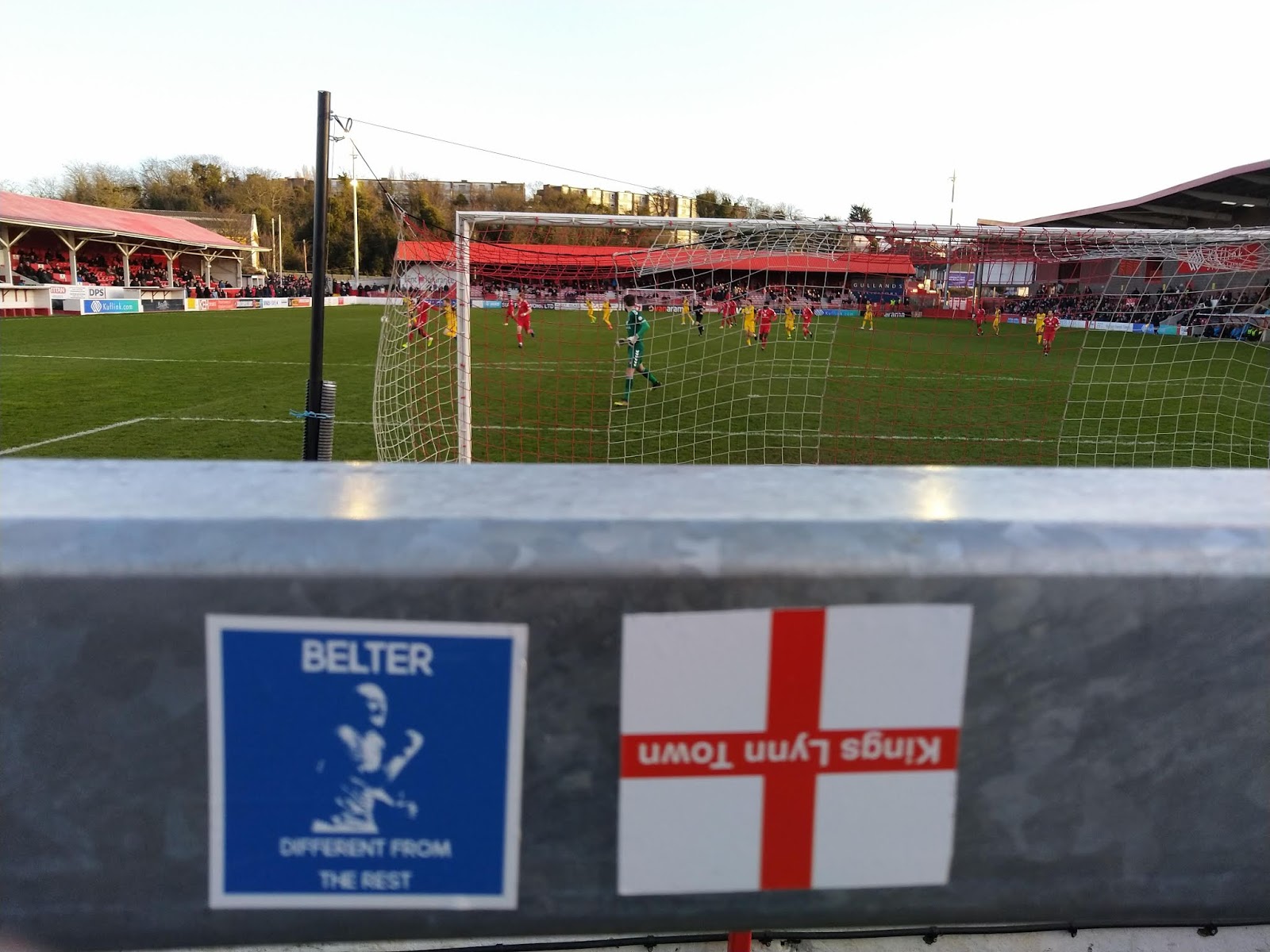 It's a belter…
It's Dr Bell's half time round, so we pile into the bar to see the other scores come through and lament on another woeful Sutton half of football. At one point I think someone pointed out that we were the only team in the bottom half of the table to be losing. What a strange league it is this year. The second half would soon begin but Dr Bell wanted something like his third burger of the match. So I waited for him before we made our way round the ground behind the stand down the side.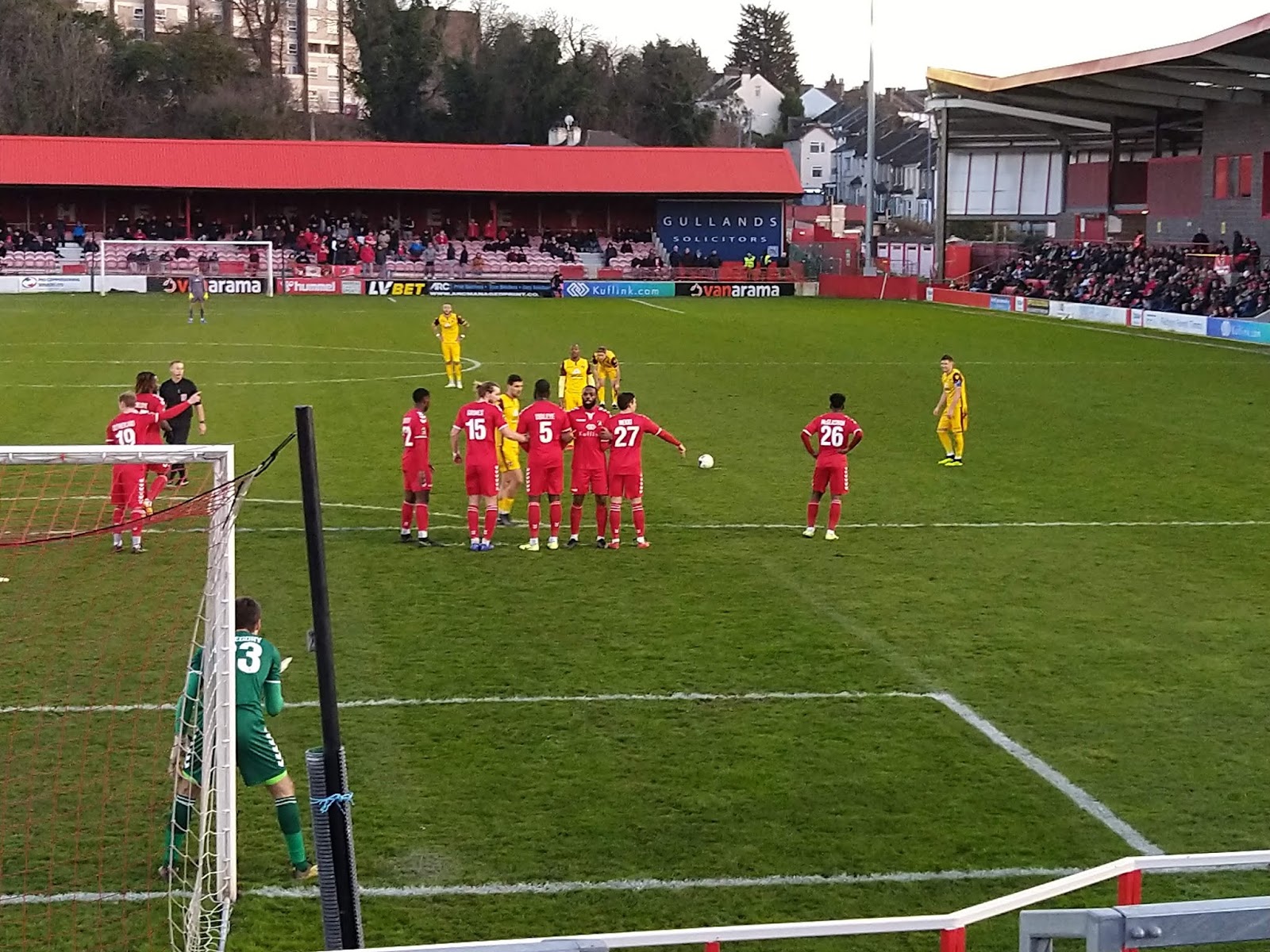 Action!
Unfortunately for me & the hungry Dr Bell, this meant we actually missed Beautyman's equaliser. Apparently it was him who knocked the ball over to Ajiboye on the wing and then managed to meet the returning cross to head the ball home. 1-1! Trust my luck to do a Robbo. Sod's Law meant that was going to be the only Sutton goal of the match. Especially with our record lately!
After this, Sutton started to play a lot better than they did in the first half.. Several times that got into good positions only to fail to once again fail to test Gregory. Barden would also receive a yellow for his constant moaning. Ironically it would be for the one time he was actually properly fouled and had reason to have a whinge up. At the other end Tzanev would have a quiet half.
With ten minutes to go, Dundas comes on for a quiet Bugiel. Nearly immediately after, Sutton had their best chance of the half with Wright beating Gregory with a shot that was cleared nearly off the line by a home defender behind him. In the final minutes Bolarinwa would come on for Ajiboye and then Kealy was substituted for Wright to make his debut. Moments later, the man in the middle would call time on today.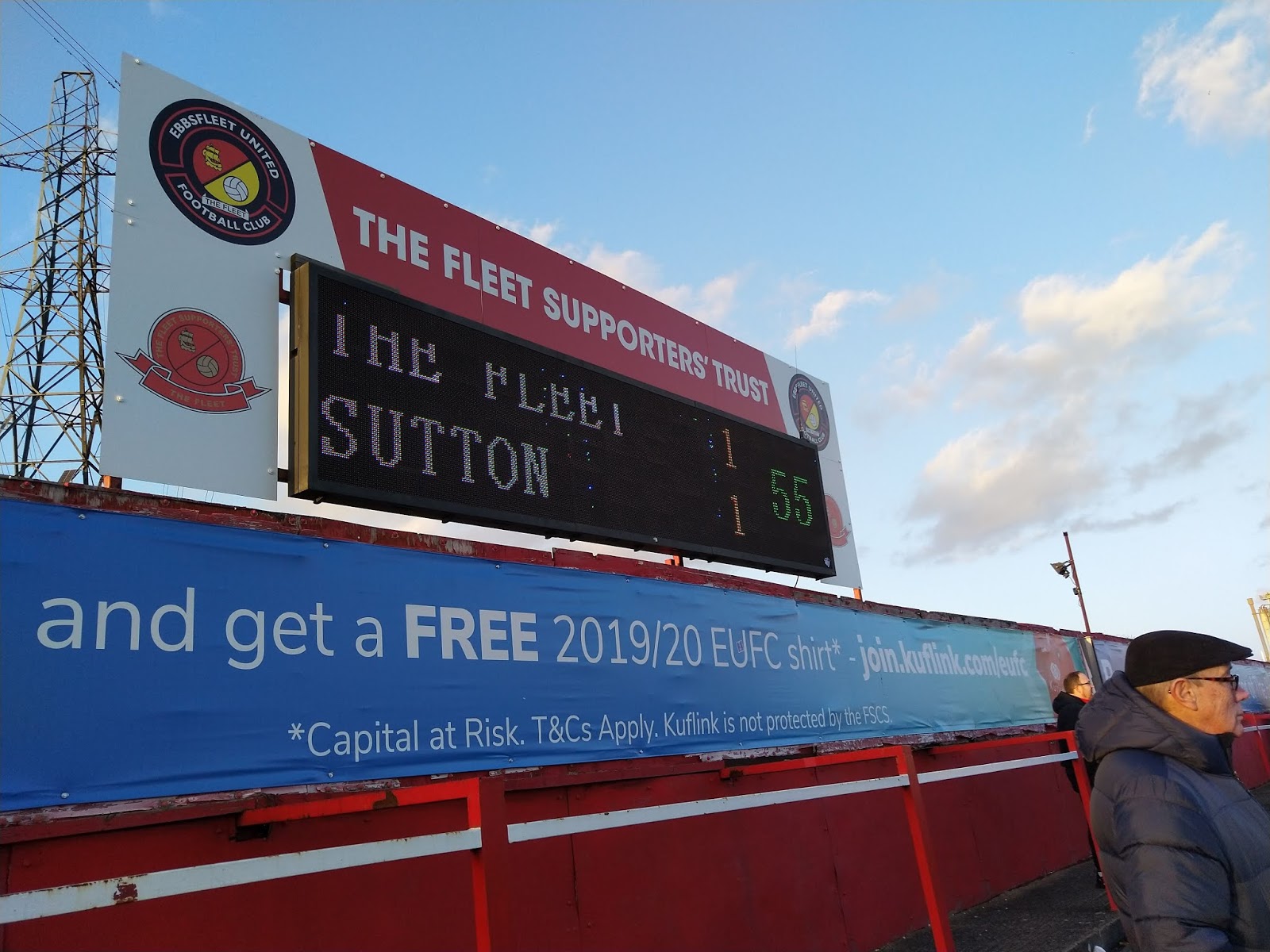 Things all square…
After the match and we clap the team off who've at least taken home a point and have finally scored a goal for the first time since New Years day. There's a quick stop at the local conveniences to grab a bottle of some sugary alcoholic beverage and we then watch a member of the Sutton Yoof give it his all as his winds up a group of Veganuary gym buddies who were trying to pound the treadmill by standing in front of the window, rubbing his belly while smokin' a fag and holding a bottle of beer. That's some South London fitness for you right there people.
Onto the train and it's a couple of stops back to St Pancras with plenty of disappointed Hammers getting on at Stratford as they've pissed away a 3-1 lead to Brighton in the last 20 mins. By the time we get back to St Pancras station, there is a few policemen there to meet us to keep an eye on the Premier League fans. They weren't quiet expecting Sutton to be in town! You know they didn't even knew who we were as we walked past with some of the Suttton Yoof singing at full voice. The last we saw were the kids being escorted onto the Thameslink. To be fair, there was a element of jealously coming from some of the old boys. Old habits and all that.
Back in town and we head towards the next pub. "The Euston Flyer" is next on our list and is full of Man Utd supporters that are watching their team once put in a mediocre performance against Wolves. Other people in the pub are watching the egg chasers as Scotland once again embarrass themselves and Mr X with another poor performance of their own. Although England weren't any better from what I hear. Next it's back to the quieter "Rocket" for a cheeky pint before finding pastures new in the "Mabel's Tavern" round the corner. This is also where Mr X would regale us with a tale from his journey on a SAGA tour (or something) between Budapest and Split. We also decided that after 2-3 in here and the whip all but gone that we were near ready to go home and one more drink would suffice.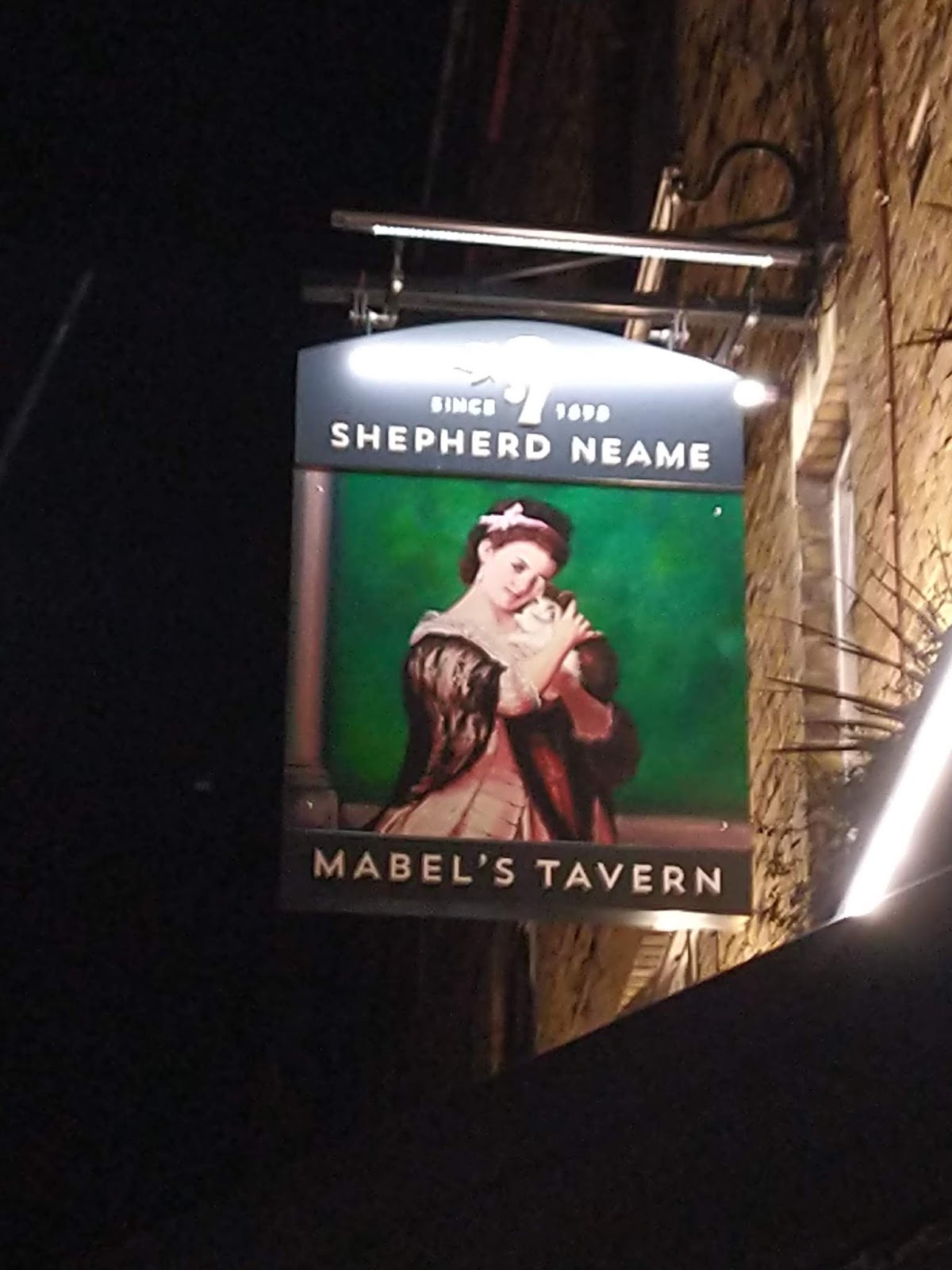 A new pub for us…
On the Underground and soon enough we're back at Victoria and upstairs in the 'Spoons. It was one more beer before the boys decide to head off home on the 2155hrs train to Sutton. For yours truly I had to get back onto the Underground to head to Morden where my carriage and the Duchess awaited to take me home. Surprisingly, despite the draw, we've managed to go up a place in the league and now sit eight points above the drop. Depending on the Bury situation that is though.
So that is it for another trip to the Wilds of Kent and going by how they're doing this season, maybe for a while too. There's no game once again next week due to our poor showing in the FA Amateur Cup Trophy as Flid are still competing so another football-less Saturday beckons. After that, it's a trip to Halifax, where for the first time since Boring Wood away Tuesday 10th March 2009, I'll be missing a competitive Sutton United match. Shocking I know. Taz has got you covered for that one though. Enjoy!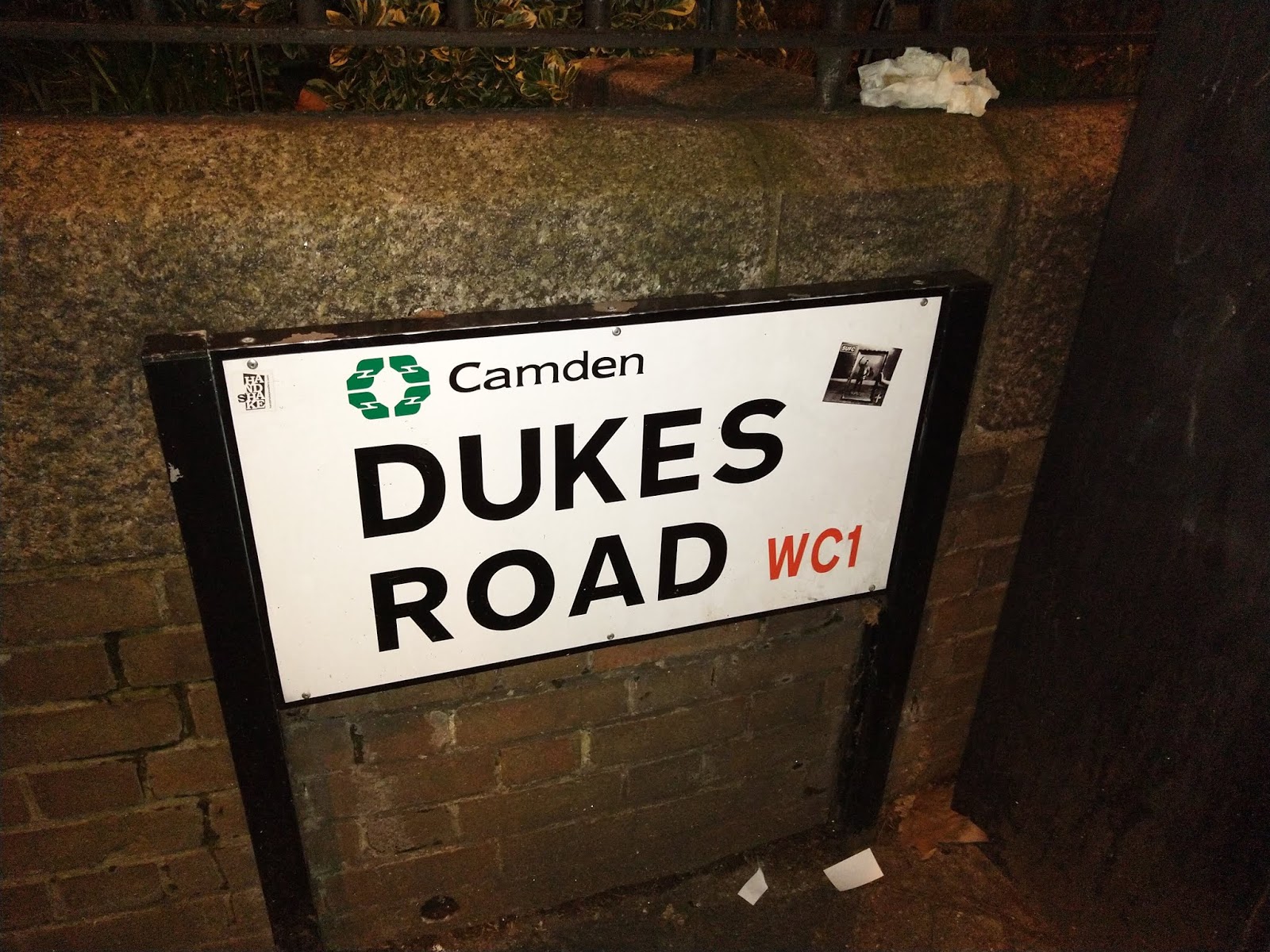 Yep, it's mine…
Duke
Att. 979