So the Sutton Mega bus carries on falling down the mountain. Wins these days are getting to become a bit of a rarity, certainly so far in 2019. Looking in the books and you can see that we now have a very miserable record of only two wins in thirteen attempts. But we're still a little way off from our rather limp start to the 2012/13 season. So that's a positive to take from Saturday I reckon.
But first we have to have a spot of our patent pending trademarked 'Killa Filla'. And of course, our nefarious Editor-in-Chief is right, I fucked up on some of the dates. The 10th March is actual the day that I last missed a Sutton match. All because of a reliance on the ever incompetent British Rail, I missed A 3-1 victory up at Boring Wood of all places. What's even more worse is that fact that it wasn't just seven years ago that it happened but an amazing ten years ago! In some places they call that 'decade' apparently. And yes, it's over ten years since we won the Surrey Senior Cup. Not tht i'm bitter about it…
We've also got more filler for you this time round as the Football Blogging Awards have come round once again. And for only the second time in its existence, there is a Non-League category. We're also shameless sycophants who wallow in our own self importance thinking that we might have a run at this as you just don't get many proper non-league blogs. You know the type, all beer, bollocks & a small mention of football as opposed to sites that just recycle news. So if you fancy inflating our egos, have a butchers at THIS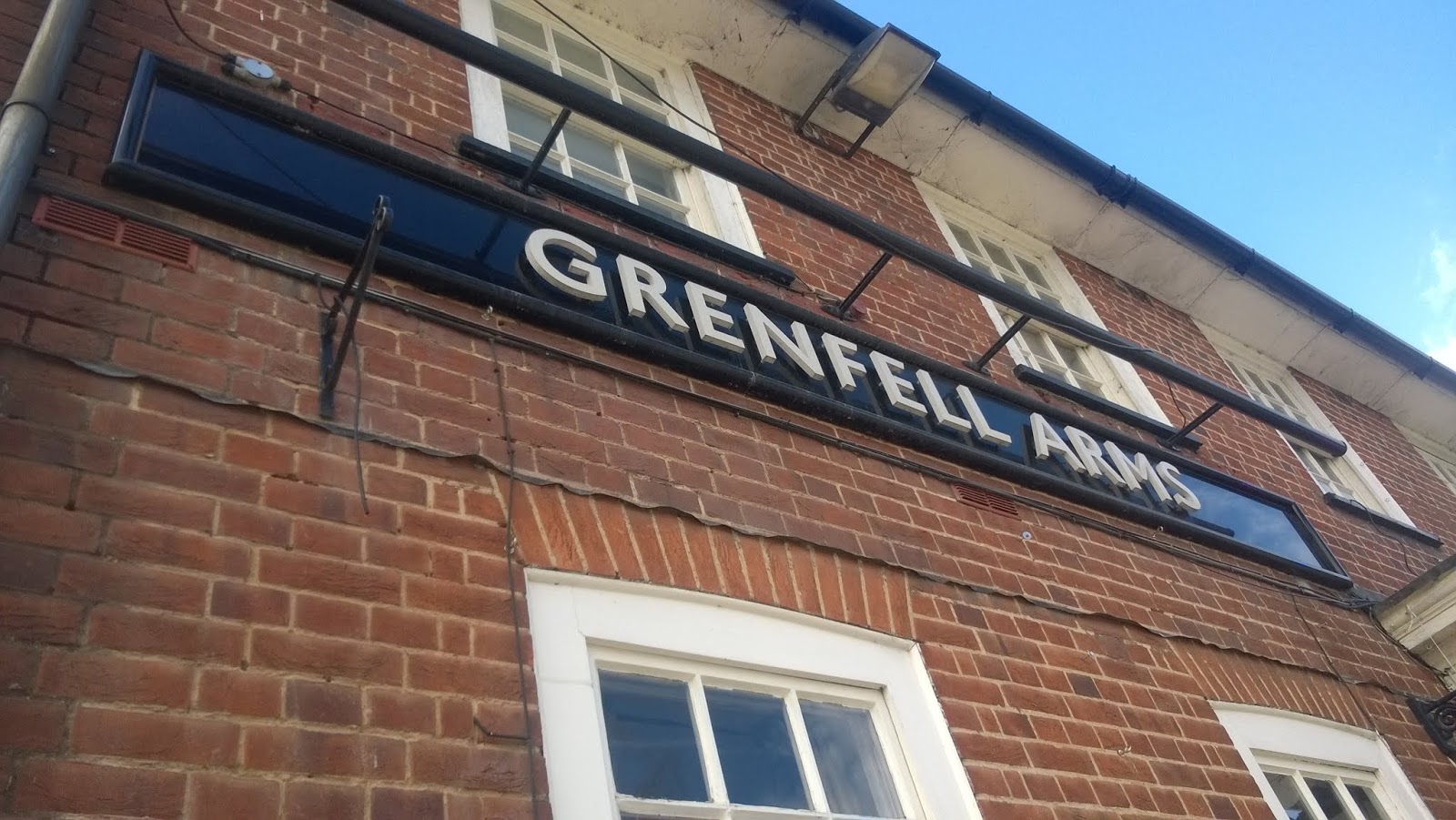 Familiar name….
Anyway, back to football in hand. And Maidenhead away. Most people have been there enough times that these days we've become like a well-oiled machine. And it also means that plenty of the boys won't be making the trip. For me, the journey included a train from the Badlands up to Victoria before heading through the rat tunnels of the Underground to Paddington. There was some slight enjoyment when the possibility of Taz missing the train came about, but the bastard made it with about a minute to spare. Very disappointing.
We're due to turn up at Maidenhead at around eleven o'clock. When we finally do arrive, it's the usual walk through town. And hasn't it changed a bit? "The Bell" on the corner has now become an O'Neill's, Where the the other 'Spoons was, has now become a row of boarded up shops which stretches all the way past Roma the old nightclub. Bit of a fire hazard that. Opposite "The Cornerhouse", the place where we once came across a fully clothed referee having a pre-match pint, has become even more gastro with some poncy name.
What's more of a surprise, is that the Brakspear pub is open. Actually open! So not only is it not even midday and a pub in Maidenhead is open but it's the Brakspear that's open. For the first time that I can remember. We even used to hear tales from the older lot of a time when the place used to open and of the pub once having a parrot inside.
Over here Ref!
The first pub of the day is of course 'Spoons, mainly as it's usually the only place open round here, where we settle down for a couple of sifters. This also included Taz trying some Welsh Bitter which he described as tasting "like non-electrified railways with a hint of disappointment". Something to do with subjugation of the Welsh people or something or other. Most of the chatter is of course how bad we've become recently.
Instead of heading towards the usual 'Maidens Head', it's leftwards out of "The Bear" to a pub we haven't been to in a little while. The walk is a great contrast from where we've just been. Instead of it looking like Beirut or Toxteth, it's more like Monte Carlo with a plethora of super cars being badly driving by arseholes that have more money then sense.
The Ark is very much an Irish-style boozer. Especially when you consider the little Irish fellas in green over the place and the Guinness advertising. Plus you shouldn't really mention Londonderry. The Daniel O'Donnell calendar was a big conversational piece. Mr X enjoyed himself as he lost on the old quiz machine, whilst not removing his coat next to the roaring fire. Yeah, he got a little hot after that. Maybe he should have unzipped it just a little?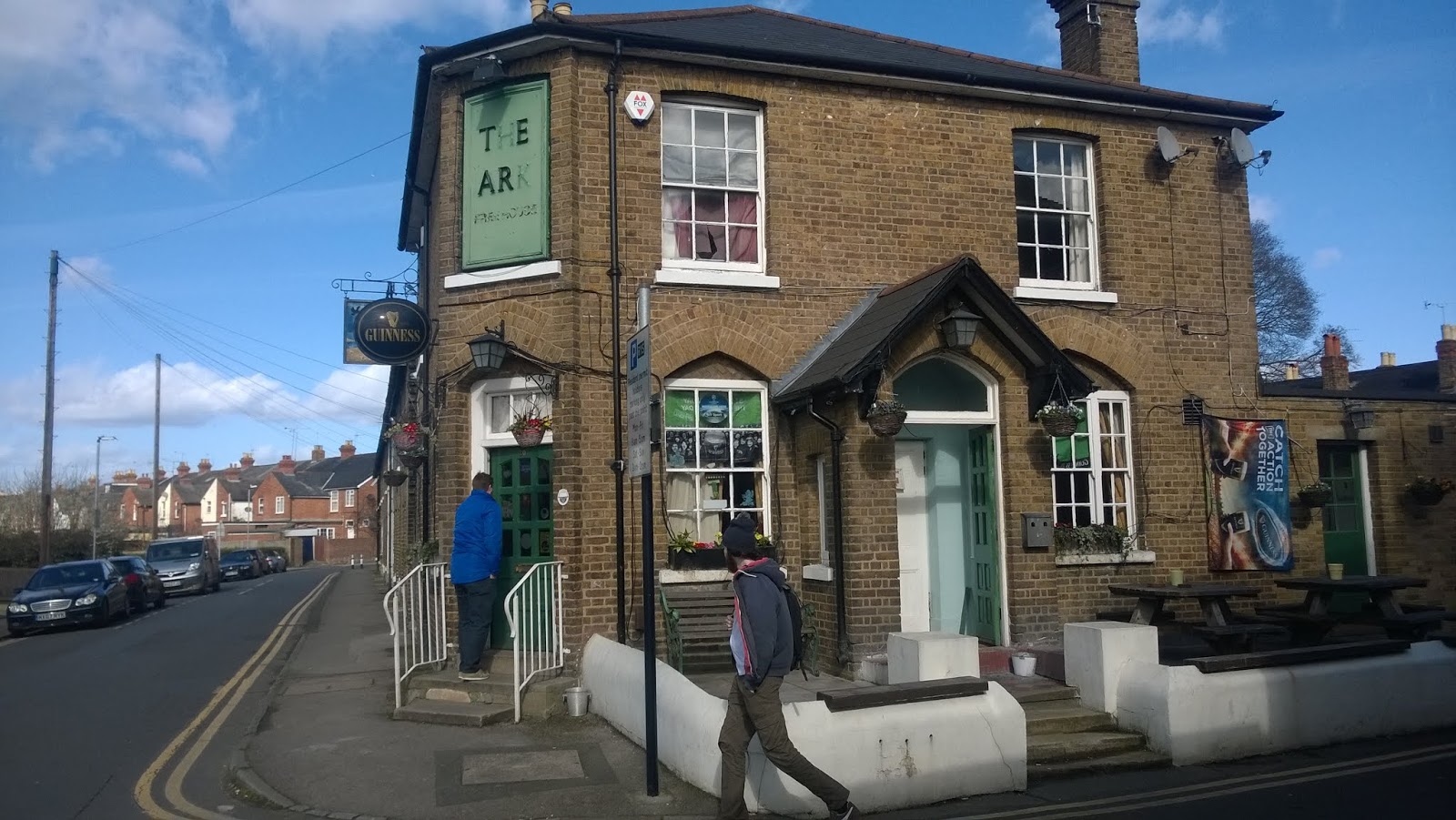 Big Daniel O'Donnell fans live here…
4 Days came up with the next choice as we mooched over to The Grenfell Arms. Although, this would bite 4 Days right in the arse as it had "the worst pint of Guinness ever", bit ironic give we'd just left an Irish boozer. But I couldn't complain as I bagged a free half pint of alcoholic Ribena due to the barrel running out whilst the bloke behind the jump was pouring it. The Firm Leader & Ozzie would join us here before they elected to get a UBER to the next pub. Over five minutes walk away was apparently more than they were prepared to bother with.
Wandering back around, O'Neill's was next as we made our way towards the ground. Here we bumped into a few more of the travelling faithful who were making the trip. There was plenty of conversation of the forthcoming match. Most of it pessimistic mind you given our shit record in these parts, but you know we were up against a squad that contains three Montserrat internationals no less. There was a spot of food for some before it was time to head to the ground to get the football part of the day over with.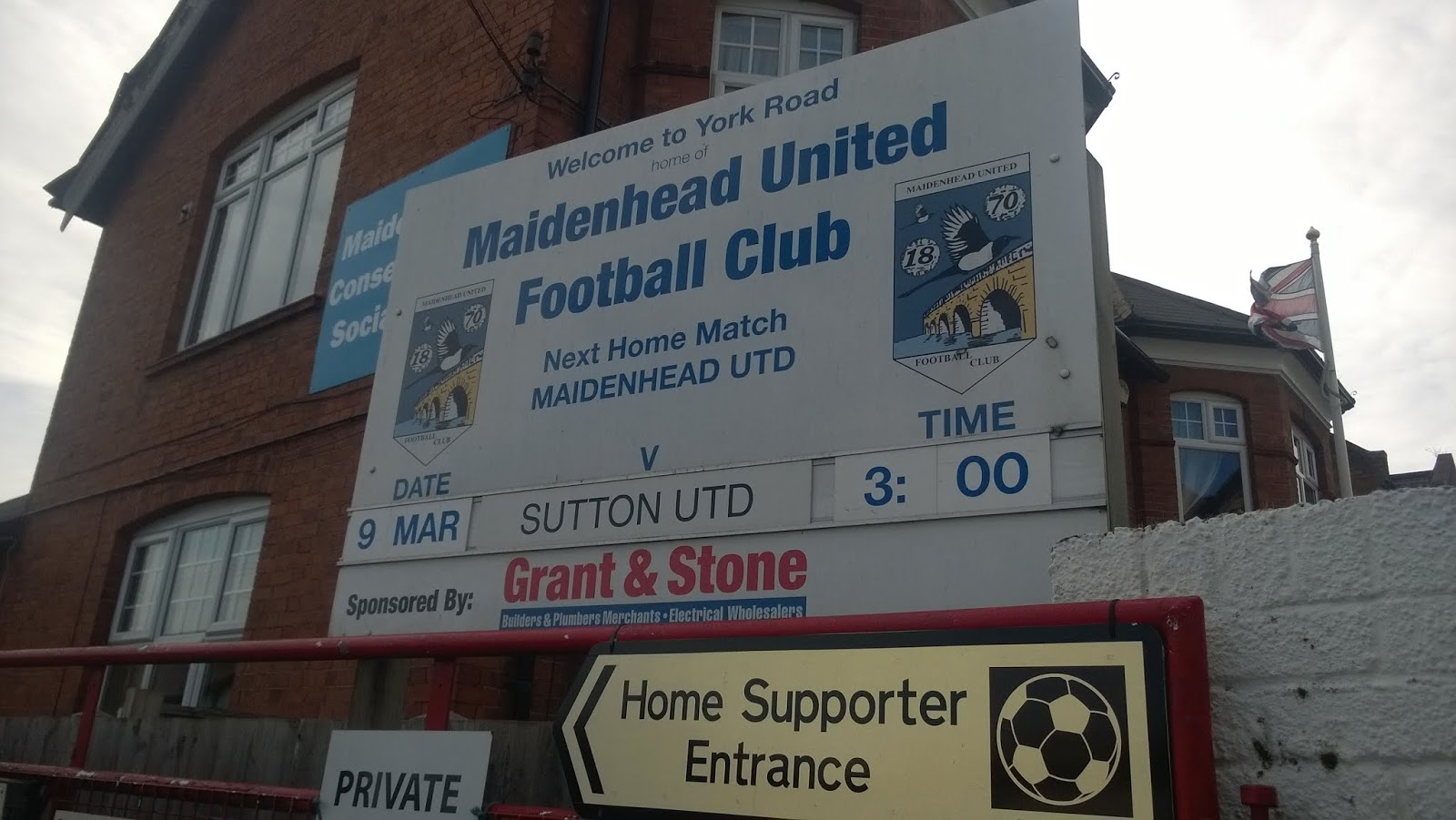 York Road, very old ground…
Worner, Thomas, Beckwith, Collins, Toure, Eastmond, Bailey, Beautyman, Deacon, Williams, Dobson. Bench Warmer: Bolarinwa, Davis, Ayunga, Butler, Bellikli.
Sutton kicked off this encounter as we attacked the far end. The first quarter of an hour was to produce most of Sutton's chances for the match. The first, and probably the best, chance of the match fell to Eastmond as he chased down the ball as it came to the edge of the Maidenhead box. His half-volley was like a rocket and the home keeper was forced to tip it over. Although not everyone agreed that it was on target. Still, it's a shot!
Toure was next to have a stab at glory. His first attempt was stopped on the line and then his second try from the rebound went inches wide. Deacon would also later have another attempt that was a carbon copy of Tour's second attempt. Maidenhead would also have a couple of chances themselves, but if Worner didn't save it, they were off target.
Despite my protests the half time round fell to me once again, so I made the trip to the bar. With an impressive three different bars to pick from, there was no chance of the sort of queue that you'd get at our place. Although, there was no where to put the plastic cups anywhere. By the way, can you tell that not much happened in the first half?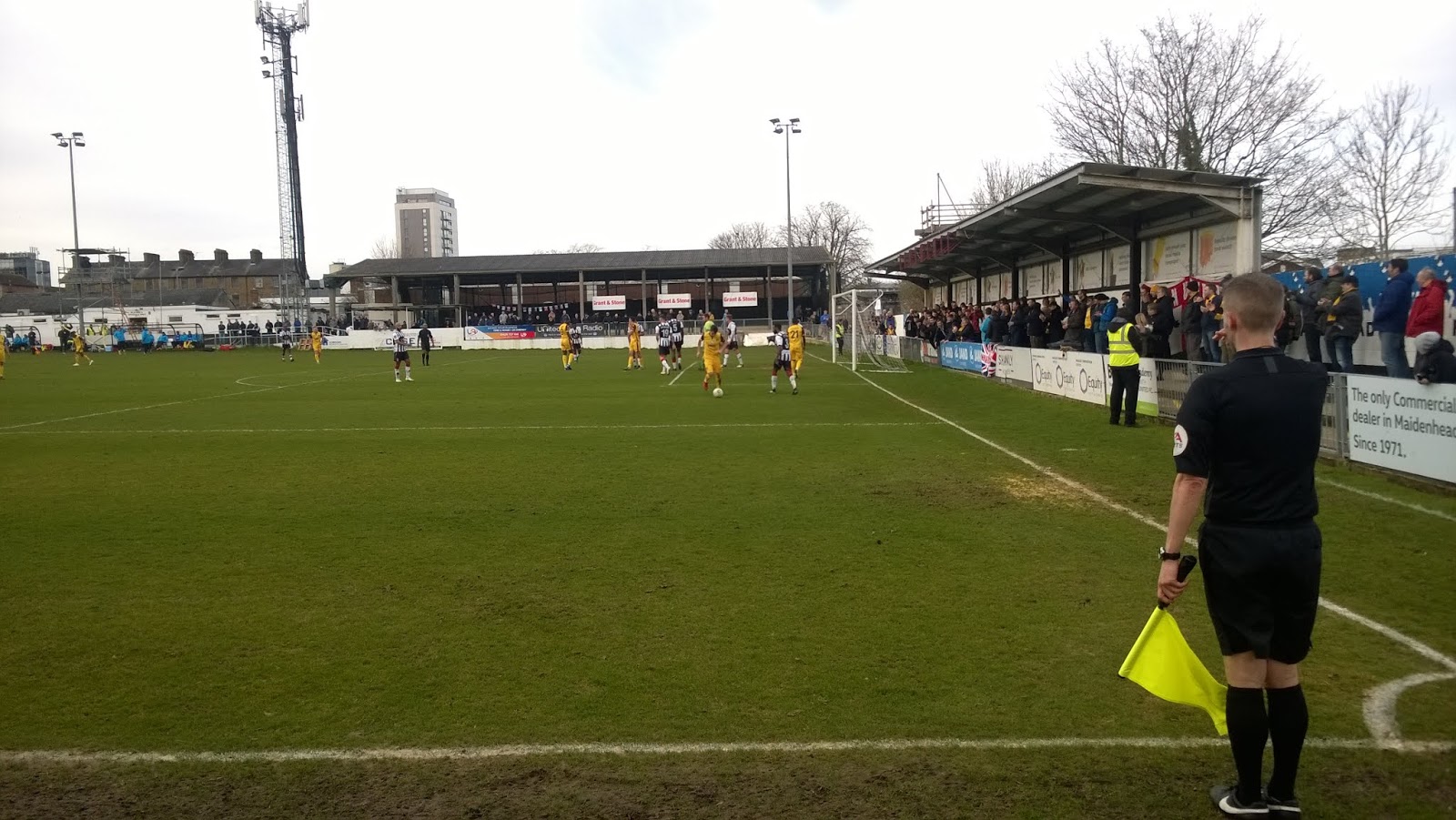 Action…
Second half and Sutton make a change with Bolarinwa coming on for Dobson. Not a strange sub as Dobson was pretty much anonymous for most of the half. Out of nowhere, Sutton were given the golden opportunity. Well a golden opportunity for anyone else apart from Sutton that is, as Maidenhead were reduced to ten men. It was a clear red card as Beckwith takes a boot to the face as he tries to head the ball.
After the hour mark, Davis is brought on for Williams. There are a few groans from the travelling faithful as it appeared that once again we weer going to go more defensive in nature. There would be an attempt to rectify the situation when Ayunga is brought on for Bailey and Sutton go to three at back. Toure would miss another six yard sitter as he hit it into the back of the stand rather than the back of the net on the volley.
The final minutes of the match was going to be where all the talking points were though. The first was going to the dismissal of Eastmond. A mere couple of minutes away from escaping a possible two match ban for ten yellows in his pocket, it comes crashing down after a little a scuffle. Tussling with a member of the oppo, he ends up on his arse on the floor. But before he can get up, the fella tries to kick the ball from under him.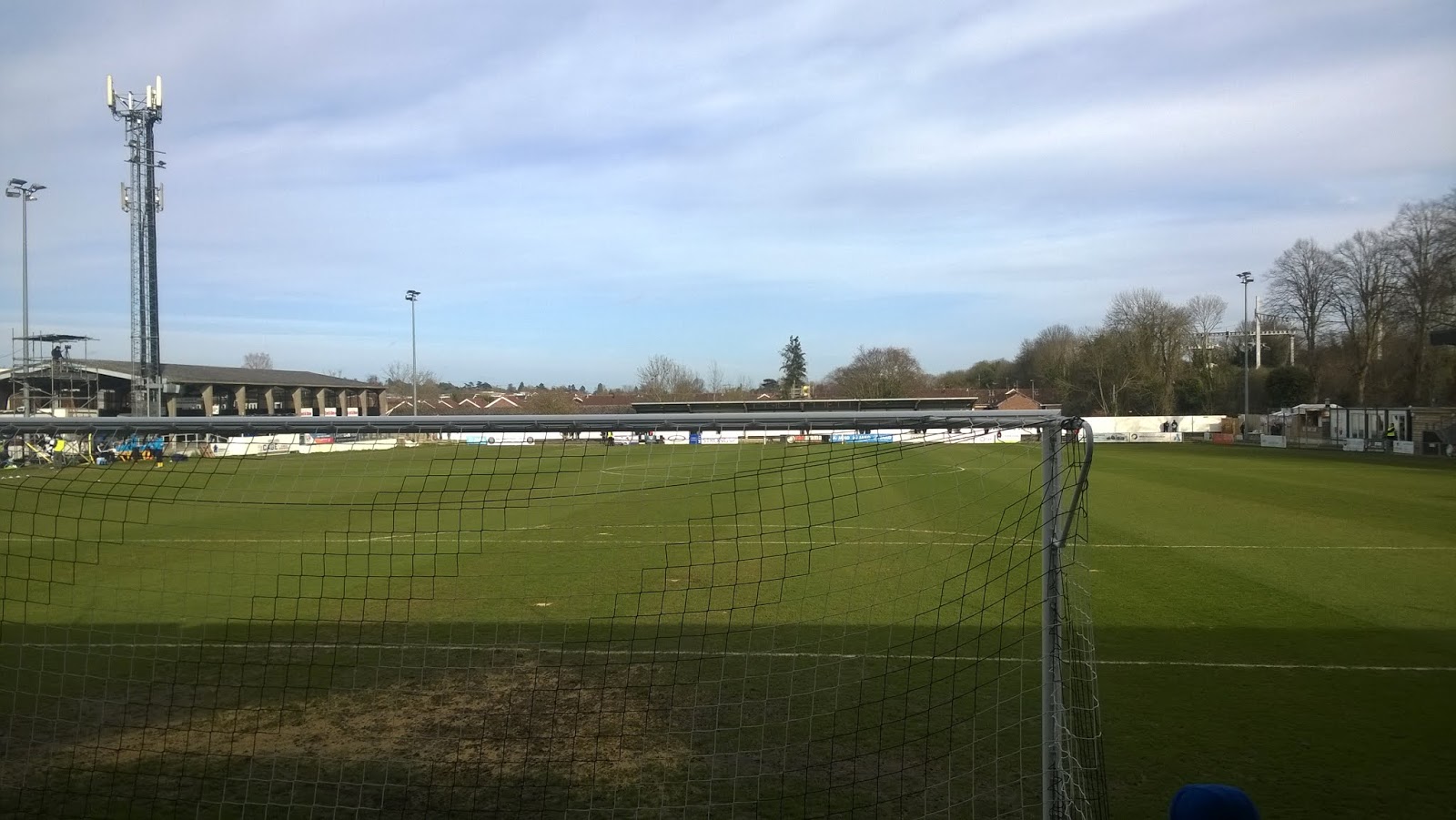 View from the Bell End…
Not happy with what had happened, he kicks out at the other geezer. And unlike Vieira, he makes contact with the fella. A spot of foot-into-beer-gut action. Allison attempts to defuse the situation and even pushes one of the home team away as the usual handbags bollocks starts. Both are then given yellows and the that is that. Except that the linesman on that side has an opinion on the matter. Strange, considering he was behind the incident and Allison had a perfect view. But after a little chin-wag, Allison returns and this time he's already got a red card in his hand. Bollocks! Eastmond goes, and that two games is upgraded to three.
Our luck was to go from bad to worse as not long after. Beckwith pumps the ball long into the box but it's snuffed out. The ball is cleared and it comes back into the middle of the park. And before you know it, Maidenhead were on the attack. A simple flick over the head of Thomas and they're clear. A spot of luck as the first attempted pass comes back to the player who played it. Beckwith is drawn towards the ball and leaves his man free. With only Worner to beat, it's slotted past him and Maidenhead have the three points. 95 minutes on the clock. Fuck a duck.
Baird was also giving his marching orders (something you see on the Maidenhead highlights, omitted from ours) as many of the overexcited Maidenhead bench ran down the touchline to join in the celebrations. We reckon that it might be because someone may've got into his face. Why would you do that? Especially to Baird? The game restarts, but Sutton couldn't do anything with the tiny bit of time left before Allison blows up on another disappointing Sutton performance.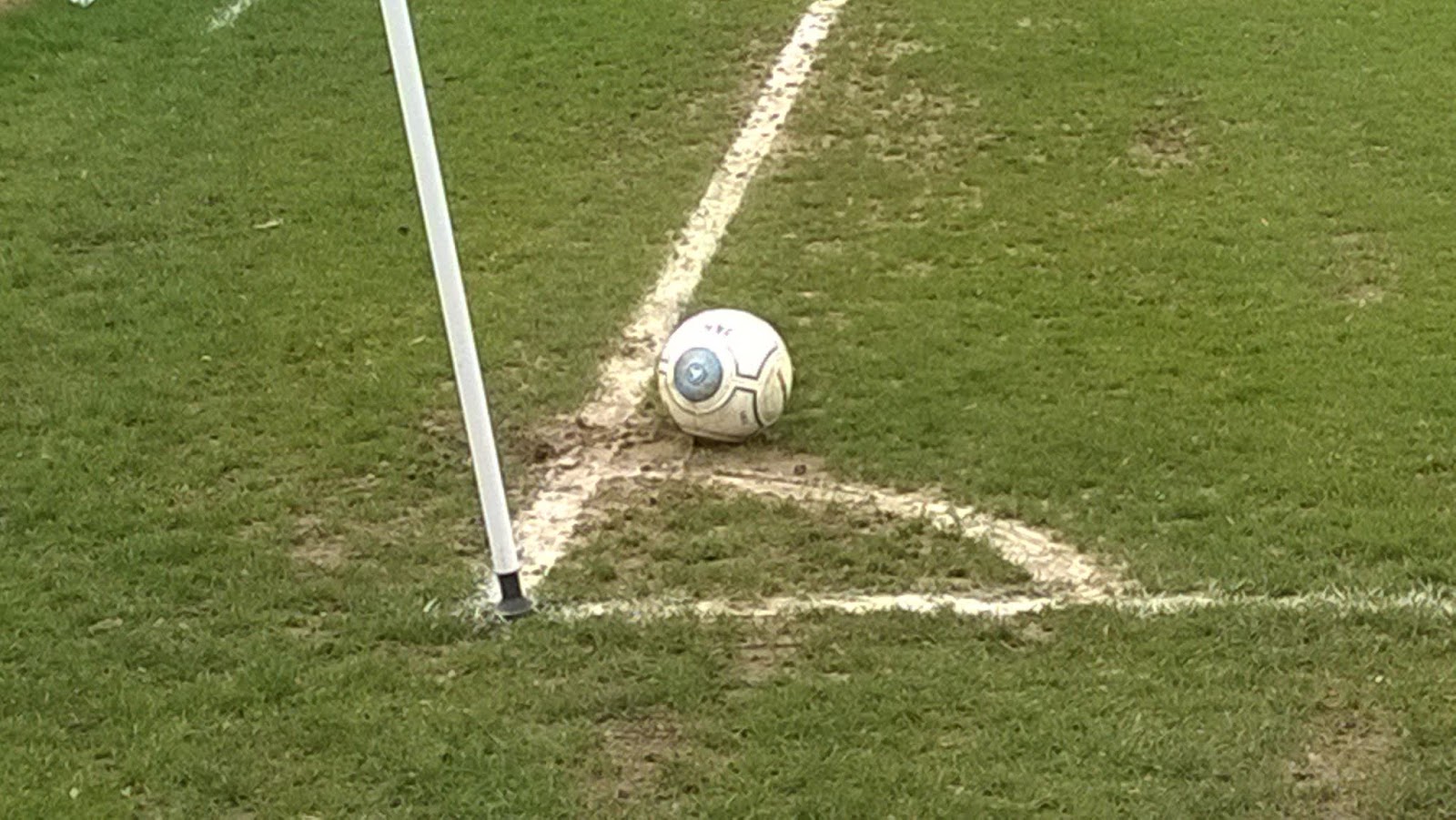 Is this ball in the D?
After the match and those members of the team that haven't already made a quick dash for the tunnel are given the smattering of applause as most fans have also decided to not hang around, us included. We all gather back at O'Neill's and sink a pint as we discuss the match. The general feeling among us is that we're most definitely in a rut at the moment and can't buy a goal at the moment.
Plenty of us remember the dark days of 07/08. That season, we were shit. real shit. But we knew we were shit. But still, we seemed to play as best we could. At the moment, we seem to be well below where we could be. On paper, this team is much better than this and we hope it's only a matter of time before it gets turned around. I guess we got to 53 points and have mentally switched off.
Surprisingly there was going to be no more drinking in Maidenhead as the option of getting back into town pronto became available. Half hour later and we were back at Paddington. After proving the point to 4 Days (who'd apparently 'lost' his phone charger somewhere) that Aberdeen Steak Houses still existed, we find a pub. The "Sawyer Arms" was its name. One problem with London pubs is that it's of course London prices. Over a score of four pints sort of expensive. But at least England smashed Italy in the egg-chasing. Which is a good thing apparently.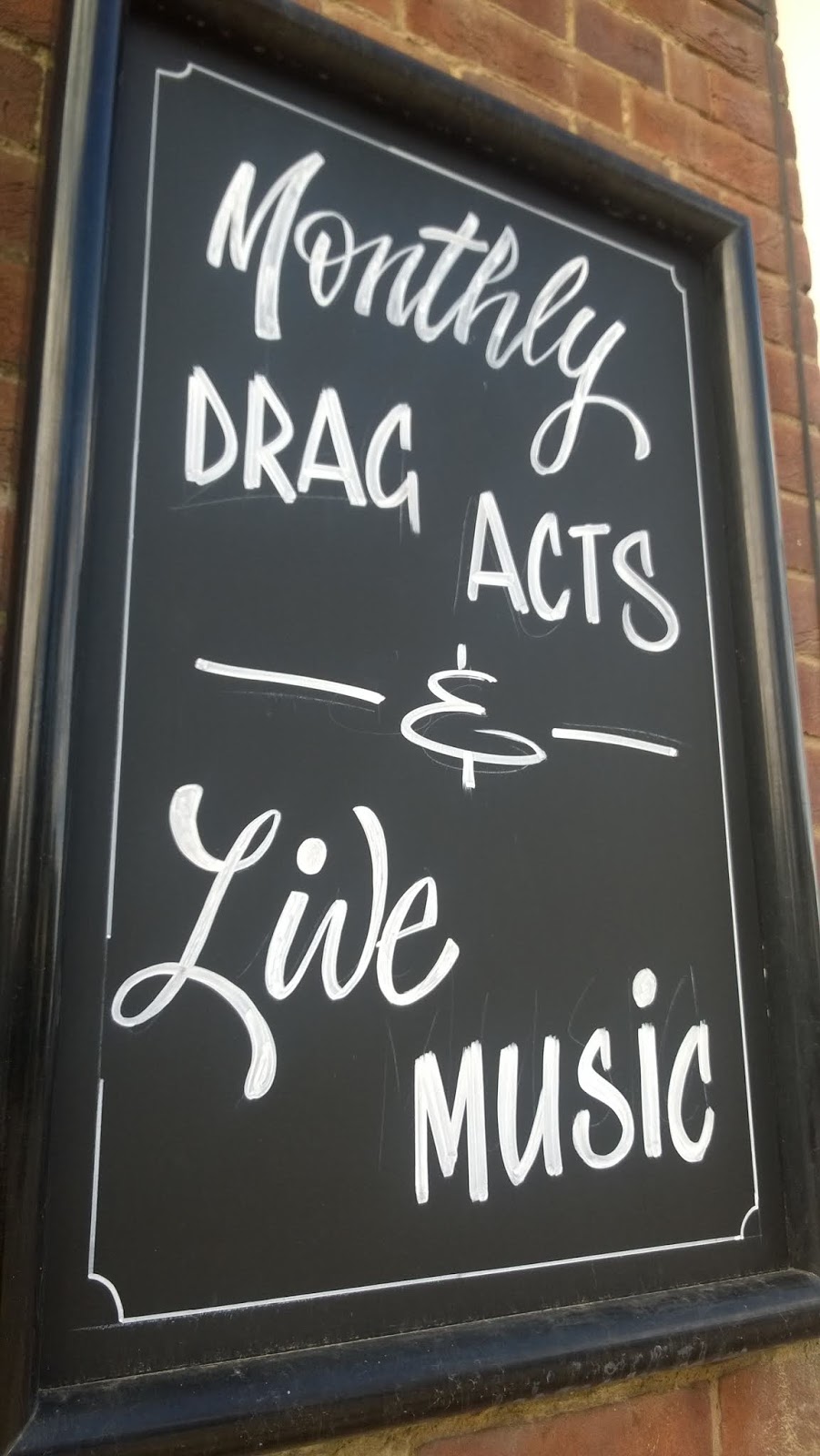 Hmmm, Interesting…
Heading across the road to another drinking establishment, we find the The Dickens Tavern which is apparently the longest pub in town. This might be true, or it might not be. But the trip to the bogs was a trekking experience. Up some stairs, down some & then down some more before turning several corners. The place should be a fuckin' spoons with a ball of chalk like that!
Also making an appearance in this boozer was the remnants of the DBDC & the COCs. I've also been told to report a little 'incident' involving the Chairman & Taz. That's because someone decided it'll be funny to nick someones else's drink. The trick to this, is to know when to let go. Obviously the moment wasn't when they failed to mention anything, even to the point that Totts was even questioning the bar-staff about who'd had his pint away. Well done Taz…
A few pints later and it's time to move onto pastures old new. London Victoria is the place to go, and it's 'Spoons once again. Arriving here, we bump into another member of the COCs. There is also a gaggle of Haringey Borough supporters who've been down to Merstham for a rather dour nil-nil draw today. Still, at least they got a point and they're suitably boozed, so fair play to 'em.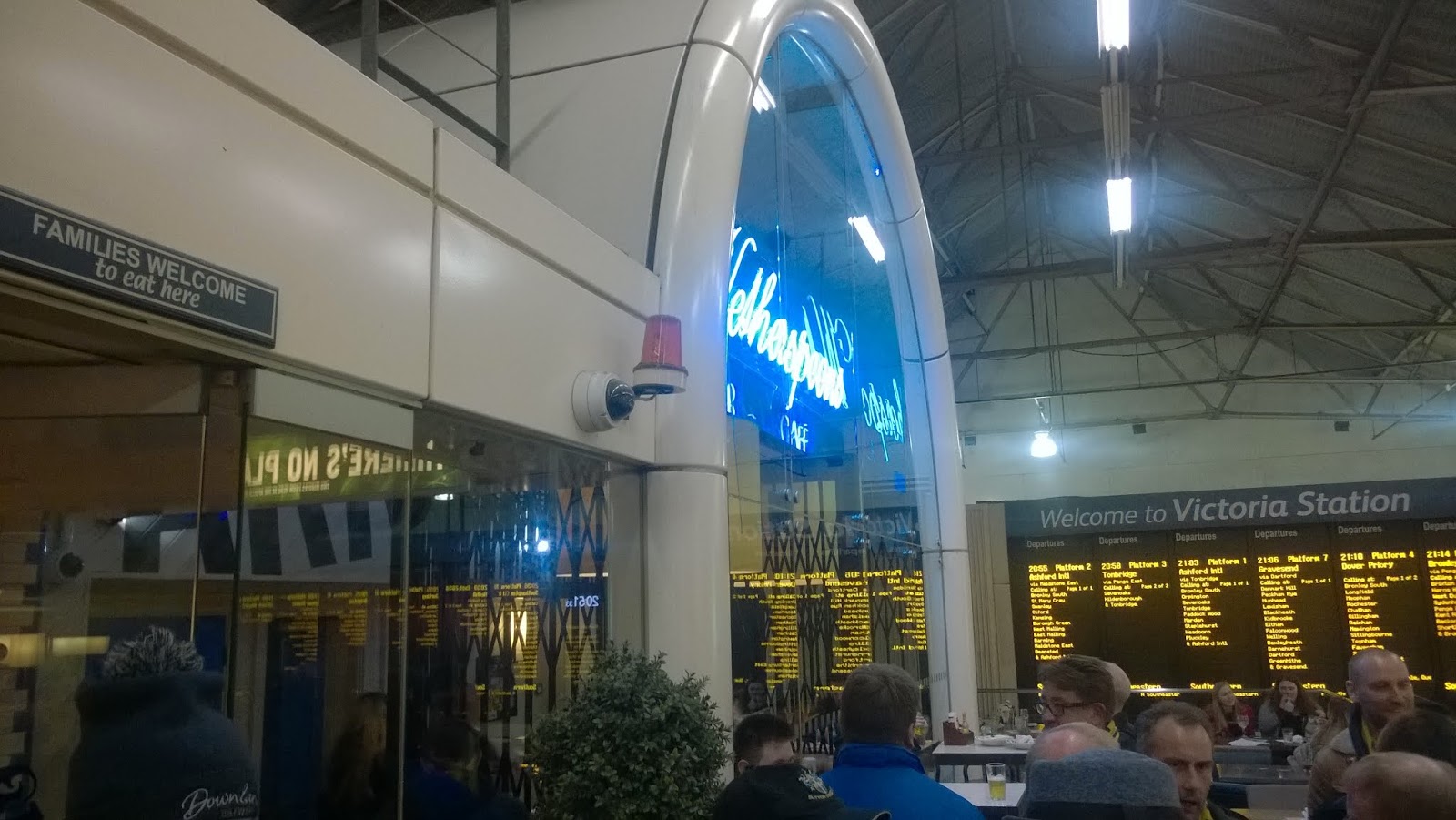 One for the road. Er, train. Oh never mind.
One conversation that kept being mentioned was when we were sampling some of the 'finest' beer that York Road had to offer. Don't know how we got onto it, and it's not good to understand why we do this, but buses to Constantinople. Mr X was adamant that it could be done for as little as £20. He was obviously wrong as it was near £70. What was interesting, and kept us chuckling for most of the day, was his sources. Thinking that he was looking at a foreign website pronounced buz-re-dar, The Firm Leader looked over his shoulder. He thought it looked more like busrader.com…
There was also a few Pompey fans who were heading home after a defeat to Charlton. Unfortunately our kind offer of buying all of them £42 Sherpa Van Leyland DAF Auto Windscreens Johnstone's Paint EFL Trophy tickets in lieu of Adam May returning to GGL fell upon deaf ears. Soon after, it was time to say goodbye as some of us decided to head home. Well, the Pigeon Club at least for several more hours, before hitting the sack. A couple lingered longer however.
So that's it for another nondescript away-day. We're still ninth in the league somehow, but we're now five points off the play-offs and still five points above Gravesend & Northfleet Ebbsfleet in tenth. With nine games left to go, the season is quickly dying on its arse. But then, again a couple of wins this week and all of a sudden, it'll all water under the bridge. Hunky dory. No problemo. Because that's just the way football is. Enjoy!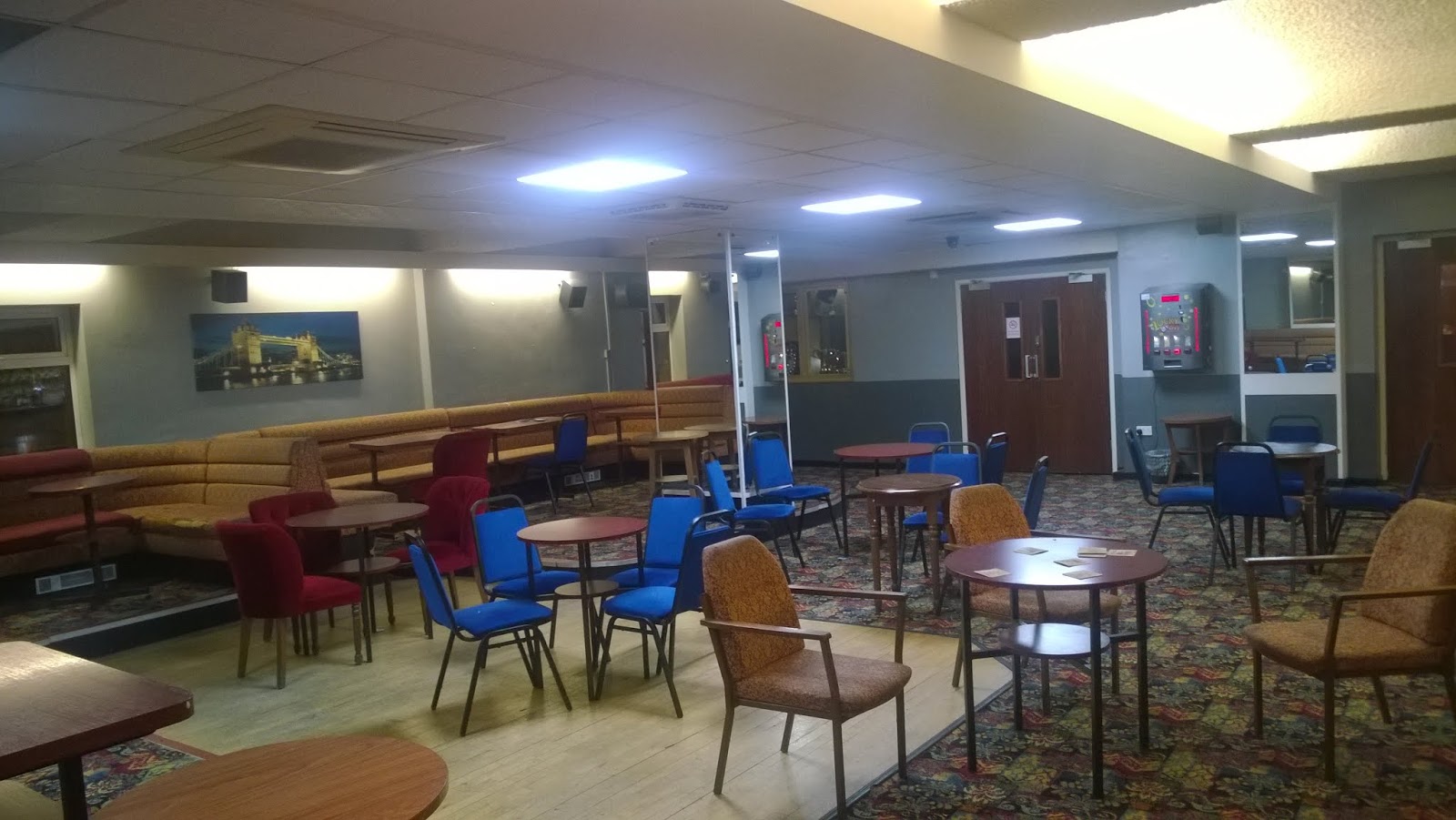 The Pigeon Club, busy as ever…
Duke
Att. 1210