Greetings readers and welcome to another Robbo blog for the league fixture versus Hartlepool United. Let me recap the week's events where yours truly had to visit the wonderful town of Dover for work purposes rather than National League ones. I think it is fair I should state at this point that there are only two good things about Dover: 1. The views you get of the English Channel on the train journey in; and 2.Leaving Dover.
Talk in the week via the Whats App group turned to that of our neighbours and local rivals, the Bobbins, being mentioned on Radio X. Quite why would they want to mention such tripe I have no idea. Apparently the DJ wasn't very complimentary though! This however generated a further conversation on the radio stations we listen to. I am what you call a channel hopper so I am known for listening to Absolute, Capital, Heart, Kiss, Kisstory, Magic and Talksport. I had lost Absolute 90s recently and was told to re-tune my car's DAB, which brought about the suggestion of "use a hammer" and from then on near enough every conversation that day was mentioned with references to hammers….hence the title of this blog.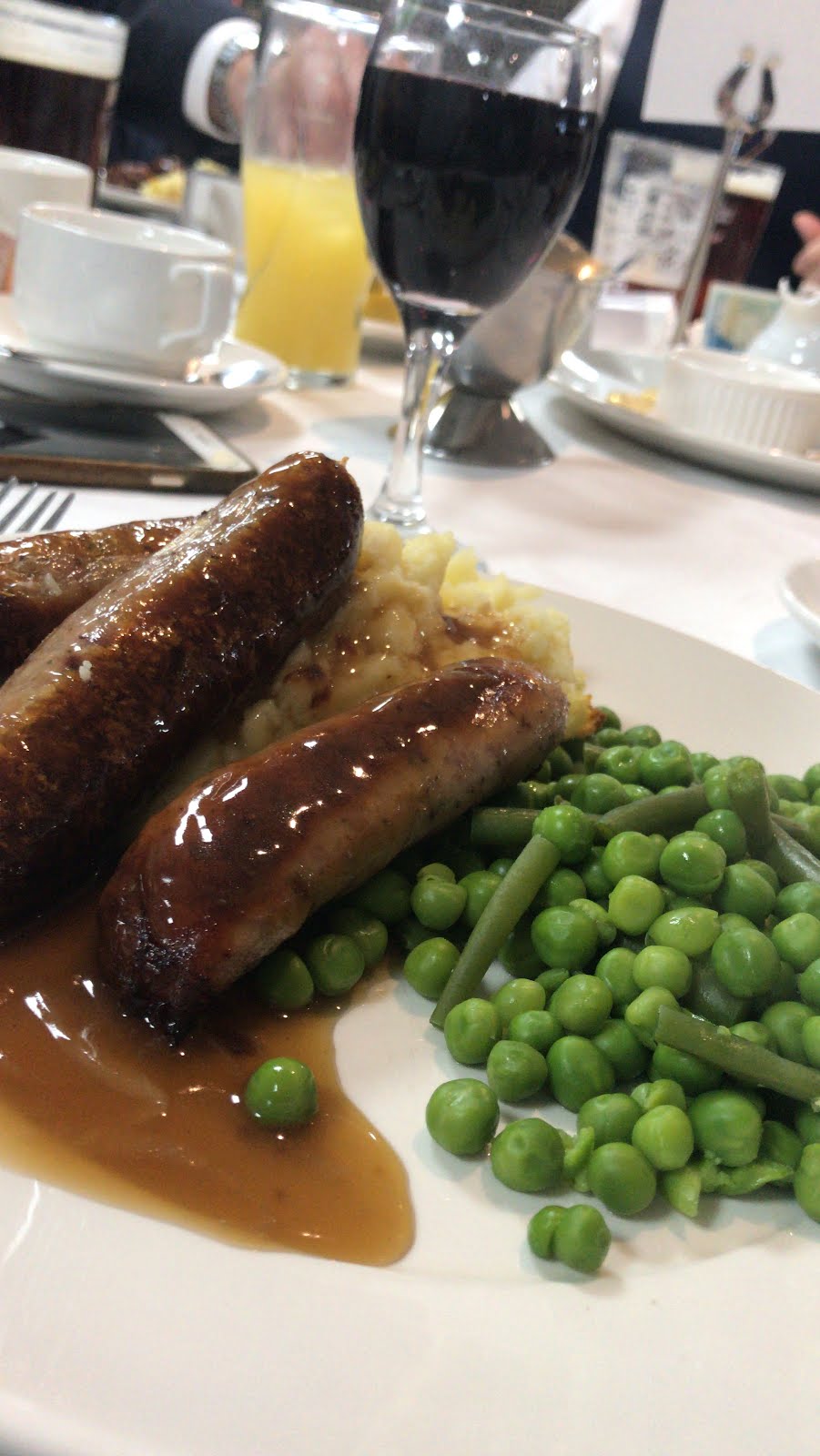 Om nom nom nom
Which brings me nicely onto the subject of the the Football Blogging Awards which for 2019 are upcoming. And as they have a Non-League category this year, it would be nice if all you lovely loyal readers out there would be so kind to nominate us for said awards. Nominations open on the 8th of March so feel free to click HERE for details.
In terms of the club's activities, news came through this week that Bradley Pearce has unfortunately broken his foot and just after coming back from his first injury he picked up the other day. How many more players are we going to lose to injury? Anyways, speedy recovery to you Bradley. So it's game day and it's time for another one of those 'posh' (according to Taz anyway!) pre match lunches and on today's menu is sausage and mashed potato or bangers and mash as every one calls it. So much for the editor's assertion these gatherings are posh!
Normally at the lunch is Mickey Joyce's famous quiz and one of the questions is very much close to home for me. The question is "What is Sir Elton John's middle name?". Now some of you regular readers may know that Sir Elton happens to be a distant relative of mine so of course I knew that the answer was Hercules. The less said about how many points our table got from the other questions though is best left unsaid sadly. Sat next to me is good old JR, or 'Magnum PI' as he tends to be known around here. Who I ask if he has sent off for his missing stickers for the 2018 World Cup Panini book and his reply is again "No I haven't". So let me put it in writing for you JR to send off for your missing stickers!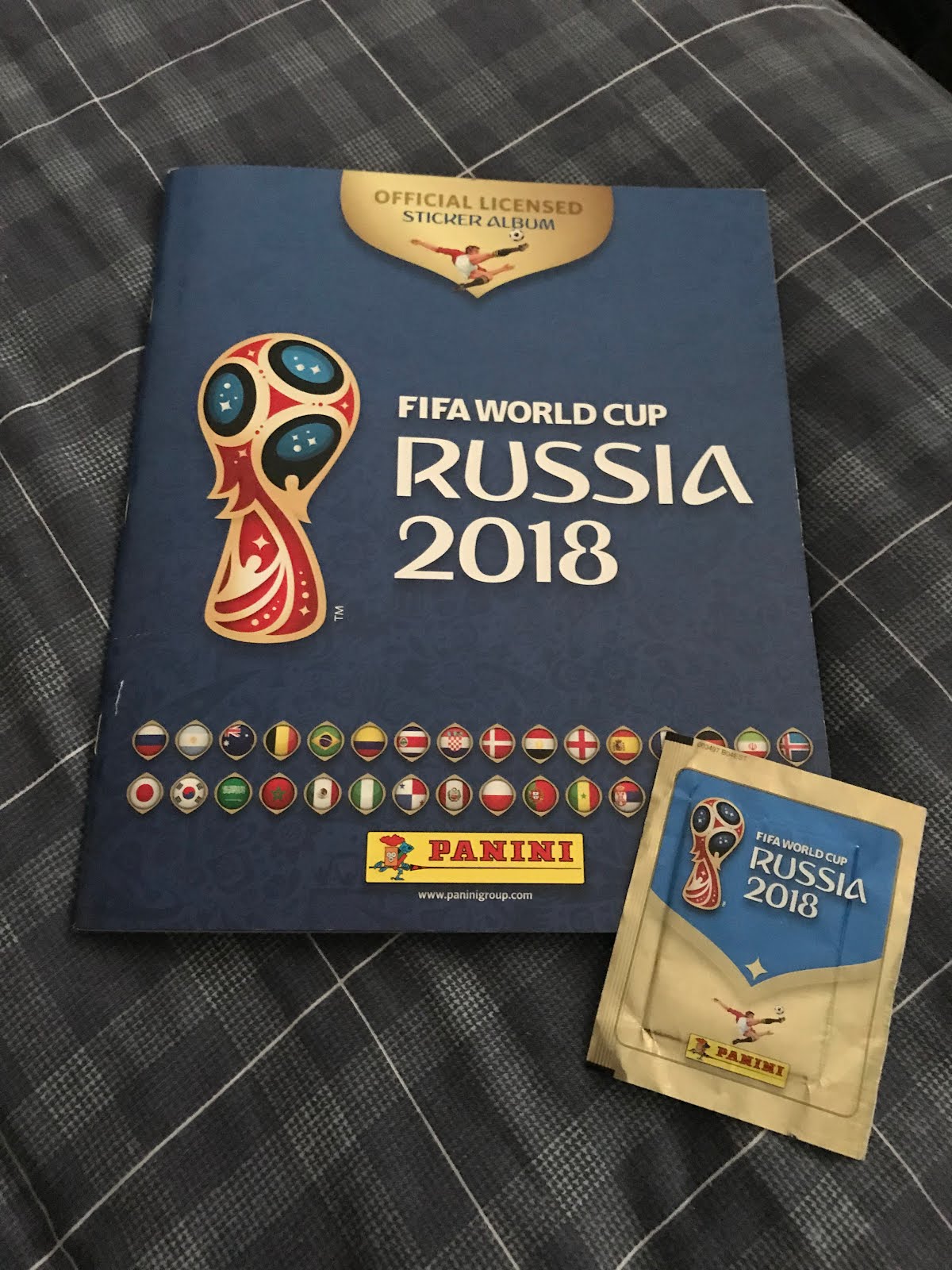 Complete
Meal, dessert and coffee all done and it's time to head out for the game – this one is to be segregated as the visitors are apparently due to bring a few. However, I know the team before heading out and is as follows:


1.Worner [GK], 2. Bennett, 3. Aswad, 4. Becks, 6. JC [skipper], 15. Eastie, 19. Beautyman, 8. Davis, 7. Tombo, 21. Roarie and 9. Toure
Before kick off, it is nice to see the return of Bob's other half Cathy who has not been well as of late and I hope you are feeling a lot better now! I must also mention Derek (aka Sean Connery's Stunt Man), dad of Ray (aka. Indy) who has returned home from hospital this week but is not at today's game, we hope to see you back soon sir. Although I understand he was home a whole five hours before suggesting to Ray they head over the road to the local, so he's clearly recovering well!
Sutton start the first ten minutes brightly but what we have become accustomed to lately is all nicely played around but no end product…a goal. It is the visitors who not once, not twice, but thrice should have taken the lead as silly mistakes in the Sutton defence gift opportunities to Hartlepool but they fail to convert them. This makes me say to Half Time Steve I am sure maybe we should head to the bar! However, on 27 minutes what we have all been waiting for finally occurs. A goal for Sutton. A good through ball for Roarie sees him coast along with the ball and slots past Scott Loach who was once called up to the England squad under the Fabio Capello reign. At last, how good is it to see an actual goal at Gander Green Lane again and how lucky for HTS and I too have not missed it!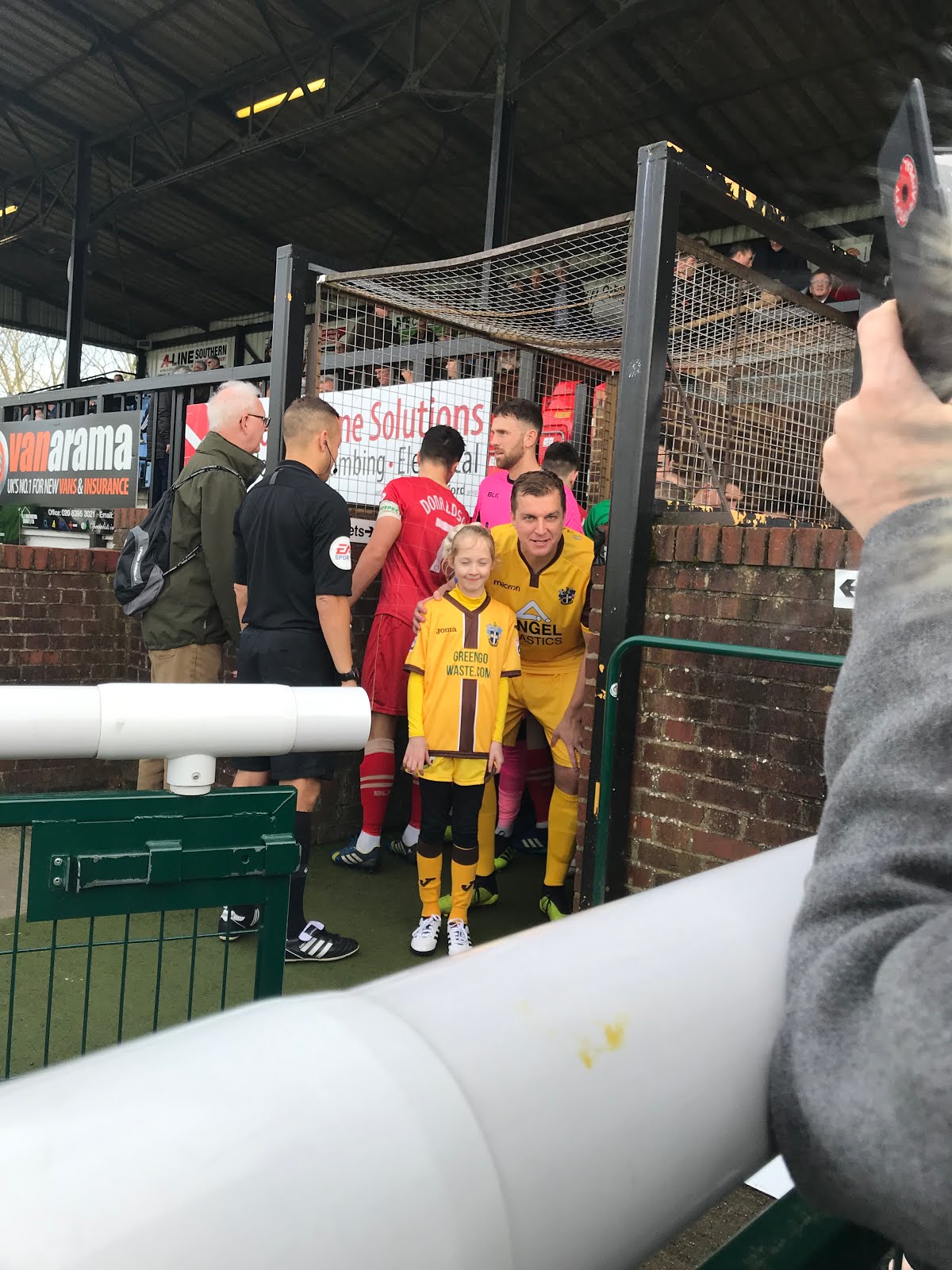 Strike a pose!
In the bar for half time I only decide to have a coke as I had a glass of red wine with my lunch so it's probably too soon to have a beer. Now here comes a bit of advice do not touch Jens' chips as he does not like anyone touching his food – do not worry mate I am still fully bloated from my lunch. Into the second half and you know the saying "you wait for one bus and two come along at once" and this is in the form of a second goal for Sutton on 56 minutes. This one coming from Gime Toure albeit via a deflection. Still, they all count.
With half hour to go, it seems we can relax a bit however this is Sutton we all should remember and by courtesy of a fluke Hartlepool get one back on 65 minutes. I am sure you know the sort of goal, think Didier Drogba's winner against Hull in 2009 or Ronaldinho's winner against England for Brazil at the 2002 World Cup. Basically, it was a cross that ended up in the back of the net. But this gives Hartlepool the uplift to go on and they have a couple more glorious chances which like in the first half fail to convert. The inevitable does come on 75 minutes though where Worner fails to come for a cross and is converted by the impressive Luke James – but pal seriously where are your shin pads – do you think you are George Best dressing like that? Whilst I am talking about the opposition let me talk about their number 7 Donaldson – I remembered him from our away trip up there and what an irritating worm he was and still is!
Closer to the end there's a nasty incident involving (my player of the season) Dale Bennett as when trying to get the ball by the corner flag he hits and topples over the barrier. It is nice to see Dale get up and walk off towards the tunnel and the good news is this was unaided, his opponent though showed a distinct lack of sympathy however! The match ends 2-2 but to be fair this is the right result as Hartlepool missed some glorious chances but at 2-0 up we really should have seen the game out. Harry Beautyman should rightfully be awarded the man of the match, however it goes to Toure instead, but it would have been very close if he did not have to go off injured – seriously where does this guy get all his energy from!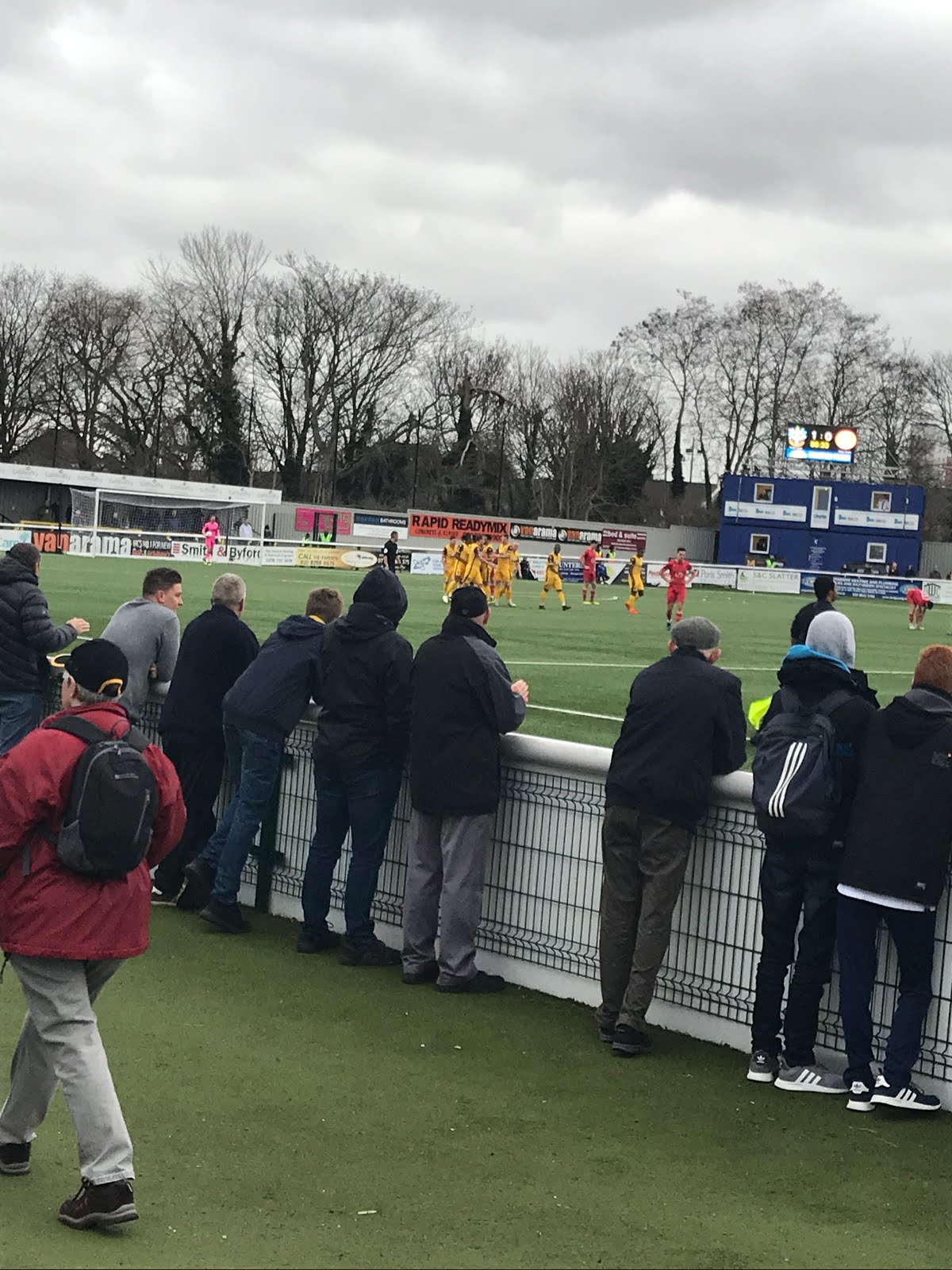 2-0 to the good guys
For the statisticians' purposes the match attendance was 1923. Substitutions include Williams for Tombo on 77 minutes, Ayunga for Toure on 80 minutes and Dobbo on for Bennett on 85 minutes. As with the after match events first there is the usual shirt auction and this time it is for Dan Spence's shirt. Now previous shirts have gone from the range of £30 up to £50, however Dan's goes for £100 to a slightly merry Hartlepool fan. But more about him later. He does look a dodgy character to me, however I am reliably informed though that the £100 makes it's way from said fan's bank account to the Sutton United one, so all's well that ends well. Next is not one but two Strikers Are Key (SAK) draws and both draws are to be conducted by Miss Caragh Barry, daughter of AB who instead of his usual accordion uses a new musical instrument in the form of a harmonica. Whilst I feel this attempt to mix things up a bit should be applauded, I don't think it carries the same weight when getting the attention of the assembled crowd. The first draw sees our treasurer Oakesy successfully opening the safe and winning its contents of just over a £1000, some of which he puts behind the bar for all assembled. The second draw is not so successful though so they get left with the consolation prize of £50.
As the bar empties, it is not long before it is full again and an invasion of players and match goers from a charity match going on out on the carpet come into the bar. Your custom is welcome and we hope you enjoyed the tunes that followed on the jukebox! The accompanying dancing duties tonight though are not attended to by Marcus tonight but by one Malcolm Pearce. He's got some moves for a big fellow! Also in the MBA Lounge is a bingo night run by the Sutton United women's team and led by their skipper Emily Stanley. Good luck to you all tonight and more importantly for your final fixture the following day. Hopefully league champions here you come (Just sneaked home with a 7-0 we see! – Ed). A rather unsavoury event occurs in the after match events and that is a square up between the shirt buying Hartlepool fan from earlier and a Sutton fan. No idea what the issue was, as there was not a single raised voice during the incident. The outsider and his friend are soon ejected from the bar before any more nastiness occurs though and things calm down.
With the night slowly coming to an end, it is time for us all to say our goodbyes – HTS's son Ryan is going for a Chinese, the COCs are going for an Indian and I am going home for a slice of peanut butter on bread! Mrs Dukey picks up Dukey, along with Dr Bell and I, with Dr Bell dropped off where he states he is going to pick up a Chinese of his own and I am then dropped home outside of KFC! Do they do peanut butter I wonder?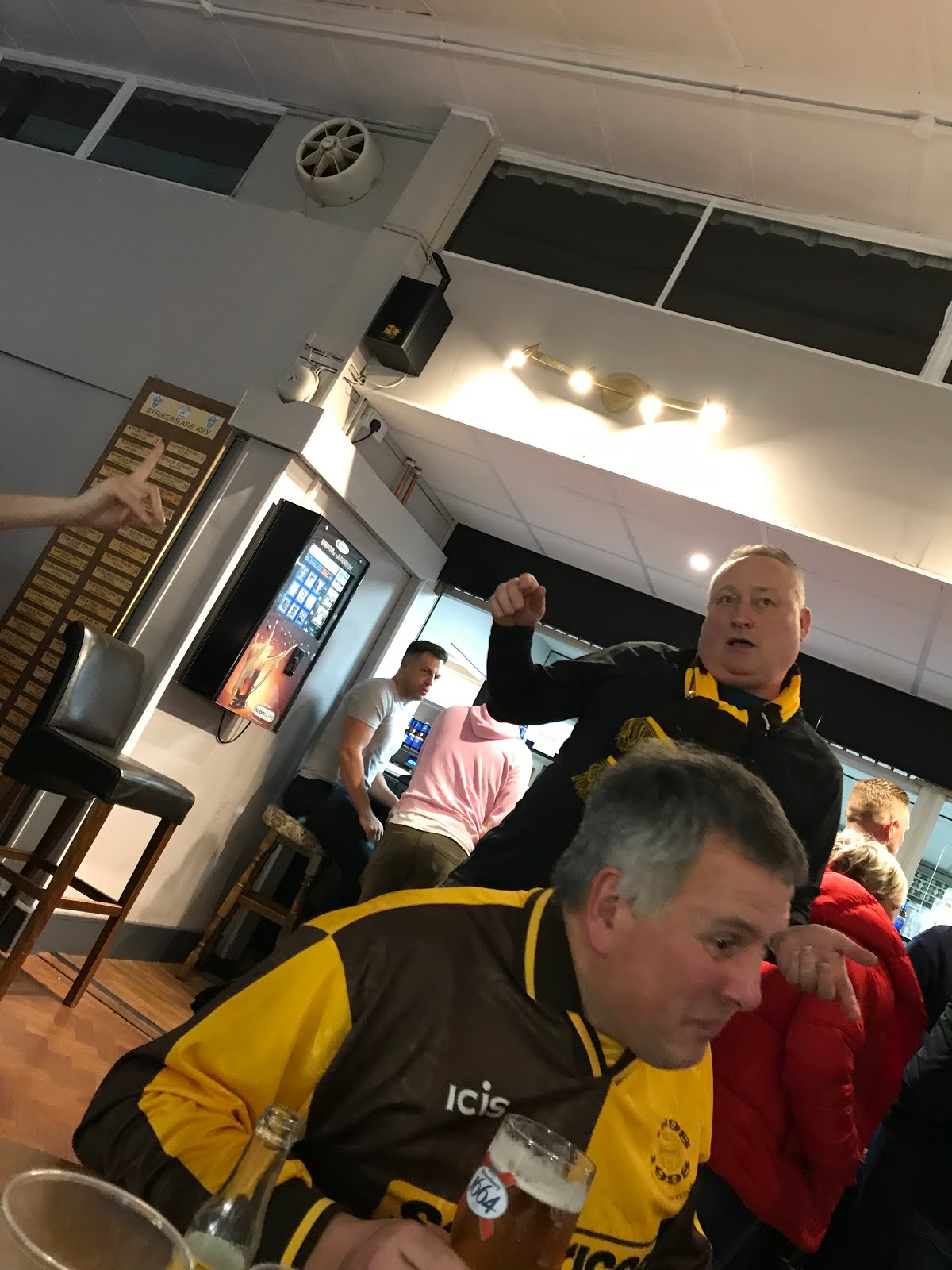 Shake that money maker!
So onto Tuesday night's long trip up to Salford City, for which our Editor and Chief Taz will be on duty. So I leave you in his most capable hands.
Wise men say…..
Robbo