Greetings pop pickers and discerning Non-League blog readers. My you're looking well. Have you been away, got a bit of sun? Maybe it's a new haircut? No? Oh well, never mind, either way you're looking fabulous today. Us? Well thanks for asking. Ok, so we've got the sort of injury list that would make Florence Nightingale think "Fuck this!" and go get a job stacking shelves in Tescos and we're finding goals as hard to come by as a Faberge Egg at a boot sale, but other than that, musn't grumble.
It could of course be a lot worse. We had the pleasantly surprising 0-0 draw with Barnet on Tuesday after all, despite fielding a somewhat unorthodox line up containing 9 wingers alongside JC and Worns. Naturally, having seen that team sheet, scratched our heads a bit and mumbled "Fuck knows" a few times we were all expecting the visitors to get their survival bid well and truly on track by comfortably handing us our mainly wingers based arses on a nice silver platter. But, once again, the team stepped up, rolled up sleeves and got a well deserved point, which could quite easily have been all three with a bit more composure in front of goal. We're sure the oppo gaffer not having as much of a clue as we did when he saw the line ups probably helped a touch as well. "Think we might sit in for the first 20, see if we can work out what the fuck they're up to eh gaffer?"
Train
This week we were also greeted by the news that Break dancing is aiming to become an Olympic sport. This confused us here at Gandermonium HQ (ok, that doesn't take much we'll admit) as, well, it's not a fucking sport is it? The clue is in the name. Break DANCING. It's a past-time. An activity. Not a sport, it wasn't designed to be scored competitively, it was a means of showing off. They've of course tried to justify this nonsense by referring to the activity now as just 'Breaking' to try & fool the mob at the IOC that it's something completely different, but we're having none of it. We'd say darts, croquet and Bridge deserve a spot before break dancing and they're not fucking sports either.
The news was of course most poorly received by our resident 'breaker', Dukey. Who is disappointed that only now does the chance to display his body busting moves to the world and shoot for gold come after he has long since retired. Rumours that he's been spending his funeployment hours rolling about on a bit of lino in his garden next to a ghetto blaster pumping out his old Electro mix-tapes are, as yet, unconfirmed. We'll update you as soon as we know more on that. Or maybe not.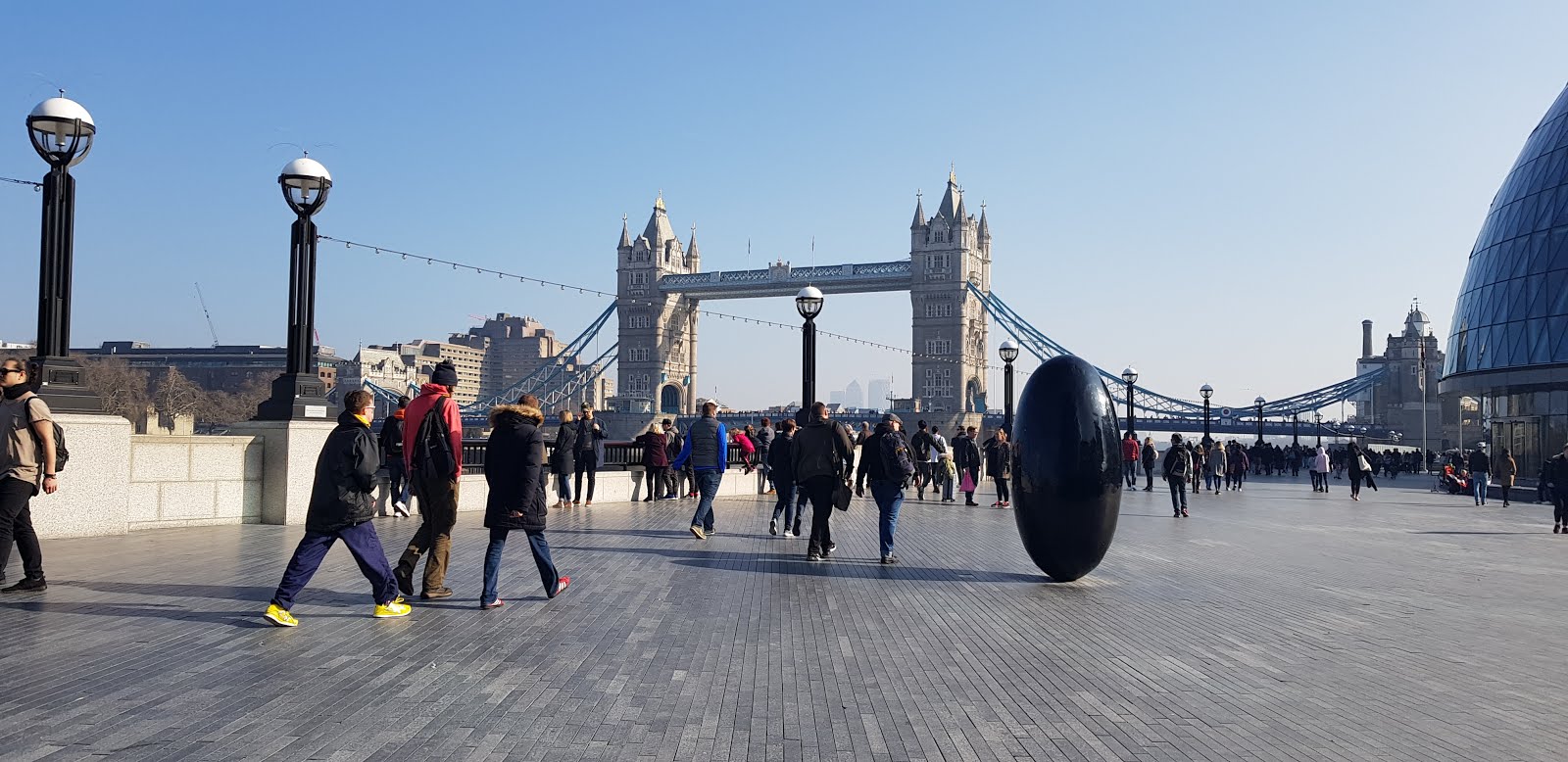 Sunny walk
But enough of this frivolity. I suppose we'd better get back to the serious business of 5th tier football. And drinking. Well, mainly the drinking. We know you're not big on the football details.
With the injury crisis showing no real signs of abating for a couple of weeks yet, we're left to head into deepest East Laaahndan with pretty much the same bodies we used on Tuesday night. So naturally, despite the lads putting in a shift against Barnet, we're still half expecting another possibly long afternoon down in Dag'num. So we decide there's only one thing for it and that's to try & stun the part of the brain that handles short term memory with alcohol. Just in case. An 11am meet in London Bridge is arranged and despite getting out a little later than I'd planned, I still find myself on East Croydon with plenty of time to spare. Steve appears shortly after with a couple of McDonalds breakfasts and we scoff before being shoehorned into a 4 carriage rattler for the trundle north.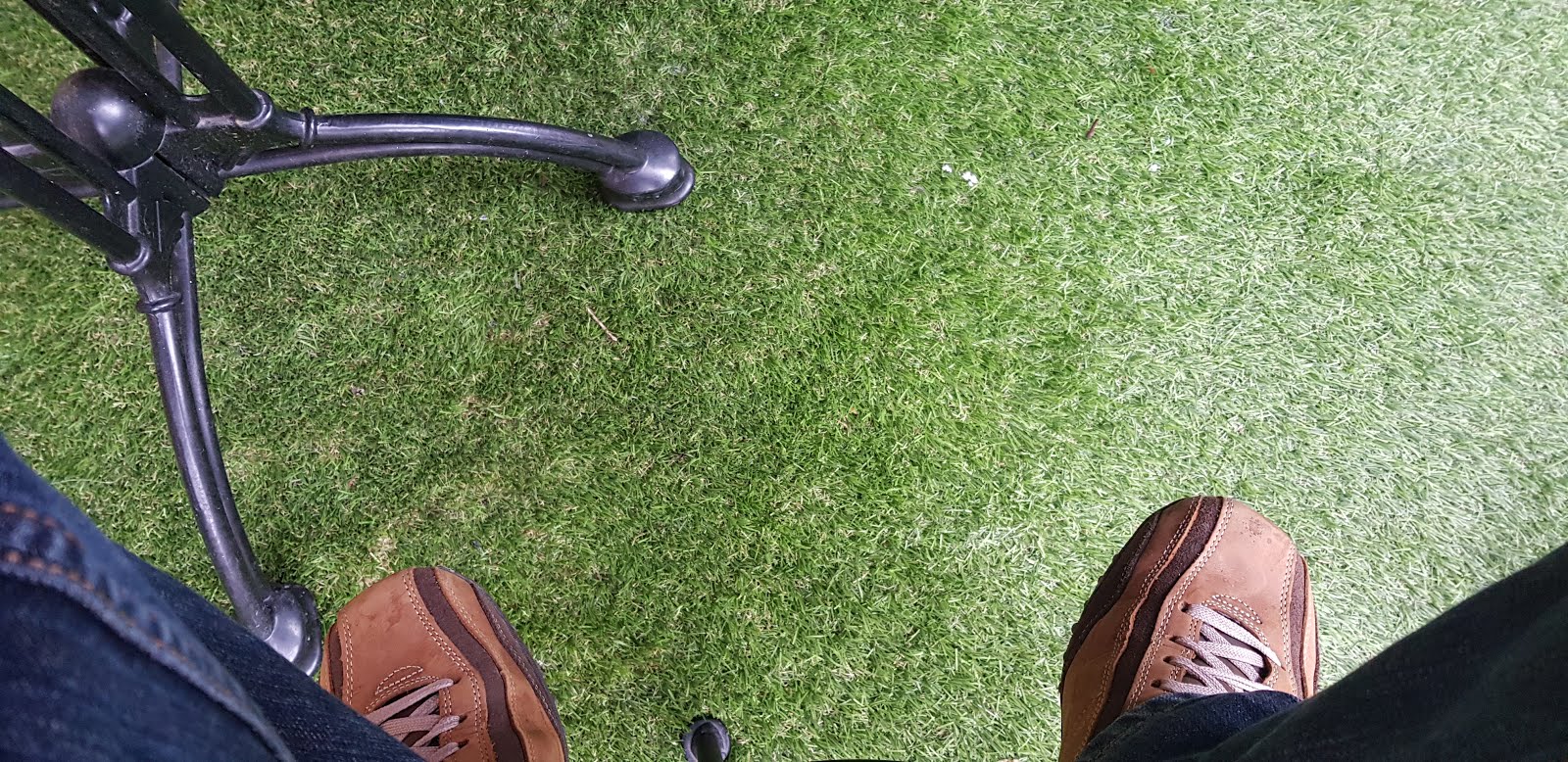 3G pub!
Twenty minutes later and we're ambling round the corner to the Old Kings Head for a pint. First to arrive, we grab refreshments and await the arrival of the rest of the gang. Mr X is next in, closely followed by a gaggle of idiots comprising Dukey, Greek, 4 Days and Lil' Chris. It seems Dr Bell is absent this week as he's chosen to work so that he can get Good Friday off for the day out in Wrexham. A pint here and we then take a stroll in the late February sunshine along the Thames and over Tower Bridge. Along the way, we stop off halfway for a quick one in the Horniman, but by the time I've come back from taking a piss, it seems we've sacked it off given there's one barman on and he's taking forever to serve some tourists. Oh well!! Having weaved through the crowds on Tower Bridge and no doubt ruined a thousand selfies by getting our fabulous boats in the shot, we find ourselves in the Minories.
It's a new one for us, but Greek seems happy. The weather is nice, there's loads of tv's dotted around the beer garden and Spurs are taking on Burnley. Plus the little booth he's bagged has USB charge points for his phone. Football, beer, power and not having to go anywhere to have a fag. Heaven for the Mediterranean one. A couple here and we decide it's time to brave the journey out to Dagenham. Here though, 4 Days saves us a tedious trundle on the tube by suggesting we instead get the train to Barking and change there for the District line. This works well as it's A: Quicker and B: By the time we get off at the other end, more than one of is busting for a piss. Had we tubed it all the way, the journey would have been far more uncomfortable. Still, this doesn't stop several of the group ducking straight into the gents on arrival at the Eastbrook pub just past the ground.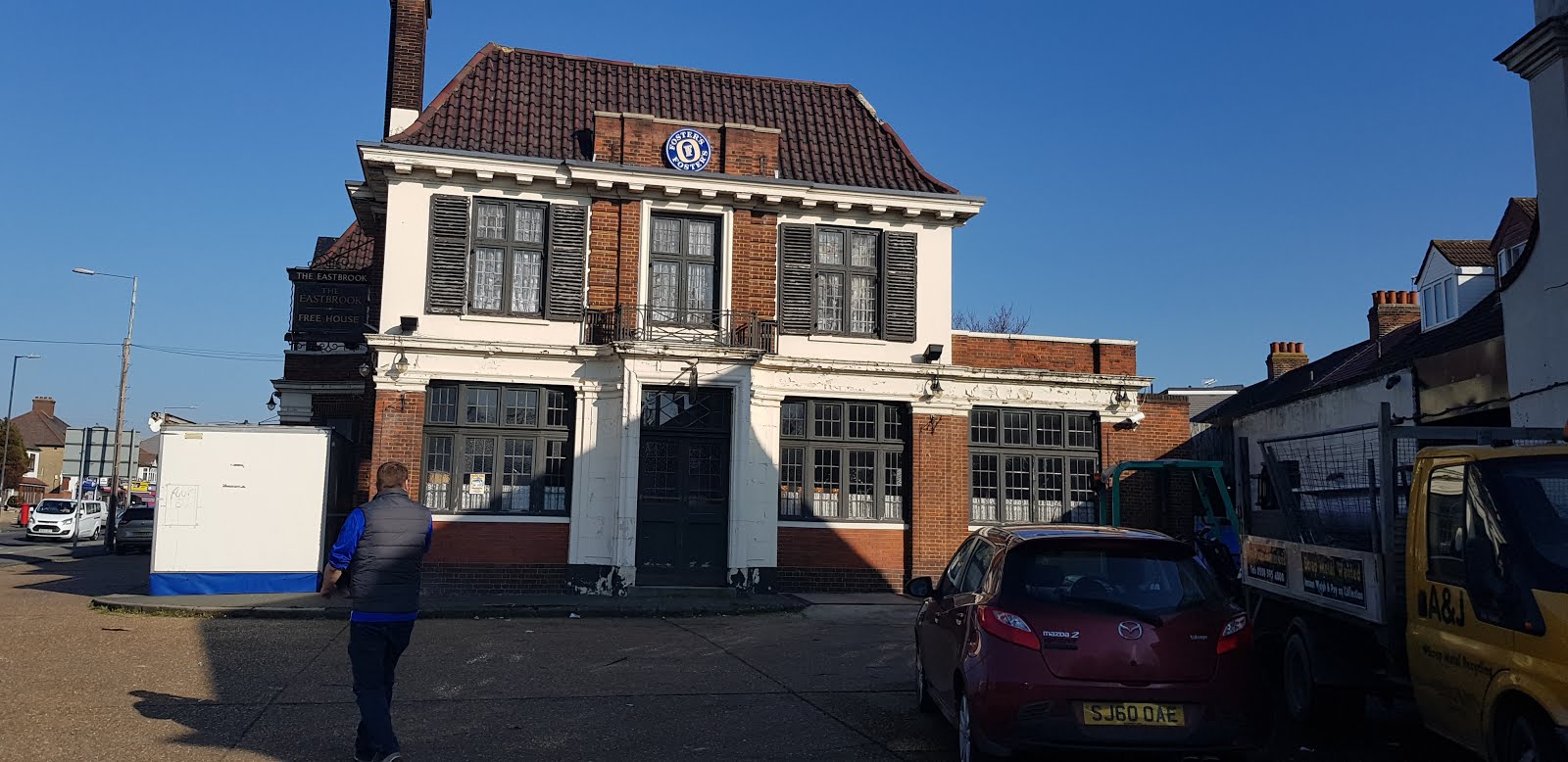 Old Pub
Totts and Dirty Barry are in, as are the COCs who've apparently been here since opening time. Talk about keen! Also in attendance is Spennymoor Pete, the London Branch of the North Eastern mob's supporters club. He lives out near Leyton way, so today is a short bus wanker into Dagenham for another taste of 5th tier action. Which if his lot carry on as they are, is something they'll be gorging themselves on fully next season. We all catch up over a couple of beers here before time once more defeats us and we have to head for the ground for the one thing that usually ruins a nice Saturday down the pub talking bollocks. The football. After the last couple of seasons, Victoria Road was dangerously close to being added to the 'Eastleigh List' as it's not the greatest day out and it was £21 sovs to get in. However, after the league ruling that you can't charge away fans more than home fans if you can give them the same accommodation (eg. You can't stick us in seats if you have a terrace available), they're charging a more acceptable 15 notes to stand this year. Unlike Barnet who simply just bumped their home terrace price up to match the seats!
Worner, Bennett, Beckwith, Collins, Davis, Toure, Ayunga, Eastmond, Deacon, Williams, Dobson SUBS: Bolawinra, Kearney, Lema, Mason, Butler
With Becks restored to the starting line up after his 'glutes' (or 'sore arse' as Dukey calls it) injury on Tuesday, we're hoping that we'll be able to match the efforts of that meeting with Barnet and who knows, maybe even score a goal along the way! The early exchanges aren't bad. We get some ball into the box from wide, but it's either not great delivery, there's no one there to meet it or they're up to it first. One ball in from the far side is clearly guided off the head of Williams by a Daggers arm, but the ref and the lino set out their stall for the afternoon by seeing absolutely fuck all. JC probably has our best chance, the ball dropping to him 6-7 yards out from a corner but his shot on the turn is well blocked by a defender putting his body on the line.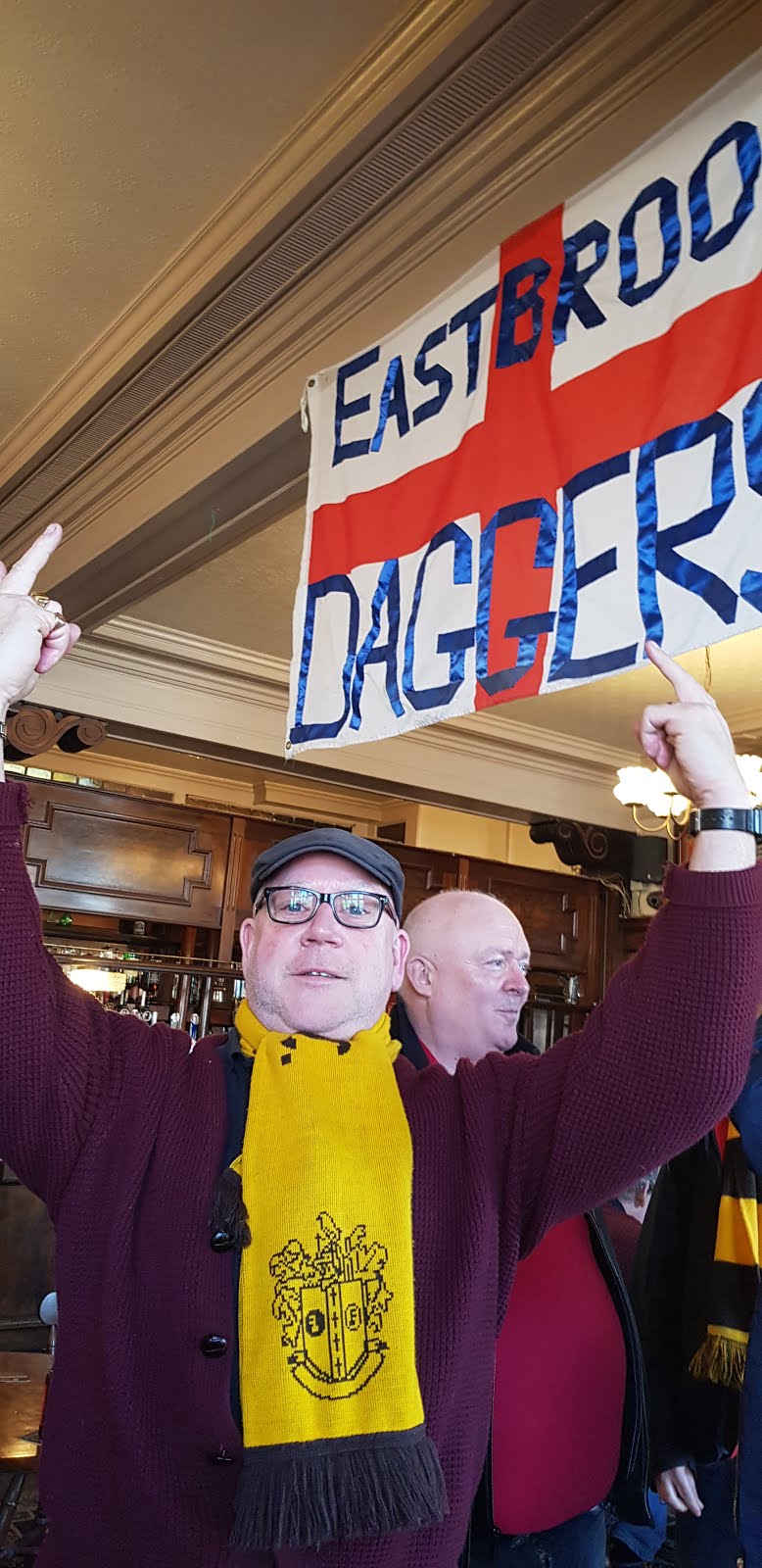 Taking liberties
As the half wears on though, things even out and Ross has to make a couple of decent stops and they hit the woodwork with a shot coming back off the near post. The ref doesn't help a stop start affair and his knowledge of the laws is displayed in full when he books a Daggers lad for a foul on Bennett, then makes the U's full back leave the pitch after receiving treatment, despite that not being a thing now for about a year. Seriously, if a pissed up non-league knob head like me can keep vaguely abreast of changes to the laws like that, how are these guys not getting the fucking memo??
Goalless at the break I head for some scoff at the tea hut. Fancying a bacon roll and seeing Ozzie bagging one, I ask her how much her pig stuffed roll came to. "Oh, that's the last of the bacon. Sorry!" and disappears before I can become impolite. Fine, steak and kidney pie it is then!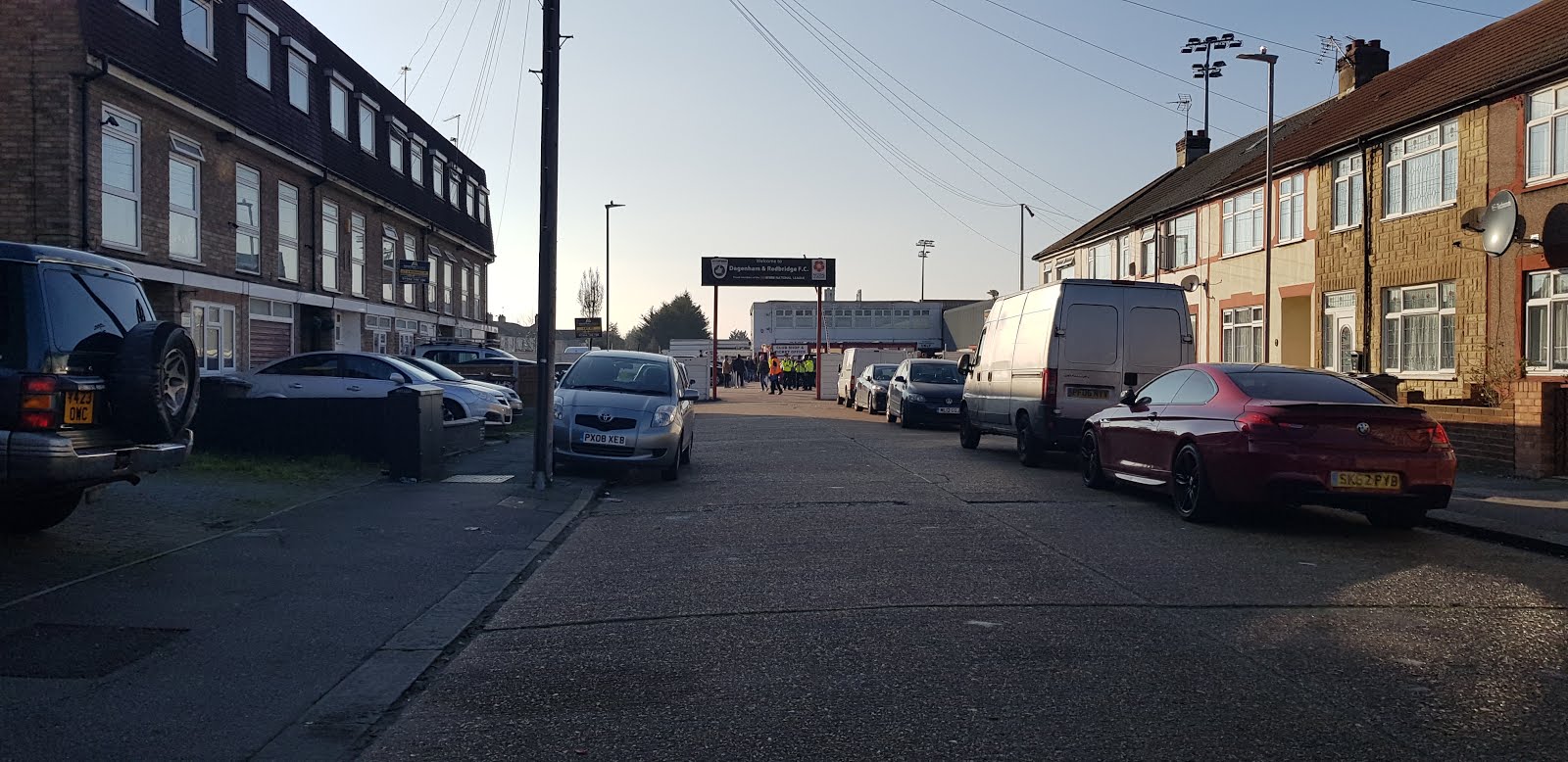 Entrance
The second half, if anything, is duller than the first. Early on Gime gets in with some fine trickery out on the far side, but like Tuesday having done the graft, his finishing lacks the same standard and he curls wide of the far post. After this, we create very little and the home side grow in confidence as we fail to retain possession and give the ball away regularly. All we have to distract us before they inevitably take the lead is the lino still being a twat, some shitgibbonry over the segregation fence and wondering why we left that sunny pub garden in Tower Hill.
The goal at least comes with just under 20 to go rather than the stock last minute bumbler we've favoured so much this season. We get caught wide, don't close down the man with the ball and he puts a cross in that ends with a loopy header dropping right between Worns outstretched hand and the bar before plopping itself into the back of the net. As if this wasn't bad enough, the majority of the home players then decide to celebrate this goal right in front of us. Oddly giving it a load of 'shushing' gestures and wanker signs into the bargain. Naturally, one or two on the terrace may have responded to their rudeness by calling them 'wankers'.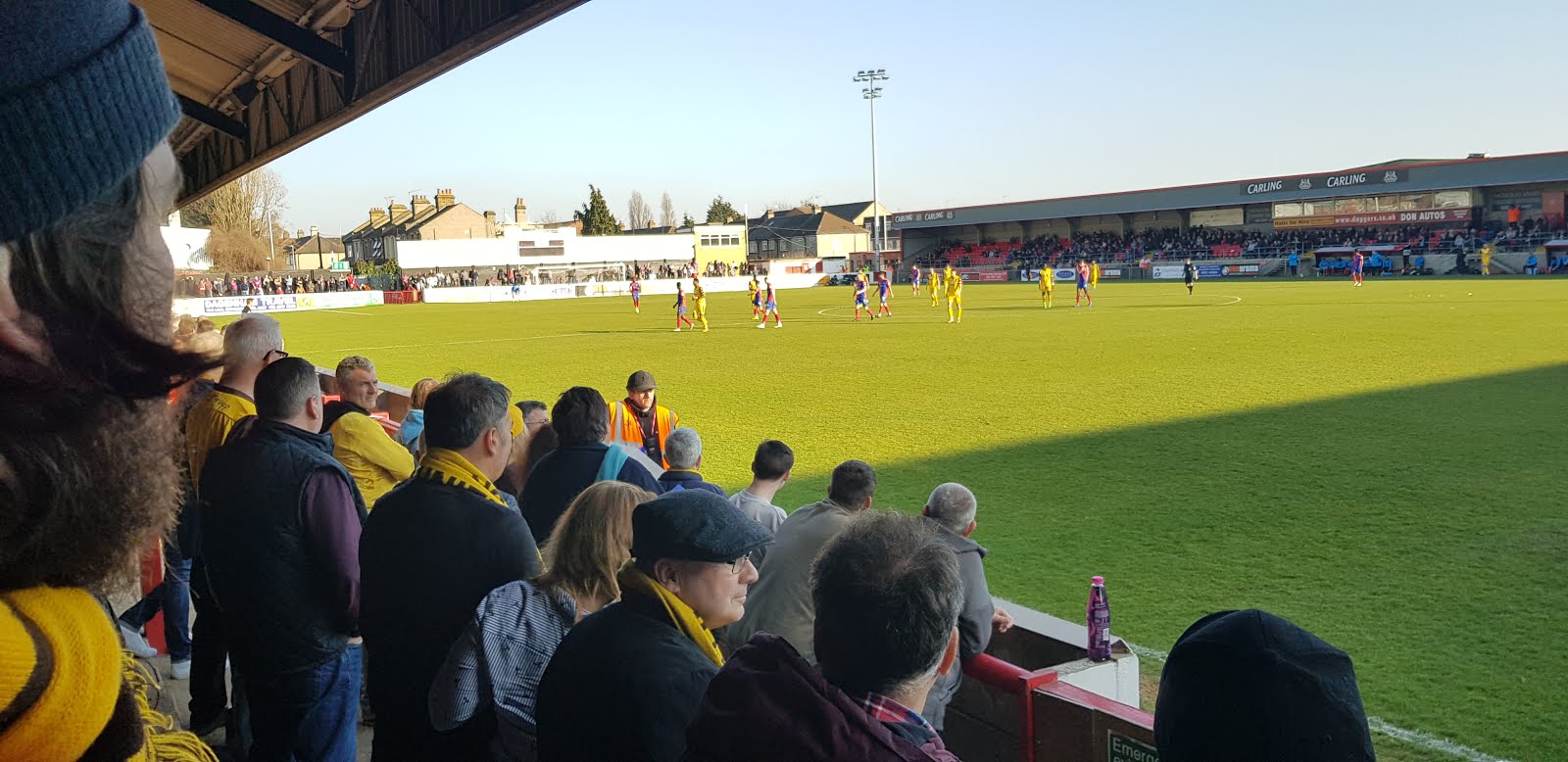 Bit bored
Now, don't get me wrong. I'm firmly in the camp of if you give players dogs abuse, then you probably shouldn't be too surprised or upset ifwhen they give a bit back. Swings and roundabouts innit, price of fame etc. However, on this occasion, I'm hard pressed to remember anything that could have triggered this. It's not like we've been slagging them all off for the entire game or chanting endlessly about how Dagenham is an unpleasant place and that we'd like to return to our places or residence forthwith. It just seems they'd decided that they'd like to annoy the best part of 200 people rather than head 20 yards further up the touchline to celebrate with the poor punters who've paid to watch them largely underwhelm in their chosen profession over the last 6-7 months. All that was missing was some badge kissing and you'd have had the full compliment of modern footballer knobbery. All it brings to mind for me is a big mouse, resident in Florida.
After this we lob on Kearney to try & spark some life up front, but barring an acrobatic overhead effort that looked a lot closer than it probably actually was and a dig from 18 that finally forces Justham to get out of his deckchair and actually make a save, there's little to cheer or even make us think we might nick anything. And so it proves. A third game without a win and barely a shot on target in the lot of them despite not too little effort and commitment. Cosmic.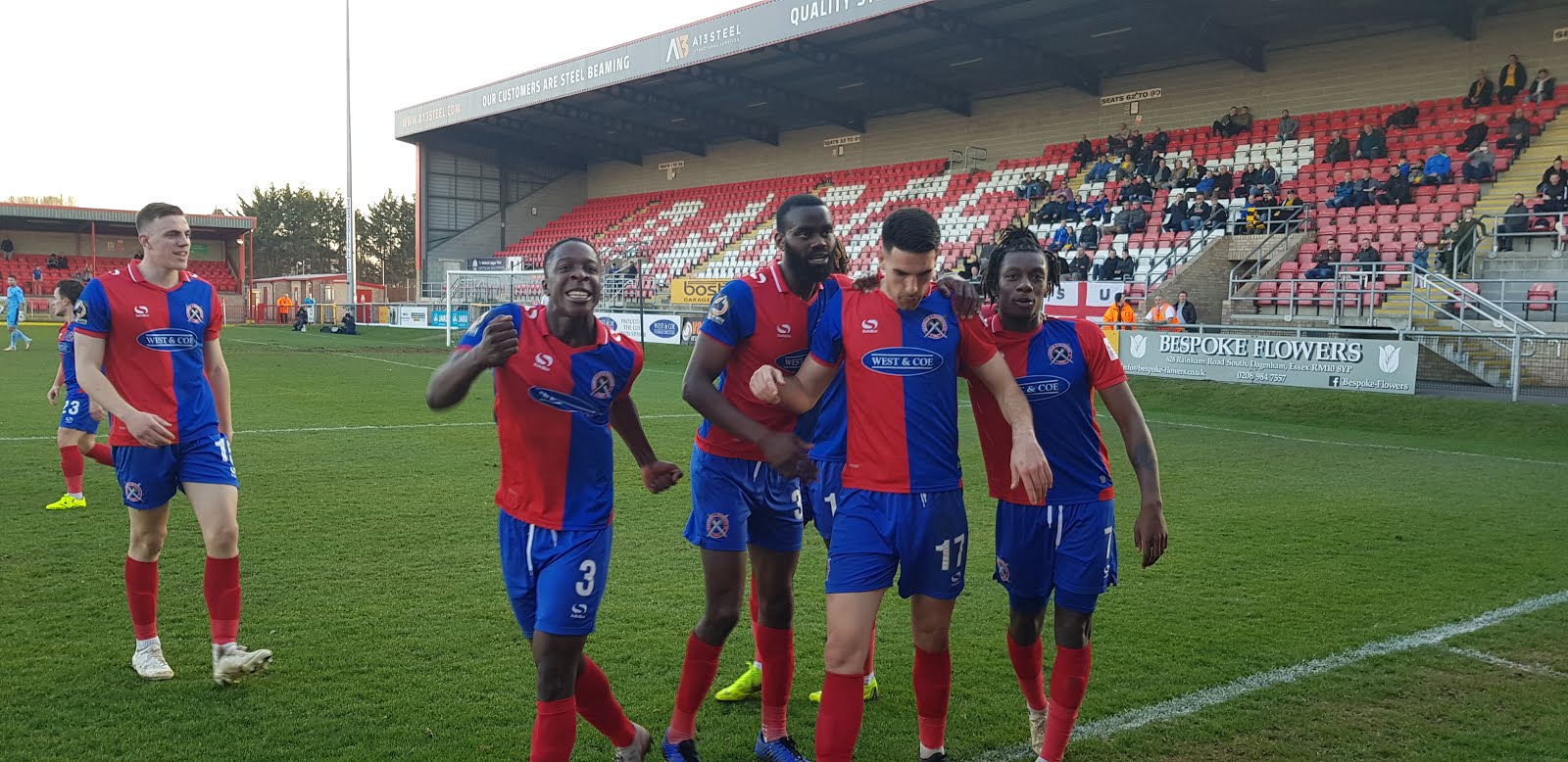 Wankers
With the plod around and Green Street posturing being far too apparent, we decide we can't be arsed to head back to the Eastbrook and instead make for the chippy near the tube to grab some munch for the journey back into town for some pintage and for 4 Days to fulfil his weird fetish for odd shaped balls. The journey back takes our mind off things as we chat to an American chap who's just witnessed our performance and a rather drunk portion of a hen do who want a picture of us for reasons I was never able to establish. I'd guess either some sort of 'pull a pig' type situation or 'GQ Cover model' thing. Let's be honest, either is likely with us. No, you fuck off. We're also unable to persuade them to take a pic of Mr X to cover their 'Britney Spears look-a-like' category, it seems our argument that we was blonde haired didn't quite cut the mustard as far as they were concerned.
We hit the Cheshire Cheese in Tower Hill and take in the remainder of the egg chasing for 4 Days and once that shit has ended we stop off in the Spoons for one before aiming towards Blackfriars and the hopefully quieter surrounds of the Black Friar along with it's easier route home. Here we forget all about shit football by talking about past idiocy, which more often than not has usually whilst watching shit football as we sit outside in the balmy February evening air.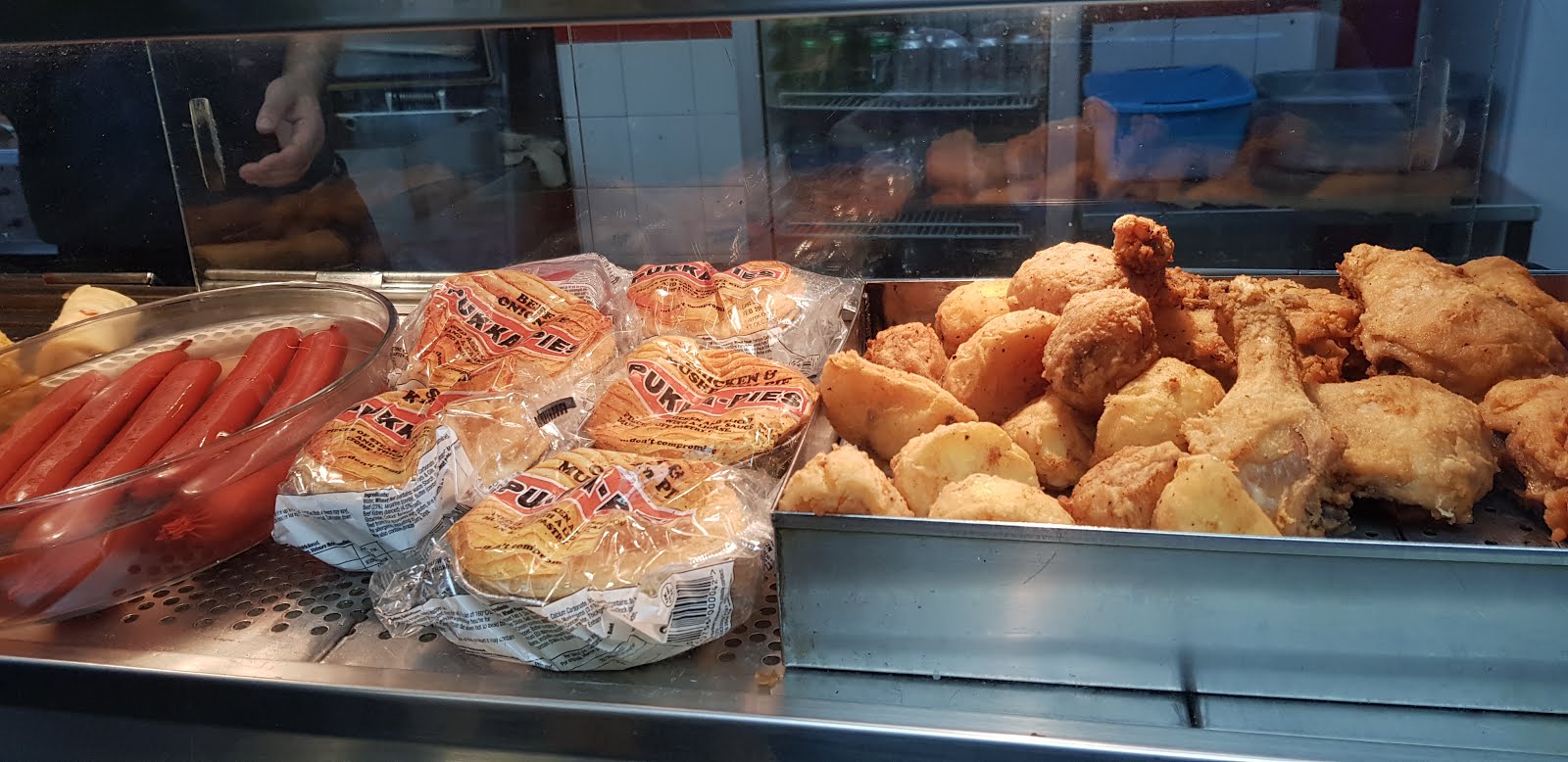 Sustenance
Our peace is only shattered when the burglar alarm on the pub goes off randomly and very very loudly. Thankfully this is soon fixed by a man and an empty cigarette packet. Of course, his litter based ninja skills earns him full marks from the Sutton United judges, but this is almost as much due to him stopping Greek beat boxing along to the 'tune' than stopping the main racket itself. Mr X is particularly unimpressed with this, grumbling "I prefer grime". Quite.
With time pressing on and no one really in the mood to sit outside any more, we sup up and head over the road to the station. A train to Sutton rolls in and we clutter up first class all the way back to civilisation. Purely because we think we deserve it. Despite some brief discussion of a trip to O'Neills for "a couple more", no one's really in the mood and the rest of us pile off in the Badlands leaving Mr X to sit and enjoy the very wet sounding fart he's just dropped, all the way round to West Sutton.
Evening's end
As full stops for the day go, it's unlikely to be bettered so I'll leave the walk home to HQ through the quiet back streets of CarshaltonWallington to your own vivid imaginations. Let me know if you come up with owt decent.
Although the weird stuff, you can keep that to yourselves.
Taz