Greetings loyal readers and welcome to another Robbo blog! I was messaged by our very own Dukey in the week asking if I was writing for the Barrow game. As it happened, I was unsure myself so I asked our very own Editor-in-Chief Taz and he confirmed I was indeed on duty for today.
This week I returned to work after a week's annual leave and let me just say it took a couple of days to get back into the routine – however what was getting me through the post-holiday blues was knowing we finally had a home game for the first time in a few weeks at the weekend.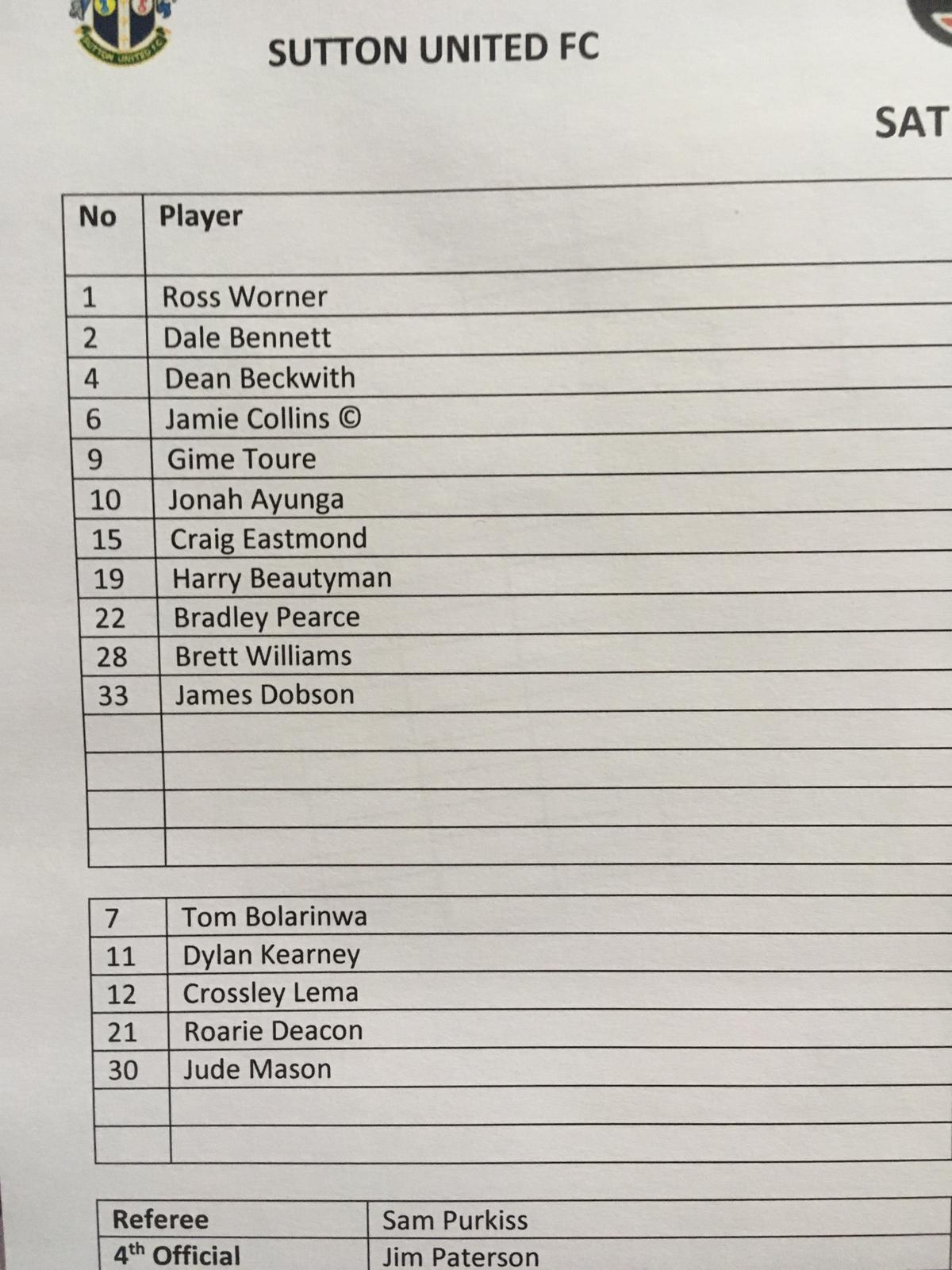 Line up
Onto team news and I read via the website that Darren McQueen has gone out on loan to Dartford and there was the arrival of Jonathan Barden, who does not appear to have played a single minute let alone a game of English football! Also finally is the announcement of the re-arranged game at Salford City after the messing about from the last couple of weeks. It seems we'll be in Manchester on the 5th of March.
So on the Friday I get a message from one of my work colleagues that they would like to come along to the game this Saturday. After all he has said before he would like to sample what GGL has to offer, so you are more than welcome! Perhaps another convert to the Amber cause?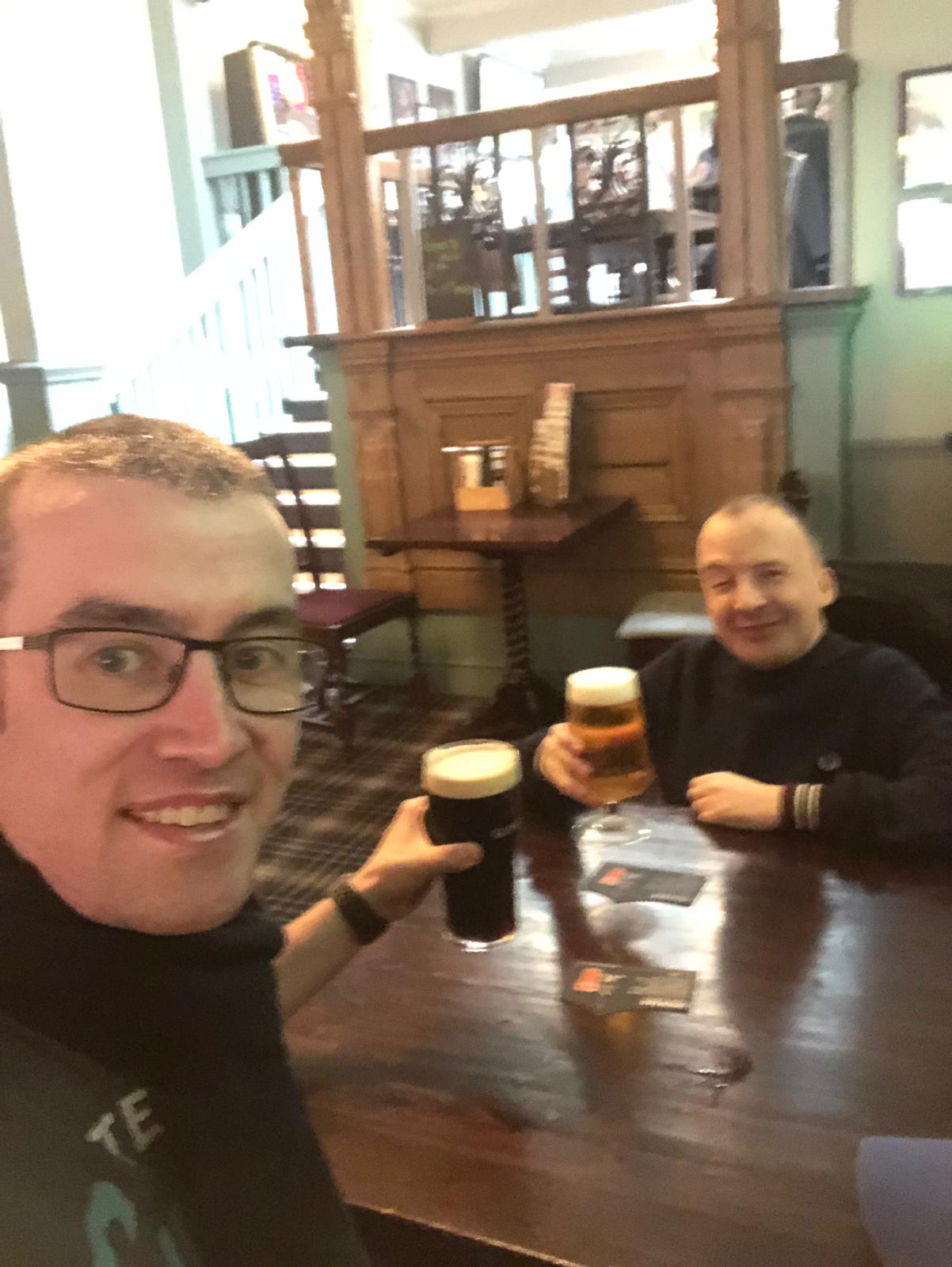 Cheers!
As I'm not be attending the pre match lunch today, it gives me ample opportunity to have a much welcome lie-in (Eh? Didn't you say you've just had a week off! – Ed). Today is also FA Cup Fifth Round day, which of course brings back memories of the famous day in our history, the home tie against Arsenal – so in advance of the 20 February I would like to wish all U's fans a Happy Arsenal Day. Oh the memories!!!! Quite fitting that Mr Deacon has also chosen to return to the flock before this date I think.
My colleague and I arrange to meet at Sutton Station at around 1 where I have suggested a pre-match livener in The Old Bank. Normally I do not tend to dabble in alcohol before kick-off unless it's under special circumstances, which this qualifies as. For info my work colleague's name is Chris or as we call him in the office Breezy, as like the rapper his name is Chris Brown.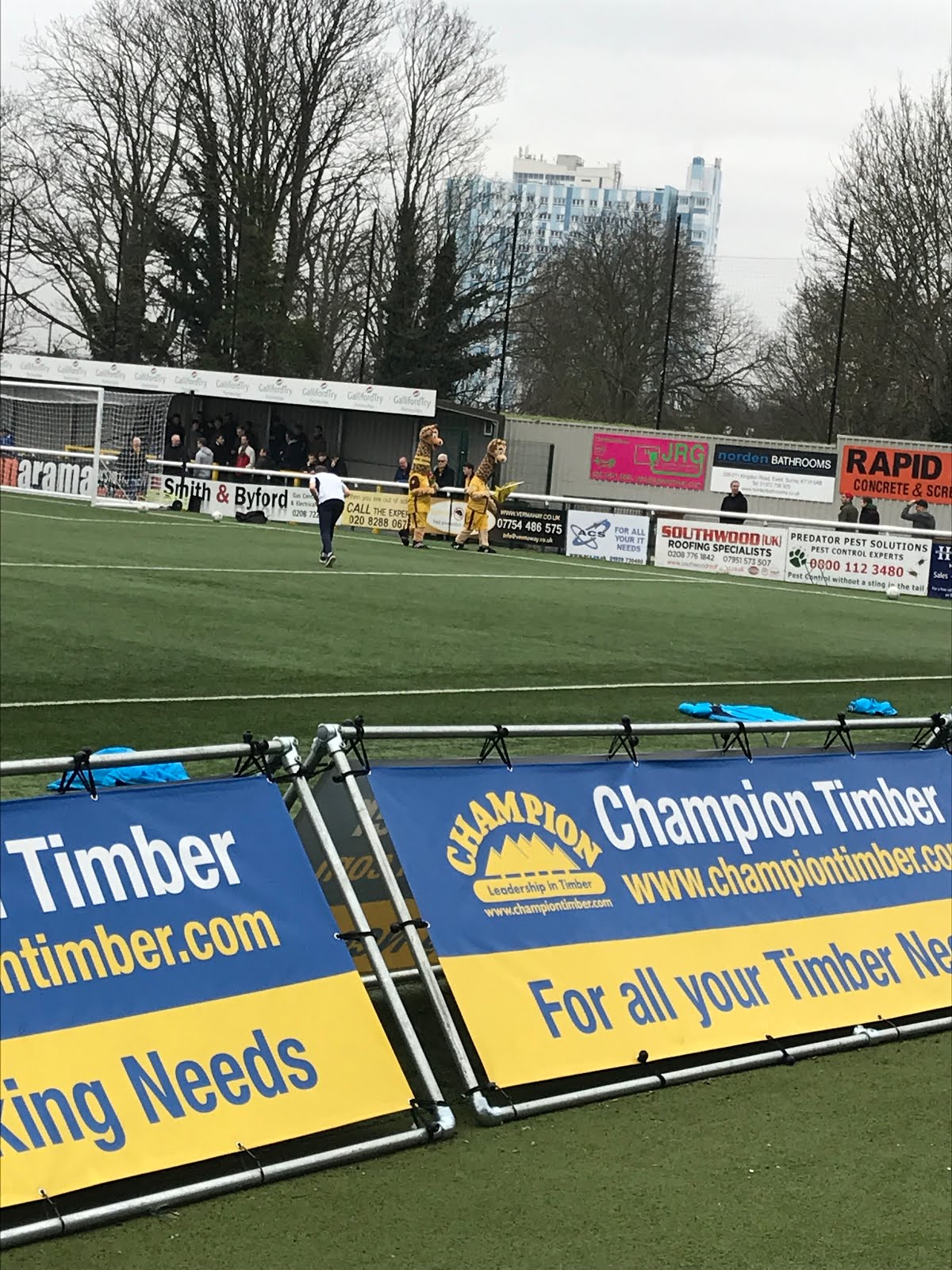 Two Giraffes?
I explain to Chris about the types of characters he will expect to see on his visit and the players including some of their previous playing careers. We then leave the Bank and make our way back to Sutton Station to catch the ever reliable Thameslink to West Sutton, en route from the train to the ground I chip in with some more local knowledge and point out the road I used to live down (Frederick Road) before we make our way through the entrance to the bars. I have asked Chris if he would like to make the Strikers Are Keys draw later and with him having foolishly agreed, I seek AB to offer up this sacrifice, but as he's not around, I relay the message to Caragh instead.
About now, the team sheet is broadcast via the Gandermonium Whats App group, and is as follows:-
Worns, 2. Bennett, 4. Becks, 6. JC [skipper], 22. Pearce, 15. Eastie, 19. Beautyman, 33. Dobbo, 9. Toure, 10. Ayunga and 28. Williams
Outside waiting for kick off, Chris and I await for the end in which The Us will be shooting towards , but not before I spot not one but two giraffes wandering around on the pitch. It seems Jenny the Giraffe has a new friend and later to be established via the modern means of communication of social media (Twitter) that her new companion is 'Jimmy' the Giraffe. It appears to be a Valentine's Day marketing ploy as they're handing out red roses to all the female supporters they can find. I also discover Leanne's eldest Albie is one of the ball-boys for today, let me tell you readers the boy is very talented.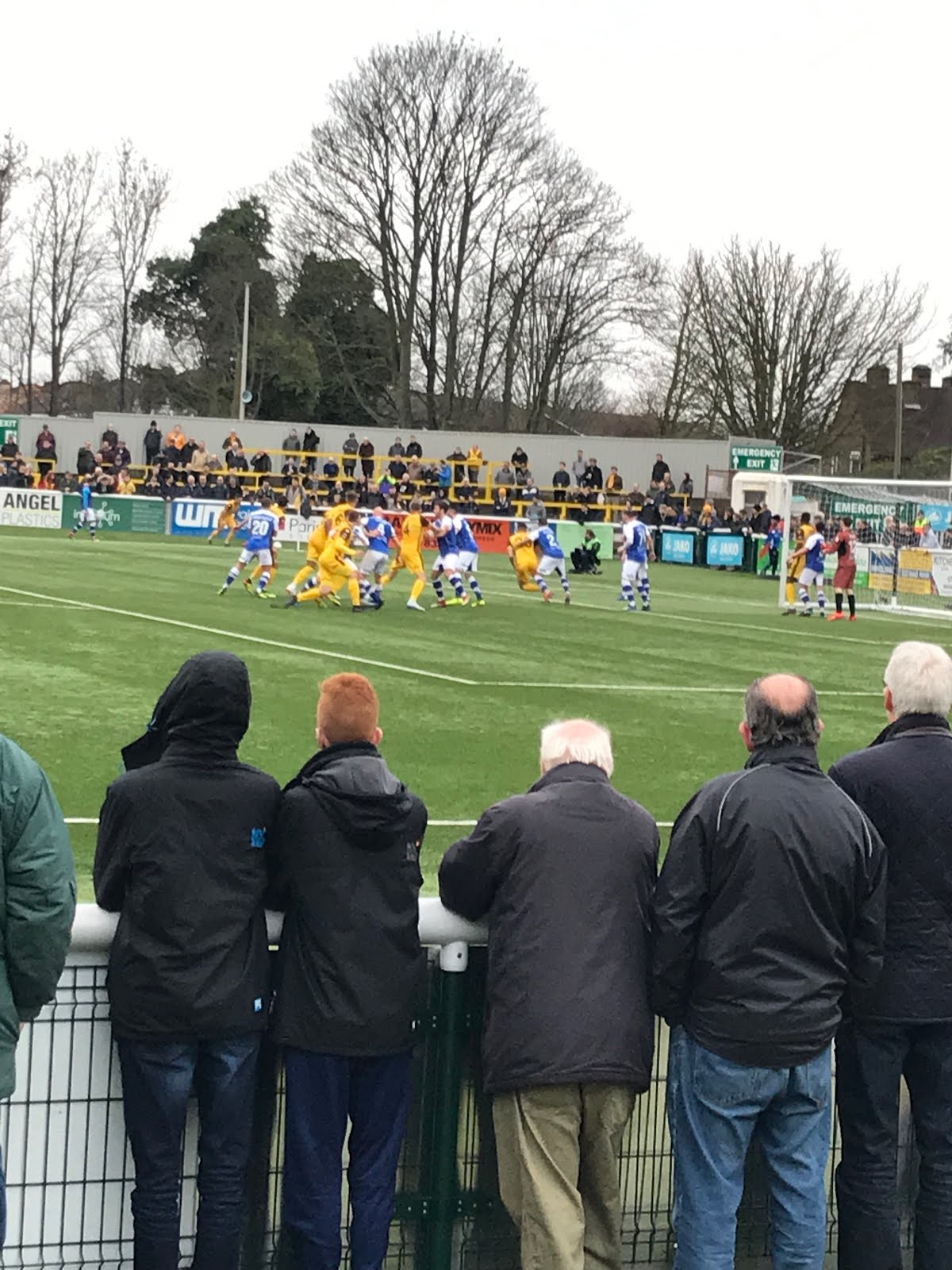 WWE from the corner
It's the usual shoot towards the Collingwood Road end for the first half and Chris and I take our places to the left of the goal. Jonah Ayunga was very impressive running at the Barrow defence early on and provides a cross for Brett Williams to header just too high. It was then Barrow who had the next best chance when their player only had to side foot the ball and it would have gone in, only for the shot to be blazed over the bar. As time usually does on minute 30 Half Time Steve (HTS) walks over and suggests going to the bar, I state that Chris and I will follow suit shortly and he asks what drinks we will be having with the usual Amstel for moi and a Guinness for Breezy. Inside for half time it's always a viewing pleasure to see Jules Breach on BT Sport Score and thankfully no further goals are missed.
Out to the second half and Breezy suggests he would like to visit the club shop, unfortunately for him it is closed for some reason. I suppose that means a repeat visit will be required! This half, I introduce Breezy to the famous Shoebox Terrace and of course that cannot pass without mention of our very own Totts world famous FA cup song "Back on the Shoebox Terrace", which can still be found on Spotify (Other online music services are available – Ed).
Out on the pitch, the one gripe I will have with today's referee is the amount of grappling he failed to notice particularly as seen in one of the images included herein. Oddly he spoke to the visiting defenders about this in the first half and seemed to issue a 'No more!' warning, only to then completely ignore all further instances of this behaviour.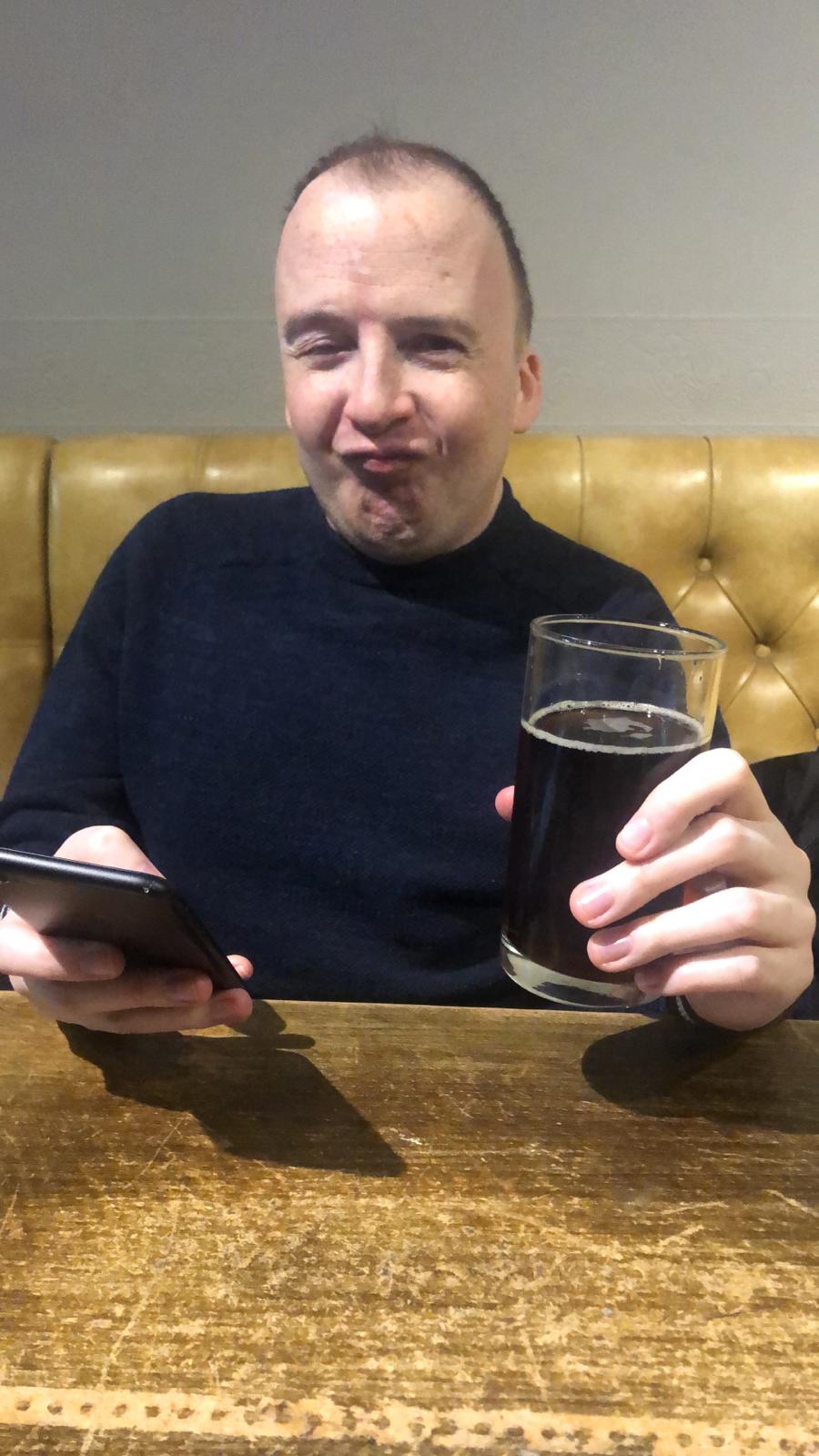 Grumpy face
The referee also failed to notice a clear foul by our own Dale Bennett which shockingly earns the Barrow player a yellow card for diving rather than the free hit from 12 yards we all expected. Sorry readers but that was a nailed on penalty. We think we may have gotten away with it today, but worse was to come in the 89th minute a shot from outside the box was deflected off Tombo past Worns and ending the game in a 1-0 win for Barrow. However, it's been a day of shocks in the league with Salford, Solihull and Orient (booooooooo) all losing! (Solihull drew you doofus! – Ed).
For statistician purposes, the attendance was 1,892; subs of the returning Roarie Deacon for Beautyman on 63, Bolarinwa on for Ayunga on 66 minutes and the new man Kearney on for Williams on 74 minutes; no bookings for Sutton. Surprisingly.
And so onto the bar where I take Breezy into the plush surroundings of the Vice Presidents lounge and thus drinking again from a glass rather than plastic. Here follows Malcolm and Paul of the COCs fame and he mentions Billy Ocean who Breezy and I have discussed many a time in the office. Breezy sends round a picture of me to our work team's WhatsApp group of my "saddened" post match face made better by a brandy and coke.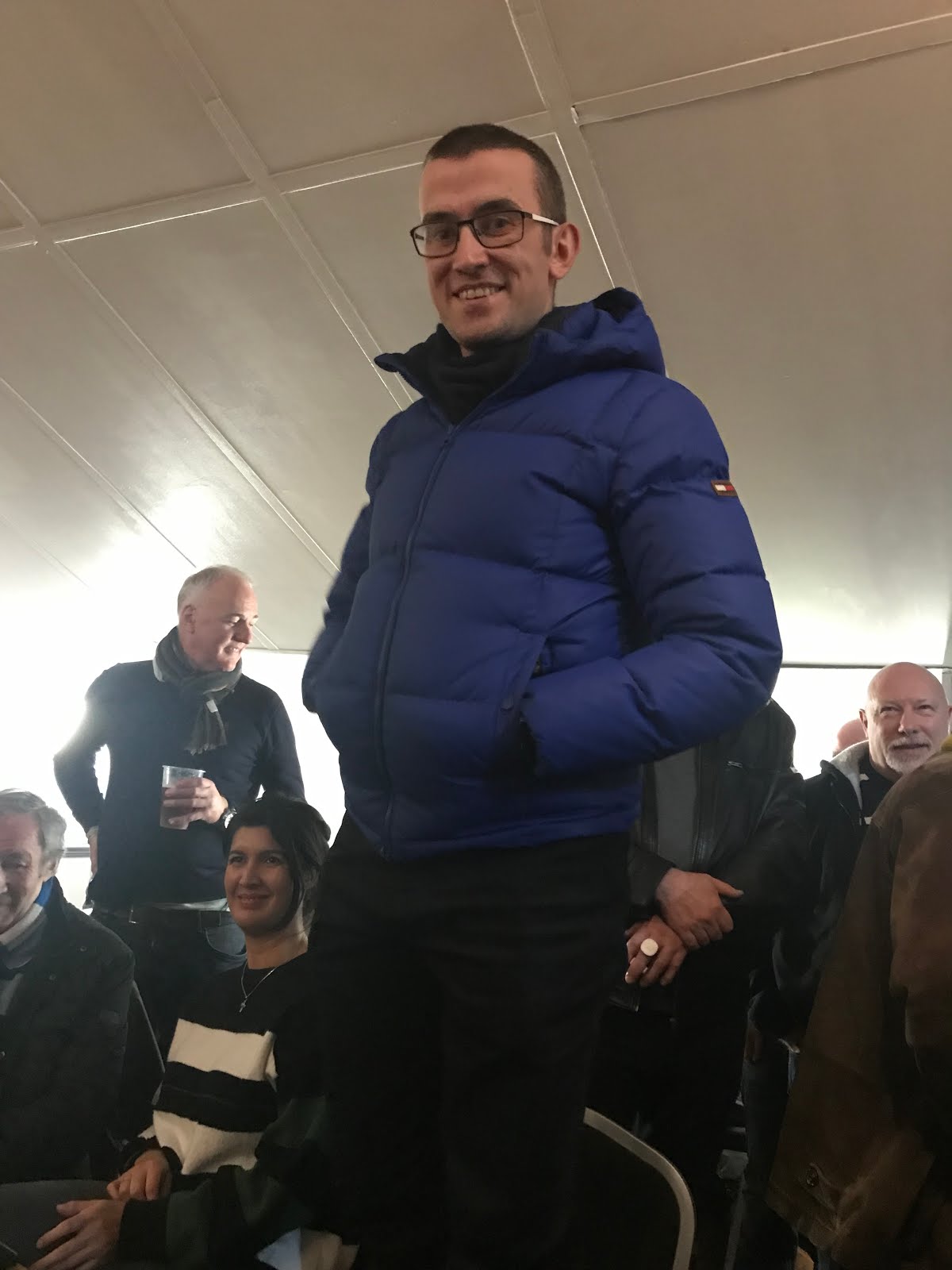 The latest sacrifice to the SAK gods…
On the TV is the FA Cup tie between Newport County and Manchester City, Malcolm puts on a bet of 70/1 on the match ending 0-0 personally I cannot see it but after a scoreless first half, who knows maybe! Elsewhere, 4 Days has made a somewhat more 'personal' bet relating to Newport keeping the game scoreless, one which would cost him a lot more than a few pounds stirling! I finally spot AB and put forward Breezy to conduct the draw of the SAK. I wonder what he thought of his accordion playing! I tell Chris that he needs to pull out number 8 and when a ball is pulled it is a blue ball, oh here we go, I can hear the cries of "fix" but nope it is number 15. A long time resident of Sutton who supports Barrow attempts to open the safe for the winners but he fails to find the right key and thus the money rolls over to the next Saturday home game.
Breezy and I decide to now take over the jukebox and the tunes flow of Vengaboys, Deadmau5, Chris Brown and of course Chesney! Breezy stays for a bit but needs to get back out to Ruislip so he says his goodbyes and says he will definitely return. You see I am good for the club by bringing people in and encouraging stakeholder engagement!
What follows later is the Race Night and this brings back memories of my first ever blog where I was hungover during the day and came to life that night by winning a season ticket. On our table can be found I, Mr X, 4 Days, Pete, Jane, Dr Bell, Mrs Bell, Dukey and Mrs Dukey. Mrs Dukey seems to bring some luck our way as she buys a horse in the first race which ends up winning – well done! But it's the table of the COCs who seem to be having all the luck, both in winning money and the majority of the raffle prizes! Unfortunately a very terrible headache appears and forces me to call it a night early and I leave the rest of the group for the second half of the Race Night as my Uber arrives to whisk me homewards.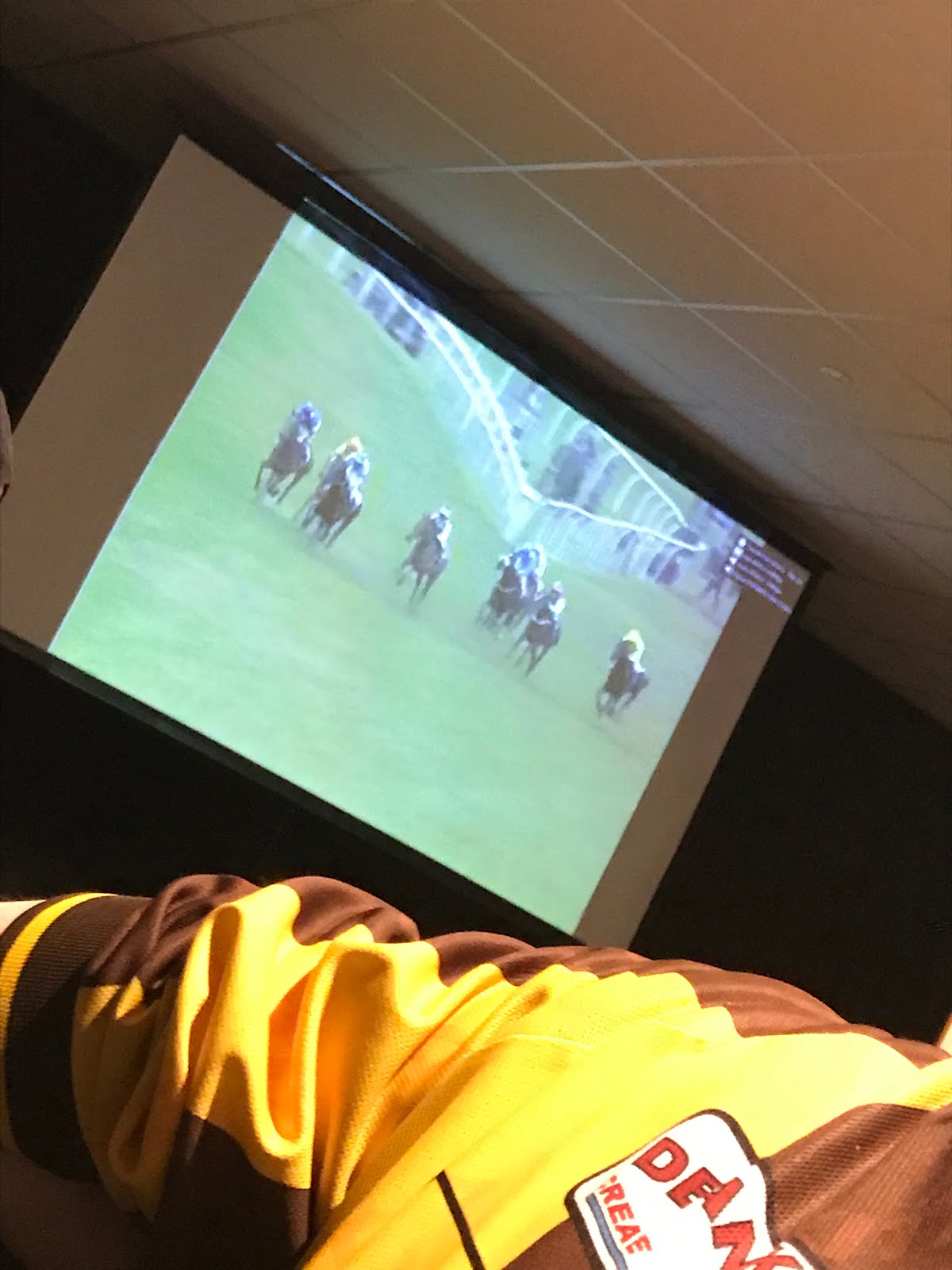 Having a flutter…
Once again I wish you all a Happy Arsenal Day for the 20th and I now leave you in the capable hands of Dukey for the Barnet blog where yours truly is the match ball donor. Hopefully we'll pick up the winning habit again.
Wise men say….
Robbo