As you know I like to start off these exercises in football avoidance that masquerade as a "match day blog" with a little bit of personal history that I like to think gives you, the reader, a bit of a window into my world and give a feel for the life experiences that have been roughly stitched together to make me the man that I am today. Others may describe it as "blatant fucking filler". I say suit yerselves.
And so it was that I was forced to cast the old long-term memory out into the hinterland to come up with something relevant about today's match-day hosts – the once mighty Barnet. You see, back in the day, I was a geezer about town. Sharp suits, Ford Granada, reeking of sex and Paco Raban (one and the same thing actually) and a luxury flat in trendy Morden overlooking the North East Surrey Crematorium. I was hot, and let's just say many got burned. Oi Oi!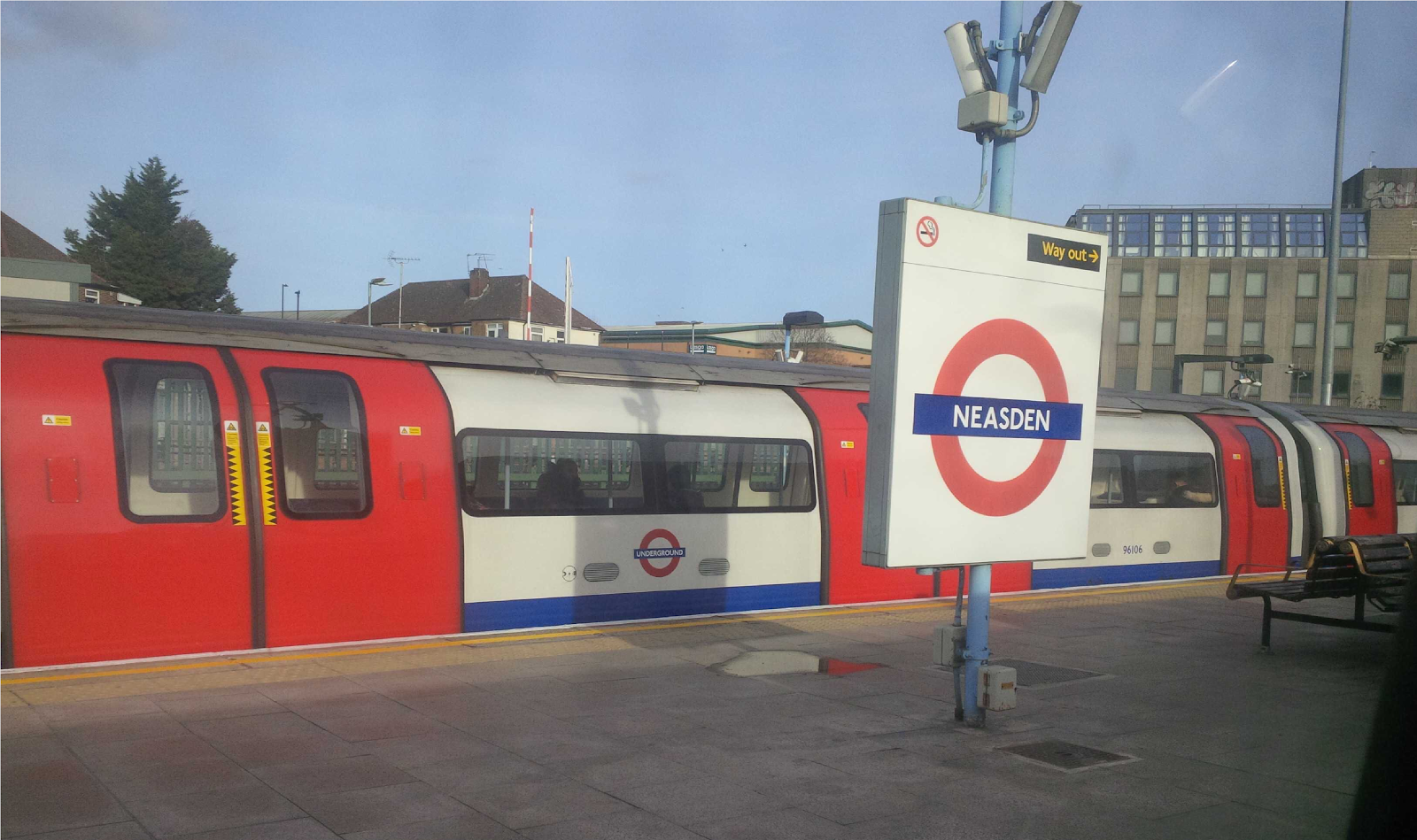 NEASDEN!
Back end of the 1980's I had landed a gig campaigning for the NHS across London and was working as a button man for a character we shall call "Birmingham Pete". Looking for ways to get our message to the masses we came up with the ruse of sponsoring the match balls at various football clubs around the Capital under the old NHS banner and my job was to get out and about and stitch up the deals, getting maximum bang for the nation's buck.
It was a successful initiative but I have to say that nowhere did those "bangs for the buck" come back in bigger spade loads than at Barnet FC. Negotiating with a clearly plastered Commercial Manager for the princely sum of fifty quid we got the match ball sponsorship, a board, a page in the programme, four corporate briefs and, get this, unlimited piss and buffet. I know, utter madness!
And so it was on match day that me, Pete and Dodgy Dave were drumming our fingers on the bar in the tiny boardroom at the rear of that lovely old wooden Underhill stand at five to twelve waiting for them to lift the shutters and start doling out the old vodka and slimlines. Bloody marvellous, unsurprisingly I have no recollection of the match, or, come to that, who Barnet were even playing, but I do know that post-match there was a proper old party going on so I imagine that they probably won.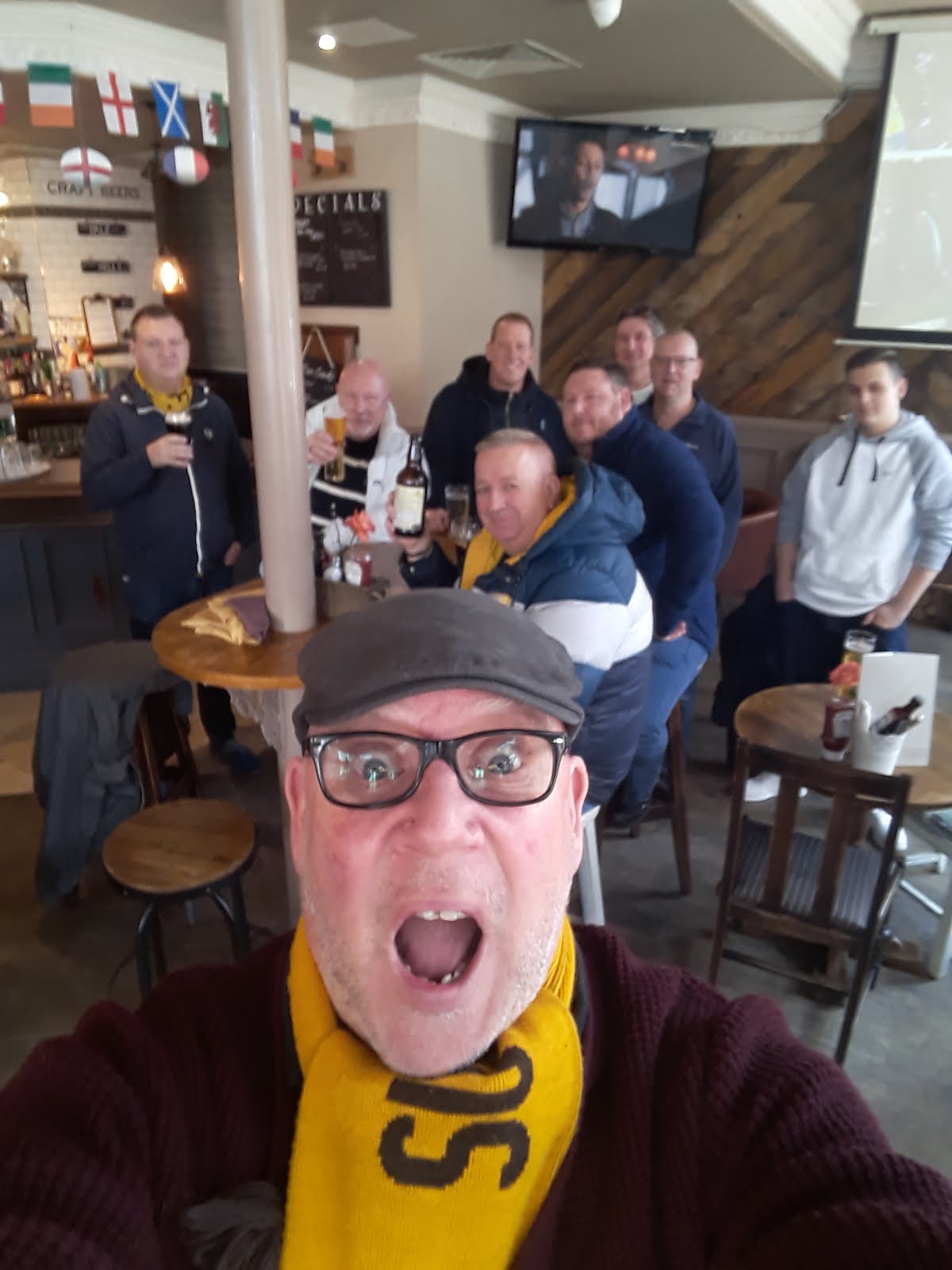 "Whaddya mean they don't call it East Kilburn no more?"
I also remember having a chat with Stan Flashman about boxing and him offering to sort me a couple of briefs for an upcoming Nigel Benn fight. As the bash was winding down I half-jokingly asked one of the club officials if, as the sponsors, we got to keep the match ball? No problem, and so it was that for many years a Mitre Multiplex signed by Barry Fry sat on the mantelpiece in my old drum down Garth Road. Fucking shame that sporting artefact disappeared somewhere in the mists of time. Be no doubt worth a pretty penny these days to collectors of top end memorabilia.
Christ, how times change. Not only have Barnet moved out of Underhill and into a modern sporting multi centre called 'The Hive' but the only offers I get nowadays are from companies selling incontinence products, equity release and funeral plans. So if you clock me sitting in my own piss in the corner of the Gander, squandering my kids inheritance on bottles of Blue Nun while discussing solemn music with my spiritual adviser Father Kev you will know that I've pulled all the bells on the old one-armed bandit.
But enough of this old pony, let's move on to the matters in hand. Barnet is a nice easy run from the PROWS and I had arranged with the COCS that we would get the ten eleven out of WSI and pick up the rest on the platform at Sutton. Night before Clive had dropped me off a bottle of Mahou at the PROWS Presidential Palace on GGL and I was clutching that, a can of Mackeson and the DBDC banner as I hooked up with Dancing Marcus and Scottie Coaches, who had hot-footed it all the way up from Three Bridges to join in all the fun of our first ever visit to The Hive. Scottie don't let you down, if he says he might be coming along it's nailed on he will and we piled into the de-classed First Class coach for the hour long run up to North London.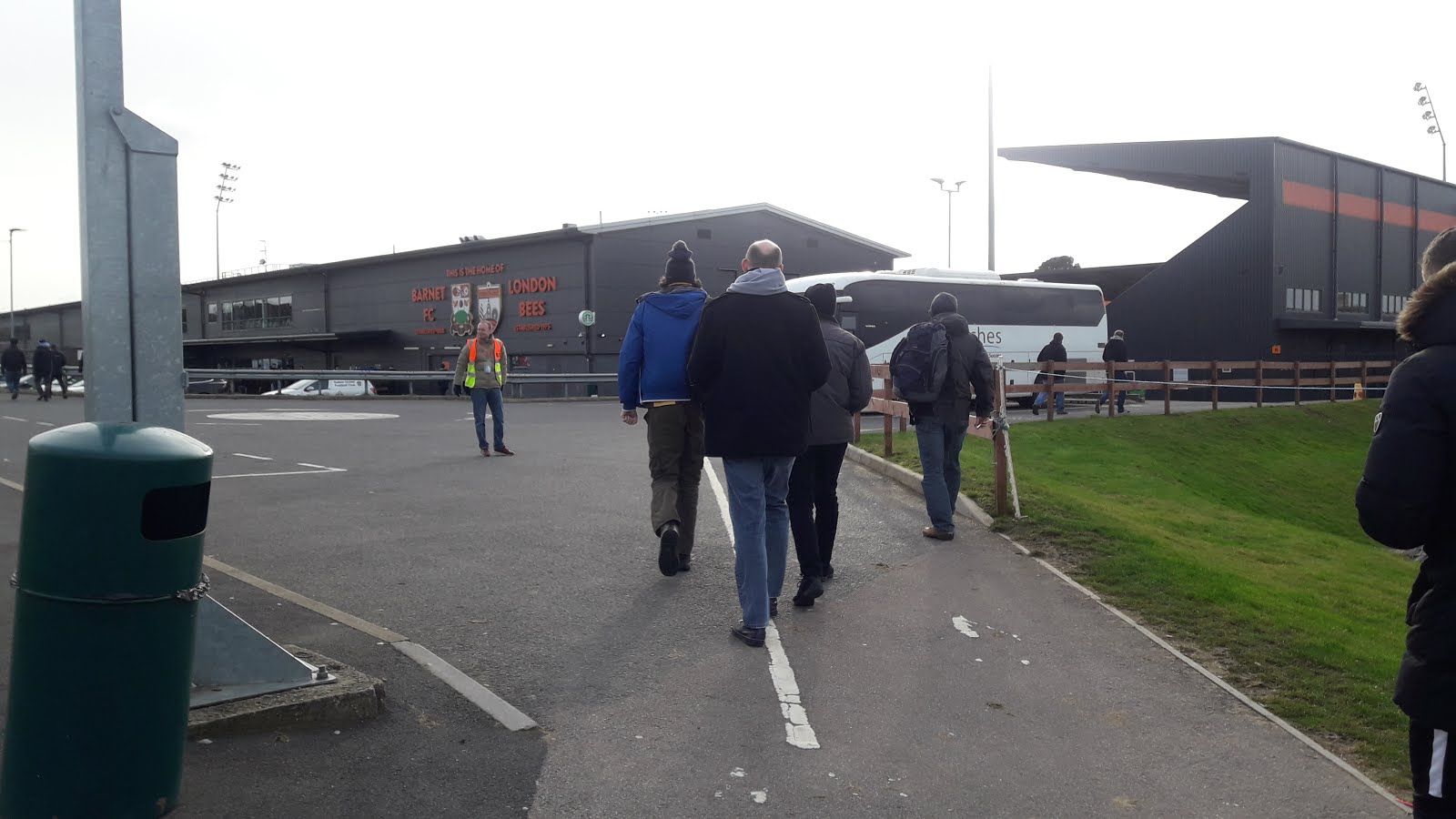 The walk up.
Now, there's only one platform at Sutton that heads north on the Thameslink and of course DB is on the wrong one but luckily the train lays over for a few minutes and after a bit of texting and shouting we're all aboard. Septic Carl (he's a Manc, work it out) had tagged along for the trip and the COC's had most of their faces on parade including a welcome awayday appearance from Russ The Chippie – not sure where Malcolm P was but you don't ask those sort of questions of the PROWs Head of Security. Most likely rooting out subversives somewhere.
A good old chat ensued about the comings and goings, the surprise return of Roarie Deacon, speculation about a bond issue and the Paul Scoles racket and before long we were popping out of the top end of the old Snow Hill tunnel and into the northern lunchtime sunlight and it was all off at West Hampstead for a few beers. It's many years since I'd stood on the pavements of West End Lane and my memory wheeled back four decades to when I'd played at a legendary venue called the Moonlight Club – a dive where, around the same time, Joy Division, were making their London debut. Let's just say our respective careers headed in different directions. I could not for the life of me remember where the club was but as we looked for a boozer we stumbled into The Railway and it all came tumbling back. The Moonlight was upstairs at this very pub which back in the day was a massive old rundown Irish gaff but has now succumbed to the tides of gastro, craft gentrification where a slipper and a pint will set you back the best part of a score.
We settle in with a few scoops to watch the Mancs handing Fulham their arses on a plate so at least Carl is happy when, unannounced, I spot the rest of The Gandermonium mob bowling down the street. I do my best to bar their entry but that fails and before long they are cluttering the place up with their rucksacks, smoking and "youthful enthusiasm" (not you Belly, obviously) and it's not long before a pleasant and convivial atmosphere is ruined and a Bull and Cow breaks out about, of all things, North London geography.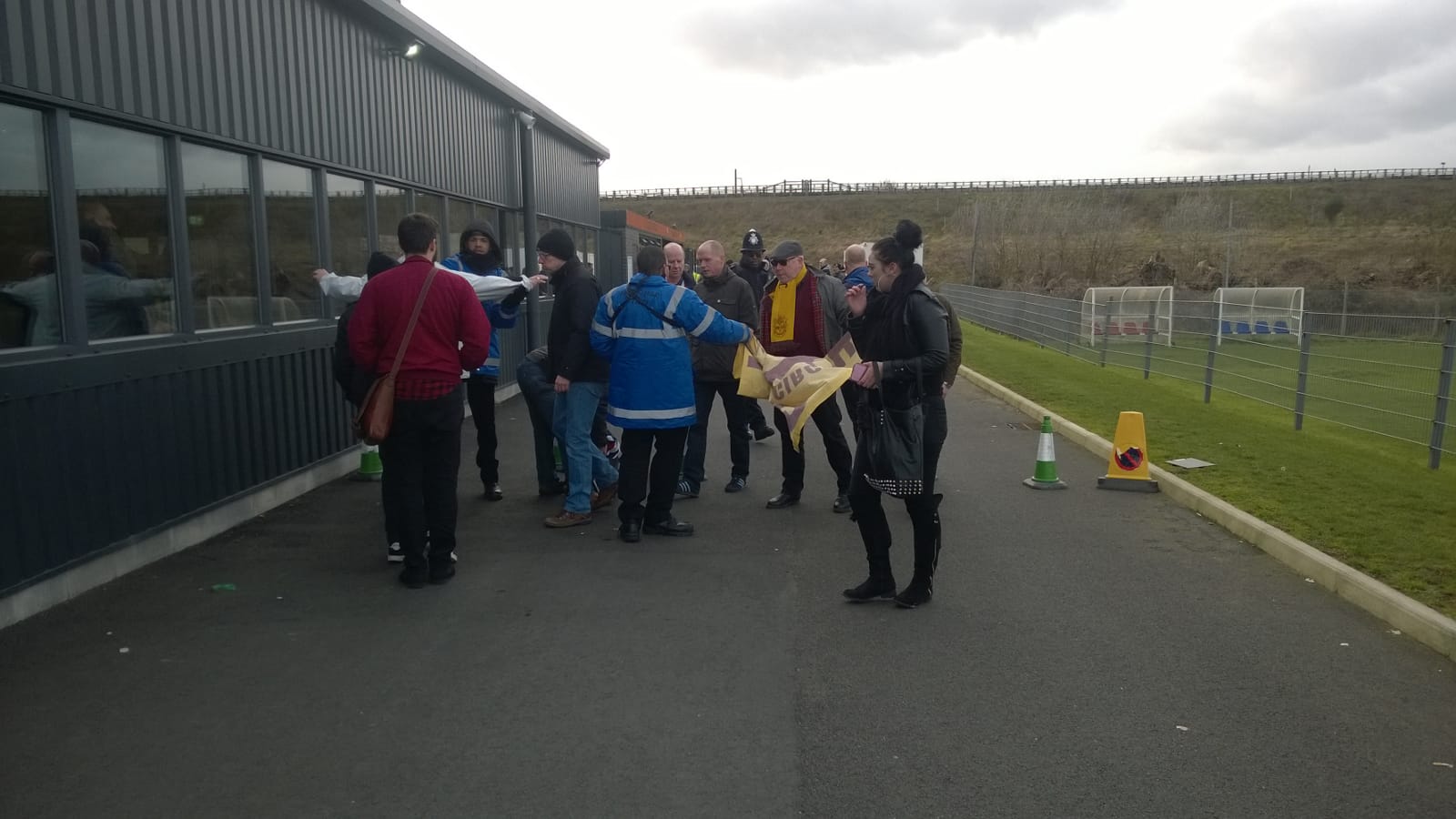 "It's a lifestyle choice…."
You see, West Hampstead doesn't really exist, it's one of those misnomers that pops up occasionally and becomes lodged as fact by those who can't be arsed to know better, a bit like East Cheam, which is merely a suburb of the PROWS lying on our southern border. We are drinking in East Kilburn, Hampstead is the Heath, the Royal Free Hospital and all of that. I lived very briefly in Belsize Park in the mid eighties with a very trendy young woman who threw me out for eating a KFC. I know North London mate, don't you worry about that – we are in Kilburn and all I can say is that it's gone to shit. A fact borne out by the fact that there's a fucking FARMERS MARKET! by the tube. What is this? The bastard Archers? Right, let's get moving and jump the tube up to the ground.
We think we've given ourselves plenty of time but this section of the Jubilee Line seems to go on for ever, possibly as far as Chesterfield which would actually be handy after the BT Sport fiasco this week, and while we grind our way through comedy place names like Neasden it takes an age before we are eventually passing through the expanse of The Hive sporting complex and jump off to wander back through a massive park towards the ground. It's impressive what they've done with this old ILEA sports facility and good luck to them although of course the rickety and rackety old Underhill had a damn sight more character. And you just can't manufacture that out of steel and concrete.
The ground has one of them aggravating set ups where you have to buy a brief first and then hope it gets recognised by the bar code reader and it's a shambles as the club really haven't factored in three hundred Sutton fans arriving fashionably late expecting to just bowl up and roll in. If that wasn't bad enough there's a security check and the fella pulls out the DBDC banner and things are about to get really fucking surreal.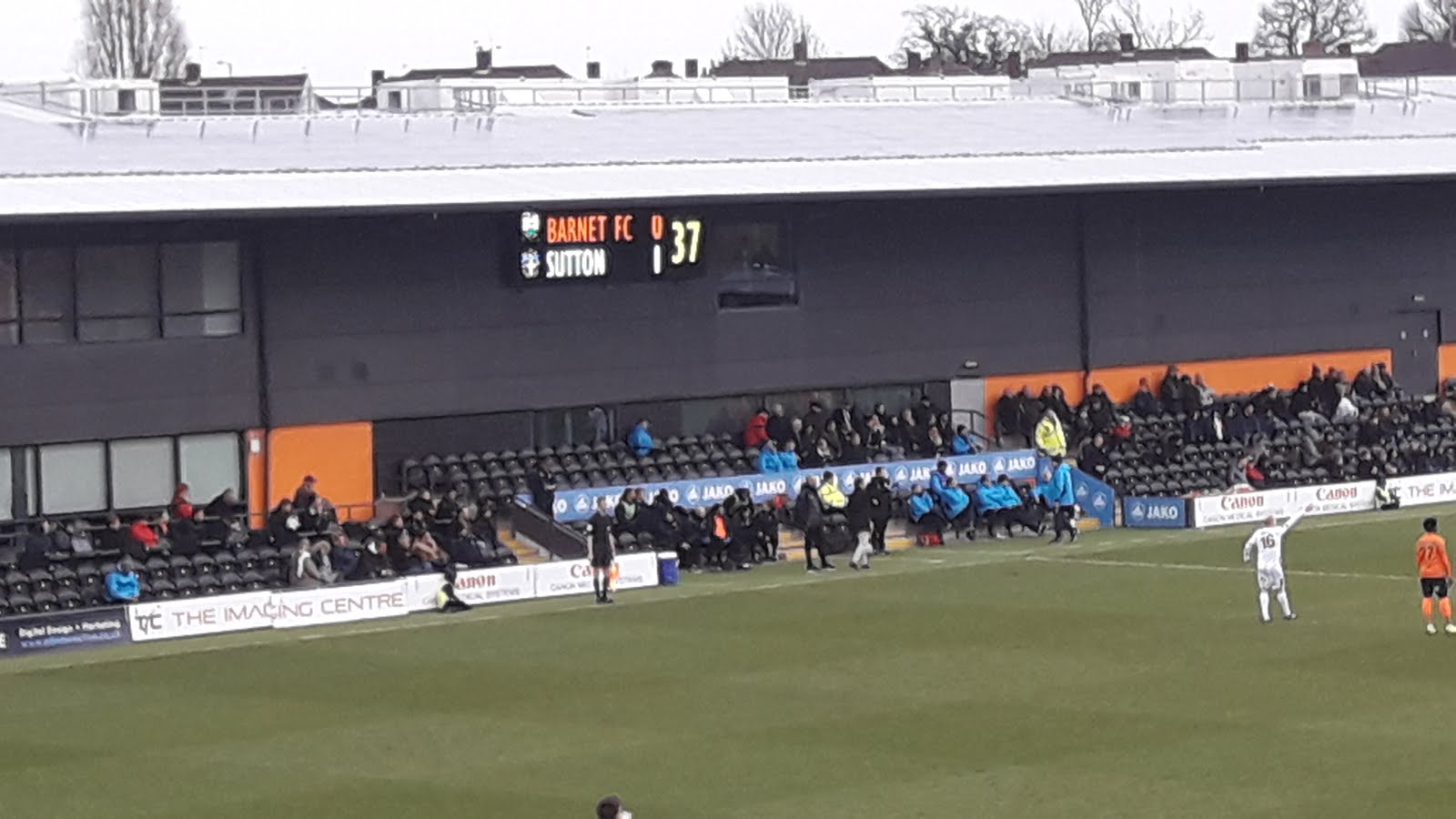 We like those numbers
Taz has got his big St George's cross with SUTTON UNITED emblazoned across it and although there's some debate about the size of his kit he's waved through no drama. I on the other hand…
"What's that say?"
"Dirty Barry's Dogging Circle".
"You can't display anything offensive".
"It's not offensive, particularly if you are into dogging. It's just a lifestyle choice….."
This nonsense goes on for a bit while Gaz Fear and a few others watch on from the bar window behind us, pissing themselves and capturing the stand off on film. The steward calls up his supervisor and the three way conversation gets so bizarre you genuinely wouldn't believe it but suffice to say after lobbing in a few references to human rights and cultural identity they give up and twenty quid and ten minutes later we head off into our allotted corner just past kick off where, inevitably, there is nowhere to hang the fucking flag anyway. Don't know why I bothered. It won't be travelling again until Chesterfield where they are more sexually tuned in. So I'm told.
Worner, Bennett, Beckwith, Collins, Davis, Toure, Eastmond, Bailey, Beautyman, Williams, Dobson SUBS: Thomas, Bolwinra, Ayunga, Deacon, McQueen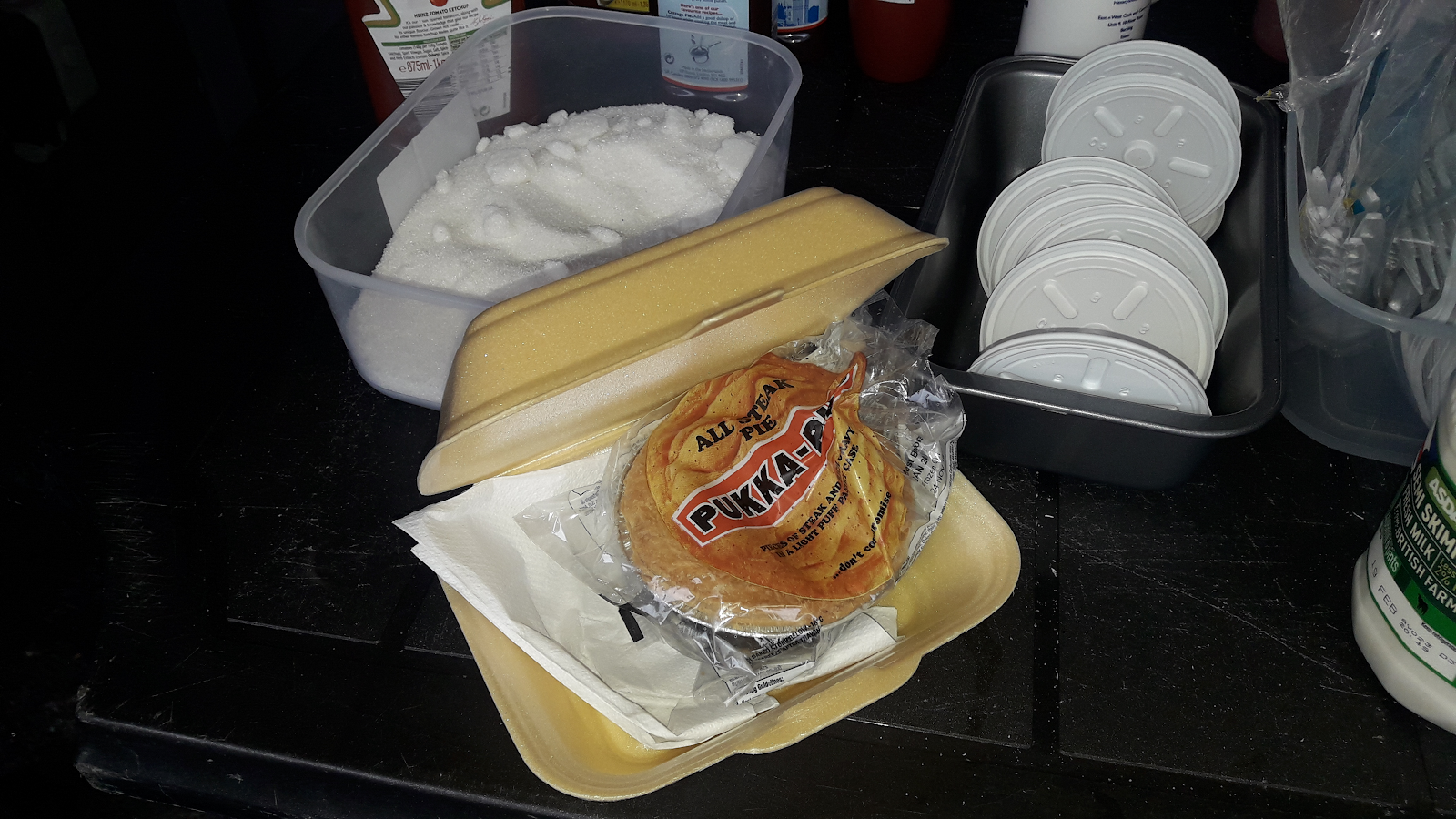 Half time sustenance
We are lining up pretty much as expected and with a couple of weeks breather it is good to see JC back at the heart of the defence and the returning hero Roarie Deacon is on the bench. It's windy but the playing surface is decent and we start right on the front foot against a Bees team who have suffered the highs and lows of playing at Brentford and the Occupied territories in the past few days and they can be forgiven for being a bit disorientated. They like to play a bit of football and despite the blustery conditions the game settles down nicely and we show early. We are here to do some business.
Seventeen minutes in and we lose Kenny Davis to an injury and with a bit of a reshuffle it sees an earlier than expected return to Sutton colours of Roarie. Both teams are playing some decent stuff but Barnet seem to lack a cutting edge and I for one am glad that our nemesis Tarpey has been parked out on loan at Woking. Eight minutes before the break we win a free kick in a dangerous position. James Dobson, who I think has settled into this side no problem, steps up and does what he does and pings it over the wall and past the sprawling Barnet keeper. Christ, even Frakey seems happy at that one and does a bit of a jig and we plough on unscathed to half time and a steak pie and a beer in the incredibly spacious away lounge. I bump into One Eyed Jason who turned back from a planned ground hop to a cancelled game at Farnham to be here and there's plenty of other Herberts to catch up with before the second 45 gets under way.
We start just fine but as the half wears on we drop deeper and deeper and we know that this is going to require one of those battling defensive displays, backed up by a couple of top drawer saves from Ross Worner to come away with the points. Not for the faint-hearted, and not great for the old ticker, but despite a few scares the clock slowly winds down and a wave of relief and celebration sweeps over the fine away support as the whistle blows and we cheer the lads off the pitch. Cementing ourselves very nicely into the chasing pack now and the play off places and no one can ask more of our team than that. Top work all round. Special mentions for Dale Bennett, Nicky Bailey and Craig Eastmond who I thought were exceptional amongst a side who all fought hard for this important victory. Onwards to the tube and home via The Railway in East Kilburn again where we enjoy a few celebratory pints.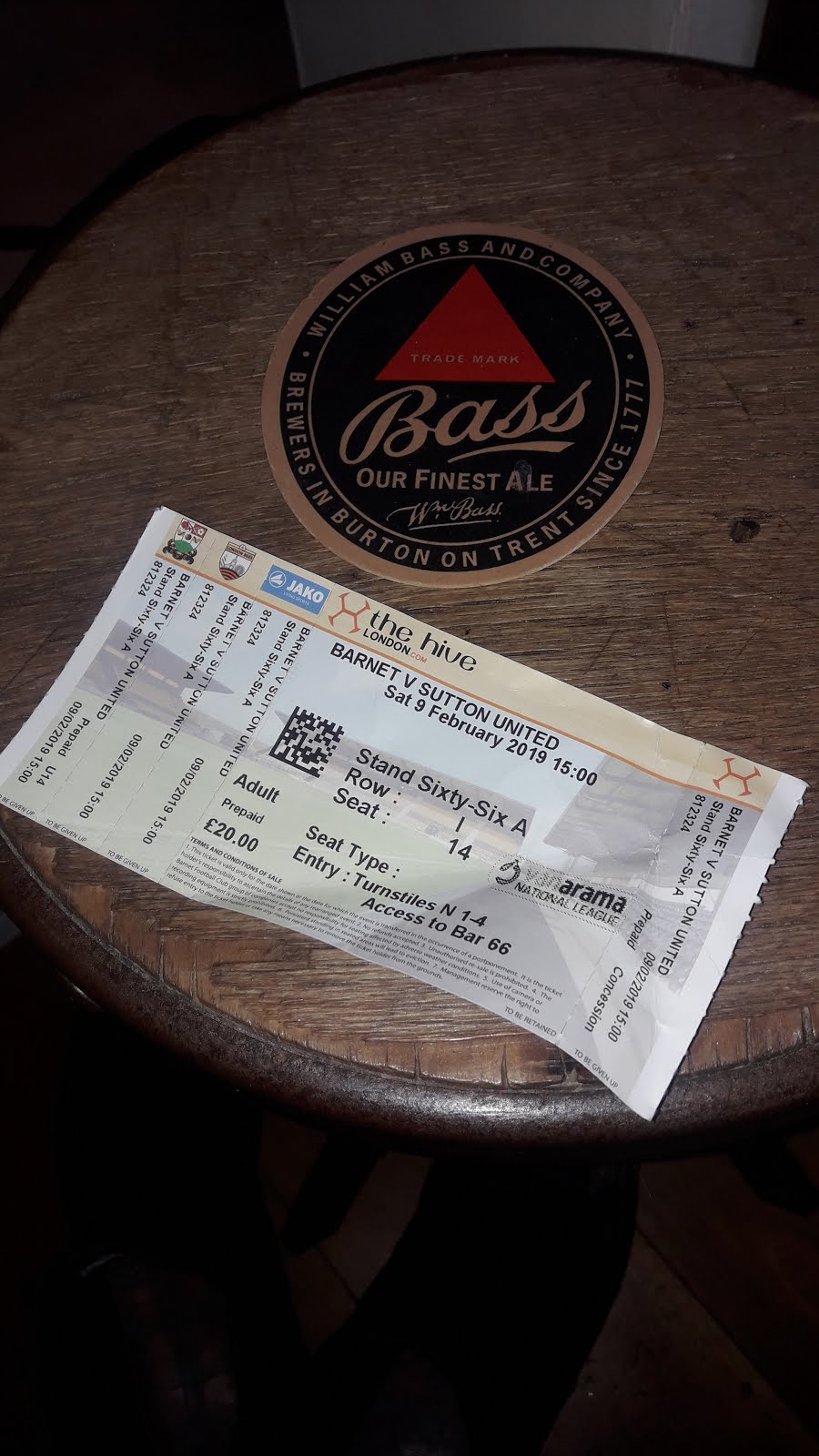 The brief
Me and DB jump back on the old Thameslink for the trundle back south with a couple of beers and the cricket commentary from the West Indies and we lay out some plans for the rest of the season which really is crashing on towards a proper old climax now. I pick up some Chinese food up on the by-pass and fall indoors well in time for Match of The Day and a bit of a toes up. Looking forward to Barrow at home next weekend now.
See you on the Shoebox.
Totts